November 8, 2013

Decorate Jackie for Halloween
Winners Announced

Jackie took some time out of his busy schedule to judge the winers for the annual "Decorate Jackie for Holloween" contest. He was very impressed at all the creative drawings that were sent in.

3 entries from each age group were chosen... a total of 9 winners!
(Click here for more details)

Prizes will be sent out to the winners very soon! Thanks to all the fans who participated in this contest! Keep your eyes posted for the next upcoming contest which will be announce soon!

November 4, 2013

The "Decorate Jackie for Halloween" contest has ended!

Thank you to everyone who participated and sent in a costume design for Jackie. (Click here to see all the designs)

Jackie will pick his favorite costumes very shortly and we will announce the winners at the JC Kids Corner soon....

October 31, 2013

Wow! The team at JC's Kids Corner would like to say a BIG THANK YOU to everyone who have sent in Halloween drawings for the "Decorate Jackie for Halloween" contest. We've received many drawings over the past couple of days and our webmaster is slowly posting your entries on the contest page and your drawings will show up very shortly!

Because the contest has been so popular this year, we'll be extending the contest till the end of this week! So it's not too late to enter if you want to!

Entries will close on November 4th, 2013.
Winners will be announced after Jackie picks his favourite costumes in each age group category.

~* Click here to the entries so far *~


October 03, 2013

Entries have already started to come in for the Halloween Contest!

~* Click here to see some of the entries so far *~

October 01, 2013

Annual Decorate Jackie for Halloween Contest!

It's that time of year again! Create a Halloween costume for Jackie and be in the chance to win a prize. There are nine prizes to be awarded to the nine most original, most creative Jackie Chan costumes in three different age group categories:

* 0 - 11 years old *
* 12 - 17 years old *
* 18 years old and above *

Click here for more details on how to enter.

Contest ends at midnight on October 31, 2013. Drawings will be judged by Jackie and winners will be announce soon after October 31.

September 01, 2013

Build A School Update

Thanks to all the fans for sending in your donations to the Build-A-School for a Dollar Project! Jackie will match every dollar you donate with another dollar, and all your donations will go towards the Build-A-School project.

Kids Corner Updates

Over the next couple of months, the Kids Corner will be undergoing some maintenance work. So there maybe a few minor disruptions while browsing the kids corner. We hope to complete the work as soon as possible. Thank you for your understanding!

July 22, 2013

La & Zy Say "Thank You" For the Birthday Wishes!

La & Zy received many many birthday wishes last week! (See here)

La & Zy and Jackie would like to say a very big "thank you" to all the fans from all over the world for sending in your love, and appreciates your continuous support.
(La & Zy's email account has been deactivated so please do not send them anymore birthday greetings).

Jackie and La & Zy were so pleased to see all the cards and messages, and were particularly impressed with the following creations:


Robyn Volz


Christy Viczian


Vinay Ishnava
(This picture was put together with many small Jackie photos)


Dagmar Crmanova


Destiny Toler

Jackie would like to say a heartfelt "thank you" to the 5 fans who created the artwork above. And as a token of his appreciation, Jackie has asked his staff to put together a small gift pack for the 5 fans and we'll send it to you soon.

(A staff member will email you for your contact details).

July 15, 2013

Many Birthday Wishes

La & Zy received many many birthday wishes over the weekend! Your messages will be updated on their birthday wishes page very soon!

If you wish to email La & Zy a message, click here for more details!


July 12, 2013

Latest Build a School Update

We've received donations from Jackie's fans all over the world who have sent in money in support of Jackie's Build a School for a Dollar Project. Our latest total of donations from fans is now US$59,903!!! As Jackie matches every dollar donation with another dollar, which means that Jackie is also donating US$59,903 towards Build a School for dollar, the total amount raised is US$119,806!

Jackie would like to say a big "thank you" to all his fans who have kindly sent in donations for the cause. As Jackie always says, every dollar counts! Thank you for your generosity and your continuous support towards the project!

July 10, 2013
~ Happy Birthday LA & ZY Chan ~
Next week is LA & ZY Chan's 3rd birthday! Celebrate with La & Zy by sending them a birthday wish, an e-card, a drawing, or anything that can be emailed. Click here for more details.....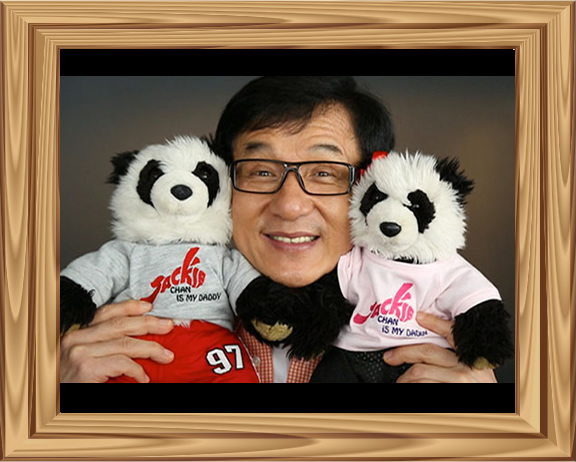 In other news....
The JC Kids Corner website will be be undergoing some re-construction soon. We apologize in advance if Jackie's fans encounter any disruptions during the process! We hope to bring you a revamped (and fun) JC Kids Corner website for everyone to enjoy! Keep your eyes posted as there will be more gifts to give away!!...

If you have any suggestions or ideas about what you'd like to see more of on the JC Kids corner, please feel free to email our website team at:
Your feedback is warmly welcome!!
March 11, 2013
New Build a School Total!
We've updated the Build a School for a Dollar total and when the US$2,028 is doubled by Jackie, there's a boost of over $4,000 dollars to our total! Thank you to everyone who continues to support Jackie's charities.
Here are some photos of the latest donations: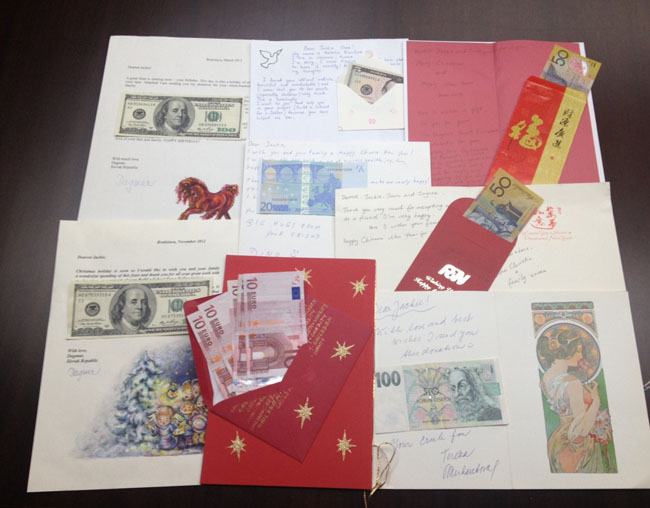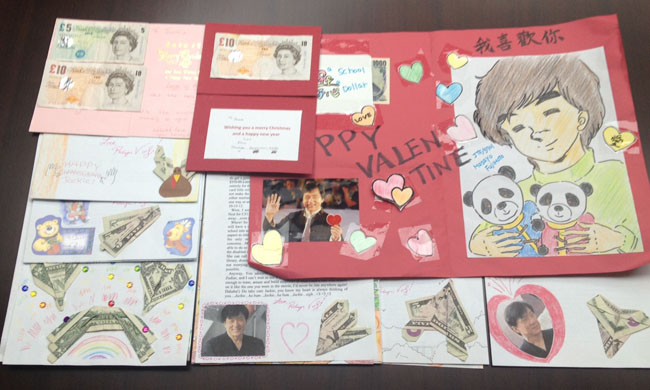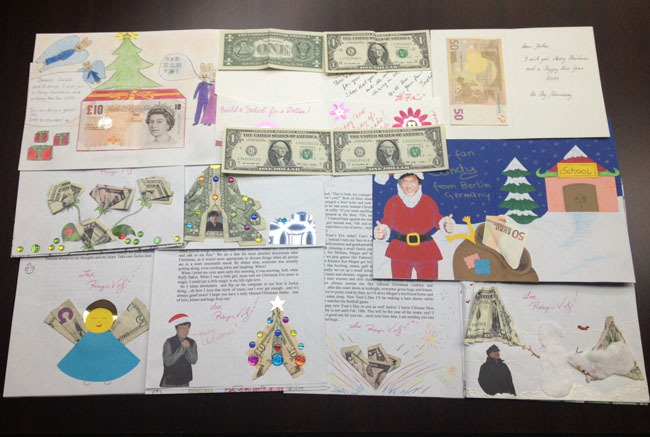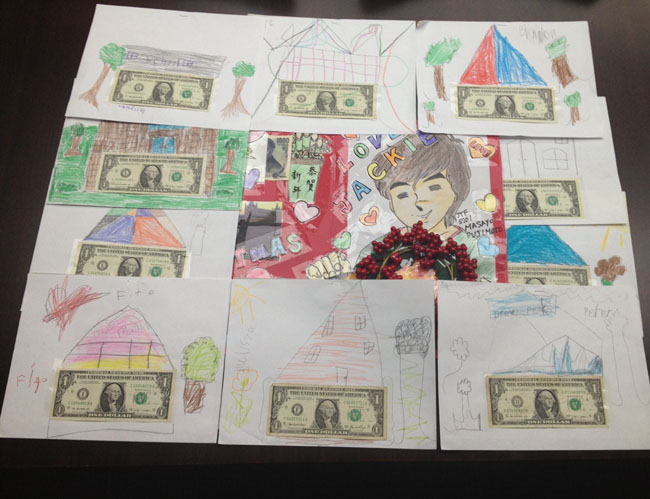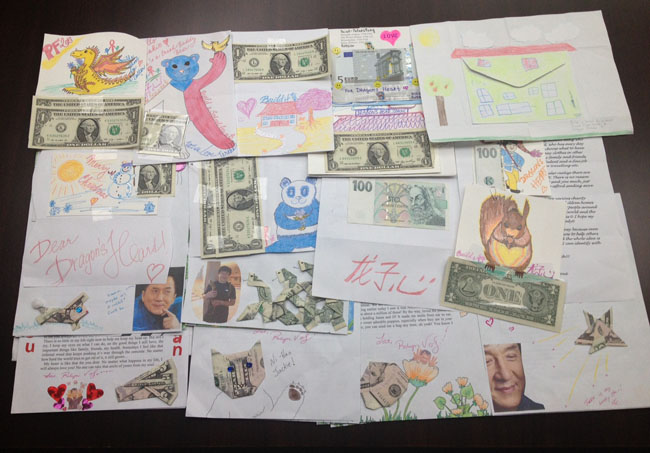 To find out how to join in the support for Jackie's charity, please click here.
A Special Gift from Jackie
Jackie has chosen 20 names from the entries in this year's Chinese New Year contest and those 20 people will be receiving a Chinese red envelope from Jackie himself! To find out if your name was chosen, click here.
February 14, 2013
Jackie has chosen the winners for this year's Chinese New Year contest. Click on Jackie below to see who won!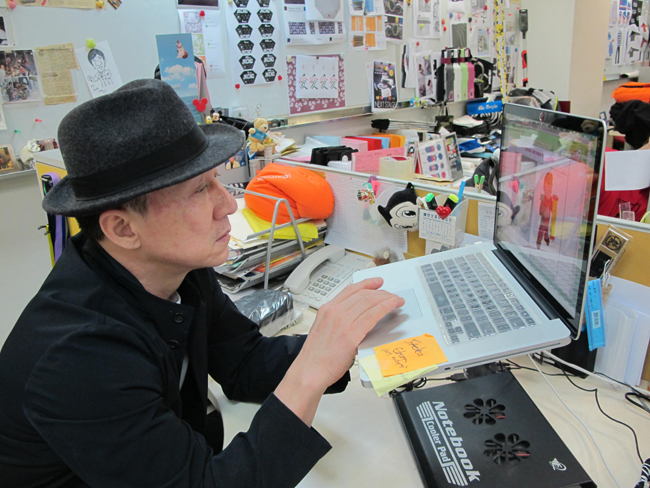 January 23, 2013
We've added several new drawings to the Chinese New Year Contest page. If you'd like to enter the contest, click on the snake below!
Click here to see all the drawings.
Remember, only ONE entry per person. If you've sent your drawing in but you don't see it on the entries page, it means we did not receive it.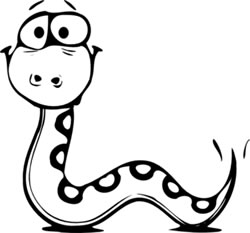 January 9, 2013
Chinese New Year Contest
Several fans have already sent in their entries for the Chinese New Year contest (you can see them here). Please remember that only original artwork will be allowed for this contest. Several people have sent in Petra's New Year Coloring Project as an entry. These don't qualify!
New Artwork by Jackie's Fans!
We've added several new drawings to Jackie's art gallery. Click on Ariba's drawing below to see all the new ones!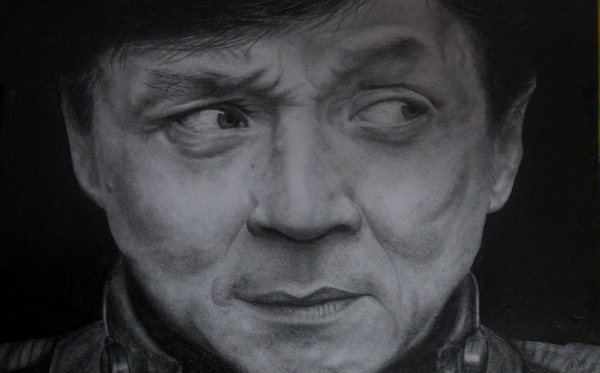 If you've made a drawing of Jackie and would like to have it posted in the art gallery, email it to the webmaster at jckids@jackiechan.com
New Story in the Sharing Corner
Read about Asha and Lena's surprise in St. Petersburg, Russia! Click below to see their story.

January 7, 2013
An Amazing Coincidence: Mouy the Traveling Panda
Several months before Jackie went to Build-a-Bear and created Chan La and Chan Zy, his traveling pandas, a little boy in Texas received a gift of an identical bear, which he took with him everywhere and recorded his adventures in photographs. Read all about Ethan and Mouy here!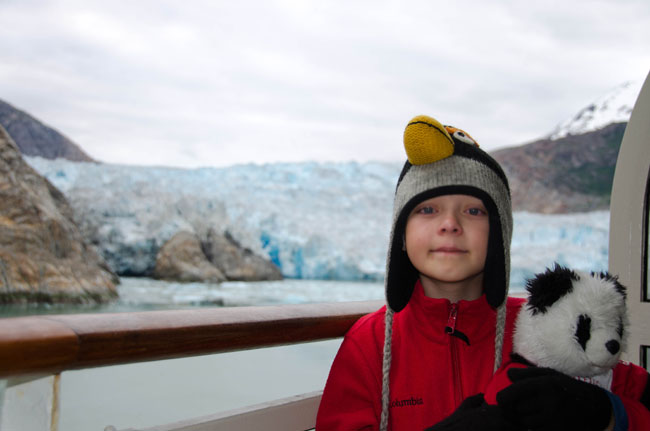 Ethan with Mouy in Alaska.
January 1, 2013
Happy New Year from Jackie,
a New Coloring Project and Another Contest!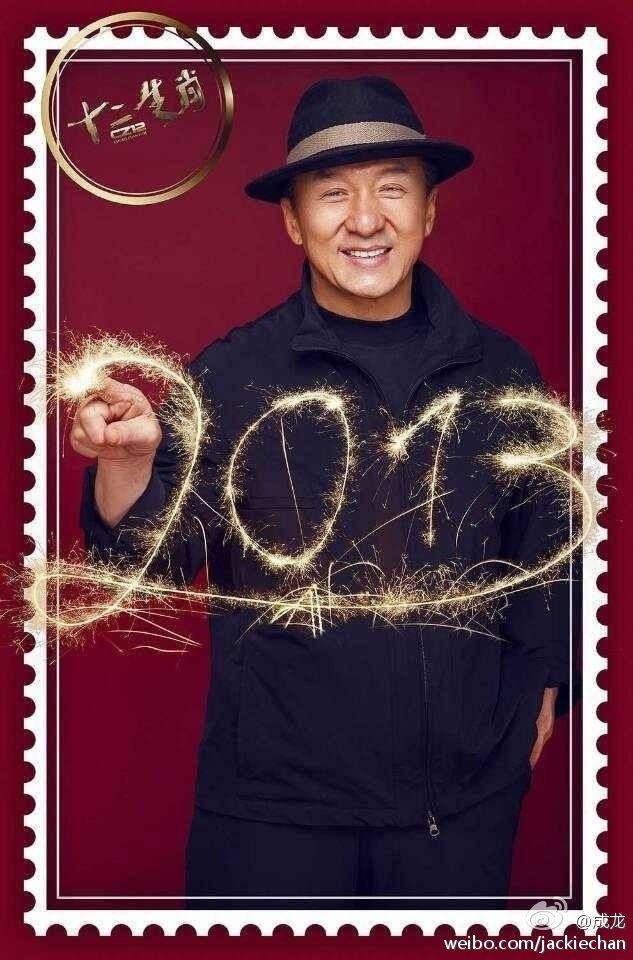 Jackie's Message: Friends exist all over the world; we are all neighbors from the ends of the earth. Happy New Year! All the best for 2013!
Thank you to Petra for sending us another wonderful coloring project for the Chinese New Year of the Snake. Click on the picture to download a printable black and white version that you can color!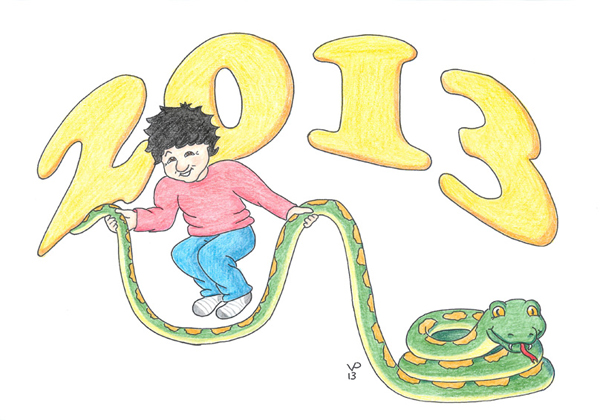 To celebrate the Year of the Snake, we are having another terrific contest. Click the snake below to find out all the information. Don't forget to enter because Jackie will be judging the contest. Remember, only ONE entry per person!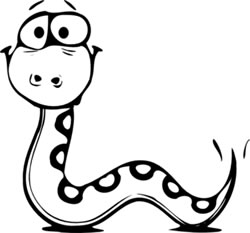 The Latest Jackie News is archived to save room on this web page.
To read past news reports, just click on the month you're interested in viewing. Remember that many of the older links in these news archive are no longer active.
KIDS CORNER FRONT PAGE / TOTALLY FUN JACKIE STUFF / OFFICIAL SITE HOME PAGE
©2011 The JC Group
No part of this website may be reproduced or distributed without permission.