May 31, 2004

Today is Memorial Day - a day to remember all those who have fought for freedom in the United States of America.
Lots of New Photos
Here on the official site. Jackie at the Medallion Japan Tour , with low-vision children in China, and at the Buddy Bear ceremony!
May 29, 2004
Wanted: Foley Artist for Jackie Chan Movie!
First of all, you'll want to know what a foley artist is. That's the person who creates and records many of the sound effects for films.
If you'd like to play Jackie's foley artist for a day, visit Chicago's Museum of Science and Industry and you'll get your chance. Their new exhibit on moviemaking includes creating the sound effects for a chase scene from one of Jackie's movies. You get to bang chairs, chains, and garbage cans to make the scene come alive! For more info, click here.
Jackie at Hong Kong Performing Artists Guild Fundraiser
On May 28, Jackie attended a fund raiser for the HK Performing Artists Guild. Here are a few photos of Jackie (sporting his new short haircut) at the event: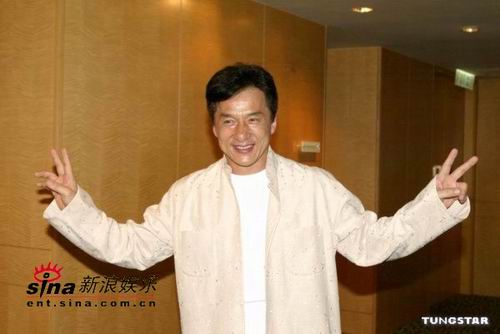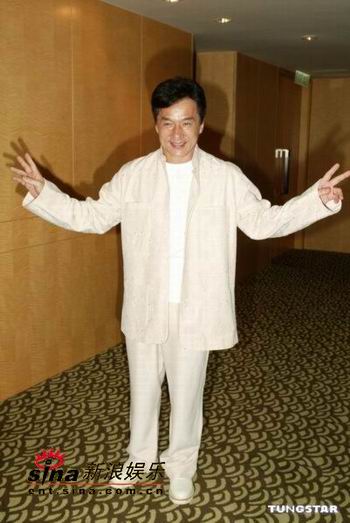 Willie's Birthday Party
As you know, Willie Chan celebrated his 63rd birthday last week. Here he is with some close friends at his birthday gathering: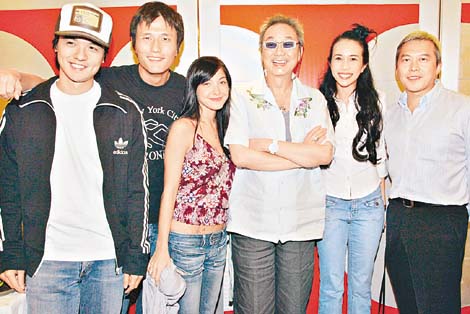 Photo: Oriental Daily
May 27, 2004
Titanium Rain....to Time Breaker....to Legend? or Myth?
Jackie's Latest Film Project
"According to Hong Kong media, Jackie Chan has started working on a new project, financed by his JCE Movies Ltd., with director Stanley Tong in Hong Kong a couple of days ago. Jackie Chan told Oriental Daily, that the title for the film could be Legend or Myth, but he was not ready to accept either one of them. The project was formerly known as Time Breaker, derived from Titanium Rain, which has dried up a year ago. Shooting will be wrapped up in a few days and re-start in Shanghai later next month. Jackie Chan is still looking for the right actress to play the character repeatedly shows up in the dreams of Jackie Chan's character, a time-traveler." Source: Monkeypeaches

Some Photos From the Set:

Source: Sun

With director Stanley Tong (Source Oriental Daily)

Source: Orientaly Daily

Source: Sing Pao

More Photos from The Medallion in Japan

All Photos from Sina

And.....a few older photos from New Police Story:

Sing Pao

China News

Oriental Daily
May 24, 2004

Buddy Bears Raise $4.14 HK Dollars for Charity!
All funds raised in Hong Kong will go to the Hong Kong Committee for the United Nations Childrens Fund (UNICEF), the Community Chest of Hong Kong and the Jackie Chan Charitable Foundation. The proceeds are in aid of children in need.
On the day of the opening of the circle of United Buddy Bears these 3 organizations received checks in the total amount of HKD 4.14 Million (that's over $531,000 US dollars)!!!
More Photos of Opening Ceremony

Thanks to Buddy Bear webmaster Sina Hirt and photographer Doris Rieck for sharing these beautiful photographs with the Kids Corner! All photos are ©2004 Doris Rieck and are used with permission.
ALL PHOTOS CAN BE ENLARGED BY CLICKING ON THEM
Click here to read the introductory speech by Patrick Ho, Secretary for Home Affairs.
May 23, 2004
Maggie Cheung Wins Best Actress Award at Cannes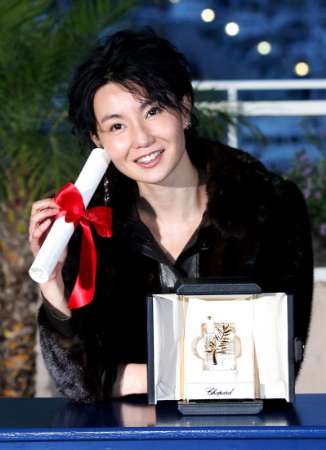 Jackie's friend and frequent co-star Maggie Cheung won the Best Actress Award at the 57th Cannes Film Festival for her role in the film entry 'Clean' by French director Olivier Assayas. The East was well represented at the film festival with awards going to talent from China and Japan. Congratulations to Maggie. She deserves it! Photo: REUTERS/Vincent Kessler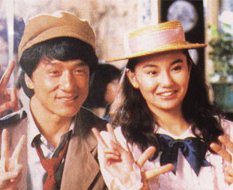 Jackie and Maggie in Project A 2
Jackie Inspires Afghan Athlete
Fraiba Rezzay, a 17 year-old girl from Afghanistan, will compete in the Olympics in Athens this summer. She blushingly admitted that Jackie Chan was her favorite movie star and that she had learned many of her moves from him. Jackie's influence is worldwide! (Thanks to Holly for the heads up on this story)
Jackie in Japan to Promote The Medallion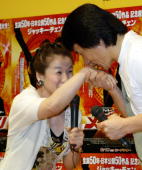 Jackie Chan kisses Sydney Olympic women's Judo gold medalist Ryoko Tani during a photo session after a press conference on his latest movie, "The Medallion" at a Tokyo hotel.
Photo: TOSHIFUMI KITAMURA/AFP/Getty Images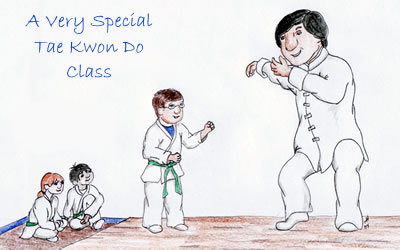 Click above to read the heartwarming story of a few special kids and their extraordinary teachers.
*PLEASE CLICK HERE AND READ THE WEBMASTER'S NOTE ABOUT THE ABOVE STORY*

Yes, kids.....today is Willie Chan's birthday. As you surely know, Willie is Jackie's best friend and manager. He's a big big part of the "Chan Machine." Best wishes to Willie from the Kids Corner!
Another Update to the Buddy Bears Page

May 21, 2004
Win a Trip to Hollywood to Attend ATW80 Premiere!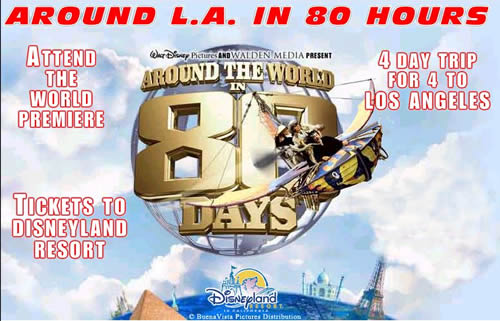 Jackie in Hawaii, June 8th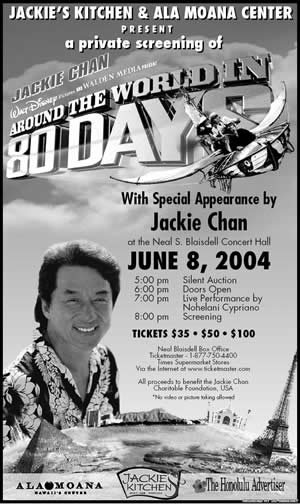 Jackie will be in Hawaii on June 8th to attend a special screening of Around the World in 80 Days AND to celebrate the opening of his first Jackie's Kitchen restaurant in the United States. For ticket information, go to ticketmaster.com and type "Around the World in 80 Days" into the search box.
Buddy Bear Page Updated
The Kids Corner Buddy Bear page has been updated to include a message from Eva Herlitz, the creator of the Buddy Bears. Please take the time to read what she's written. It contains important messages for all of us.

Jackie's Russian Fans Honor Him With a Star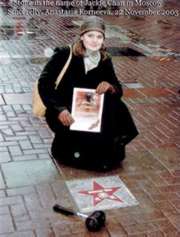 Jackie Chan has fans all over the world...and that includes Russia. In fact, he has a very large fan base there. Recently, some Russian fans installed a star for Jackie on Old Arbat Street. Jackie was very touched by this gesture. He said that he knows it is difficult for many of his Russian fans to spend money on his movies...he appreciates their devotion. Source
Thanks, Marie!
Jackie and McDull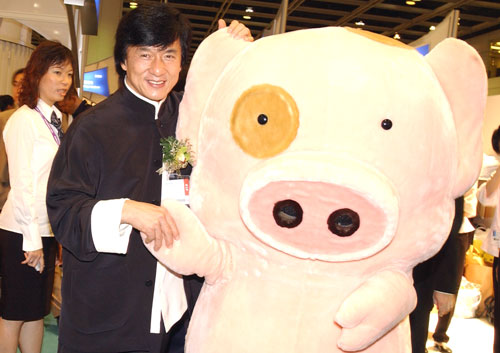 Jackie sure meets up with some interesting characters in his travels. Here is a photo of Jackie with a character named "McDull." The image is from Filmart 2003 .
JC Adventures for Playstation 2 Screenshots
Click here to see a bunch of screenshots from the upcoming Jackie Chan Adventures for PS/2! The game is set to be released this year and it looks like it's going to be a whole lot of fun.
May 20, 2004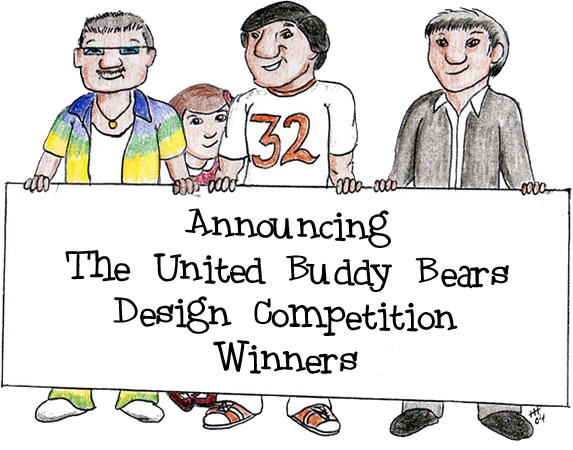 Yes indeed, the results are here. Click the banner above to read all about it!
Chinese Children's Charity Honors Jackie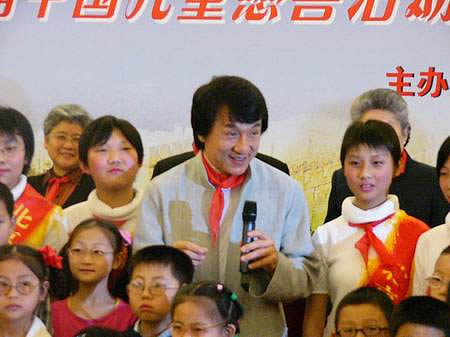 On May 18, Jackie was honored by a Chinese children's charity. According to a rough translation of the article in Chinese, Jackie is the largest contributor to this charity. The article mentions that Jackie encouraged others to share the compassion and to be generous to those in need. Jackie sang a song (A Man Must Be of Self Help) with the children . To see 41 more photos of this event, click here. (Source: Sohu.com. Thanks to Marie for the url)
Jackie on the Cover of Disney Adventures Magazine!
This from Kids Corner informant Tabitha:
The newest edition of Disney Adventures Magazine has a pic of Jackie on the front (along with other Disney movies coming out this summer). On the inside is another pic from the movie, as well as a small but cool interview with Jackie and Steve Coogan, who plays Phileas Fogg. (Thanks Tabitha!)
May 19, 2004
TONS AND TONS of Photos From Jackie's San Francisco Appearance!
Thanks to good friend Jeff Applebaum, the Kids Corner is proud to present over a hundred photos of Jackie from his San Francisco appearance. Here's a sample of what you'll see....Kids Club member Josh Applebaum and his mom with Jackie's dialogue coach Diana Weng and her baby! You'll also see Willie Chan plus a host of delighted fans of Jackie's. Thanks so much to Jeff for generously sharing his photos with the Kids Corner!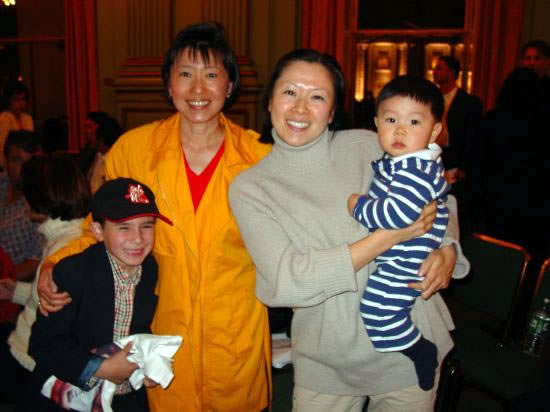 Kids Club member Josh, his mom Johanna, Diana, and her baby
CLICK HERE TO SEE ALL OF JEFF'S AWESOME PHOTOS!
Around the World in 80 Days Spots Online
ComingSoon website has posted two spots for you to see. Click here! These same spots have been posted in other places on the web as well.
May 17, 2004
Charity Screenings of Around the World in 80 Days
There will be several charity screenings of the movie held at various places across the globe. In Singapore, there will be a Disabled People's Association's Charity Film Premiere 2004 on June 14. In Honolulu, Hawaii there will be a charity screening on June 8th. Jackie is scheduled to attend that one. If you're interested in tickets, please contact Ticketmaster.
JC Adventures Comes to Playstation 2
According to the Game Asylum website, a Jackie Chan Adventures game for Playstation 2 will be "karate-chopping its way into shops this autumn."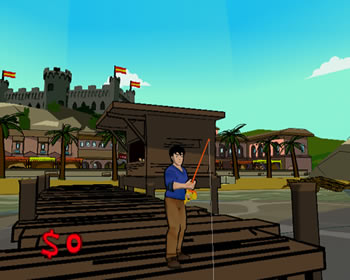 Screenshot from the game. To see more, click here.
The Huadu Chronicles : Blade of the Rose ( Twins Effect 2 )
Jackie makes a special appearance in son Jaycee's big debut: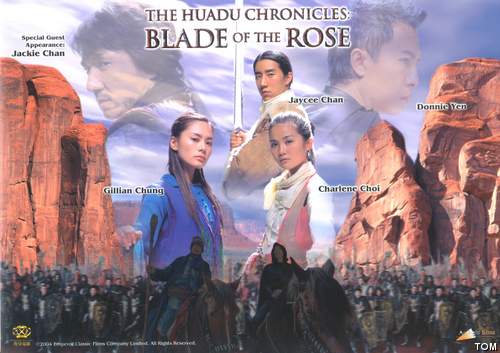 Photo: EntTom

Jackie At Buddy Bear Opening Ceremony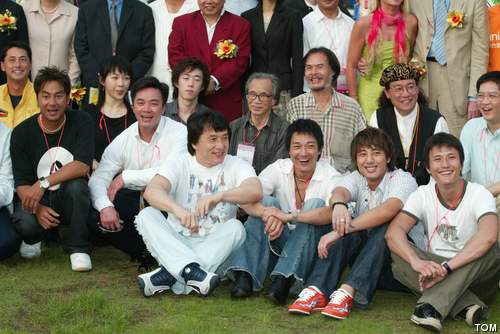 That's Rumble in the Bronx director Stanly Tong to Jackie's right.
Photo: EntTom
May 16, 2004
United Buddy Bears Take Over Victoria Park
As you know, the Buddy Bears are on the Hong Kong stop of their world tour. On Saturday, the opening ceremonies for the exhibition took place. Jackie Chan attended, as did many other Hong Kong celebrities. A fun time was had by all. To see a photo album of pictures from the event, click here!
Jackie Brings Kids Corner Buddy Bear Book to the Festivities!
Check it out! Remember the Buddy Bear Book the Kids Corner sent to Jackie? Well, here he is having a good laugh over it at the opening ceremonies in Hong Kong! Way to go Jackie!
Check Out This Newest Drawing From Holly
Yes sir, that's the Kids Corner webmaster showing Jackie the latest updates on the Jackie Chan Kids Corner! What a terrific drawing! If you are interested in getting your own personalized drawing of Jackie from Holly, please send an email to the Kids Corner and we'll hook you up.
May 15, 2004

More Buddy Bear Photos From Hong Kong
It looks like it was a beautiful day at Victoria Park in Hong Kong!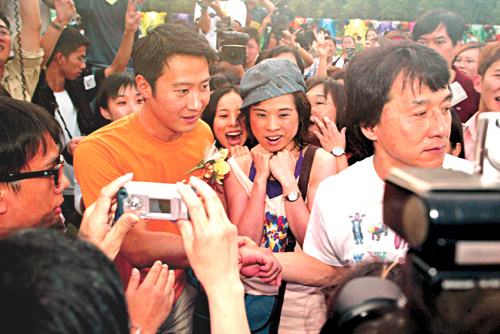 PHOTO: TA KUNG PAO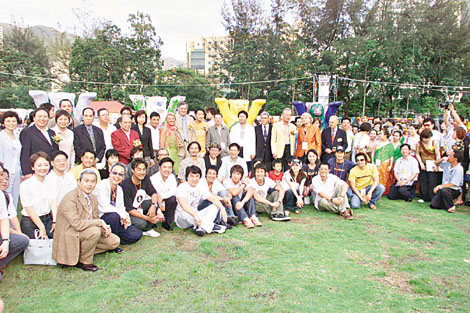 The Buddy Bear opening ceremony. There's Solon and Willie on the left in the front row. Jackie sits cross-legged to the left of center. Buddy Bear co-creators Eva and Klaus Herlitz stand two rows behind Jackie (a little to the left) - Eva is wearing the green dress and Klaus is the tall man next to her. PHOTO: ORIENTAL DAILY
Here are a few photos from the arrival of the United Buddy Bears in Hong Kong earlier this month:
Photos: Huaxia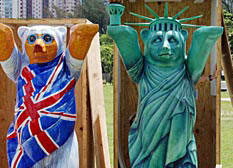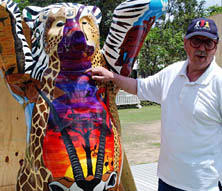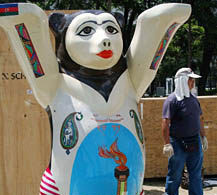 If Jackie saw this Buddy, he would grab the cigar out of its mouth, stamp it with his foot, and say, "You shouldn't smoke....it's not good for you!"
Buddy Bear Opening Ceremony/Display Activities:
In addition to the Circle of bears, there were lots of fun activities planned for the ceremony. Check out the website of the Hong Kong Leisure and Cultural Services to read about them!

THANKS TO MARIE AND HOLLY FOR KEEPING THE KIDS CORNER POSTED WITH BREAKING BUDDY BEAR NEWS!
Buddy Bears In Hong Kong: Opening Celebration
Opening ceremonies for the United Buddy Bears Circle in Victoria Park, Hong Kong took place yesterday. Here are some of the first photos out of Hong Kong: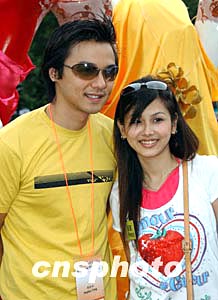 Hong Kong film and television star Feng Delun, on May 15 attending the opening ceremony for the United Buddy Bears. Photo: ChinaNews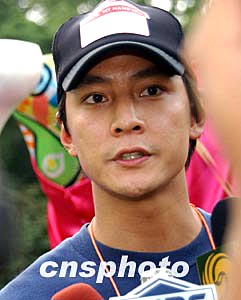 Hong Kong film and television star Wu Yanzu, on May 15 at the United Buddy Bears ceremony. Photo: ChinaNews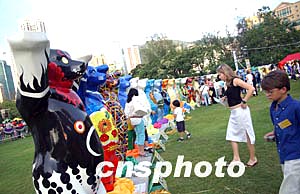 Residents and tourists attend the unveiling of the Buddy Bears. Photo: ChinaNews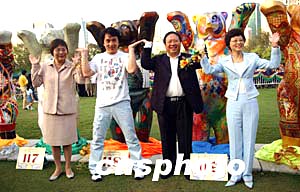 Jackie and friends at the ceremony. Photo: ChinaNews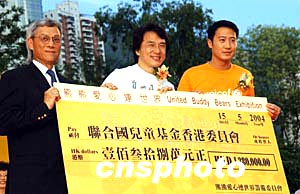 Jackie Chan helps hold a check to support The United Nations Children's Fund Hong Kong Committee. Photo: ChinaNews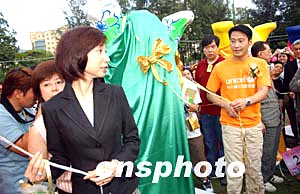 Famous Hong Kong movie star manages the unveiling ritual together with
honored guest Ms. Zang Minghua. Photo: ChinaNews
Hong Kong singing star Liu Haolong attends the opening ceremony....."singing a tune and adding to the fun." Photo: ChinaNews
The giant Circle of United Buddy Bears at Victoria Park: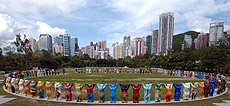 and some fans of the Buddy Bears checking them out: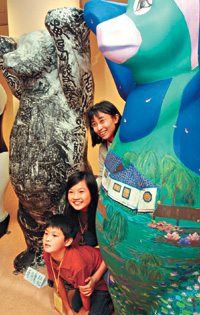 Photo: cnarts.net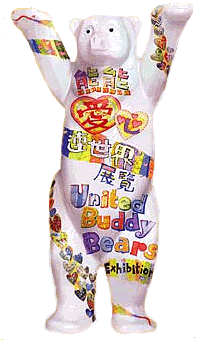 Gearing Up for Around the World in 80 Days
The official website for Jackie's latest film is being updated constantly as the countdown to the movie's opening approaches. Check it out!
There are several posters for the movie circulating around - have a look at three of them. Which is your favorite?
Two versions of the official poster for the movie.
And...........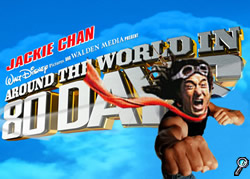 One more
(not official yet....click here to see aspiring poster artist)
**THIS POSTER IS A JOKE! JUST FOR FUN! IT'S NOT REAL, SO DON'T WORRY!**
May 14, 2004
Opening Ceremony and All-Star Show to Launch Buddy Bear Exhibition in Hong Kong on Saturday, May 15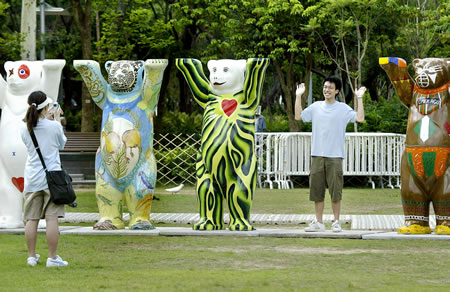 Tourists in Hong Kong's Victoria Park pose while the Buddy Bear Circle takes shape around them. Photo: AFP
The United Buddy Bears Exhibition will launch May 15 at Victoria Park with an opening ceremony and all-star show. More than 130 Buddy Bears designed by international artists will be unveiled.

Free tickets will be distributed from tomorrow at District Leisure Services Offices on a first-come-first-served basis. Each person is entitled to two tickets.

The show, which runs from 5.30pm to 7.30pm, will feature a variety of programmes such as singing, dancing, and band performances.

The exhibition aims to promote love, peace and solidarity and art. It also helps raise funds for the Community Chest, the HK Committee for United Nations Children's Fund and the Jackie Chan Charitable Foundation.

One-hundred-and-twenty colourful two-metre Buddy Bears created by overseas artists, together with by local talent, will be displayed at the exhibition from 8am to 10pm daily from May 16 to June 27 on the park's Central Lawn.
Jackie Chan Charity Cup Returns!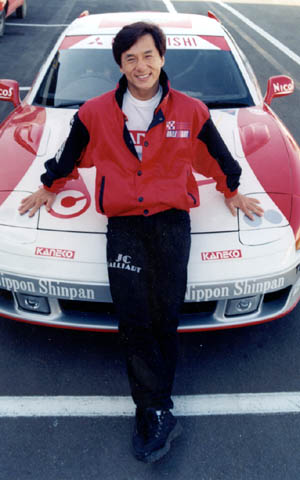 Photo: The JC Group
After a three year hiatus the Jackie Chan charity cup will
return on June 27 at the Shanghai International Raceway. Jackie Chan has
confirmed the teams. Hong Kong representatives include Joey Yung Cho Yi,
Jessica Hester Hsuan (Suen Huen), and Tsang Bo Yi; Korean representatives
include Lee Hyo-Lee and Choi Ji-Woo; Taiwan representatives include Tarcy
Su (So Wai Lun), Kelly Lin (Lam Hei Lui), Barbie Shui (Tsui Hei Woon) and
(Tsui Hei Tai); Angelica Lee Sinjie represents Malaysia; Mainland
representatives include Fan Bingbing, Huang Yi, Cao Ying, and Yuan Li. Source
New Police Story To Be Screened at Cannes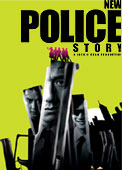 According to the Arclight Films website, Jackie Chan's latest Hong Kong movie, New Police Story, is scheduled to be screened at the 2004 Cannes Film Festival.
Heads Up, Kids! A Wireless ATW80D Game!!
Thumbworks Brings 'Around The World In 80 Days' to BREW(TM)-Enabled Handsets
Wednesday May 12, 1:36 pm ET
New Wireless Game Based on Highly Anticipated Film Makes its Debut at E3


LOS ANGELES, E3, May 12 /PRNewswire-FirstCall/ -- Thumbworks(TM), an emerging innovator in the world of wireless publishing, today announced the imminent release of Around the World in 80 Days, a wireless adventure game developed for QUALCOMM's BREW solution and based on the feature film starring Jackie Chan. The film, produced by Walden Media and distributed by Walt Disney Pictures, opens in theatres nationwide on June 16. The wireless game is expected to become available through various carriers around that same time.
The Around the World in 80 Days game offers players the chance to assume the role of Passepartout (Chan's character) as he tries to help Phileas Fogg circle the globe in 80 days. Along the way, players will find themselves battling villains and escaping peril in four of the films key locations: Paris, India, China and New York. A player will have to use a combination of agility and martial arts to prevail.

"If you're a fan of Jackie Chan, you'll love this game," said Craig Holland, president of Thumbworks. "It's a fun microcosm of the film itself. Obviously, I don't want to give too much away, but suffice it to say that getting around the world in 80 days is easier said than done."

"We think the wireless version of Around the World in 80 Days is terrific fun -- a great complement to the adventurous spirit of the film," said Walden Media president and co-founder Micheal Flaherty. "We're excited to see that same spirit come through in Thumbworks' game." Source

Around the World in 80 Days Website Updated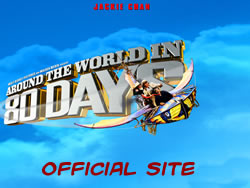 Check out the official website for the latest news, some new games, AND some new photos!
May 11, 2004
Hong Kong Prepares for United Buddy Bears Circle!
Here are some photos of preparations for the Circle of United Buddy Bears at Victoria Park in Hong Kong: (Thanks to Holly for the links)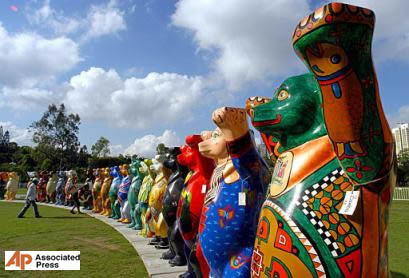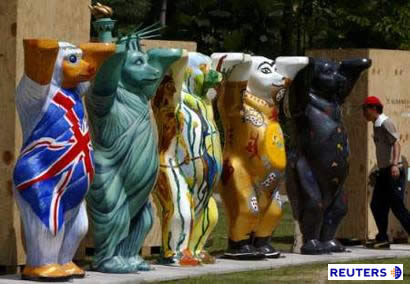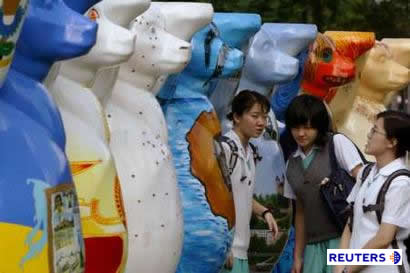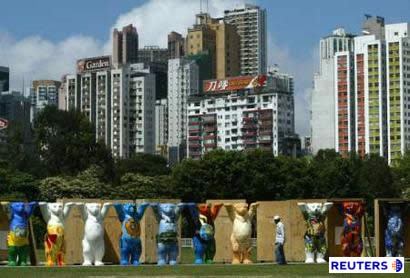 Four Year Old "Jackie Chan"
Sampad Mahapatra

"I want to become a world champion and be like Jackie Chan"


Tuesday, May 11, 2004 (Bhubaneswar):

Four-year-old Varun Mohapatra of Bhubaneswar has become the youngest Indian blackbelt in karate and kickboxing. Varun is referred to as the Jackie Chan of the Pumas International Centre in Bhubaneswar.

"He started at the age of two and you will be surprised to know that he has completed all the black belt courses and has appeared at all the tests and gone systematically about it," says S S Harichandran, founder, Pumas International.

Varun has already won five golds and three silver medals at the subjunior national championships.

His trainer, who is the national coach in karate and kickboxing, says the boy has natural talent.

"He has the special ability to pick up things very fast. He only has to be explained once," says Pradyumna Behera, national karate coach.

Varun will be going to Nepal, Italy and Australia this year to participate in international level tournaments.

His parents say they are willing to make any sacrifice to see him become an international master.

Varun has already started a gruelling training schedule that involves at least three hours of rigorous practice everyday.

But Varun knows his mind, and for him, all the hard work is not a strain. "I want to become a world champion and be like Jackie Chan," says Varun.

Pumas International, which has 30 member organizations across the country and offers training to defence personnel, has produced over 200 blackbelts so far.

But there is little doubt about who their real gem is. Source (Thanks to Holly for the link.)
May 10, 2004
Jackie Talks About His Cambodia Trip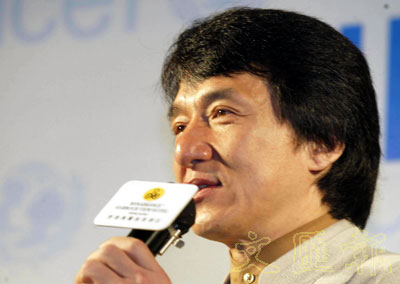 Photo: Wenweipo
On Monday, Jackie briefed the Hong Kong press about his trip to Cambodia. He was obviously very moved by the people he met and the things he saw. Here are some photos of Jackie from the press briefing: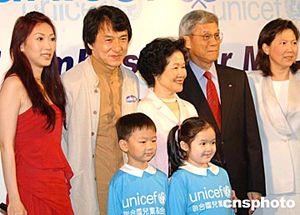 _________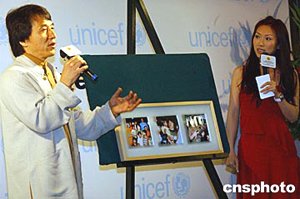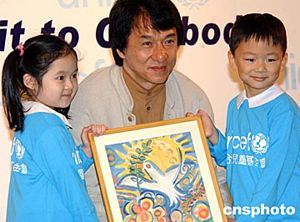 _______________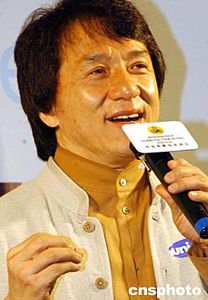 AP Photo/Lo Sai-hung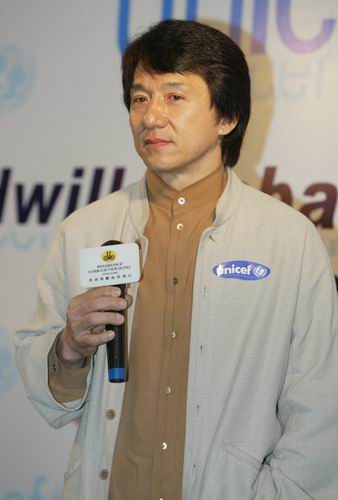 Photo: http://yule.sohu.com/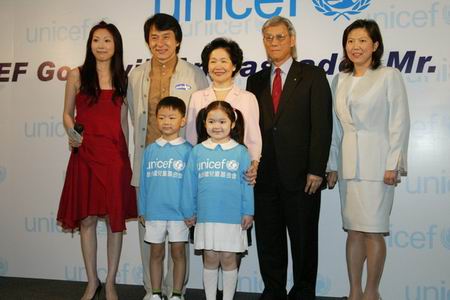 Photo: http://yule.sohu.com/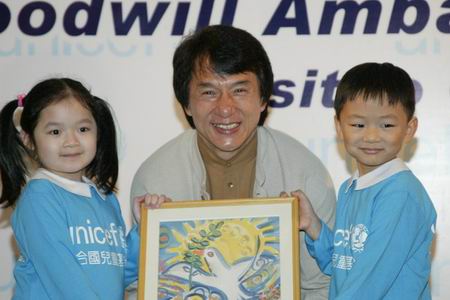 Photo: http://yule.sohu.com/
Jackie Disturbed by Cambodia's Land Mines

HONG KONG - Hong Kong action star Jackie Chan said on Monday he dreamt about digging up land mines for a whole week after returning from a trip to Cambodia to raise awareness about the issue there.

Chan spent three days in the country as a UN goodwill ambassador in late April, visiting land mine explosion victims and HIV/Aids patients.

Cambodia has South-east Asia's highest HIV infection rate at 2.6 per cent for 2002, according to the United Nations. The country's remote areas are still strewn with land mines and unexploded bombs left over from three decades of fighting.

Briefing the Hong Kong media about his trip on Monday, he said he also walked through an area once sown with land mines that has since been mostly - but not entirely - cleared.

Chan said he wasn't afraid, but that the visit as a whole shook him up so much that 'for a week whenever I had a dream I dreamt about digging land mines'.

'A child could go to buy milk and return without legs,' he said.

Chan also said he's looking at a script for a movie set in Cambodia and will 'very likely' start shooting there next year, but declined to give details.

The star of Hollywood movies Rush Hour, Rumble in the Bronx and Shanghai Noon, Chan will likely begin shooting the third film in the Rush Hour series later this year. -- AP
This from the UNICEF website:
Photos of Jackie From Cambodia
(Photos: UNICEF)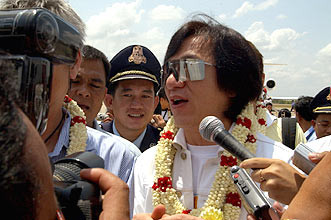 __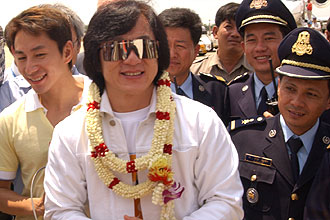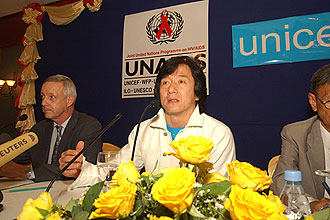 __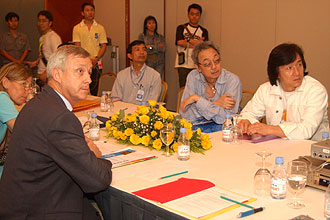 __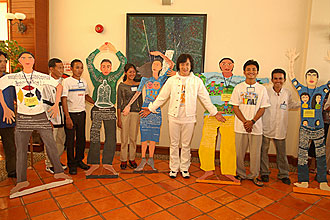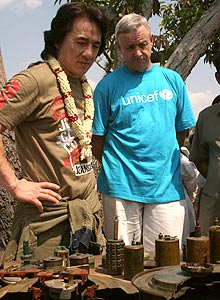 ______________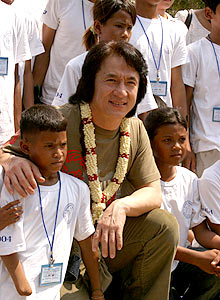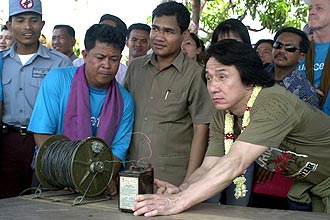 Building Awareness of How To Avoid Injury From Landmines
At Preah Daek elementary school just outside the city of Siem Reap, Mr. Chan and an enthusiastic crowd of several hundred children watched as a small group of schoolchildren presented short and amusing skits aimed at building awareness of landmines, and how to avoid being injured by them.

One of the skits featured a big boy beating up a much smaller boy, who unexpectedly ran up to Mr. Chan and begged for his assistance. Mr. Chan happily began acting in the skit, telling the smaller boy he could teach him martial arts, but that "martial arts are only to protect yourself, not for fighting." He told the bigger boy that "I can teach you to be stronger, but when you are strong you must use your strength only to help those that are weaker, and not for fighting." (Source: UNICEF)
May 9, 2004

Happy Mother's Day to all the mothers out there! Happy Mother's Day also to all of you who play the role of Mom in the life of a child - whether you are his mother or not. Have a great day!
May 8, 2004
Buddy Bear Finalists Have Been Chosen!
Hundreds of votes have been counted and tallied and the top five designs in the Design a Buddy Bear Competition are now available for viewing. The winners in each category will be chosen by our celebrity judge sometime in the near future. To view the finalists, click a link, below.
Thanks to all who entered and all who voted. Congratulations and good luck to all the finalists! Although the competition has ended, you can still send in Buddy Bear designs and they will be posted here on the Kids Corner. A big thank you to Kids Club member Dan Schroeder for scanning many of the nearly 140 Buddy Bear entries AND for helping to tally the voting results!
Have a look at the poster for the Hong Kong visit of the United Buddy Bears: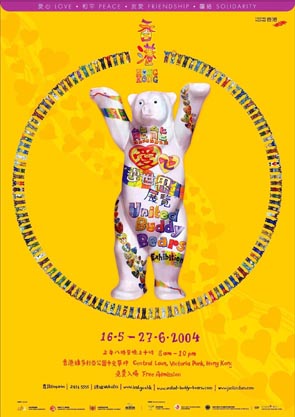 Jackie Scheduled to Help Kick Off the Indy 500
This, according to WISH-TV:
On May 29th, the night before the Indy 500, Hollywood will make its grand entrance into the Circle City with the first ever 500 Festival Snakepit Ball Celebrity Gala .... The red carpet will be rolled out for some of Hollywood's hottest including Morgan Freeman, Nick Lachey, Jessica Simpson, Maria Menounos, Jackie Chan, Rupert (all scheduled to appear) and many other celebrities. ....
Musical Score for Around the World in 80 Days
Award winning composer Trevor Jones has scored the music for Jackie's newest film. This is very exciting news; Trevor has scored the music for movies such as Notting Hill, Cliffhanger, and The Last of the Mohicans.
May 6, 2004
Cuddly 48kg bears bring message of love to HK

By Dikky Sin

Photo: Hong Kong SCMP

Hong Kong is about to be invaded by more than 120 giant bears - but all in the name of warmth, peace, love and solidarity.
The two-metre, 48kg bears were created under the United Buddy Bears Project initiated by Klaus Herlitz and his wife in Germany in 2002 and are about to come to Hong Kong as part of a world tour.

The couple wanted to create a symbol representing understanding and tolerance among nations. A group of 120 artists from different countries was invited to design buddy bears which first went on display in Berlin in 2002. Hong Kong is the first stop of the Asian tour.

Local artists including Freeman Lau, Kan Tai-keung, Kwok Mang-ho and singer Gigi Leung Wing-kei, were also invited to design a bear incorporating the theme of love and peace.

Local artist Ng Yuen-wa designed clothing that features Chinese pavilions and a lotus pond.

"Chinese garden landscapes champion peace and tranquillity, bliss and harmony," she said.

Ms Ng, who teaches children drawing at her art school in Central, let more than 100 of her students paint the skin of the bear.
"I painted the head of the bear with my brother. It was fun," said Venus Chan Hui-shan, 11.

The exhibition would help foster public art in Hong Kong, said Eugene Li Wing-kam, senior leisure manager of the Leisure and Cultural Services Department.

The buddy bears will go on display in Victoria Park from May 16 until June 27.


Link --- http://hongkong.scmp.com/hknews/ZZZABMSEXRD.html
Jackie's Sneakers To Be Auctioned for Charity
Yes, it's true....there's no stopping Jackie when it comes to helping out people in need. Click here to see the Discovery Fund for Eye Research's Celebrity Auction. Scroll down to find Jackie's special Reebok sneakers! Here's what they look like: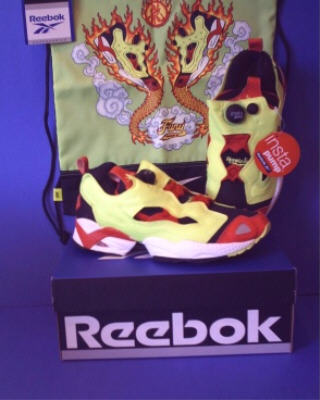 Exciting New Coloring Page From Holly
To celebrate Jackie's soon-to-be-released movie, Around the World in 80 Days, Holly has made a terrific coloring project for you to make. Click below to go to a printable page.
Holly has also gifted us with a colored version which you can see below AND at Holly's Studio. All of Holly's wonderful drawings for the Kids Corner are available for viewing at the studio.
Click on the Flying Machine to read all about Around the World in 80 Days!
Holly also made a cartoon for the link to Jackie's music in the Totally Fun Jackie Stuff section of the Kids Corner. Here's the cartoon:
Click on Jackie Singing to read about Jackie's music!
Click here to go to the coloring pages for a version of Jackie Singing that YOU can color in!
Buddy Bear Voting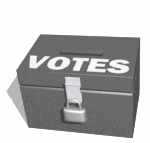 Please take a minute to vote for your favorite Buddy Bears. In order for the elimination round to be fair, as many people as possible should vote. Thanks to all who have voted already....and to those of you who haven't voted yet.......read the message below! Thanks.
May 2, 2004

Now that the Buddy Bear design contest is over, the voting will begin. Since there were so many entries (almost 100 for kids and around 40 for adults) there is going to be an elimination round. Once the top ten Buddy Bear designs in each category (Kids and Adults) are chosen, it will be up to our celebrity judge to pick out his favorite!
Here's what to do:
Go to the Buddy Bear pages and choose your top ten favorites from the kids' designs and your top ten favorites from the adults' designs. When you have your list made, email it to the Kids Corner webmaster and she'll tally them up. In your email, please separate KIDS bears from ADULTS bears. Mail your votes to the Kids Corner mailbox with the subject line "Vote" or "Buddy Bear Vote" or something like that.
**Here's a hint to make your voting easier: Begin by opening up the Kids Corner Buddy Bear page. Then get your email open and address a new mail to the Kids Corner. As you are voting, copy and paste the titles below your favorites to the email. It's really simple! No typing involved!**
May 1, 2004
Buddy Bear Contest Comes to a Close
Yes, folks.....the Design a Buddy Bear contest has wrapped up. A whole bunch of people sent their designs in during this past week.....so there's a huge new pack of Buddies to see! This last mailing of Buddy Bears will certainly allow the contest to finish up with a bang......the designs are amazing! Click on Steffi's Buddy (below) to see all the new kids' entries. After you've seen those, check out the Big Kids' entries for some more amazing Buddy Bears!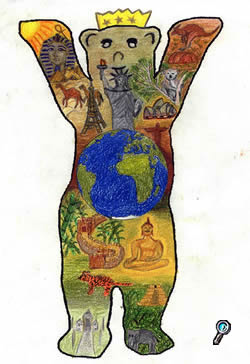 Jackie's Stunt Team Nominated for World Stunt Award

Nominees: Bradley James Allan, Paul Andreovski, Petr Bozdich, Radek Bruna, Pavel Dvoreik, Wu Gang, Ken He, Petr Kabat, Jan Loukota, Rudolf Vrba
Description: Jackie Chan fights with many stunt men in a crowded marketplace. The stunt men maneuver around carts filled with produce and up onto rooftops to continue the fight. Props used in the fight include umbrellas, boxes, crates and pulleys. Source

Jaycee Chan Marches Toward Singing

Source



From the China Internet Information Center:

Hong Kong film starlet Jaycee Chan, son of world renowned action idol Jackie Chan, has announced he will release an album on the Sony music label.

The movie star, with the production assistance of Taiwan veteran vocalist Li Zongsheng, plans to release his debut album during the forthcoming summer months.

The new album includes ten songs, eight of which were written by the aspiring young movie star.

Also, Jaycee Chan has just finished shooting the new film Twins Effect II, starring Hong Kong pop group Twins.

The actor, who appeared as Coca Cola's image representative this spring, has also shot special ads to promote the 2008 Beijing Olympic Games.
Important Message for VIP Members
If you joined the VIP club and are waiting for your new member packet to arrive, please click here. There are a whole bunch of people who need to contact the office to clear up problems with their addresses. Check to see if you're on the list!

Special thanks to Marie M. for supplying the Kids Corner with daily news updates about Jackie. She spends a lot of time hunting down the latest news and very generously shares it with the Kids Corner webmaster. Without Marie's help, this news page would not be the same. Thanks Marie!!!!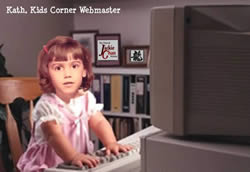 Please read this note from the webmaster!
Very Exciting News!!
This is THE coolest news of the year for the Kids Club!!!
As most of you know, Jackie has been keeping a diary for his fans while shooting Shanghai Knights. In the July 3rd diary entry, Jackie talks at length about the Kids Club and mentions each of the last 7 "Jackie's Kids" by NAME! As most Kids Club members know, Jackie has taken a keen interest in the newest Jackie Fan Club and he reads all of the newsletters. It is very exciting to read Jackie's comments about the club and its members! In the July 8th entry, Jackie mentions the Kids Club again, encouraging his young fans to join. Click the highlighted links (above) or read the diary entries at Jackie's Official Web Site. (From the August 12, 2002 News Report)
CLICK HERE TO GO BACK TO THE TOP
The Latest Jackie News is now being archived to save room on this web page.
To read past news reports, just click on the month you're interested in viewing.
©2004 Katharine Schroeder / Jackie Chan's Kids Corner
A big thank you to Jose Escalante for contacting me about this special Tae Kwon Do program. Jose was very patient while I dealt with many photos and many misidentifications of who was IN those photos. My ignorance of Tae Kwon Do didn't help either. Jose's middle name should be "Patience." Thanks also to Holly Hecht who not only made the touching cartoon to accompany the story, but who also wrote the story! I sent Holly a mishmash of emails and notations and somehow she was able to come up with a great piece. Thanks so much!