October 31, 2002
October 29, 2002
It looks like it's going to be a big thumbs-up
for Shanghai Knights! Jackie has already voiced his opinion that Shanghai Knights is his best American film yet...and one reviewer who saw a test screening of the movie totally agrees with him! This is wonderful news, especially in light of the recent lukewarm reception of The Tuxedo. Click here to read a review of Shanghai Knights. Be forewarned, however....there are MINOR SPOILERS, so if you don't want to know, then don't click! To quote the article:
Overall...this is Jackie Chan's best American movie easily. It his is best movie (HK or American) since DRUNKEN MASTER II. It has Owen Wilson at his comedic best, Chan at his comedic fighting best, and the setting & story for it all are the best Chan has had in a while. If you liked the first one, you'll love this one. If you are an Owen Wilson fan, you'll find him funnier than ever. If you're a Jackie Chan fan, go see this film and be reassured of his brilliant ability to entertain audiences again and again. This is just a great action comedy.
What? Jackie Chan SCARED???? Yes sir! According to an article in the New York Post , when asked what movie scared Jackie the most, he replied,
"The Exorcist" blows my mind. The first time I saw it I was in Australia. I was in a movie theater, and even the audience scared me. They were screaming when that girl's head spun around. An ambulance had to come to the theater to take away one person after they passed out.
"Red Dragon" star Edward Norton and actor Greg Kinnear also chose The Exorcist as the scariest movie they'd ever seen.
October 28, 2002
Finally the entries for the "Jackie Wants to be a Jedi" contest are up and ready to be voted on. If anyone's project was left out, email the webmaster right away and she'll add yours in. Click here to see the projects. All entries will be printed out and sent to Hong Kong for Willie (and perhaps Jackie) to see! Thanks to all who submitted an entry...they're very funny. Please vote for your favorite!
October 24, 2002
Remember a while back when Jackie was decorating a popcorn bucket to be auctioned off for charity? Well, that bucket (and some photos of Jackie decorating it) are leading the charity auction as of today. Click here to go see Jackie's bucket and other items up for auction.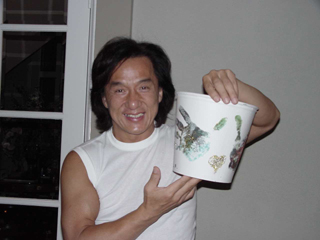 Jackie the Artist
Ever wonder what happened to Highbinders, the movie Jackie was filming last year in Ireland and Thailand? Well, according to an article at Stareastnet, there will be TWO versions of the movie released: one for a US/European market, and one for an Asian market. Reportedly, the Hong Kong version is complete and work is being done on the other version. A Summer 2003 release is expected. Here is a photo of Jackie at the Highbinders press conference: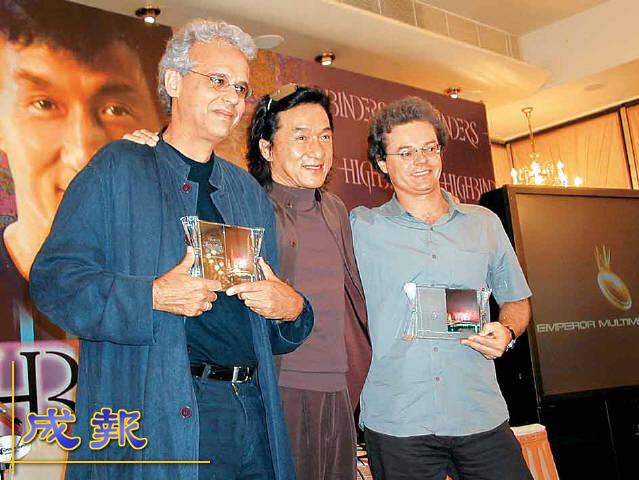 Photo: Stareastnet
October 22, 2002
Big news!!!
"While staying in Hong Kong waiting for the shooting of "Around The
World in 80 days" to begin, Jackie has signed on to a new film
produced by his good friend Albert Yeung's Emperor Entertainment
Group. Literally translated as "A Thousand Changes", with stunts
choreographed by Donnie Yan, the film stars most of the group's
artists, including the ever popular pop group Twins, 3T, Edison Chan,
Anthony Wong and Ekin Cheng.
Although a late addition, Jackie's involvement won't be just a cameo;
he'll play a major role as a sorcery master (similar to the late Lam
Ching-Ying's role in "Mr. Zombie"), teaching Ekin Cheng the way of
magic against zombies.
Jackie is rumored to receive HK$10m (around $1.3 million US dollars) for 2 weeks' work. The film is scheduled for the 2003 Chinese New Year.
Here is a photo of Jackie with the film's stars: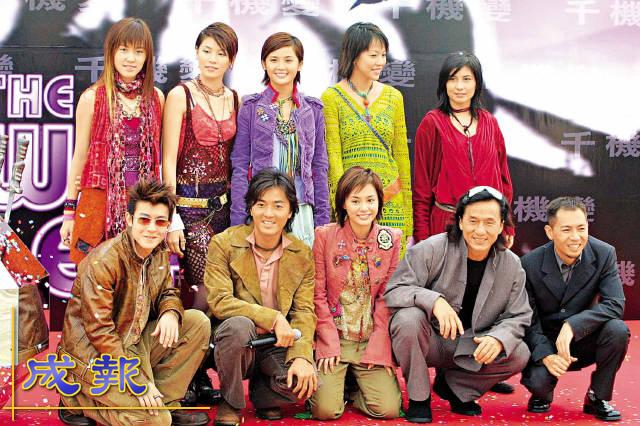 Story source: JCMB
Photo source: StareastNet

October 19, 2002
The Tuxedo is still going strong in Hong Kong and continues to do well in the United States.
In other news....well, there's not a lot of it. Jackie is keeping a low profile right now and there's nothing much to report. Click here to read another article wherein Jackie talks about his desire to do something different in the future.
To all new visitors....don't forget to sign the Kids Club GuestMap. Just click on the icon on the home page and sign in! You don't have to give your email address or any personal information besides your first name and the country in which you live. It's fun and easy.
If you haven't contributed a postcard to the Postcard Gallery, you can do so at any time. You need not be a Kids Club member. All you have to do is send a postcard with a photo of your hometown to the Kids Club snail mail address or you can scan a postcard and mail it to jckids@jackiechan.com. There are many countries represented and lots of gorgeous cards in the galleries. Here's the address for the Kids Club:
The Official Jackie Chan Fan Club for Kids
P.O. Box 556
Peconic, NY 11958 USA
With regard to the Jackie Wants to be a Jedi Contest....all entries are in and are being sorted, scanned, and will be ready to view VERY SOON. Sorry for the delay...it is taking a while to get it all together. All entries will be printed out and sent to Willie Chan, who is anxious to see them. Perhaps Jackie will get a look at them too since he's in Hong Kong right now!
One more thing....and this is a little embarrassing. A while back the Jackie Chan Fan Club for Kids web site was awarded the "Golden Web Award" for excellence in web design. The Kids Club webmaster went to the Golden Web Awards web site, checked things out, determined that they were on the up and up, and promptly accepted the award and made the announcement on the Kids Club web site. Then someone close to the webmaster said something about these types of awards being "bogus" - as in they were trying to sell something. Like awards certificates, for example. So the Kids Club webmaster decided to check it out. She submitted another web site she owns, an inactive site. Have a look at it here. Guess what? Yep...it won a "Golden Web Award" for excellence in web design. Hmmm. Anyway, the Kids Club webmaster promptly removed the "Golden Web Award" certificate from the home page and went quietly back to work with her face red and her pride a little wounded. Live and learn.
October 15, 2002
The Tuxedo is the number one movie in Hong Kong this week pulling in $296,000 on 35 screens. The movie has made $5 million from five Asian markets, highlighted by Taiwan's $1.6 million in nine days, Singapore's $1.2 million in 17 days and the Philippines' $1.1 million in 12 days. In the United States, The Tuxedo came in #6 (nearly $38 million in three weeks).
Sources: www.variety.com, www.yahoo.movies.com
Have a look at Jackie posing for a JC EYEGEAR ad (thanks to Kevin at www.jackiechan.com for posting this photo):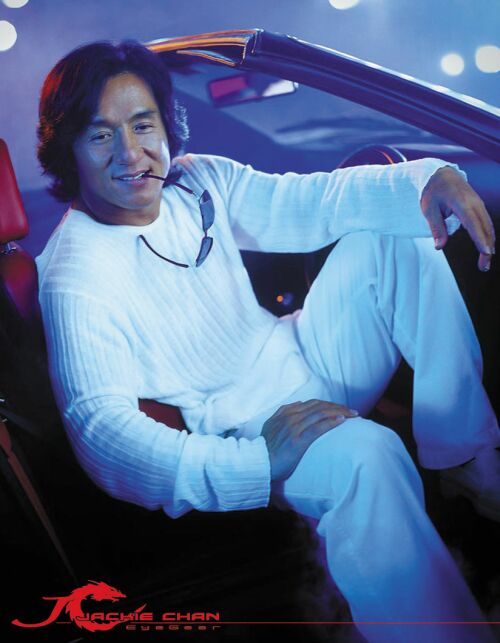 Tuxedo interviews keep rolling in.....Jackie was very busy while he was in the states last month! Click on the microphone to hear Jackie's radio interview taped during The Tuxedo promotional tour!
Don't forget...if you'd like to write a review of The Tuxedo do so and send it to the Kids Club. Wouldn't it be cool to be a PUBLISHED AUTHOR????
October 13, 2002
Click here to see some screenshots of Jackie's appearance yesterday on Nickelodeon's "Nick Cannon Show." The skit shows Jackie arriving at a Tuxedo shop and trying on some bizarre looking suits. Jackie is popping up all over the place with all the Tuxedo promotion.
October 12, 2002
Not much in the way of Jackie news today. Click here to see a little article from Entertainment Weekly wherein Jackie comments on The Godfather of Soul, James Brown.
Work continues on coordinating all of the Jackie Wants to be a Jedi entries. Pardon the delay....as soon as things are ready you will be able to see the entries and vote for your favorite.
If anyone has seen The Tuxedo and would like to write a review for possible publication on this web site, please write and send it to Tuxedo Review
In other news, Jackie continues his charitable ways as he recently donated a very valuable table to be auctioned off in Hong Kong to fund cancer research. Jackie is consistently generous to charities.
October 10, 2002
The official Shanghai Knights web site has added an additional diary entry and you can see some fun video of Jackie and Owen. When you get to the web site just click on "Read Jackie Chan's Set Diary." You can also view the trailer here. Shanghai Knights looks like it will be a lot of fun. Jackie has said in recent interviews that he thinks it is his best American film to date. (*Note* The trailer says that the film is due out for Christmas 2002 but it is actually expected to premiere in February, 2003).
Click here to read a lengthy but informative article about Jackie and The Tuxedo.
Jackie promoting The Tuxedo
Photos: www.stoo.com and www.news.hot.co.kr
October 8, 2002
Jackie is making the rounds in Hong Kong doing publicity for The Tuxedo. Whew! Jackie will probably be happy when he gets back to filming movies so he can relax a little. Here are some photos from Asian news sources. Thanks to JF at the Jackie Chan Message Board for bringing these photos to the attention of the Kids Club.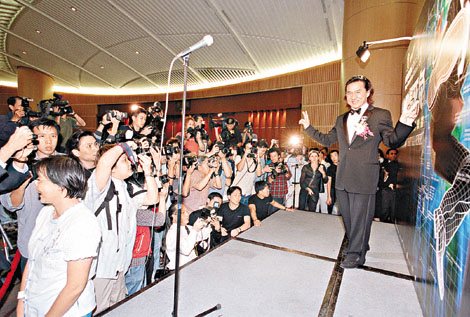 Jackie faces the press. Photo : Oriental Daily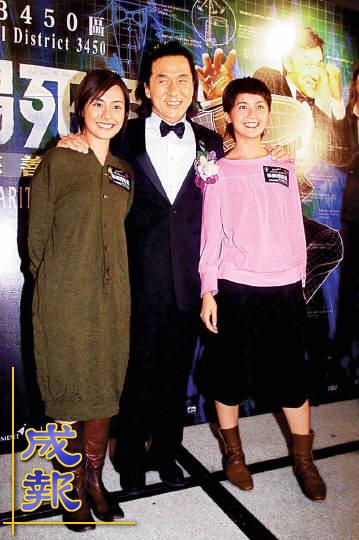 Jackie poses with the Asian singing duo The Twins. Photo : Stareastnet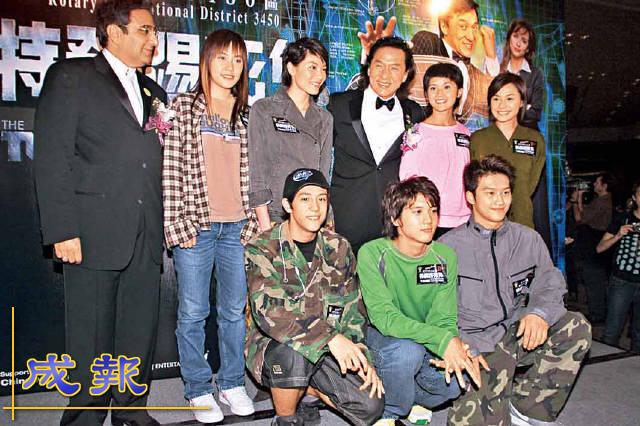 Photo : Stareastnet (Doesn't it look like the poster Jackie is grabbing the real Jackie's head in this photo???)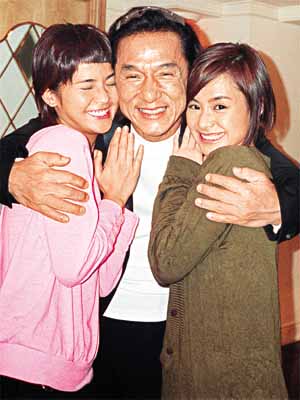 Jackie with a Twin on each arm. Photo : The Sun
October 7, 2002
After just two weeks The Tuxedo has generated over $28 million in ticket sales. That's great news for DreamWorks and for Jackie. Go Tuxedo!
Jackie's back in Hong Kong after having completed the US leg of his press junket for The Tuxedo. At a press conference in Hong Kong Jackie again spoke of his desire to do more drama and less action in his films. He's looking for the perfect script, so all you screenwriters should get to work and write Jackie the perfect role! Here's a photo of Jackie at the press conference yesterday: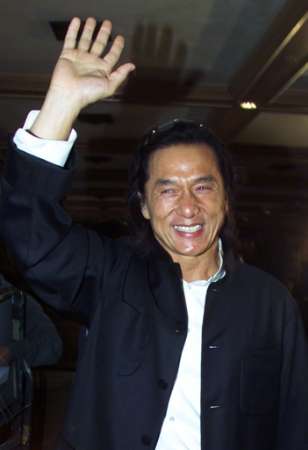 Photo: REUTERS/Kin Cheung
In other news, Jackie took time out from his busy filming schedule to help The Newspaper Association of America promote reading.
Click here to see the poster that Jackie posed for.
October 5, 2002
Congratulations to Jackie Chan for receiving his own STAR on the Hollywood Walk of Fame. This is one of Jackie's fondest dreams come true and The Official Jackie Chan Fan Club for Kids salutes him.
Yesterday Jackie Chan received his own star on the Hollywood Walk of Fame. About 500 people attended the ceremony. Jackie has star Number 2,205 on the Walk of Fame, only about 25 feet (7.5 meters) from the entrance to the Kodak Theater, the new home of The Academy Awards ceremonies.
Jackie said that receiving the star was a "dream come true" and when asked what was next for his career he replied, "The Oscar." Those who know Jackie have little doubt that he will one day achieve this dream as well.
Jackie reacts with elation as his star is unveiled. With him are Shanghai Noon co-star Owen Wilson (l) and Rush Hour director Brett Ratner (r). Photo: REUTERS/Fred Prouser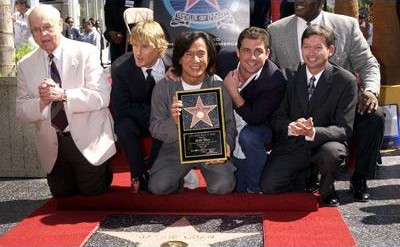 Jackie holds a plaque with a replica of his Hollywood star. From left to right: Johnny Grant (honorary mayor of Hollywood), Jackie's Shanghai co-star Owen Wilson, Jackie, Rush Hour director Brett Ratner, and Leron Gubler, the President and CEO of the Hollywood Chamber of Commerce) AP Photo: Jill Connely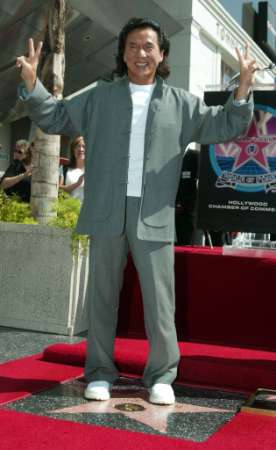 Jackie standing on his star. REUTERS/Fred Prouser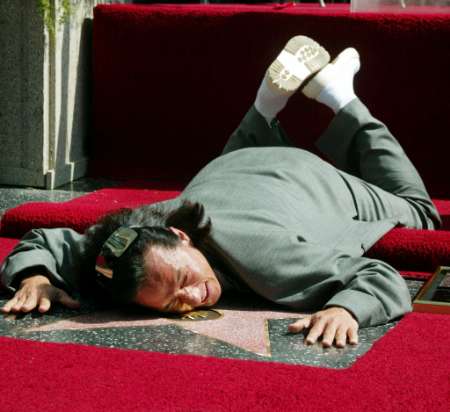 This picture speaks for itself. REUTERS/Fred Prouser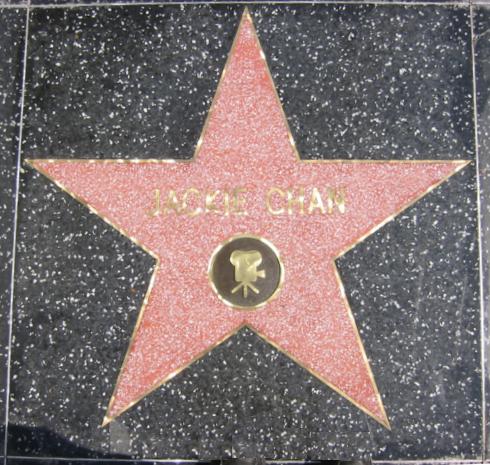 Jackie's Star!
Photos: Yahoo
Click here to see more photos!
October 1, 2002
HEY KIDS!
HAVE A LOOK AT THIS!!!
Remember when we sent Jackie cards and letters for his birthday? Well Jackie certainly appreciated it! Click here to see what arrived in the Kids Club mailbox this afternoon!!!!!
In other news.... good news for The Tuxedo....it had a weekend box office of over $15 million in the US! Congratulations to Jackie and to DreamWorks. Jackie continues to make the rounds of talk shows with a visit to The Tonight Show on Wednesday, October 2nd.
In other news.....on October 4, 2002 Jackie will be honored in Hollywood, California with his own STAR on the Hollywood Walk of Fame. This is a BIG DEAL and Jackie certainly deserves it. If you live in the area you can see Jackie there (at 6801 Hollywood Boulevard near Highland) at 11:30 AM.