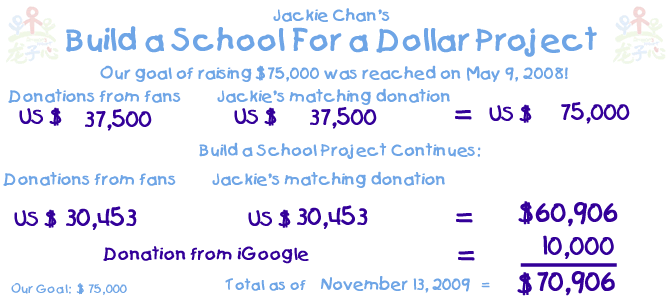 January
December 15, 2009
Christmas Coloring Project
Hey kids! Here's a terrific Jackie Christmas coloring project for you to make! We'll show you the one that was colored by Petra, the Kids Corner cartoonist. Just click on Petra's design to print out a black and white copy for you to color yourself!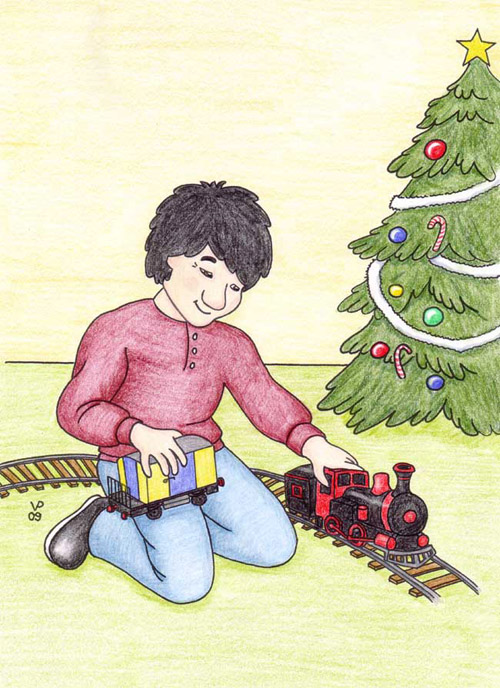 Click on Jackie to print a black and white version for you to color.
December 5, 2009
Halloween Contest Winners
Jackie has chosen the winners in the 2009 Decorate Jackie for Halloween Contest. Here they are:
Age 12 and under

Bad Elf Jackie

Santiago, age 11

Spain

Butterfly Jackie

Lindsay, age 12

USA

Hot Dog Surfer Jackie

Maya, age 12

USA

Puntisimo Jackie

Francesco, age 14

Italy

Calvin, age 13

Australia

Michael Jackie

Daniel, age 17

Switzerland

Adult

Matryoshka Doll Jackie

Lena, adult

Russia

Puppy Dog Jackie

Sandy, Adult

Germany

Keychain Jackie

Asha, adult

Russia
Jackie picking his favorites: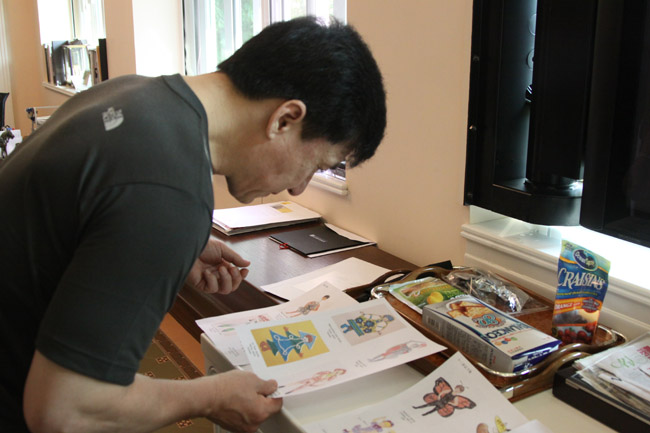 Congratulations to all the winners! Prizes will be sent soon.
November 28, 2009
Dragon's Heart Foundation Donates Bookbags
Jackie's Dragon's Heart Foundation sent 16 boxes of Dragon's Heart bookbags to elementary school students in Xinmi last week. The children were overjoyed and one said that he wanted to thank "Uncle Jackie" and promised to study hard and give back to society when he grew up.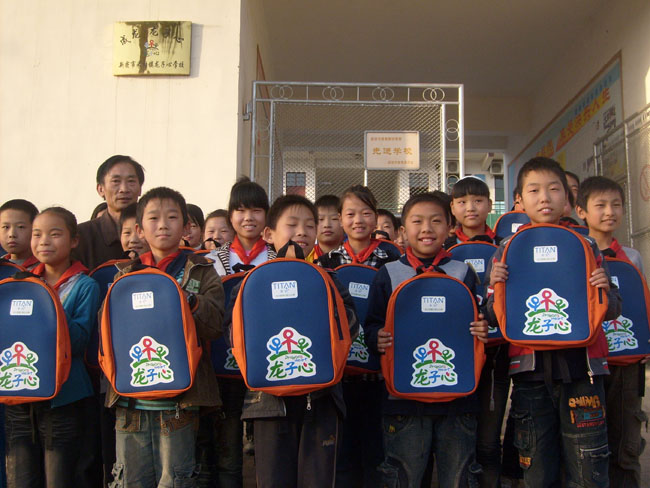 November 25, 2009
New Poster for The Spy Next Door
and
Become a fan on Spy Next Door's Facebook Page!
There's a great new poster for the movie, and now you can join the Facebook page for The Spy Next Door and get lots of exclusive photos and information. They even share "spy tips" and they're really fun to read! Click here for the Facebook page and become a fan: http://www.facebook.com/spynextdoor
We'll also be having some great Spy Next Door contests (with official Spy Next Door prizes) here at the Kids Corner and at the main site at JackieChan.com, so keep checking back!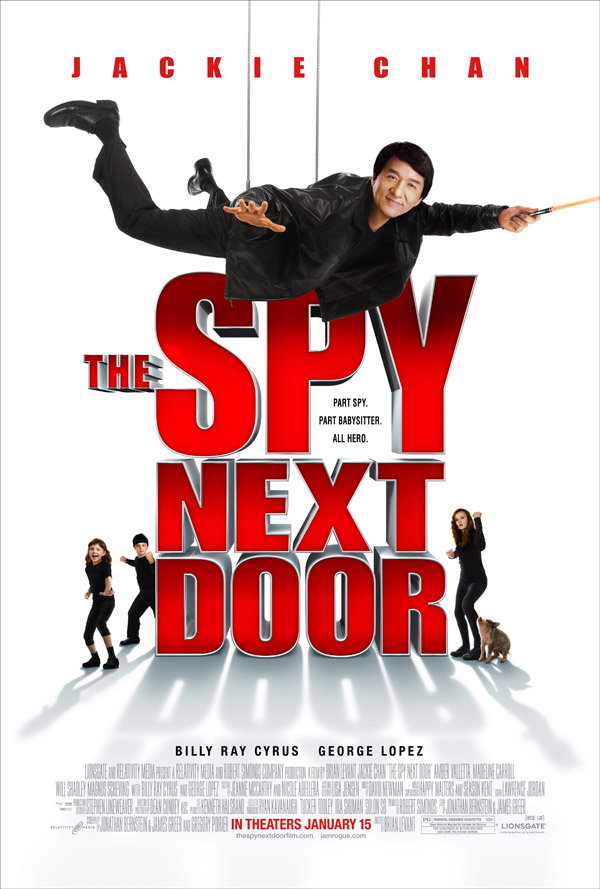 November 24, 2009
The Original Seven Little Fortunes on American Television!
A big thank you to Antonio who found a most remarkable screenshot of Jackie appearing on American television with the original Seven Little Fortunes! Although he didn't know what television series it came from, he said that it was from the 1960s and that narrows it down a lot. Most likely the television show was the popular "I Spy" series which filmed nearly its entire first season in and around Hong Kong. Here are the screenshots: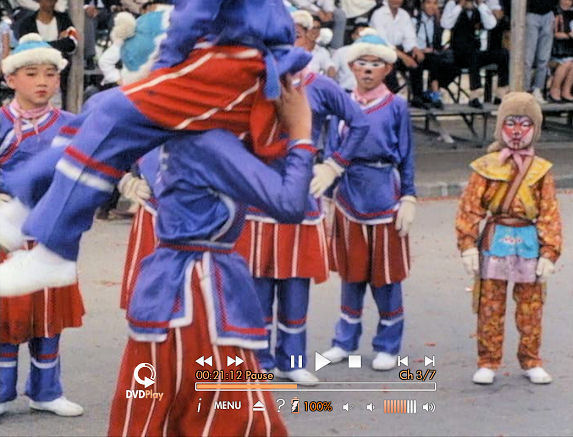 That's Jackie on the far left. Look how colorful their costumes were!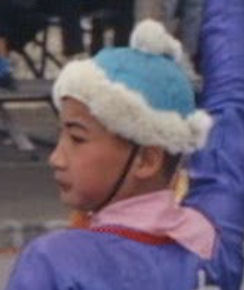 There are over 20 episodes of "I Spy" in the first season (when they filmed in Hong Kong), so we can't go through and see if we can find the clip. We're not even sure that the screenshot is from that television show, just taking an educated guess. However, if you've ever wanted to see what Hong Kong looked like when Jackie was little, you can watch some of the episodes here. There are also several episodes available to watch on YouTube. Be warned that the television series has a bit of violence, but it's very conservative by modern standards. It's worth the time to look at some of the episodes and see the amazing difference between Hong Kong of Jackie's youth and the Hong Kong of today!
November 18, 2009
Build a School is Getting Close!
As you can see, we are getting very close to reaching our goal for the Build a School project - - for the second time. Only a little over $4,000 to go! Remember that Jackie matches each dollar you donate, so that means the fans have to donate about $2,000 and we'll be there. Jackie's fans will have raised enough money to build a second school.
Thank you to everyone who made a donation. Even in these hard economic times, Jackie's fans have not forgotten to support this very special project.
We don't get many donation drawings anymore, but we did get a few. We've posted them at the Donation Drawings page and want to show you one very clever one right here on the news page.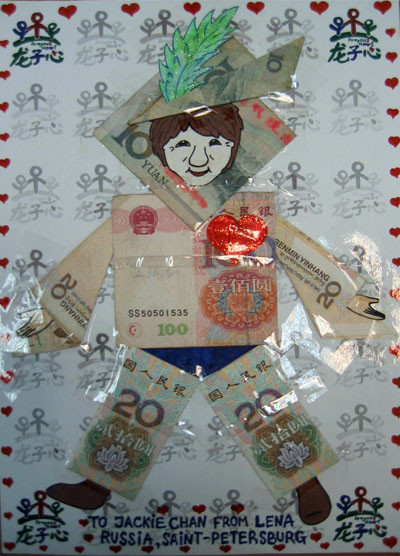 November 16, 2009
Jackie Caricatures
We've added more caricatures to the Jackie Caricatures page. If you like to draw, why not send us yours! Click on Jackie to see them all.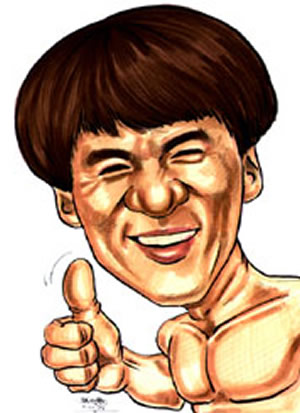 Lots of Big Big Photos!
We've put together a page with dozens and dozens of large sized files of photos for fans to use when they make their Photoshop Jackie projects. Click on Jackie to see all of the pictures and then send us your best Photoshop project for the Kids Corner!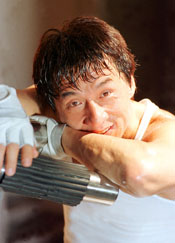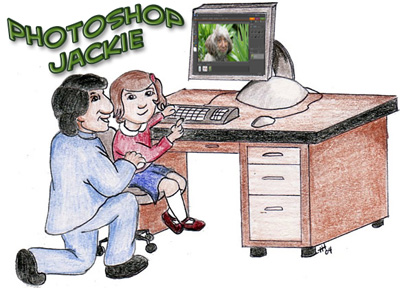 Click here to see some great Photoshop Jackie projects from fans.
November 15, 2009
Lots of Fun Updates!
We love it when fans send us their stories, drawings, and projects. Sometimes it takes a while before they appear here on the Kids Corner, and we're sorry about that. But the updates that we added today were worth waiting for!
First, we have some amazing and clever Photoshop Jackie projects. Click below to see them.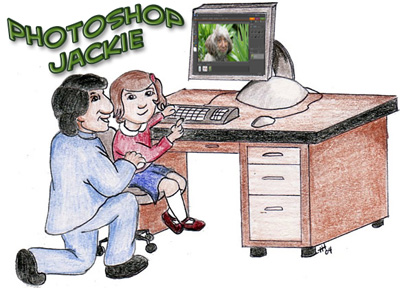 Updates to the Art Gallery
Several new drawings in Jackie's Art Gallery. Click below to see them.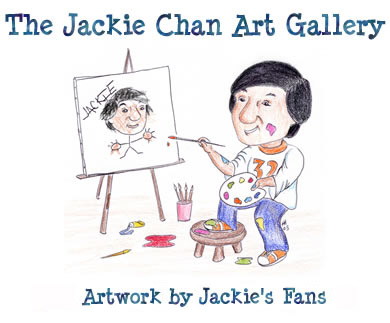 Wonderful Story in the Sharing Corner
Asha tells the story of two little Buddy Bears who arrive in Russia - gifts from the Buddy Bear contest. Click below to read it:
October 31, 2009
Halloween Contest is Over
We will not be accepting any more designs for the Halloween contest unless you have emailed us a design already and it hasn't shown up on the website. If you have sent in a design and do not see it on the website, please forward us your original email. You must send the email as a forward so we can determine that you have already tried once to send it in.
Thanks to everyone who entered. We received more designs this year than any other year; an amazing 149 entries!!
As you know, Jackie usually judges these contests. However, his schedule is much more hectic than it has been in quite a while, so it is possible that it could take a long time to get the results. Please be patient.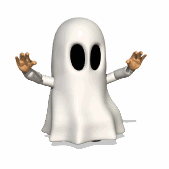 Click the Friendly Ghost to see them all!
The Latest Jackie News is archived to save room on this web page.
To read past news reports, just click on the month you're interested in viewing. Remember that many of the older links in these news archive are no longer active.
KIDS CORNER FRONT PAGE / TOTALLY FUN JACKIE STUFF / OFFICIAL SITE HOME PAGE
©2009 The JC Group
No part of this website may be reproduced or distributed without permission.