June 29, 2004
New Sharing Corner Story from Singapore

Jackie At Top of the List of Hong Kong Saleables
This from the South China Morning Post:
According to ACNielsen, who ran a survey during last week's Filmart, the most saleable commodities Hong Kong has to offer are (and in all fairness, in alphabetical order):

Top actors: Andy Lau Tak-wah, Chow Yun-fat, Jackie Chan, Stephen Chow Sing-chi, and Tony Leung Chiu-wai

Top actresses: Carina Lau Ka-ling, Cecilia Cheung Pak-chi, Maggie Cheung Man-yuk (winner of best actress in Cannes Film Festival 2004), Michelle Yeoh Choo Kheng, Miriam Yeung Chin-wah and Sammi Cheng Sau-man.

Top 10 most saleable directors in buyer's markets: Andrew Lau Wai-keung, Ann Hui On-wah, Derek Yee Tung-shing, Gordon Chan Kar-sheung, Jackie Chan, John Woo, Johnnie To Kei-fung, Peter Chan Ho-sun, Tsui Hark and Wong Kar-wai.

The result is from a survey of film industry people, who named names off the top of their heads. Very impressive.

Thanks to Mary D.

Three Generations Together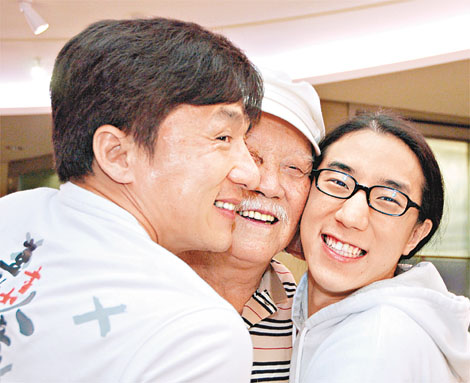 Jackie, Papa, and Jaycee Chan
Photo: Oriental Daily
Father and Son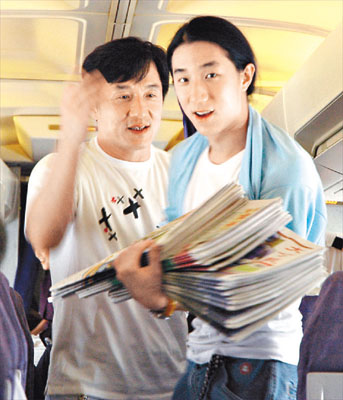 Jackie and Jaycee Chan
Photo: The Sun
Thanks to Marie for the links.
Sony To Release JC Adventures for PS 2 This September
Sony announced yesterday that it will release a Jackie Chan Adventures game for its PS2 platform this fall. The game will feature Jackie and his 11 year-old niece, Jade, on a globe-trotting adventure for lost talismans. Says Jason Falcus of Atomic Planet Entertainment (the game's developer):
"The Jackie Chan Adventures cartoon series lends itself perfectly to be adapted to a videogame and we are thrilled to have been given the opportunity to produce it. Our team has worked very hard to create a great game that is true to the show in both look and feel, and I am confident it will appeal to fans of the series and fans of action-adventure games alike."


Screenshots ©2004 Sony Entertainment
June 28, 2004
The Buddy Bear Book: More Photos!
Thanks so much to Eva Herlitz and her friend Gabriela for these latest photos of Jackie admiring YOUR Buddy Bears! Now that you've seen how much Jackie enjoys the bears, why not click here and print out a blank buddy? Then color it in with your own unique design and send it to the Kids Corner. The webmaster has already gathered about 30 more Buddy Bears to go into the second edition of the Buddy Bear book! Let's work on gathering packs and packs of Buddy Bears this summer, okay?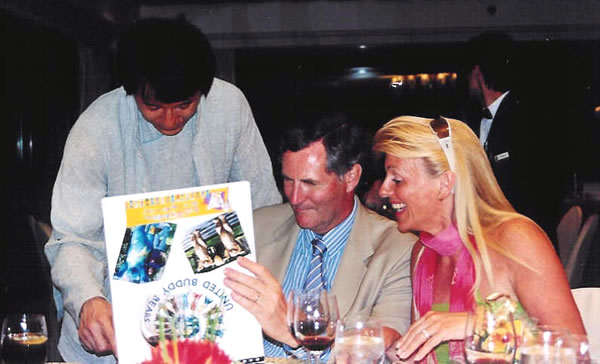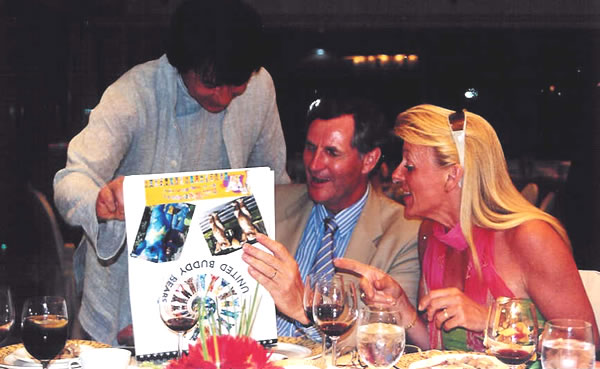 Packs of New Buddy Bears Stampede the Kids Corner!

Have a look at the latest collection of Buddy Bear designs from both kids and big kids. Thanks to everyone who sent a Buddy in. And for the rest of you, don't forget that a second edition of the Buddy Bear book is in the works. We want to make Jackie smile, don't we? Click here for information on sending in your own Buddy Bear design.
June 27, 2004
Getting To Know Willie Chan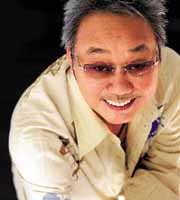 Photo: South China Morning Post
Anyone who knows anything about Jackie Chan knows that Willie is his manager, business partner, and best friend. While much is known about Jackie, rarely do we get a chance to know Willie. Click here to read a fascinating article about "The Man With The Plan" - Willie!
Jackie Chan Charity Cup Race, Shanghai
Here are some photos from the big event. Thanks to Marie for the links.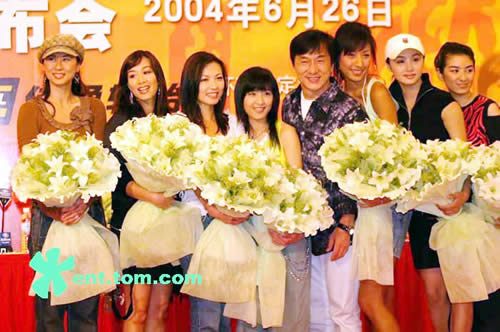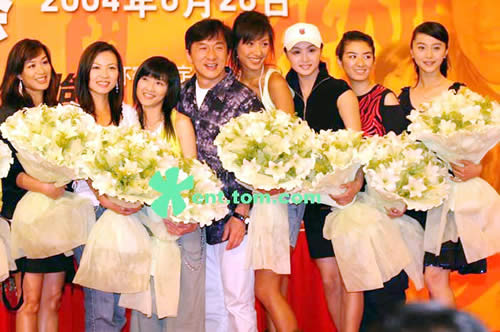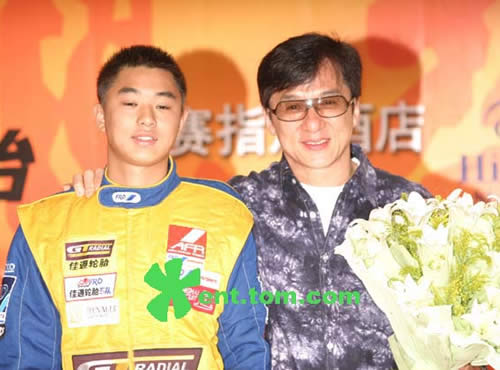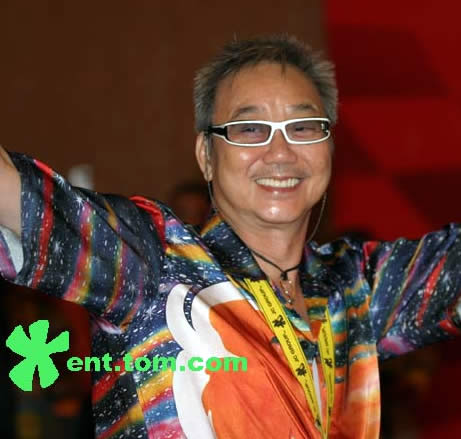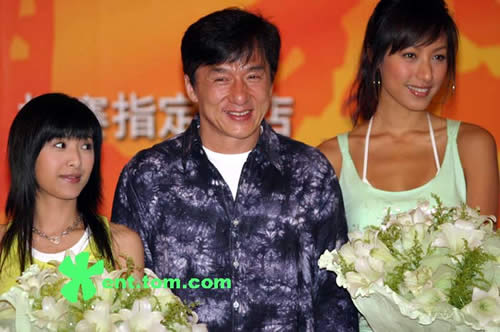 THE FOLLOWING PHOTOS ARE FROM SINA.COM: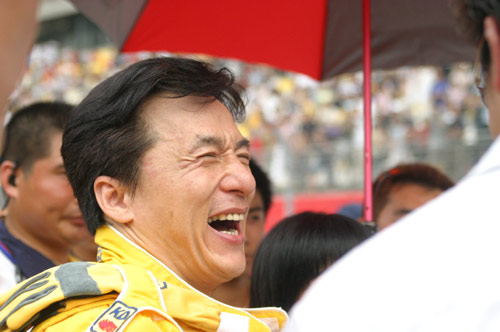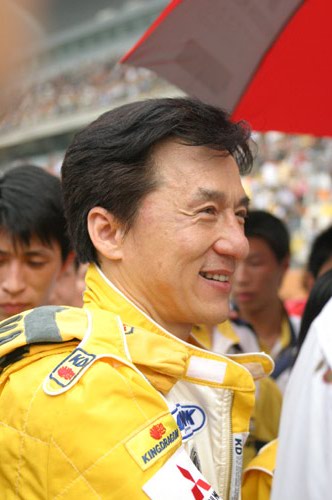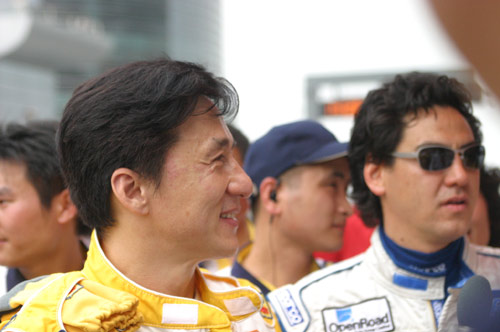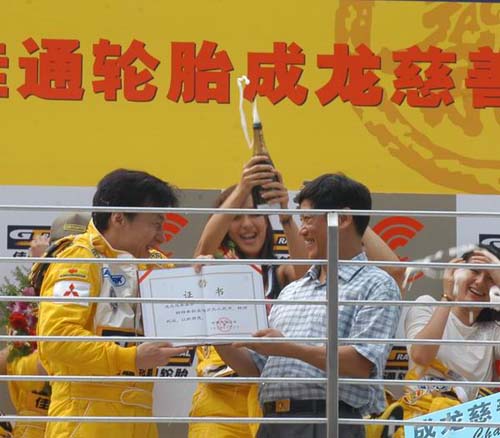 June 26, 2004
Jackie in Shanghai
Jackie is in Shanghai, China right now getting ready for the Jackie Chan Charity Cup Car Race. The race will be held in Shanghai on June 27, 2004. All photos ©www.sports.sina.com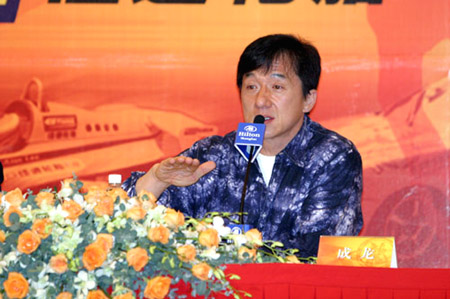 Jackie speaks to the press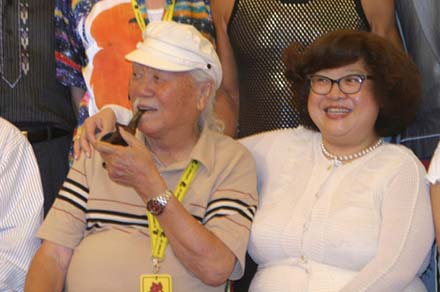 Papa Chan puts in an appearance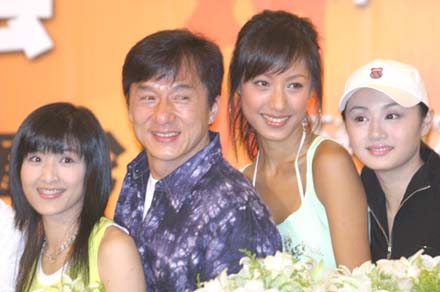 Jackie with some of the beautiful racers.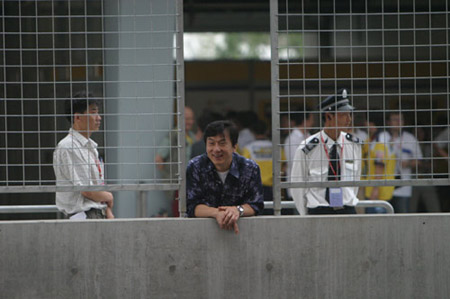 Jackie watches practice. He sure seems to enjoy this!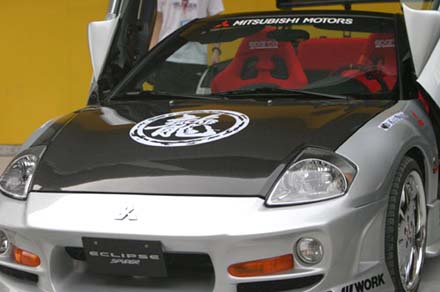 Jackie's Mitsubishi Motors pace car.
Announcing: A Brand New Section of the Kids Corner!

The Sharing Corner is a place to read stories from Jackie's fans. These stories may have a lot to do with Jackie...or just a little. They might be about a hobby that was sparked by being a Chanfan. They might be about China or martial arts....or whatever! There are a few stories here to start, but it is up to you to make the Sharing Corner really special. These stories are for kids and adults...and they're written by people of all different ages. Click here to read some wonderful things!
Thanks to Holly for her WONDERFUL drawing of Jackie listening to a story.
June 25, 2004
Another Wonderful Story About Meeting Jackie
Thanks to Diane for sending in her story of a heartwarming meeting in London at the premiere of Around the World in 80 Days. Click here to read it....it will make you love Jackie even more!
June 24, 2004
An Absolutely EXCELLENT "Jackie Chan Adventure"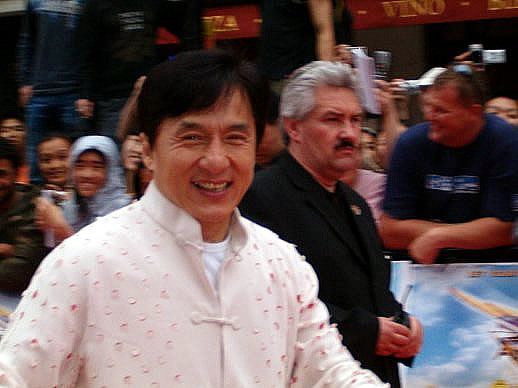 From Lynsey in the UK comes a really terrific story about meeting Jackie in London. Click here to read it!
Mallika to Play Jackie's Love Interest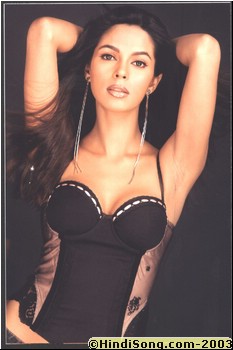 From IndiaFM News Bureau
"Mallika is one Bollywood babe in top demand. After getting an offer from the Playboy magazine and signing films for Rajkumar Santoshi (to be directed by K. Subhash) and S. Ramanathan (also starring Amitabh Bachchan) the hot beauty has signed a film opposite international action king Jackie Chan. And Mallika is the leading lady of the film playing Chan's love interest. The film tentatively titled Time Breaker will be directed by Stanley Tong who directed superhit action films with Chan like Police Story, Supercop and Rumble in the Bronx."
June 22, 2004
Around the World in 80 Days Premieres in London!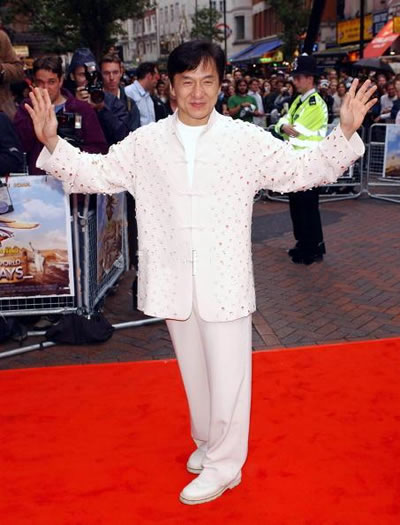 Photo: Getty Images
At the London premiere of Around the World in 80 Days at a theater in Leicester Square, Jackie's British co-star Steve Coogan joked, "I thought they were all screaming for me, but then I realized Jackie Chan was standing behind me!"
Jackie Awarded Accolades in Beijing
Yesterday was the 3rd Annual China Children Charity Day and although Jackie couldn't attend the grand ceremony held at the Great Hall of People in Beijing, he was awarded the accolade for his good work in China and donation of 2 million yuan (nearly one quarter of a million US Dollars). Source
Coming Your Way SOON.....Packs and Packs of Buddy Bears!
The Kids Club webmaster is winding down the year in her job as schoolteacher and so she'll have many new and wonderful things for the website coming up. This includes many many new and beautiful Buddy Bear designs. Don't forget to send yours in! Jackie will love another Buddy Bear book and you should have your drawing included, right?
There are a few new sections of the website that are being planned...and chances to share your thoughts and stories! There will be......oops......those are secrets. You'll have to check back and see! In the meantime, while you're waiting for all the new fun stuff here, why not go see Around the World in 80 Days. Some American critics have given the movie some bad reviews, but take it from the Kids Corner webmaster....the movie is terrific fun! It really is! This movie is becoming a victim of critics who have lost their sense of humor and their sense of wonder. Kids deserve more movies like this. So run to your theater and go see it!!!
June 20, 2004

Many Many Updates Here In The Kids Corner!
United Buddy Bears Opening Ceremony Photos

Beautiful photos of the United Circle of Buddy Bears Opening in Hong Kong
New Coloring Projects by Holly
Brand new coloring project from Holly: Jackie drives the ATW80D car! There are also several other projects which have been added to Holly's Studio!
Round Two of the Buddy Bear Designs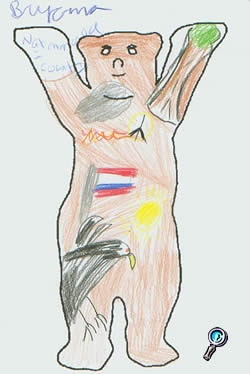 Although the contest is over, please continue sending in your bear designs. Since Jackie enjoyed the Buddy Bear book so much, a second edition will be created and sent to him in a few months. Click below to go to the page where you can print out your blank bear:

New Page To Color for Jackie's Coloring Book
A beautiful drawing of Jackie driving the car from Around the World in 80 Days. Thanks Holly!
New Coloring Projects from Kids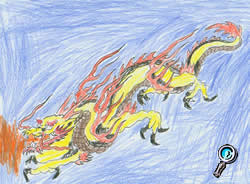 Click Alec's Dragon to see all the new coloring projects in Jackie's Coloring Book
Minor Updates to Around the World in 80 Days Page
Click on the flying machine to go to the Kids Corner ATW80D page. Not a lot of new stuff, but an attempt to bring all of the ATW80D things together in one spot.
May/June Little Dragon News Online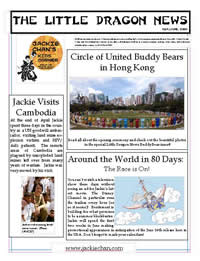 Click the newsletter to access the file. It is an Adobe .pdf file. If you are having trouble reading the newsletter online, try printing it out to read it. If this doens't help, please email the webmaster.
June 19, 2004
Kids Corner Film Critic Reviews Around the World in 80 Days (there are no "spoilers" in this review)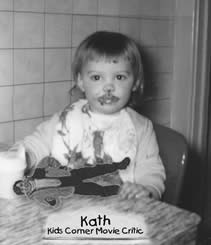 June 18, 2004
Around the World in 80 Days Getting Some Great Reviews!

"...a deliriously silly caper... a satisfying slice of old-fashioned storybook entertainment. It proudly insists on its own innocence."

"...a jolly comedy goofy fun, but that's what the ads promise, and the movie delivers."
" It's light as a fly, but springs some genuinely funny moments"

"Around the World in 80 Days" is a delightful surprise...not only amusing, but well-acted, and not only well-acted, but gorgeous. Micha Klein's animated transitions alone, which are used to signal each change in location, are wondrous and lovely to behold.

"Kids deserve an adventure movie like this, one that might inspire them to become junior inventors and ignite their interest in the world's many wonders."
" Chan is a bonafide movie star."

"Around The World finds a winning formula: Chan provides the action, various exotic lands serve up props begging to be employed in Chan-style combat, Coogan brings the dry wit, a minor constellation of surprise guest stars provides razzle-dazzle, and a steady stream of mild chuckles helps the whole fandango fly by painlessly."

"...the mere chance that its message or locales inspire [kids] just a little is worth the admission alone."
Congratulations to Jackie and everyone else involved with the movie. Check back here tomorrow for the Kids Corner Film Critic's review!
Jackie in Hawaii
Click to enlarge photos
Charity Auction

Thanks to Janel for sharing the following photos and information with the Kids Corner:

Jackie donated many of his own items, such as a cream colored suit, black suit, pair of white shoes and a pair of jeans from his clothing line. Several autographed Jackie's Kitchen logo items, including a chef's jacket, surf board and t-shirts were also available. the cream colored suit had a starting bid of $1,500 and the shoes $100. Autographed items such as JK t-shirt, ATW posters, and framed photos of the program cover, were sold outright for $50. There were 50 of each item. Jackie must have spent a good portion of his time that morning or the night before signing them.

There were also several cds and books (non-Jackie items) raising money for his charity. The charity dinner and official grand opening & ribbon cutting (in this case, a strand of maile) of Jackie's Kitchen was held the next night. Tickets for this event were $200. It was limited to 150 to 200 people, as the restaurant could only have a certain number of guests and workers present, to comply with the fire codes. There were many fans and media people outside waiting to catch a glimpse of Jackie, who happily posed for pictures and signed a few autographs. There were many fans, their eager faces pressed to the windows, hoping to see more of Jackie throughout the evening.

Jackie received a proclamation from Sam Aiona, a representative of Governor Linda Lingle. Jackie talked about his charity work, before a video clip, beautifully set to the song "True Hero", was shown. He talked about the importance of helping others. If eveyone helped each other there would be no more wars. He also said it was important for children to learn about charity work and understanding how we should all look after each other. After spending 2 hours with friends and a room full of delighted guests and restaurant workers & a very delicious 6 course dinner, Jackie announced he had to leave to catch a flight that night.

It was a wonderful evening! One of the highlights was watching Jackie quickly hop from table to table, taking group photos with each table. He would go to one side of the table and pose for a picture and quickly run over to the other side, with a big smile on his face all the while. He was having as much fun as we were!


(Also present were Solon So and Willie Chan of the JC Group, & Dr. Tsue (president of the Jackie Chan Charitable Foundation, USA))
Thanks again to Janel for sharing her photos and her story with the Kids Corner!

Special thanks to Marie M. for supplying the Kids Corner with daily news updates about Jackie. She spends a lot of time hunting down the latest news and very generously shares it with the Kids Corner webmaster. Without Marie's help, this news page would not be the same. Thanks Marie!!!!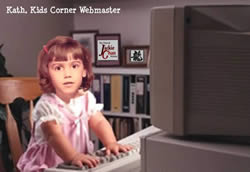 Please read this note from the webmaster!
Very Exciting News!!
This is THE coolest news of the year for the Kids Club!!!
As most of you know, Jackie has been keeping a diary for his fans while shooting Shanghai Knights. In the July 3rd diary entry, Jackie talks at length about the Kids Club and mentions each of the last 7 "Jackie's Kids" by NAME! As most Kids Club members know, Jackie has taken a keen interest in the newest Jackie Fan Club and he reads all of the newsletters. It is very exciting to read Jackie's comments about the club and its members! In the July 8th entry, Jackie mentions the Kids Club again, encouraging his young fans to join. Click the highlighted links (above) or read the diary entries at Jackie's Official Web Site. (From the August 12, 2002 News Report)
CLICK HERE TO GO BACK TO THE TOP
The Latest Jackie News is now being archived to save room on this web page.
To read past news reports, just click on the month you're interested in viewing.
©2004 Katharine Schroeder / Jackie Chan's Kids Corner