October 31, 2003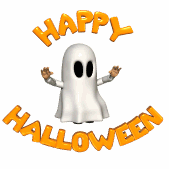 As you know, Jackie has been very busy flying to Beijing and then back again to Hong Kong for his lecture at the Hong Kong Polytechnic University. Here are some new photographs of Jackie at the University: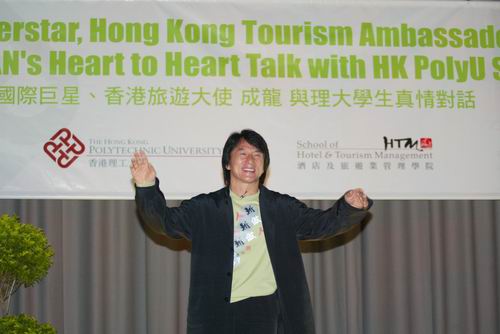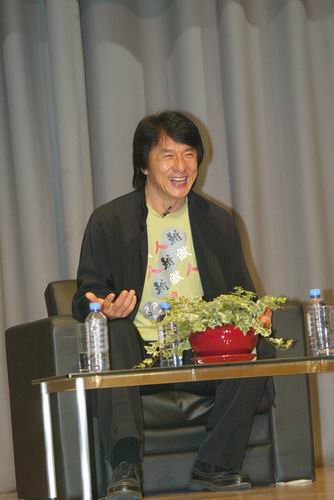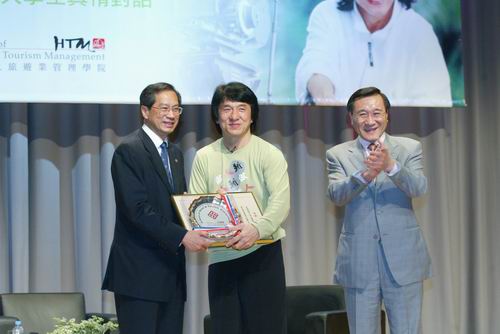 Photos: Sina.com
Here's Jackie leading the other artists in song at the Hong Kong Film and Television appearance: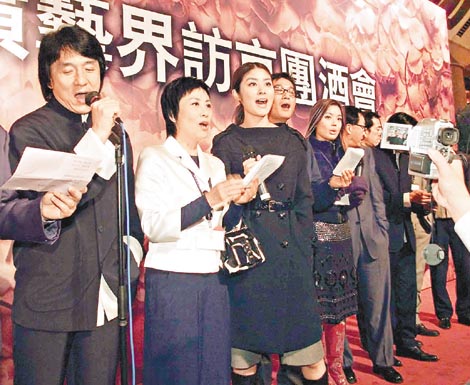 Jackie continues to film New Police Story in Hong Kong. The other day he had a close call - he was behind a camera filming a car flipping over and bursting into flames when the car came dangerously close. Luckily, everyone was just fine. Here's the car: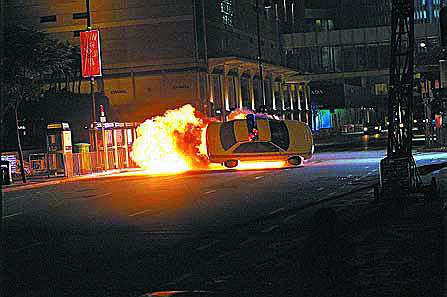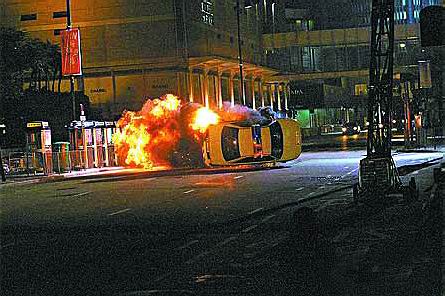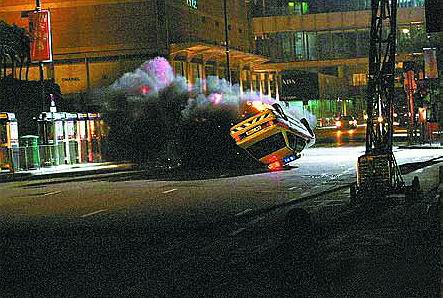 Photos: sina.com
Here's a photo of Jackie reenacting the near-miss: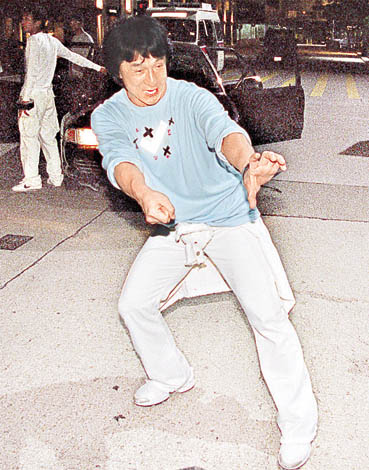 Photo: Oriental Daily
And giving the "thumbs-up" to let us know that everything's okay:
Photo: sina.com
This is just a photo of Jackie working the camera on the set of New Police Story: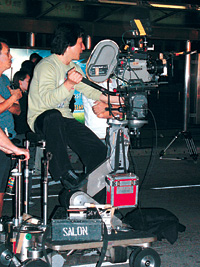 Photo: Takungpao.com
October 28, 2003
Here are a few photos of Jackie from the lecture he gave at The Hong Kong Polytechnic University. It sure looks like he was having a good time! For more on this story, read October 27th news.
All photos are ©2003 REUTERS/Kin Cheung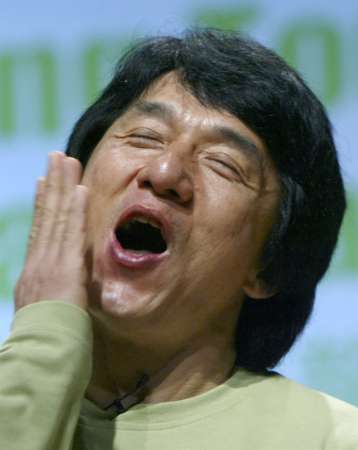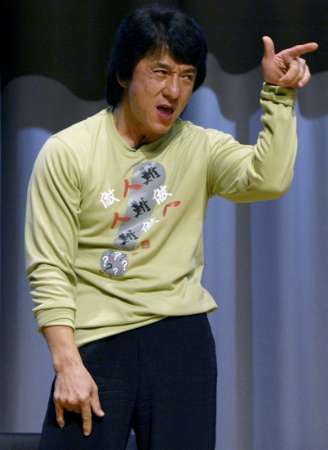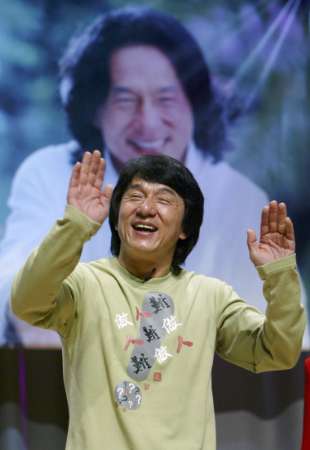 October 27, 2003
Professor Jackie Is At It Again!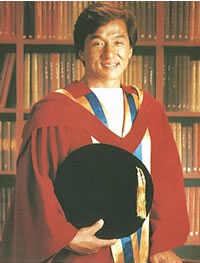 Jackie Chan is slated to lecture tomorrow at The Hong Kong Polytechnic University's school of hotel and tourism management. His job will be to teach the students how to be great achievers. Congratulations to Jackie - he's a great role model for achievement! (Source: SCMP - Thanks to Mary for the article)
Jackie was in Beijing this past weekend to meet with Chinese government leaders to talk about the new relationship between the Chinese and the Hong Kong film industry. China has just recently signed the Closer Economic Partnership Agreement with Hong Kong, which gives films, producers, and crews from that territory greater access to the mainland.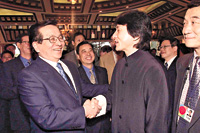 Jackie shakes hands with Vice President Zeng Qinghong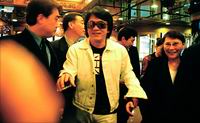 Jackie in Beijing
(Source: Nanfang Daily)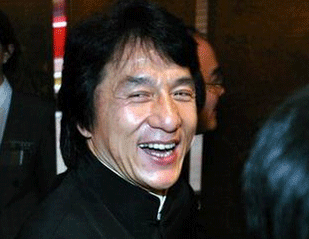 Happy Jackie!
Source: cqwb.com
Kids Club Member Dan Breaks Into Show Biz!!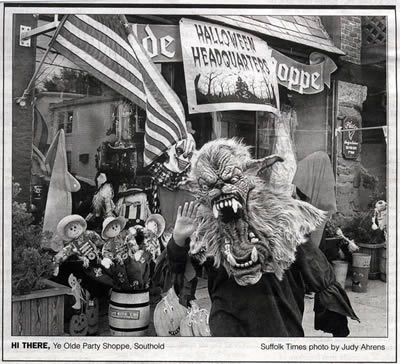 Could it be that Kids Club member Dan (above) is following in Jackie's footsteps with his show business debut as a creepy werewolf who stands in front of a party shop waving at people passing by? Well, maybe not. But Dan definitely showed what a Jackie's Kid is made of when he volunteered his time at a local facility for mentally challenged adults helping to decorate pumpkins for Halloween!
October 26, 2003
Read what Solon So, Senior Vice-President of the JC Group, has to say about the new company, Jackie Chan Emperor. Click here to read the article from the Hollywood Reporter. (Thanks to Mary for the link)
If you know of a city that has participated in the Animals on Parade event, please email the Kids Corner webmaster and she'll post a link. There is a page of links posted already, so check that out first before emailing! Thanks to Marie and Jabba for letting us know about the Penguins in Tulsa, Oklahoma and the Salmon in Anchorage! Click here to see the United Buddy Bears page on the Kids Corner.
Don't forget about the Jackie Chan Tile Project. Jackie had asked for 700 tiles, so you still have plenty of opportunity to mail in a tile of your own. Click here for information.
If you're wondering about the Anti-Smoking Poster Contest and thinking that it all went up in a puff of smoke, think again. Since Jackie agreed to judge the contest, we are just waiting for him to make up his mind. Be patient and eventually we'll find out who the winners are!
Congratulations to Kids Club member Wanda for winning the Shanghai Knights poster. Check your mail soon, Wanda.....your poster will be mailed out on Monday. Thanks to everyone who sent in entries for a chance to win the poster.
Since there are no news photos of Jackie today, here's something to look at - a bit of a blast from the past: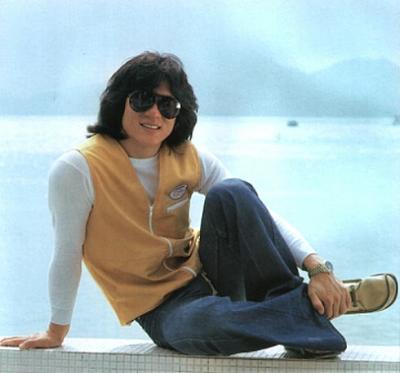 October 25, 2003
Hey kids.....check out this new page in the Kids Corner! It tells all about Jackie's favorite bears.....the United Buddy Bears! Click below to read all about it.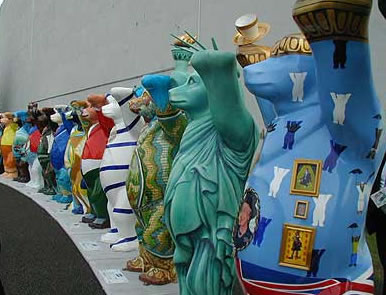 Thank you to everyone who sent the Kids Corner information about their city's Animals on Parade project. A link to most of the projects has been added to the Buddy Bears page. To see a collection of Animals on Parade projects, just visit the Buddy Bears page or click here.
October 23, 2003
This past week, Jackie was in the Shandong Province in China at a ground breaking ceremony for a new school he is building there. It appears to be an international sports training school. Jackie feels that because of his success in life, he has a responsibility to give back to those who helped make him famous. As we all know, Jackie works very hard for charity and is very generous with donations to good causes. Here are some pictures from the ceremony (thanks to JF for the translation of the above story):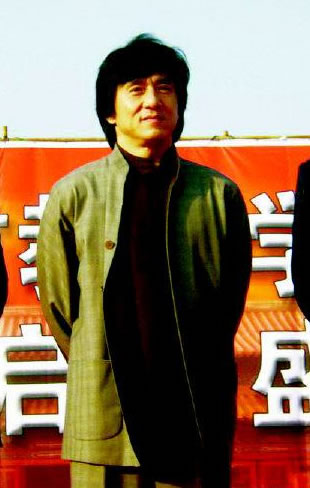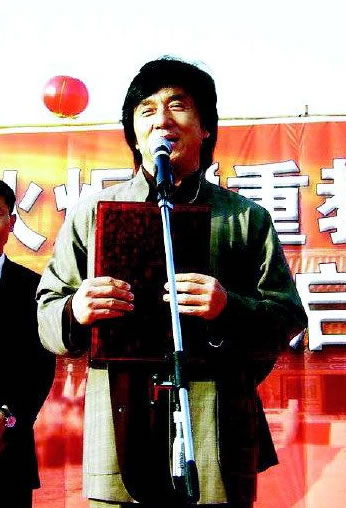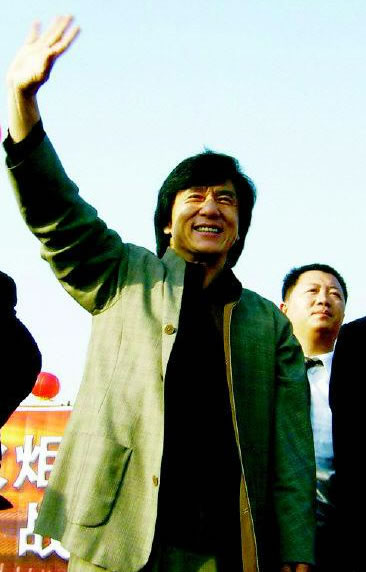 Photos: Sina.com
Check out the latest tile contributed by a Kids Club member. This is a painting by Josh Applebaum. The tile was inspired by a photograph taken of Josh and Jackie at the Shanghai Knights premiere. Isn't it gorgeous?!!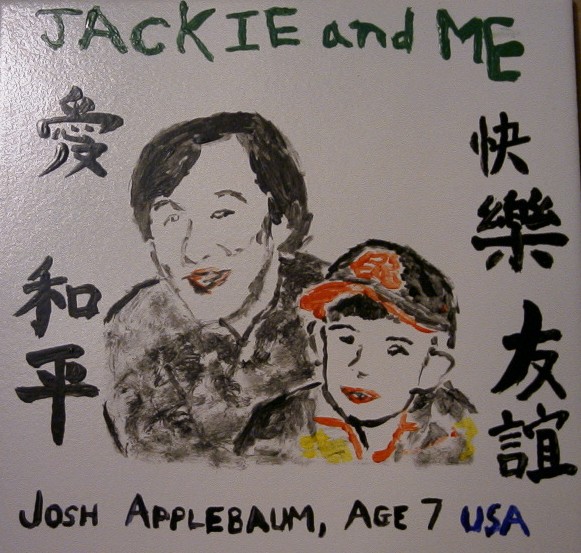 There's a terrific interview with Jackie's dialogue coach, Diana Weng, for VIP members. You can find the link from the front page of the official site.
October 18, 2003
Hey kids in the US: The Medallion is going to be released on DVD and video on December 23, so make sure and include it on your Christmas list!!!
For those of you in the UK, check out this terrific Jackie Chan Adventures magazine site. There's all kinds of really cool stuff available....but only in the UK at this site. (Thanks to Matt for the heads-up)
Here are two photos of Jackie congratulating blind Chinese singer Xiao Huang Qi on the release of his new CD. Xiao Huang Qi was thrilled to hear Jackie say how much he likes his music!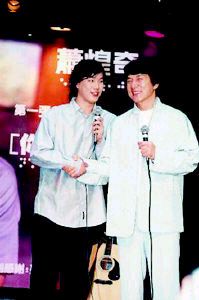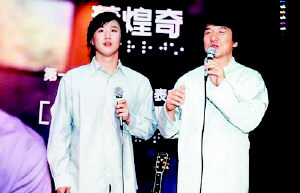 October 15, 2003
This from Variety.com:
Posted: Mon., Oct. 13, 2003, 4:00pm PT
Arclight acquires 'Police' story
By DON GROVES
Arclight Films has nabbed worldwide sales rights excluding Asia to a cop thriller tentatively titled "New Police Story," the maiden production from Jackie Chan and Hong Kong entrepreneur Albert Yeung's JCE banner.
Targeted for release next summer, Hong Kong-lensed pic will reunite Chan with director Benny Chan for the first time since they collaborated on "Who Am I?" in 1998.
Yeung's Emperor Multimedia Group will handle sales in Asia, including Japan. Pic will be produced by JCE's Willie Chan and Solon So. Cast includes Nicholas Tse, Daniel Wu, Charlene Choi and Charlie Yeung. (Thanks to Mary for the heads up!)

Click here for other October Jackie news.

October 14, 2003

Kids Club member Stephanie shares her memories of Hong Kong - click here to read.
October 13, 2003

Jackie is still in Hong Kong filming New Police Story. He has been keeping some very late hours - you can't really film in the city during the middle of the day so they have been doing a lot of work at night. Check out these recent photos of Jackie: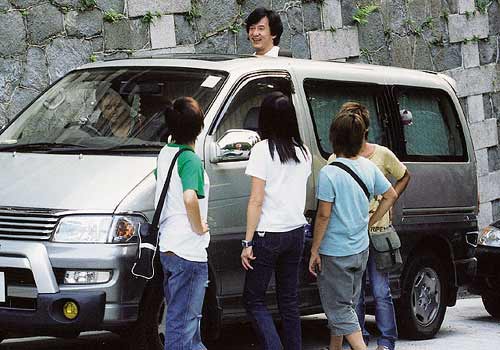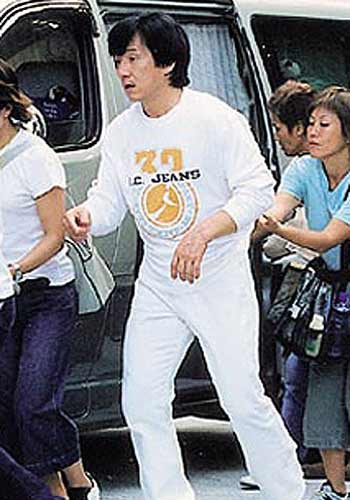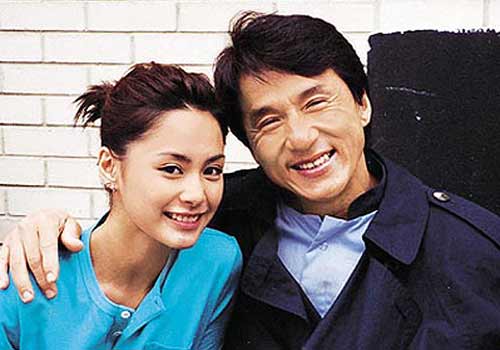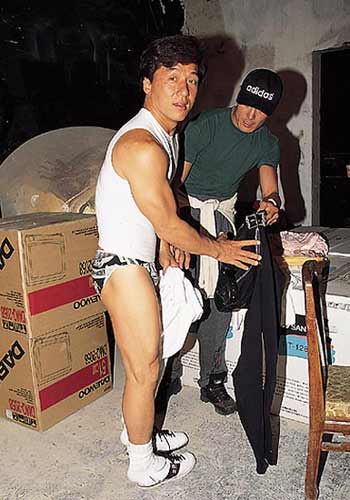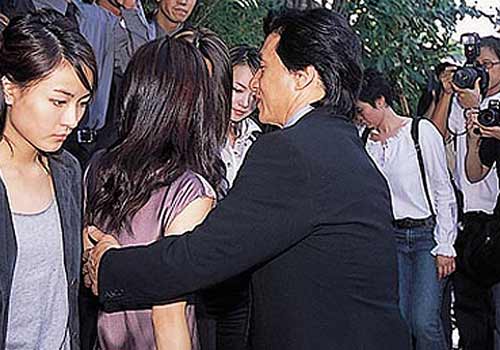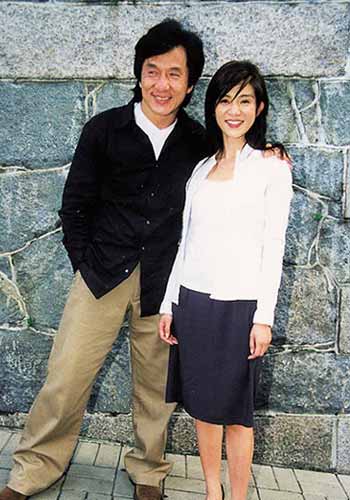 Photos: yule.sohu.com
Jackie Chan, the Verb
In an article on Sportsline.com, a reporter described Don Zimmer, the New York Yankees bench coach, as "going Jackie Chan" on pitcher Pedro Martinez.
Keep your eyes open for the Hong Kong Tourism Board's commercial featuring none other than Jackie Chan! Reports of sightings of the commercial are coming in daily.

Christmas in October? No.....just getting you to start thinking about the Christmas card you can create and enter into the Second Annual Jackie Chan Christmas Card Contest. There are great prizes and all cards will be sent to Jackie, just like last year! Click here to see last year's entries. The winner was Jesse for his adorable Jackie Snowman card. More details will follow at a later date.
October 12, 2003
StarNewsOnline reporting on a visit to a Marine Capability Exercise:
We saw Marines give a spirited demonstration of martial arts that appeared right painful to me.

"This is not Jackie Chan," a commander told us. "Those grunts you hear are real."
Obviously they don't know much about Jackie or they'd know that Jackie's grunts of pain in many of his scenes are very real indeed: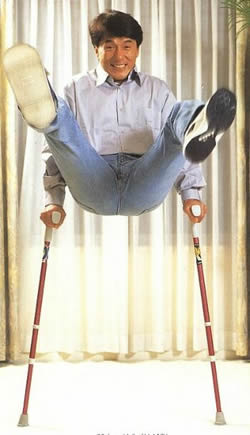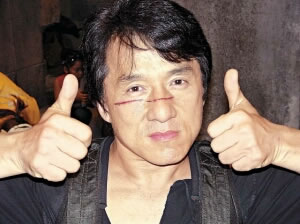 Here's Jackie showing New Police Story co-star Nicholas Tse how to catch two robbers played by Boyz, a Hong Kong boy band!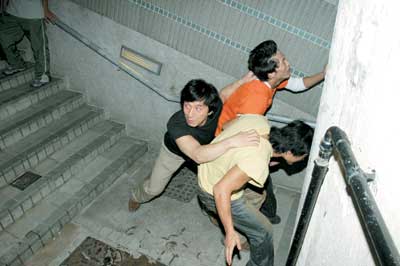 Jackie supervising a jump down a staircase: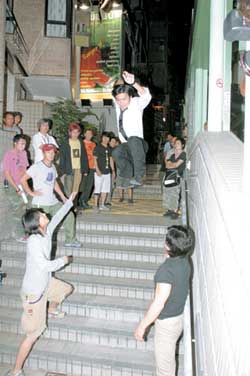 Photos: StarDaily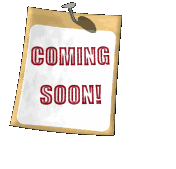 Kids Club member Steph writes about her favorite Hong Kong adventures! Also, more about Waterloo Road PLUS "Lost in Hong Kong." Stay tuned!!!!
Remember, Jackie has asked all his fans to make a tile to decorate his newly renovated office. Everyone is welcome to send one. For information, click here!
If you're new to the Kids Corner, why not take a look around the Totally Fun Jackie Stuff section? There's lots of neat stuff to look at and read. Click here to see one of the old favorites: Jackie Chan Fanland!
October 11, 2003
Jackie is all over Hong Kong filming New Police Story. Here are some photos of Jackie instructing his co-stars on how to jump stairs safely and in other tricks of the trade!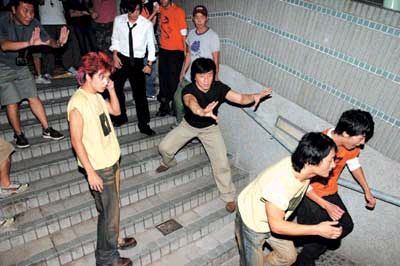 Photo: sina.com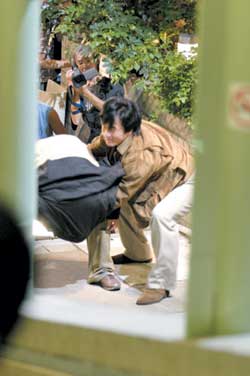 Photo: sina.com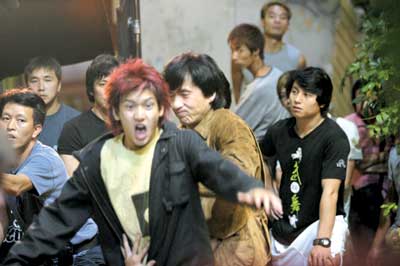 Photo: sohu.com
Thanks to Marie for the heads-up on this article.
Don't forget....if you have questions about what is going on with the Kids Club, the Kids Club website, the Kids Corner, Jackie's fan clubs, etc. just click here to get all the answers!
If you're a weekend visitor to the website, you might have missed the announcement that there is a new story in the "Totally Cool Things About Hong Kong" section of the Kids Corner. Click here to see the new story. Click here to see a list of ALL the great stories!
October 10, 2003

This just in from the South China Morning Post:
Directing debut for Fung

Stephen Fung Tak-lun (above),who has made a name for himself with his music videos for Eason Chan Yik-shun and Nicholas Tse Ting-fung, will make his film directing debut this month.

The 20-something Fung has received the green light from newly formed JCE group to get the ball rolling on a film with the working title of Enter The Phoenix.

"We think he is a very talented director, and we are very excited about the production of this new film - which has already been bought by Australian film distributor Arclight for the overseas market," said Solon So Chi-hung of JCE.

The film will be an action comedy starring Chan, Karen Mok Man-wai and Daniel Wu Yin-cho. It will centre on gangster life, but with a twist. "There is a gay triad boss, so there are funny scenes with this character. It has a lot of violence, but also a lot of funny scenes about gangs, gays, and good old-fashioned killing," said Fung with a grin.

Casting is now under way and filming will start at the end of the month.
Thanks to Mary D. for the scoop.

Hey kids! Are you confused about what is going on with the Kids Club, the Kids Corner, Jackie's Fan Clubs, the official website, etc? Well, click here to get all of your questions answered!
Jackie has been very busy shooting New Police Story in Hong Kong. Here are some photos:
Jackie says that nothing beats a Hong Kong lunch box.
Photo: Oriental Daily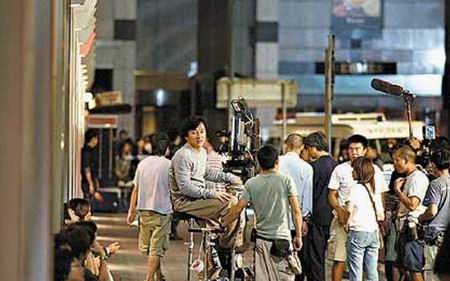 Filming in Hong Kong.
Photo: http://www.qianlong.com/
Jackie and friends.
Photo: http://www.qianlong.com/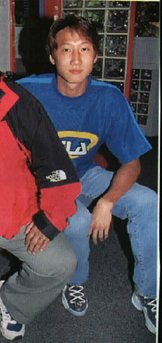 Timmy Hung - Sammo's son.
Photo: megspace.com
October 9, 2003

Wow! The Little Dragon News is online for you to read!!!! Click here to see it!! It will open up with Adobe Acrobat reader. If you have trouble reading the words, click on the + sign in the Adobe toolbar and you can zoom in on different areas.
There has been a small revision to the Visit to the Waterloo Road Office story. The tire that is shown being built into the wall at Jackie's office is indeed the tire from the giant machine that Jackie drove in Mr. Nice Guy!!!
October 8, 2003

Kids Club member Wanda was thrilled beyond belief when she opened her mail and discovered photos of Jackie holding the tiles she had sent. Click here to see the photos!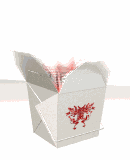 More in the Totally Cool Things About Hong Kong section of the Kids Corner....this time you can read about the webmaster's first trip to the Waterloo Road office of the JC Group. Click here to read all about it. Click here to see ALL the stories in the Totally Cool Hong Kong section!
According to a report in The Sun, Jackie was filming in the Midlevels in Hong Kong the other night from 2:00 in the morning until about noon. Even though he was dead tired, Jackie still managed a smile and a wave!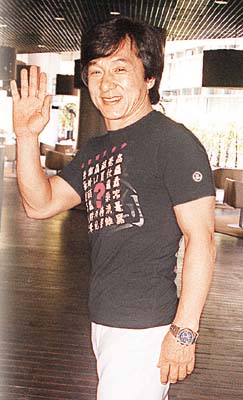 Here's a photo of Jackie with Charlie, his beautiful co-star: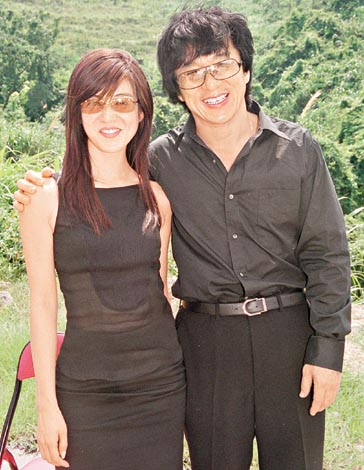 Photo: Oriental Daily
JC-News is reporting that Jackie saw someone litter while he was driving through Hong Kong last week and he became very upset, wondering why anyone would want to throw their garbage in the beautiful city. Jackie picked up the garbage and thought that he would chase the litterbug and report him to the police, but he wasn't able to find him.
October 5, 2003
Jackie helped Hong Kong celebrate National Day yesterday. According to Chinese news reports, he sang a song at the ceremony! Here's a photo from the event: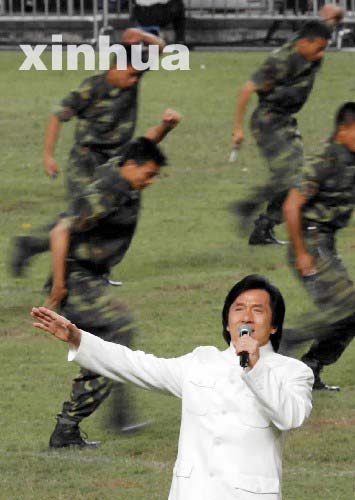 Source: news.fiji.com
The Jackie Chan Tile Project is going strong with new tiles appearing in Hong Kong every day. Making a tile is really not hard to do. Check out what the Kids Corner webmaster did in only 15 minutes with a pack of Sharpie permanent markers: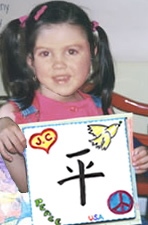 (Yes....that's the webmaster holding her tile. The symbol in the middle means Peace.)
Why not give it a try? You can either go to your local craft store and buy the special paints to paint on tiles, or you can just use permanent markers. Let's all help Jackie make his wall an original and beautiful display!
October 4, 2003

As promised, the visit to Jackie's private loft in Sha Tin has been posted in the Totally Cool Hong Kong section of Jackie's Kids Corner. There are TONS of photos of Jackie's most valued possessions - if you're a Jackie fan, you're going to LOVE this article. Thanks to Nic Schwark for taking so many awesome photographs of Jackie's treasures. Click here to begin!
This in from The New York Times:
The actors Gong Li and Jackie Chan are honorary patrons of a nine-month nonstop festival bringing Chinese opera, circus and ballet - plus museum exhibits devoted to Chinese history, art and pop culture - to cities throughout France.
Thanks to Marie M. for finding this story.
October 1, 2003
The South China Morning Post has published a list of "25 Reasons To Love Hong Kong" and guess what number 12 is? Jackie Chan! Click here to read the other 24 reasons.
Don't forget to send in your decorated tile so Jackie can have a beautiful display at his newly renovated office. Here's a tile sent in by Kids Club member Kimberly: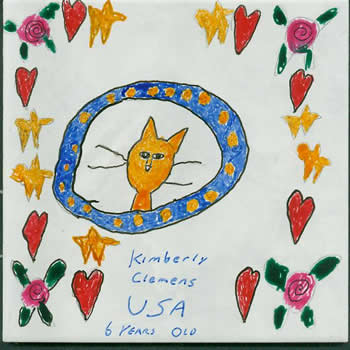 For information about the Jackie Chan Tile Project, click here.
Very Exciting News!!
This is THE coolest news of the year for the Kids Club!!!
As most of you know, Jackie has been keeping a diary for his fans while shooting Shanghai Knights. In the July 3rd diary entry, Jackie talks at length about the Kids Club and mentions each of the last 7 "Jackie's Kids" by NAME! As most Kids Club members know, Jackie has taken a keen interest in the newest Jackie Fan Club and he reads all of the newsletters. It is very exciting to read Jackie's comments about the club and its members! In the July 8th entry, Jackie mentions the Kids Club again, encouraging his young fans to join. Click the highlighted links (above) or read the diary entries at Jackie's Official Web Site. (From the August 12, 2002 News Report)
CLICK HERE TO GO BACK TO THE TOP
The Latest Jackie News is now being archived to save room on this web page.
To read past news reports, just click on the month you're interested in viewing.
©2003 Katharine Schroeder / Jackie Chan's Kids Corner