August 30, 2006

Big News for the "Build-A-School" Project:
JACKIE WILL MATCH YOUR DONATION
DOLLAR FOR DOLLAR UNTIL THE GOAL OF US$75,000 IS REACHED!!
When the Build-a-School for a Dollar project began, we had no idea how popular it would be. In the last few weeks we have received donations from all over the world and Jackie has been thrilled with the generosity of his fans. Some fans have written in to say that they love the idea of the Build-a-School project and that they wanted to know if an actual school was going to be built with their donations or if they would be put into a common fund. (It costs the Dragon's Heart Foundation US$75,000 to build a school; the China government puts up the rest of the money for construction.) We talked to Jackie about the fans' wishes to see their donations put to one project, and he was very excited by the idea. And as many of you know, Jackie will always put his money where his mouth is, so he vowed to match your donation dollar for dollar. This means that the fans have to generate US$37,500 to build a school in China....
...and...
...Jackie said that he would name the school after you; he's already begun thinking of names! That shows what kind of faith Jackie has in your ability to meet the goal! We will keep track of donations here on the Official website.
Click here to see the latest donation drawings.
Click here to see lots more photos of Jackie.
PLEASE READ THIS: If you make a donation for this project using a credit card at our website's charity donation page, please use the drop-down menu and choose Dragon's Heart Foundation: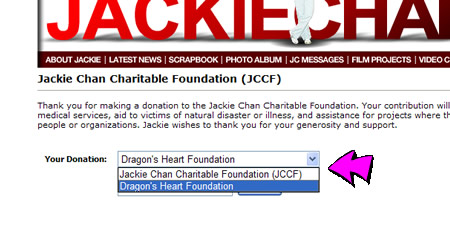 August 25, 2006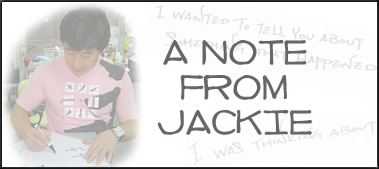 Click here to read about a very generous fan and about Jackie's reaction to what she did.
More Donations to "Build-A-School" Project

Thank you to everyone who sent in a donation! Click here to see the new ones.
August 22, 2006
Updates on Kids Corner

New Buddy Bear here.
New drawings in the Art Gallery!
Wow! Pets named after Jackie...click here.
And don't forget to check out the big news from yesterday (just look below).
August 21, 2006
WOW!! Jackie's Build a School for a Dollar Campaign is a Big Hit!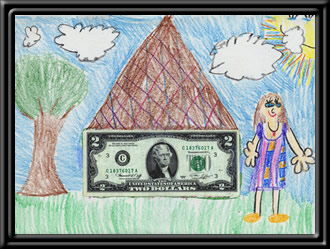 Click on Autumn's donation drawing to see them all!
Today's mail brought over a dozen donations from all corners of the world for Jackie's Build a School For a Dollar campaign. Jackie was absolutely, positively, incredibly thrilled when he saw all the donation drawings arrive at the office today! He took all the drawings into the conference room, put them on the magnetic board, and had his photo taken with them. He then recorded a little video to tell you how he feels about his generous and loving fans. You can view the video by clicking below. [Note: The file is very large - 20MB - so you should RIGHT click on the link, choose "Save Target As" and download it to your computer before you try to view it.]
Jackie wants to thank everyone for their generosity and he said that he knows this is just the beginning. So keep the donation drawings coming. You are helping in a big way!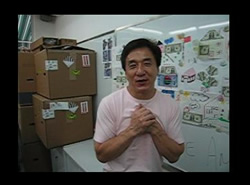 RIGHT CLICK your mouse on Jackie, choose SAVE TARGET AS and save the file to your computer. Then, go eat dinner, take a walk, or bathe the dog. This is a big file and will take time to download. When you return, just watch the video from your computer's hard drive!
CLICK HERE to see the video in Mandarin Chinese.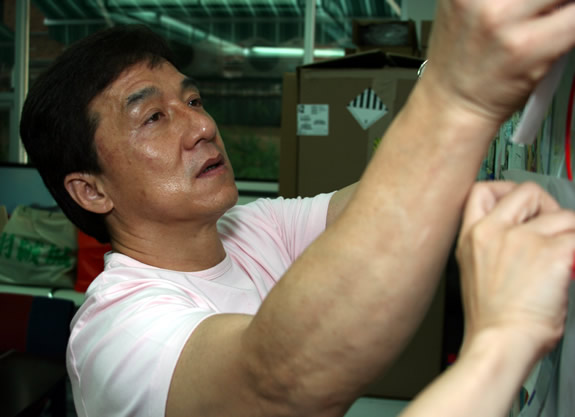 Here's Jackie posting all of your beautiful donations to the board so we could take photos. Click here to see photos of Jackie with the new donations.
August 18, 2006
Terrific New Stories in Jackie's Sharing Corner!
A big thank you to Silke from Germany for sharing her wonderful stories and photos. Click below to visit the Sharing Corner where you can read "Three Countries in Seven Days" and "Silke Meets Heidi."
Build a School For a Dollar Donation
A big thank you to Kimberly from the USA for her beautiful Build a School drawing! Click on Kimberly's drawing to read about the program and find out how to donate your own drawing.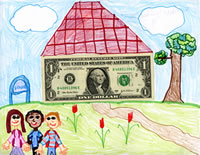 Click here to go directly to the donation drawings page.
More in the Sharing Corner
Click the banner below to read a delightful story about a papaya tree that lived in Jackie's back yard. Thanks to Lee from South Africa for her adorable story!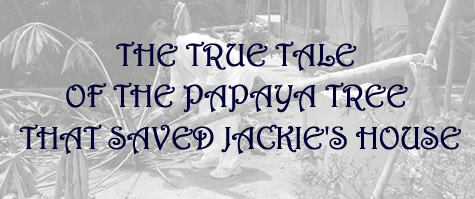 August 17, 2006
Hey kids - look who stopped by the Waterloo Road office! Ken Lo! Here he is in the JC Group parking lot: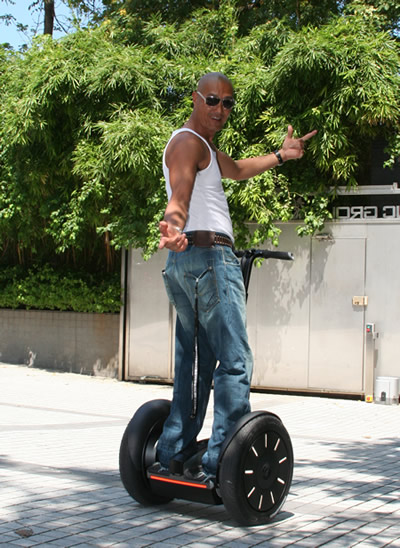 August 15, 2006
Many people have written in to tell us that they love the idea of the Build a School For a Dollar campaign. There is now a special section of the Kids Corner website where you can read a little more about this program and where you can view the donation drawings as they arrive. So far we have only the first three sent in by Lisa S. from the USA. We hope that lots more will come soon. Remember - you can use money from any country and in any amount. That means that you don't only have to use a US one dollar bill. You can use a $5 bill from the States or a 20 Euro bill - whatever you want to donate!
Click here to see lots more about the campaign: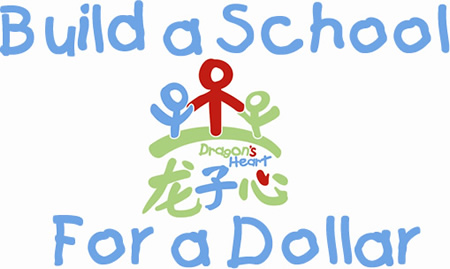 August 14, 2006
Thanks to Sybille from Germany for sending in some very clever Buddy Bear designs! Click here to see all the Buddy Bears.
August 9, 2006

We hope that you have read about Jackie's recent trip to China to help poor children in remote areas. If you haven't, you can read about it here. Many kids were writing to Jackie asking how they could help and so we have come up with an idea here at the Kids Corner so that you can do something to make a difference.
Did you know that it only costs about US$9 a year for a poor child to go to school in China? Did you know that the money that Jackie collects for his Dragon's Heart Foundation goes to help build schools where there are no schools? Well, it's true! And you can help.
Here's the idea: Take a dollar bill (or any paper money - that means paper money from any country) and tape it to the center of a piece of paper (don't use glue). Pretend that the bill is the main building of a new school. Now get your crayons and add a roof, a play yard, some grass - whatever you would like! Guess what you've just done? You've built a school for a dollar!
Now if you take your drawing and send it to Jackie at the Kids Corner, he will put all the dollars together and will be able to build an actual building somewhere in a poor area. So you see, that is how you can help build a real school for just a dollar!
Kids Corner friend Lisa S., who runs a family daycare in the United States, asked her kids to make some samples of Building a School for a Dollar (see below). When Jackie saw them he was very happy and excited and of course wanted to show you his thanks.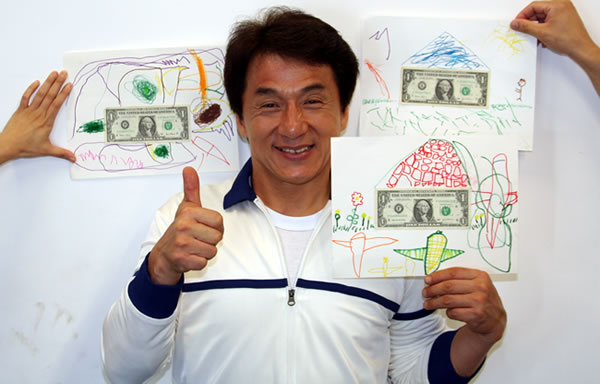 Thumbs up from Jackie for good work.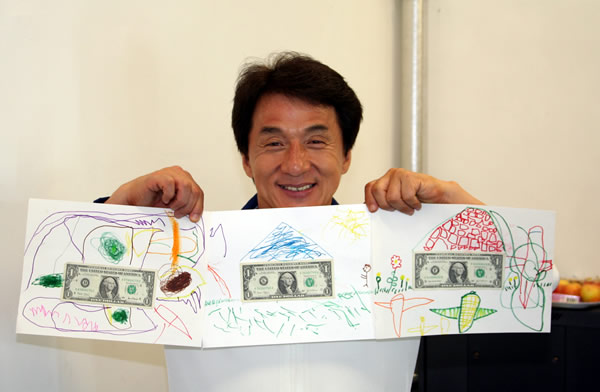 Jackie knows that even a dollar can make a difference.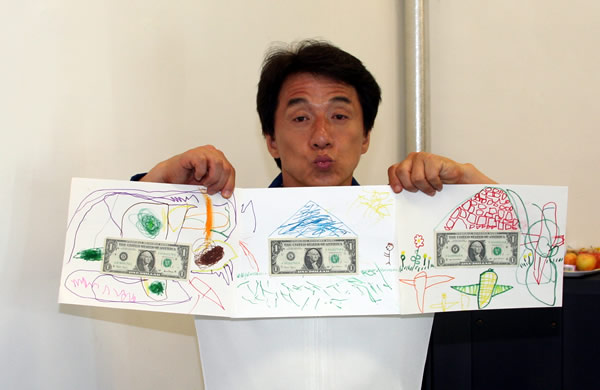 Jackie sends a big kiss to Evan, Ryan, Anna, and Lisa!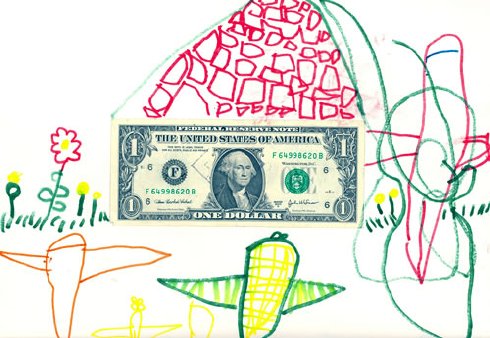 Seven-year-old Evan has added a roof, some flowers, and even some corn!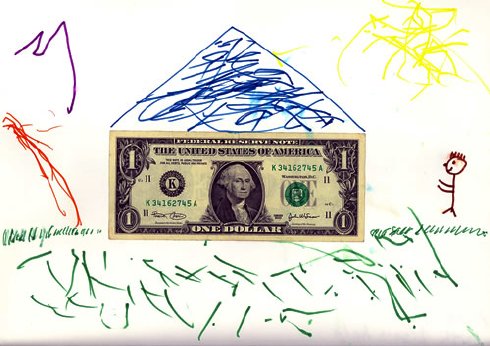 Five-year-old Anna added a roof, some grass, and a happy student.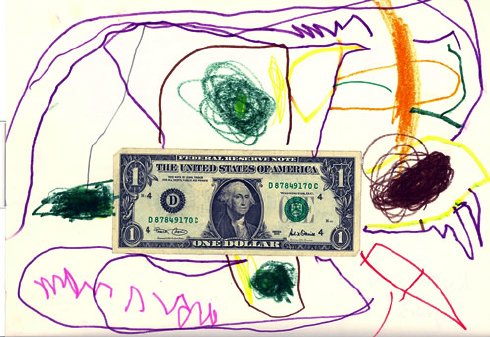 Ryan's school is very colorful.
A big thanks to Lisa S. and all of her kids at the Peanut Gallery Family Daycare in Wisconsin, USA.
August 5, 2006
Typhoon Prapiroon and Jackie's Poor Papaya Tree
Maybe you read in the Latest News about Jackie's wild airplane ride during Typhoon Prapirron yesterday; he said it was a very bumpy ride! When he came back to Hong Kong he discovered that the storm had knocked down one of the beautiful papaya trees in the yard of the house he owns next to the office. He wanted to show you what happened!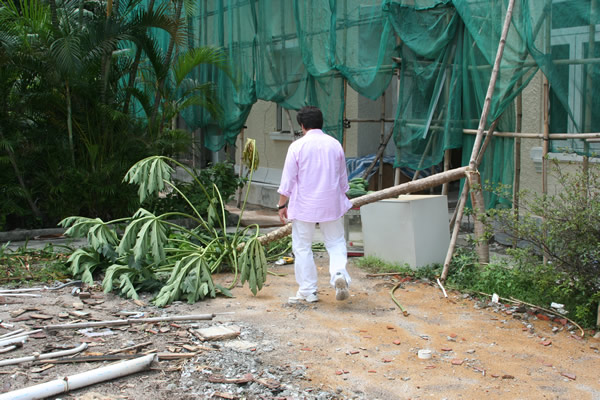 Jackie surveys the damage.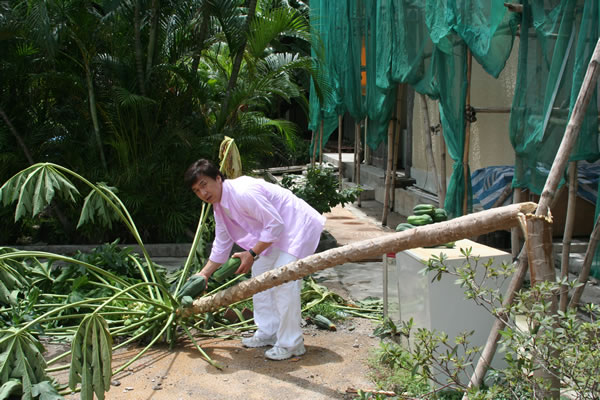 He collected the papayas, but they were too damaged to save.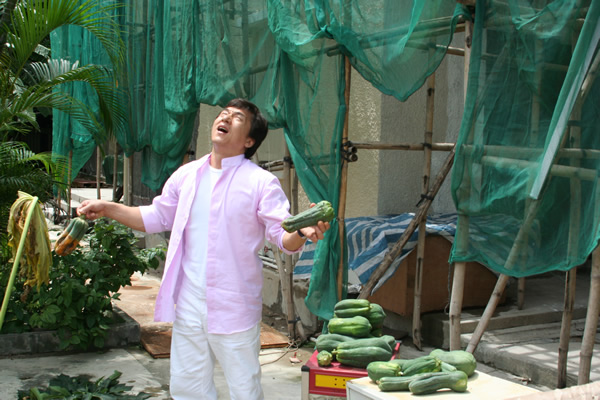 "What's going on with the weather?!"
August 3, 2006
Lots of New Artwork at the Kids Corner
Take a look at all the creative work that kids have sent to Jackie! There are new drawings, Buddy Bears, and Movies That Weren't. Jackie says "Thank you!!" to everyone who sent in drawing or movie.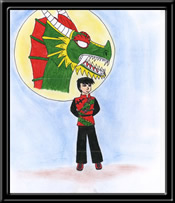 Click for Art Gallery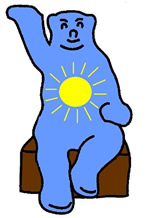 Click for new Buddy Bears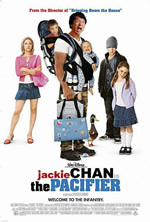 Click for new Movies That Weren't
June 21, 2006
Buddy Bears Bring People Together
Read a great story about Jackie fans who met in Berlin to tour the United Circle of Buddy Bears together! Lots of beautiful photos, too.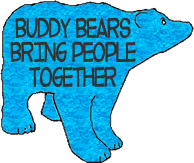 CLICK BEAR TO READ STORY
June 20, 2006
Buddy Bears Back in Berlin
After visiting six cities (Kitzbuehel, Hong Kong, Istanbul, Tokyo, Seoul, and Sydney) on three continents and logging over 50,000 miles at sea, the United Circle of Buddy Bears has returned to Berlin. The bears will spend the summer at the historic Bebelplatz in the heart of Berlin and will then continue their world tour.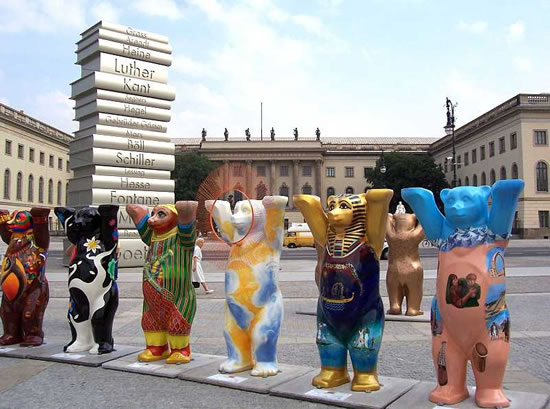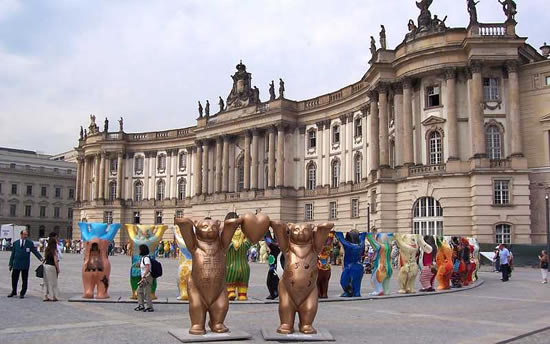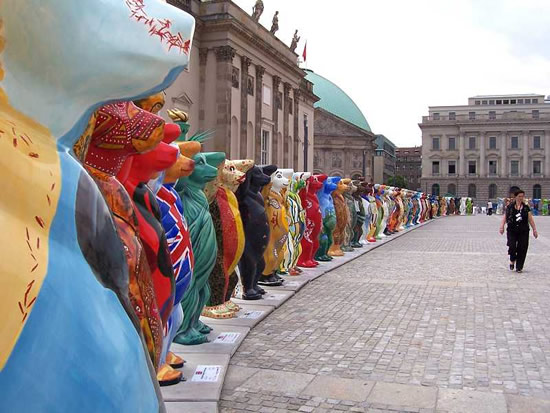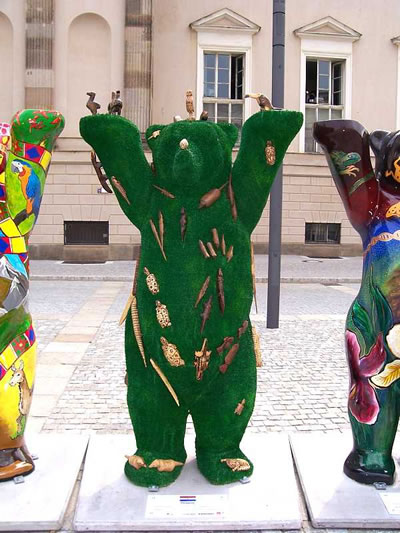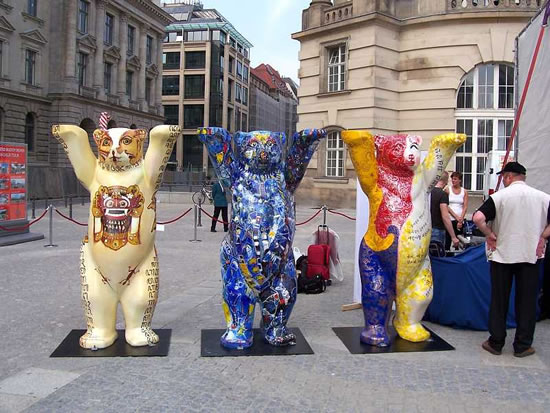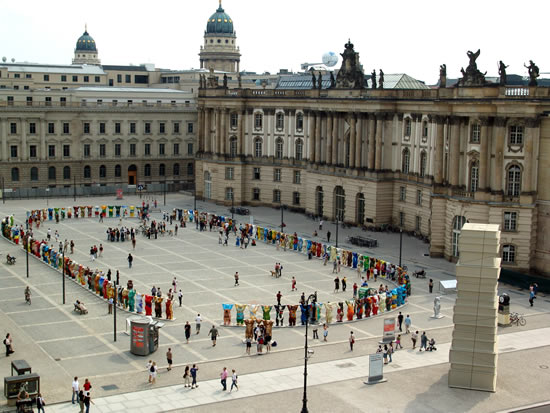 Photos ©2006 Susanne Albers
To see more photos, visit Doris Rieck's website.
Visit the Buddy Bears' Official Website!
New Artwork from Fans!
Thanks to everyone who sent in beautiful drawings and funny "Movies That Weren't" posters. Click the thumbnails below to visit the pages and see all the new additions: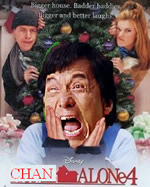 JACKIE CHAN MOVIES THAT WEREN'T
June 16, 2006
Buddy Bears from America and Brazil
Check out almost two dozen new Buddy Bear designs sent to the Kids Corner from Miss Quinn's class in the United States (Miss Quinn's class did the Flat Stanley project) and Isabela in Brazil. Thanks to everyone who sent in a bear! You can make your own Buddy Bear and either send it to our office or scan it and send it via email. Click here for information.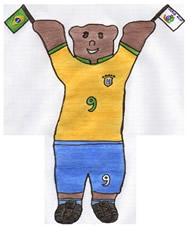 Click Isabela's Buddy to see all the new designs.
Hong Kong Boy Wins United Nations Painting Competition
As many of you know, Jackie is an Ambassador for UNICEF (United Nations Children's Fund) and he's also very concerned about the environment. So even though the following story really isn't about Jackie, it is related because the competition 9 year-old Lau Tsun Ming won was sponsored by the United Nations. The painting below was the 2006 Global Winner of the UNEP International Children's Painting Competition on the Environment.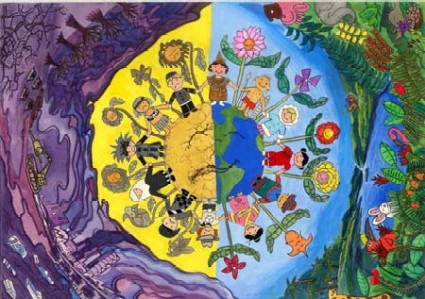 Winner Lau Tsun Ming (age 9) from China, said: "My picture shows two contrasting scenes of Earth. One is desertified and the other can keep its natural beauty. If people continue to ruin the environment, our surroundings will become dull and nasty."
Here is Lau Tsun Ming in the newspaper: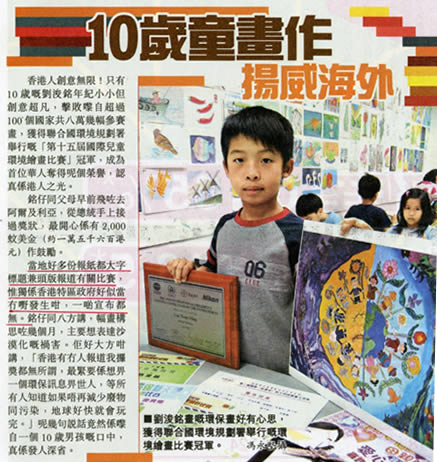 Jackie was very impressed by the painting and was happy to see that young people are concerned with protecting the environment.
Click here to see all the winners.
June 9, 2006
Thank you Jackie Chan
This drawing was sent to the Kids Corner from 19 year-old Korinna in Germany. Below you can read the note that came with the drawing. Thank you Korinna!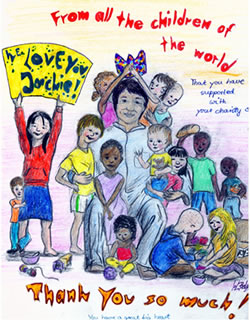 CLICK TO ENLARGE
Hello,

I drew a picture in order to thank Jackie for all that he has done for children all over the world. It is amazing work and Ireally appreciate that he cares about so many children who are needing in this world. This picture is supposed to be a symbol of gratitude from all the kids that he has helped so far.

I'm a 19 year old girl from Germany and unfortunately Idont have enough money to donate anything that would help but once I do I promise I will support this charity because I love children.

Thank you so much, Jackie, for doing all of that!

I hope you like the picture and put it on this page. I will definitely keep drawing an if you like it I can send more pictures with Jackie Chan on them anytime!

Thank you and keep up the good work:)

Sincerely,

Korinna

June 6, 2006
Rob-B-Hood Website Online
Rob-B-Hood Info and Fun Stuff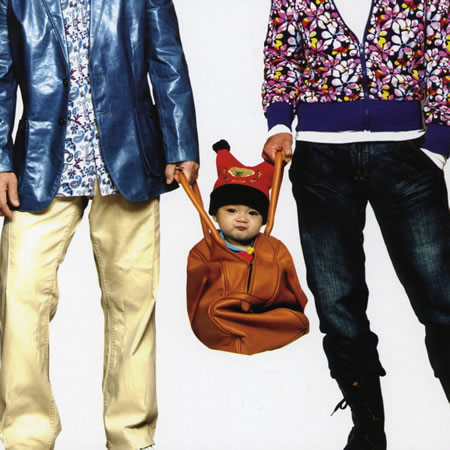 Jackie's latest Hong Kong movie Rob-B-Hood has begun promotion. To see lots of fun things at our website, click here.
To see the official JCE Rob-B-Hood website, click here!
May 25, 2006
New Drawings in Art Gallery
New Coloring Pages in Jackie's Coloring Book
Thanks to everyone who sent in a drawing for our Jackie Chan Art Gallery and our Coloring Book. Jackie loved looking at all your wonderful drawings and paintings. If you would like to send a drawing to be posted at the Kids Corner, just scan it and send it to the webmaster at Jackie Chan Kids Corner! If you have sent something in and do not see it posted, please send an email with a reminder.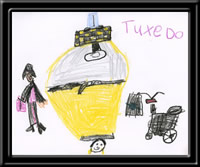 Click on Autumn's drawing to visit the Jackie Chan Art Gallery!
Click here to visit Jackie's Coloring Pages
May 22, 2006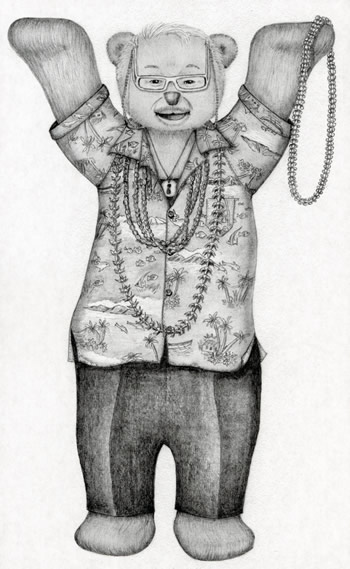 Willie Chan Buddy by Petra
May 18, 2006
Tyler's Generosity Makes News
A few months ago, a letter arrived at the JC Group offices. It was from a woman in America who wanted to tell Jackie about her little grandson's generous nature. Contained in the letter was a 10 cent coin which Tyler wanted to give to Jackie to help other people. When Jackie saw this, he was very moved and immediately sent Tyler a Big Kiss and an autographed photo: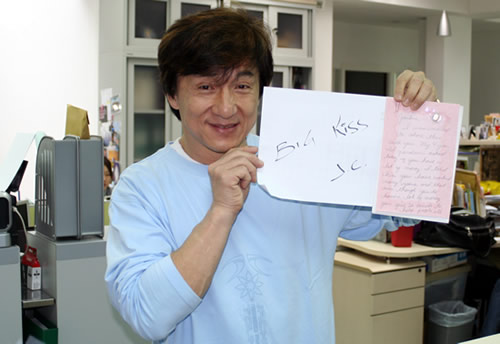 In the following months, Jackie spoke often about Tyler's generosity and about how important it was to teach youngsters about charity and get them in the habit of giving.

Recently we heard from Tyler's grandma again, this time to tell us that Tyler's generosity had made news in their local paper.
Dearest Jackie,

Thank you so much for the happiness you have brought to Tyler. He was sure you would want a photo of him. His 6 year-old sister Khalie held his hand guiding his spelling. He drew the thing in the bottom corner. It was supposed to be a heart. He didn't like the way it turned out, but I assured him you would know it was a heart!

God Bless you and keep you safe,
Much love,
Debi

Here's Jackie's autographed photo of Tyler:

And here's Tyler in the paper:

New Buddy Bears!


The Maharaja of Nevada Buddy is only one of several new Buddy Bears!
(click on Maharaja to visit our Buddy Bear pages)
April 27, 2006
Flat Stanley Visits Jackie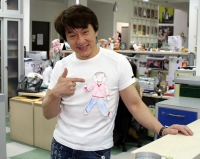 A little boy made of paper comes to visit Jackie. Read all about his adventures here!
April 19, 2006
More Birthday Thanks from Jackie!
When the webmaster came back from a week's leave, she discovered her desk buried in birthday cards for Jackie! All of them arrived after his birthday, but the wishes that were inside were sincere. When Jackie saw all the new cards, he scooped them up, ran into the conference room, and arranged them all for a photo. Here is Jackie with the latest group of birthday cards:

Click to enlarge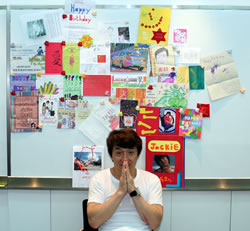 Click to enlarge
Jackie wants to thank all his fans for the beautiful cards and gifts. He was very touched by them all.
Petra's New Buddy Bear
It's Baba Buddy! As you may know, Jackie's father is called "Baba" by many who know and love him. He used to be a chef and so Petra has drawn him creating noodles in the traditional way. Thanks to Petra for another amazing Buddy Bear! Click here to see all the Buddy Bears.
April 7, 2006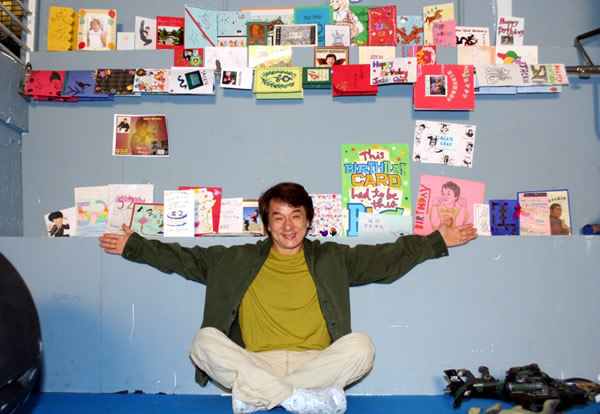 On the set of Rob-B-Hood, Jackie poses with some of the hundreds of birthday cards sent by his devoted fans. Jackie wants to say "thank you" to everyone for their wonderful birthday wishes.
We brought the cards to the set because Jackie is so busy filming the last few scenes of Rob-B-Hood. Jackie was amazed by all the beautiful cards and insisted on looking through all of them and then arranging them for the photos. Can you see your card?
CLICK PHOTOS TO ENLARGE
April 4, 2006
Lots of Fun Updates!
More birthday cards for Jackie! Click here
Beautiful new drawing in the Art Gallery.
New Buddy Bear.
More coloring pages in Jackie's Coloring Book.
March 31, 2006
One Week Until Jackie's Birthday!
Only a week to go and the birthday cards for Jackie have been pouring into the Kids Corner from all over the world. They are really unique and beautiful and Jackie will certainly be pleased when he sees them all! Thanks to everyone who has sent a greeting. Click here to see the latest cards.
New Drawing of Jones
Thanks to Mickey from South Africa for her pretty drawing of Jackie's Golden Retriever, Jones. Check it out here.
March 25, 2006
Jackie Goofing Around
Jackie loves to joke around and is always very creative when it comes to posing for photos. Recently two sculptures arrived at the office and we took a few minutes to make some funny photos for you to enjoy! Which dog do you think looks most like Jackie?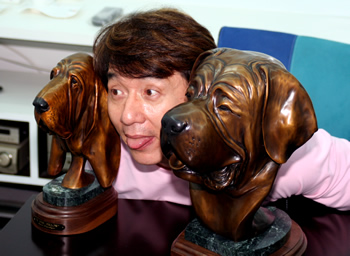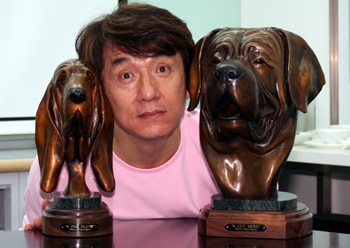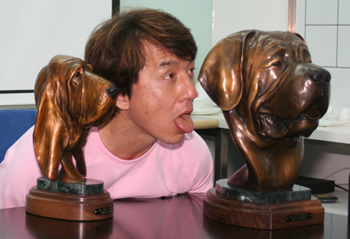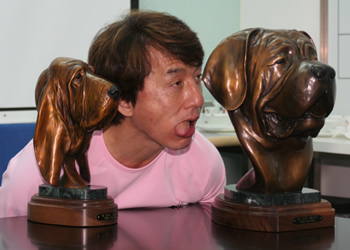 Photos © 2006 The JC Group
CLICK HERE TO GO BACK TO THE TOP
The Latest Jackie News is archived to save room on this web page.
To read past news reports, just click on the month you're interested in viewing. Remember that some of the older links in these news archive may no longer be active.
AUGUST, SEPTEMBER, OCTOBER 2005
©2004 Katharine Schroeder / Jackie Chan's Kids Corner