November 29, 2003
Now that Thanksgiving is over, there's plenty of time for you kids to get to work on your Jackie Chan Christmas card. Remember, there are AWESOME prizes for the winner of the competition including an AUTOGRAPHED photo of Jackie!!! Who could resist entering?! Click here to find out how to send in your card.
Check out the newest cards in the Big Kids section of the Christmas cards for Jackie section. Remember, Big Kids can send a card but they're not eligible for prizes, so don't worry, kids. You're only competing against other kids!
Thanks to Jabba from chilly Alaska for sending in three beautiful postcards for the Postcards from the 'Hood section. Click here to see! Why don't YOU send in a postcard from your city or town? Just send it to:
Jackie Chan Kids Corner
P.O. Box 556
Peconic, NY 11958-0556 USA
You send it and we'll post it!
Jackie and Willie Argument Makes Front Page News!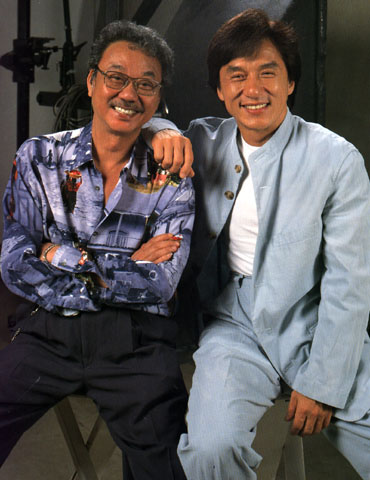 In other news......imagine that you and your best friend have an argument (like even the best of friends do). Imagine that your disagreement gets splashed all over the pages of ALL the local newspapers and all over the Internet! That's exactly what happened to Jackie and his best friend and manager Willie Chan. They had a disagreement over the budget for New Police Story and it made headlines all over the place! Don't worry....even good friends disagree. Jackie and Willie are still buddies. You can read more about it here.
Jackie has made his opinions known about Hollywood's over-use of CGI and how it effects employment of some very good martial artists. Click here to read the article at its source.
November 27, 2003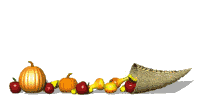 Happy Thanksgiving to all who are celebrating today!
There are some new cards on the Big Kids Christmas Card page. Hey kids....the Big Kids are beating you out here! They have more cards than you do!!!! There's plenty of time this holiday weekend to make a special card for Jackie. Click here for all the details.
Here are a few pictures of Jackie and Willie on the set of New Police Story, which is still filming in Hong Kong. The film is generating a lot of interest all over the place!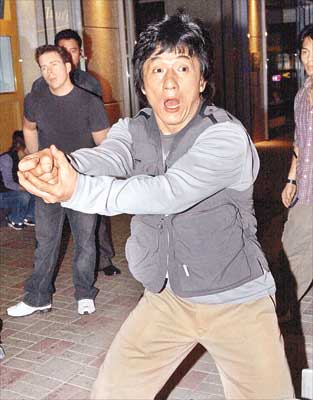 Photo: The Sun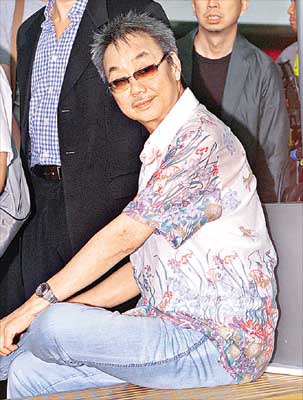 Photo: The Sun
And here's a photo of Jackie from a recent news conference: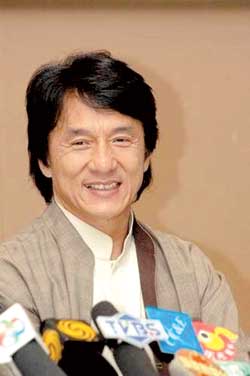 Photo: kpworld
November 26, 2003
According to MGM, Jackie Chan WILL NOT play Cato in the new Pink Panther movie.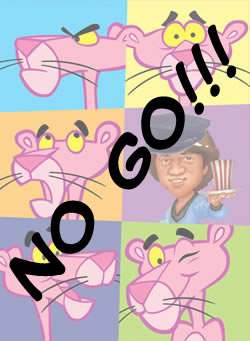 The Kids Corner movie critic reacts: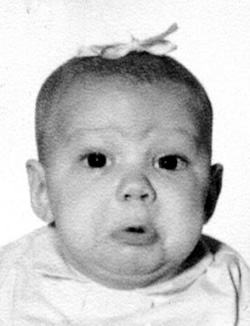 There are two beautiful new cards from kids on the Kids Corner "Christmas Cards for Jackie" page. Click here to have a look. Don't forget...there's still PLENTY of time to send in your card! Click here to find out all the info.
Here are a bunch more photos of Jackie giving a class in Beijing the other day. Jackie talked about all the hard work that he had to do to become a succes.
Click here to see the images at their source (where you can enlarge them).
There are several beautiful new cards in the Big Kids Cards section of the Christmas Cards for Jackie pages. Thanks to Aarti from South Africa for sending such a beautiful selection!
Here's another photo of Jackie at the concert in Beijing. Jackie is a very busy guy!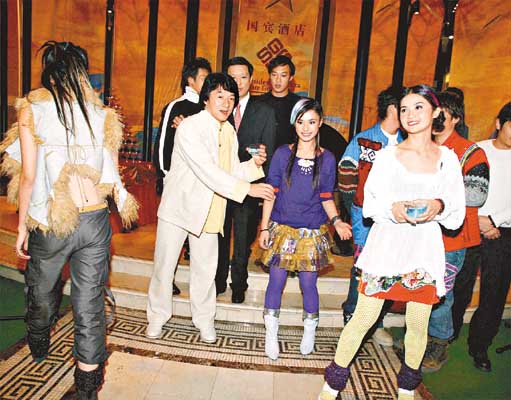 November 24, 2003
Several new cards have been added to the Big Kids Christmas Card page. Thanks to Kids Club member Wanda who involved her whole family in the Christmas Card project!! Click here to see the new additions.
According to Sina.com, while Jackie was in Beijing he gave some lessons to new students at a film school. Dressed in one of his designs from "JC Jeans," Jackie talked for quite a while.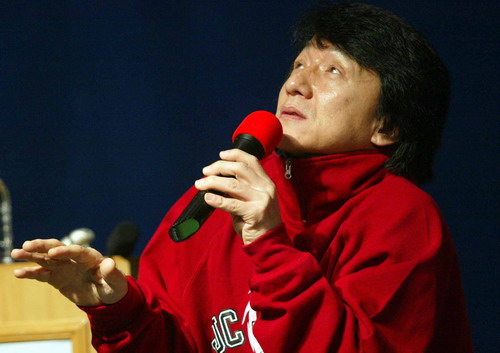 Here are links to some video of Jackie talking to the students. Jackie is speaking in Mandarin, but if you don't speak Mandarin, they are still fun to watch because Jackie does so much of his talking with his body:
Video One / Video Two / Video Three / Video Four
All video are from Sina.com
(Thanks to JF for the link)
There is a great new Christmas Card in the Christmas Cards for Jackie section of the Kids Corner. Thanks to Sean from Australia for his unique and beautiful contribution.
It seems as though Jackie and boxing legend Evander Holyfield were in the same hotel in Beijing, so the two got to meet! Here's Jackie with Evander: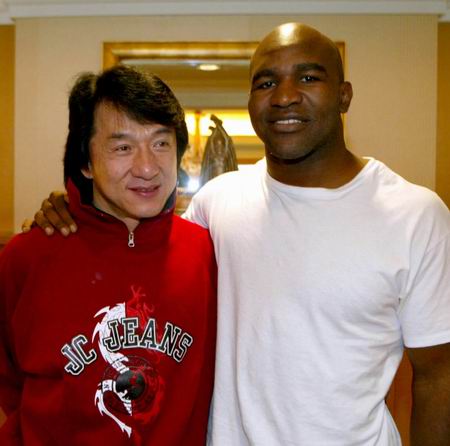 Two very "Real Deals" - Jackie and Holyfield
Photo: Sina.com
November 23, 2003
Rumor? Truth? Who Knows!?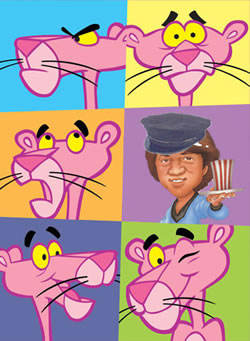 Jackie Cartoon: Keiji Takamatsu (used with permission)
Reports abound on the Internet that Jackie has signed on to co-star with Steve Martin in the latest of the Pink Panther escapades. Tentatively titled "Birth of the Pink Panther," Jackie is rumored to have signed on to play Cato, Inspector Closeau's (Martin) sidekick. In the old Pink Panther movies, Cato is Closeau's assistant whose job it is to attack the bumbling detective at every opportunity in order to keep Closeau's defensive skills refined.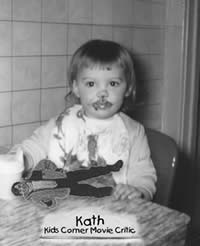 If this is a true report, it is the opinion of the Kids Corner movie critic that this would be a perfect vehicle for Jackie. The character of Cato is made for someone who possesses Jackie's physical, comedic, and dramatic acting skills. Let's keep our fingers crossed that this one is for real!
Jackie was in Beijing yesterday for a charity event to raise money for Hepatitis prevention. Here's Jackie with New Police Story co-star Nic Tse.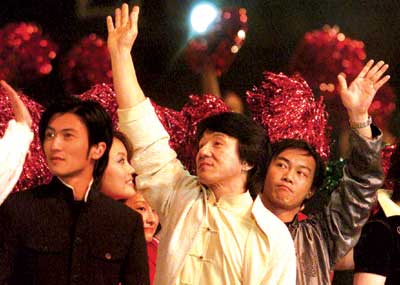 Photo: Star Daily
HMY Airways, run by Jackie's friend David Ho, celebrates the one year anniversary of its inaugural flight this week. Jackie is an honorary captain for HMY Airways.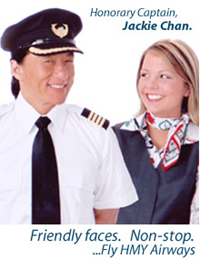 Photo: HMY Airways
Around the World in 80 Days, which has been picked up by Disney, is slated for a Summer, 2004 release according to Yahoo! Biz News.
Kids Club member Wanda has a very talented family. Check out the newest tile that has made its way to Hong Kong courtesy of Wanda's granddaughter Lizzie!
November 22, 2003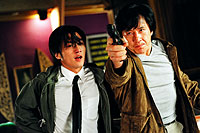 Photo: emg.com
Click here to read a synopsis of Jackie's newest movie, New Police Story (Thanks to pinoy for the link)
Oh...this is so cool!!!! Click below to read about Kids Club member Cheyenne's own Jackie Chan Fan Club party!!

What a wonderful and creative idea! Just goes to show you....Jackie's fans are among the most clever and talented people on the planet. If you have a story or idea (or drawing or painting, etc.) that you'd like to share, email the webmaster and she'll include it in Jackie's own Kids Corner!
November 21, 2003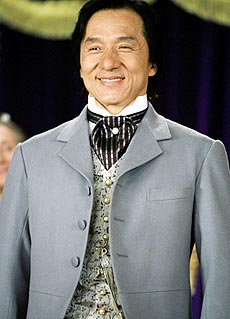 Photo: China Daily
Jackie Chan has been nominated for China's Inspriational Person award by CCTV, one of China's most important broadcast companies. Here's what they had to say about Jackie:
"as an actor, he has made the Chinese film industry famous thoroughout the world. He has helped open a window for the world to understand China, with a persistent pursuit of his cause and his indomitable work spirit. As a public figure, he has influenced other people with his patriotic passion and a loving heart for society. He has helped transmit warmth among people in a time of ultimate need." Thanks to Marie for the heads-up on this story.
Congratulations to Jackie!
Jackie has signed a petition urging the Thai government to ban cruel treatment of baby elephants for use in the tourism business. Jackie is well known for being a spokesman for animal rights. Source: South China Morning Post - thanks to Mary D. for her help.
Win a trip to Hong Kong!!!
The Hong Kong Tourism Board is sponsoring a promotion which will award free round-trip tickets to Hong Kong. It's easy to enter....just click here and play the game for a chance to win. Read the rules over carefully before you play because some countries are not eligible to enter.
Check out all the new photos of Jackie with the Berlin Buddy Bears! Click here to see the whole collection.
Lots of kids will be on vacation next week for Thanksgiving, so what better time to create a Christmas Card for Jackie for the Second Annual Christmas Card Competition?! There are great prizes, including an autographed photo of Jackie. Check out the beautiful cards that have already been sent in!
November 19, 2003
Jackie has picked the winners in the Anti-Smoking poster contest! Actually, Jackie picked the winners over a month ago, but an email was lost between Hong Kong and New York and the webmaster here at the Kids Corner has just found out who won! Congratulations to everyone who sent in a poster and congratulations to the winners! Here they are:
Jesse
Shane
Alan
Cheyenne
Just a reminder of what the prizes in this contest were:
First Prize: First prize winner receives a Jackie Chan "My Story" Action figure (12" tall) from Dragon Toys
Second Prize: Second prize winner receives a HARD COVER copy of Jackie's awesome book "I Am Jackie Chan: My Life in Action"
Third Prize: Third prize winner receives three books: The Tuxedo, Jackie Chan Adventures Jade's Secret Power, and Jackie Chan Adventures Sign of the Ox
Fourth Prize: Fourth prize winner receives the Amazing Dancing Kung-Fu Hamster
Click here to see all the entries!
November 18, 2003

Fantastic news from Variety: Around the World in 80 Days has been picked up by Disney for distribution in North America. This means that it is possible we can see the movie by the Summer of 2004! Thanks to Mary D. for the article.
Why not check out the Kids Corner pages on Around the World in 80 Days? There are some fun things to read and see. Click here to have a look.
November 17, 2003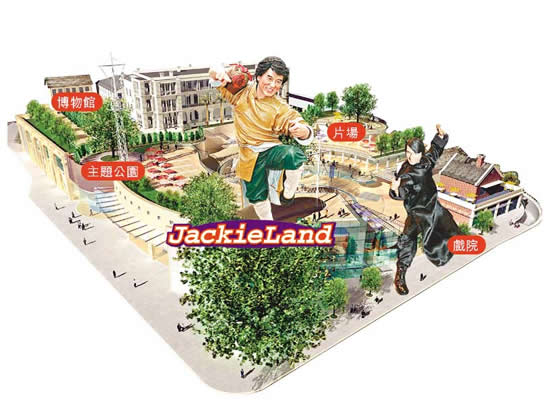 Graphic: The Sun
Proving that there's never a moment when ideas aren't swirling around in his head, Jackie told reporters that he hopes to build a "Jackie Village" in Hong Kong someday. According to The Sun, Jackie said it would probably take 10 years to build and would be a kind of "Jackie Theme Park." Translation
For those of you who are old friends of this website, you may remember that the Kids Club members visited "Jackie Chan Fanland" a few times. If you haven't looked through the Jackie Chan Fanland stories, then why not do so now? There are some very interesting things going on! Click below to visit!

Chinatown in Jackie Chan Fanland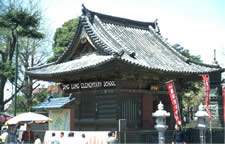 Sing Lung Elementary School in Jackie Chan Fanland
November 16, 2003
Jackie presented his friend Anita Mui with flowers during a recent concert. Here's a photo of Jackie onstage with Anita: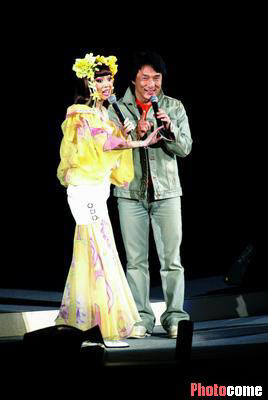 Photo: tom.com
The wildly successful Jackie Chan Adventures cartoon is a huge hit with teens! Click here to read about the great news. Congratulations to everyone involved with this quality children's show.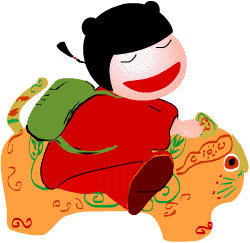 Kids, check out this really neat site from China Daily. You can learn so many things about Chinese culture and it's really fun!
Don't forget to look at all the new Christmas Cards that kids (both big and small) have sent for Jackie. There's plenty of time for you to make YOUR card! Click here for information.
November 15, 2003
Lots of brand new Christmas Cards for Jackie have been uploaded! Click here to see them all!
As you know, Jackie has recently launched a special line of clothing. Here's what Jackie had to say about these clothes:
"Live it, love it was the theme of the new tourism campaign of Hong Kong in which I was honored to take part. Coincidentally, these are also the elements behind my fashion collection, reflecting the inherent, true essence of martial arts - harmony with our environment, peace of mind and sense of tolerance. It is with a deep sense of pride that I bring to you a totally new wardrobe that is ahead of the fashion league you can find in China. It is about fashion you would love to live in." Source
Here are a bunch of photos of Jackie and his new clothing line in Guangzhou, China. Click on the thumbnail to see a bigger picture:
All photos: t6pr.com (thanks to Mickey for the heads up on the link)
Kids club member Wanda was thrilled when her granddaughter Morgan received a photo of Jackie holding the tile that Morgan had made. Congratulations to Morgan! You can see in Jackie's face how pleased he is with this lovely tile: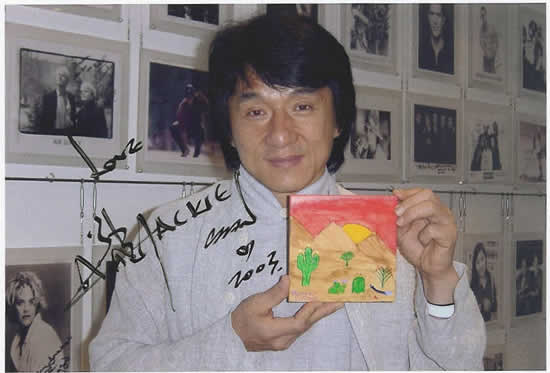 The Kids Corner has received many new entries for the Second Annual Jackie Chan Christmas Card Contest! Check back over the weekend to see new cards from both kids and adults posted here in the Kids Corner! You still have LOTS of time to send in your card. Click here for all the information AND to see some of the cards that have already been sent in.
The Little Dragon News is online. You can link to it here, and you can also download the Adobe Acrobat reader (it's free....and easy).
Jackie's Shop is open for business at www.jackiechan.com! Check it out right away!
November 11, 2003
This report was in yesterday's Latest Jackie News, but because of the dramatic nature of the accident report, it might have been overshadowed. So here it is again!
Check out this photo of Chelsea holding the autographed photo that Jackie sent her. In the photo you can see Jackie holding the beautiful tile that Chelsea made. She was thrilled to get such a special gift from Jackie! Roll your mouse over Chelsea's picture to see another photo of Chelsea holding the gift....and in the background you can see a poster that Jackie sent a few years ago from The Accidental Spy!
Another kid had a dream come true this week...Kids Club member Stephanie received a photo of Jackie holding the two tiles that SHE sent to Hong Kong. Have a look: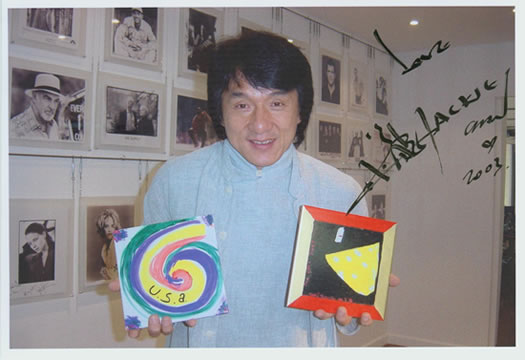 In other news, Jackie had dinner with former US President Bill Clinton and the internationally famous rock group The Rolling Stones. According to reports, Jackie was surprised and pleased by Mr. Clinton's enthusiasm for Jackie's work. Here's a photo of Jackie with Mr. Clinton and some of the restaurant staff: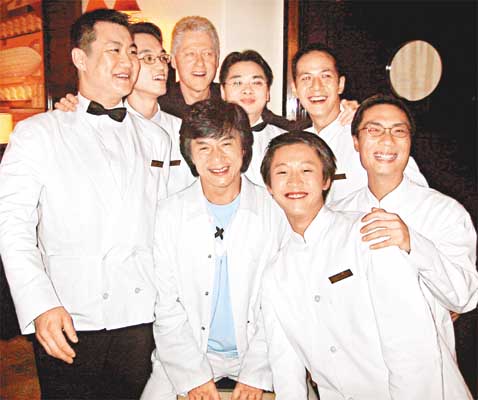 Photo: The Sun
Read more about it in the news section of jackie-chan.com!
The first of the Jackie Chan Adventures magazine is available for purchase here. More issues will be coming out in the future.
Jackie is working hard to boost the Hong Kong Film Industry. Click here to read an interview in which Jackie shares his feelings about the work he is doing.
November 10, 2003
While filming New Police Story, there was a very close call when a problem arose with the wires that were suspending Jackie from a very tall building. According to Monkeypeaches, Jackie grabbed a safety rope to slow his fall and injured his hand. As you will see, Jackie ended up being fine - but it was a very scary moment.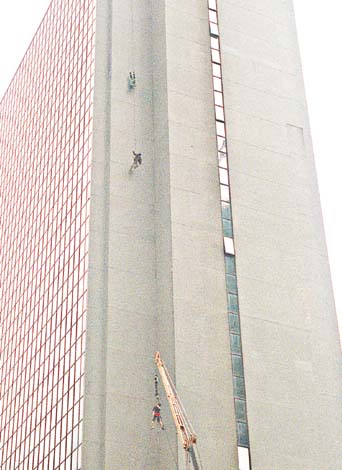 You can see how high up they were filming this scene!
Photo: Oriental Daily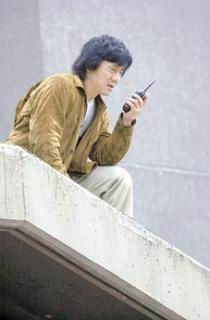 Jackie communicating with his crew using a walkie-talkie.
Photo: Sina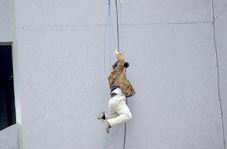 _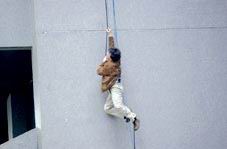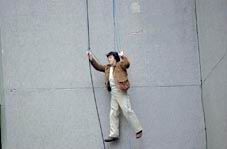 Very scary photos of the accident.
Photos: Sina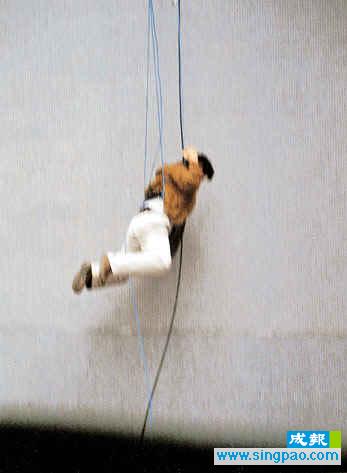 Photo: Singpao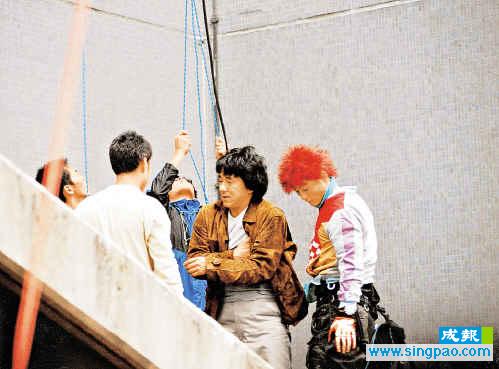 Jackie hurt his hand.
Photo: Singpao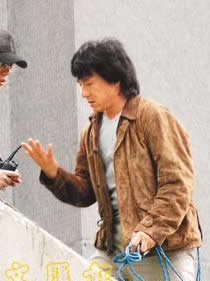 Jackie checks his injured hand.
Photo: Wen Wei Po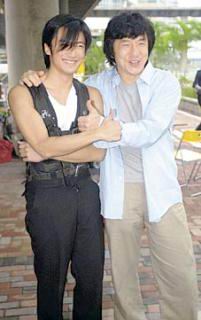 Jackie and Nicholas give the thumbs up! Everyone is okay!
Photo: Sina
November 9, 2003
Well, Jackie strikes again! Check out the photos that Jackie sent of himself holding two tiles sent to Hong Kong for the Jackie Chan Tile Project. The photo shows Jackie holding the sample tile that Kids Club member Dan helped design to show kids that it was easy to make a tile using just Sharpie permanent markers. Thanks Jackie!
Jackie holding Chelsea's tile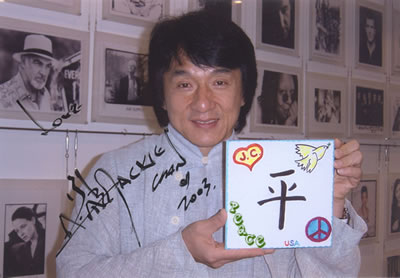 Jackie holding Dan's sample tile
Wow! The first of the cards for the Jackie Chan Christmas Card Competition have arrived at the Kids Corner. There is a section for Kids cards and a section for
Big Kids (adults) cards. Check them out! Thanks to Megan and Morgan for being the first kids to send in cards and thanks to Jabba for sending in the first of the Big Kids cards. They are all awesome and Jackie's going to love them! It's never too early to send in your holiday card. Click here for information on how to get involved.


November 7, 2003
Wow! Jackie launched his new clothing line at a gala in in Guangzhou, the capital of China's southern province of Guangdong. The collection will launch in China in 2004. Here are some photos of the exciting event: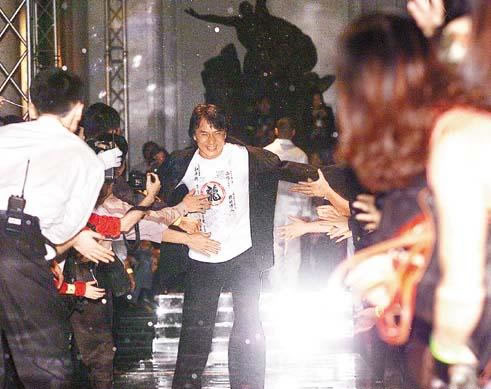 Photo: REUTERS/China Photo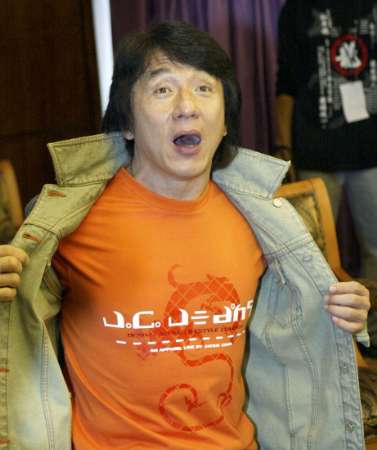 Photo: REUTERS/China Photo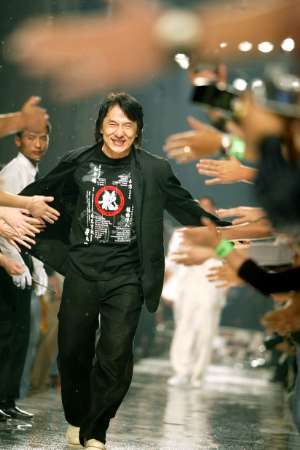 Photo: REUTERS/China Photo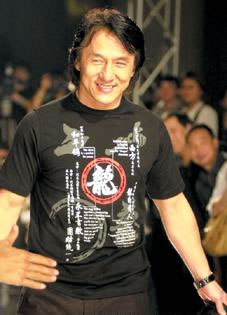 Photo: Yangtse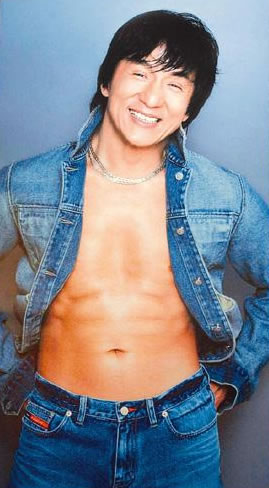 Here is a poster of Jackie wearing his new clothing line! Looking good Jackie!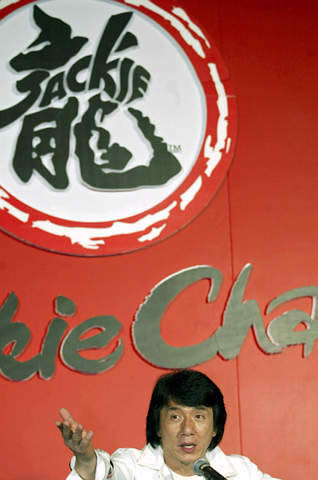 Jackie at a news conference.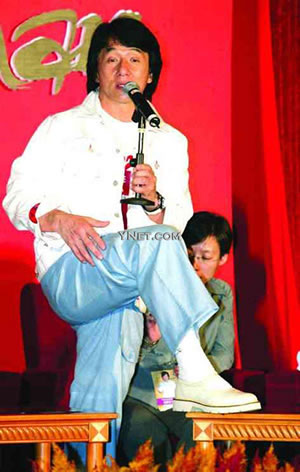 Jackie shows shoes from his new collection. Photo: Ynet.com
There's a beautiful new drawing of Jackie posted in the Jackie Chan Art Gallery here in the Kids Corner. Thank you to Geraint from Bynea, Llanelli, Wales for his gorgeous picture. Geraint is only 7 years old!
November 5, 2003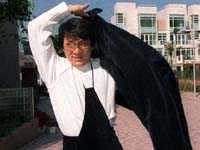 Photo: CitySeen
Check this out from the South China Morning Post:
South China Morning Post.
Nov. 5, 2003, CitySeen
JC vs A/X, CK, DKNY

Jackie Chan sets his goals high. Besides trying to lure tourists to Hong Kong, he has now taken on one of his most challenging tasks ever - educating men on the mainland to dress well.
Today he is taking his new collection of menswear to Guangzhou, where he will try to persuade franchisees to set up shop with his name on the front door.
JC Collection and JC Jeans target the high-end male shopper on the mainland. From Italian-made suits and linens to denim, the shops will contain all that a wealthy Chinese man's wardrobe desires.
At the helm of the operation is Kenneth Lai, founder of Theme fashion chain.
"We are targeting the trendy, suave, urban, metropolitans who have no idea where to go to shop.
"They have no information, and nothing available for them, it is hard for them to travel to buy nice clothes, so we want to be the place for them to come for trendy, casual wear. We would benchmark ourselves with the likes of A/X, CK Jeans, and DKNY."
They are opening flagship shops in the centres of Beijing, Shanghai and Shenzhen to begin with, and hope to have 100 shops up and running within a year.
For the moment though, Hong Kong has been put on the backburner and no shops are in the pipeline.
So how much does a JC Collection suit go for? Oh, just 20,000 yuan (HK$18,800). [Around $2,000 US]
November 4, 2003
"Jackie's Tile Collection" has been posted. Check out all the photos of Jackie holding some of the incredibly creative tiles that have been sent to his office. Click here to see Jackie holding all the tiles! Don't forget - there's still PLENTY of time to send in your tile. Just get yourself down to Home Depot or your local tile guy and get your tile. Then paint it, ship it.....and wait for it to be installed in Jackie's office!
The Second Annual Jackie Chan Christmas Card Competition has begun. Click on the Santa Jackie (below) for all the details! There are great prizes and every kid is welcome to enter. Adults are encouraged to send in cards as well.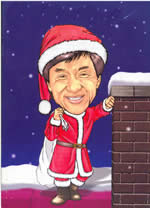 November 3, 2003
Jackie continues to participate in celebrating the achievement of astronaut Yang Li Wei. Jackie joined Yang Li Wei on a harbor ride aboard the Star Ferry in Hong Kong! Here's a photo: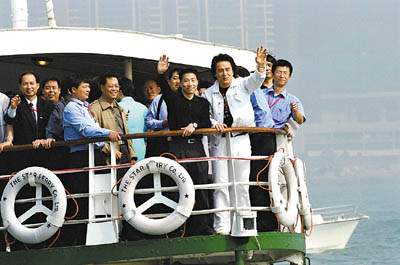 Photo: xinhuanet
Don't forget that there's still plenty of time to send a tile to Jackie for the Jackie Chan Tile Project. For information, click here.
Amazingly enough, the Kids Corner has received its first card for the Second Annual Christmas Card Competition. Check back later in the week to see what it looks like! You can start sending in Christmas or holiday cards right away....don't delay because time flies this time of year. For all the information about the contest, click the Santa Jackie below.
Kids, check out this totally cool website! It's called Dragon Kids and has tons of really neat facts and stories to read. Click here to visit!
November 2, 2003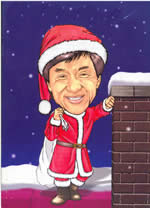 The Second Annual Jackie Chan Christmas Card Competion has begun!!! Click Santa Jackie for details.
November 1, 2003

Jackie Chan and China's first astronaut Yang Liwei sang a song about courage at Hong Kong Stadium on Saturday, November 1, 2003. Yang Liwei attended a welcoming ceremony where tens of thousands of residents of the former British colony celebrated China's rise as an emerging world power.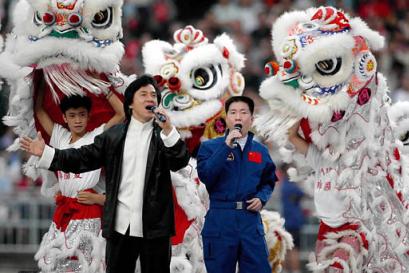 Photo: AP Xinhua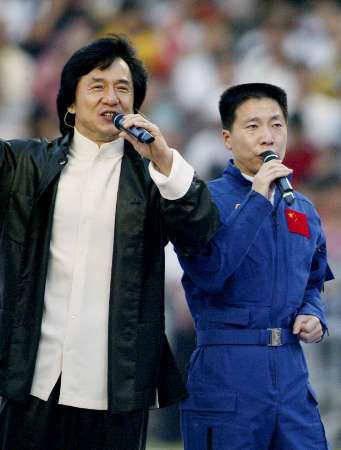 Photo: REUTERS/Kin Cheung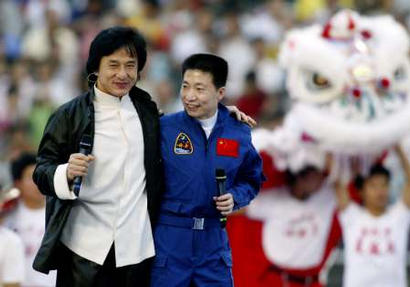 Photo: REUTERS/Kin Cheung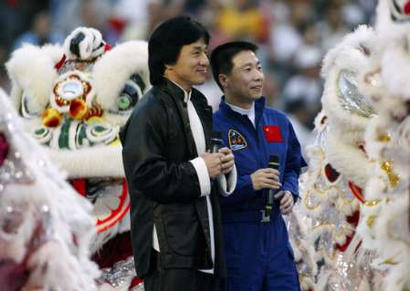 Photo: REUTERS/Kin Cheung
Jackie Chan, Charity Ambassador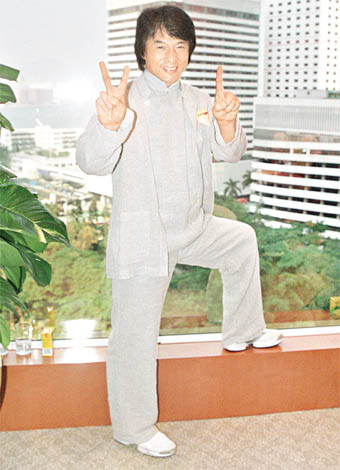 Photo: Oriental Daily
"Jackie Chan attended a press conference for a Community Chest charity event. He was a charity ambassador. Between the 1st and 9th, when donations are made at specific locations the Cheung Kong Group will match the amount. Jackie Chan yesterday donated HK$500,000 and asked his employees, artists and young people to donate as well in hopes of triggering a domino effect. He also revealed that his foundation next year will hold the Jackie Chan Cup auto race in Shanghai. Because the film market has not revived yet, he originally wanted to make a fund raising movie but many companies declined due to the poor economy." Link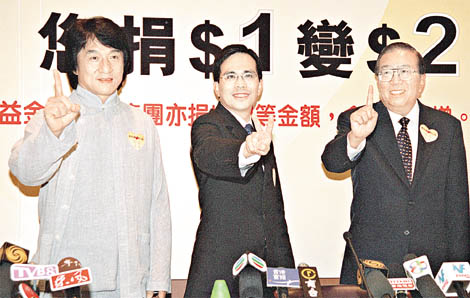 Photo: Oriental Daily
Oriental Daily also added that Jackie appealed to the entertainers as well as young people to respond. Jackie originally had thought of raising funds with proceeds from a movie, but the movie market has not yet recovered. Jackie announced he will move his Jackie Chan Cup race to Shanghai.

Ming Pao added [that] Jackie appealed for each resident of Hong Kong to give money generously Jackie said, "Buy a few less cars." I cannot force others to do this, but I decided to have a donation box in in my own office, and called upon my staff to to contribute 10 Yuan. Buy a little less food. Buy less clothing. Buy only a few CDs."
Jackie believes if everyone gives mutual attention, does their part, the goals can be realized. (Sources: Ta Kung Pao, Oriental Daily, Ming Pao. Thanks to JF for the translations)
Check out the Monkeypeaches site to look at a mini video of the dangerous car flip that Jackie filmed the other day.

Traces of a Dragon, the documentary about Jackie's lost family, has been nominated for a Golden Horse Award. Congratulations to Jackie and everyone involved in the production of the film. Link
For those of you who are Jackie Chan VIP members, click here to read updates to Jackie's diaries.
Wow! There are two new "Animals on Parade" links sent in by Jackie Chan Fan Sandy! Here's a "Fish Out of Water" by Barbara Cox entitled "Elfish: The King"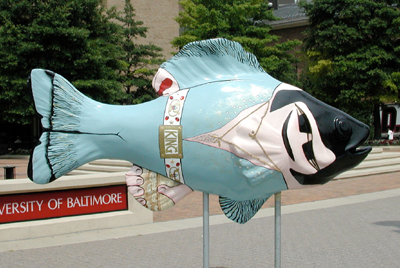 Photo by Pat Venturino
And here's one of Ocean City, Maryland's birds entitled "Do Not Catch the Fish" by artist Bob Alston: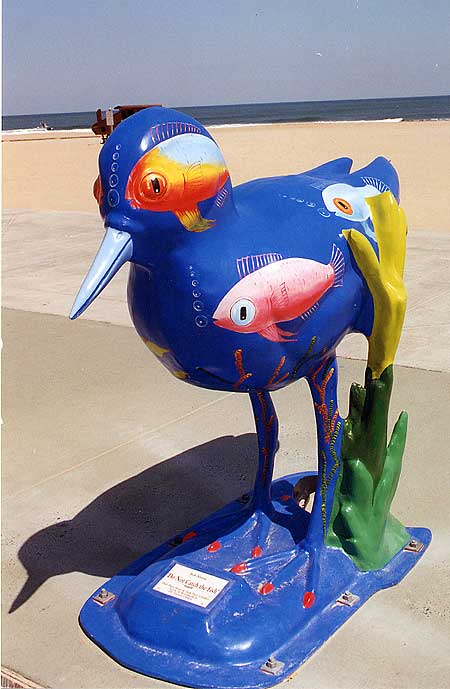 If you're wondering what birds and fish have to do with Jackie Chan, then click here to read about Jackie's passion for Berlin's Buddy Bears. As you know, Jackie works very hard for charity, and when he was filming in Berlin, he fell in love with the Buddy Bears. He went all over the city having his photo taken with them. The fish and the bird are just two more examples of using the "Animals on Parade" idea to earn money for charity. Jackie said in his diary that he'd love to do a "Dragons in Hong Kong" someday!

Special thanks to Marie M. for supplying the Kids Corner with daily news updates about Jackie. She spends a lot of time hunting down the latest news and very generously shares it with the Kids Corner webmaster. Without Marie's help, this news page would not be the same. Thanks Marie!!!!
Very Exciting News!!
This is THE coolest news of the year for the Kids Club!!!
As most of you know, Jackie has been keeping a diary for his fans while shooting Shanghai Knights. In the July 3rd diary entry, Jackie talks at length about the Kids Club and mentions each of the last 7 "Jackie's Kids" by NAME! As most Kids Club members know, Jackie has taken a keen interest in the newest Jackie Fan Club and he reads all of the newsletters. It is very exciting to read Jackie's comments about the club and its members! In the July 8th entry, Jackie mentions the Kids Club again, encouraging his young fans to join. Click the highlighted links (above) or read the diary entries at Jackie's Official Web Site. (From the August 12, 2002 News Report)
CLICK HERE TO GO BACK TO THE TOP
The Latest Jackie News is now being archived to save room on this web page.
To read past news reports, just click on the month you're interested in viewing.
©2003 Katharine Schroeder / Jackie Chan's Kids Corner