July 28, 2004
Where's All The Jackie News?
Not to worry.....when Jackie is traveling there if often a lull in the news. Jackie traveled to Greece to carry the Olympic Torch and should be back on the job in Shanghai as of late Monday. Any news will be reported as it happens. In the meantime.....
Little Dragon News for July is Online!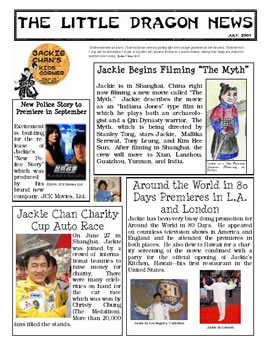 Click the Little Dragon News to read July's issue.
Beautiful New Buddy Bears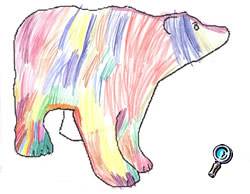 Click Sarah's Colorful Buddy to see ALL the new ones. There are many many beautiful bears today! (The webmaster would like to thank Sarah and Katie's mommy for the beautiful letter which accompanied the Buddy Bears.)
New Drawing in the Art Gallery
Click Jackie the Artist to see the newest drawing.
More Contest Suggestions Arrive
Thanks to Angie for sending in her ideas. The rest of you had better get thinking because yesterday a whole bunch of Around the World in 80 Days promotional items arrived in the mail. Yes! Mini-posters, one full-sized poster, and even a CD of the music from the movie. Thanks to Walden Media for sending all the wonderful prizes for the Kids Corner! Click here to read all the contest suggestions and CLICK HERE to submit your own.
July 26, 2004

HOT HOT HOT!!
The temperature on the set of The Myth reached 38 degrees (100 degrees F) last week. Some of the crew became so overheated that they reportedly fainted! Jackie, below, enjoys a cooling ice pop.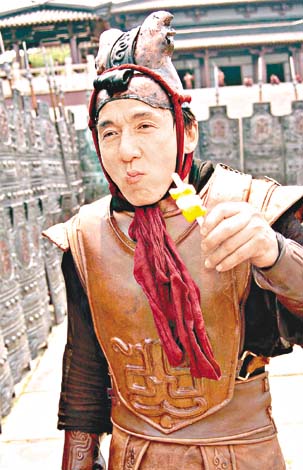 Photo: Oriental Daily
As you know, Jackie flew to Greece to carry the Olympic torch last week. Filming of The Myth resumes upon his arrival back in Shanghai.
Some new Buddy Bears have stomped into the Kids Corner mailbox and will be available for viewing here in a day or two.
Keep the contest suggestions coming - your ideas are terrific!
July 23, 2004
Oh Jackie!!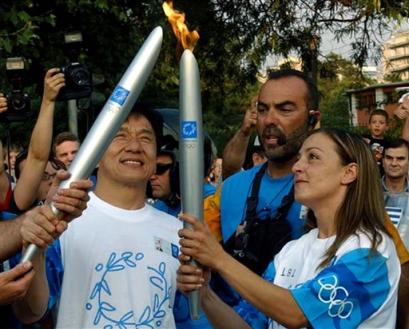 Action star Jackie Chan receives the Olympic flame from Ioanna Hatzioannou, right, during the Olympic torch relay in the northern port city of Thessaloniki, Greece, on Friday, July 23, 2004. The Olympic Flame will be carried in Greece by about 7, 000 runners to 29 cities and six major archaeological areas ahead of the Aug. 13-29 Olympic Games. (AP Photo/Nikolas Giakoumidis)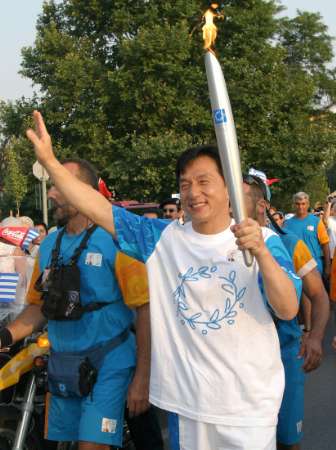 Photo: REUTERS/Grigoris Siamidis
Photo: REUTERS/Grigoris Siamidis
Today Jackie carried the Olympic flame. What a tremendous honor this is! Here's what Jackie had to say to the media:
"It is very important that the Olympics are returning to their birthplace, just as it is equally important to me that the next Olympics will take place in Beijing."
Congratulations from all your friends and fans at the Kids Corner. We're so proud of you, Jackie!
Hindi Lessons Added
Check out the Sharing Corner for TONS of new Hindi Lessons from Haarsha! You can hear the lessons and then read them to make learning easier. Thanks to Haarsha for her patience....it took a while to get them all up on the website.
~Wow~
Great Contest Ideas!!
Thanks to everyone who sent in his or her ideas for contests here at the Kids Corner. Click here to see a whole bunch of really neat ideas! If you have an idea for a contest, just email the webmaster and she'll add yours to the list. In a week or so everyone can vote on their favorites and we'll get those contest going!!
July 22, 2004
Construction Begins on Second Edition Buddy Bear Book

Yes, the time has come for the second Buddy Bear book to be put together and mailed to Jackie. But don't worry! The cut-off date for mailing in your Buddy Bear designs is August 15th. You still have time. Hurry, though.....don't you want YOUR design to appear in the book? Click here to see how the construction is going.
More and More and More Buddy Bears Added
As promised, there are tons of new Buddies on the Chapter Two Buddy Bear pages. Click here to see them all. They're amazing!
Jackie The Olympian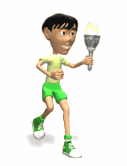 Jackie will be in Greece next week to be one of three Chinese to carry the Olympic torch for the opening ceremonies of the Athens 2004 Olympics. This is a tremendous honor and we congratulate Jackie.
July 20, 2004
Another Beautiful Buddy Bear
This one is from Aiba Lee (Singapore) and it's a beauty. Check out all the Second Edition Buddy Bears and be sure to get your design in the mail soon. In a few weeks the Second Edition Buddy Bear Book will be put together and mailed to Jackie. Click below for instructions on how to submit your design.

Note from the webmaster: Aiba Lee mailed her Buddy Bear several weeks ago and never saw it posted on the Kids Corner. So she sent a "gentle reminder" in an email asking where her bear was. As it turned out, it had been scanned already and was floating around on the computer desktop. A few minutes later - BANG! - it was up on the website! The moral of this story? If you send something to the Kids Corner and don't see it posted, please just send a reminder to jckids@jackiechan.com. Most likely it's here somewhere but there's always the chance it was lost in the mail (or on the desktop).

Kids Corner Needs Your Help!
As you may know, the Kids Corner webmaster moved from her old house into her new (old) house recently and in the process she came across TONS AND TONS of Jackie Chan prizes.......TONS OF THEM! Here are some of the prizes waiting to be sent to Kids Corner visitors:
Two awesome Jackie Chan collectors' tins with magazines.
A few Jackie Chan Adventures action figures (the JACKIE CHAN DELUXE ACTION FIGURES by Playmates - these are the big ones; around 12 inches tall)
Jackie DVDs
Autographed photos
Three autographed Jackie Chan Adventures books
Posters
etc. etc. etc.
So how can you help? You can think up some new and exciting contests so that the winners can receive these awesome, one-of-a-kind prizes! In the past, the most popular contests were the Buddy Bear Competition, the Jackie as a Jedi contest, and any contest featuring artwork. One thing kids DON'T like to do is write much. So the "Write a Sequel to Shanghai Knights" was a disaster with very few entries. Got the idea? What kinds of contests would YOU like to see? Send your ideas to the webmaster and she'll get the next contest going ASAP!
A "Hello" From Dhaka, Bangladesh
One of the most amazing things about Jackie is that he has fans of ALL ages and from countries all over the world. Recently, this "hello" turned up in the Kids Corner email:
Dear Jackie,

I am writing this email on behalf of my son. He is only 3 1/2 years old but big fan of yours. Whenever there is movie or cartoon of yours he never misses and with his broken language he would jump up and say, "Ami Jackie Chan" means "I am Jackie Chan."

Thanks

Feroz (Arian's Daddy)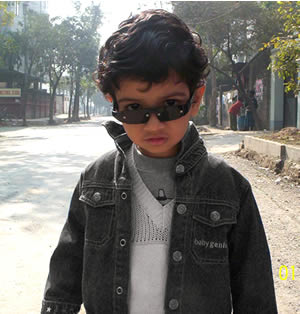 Arian, Jackie Chan Fan


July 19, 2004
"The Myth" Central
There will be a central location on the Kids Corner for all the news connected to the filming of Jackie's newest film, The Myth. Click here to visit the pages and see all the news and photos gathered together in one place!
Great New Buddy Bears
Check out the latest Buddy Bear designs from a couple of Big Kids. Just click on Ann's bear, below, to see them all: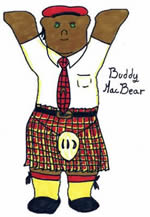 Lots more Buddy Bears to come thanks to Lisa Schwark's Peanut Gallery Daycare. Stay tuned for those!
Brand New "I Have A Pet Named After Jackie"
Click on Jackie to see all the pets!
July 18, 2004

The webmaster is so sorry! She didn't want to deprive you of all the Jackie News these past few days, but when you move to a new house, you have to do so many things! The most important thing of all was getting the cable guy to come hook up the Internet...which he did. But then, trying to run a website from a laptop computer wasn't as easy as the webmaster thought it would be. Anyway, the Kids Corner is back!
Let's try to catch up a bit. Most of the following links came from Marie. Thanks for keeping up while the Kids Corner was out of commission.
Jackie's Injury on The Myth Set
Jackie was slightly injured on the set of his new movie "The Myth." Although reports varied about the seriousness of the wound, you can be sure that it wasn't too bad at all and that he is healing nicely.
Behind the Scenes Photos From The Myth
All photos property of IndiaFM.com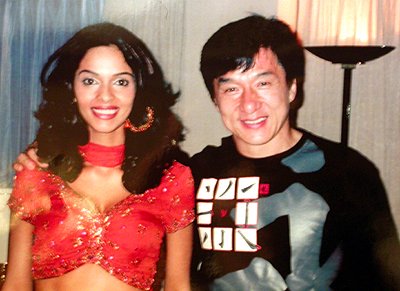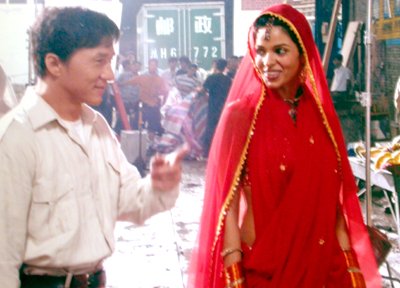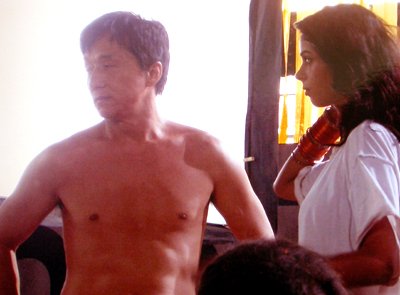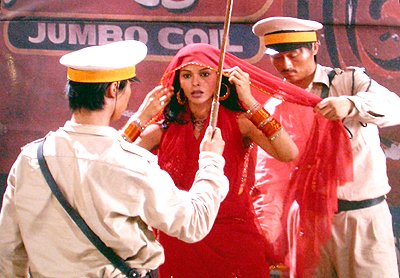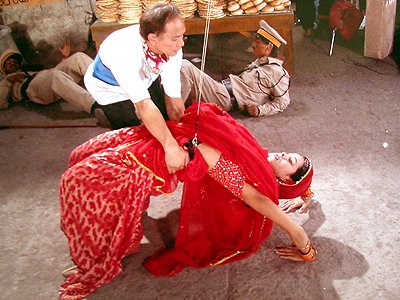 Mallika Talks About Working With Jackie
In an interview with IndiaFM.com, Mallika said that Jackie is great to work with, and very professional. She mentioned that he greeted her when she arrived in Shanghai and that he was very happy with her work. Mallika said she was very excited to work with Jackie since she grew up on his films. Source
Zhang Yimou Wishes to Work with Jackie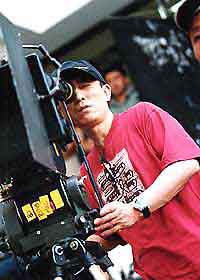 Director Zhang Yimou
Legendary Chinese director Zhang Yimou (Hero, The Road Home, The House of Flying Daggers) has expressed that Jackie would be perfect for a role as a Chinese Mainland Farmer. He is confident that Jackie has the acting ability to carry off a dramatic role. Hopefully, this will come true in the near future! (Source: WorldJournal.com, translation by Charles Cheng)
Jackie Is Just a Kid at Heart!
Jackie has been spotted scooting around the set of The Myth on a Segway - a motorized "Human Transporter." Jackie was afraid he would lose his balance, but it took him only 5 minutes to learn how to ride!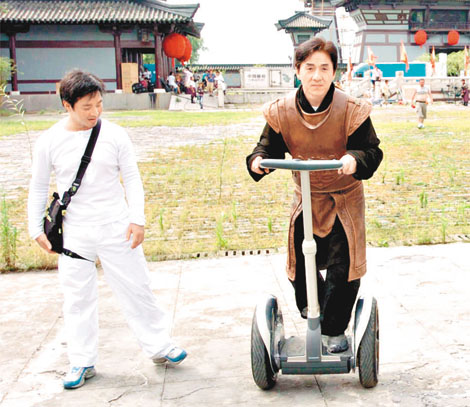 Photo: Orientaly Daily
So You Thought The Jackie Chan Tile Project Was Over? Think Again!
There are dozens of new tiles up in the Tile gallery! Don't forget, this is an ongoing project and your tile is more than needed. Click here to read all about how to send your tile to Jackie.
July's Little Dragon News
The July issue of The Little Dragon News is waiting approval from the office and then it will be posted on the official site and mailed to the few members left who still receive a paper newsletter. Don't worry! We didn't forget. Remember, Jackie's office is VERY busy right now with all the activity surrounding The Myth.
More news tomorrow as the Kids Corner revs back up!
July 13, 2004
Note from the Webmaster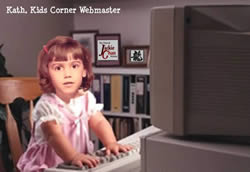 Hi everyone! Just a quick note to let you know that I am moving from one house to another and so I will be off line for a day or two. There will be updates to the Kids Corner whenever possible. I promise that when I get settled there will be tons of brand new fun stuff for you to see. Keep checking back....sorry for the lack of Jackie news these days. Moving is HARD WORK!!!
July 10, 2004
Kim Hee Sun Arrives in Shanghai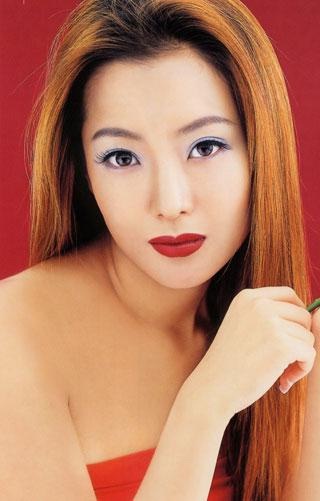 Jackie's "The Myth" co-star, Korean beauty Kim Hee Sun, has arrived in Shanghai to begin filming. Jackie and Stanley Tong had nothing but praise for her:
Jackie praises Kim Hee Sun for her beauty, and Stanley Tong for his good sight.
Jackie Chan praised Kim Hee-Sun for being as beautiful as a princess! Kim Hee-Sun arrived in Shanghai a day ago, and rushed to the movie set to officially start working on Jackie's new film "The Myth". Kim will be playing a Chosun princess and will be travelling in time with Jackie's character (who is a Chin Dynasty warrior and beginning their inter-racial love. She spent 3 hours putting on her Korean princess outfit designed by Lei Bik-Gwan (who has worked on films like "A Man Called Hero", "Young and Dangerous" and etc). Of course she also had to show it to Jackie Chan and director Stanley Tong so they could take a look.
Praises Stanley Tong for his good sightings
According to sources from the workers, Jackie was getting ready to work and caught a glimpse of Kim Hee-Sun. He immediately kept praising non-stop, and jokingly said, "Just like a feudal era princess!" and gave the thumb to Stanley Tong for his choices.
After trying on the outfit, Kim Hee-Sun rested a bit in her hotel room, and waited for the evening so she could dine with the cast and crew. During Kim's first day in Hong Kong, Jackie obviously wanted her to try Shanghainess food. Kim Hee-Sun loved the "Xiao Lung Bao" (little dragon dumplings, steamed dumplings with the meat inside and a little bit of soup), and said the drunken crabs & drunken lobsters (which are dipped in alcohol) were delicious.


Even though, Kim Hee-Sun doesn't start working on the film until next week, she started rehearsing for the movie yesterday in a scene which will show her doing a Chinese dance. Director Stanley Tong has hired a professional Chinese dancer expressly to train Kim for the dance. Sources say that Kim learned Chosun (Korean) traditional dance during her elementary and high school days so she has a dancing background which would help in her training for Chinese dance. Kim will begin shooting her scenes in a week, so she has time to rehearse for the dance.
Translated by Tin Lun Lau
Accident on The Myth Set
According to reports, Jackie injured his arm while filming a scene from his new movie, The Myth. Apparently, Jackie was accidentally stabbed by a bayonet and was bleeding but refused to go to the hospital. This should not surprise Jackie's fans who know that he has, in the past, reset his own broken bones and continued filming. Source Thanks to Marie.
Jackie Chosen as One of Top Five Hong Kong Actors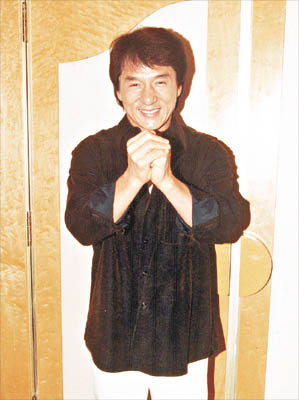 Jackie says "Thank You" the Chinese way
A recent survey taken shows that Jackie is one of the top five film actors in Hong Kong. The survey, which was done in conjunction with the Hong Kong Film and Television Market and the Hong Kong Trade Development Council. Congratulations to Jackie!

Jackie Wants a "Proper Screen Kiss"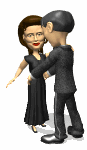 In an interview with Metro Cafe, Jackie confessed that he's ready to "Do some more loving rather than fighting." During Jackie's promotional tour for Around the World in 80 Days, he expressed over and over again that he wants to get into more dramatic acting. (Don't worry kids - you can cover your eyes for the kiss parts!)
Goodbye to Dragon

One of the Kids Corner "Pets Named After Jackie" has passed away. Our condolences to Dragon's family.
July 8, 2004
New Police Story Teaser Posters
(Click to enlarge)
©2004 JCE Movies Ltd. All Rights Reserved
©2004 JCE Movies Ltd. All Rights Reserved
July 6, 2004
Special Buddy Bear Given To Jackie
On 27th June there was the solemn prize ceremony in Victoria Park in Hong Kong. Unfortunately Jackie Chan could not attend this ceremony. He was at a charity event in Shanghai.
This Buddy Bear designed by a famous artist, Klio Karadim, was given as a present from Jürgen Borsch of the Consulate General of the Federal Republic of Germany and Dr. Klaus Herlitz to Irene Chau of "The JC Group."
(Thank you to Dr. Klaus Herlitz for the above information and these wonderful photos!)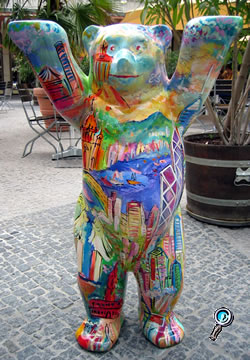 The full length Thank You Jackie Buddy. Click to see details.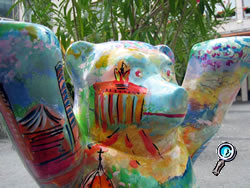 Close up of face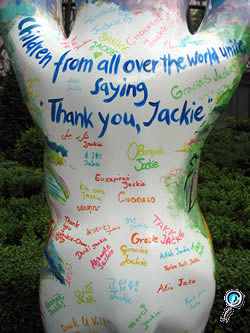 Close up of back. You will see "Thank You Jackie!" written in many languages.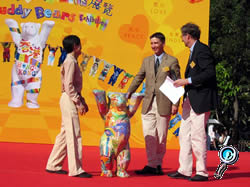 Jürgen Borsch of the Consulate General of the Federal Republic of Germany (middle) and Dr. Klaus Herlitz (right) present the Thank You Buddy to Irene Chau of The JC Group.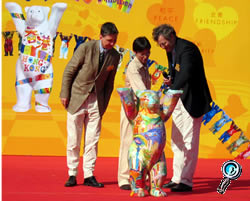 Jürgen Borsch, Irene Chau, and Dr. Herlitz admire the Buddy Bear.
July 5, 2004
Around the World in 80 Days: Photos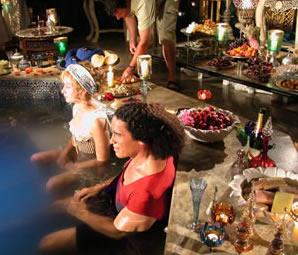 Click here to see some great photos from the movie.
New Section of Kids Corner for The Myth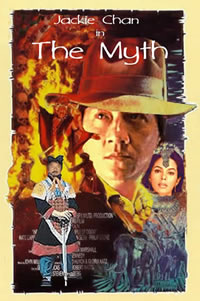 Click the "poster" to see all the latest news on The Myth. This section will be updated as new events take place. By the way....the "poster" above is something the Kids Corner webmaster put together until a poster is released.
Great New Buddy Bears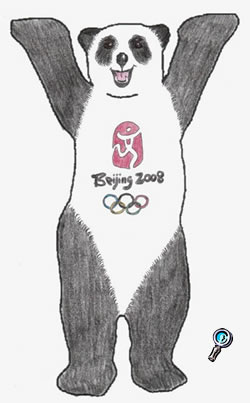 New Hindi Lessons With Haarsha (Aarti)
Click here to go to the Sharing Corner page where Haarsha (yes, Aarti has changed her name). You will find all the lessons in text form to be printed out if you wish!
July 3, 2004
Beautiful New Buddy Bears!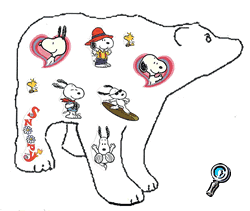 More Coloring Projects in Jackie's Coloring Book
Click to see the newest projects by Jackie's fans, including the one made by Sarah (above). Her Mum assures the Kids Corner that there really are no kangaroos this color in Australia!
Jackie Chan, "Screen Heartthrob"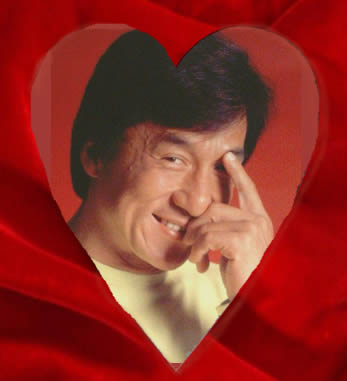 The Star Online, a Malaysian news source, calls Jackie a "screen heartthrob." It looks like Jackie's dream of making romantic movies could become a reality!
July 2, 2004
Jackie Sends Special Gift to Buddy Bear Winners
Thanks to Jackie for generously autographing the winning entries in the Kids Corner Buddy Bear competition. Phyllis was thrilled to receive hers....and Steffi, yours is in the mail!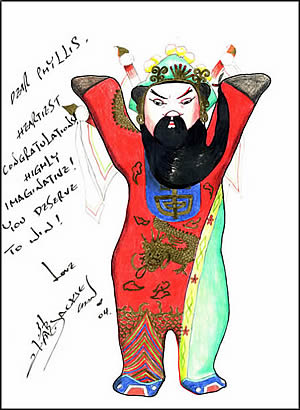 __________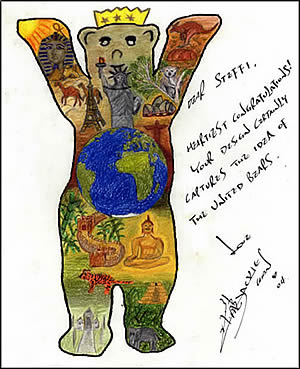 Teen Hollywood Interviews Jackie and Steve
Click here to read the interview!
Great New Buddy Bear Added to Second Edition Bears!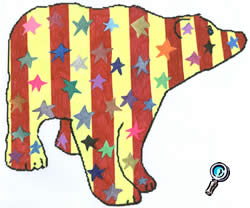 Thanks to Carol for her cute design.
A Little Bit More Info on "The Myth"
From China Daily: Shooting of Jackie Chan's The Myth has restarted at a production complex of Shanghai Film Studios. An opening ceremony was held yesterday, with Jackie Chan, director Stanley Tong, Hong Kong actor Leung Ka-Fai and Indian actress Mallika Sherawat. Jackie Chan will take two roles in the film - a modern day Indiana Jones type of archeologist and a Qin Dynasty (3rd Century B.C.) general Meng Yi. Mallika Sherawat will play Samantha, an ancient beauty. Korean actress Kim Hee-Sun, reportely, is no longer attached to the project.
More Hindi Lessons With Aarti in the Sharing Corner!
Lessons four and five have been added to the Sharing Corner.
Jackie Looking Good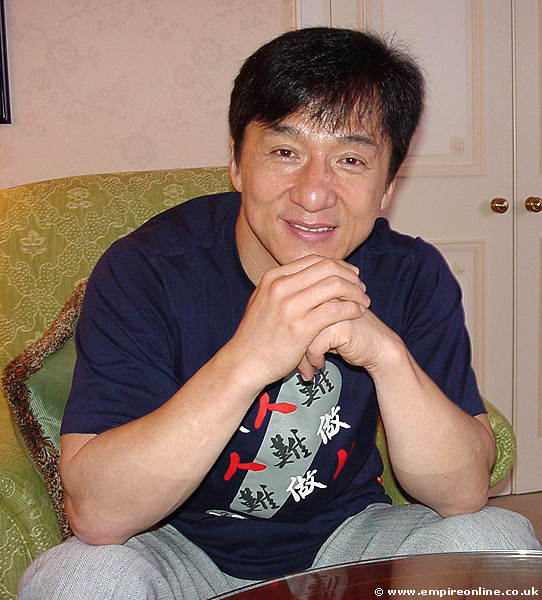 Just a nice photo of Jackie from Empire Online.
July 1, 2004
New in the Sharing Corner: Learn Hindi With Aarti!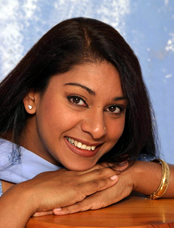 Aarti Balraj teaches us some Hindi at the Sharing Corner.
Webchat With Jackie Chan
Click here to read Jackie's answers to your questions.
Interview With Terence Yin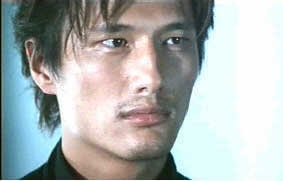 Terence appears in Jackie Chan's New Police Story - also starring Nicholas Tse, Charlie Young, Charlene Choi, Daniel Wu and Wang Chieh - as the red-headed Fire.
Here's the interview from Hong Kong's BC Magazine:
So what's new in New Police Story? "In all the other Police Stories, Jackie is the super cop. He goes in there, you know he's going to win, he kicks butt. It's a nice roller-coaster ride, but in this one there are moments when you don't know. It's very rare in a Jackie Chan movie that you see Jackie fail. This dramatic element has been incorporated into the film. There is a much greater art in Jackie's character because of it. On our side, we bring a different kind of youthful energy to the film, like the next generation vs the older generation. We go against our parents, and against Jackie."

Who exactly is this new generation of bad guys? "There are five of us villains in the film, working together as a team. We're all from rich, affluent families, but we're really into computer games and extreme sports - we love bikes, skateboards, roller blading, etc. We also love to create havoc. We're making our own computer game within the movie, based on our own crimes."

The Gang of Five are Daniel Wu, a Japanese actor named Hiro, Andy On, Zhang Yi (Coco) and of course, Terence. "Every character has a different personality. Daniel is more calculative and calm, Hiro is the computer expert, Andy is the martial arts specialist, Coco is Daniel's other half. I'm called Fire because my character tends to be the most outspoken one. He's crazy and hot-headed, the first to jump on a scene, the one to instigate the action. It's a crime team, and I'm kind of like the personality."

New Police Story's new direction also gave younger actors like Terence, who weren't martial artists, the chance to work directly with Jackie. "He's very hands on. It amazes me how much energy he has, even at this point in his career. He really cares about his work. He'll come on the set sometimes when he's not filming to offer his ideas, be a cameraman, film with one of the cameras. He's very open to giving advice to younger actors, and to me that's invaluable. Not necessarily when he instructs you, but by watching him work, you see why he got to where he is today. There's method to his magic."

So Terence, are you a pretty boy or a bad guy? "I like to think I'm a pretty nice guy, that I don't look evil, that I have a good heart. But in Hong Kong the pace is so fast, if you do well in one role, all of a sudden everybody's looking for you to do the same type of thing." Refreshingly, his next major role will be a good guy: "I'll be playing a hero character in a period film. He's a martial arts expert, so hopefully I can do it somewhat convincingly. It's a lot of posing. But it's a smaller production, shot in Qingdao, so I'm also looking forward to doing something different."

New Police Story (newpolicestory.jce.com.hk) will be released on September 24

Thanks to Marie for the link.
June 30, 2004
Oh my gosh.....what IS this????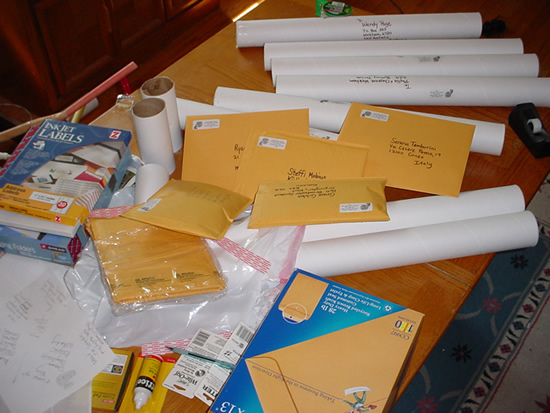 Hurricane strikes Kids Corner Central?
Tornado??
New Sharing Corner Stories
New Buddy Bear Added to Second Edition Designs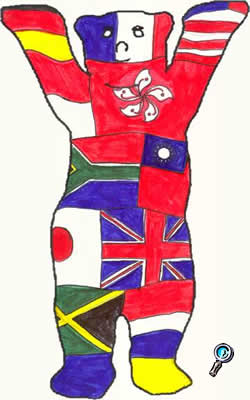 Click Yuris' bear to see all the new ones
New Pages in Jackie's Coloring Book
Click the dragon
Check out Kyle's great Dragon project in Jackie's Coloring Book. Remember, new projects are added to the END of the coloring book as they are received.
Lens Opening Ceremony for "Myth"
Jackie's latest movie, Myth, had its lens opening ceremony in Shanghai. The Indiana Jones type movie, which is being produced by Jackie and directed by Stanley Tong, will be filming in Shanghai.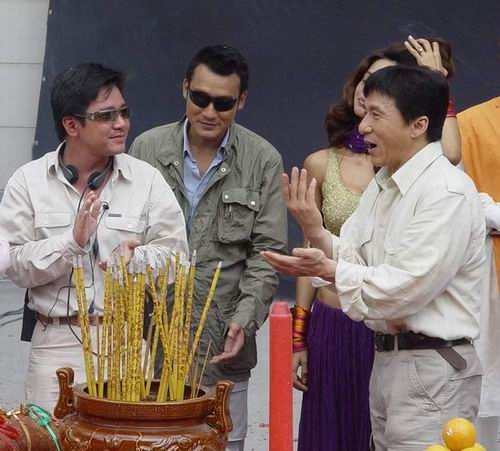 Directory Stanley Tong, actor Tony Leung, actress Mallika Sherawat (behind Jackie), and Jackie Chan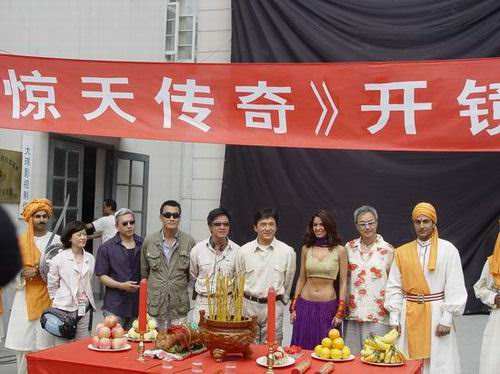 Also spotted at the ceremony were Solon So (3rd from left) and Willie Chan (second from right)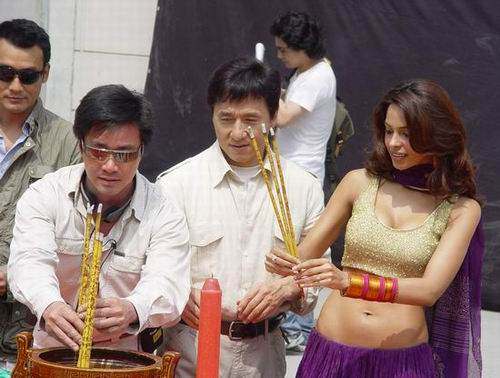 Stanley, Jackie, Mallika

Special thanks to Marie M. for supplying the Kids Corner with daily news updates about Jackie. She spends a lot of time hunting down the latest news and very generously shares it with the Kids Corner webmaster. Without Marie's help, this news page would not be the same. Thanks Marie!!!!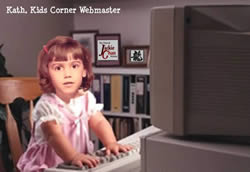 Please read this note from the webmaster!
Very Exciting News!!
This is THE coolest news of the year for the Kids Club!!!
As most of you know, Jackie has been keeping a diary for his fans while shooting Shanghai Knights. In the July 3rd diary entry, Jackie talks at length about the Kids Club and mentions each of the last 7 "Jackie's Kids" by NAME! As most Kids Club members know, Jackie has taken a keen interest in the newest Jackie Fan Club and he reads all of the newsletters. It is very exciting to read Jackie's comments about the club and its members! In the July 8th entry, Jackie mentions the Kids Club again, encouraging his young fans to join. Click the highlighted links (above) or read the diary entries at Jackie's Official Web Site. (From the August 12, 2002 News Report)
CLICK HERE TO GO BACK TO THE TOP
The Latest Jackie News is now being archived to save room on this web page.
To read past news reports, just click on the month you're interested in viewing.
©2004 Katharine Schroeder / Jackie Chan's Kids Corner