December 28, 2005
Christmas Cards for Jackie Contest Ends
Thank you to everyone who sent in a Christmas card for Jackie (and Jones, and the JC Group, and the Webmaster, etc.). All the cards were wonderful and of course all deserve to win a prize. However, only three prizes will be awarded in three age groups. Stay tuned to the Kids Corner for announcement of the winners.
December 21, 2005


December 19, 2005
Even More Christmas Cards for Jackie
December 16, 2005
MANY MANY MANY more Christmas Cards for Jackie (and one for Jones!)
Tons of new cards have arrived in the last few days (including another for Jones). Check out Jones's Clubhouse to see what Sukee sent!
Note from the Webmaster:
A big thank you to everyone who has sent me holiday cards. I really appreciate your thoughtfulness. Several people have sent gifts - thank you so much for these lovely surprises and Happy Holidays!
Love, Kath
December 12, 2005
Christmas Cards for Jackie (and Jones!)
New cards are posted nearly every day and today a card arrived for Jones! Check out Jones's Clubhouse to see what Kelvin, the German hunting hound sent.
December 6, 2005
The Real Santa Jackie!
Here at the Kids Corner we are used to seeing Jackie dressed as Santa - usually the work of some talented artist. But today, Jackie took a minute from his busy schedule to pose with the JC Group Christmas tree!
This pose first: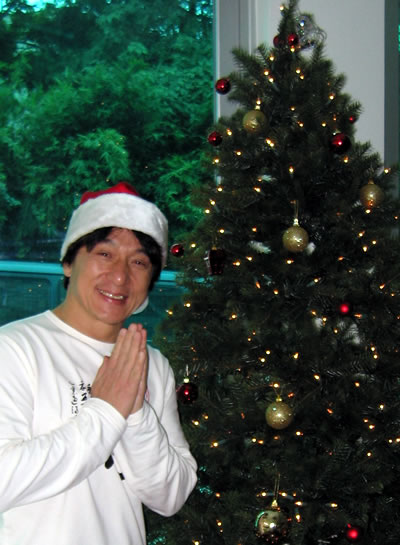 ...and then Jackie's imitation of Santa: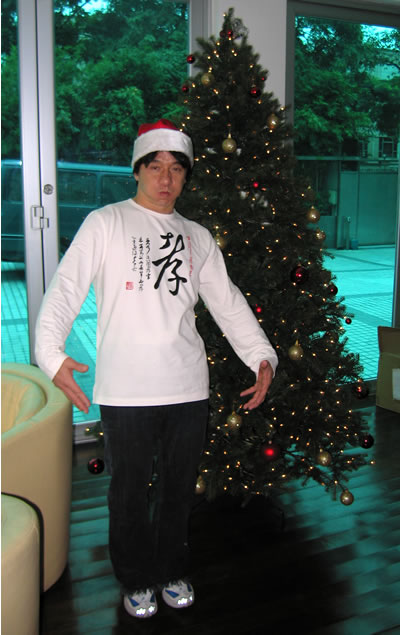 Here's what Jackie said when he struck this pose: "Draw me!" He was, of course, referring to the Kids Corner Halloween Costume contest. If anyone would like to draw Jackie as Santa, the Kids Corner would love to post your picture!
Christmas in Hong Kong Photos Added
Some new photos have been added to the Christmas in China page here at the Kids Corner. Click below to see them: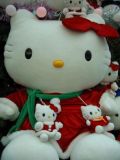 Many new Christmas cards for Jackie have arrived also!
December 5, 2005
Jones Art from Holly
Kids Corner cartoonist Holly has made an adorable drawing for Jones' Clubhouse. She has also made a line drawing for you to color in! Visit Jones' Clubhouse to see.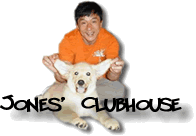 New Christmas Cards
Lots of new cards in the "Christmas Cards for Jackie" section. Click here to see them.
December 2, 2005
Wow! New Buddy Bears
Kyle from New York has sent in two very creative Buddy Bears to add to our collection. Click on his "Dragon Buddy" to see all the wonderful designs. Why don't you send in a Buddy Bear design? Jackie loves to see them and they're great fun to make. Maybe a Christmas Buddy Bear would be nice for the collection!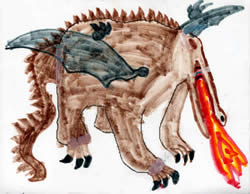 November 30, 2005

There are two new Christmas cards on the "Christmas Card for Jackie" page. We have received very few cards despite the special prizes we are offering! To send a card, click on the image of Santa Jackie, above.
November 29, 2005
Jones Visits the Office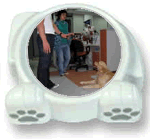 Visit Jones' Photo Album to see three new photos of the dog. He's gotten very big and he listens well. Jackie demonstrated a "down" command and Jones obeyed. After having a piece of apple and slobbering all over the staff, Jones was on his way in a tornado of golden fur!
November 28, 2005
Jackie Wants to Share Something With You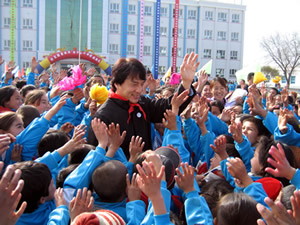 Recently Jackie was in Xinjiang, China for the opening of the school which he built for the poor children of the area. It was a joyful day with a lot of celebrating; everyone was so happy about the school and about Jackie being there. After Jackie returned to Hong Kong, he received two beautiful thank you notes from students at the SOS Children's Village in Xinjiang, and he wants to share them with you: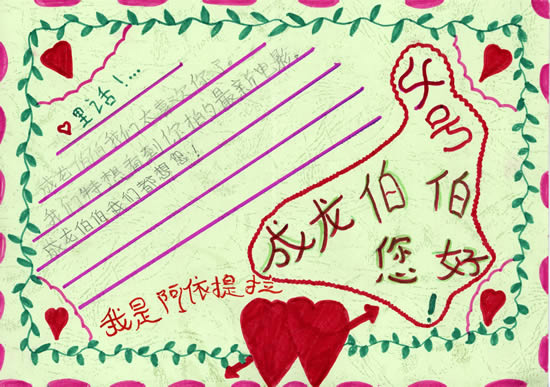 "Dear Uncle Jackie, How are you? I love you so much. I want to see your new movie. We all miss you!"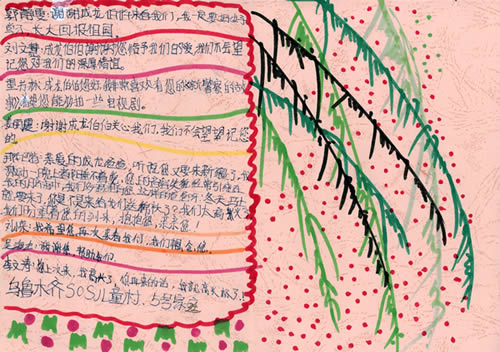 This card was signed by 8 different students who all thanked Jackie for giving them a beautiful new school.
November 25, 2005
New Feature at Kids Corner!

Jones the Golden Retriever asked if he could have a small section of the website where he could visit with some of his friends and fans. How could we say no? So now he has his own spot and soon he will add more fun things to the Clubhouse. If you would like to make a drawing or painting of Jones, send it in and Jones will put it in his Art Gallery. Right now the Art Gallery is empty - it's your job to fill it! Soon Jones will post some drawings from Kids Corner cartoonist Holly to add to the fun. Enjoy!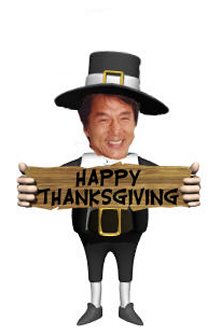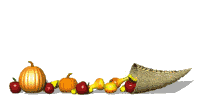 New Drawing in Art Gallery!
November 24, 2005

CLICK THE BANNER TO VIEW CARDS
Thank you to everyone for being patient while the webmaster got all the new postcards scanned, resized, and posted. Hope you enjoy all the beautiful sights from around the world. If someone would like to send a postcard to Jackie's "Postcards From the 'Hoods" section, please address it to:
Jackie Chan Kids Corner
No. 70 Pak To Avenue, Clear Water Bay Road, Sai Kung, Kowloon, Hong Kong
If you just send it to "Jackie Chan" or to "The JC Group" the mail handlers in the office won't know that it's meant for the Kids Corner and you will most likely never see it on the website!!
IMPORTANT: Please (PLEASE!!! PLEASE!!! PLEASE!!!) write down what COUNTRY your postcard is from. Many postcards are either in a language the webmaster can't read OR they just have the town or village name but not the country. It takes twice as long to get the cards on the web if people don't write down the name of the country because the webmaster has to look them all up. YOU may know what country your town is in, but many people might not! Also, please make sure YOUR NAME is somewhere on the postcard. All these things will make it easier to get the cards posted.
One Month Left!!
There is plenty of time to send in your Christmas Card for Jackie. Please check out this year's cards: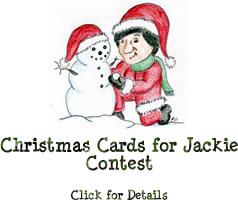 On The Road With Jackie Chan: Shanghai
Many of you might know that the webmaster here at the Kids Corner is also the webmaster over at www.jackiechan.com and also that she works in Hong Kong at the JC Group Offices. If you would like to read about her fun trip to Shanghai and see lots of cool photos, click the banner below:

November 21, 2005
More Christmas Cards!
November 17, 2005
Another Christmas Card and a New Drawing
Jackie and Governor Schwarzenegger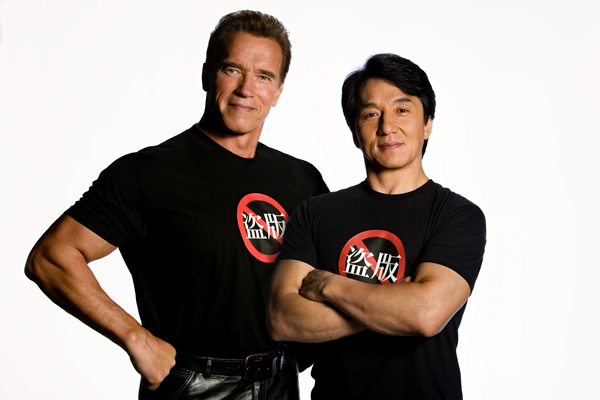 Read all about it here
November 16, 2005
First Christmas Card for Jackie Arrives
Congratulations to Charlotte for being the first person to submit an entry in the Christmas Cards for Jackie Competition. There's no prize for being the first, but still - Charlotte should be recognized for being so fast and inspiring others to send theirs!
Pets Named for Jackie
Charlotte also sent in photos of her pets, Project A and New Police Story. Click below to see all the pets named for Jackie!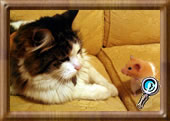 New Drawing in Art Gallery
Charlotte has been a very busy girl - check out the great drawing of Jackie she sent in for our Art Gallery! (Click below to go to the gallery.)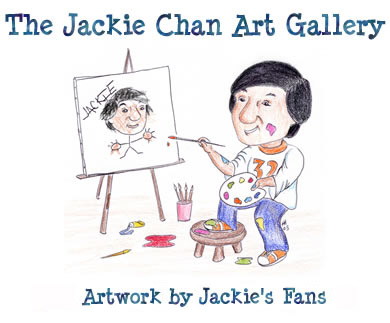 November 11, 2005
Halloween Contest Winners!
The Kids Corner "Decorate Jackie for Halloween Contest" was a huge success. There were over 80 entries! It took a while to get the final vote (Jackie's been so busy!) but the results are in.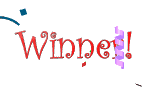 First Place Winners:
| | | |
| --- | --- | --- |
| Lucie, age 11 | Priscilla, age 14 | Petra, adult |
Second Place Winners:
| | | |
| --- | --- | --- |
| Ashley, age 12 | Magali, age 15 | Kamako, adult |
Third Place Winners:
| | | |
| --- | --- | --- |
| Matheus, age 8 | Isabela, age 13 | Edna Regina, adult |
Judge Jackie
Here are some photos of Jackie doing the final judging. Here's what he said: "Tell them that the designs are all so good! It's very hard to choose!!" He made his final decision and then he autographed the First Place designs which will be sent along with the prizes to the First Place winners. Thank you to Willie, Solon, and Jackie for taking the time to judge our contest. All designs have been printed out and put into a book for Jackie to keep. First, second, and third place winners: Please email your postal mailing address to the webmaster!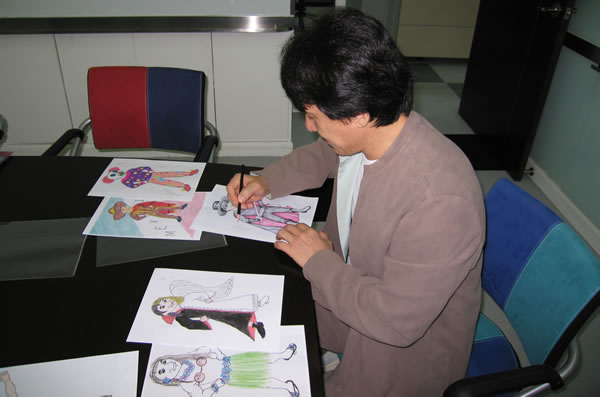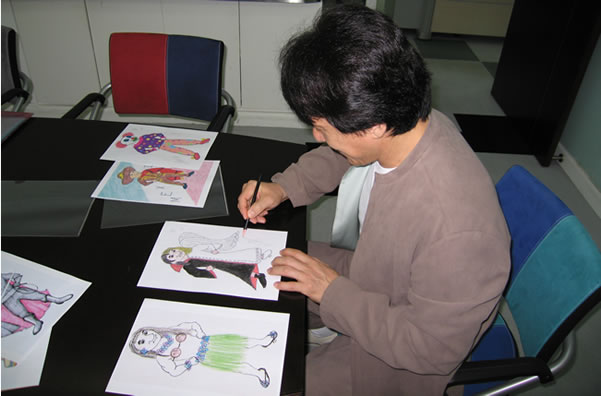 Photos: JC Group

This year's contest promises to be even better than ever! There are some great prizes being offered, so get your crayons out. Click on Santa Jackie for info!
November 7, 2005
A Voice From the Past
Today we received a letter from an old fan of Jackie's whose work was featured here several years ago. He's a sixth grader from Texas and he was one of the kids who took part in a project for this website to illustrate a Chinese Fairy Tale. He says that he's still a big fan and has even begun studying martial arts because of Jackie! Jackie loves to hear from his fans - thanks for writing, Tanner.
Click here to read the Chinese Fairy tale illustrated by Tanner's then second-grade class:


November 3, 2005
Halloween Contest
All entries for the contest have now been posted and the judging will begin. As you know, Jackie, Willie, and Solon have agreed to do the job and that means that it could take some extra time. Please be patient as all the designs are printed out and presented to the JC Group for judging. Check back here in a few days to see the progress of the judging. Thanks! And thanks to everyone who sent in a design. Jackie really loved them!
Jackie's Coloring Book Page by Katie
Thanks to six year-old Katie for sending in her beautiful coloring page! To see them all, click on Katie's drawing, above. If you would like to make a page for Jackie's Coloring Book, click here!