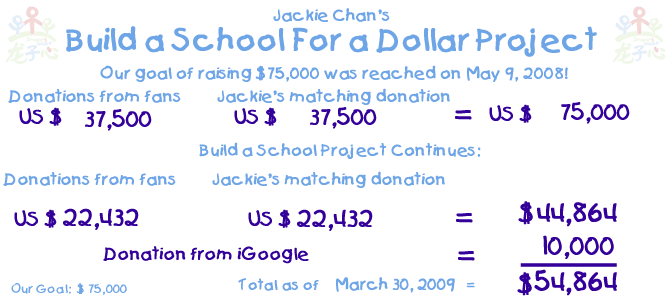 March 22 , 2009
Happy Easter Coloring Project
For those of you who celebrate Easter, we have a brand new project to color! Click on Jackie for a printable black and white version:
Here's our Jackie Easter Bunny from last year. Click on it to download a printable black and white version to color: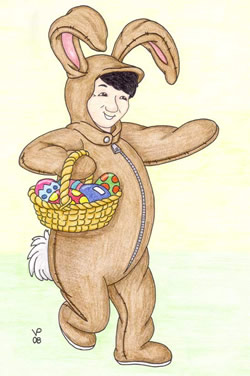 Jackie's Birthday
We won't be having a contest this year for Jackie's birthday, but we hope that you will send him a card anyway. Last year Jackie was so touched and happy when fans not only sent in beautiful, creative cards, but also donations to his charity. If you want to send Jackie a birthday card, you still have plenty of time. Jackie's birthday is April 7th. Here are some of the cards and generous donations sent in last year: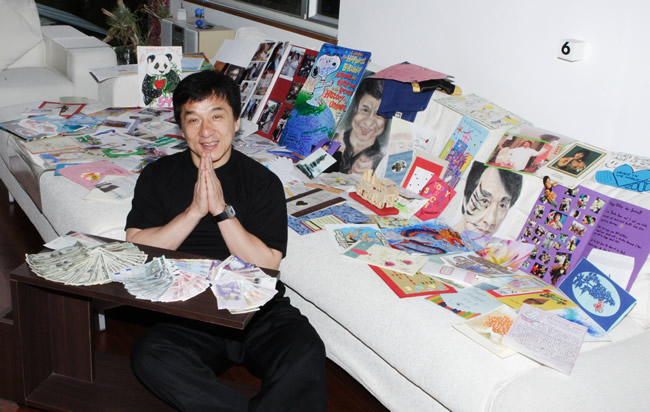 Last year, Jackie's fans sent in a total of US $2,378 for the Build a School project in honor of his birthday!
Here's the address to send Jackie a card:
Jackie Chan Kids Corner
No. 70 Pak To Avenue, Clear Water Bay Road, Sai Kung, Kowloon, Hong Kong
Great Drawing from Jeffrey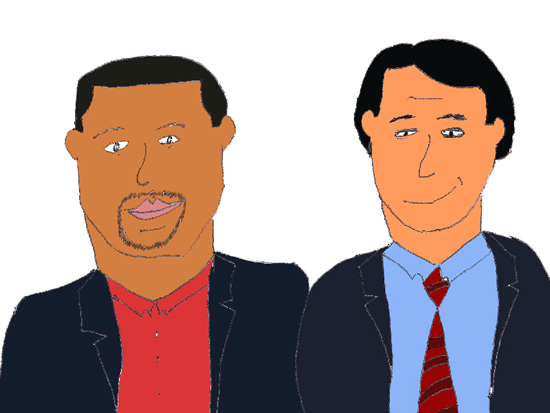 Thanks to Jeffrey from Holland for his adorable drawing of "Detectives Carter and Lee" (Chris Tucker and Jackie from Rush Hour). We love your drawing!
Photo by Jackie
Everyone knows that Jackie loves taking photos. Here's one he took from the airplane on his trip to Japan. Jackie wanted to share it with his fans: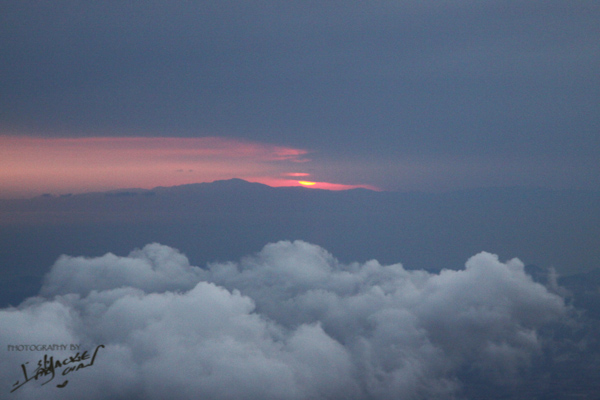 February 28 , 2009
Build a School for a Dollar Update
Total Has Reached US $53,596
Despite the worldwide economic crisis, Jackie's fans have continued to support his Dragon's Heart Build a School for a Dollar project. He was very touched to see all the newest drawings and donations that arrived at our office in Hong Kong and also at our online donation site. Although there has been a serious reduction in the amount of money being donated, fans are obviously doing their best to help out. Here are a few photos of Jackie with some of the drawings from the past several months (these are not just the ones from the past two months):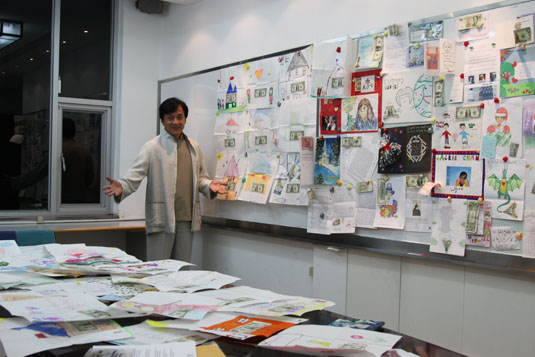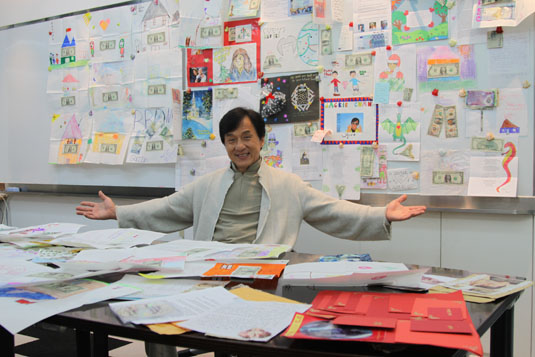 We have had donations from some groups of children in America and Germany, plus we've had several people who have used unique ways to raise money. We will update the Dragon's Heart Helpers section as soon as possible. Thank you to everyone who has sent in a donation! Every dollar helps.
While filming The Spy Next Door in Albuquerque, New Mexico, Jackie's young co-stars also made donation drawings for the project:

Jackie with Maddy and her donation drawing.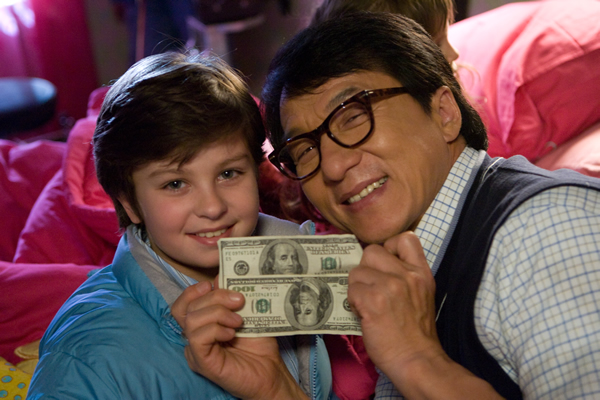 Will donated Christmas money. Jackie thanked him then asked Will to make a donation drawing that could hang on the wall with the others. So......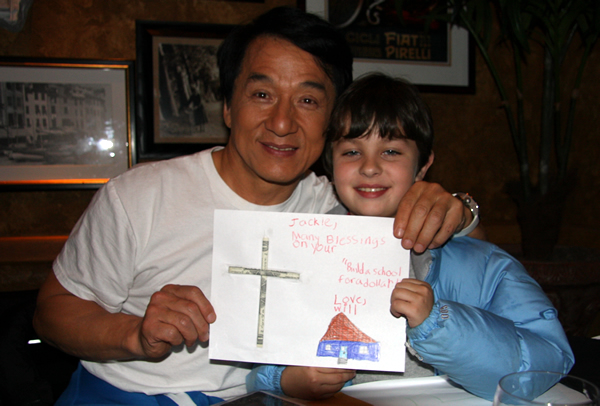 .....Will made this.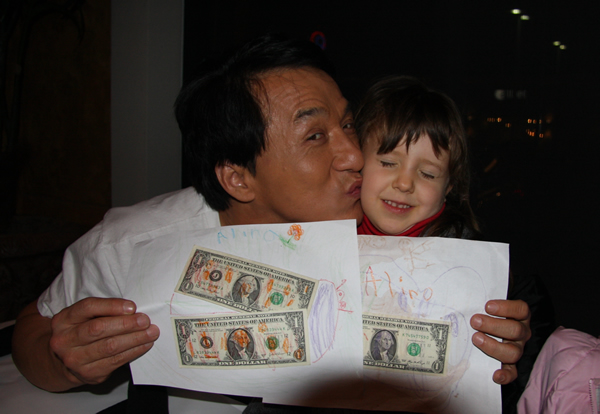 Jackie shows Alina his appreciation.
February 27 , 2009
Chinese New Year Contest Winners
Jackie has chosen the three winners in the Happy Chinese New Year contest featured here at the Kids Corner last month. We printed out the entries and Jackie carefully - and with much difficulty - chose his favorites. The winners are Sabrina (USA), Marjukka (Finland), and Michela (Italy). Jackie said that he loved all the designs and that even though he had to choose only three, he thought they were all winners!
Here's Jackie: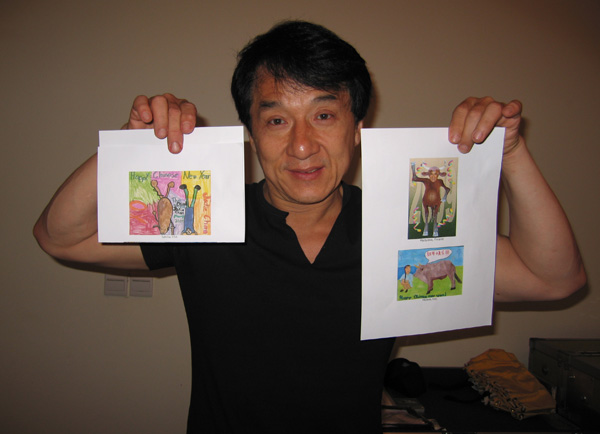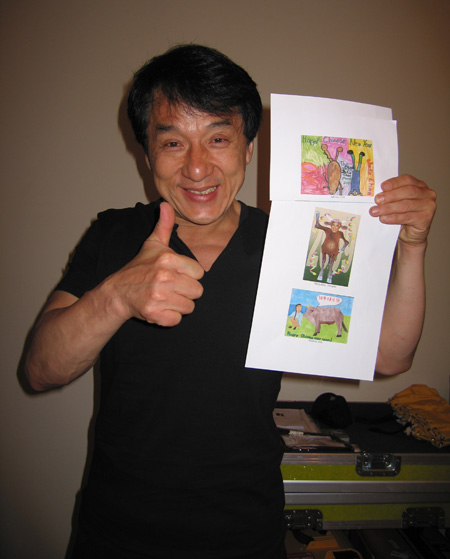 The three winners will receive an autographed Forbidden Kingdom poster.
February 14 , 2009
Happy Valentine's Day
Several of Jackie's fans sent Valentine's Day greetings, so we wanted to share them with you: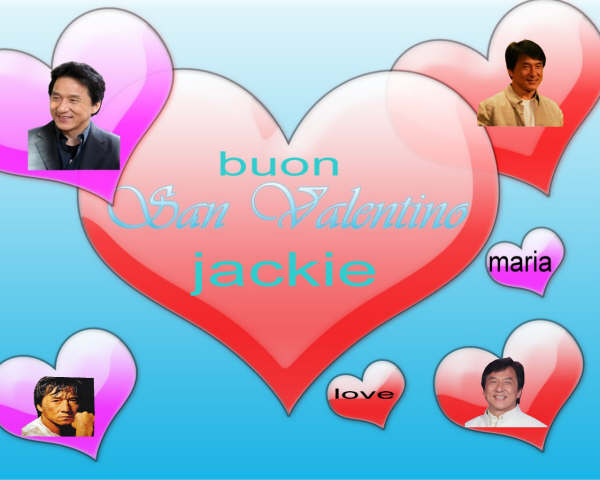 From Maria in Italy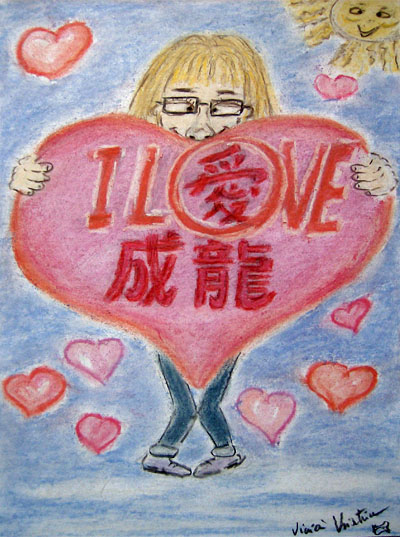 From Christy in Hungary.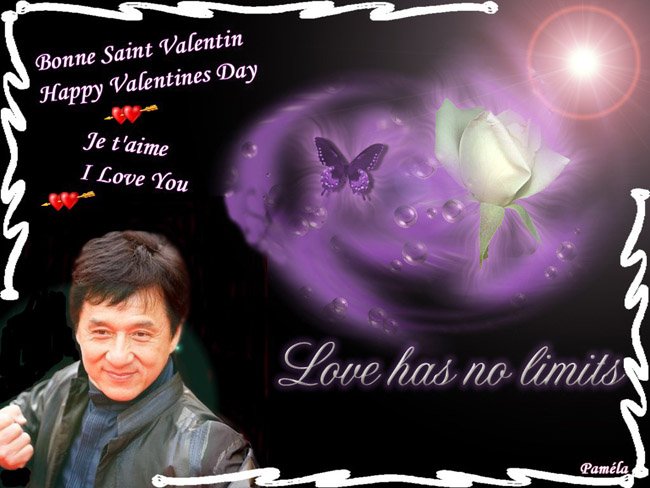 From Pamela in France.
February 10 , 2009
Valentine's Day Coloring Project
Many people celebrate Valentine's Day on February 14th and just for fun we are giving you a cute coloring project for this special day. Jackie always says that every day is Valentine's Day, so it doesn't matter if you color it now or later! Thanks to our Kids Corner cartoonist, Petra, for another adorable drawing.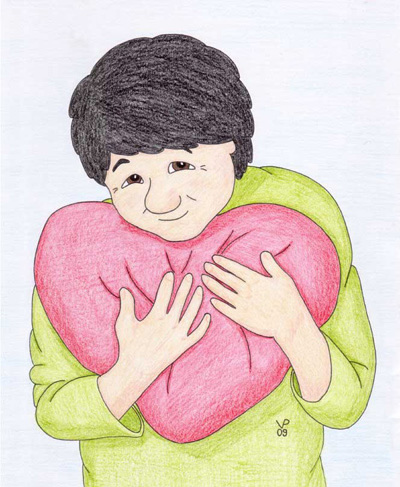 Click on Jackie for a black and white printable version to color.
January 28 , 2009
Jackie's Annual Happy Chinese New Year Contest Ends
Thank you to all the fans who sent in Chinese New Year drawings for Jackie. The contest has ended, so please don't send any more drawings to the Kids Corner. This year we have over a hundred drawings, so it will take Jackie a while to pick out his favorites. Please be patient and we'll let you know the winners as soon as possible!
January 13 , 2009
Update: Jackie's Annual Happy Chinese New Year Contest
Wow! Many fans sent in their Happy New Year contest entries very quickly this year. If you're counting the entries at the Happy New Year page, don't forget that the first 50 people who send in a design get a prize - - but only one prize per address. Therefore, if someone sends in more than one design or if more than one person from the same address sends in a design, they will only receive one prize. What does this mean to you? Well, it means that you still have time to be one of the first 50 designs we receive! So hurry up and send in your Happy Chinese New Year design for Jackie.
Thanks to all of you for following directions for naming files. One request - please only email your design once. It takes a few days to update the website, and some people are sending their same designs over and over again (sometimes up to 6 times). This will cause confusion and it's a waste of time. Thanks.
January 5 , 2009
Jackie's Annual Happy Chinese New Year Contest
The Kids Corner is once again sponsoring a Happy Chinese New Year Contest. Each year, fans send in creative and funny drawings to celebrate this important holiday. Jackie will choose his three favorites and they will win a great prize. Additionally, the first 50 people who enter the contest will receive a gift - 10 of which will be autographed by Jackie. Click the Ox to read all about it!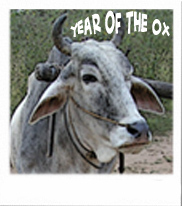 Build a School for a Dollar
Since our last update, Jackie's fans have been very busy raising money for the Dragon's Heart charity and we've received dozens of donations from fans all over the world. Since September 29th, the Build a School for a Dollar project has received US $3,631 in donations. Since Jackie matches each donation, that means US $7,262 will be added to what we've already received in our second round of fundraising. The new total?
US $51,608
This is an amazing achievement and a heartwarming display of the dedication and generosity of Jackie's fans. As soon as Jackie is avaliable, we will tell him about the new donations and maybe take a few photos!
A big thank you to everyone who sent a donation. There are some wonderful stories to tell, and we will add them soon to our Dragon's Heart Helpers page here at the Kids Corner. Here are a few pictures of the latest donations: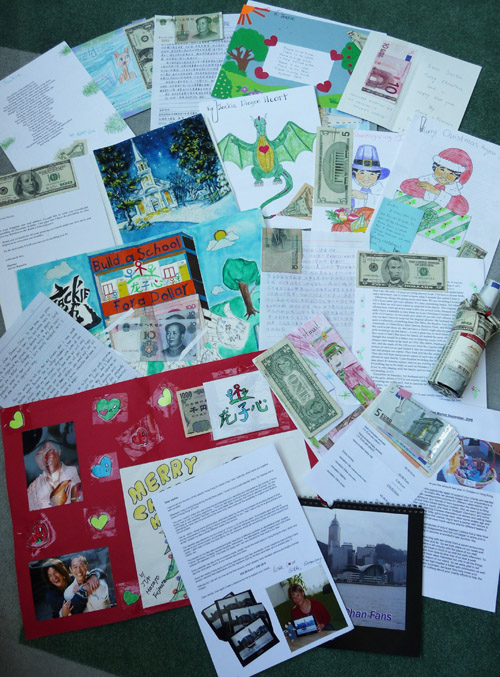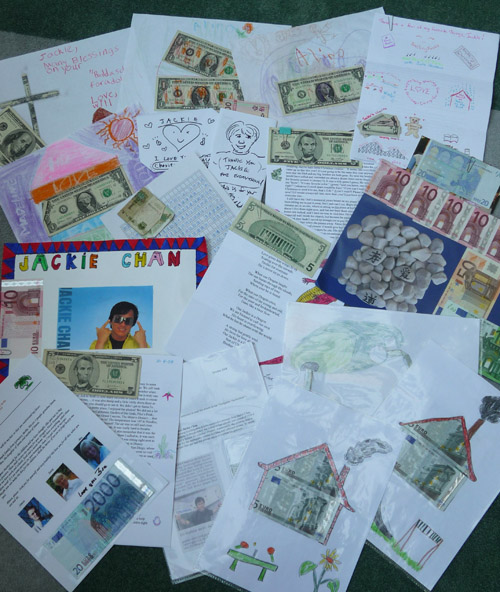 These are just the donations that came to our office in Hong Kong. Many people donate online, and although we can't actually see their donations, they are just as meaningful and just as appreciated as those that we can photograph. Thank you so much to all of Jackie's wonderful fans!
The Latest Jackie News is archived to save room on this web page.
To read past news reports, just click on the month you're interested in viewing. Remember that some of the older links in these news archive may no longer be active.
AUGUST, SEPTEMBER, OCTOBER 2005
KIDS CORNER FRONT PAGE / TOTALLY FUN JACKIE STUFF / OFFICIAL SITE HOME PAGE
©2007 The JC Group
No part of this website may be reproduced or distributed without permission.