August 27, 2004
Jackie Attends Global Chinese Ancestor Memorial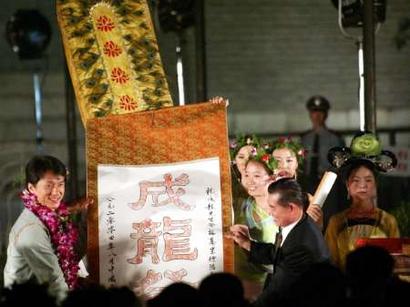 Jackie is presented with a scroll bearing his name. Photo: USNews/yimg
Yesterday Jackie was in Central China in the city of Xian, the capital of Shaanxi Province, to attend a special ceremony honoring his Chinese ancestors, particularly China's first emperor Huangdi at his ceremonial tomb. Jackie was invited to be a special guest and ceremonial host.Since Jackie is a Chinese who is known to the world, organizers of the event hoped that he would draw attention to the need for overseas Chinese to learn about their ancenstors and the Chinese culture. Here are some more photos from the day: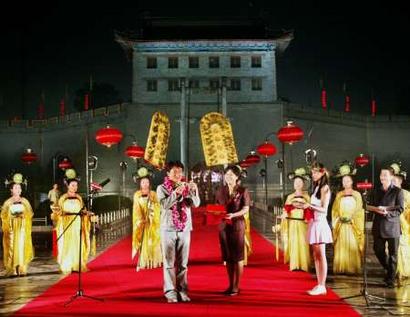 REUTERS/China Photo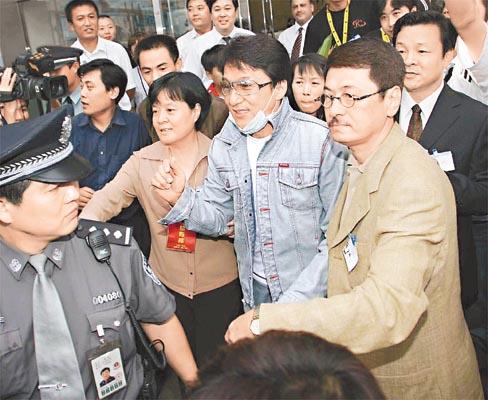 Photo: The Sun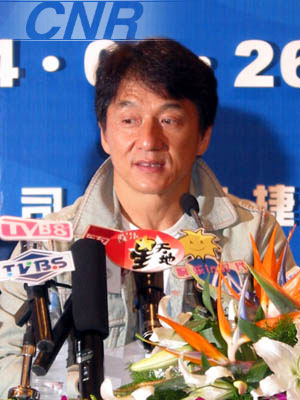 Photo: Sina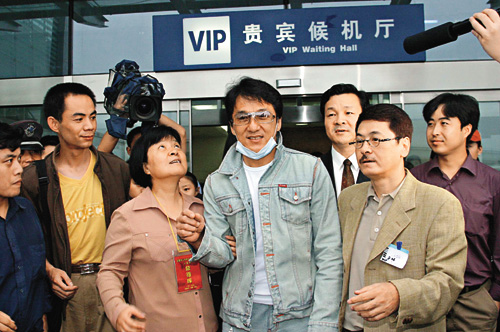 Photo: Takungpao
Jackie Chan Adventures To Start Fifth Season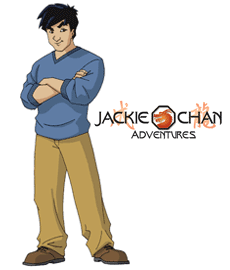 The stupendously successful cartoon "Jackie Chan Adventures" has been picked up by the Kids WB network for its fifth season. Congratulations to Willie Chan, Jackie Chan, and Solon So, three of the producers of the show.
Jackie's Kitchen Launches Website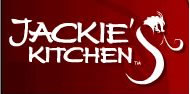 Click on the Jackie's Kitchen banner to visit the brand new website of Jackie's first restaurant on American soil. Although the website is not complete, there are many areas to look at.
New Police Story: Photos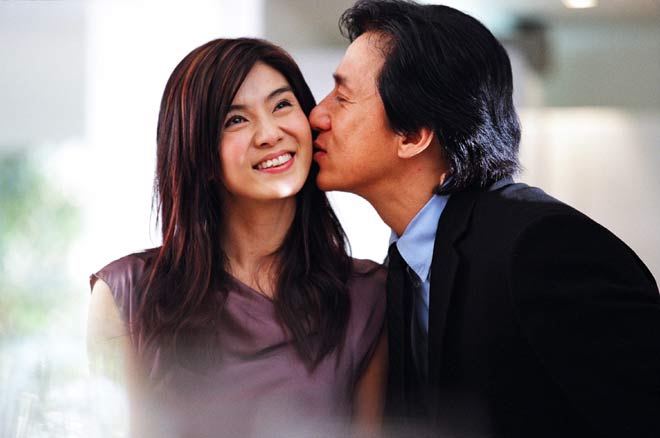 Click here to view many new photos from Jackie's latest Hong Kong movie, New Police Story. *Some photos are "spoilers"*

Kids Club VIP Memberships to Expire
As you might recall, when the JC Group announced the joining together of all of Jackie's fan clubs into one VIP Club, all members of the Official Jackie Chan Fan Club for Kids were given a FREE one year membership to the VIP Club. This membership is set to expire in September. To continue to enjoy the benefits of VIP membership, all Kids Club members are going to have to join the VIP Club. Click here for information on joining. Again we send thanks to the JC Group for allowing all Kids Club members the past year with full access!
August 26, 2004
New Police Story: Anticipation Heats Up
According to an article on NDTV.com (New Delhi Television), Jackie's "New Police Story" is a movie that Jackie found much easier to make than the Hollywood movies he's been involved in:
In Hollywood, Chan says he was frustrated by the importance American film makers place on sticking rigidly to a budget and script. Back in Hong Kong, Chan says he can control the film making process and not worry about the script if he wants to. He was pleased that even the Hong Kong government was supportive in allowing him his pick of the city's best locations.
This highly anticipated Hong Kong movie is set to be released in China, Hong Kong, Singapore, Malaysia, Taiwan, Korea, Thailand, and Indonesia in late September 2004.
Don't forget to vote on your pick for the New Police Story official movie poster. Click here and follow the links to vote. (Remember: You must belong to the VIP club to vote!)
One More Buddy Bear
As luck would have it, one more Buddy Bear made it to the USA in time to be included in the Second Edition Buddy Bear Book. Although this bear doesn't show up in the photos of the completed book, it was added in. Thanks to Monica from Poland for her unique design! Click Monica's bear to see ALL the Buddy Bears for the second book.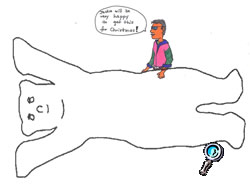 August 23, 2004
Jackie Promotes New Police Story...
but the BIG NEWS is that he does so while wearing his BUDDY BEAR SHIRT!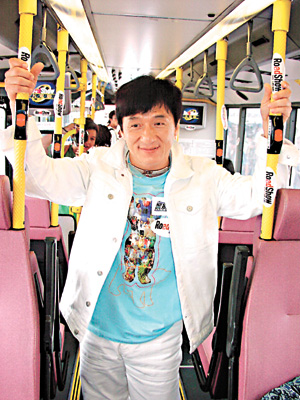 Yes, there he is wearing his blue Buddy Bears t-shirt!
Photo: Takungpao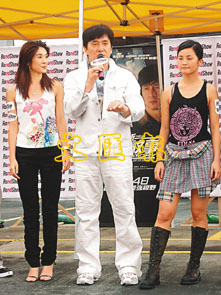 Jackie with New Police Story co-stars
Photo: Wenweipo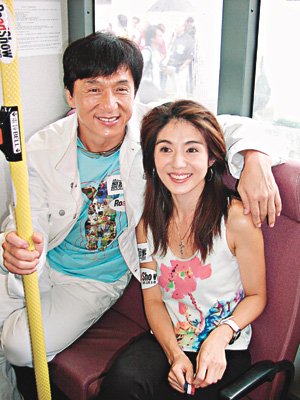 There's the shirt again!
Photo: Takungpao
*VIP Club members can buy their own Buddy Bear shirt(JUST LIKE THE ONE JACKIE'S WEARING) for only US$1.00 plus shipping!!
Second Edition Buddy Bear Book is Complete!
After cutting out, arranging, and pasting one hundred and fifteen Buddy Bears, the Kids Corner webmaster has finally finished putting the Buddy Bear book together. Click here to see all the pages! Each page is decorated with postage stamps collected over the past few years. These stamps are from the mail sent to the Kids Club/Kids Corner. Maybe you'll see a stamp that comes from a letter YOU sent! The cover of the book is nearly done - check back tomorrow for photos of that. The book will be sent to Jackie this week. Thanks to everyone who sent in Buddy Bears!
August 22, 2004
Jackie Donates More Money to China's Needy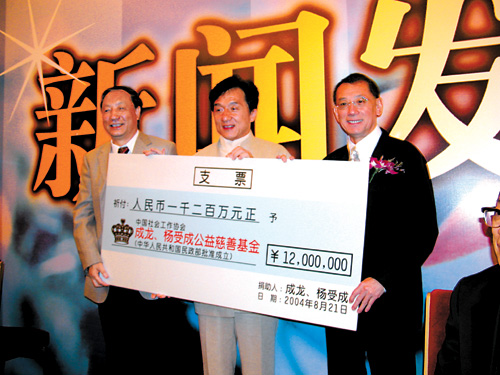 Photo: Takungpao
Along with Hong Kong Entertainment dignitary Yang Shou Cheng, Jackie has donated over 1 million Yuan ($1.5 million US dollars) to the Chinese Association of Social Work in Beijing. This group helps children, the elderly, and the poor. At the press conference Jackie shared his own experience as a poor child, saying that he was told that in order to thank those who helped him when he was poor, he should give back someday. Jackie has honored that request a thousand times over. We should all be proud of Jackie for continuing to donate money to help others.
Jackie Praises Kim Hee-Sun
At a press conference, Jackie talked at length about what a wonderful job Myth co-star Kim Hee-Sun has been doing. Despite the horrible working conditions, she was a real trooper. Jackie talked about Kim Hee-Sun doing wire work, tolerating extremes of heat and cold, and even learning Chinese! Here are some photos from the press conference: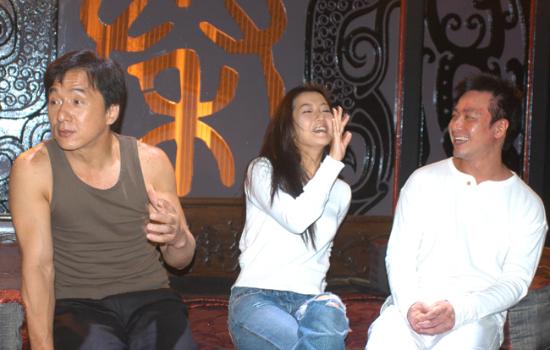 Jackie, Kim Hee-Sun, and director Stanley Tong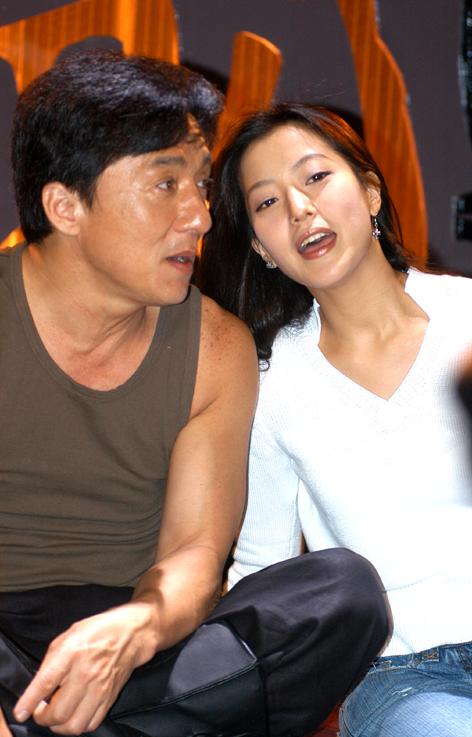 Jackie and Kim Hee-Sun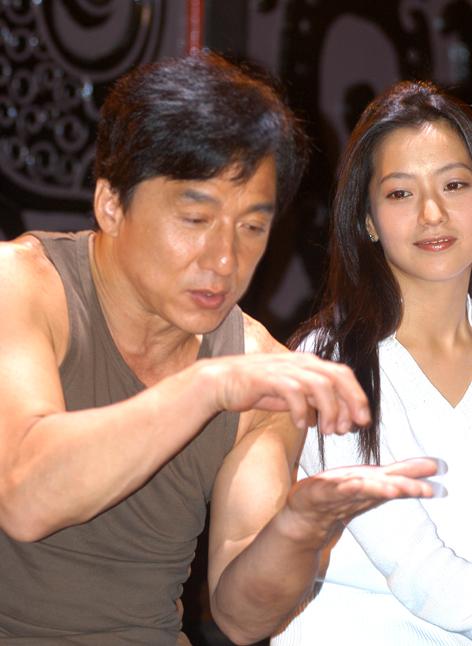 JC and Kim Hee-Sun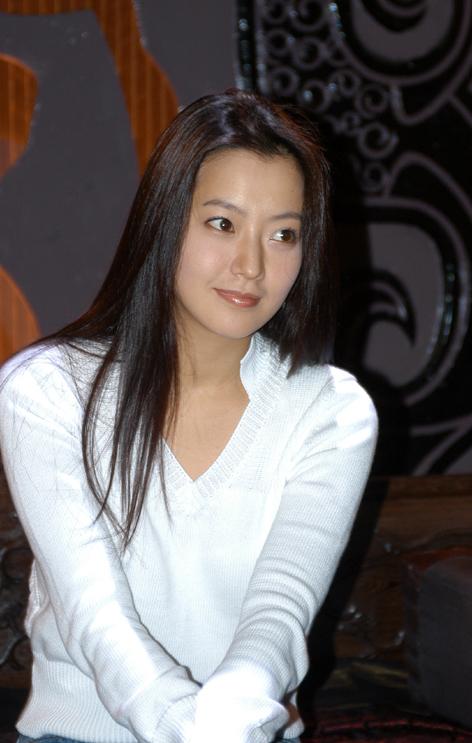 Kim Hee-Sun
All photos ©Sina
**Thanks to Marie for the article heads-up**
Postcards, Postcards, and More Postcards!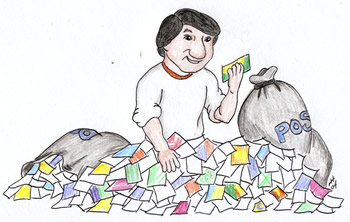 As some of you may know, the Kids Corner has a collection of postcards sent in by Jackie's fans from around the world. The Kids Corner postcard section has been updated to include some wonderful cards sent in from Haarsha in South Africa. Why not send in a postcard from your neighborhood? There are postcards from nearly every corner of the Earth, but we have yet to hear from South America or Asia. Click here to see all the beautiful cards. Please send the Kids Corner a postcard from your 'hood!
Jackie Chan Kids Corner
P.O. Box 556
Peconic, NY 11958-0556 USA
Become Part of Hong Kong Cinema History!
You can vote on your choice of poster for Jackie's newest Hong Kong film "New Police Story" at the main site (www.jackiechan.com). You will have a choice from many many versions of the movie poster and the one that receives the most votes will become the poster for the movie! VIP members only may vote.
More Reasons to Join the VIP Club
Terrific new videos have been added to the VIP section of JackieChan.com. These videos, as well as Jackie's on-set diaries, are available only to VIP members. You can join here: www.jackiechan.com
August 19, 2004
Jackie Supports Indo-Chinese Tiger as 2008 Olympic Mascot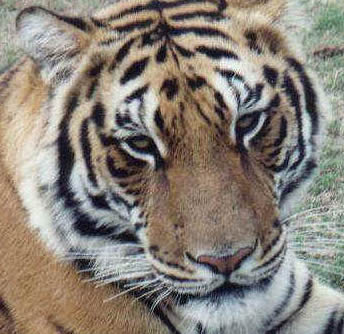 While the eyes of the world are on Athens, plans for the Beijing Olympics (2008) are underway. Jackie Chan has come out in support of using the Chinese Tiger as the Olympic mascot. "The Chinese tiger symbolizes both Chinese culture and the international Olympic spirit," says Jackie. The Save China's Tigers Foundation hopes that making the endangered species the mascot will raise awareness of their dire situation and help save them from extinction. The foundation is hoping to reintroduce Chinese tigers into their natural environment in 2008.
You can vote for your choice of mascot by clicking HERE. The site is in Chinese, but it's easy to vote anyway. Just click the little circle under the tiger's photo and then click the grey box beneath all the choices to vote. Easy as one-two-three! The final choice will be revealed in June of next year.
Source: South China Morning Post (Thanks to Mary)
Jackie Chan Chat for Kids
Don't forget - there's a new chat room here at the Kids Corner. To make things easier, a schedule of organized chats will appear in the near future.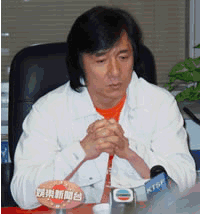 Jackie likes to chat - how about you?
(Photos ©2004 Jeff Applebaum)

August 18, 2004
Jackie Chan's Role of a Lifetime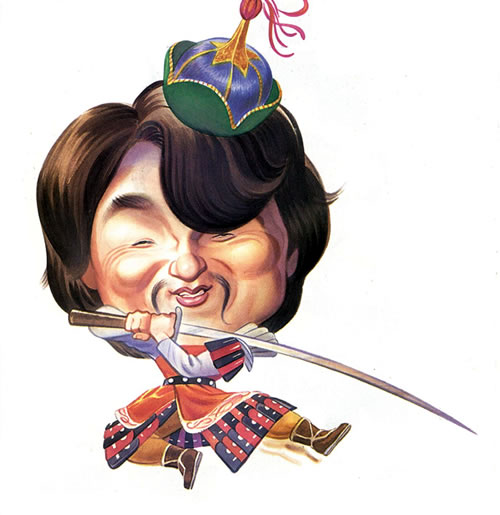 Genghis Jackie?
(Illustration: Premiere Magazine/ John Kascht)
Premiere Magazine asked a number of celebrities what their Dream Roles would be if they could choose. Here's what Jackie said:
Genghis Khan. I tried to do this movie for so many years; in the old days, my company, Golden Harvest, decided to do it, and later on they [said], "Jackie, you cannot be Genghis Khan." "Why?" "Because Genghis Khan became a general. You just sit there with nothing to do. If you really want to make the movie, you have to be his son. He was a naughty boy, and you can fight Russians, and that might be fun." I said, "Can I do the young Genghis Khan?" But that was 15 years ago. Now I cannot be a young Genghis Khan anymore."

New Police Story Official Site Updated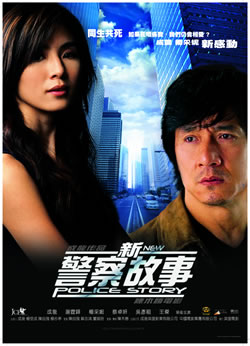 It's your lucky day because the New Police Story website has been updated to include many awesome features. Click here to go and see all the new stuff.
New Police Story and The Myth Diaries
If you want to get the real inside story of what goes on during the filming of Jackie's movies, then you should definitely go read Jackie's on-set diaries. They are full of amusing and interesting things from Jackie himself. In order to read these diaries, you must be a Jackie Chan International VIP Fan Club member. It's easy to join - just click here.
Buddy Bear Update
The Buddy Bear book is nearly complete. Several more bears showed up in the Kids Corner mailbox and were included in the book. Click here to see all the Second Edition Buddy Bears.
August 17, 2004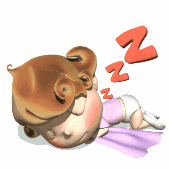 Falling Asleep Waiting For Jackie News?
Well, folks....this is what happens when Jackie films on a closed set like the one for The Myth. There has been very little news out of China. As far as we know, filming is on or close to schedule, it's hot in Shanghai, and there are a lot of bugs. Stay tuned for any news.....

Kids Corner Chat Room!!!!
Brand new to the Kids Corner: a chat room just for you! It is a place to meet with other Jackie fans (both young and more mature) to talk about Jackie. Click the banner below to join in the fun!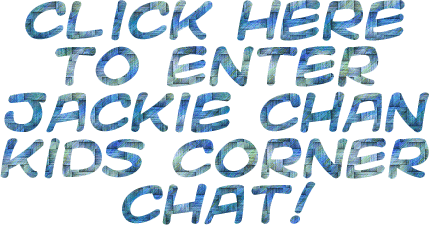 Buddy Bears, Buddy Bears, and More Buddy Bears!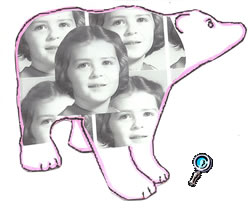 If you thought for a second that Jackie's fans would run out of ideas for Buddy Bears, you thought wrong! Just look at the unique creation submitted by Kids Corner friend Mary D. The bears just keep showing up in the mailbox here at the Kids Corner. The Second Edition Buddy Bear book looks AMAZING - there will be new photos of it posted when all the bears have been glued in and it's ready to be shipped to Jackie. Click Big Kid Mary's bear, above, to see all the newest designs!
August 15, 2004
Afghan Olympian Inspired by Jackie Chan
Afghanistan's judo athlete Friba Razayee
When Friba Razayee and her family fled the dangerous Taliban Regime which took over Afghanistan, she was finally allowed to see Jackie Chan movies. After viewing them, she was inspired to practice martial arts and has now made it to the Olympics. Read more about her here.
Twins Effect 2: The Huadu Chronicles - Blade of the Rose
Jackie plays a small role in this sequel to Twins Effect. His character faces off against a character played by action star Donnie Yen in a climactic and monumental fight scene. The movie, which opened in Hong Kong recently, stars "Twins" Gillian Chung and Charlene Choi as well as Jaycee Chan. Here's a behind the scenes shot of Jackie from the movie: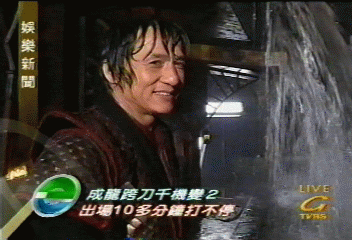 Photo: tvbs.com
Buddy Bear News
More Buddy Bears continue to show up in the Kids Corner mailbox. Thanks to everyone who is sending in their beautiful designs. This Buddy Bear book is going to be bigger and better than the first one! The new pages have arrived and construction is continuing. The cut off date for submissions is today, but if a few Buddy Bears straggle in, they will be added. If you live in the US, you still have time to mail them to the Kids Corner. If you live overseas, there isn't enough time to mail out new bears for inclusion in the book. However, your designs will appear on the website!
Click the bear below to see the newest designs that have just arrived!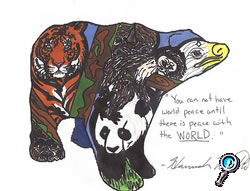 The Myth
The Myth continues to film on a very closed set. The heat and mosquito problems continue, but the cast and crew are forging ahead anyway! If there is any news from China about this movie, you will read it here. Just keep checking back!
Kids Corner Contests
The first of the new contests here at the Kids Corner will be designing a t-shirt for Jackie's new clothing line. Check back here in a few days for details and a printable t-shirt form to color in.
August 13, 2004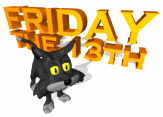 "I Want to be Like Jackie Chan!"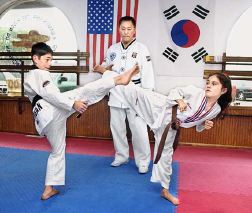 Eleven-year-old Jason Cope-Troutner, left, and nine-year-old Taeler Cantrell, right, work out at Kwan's on West Columbia in Battle Creek. Source
Click here to read a great article about a young man whose idol is Jackie Chan. (Thanks to Holly for finding this story.)
Can You Believe It???
Yes - more Buddy Bears have trampled their way into the Kids Corner mailbox. There has been an incredible response to this Second Edition Buddy Bear book. The Kids Corner webmaster is waiting on the extra pages for the book that she had to order because of all the bears. This gives YOU a few extra days to send in your bears - even from overseas. The new pages will arrive late next week, so you have plenty of time to mail in your design.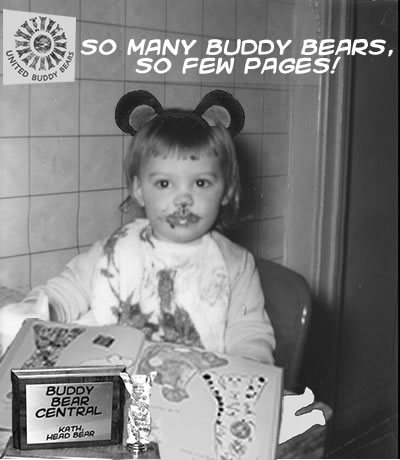 Jackie's "The Myth" Diary Updated
For everyone who is a member of the VIP Fan Club, why not head on over to Jackie's diary section and have a fascinating read? If you're not a member, you can join up for a nominal fee at www.jackiechan.com (just click on "Join VIP"). It is worth it!
Your Vote is Needed!
Many people sent in suggestions for the next Kids Corner contest, yet only 29 people have voted so far. Don't forget, there are some amazing prizes that are going to be given out for these contests including books, photos, action figures, collectibles, and more. So head on over and PLEASE cast your vote for the contest you'd like to see. These contests will be open to everyone. Kids, adults, VIP members, non-members, family relatives and pets, etc. Everyone is welcome, but we need your vote!!!!
August 11, 2004
Boy Is It Hot!
Daily Fluff is reporting that the weather has been absolutely cruel on the Shanghai set of The Myth:
Jackie Chan and Kim Hee-Sun have been working on the film THE MYTH (GAING TIN JUEN KEI) for half a month. Each day they have been working 16 hours on the set. Although Kim Hee-Sun is a superstar in Korea, she has been more than cooperative with Jackie Chan. Not only has she not been late to the set she also has been performing wire work on the roofs and learned Qin Dynasty dances. Yet Kim Hee-Sun remained positive and laughed continuously. Jackie Chan under her influence felt ten years younger.

Because to the tremendous heat, Jackie Chan and Kim Hee-Sun were excited to learn that they would be working in a refrigated room. Perhaps they were exhausted, for the fainting after a battle scene they were near frozen to a coma. As everyone else thought their acting was realistic, they soon realized that they were nearly unconscious.
The film company has first shot the big finale. Director Stanley Tong Kwai Lai hoped that the production will shock the world. The progress has been great and the film should wrap around the end of October.
On the set of The Myth
More Buddy Bears Stampede the Kids Corner!
Wow! Kids (big and small) have been sending in tons of Buddy Bears for the Second Edition Buddy Bear book! In fact, the Kids Corner webmaster ran out of pages and had to order more! Keep those Buddy Bears coming....you have until August 15th. (Wanna know a secret? Since more pages had to be ordered, you probably have a few extra days to mail those bears in!) Click the Buddy below to see all the latest designs: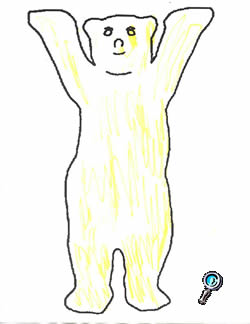 Yellow Buddy by Anna, age 3
Mallika Teaches Jackie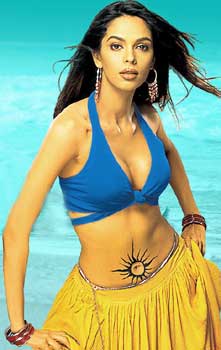 When Mallika Sherawat, Jackie's costar in The Myth, returned home, she talked a lot about how much fun she had working with him. She even taught him some traditional Indian Folk dances. Maybe we'll get to see that in the "extras" part of The Myth DVD when it comes out!
August 9, 2004
Construction on Buddy Bear Book Continues

Click the little girl above to see the latest progress on the book!
Vote for the Next Kids Corner Contest
Click here to cast your vote on the first 10 ideas for a new contest. More ideas will be available to vote on very soon. Please only vote for your favorite!
August 5, 2004
Alaskan Band Named After Jackie's Movie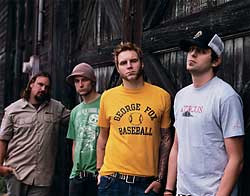 The Alaskan band "36 Crazyfists."
The guys said that they named their band after the early Jackie Chan movie because they "liked the movie" and "it sounded cool." Source
August 4, 2004
New Buddy Bears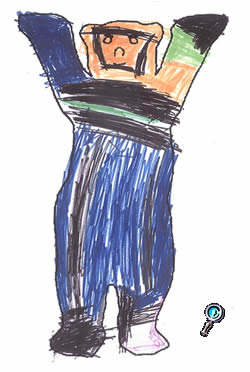 Click on Johanna's Buddy to see all the new designs.
Coloring Pages From Robert
Seven year-old Robert from the United Kingdom has sent in several beautiful coloring projects. Have you sent YOURS in? Click here to pick one to color!
Contest Suggestions
As you may recall, the Kids Corner webmaster came across TONS AND TONS (and TONS!) of Jackie prizes when she was moving. She asked you for your suggestions for a new contest so that she can award some of these wonderful gifts and you sure delivered! Ideas keep coming in and soon the ideas will be voted upon and a new contest will begin! Do you have any ideas for a contest? If so, email the webmaster!
Postcards From the 'hoods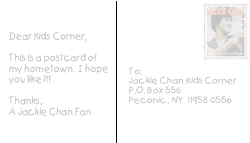 For those of you who are somewhat new to the Kids Corner, here's some information. A few years ago the Kids Corner (when it was the KIDS CLUB WEBSITE) called for Jackie's club members and fans to send in a postcard from where they lived. Many kids sent in cards and many non-members sent in cards too! The postcard pages were divided into sections: cards from members and cards from non-members. Well since there is no longer a Kids Club, the webmaster would like to redo the postcards pages and combine them into plain old "Postcards from Jackie's Fans." Holly is hard at work on a new cartoon to accompany the redone pages. Kath is hard at work redesigning. And it's YOUR turn now! If you haven't sent in a postcard from your neighborhood, why not do so now? There are postcards from all over the world already posted, but we'd love to see YOURS. Haarsha has sent in a whole bunch of beautiful new cards from South Africa (these will be seen soon on the redone pages). Please take a minute to send in a postcard from your 'hood. The address:
Jackie Chan Kids Corner
P.O. Box 556
Peconic, NY 11958-0556 USA
There are cards from all over Europe, North America, Africa, and Australia. Let's hear from you fans in South America and Asia!!!!
August 3, 2004
Where in the World is Jackie?
There is absolutely NO news of Jackie right now. Most likely this means that the production of the film The Myth is continuing without incident. As soon as there is any news, you'll read it here. In the meantime.....
More Buddy Bears!!!!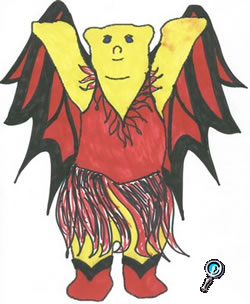 Click the Fairy Buddy to see all the new designs.
Don't forget....the cutoff date for sending in Buddy Bears to be included in the Second Edition Buddy Bear book is August 15th! So mail yours today.
Construction of the Buddy Bear Book Continues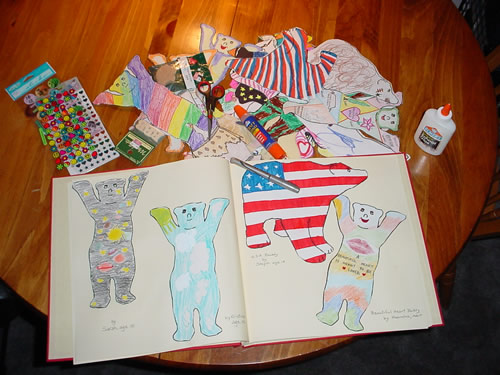 As you can see, the Buddy Bear book is taking shape. Most of the bears have been cut out (OUCH on the webmaster's fingers!) and they are being pasted into the book. There will be two bears to a page and each one will be labled with the name of the person who created it, their age, and the name of the Buddy Bear. Looking good!!!! Jackie will love it!
More Contest Suggestions
Thanks to Pete for sending in his suggestions for a contest. If you have any ideas, please email them to the webmaster and she'll post them. If no new ideas come in for a period of time, ALL the ideas will be voted on and a new contest will begin!
July 31, 2004
Around the World in 80 Days Coming to DVD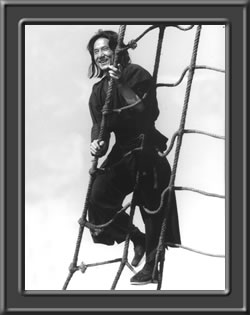 According to ComingSoon.net, Around the World in 80 Days is set to be released in the US on DVD on November 2, 2004. This is great news for everyone who loved the movie....you'll get to see it over and over again with the added plus of DVD extras!
More Buddy Bears
Click the Collage Buddy (below) to see all the new Buddy Bear designs!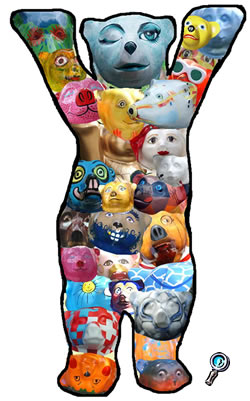 Behind the Scenes Photos from Around the World in 80 Days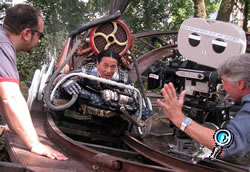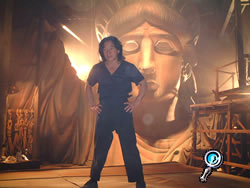 All of the above photos are from the Korean website http://kamunion.com. Thanks to Seung Ho for the update.
Hindi Lessons
As you know, our friend Haarsha has been teaching Hindi here on the Kids Corner. There are now a total of 25 lessons! Click here to hear and read Haarsha's clever lessons. After you do that, you'll be prepared to say a few things to Jackie in Hindi while he's filming The Myth in India later this year!
Buddy Bear Catalog For Sale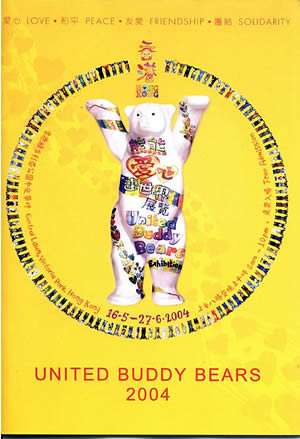 Check this out: The Official Buddy Bear catalog from the Hong Kong show!! You can own a copy now by clicking here. Not only will you get a terrific catalog with tons of photos of Jackie and the bears, you will be contributing to charity when you buy one. All proceeds from the sale of these catalogs go to the Jackie Chan Charitable Foundation.
July 30, 2004
Still no news out of Shanghai. News will be posted as it occurs.
Thanks to Leoni for sending another unique and beautiful Buddy Bear design. Click the bear, below, to see all the new designs for Chapter Two of the Buddy Bear project. Don't forget to send your Buddy Bear in before August 15 so it will be included in the second book.


Special thanks to Marie M. for supplying the Kids Corner with daily news updates about Jackie. She spends a lot of time hunting down the latest news and very generously shares it with the Kids Corner webmaster. Without Marie's help, this news page would not be the same. Thanks Marie!!!!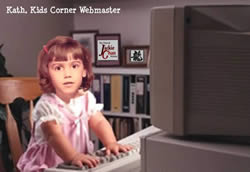 Please read this note from the webmaster!
Very Exciting News!!
This is THE coolest news of the year for the Kids Club!!!
As most of you know, Jackie has been keeping a diary for his fans while shooting Shanghai Knights. In the July 3rd diary entry, Jackie talks at length about the Kids Club and mentions each of the last 7 "Jackie's Kids" by NAME! As most Kids Club members know, Jackie has taken a keen interest in the newest Jackie Fan Club and he reads all of the newsletters. It is very exciting to read Jackie's comments about the club and its members! In the July 8th entry, Jackie mentions the Kids Club again, encouraging his young fans to join. Click the highlighted links (above) or read the diary entries at Jackie's Official Web Site. (From the August 12, 2002 News Report)
CLICK HERE TO GO BACK TO THE TOP
The Latest Jackie News is now being archived to save room on this web page.
To read past news reports, just click on the month you're interested in viewing.
©2004 Katharine Schroeder / Jackie Chan's Kids Corner