BACK TO JACKIECHAN.COM HOME ________________ BACK TO KIDS CORNER HOME
May 30, 2005
Jackie is a Hero
Jackie has been voted one of the top ten heroes by Mainland Chinese secondary students. He joins political figures and popular modern day people in the list. Jackie has continually proven himself to be a generous and caring person who devotes much of his private time to working for charity. This is certainly a quality of a true hero. Congratulations to Jackie!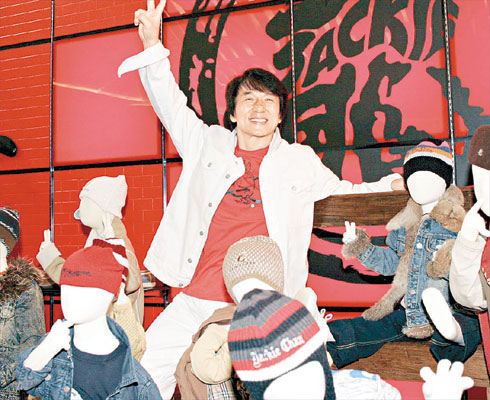 Kids Corner Forum Membership Inches Towards 300 Members!
Hey kids of all ages! The Kids Corner Forum continues to be one of the most popular Jackie Chan forums on the Internet. There are people from all over the world who join in the daily discussion of Jackie's films, charity works, and other topics of interest. Why not join in the fun? Click here to visit the forum and if you'd like to join, just click on "register."
**Note to parents: The Kids Corner Forum is closely monitored by several adult administrators. You can be confident that your children will be reading only kid-friendly, appropriate postings.**
Beautiful Patriotic Buddy Bear!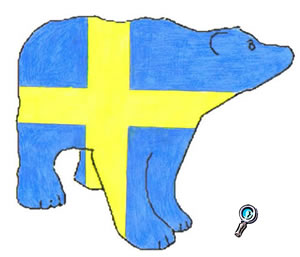 Swedish Flag Buddy Bear by Rebecca from Sweden!
Click Rebecca's Buddy Bear to see all the bears!
May 27, 2005
Jackie in Portugal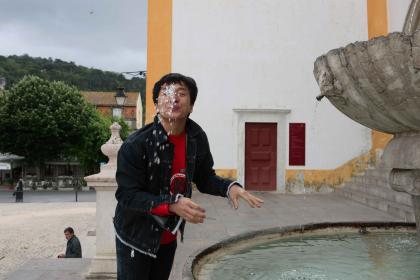 Willie Chan tells you all about their trip here!
Jackie Opens New Restaurant
Jackie loves business, so he has gone and opened another restaurant! This one is called a "fusion" restaurant which means that it blends (fuses) foods from different cultures. To see video from the opening, click here. To read lots more about this, check out Jackie's Scrapbook at the main site.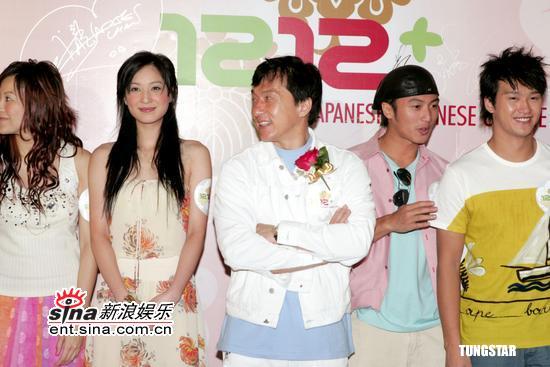 Many celebrities attended the grand opening.
May 21, 2005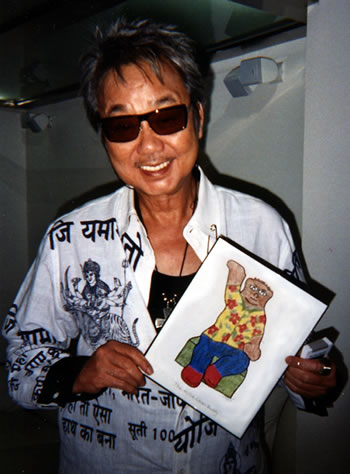 If you're in China, it's already May 22nd and it's Willie's birthday. Happy Birthday to Willie from everyone at the Kids Corner. Thank you for all you do for Jackie and for us. We love you Willie!
Inspired by Jackie
People often say that Jackie is a good role model for kids and adults. Jackie's good works inspire others to take a step in the same direction. Well, here's another example of Jackie's good example giving someone else an idea to help others:
Thirteen year-old Julia from the US has been a Jackie fan since she was only 6 years old. During that time she has seen many of the good things that Jackie has accomplished. Recently she got the idea to do some good of her own:

When I saw Jackie doing all these great things for other people I decided I would start a bank for donating. I am going to try to save any spare money I have and at the end of the year add it all up and donate it to charity.

Congratulations, Julia. All of your friends here at the Kids Corner are very proud of you!

Julia (with her dog, Shadow)
Jackie Producing Animated Film
Jackie is the producer of an animated film (due out in 2007) called "The Wind." The making of this film is being led by acclaimed Taiwanese film director Edward Yang. According to an article in the Taipei Times, the movie will feature a young man with extraordinary kung fu abilities. His face will be designed to resemble Jackie.
Edward Yang has been making movies for a long time and is very well respected. One of his most wonderful films was "Yi Yi" which you can read about here. If you have a chance to see Yi Yi, see it! It's extraordinary.
May 20, 2005
Jackie Chan Edition Mitsubishi
Jackie fulfilled another one of his dreams by designing a car for Mitsubishi Motors. Check it out!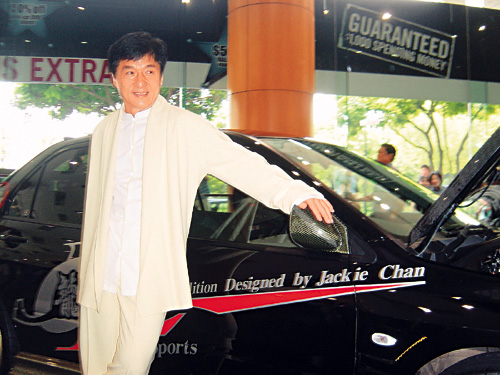 Photo: Tom
Jackie at Cannes Film Festival
The Cannes Film Festival is a great place to introduce films because there is so much media attention. Here are some more photos of Jackie with Kim Hee-Seon, Mallika Sherawat, Tony Leung, Stanley Tong, etc.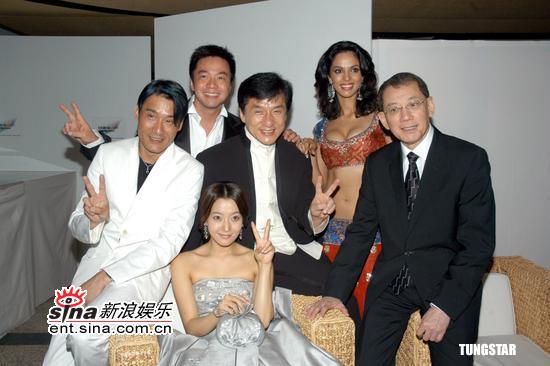 To see lots more photos, visit JackieChan.com's news.
May 18, 2005
Jackie At Cannes Film Festival!
Jackie has joined his co-stars in France for the 58th Annual Cannes Film Festival. Below you will see photos of Tony Leung, Mallika Sherawat, Kim Hee-Seon, and director Stanley Tong (and Jackie, of course). Jackie will introduce "The Myth" to an international audience while in Cannes.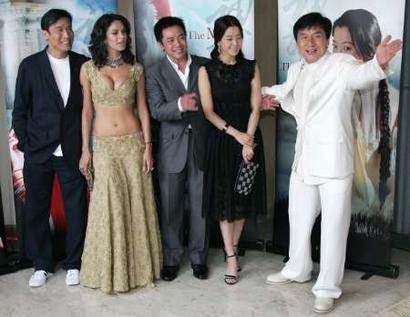 Photo: Reuters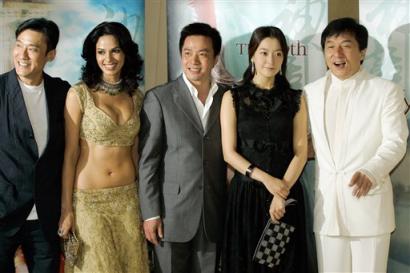 AP Photo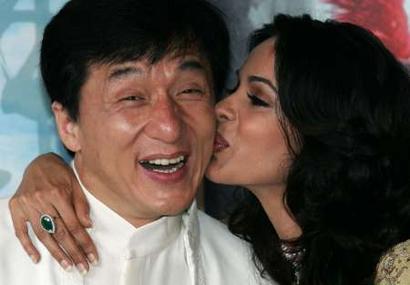 Photo: Reuters
Incredible New Buddy Bear!!
Check out this unique and amazing Buddy Bear from our talented friend Petra of Germany. Wow!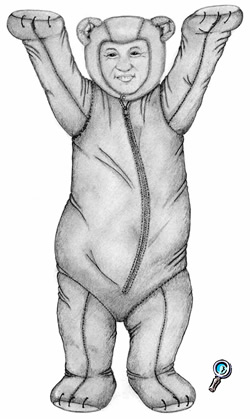 To see all the Buddy Bears, click here.
May 16, 2005
Kung Fu Cinema Reviews New Police Story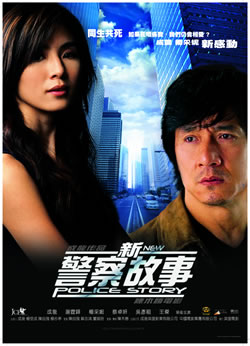 Check it out here!
May 14, 2005
Buddy Bears Make a SLOW Journey Across the Atlantic
Several months ago the Kids Corner webmaster received an email from our friend Victoria in England. "Have you received my Buddy Bears in the mail yet?" Well, the answer was "No" and we feared that the bears were lost somewhere between England and New York. Well, this week they showed up in the Kids Corner Mailbox! They took TWO MONTHS to get across the Atlantic! We're happy to present Victoria's latest collection of Buddy Bears. Thanks Victoria!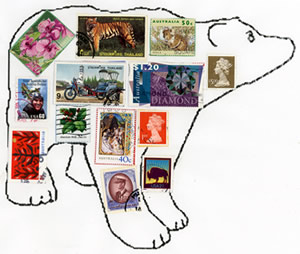 CLICK THE BEAR TO SEE ALL OF VICTORIA'S NEW DESIGNS!
May 13, 2005
Jackie Has A New Friend
Jackie has a new four-legged friend! "Jones" is the Golden Retriever puppy that Jackie's son bought for his mom. Looks like Jackie's having fun!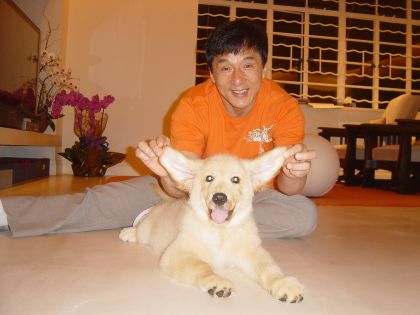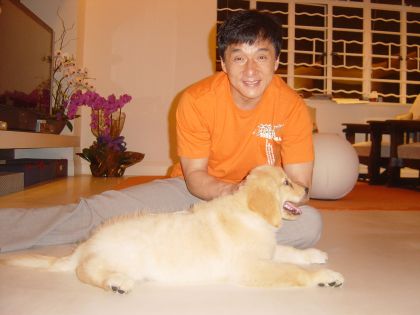 Photos: The JC Group
More Money for UNICEF
Jackie joined Hong Kong committee vice-chairman Anson Chan to present a check for HK$1 million to UNICEF. The money will be used to help children who have lost limbs to landmine accidents.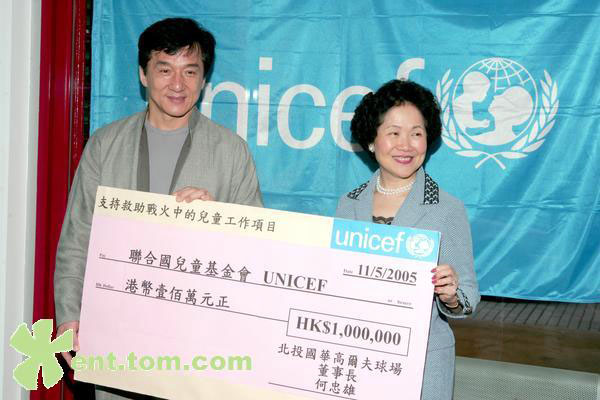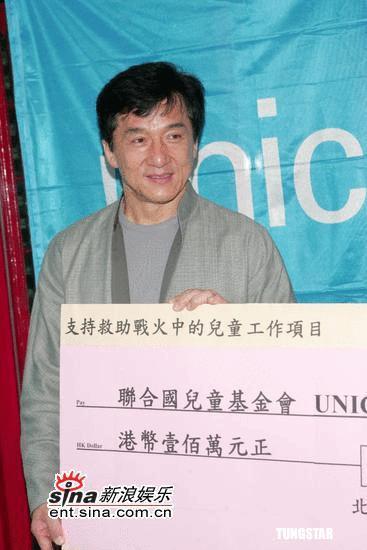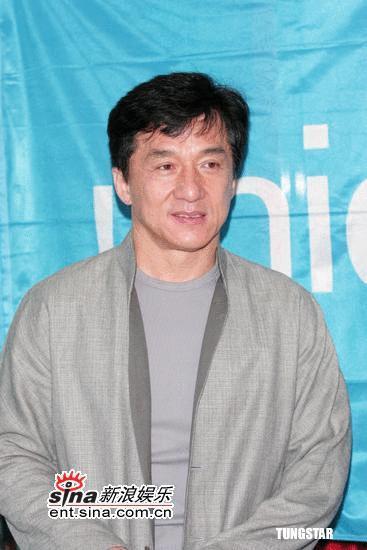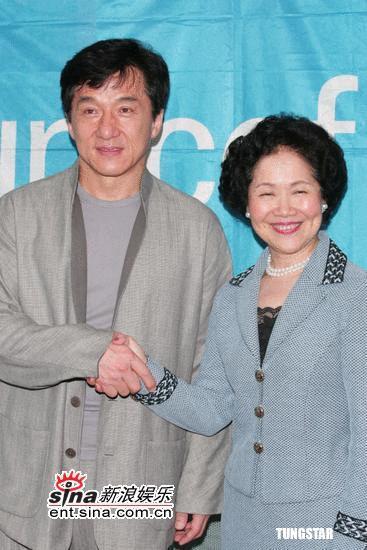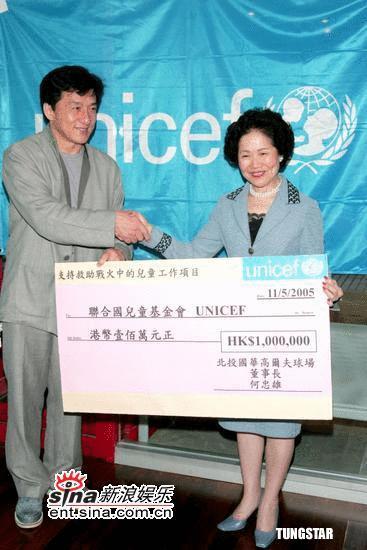 To watch a video of the press conference (PLUS a little bit of Jackie riding his Segway!), click here.
May 10, 2005
"Keep the Spirit Up!"
Jackie Talks to the Kids Corner Kids
Several months ago the Kids Corner took a survey and asked about some of the things you'd like to see here. One thing that many of you mentioned was that you'd like Jackie to communicate with you. Well, you asked for it and now you've got it. Check out Jackie's letter to the Kids Corner!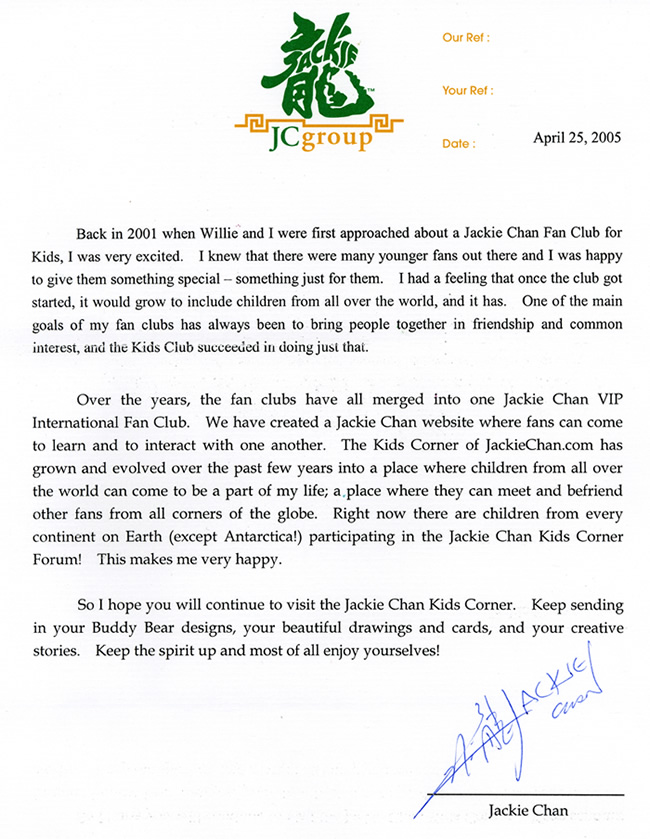 The Myth at Cannes
Thanks to the eagle eyes of Thiego from Brazil we get to see a great new poster of The Myth. He found the following poster and information here: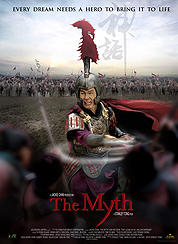 How can an archeologist protect his principles?
How can a romance span millennia?
Why does it hurt so much when someone you trust betrays you?
Across the mists of time and space,
Only war,
Love,
And betrayal
Remain eternal.


May 8, 2005
Jackie's Diaries Are Back!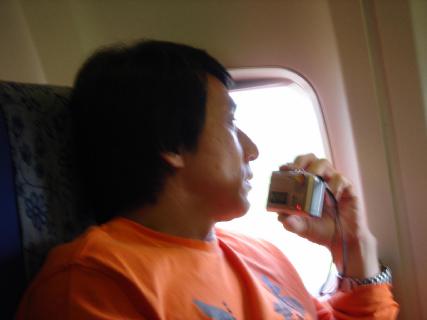 Jackie's diaries have returned as "Jackie's Journal." You can read them on the Official Site by clicking here!
New Buddy Bear!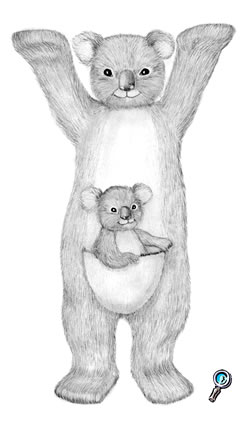 CLICK ON PETRA'S BUDDY BEAR TO SEE MORE!
May 7, 2005
"Fireman Jackie" Coloring Page from Holly!
Holly is back from China and is busy making new coloring projects for everyone. Her latest is the "Fireman Jackie" pose. Click the thumbnail to print out this cool coloring page!
Jackie in California Fitness Photo Shoot
Well, Jackie wasn't really the photographer for this shoot. However, he did impress the photography team with his endurance during the lengthy shoot for the new California Fitness Gyms. Jackie had to repeatedly jump, lift weights, and pose. He never complained and, apparently, never got tired. Looking good, Jackie!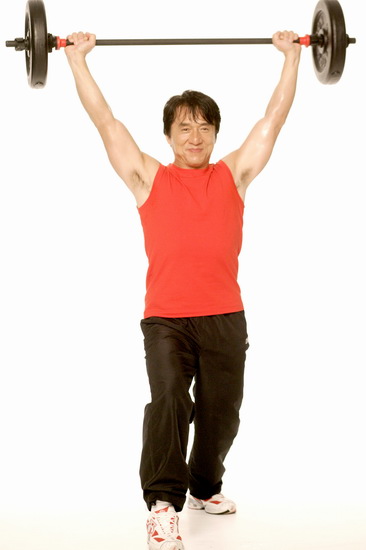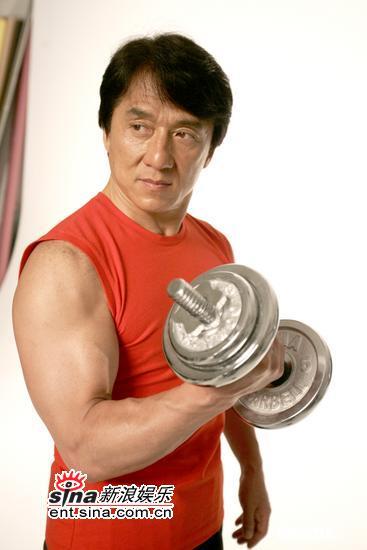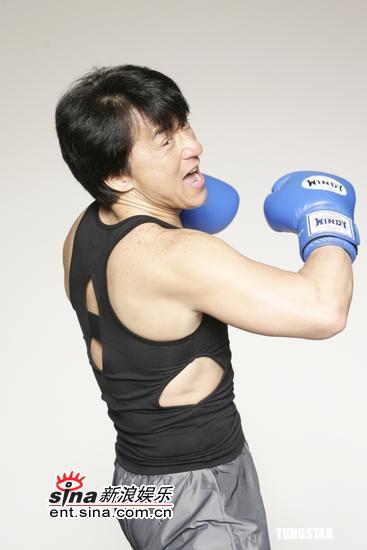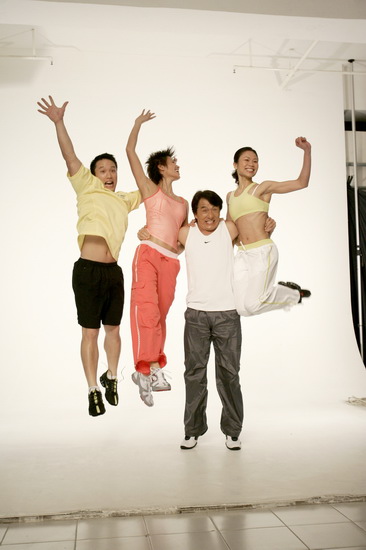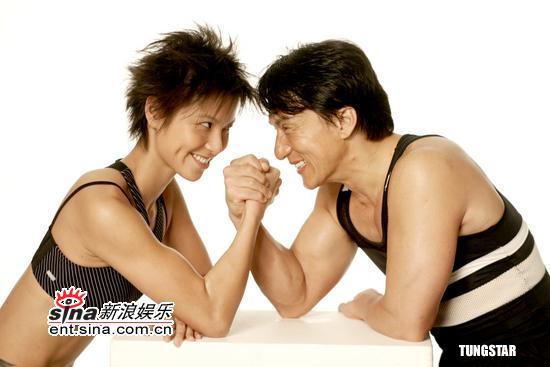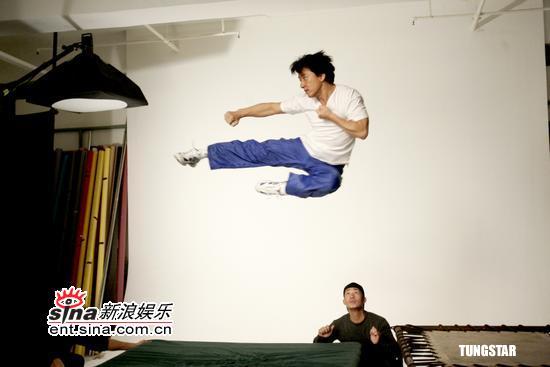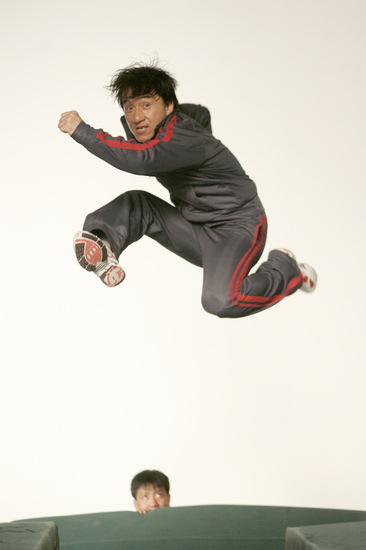 Photos: Sina, Tom, Eastday
May 5, 2005
Jackie's Diaries to Return!
With a fresh new look and a new name ("Jackie's Journal"), this popular feature from the old JackieChan.com is getting set to return. Jackie will share his innermost thoughts, ideas, and advice with his adoring fans. Hurrah!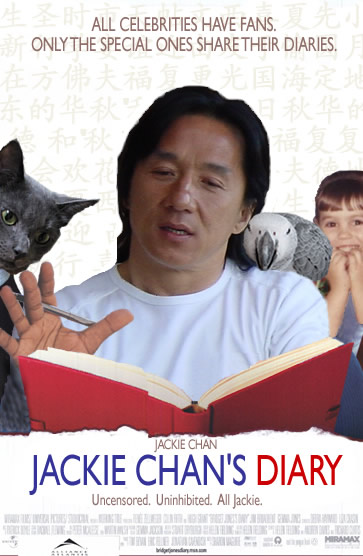 THIS PHOTO PROJECT IS FROM THE KIDS CORNER "JACKIE CHAN MOVIES THAT WEREN'T" SECTION!
Rush Hour 3 Buzz
According to Variety Magazine, Chris Tucker is "expected to sign a two-picture, $40 million contract at New Line Cinema." New Line is anxious to get the next in the mega-money-making Rush Hour series made. Keep in mind that Rush Hour 3 rumors start up every few months, so this may be just another one. Let's keep our fingers crossed for the next Rush Hour movie!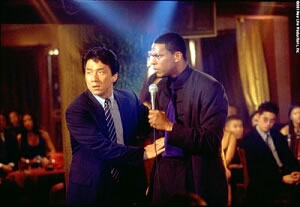 Jackie with Chris Tucker in Rush Hour 2.
Photo: New Line Cinema
May 4, 2005
Video (and a few more photos) of "Fireman Jackie"
Click here to see video of Jackie at the World Firefighter Games press conference!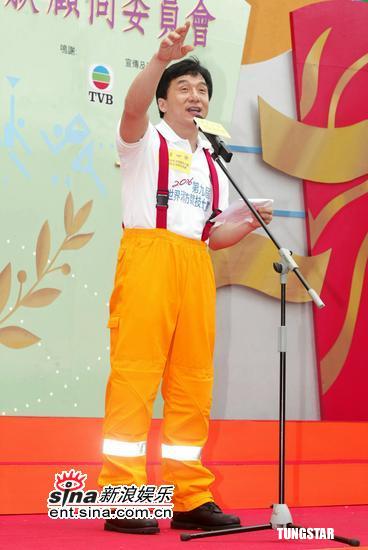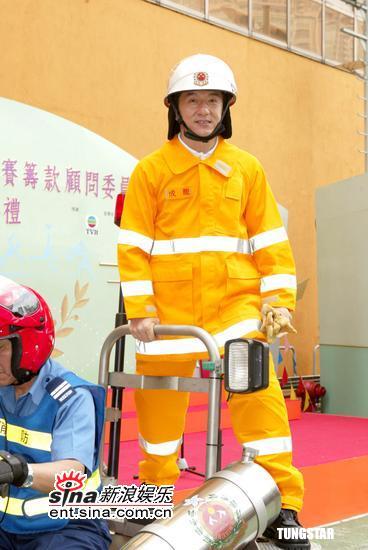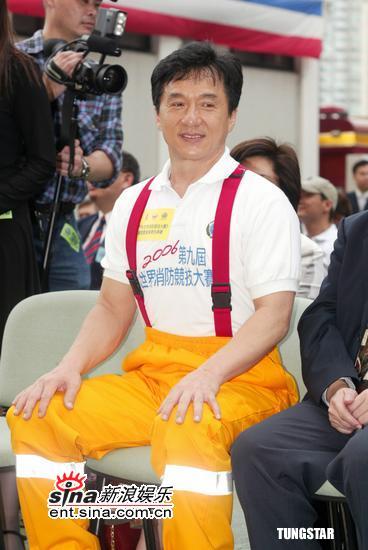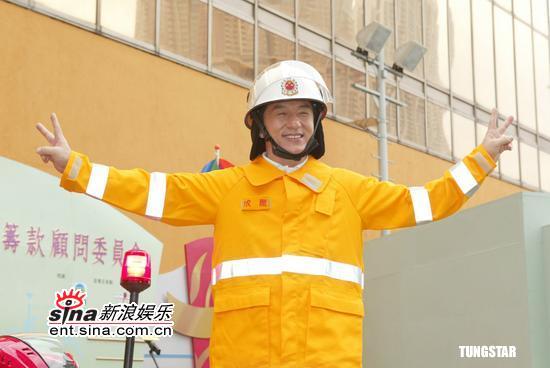 May 3, 2005
New Photos of Jackie in Vietnam
A big thank you to Truong Viet Hung, Communications Assistant at UNICEF Hanoi for sharing these beautiful photos of Jackie from his recent Goodwill trip to Vietnam: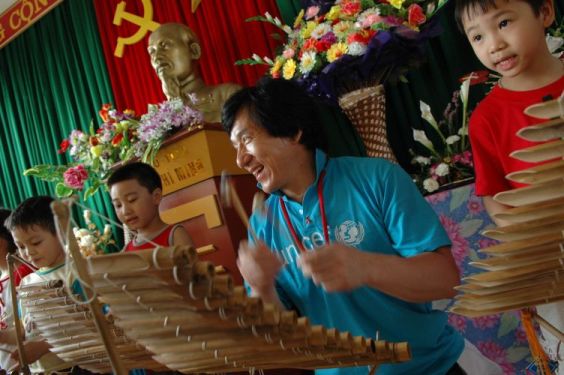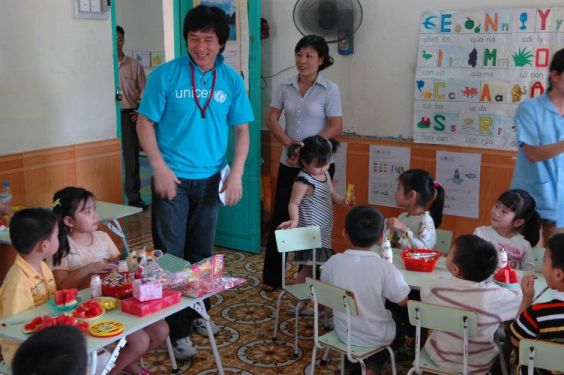 VIETNAM.Unicef Goodwill Ambassador Jackie Chan visits a kindergarten, where
"Happy Birthday" is sung to a young girl. Ha Long City©Jeremy Horner/Unicef
22 April, 2005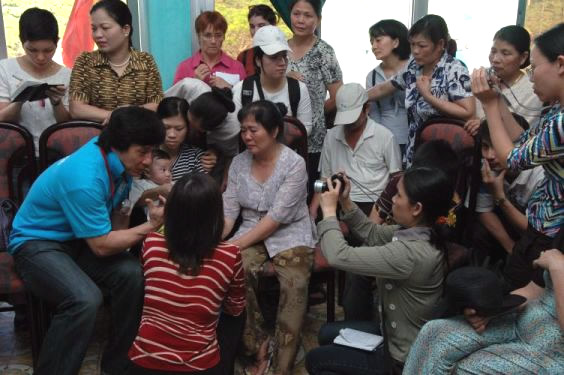 VIETNAM.Unicef Goodwill Ambassador Jackie Chan visits Empathy club for
families who have been affected by HIV/AIDS. Ha Long City©Jeremy
Horner/Unicef 22 April, 2005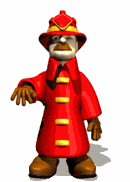 Jackie the Fireman!
Yesterday, Jackie got all dressed up as a firefighter to lend his support to the next World Firefighter Games in Hong Kong (February, 2006). "A lot of people call me a hero," said Jackie. "Well, (firefighters) are real heroes; they are nameless heroes."
Jackie said he hopes to make a movie about firefighters. "I have had the script for 20 years," he said. "It is a dream of mine to make this film; if I do not make it, I will regret it."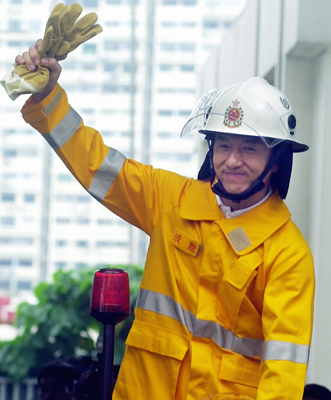 PHOTO: TAKUNGPAO
Meet The JC Group
Ever wonder what goes on behind the scenes over at the JC Group and jackiechan.com? Well, thanks to a new addition of Willie's Scrapbook, you can have a look for yourself! Check it out: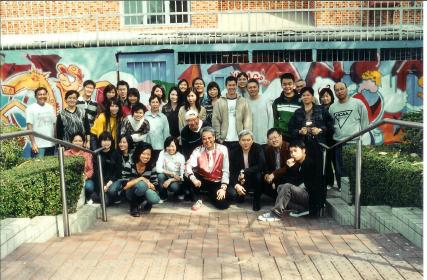 To see more photos, click here.
May 1, 2005
Jackie Campaigns For Clean Water
Recently, Jackie helped introduce a system for cleaning polluted water. He is concerned about the amount of development and is aware of the need for clean water in times of emergency. Here's Jackie showing the before and after jars of water: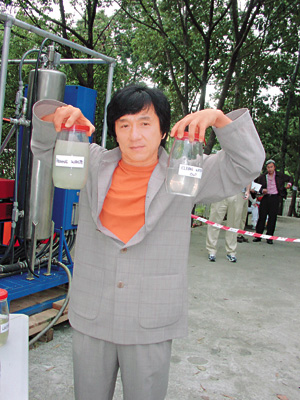 Jackie Working Hard
As you know, Jackie has recently returned from a tour of areas which need our help. Jackie spent time with tsunami victims, landmine victims, and people dealing with HIV/AIDS. Jackie has said that it was a very emotional time for him and that he was moved to tears many times. Here's a photo of Jackie which shows the strain of his recent visit: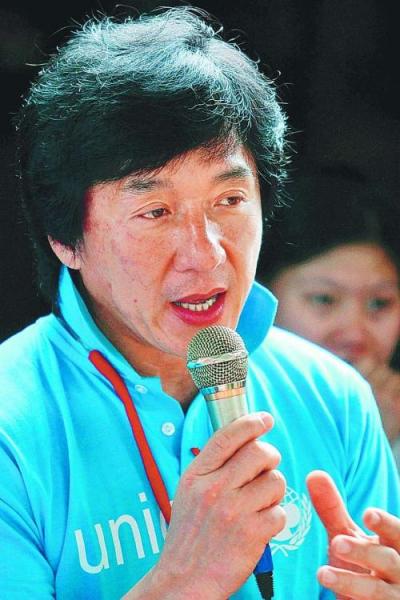 Photo: sinchew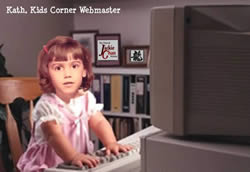 Please read this note from the webmaster!