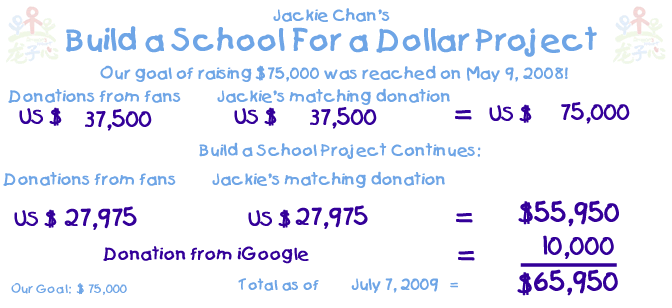 May 28, 2009
More Buddy Bears
We're happy to say that several more Buddy Bears have been sent for our latest contest. We sure hope that all of Jackie's loyal fans will be sending in a design soon!
One fan from the UK wrote about her bear, and here's what she had to say:
This is Infinity Bear and he stands for friendships that last forever, and is made of scraps of coloured paper, card and material that would never have been used to make something worthwhile anyway, bringing together these neglected materials, like neglected people coming together.


Infinity Buddy
by Vic
We're sure that Jackie will love what her bear stands for. As you know, Jackie is very conscious of the environment and the idea of a Buddy Bear made of recycled scraps is right in keeping with his philosophy. Thanks Vic!
For those of you who haven't sent in a design, click here to read about how to do it. Click here to see the latest entries.
May 25, 2009
Our Buddy Bear contest is off to a great start. Thank you to everyone who has entered so far and thanks for following the directions for naming files, sending addresses, etc. It makes the webmaster's job so much easier!
Eva Herlitz has sent us photos of the three Miniature bears that are being given away as prizes. Click here to have a look.
May 21, 2009
Jackie's Design a Buddy Bear Contest 2009 prizes have been announced:

Deadline for entries is July 31, 2009
Note: If you were one of the winners of the blank Buddy Bear in our last contest, please send us a photo of your custom painted bear. We'll post it here on the Kids Corner!
May 20, 2009

We have received the first entry for our new Design a Buddy Bear Contest. Thank you to Nerissa from Indonesia for getting the contest going! (Click the banner above to see the first entry and read the instructions on how you can enter.)
May 19, 2009
Jackie Chan Art Gallery
Recently at the Fan Party in Beijing, one of Jackie's Russian fans presented him with a painted portrait made by her friend Asha. We asked Asha to send us a picture of her painting so we could display it in Jackie's Art Gallery and she was nice enough not only to send one picture, but three! Take a look at our art gallery to see many beautiful drawings and paintings by Jackie's fans. Anyone is welcome to submit a drawing for our gallery. Just scan it and send it to jckids@jackiechan.com .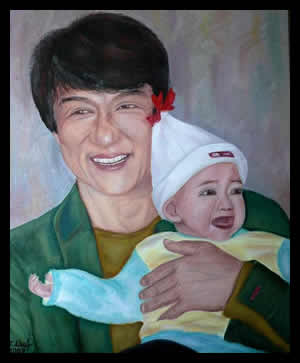 Click on Jackie and Matthew to see all the beautiful pictures in our Art Gallery.
May 18, 2009
What's Up With the Buddy Bears?
It's been a while since we've posted any news about the United Buddy Bear project. Recently we heard from Eva Herlitz, the founder of the Buddy Bears. Since the beginning of the project, over 2 million US dollars have been raised to benefit UNICEF and local children's charities! The bears have toured the world, appearing on all five continents. Most recently they were in Uruaguay, South America. Here are some photos: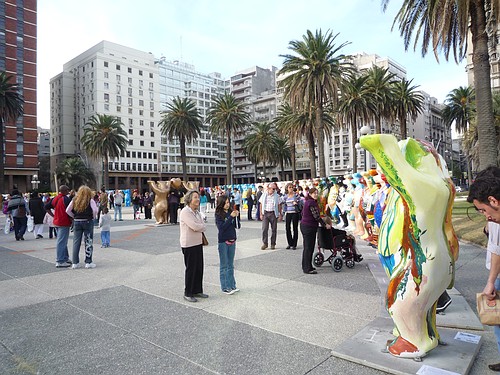 Montevideo, Uruguay (May 2009)

In Buenos Aires, Argentina (March 2009)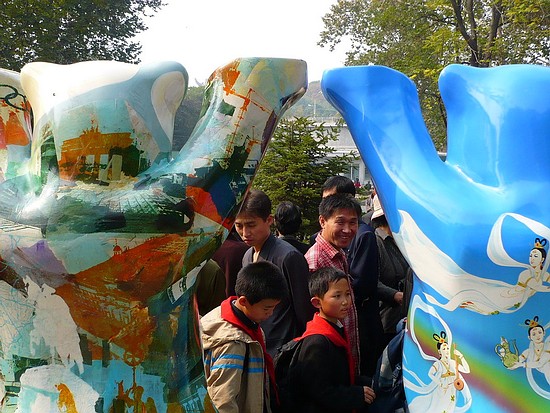 Pyongyang, North Korea (October 2008)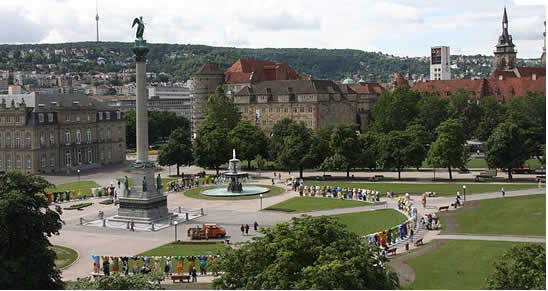 Stuttgart, Germany (August 2008)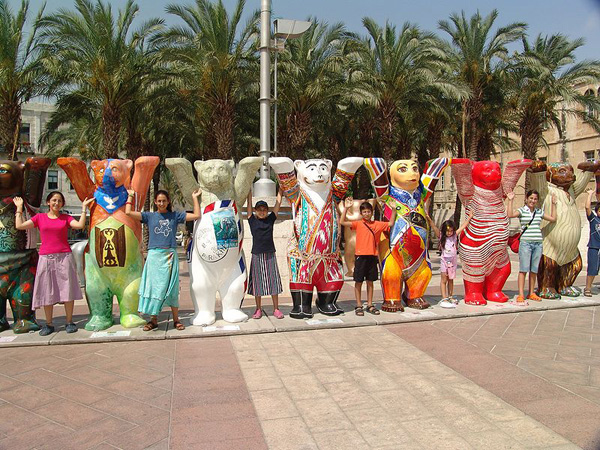 United Buddy Bears in Safra Square, Jerusalem (August 2007)
Mrs. Herlitz has agreed to provide prizes for another Buddy Bear contest. We will announce the prizes at a later date, but in the meantime, why not start designing your Buddy Bear? Details about the contest (including deadline and prizes) will be be posted here as soon as we have them.
If you're not familiar with the Buddy Bear project, click this link and read all about it.
You can find downloadable Buddy Bear templates here: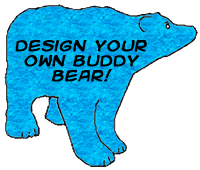 May 9, 2009
Happy Birthday Jackie
Well, it took a while, but as we promised we are posting photos of Jackie with the many cards and letters sent to Hong Kong for his April 7th birthday.
When Jackie saw all the cards, drawings, letters, and donations sent by his devoted fans, he was very touched. Here is Jackie with this year's birthday wishes: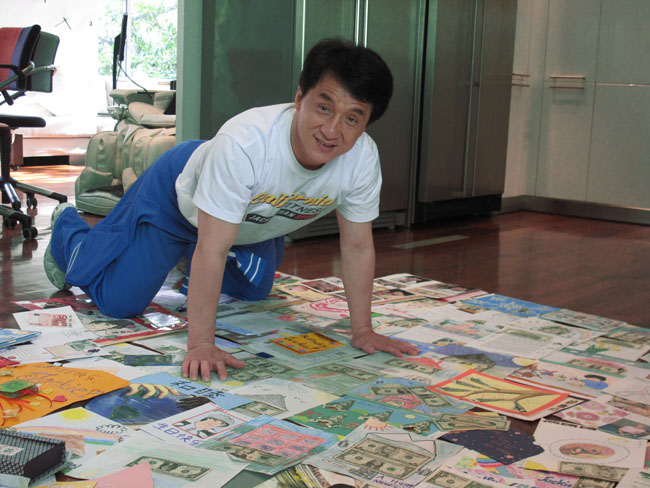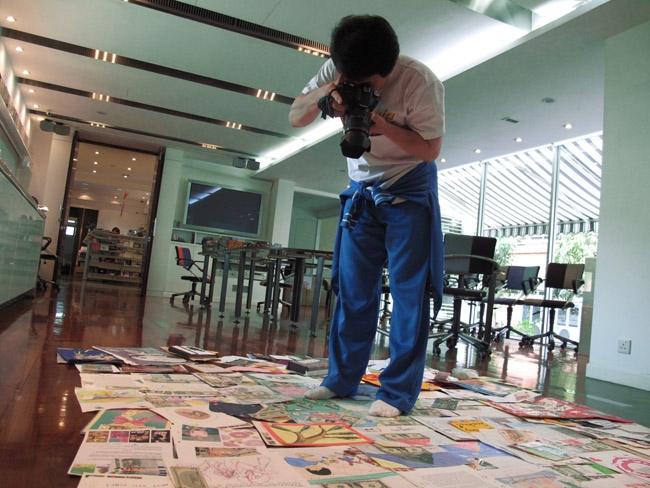 Jackie was so happy that he even took photos of the cards and letters with his own camera! Fans sent a total of US $726 for Jackie's charities in honor of his 55th birthday. Jackie wants his fans to know how much their continued support means to him, especially in these difficult economic times. Thank you!!
May 6, 2009
New Jackie Chan Animated Cartoon in China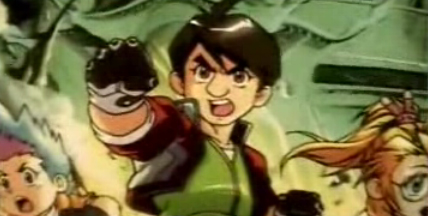 How many of you remember the Jackie Chan Adventures cartoon? It was (and still is) a very popular cartoon series featuring Jackie. Although it is no longer being made, many television stations play reruns of it and the entire series is available on DVD.
Well, now there's a new animated cartoon series which was introduced at the China International Animation Festival! The name translates as "Jackie Chan Fantasia" and it is a cartoon series by one of Hong Kong's master animators, Huang Yulang (who also happens to be an old friend of Jackie's). The series, which is in Chinese, will feature Jackie's character involved in story lines which will teach youth respect, friendship, and other important moral lessons.
If all goes as planned, the cartoon should debut in late 2009 in China. And who knows? Maybe someday someone will translate it into an English version!
If you'd like to see what it looks like, click here. It's spoken in Chinese, but it's interesting to see even if you don't understand what they're saying. You also get to see Huang Yulang talk about the cartoon.
May 4 , 2009
Build a School for a Dollar
On April 7th, Jackie celebrated his 55th birthday and many fans sent in lovely cards and wishes. We will post a photo of Jackie with the cards as soon as we can get him to stay still for a picture!
Many fans also included donations for Jackie's Build a School for a Dollar. This year, a total of US $726 was sent in for Jackie's birthday. Sadly, this is nowhere near the usual amount that we receive for his birthday, but it's understandable because many people are having financial problems. We really appreciate every dollar that is sent in, especially during the hard times. Here's a photo of some (but not all) of the recent donations. We have other cards and letters that we will show later (when we get Jackie to pose with them). Thank you so much to everyone who has sent in a donation!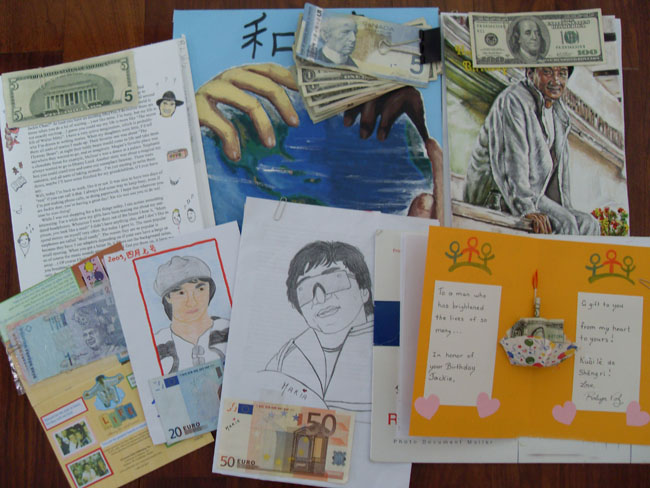 April 10, 2009
Happy Birthday Jackie and Happy Easter Wishes from Fans
On April 7th, Jackie celebrated his 55th birthday. Many fans sent greetings to Jackie's office and a few emailed their birthday wishes. Here are a few that were emailed (we will try to show you the greetings sent to the office later):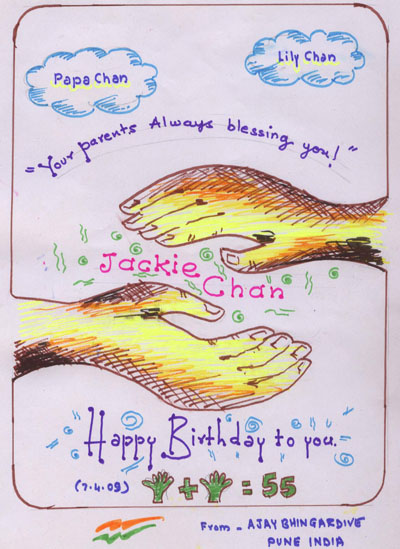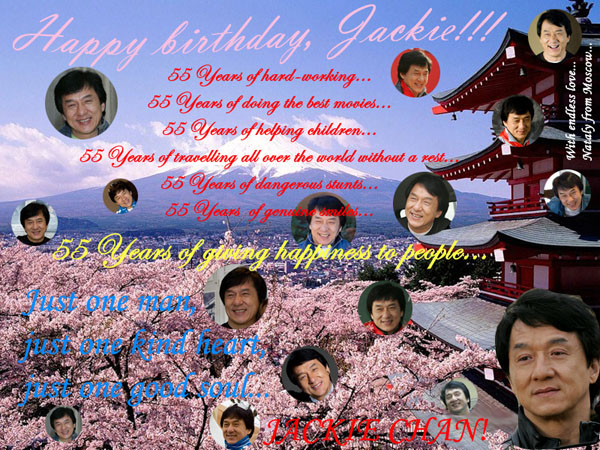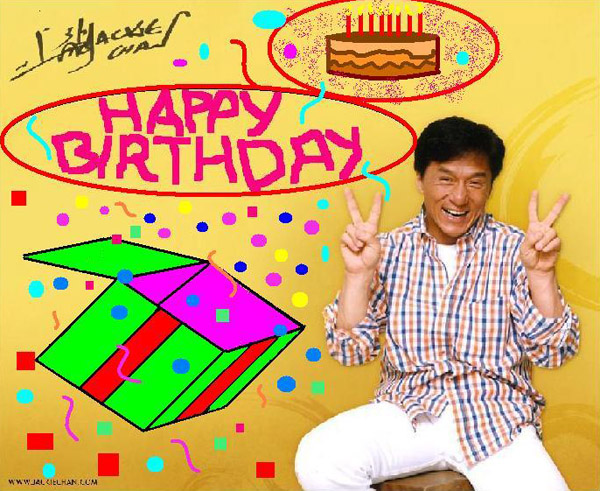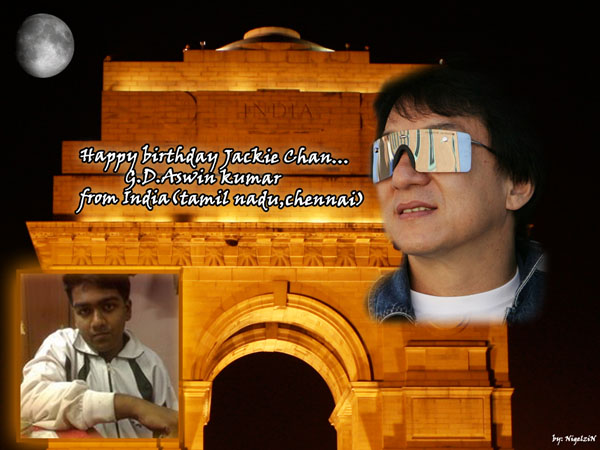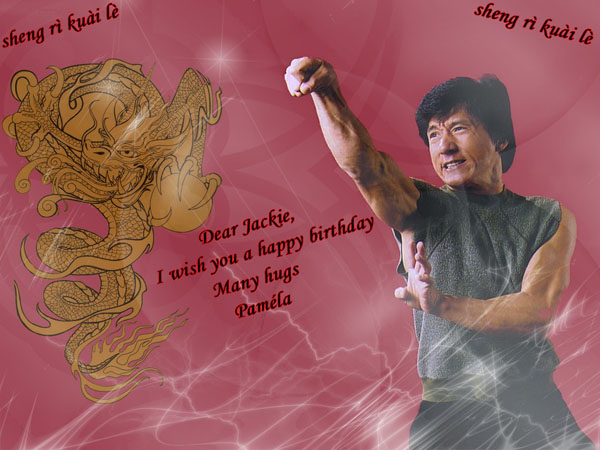 Happy Easter Wishes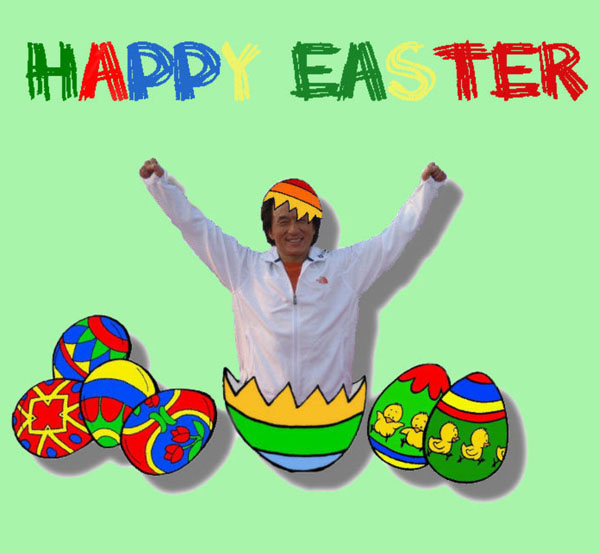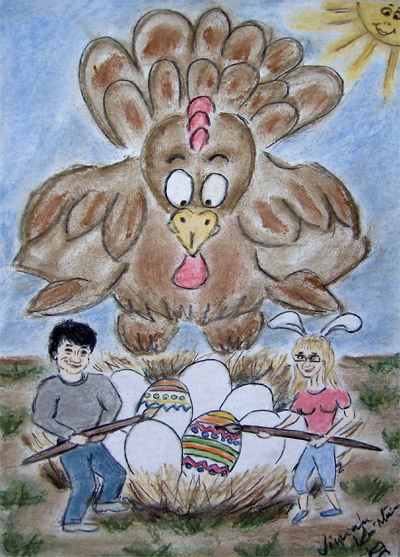 And another fan sends a thank you for her Chinese New Year contest gift: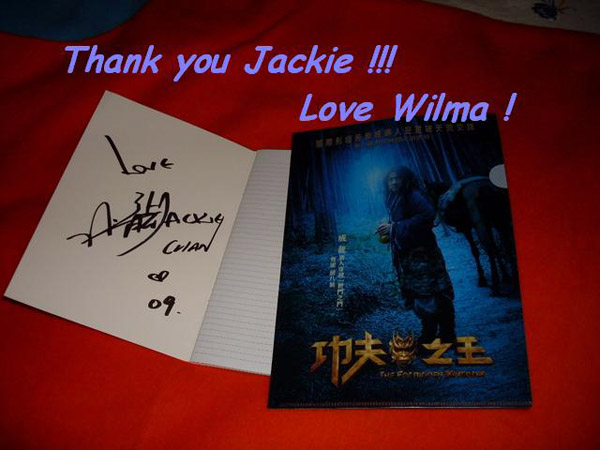 March 30, 2009
Build a School for a Dollar News
A big thank you to all the fans who continue to support Jackie's Build a School for a Dollar project. We know that times are difficult right now and that is why we are especially happy that fans sent in US $634 this month. With Jackie's matching donation, that brings the new total up to US $54,864 !!!!! You can see some of the newest donation drawings at the Build a School pages here.
We also want to thank the people who donate online at our secure donation page. We know who you are and we appreciate you! Some people have been making small (and large) donations monthly for several years now and we want you to know that we are happy to have your support.
Jackie's Art Gallery
Please take a look in Jackie's Art Gallery where you will find beautiful drawings sent in from fans of all ages. Click on Bai Wei's drawing, below, to visit the Art Gallery.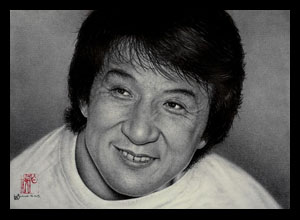 Odds and Ends of News
Over the past few months we have received emails from fans who send along thank you pictures or birthday greetings for Jackie. Here are some of the emailed pictures we've received: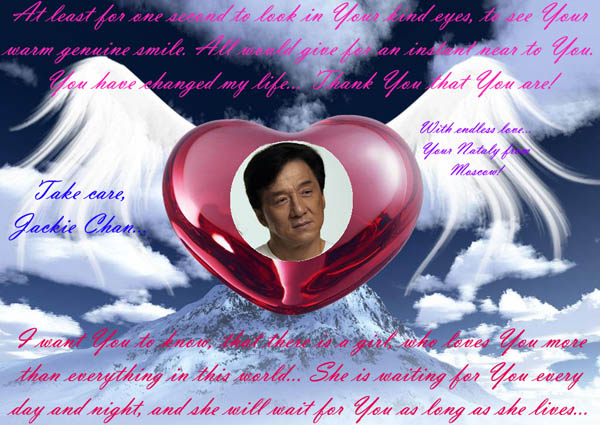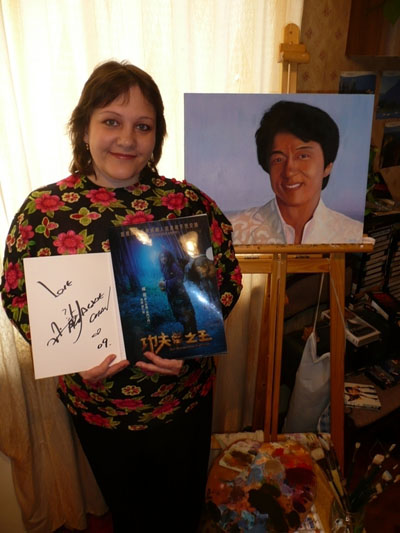 Asha from Russia won an autographed notebook in our New Year's contest. She sent this photo to show us her thanks....and to show us the beautiful portrait of Jackie that she painted! Thanks Asha.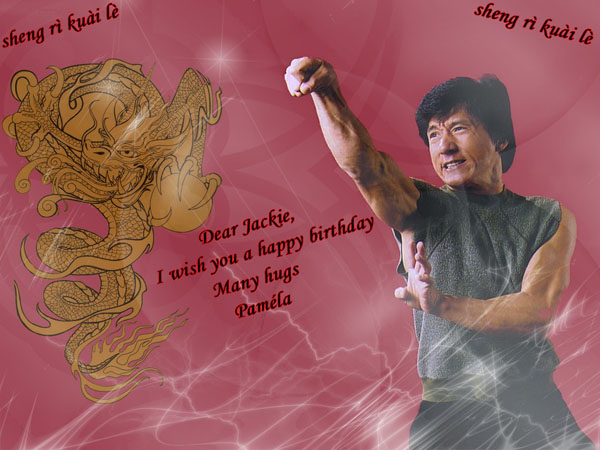 A birthday greeting for Jackie from Pamela.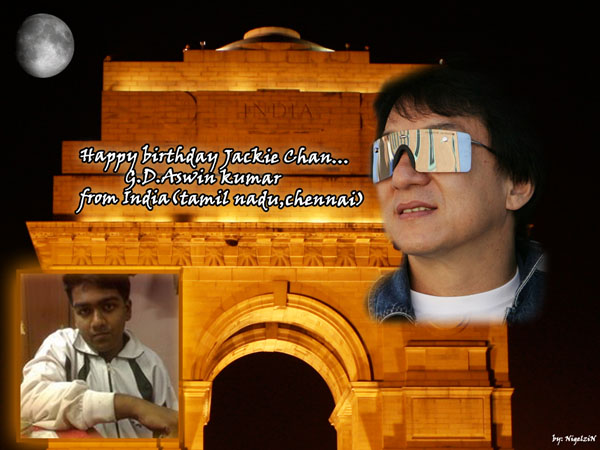 Another birthday greeting.
FYI - - Jackie's birthday is April 7th and if you'd like to send him a card, you can mail it to our office:
JC Group
No. 70 Pak To Avenue, Clear Water Bay Road, Sai Kung, Kowloon, Hong Kong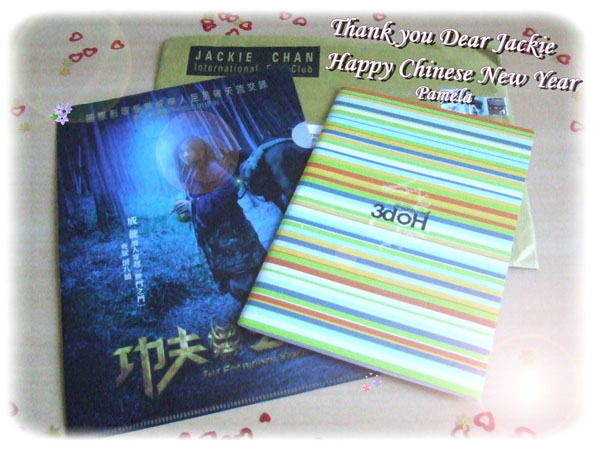 Pamela sent a thank you for the New Year's prize.

Ivannia says "Thanks Jackie!"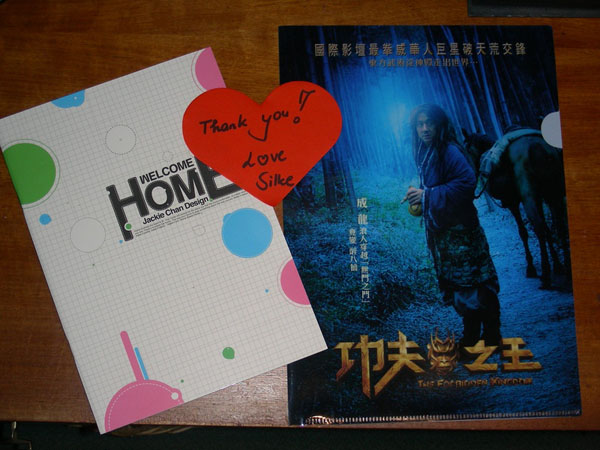 Reminders
Don't forget about our beautiful Easter project from Petra (see below). You can print one on your home printer and color it in for Easter! There are lots more coloring projects on our website. Just visit our Fun Stuff section to find links to our coloring project pages.
As you might know, Jackie spent some time in New Mexico at the end of last year to film The Spy Next Door. We think that all of Jackie's fans will like this movie and want to especially encourage his young fans to read about what it was like filming in New Mexico. There are lots of photos in Jackie's diaries about the trip and you can also read the first Scrapbook article and look at Jackie's Albums from Santa Fe.
Visit www.jackiechan.com and find the New Mexico Diaries in October, November, and December 2008. The first Scrapbook article is here. The webmaster is working furiously to finish the second installment of the On the Road article about filming the movie. There are going to be many new photos to see, so please check the main website often for updates.
March 22 , 2009
Happy Easter Coloring Project
For those of you who celebrate Easter, we have a brand new project to color! Click on Jackie for a printable black and white version:
Here's our Jackie Easter Bunny from last year. Click on it to download a printable black and white version to color: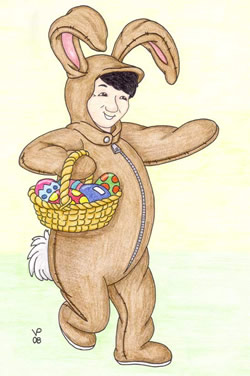 Jackie's Birthday
We won't be having a contest this year for Jackie's birthday, but we hope that you will send him a card anyway. Last year Jackie was so touched and happy when fans not only sent in beautiful, creative cards, but also donations to his charity. If you want to send Jackie a birthday card, you still have plenty of time. Jackie's birthday is April 7th. Here are some of the cards and generous donations sent in last year: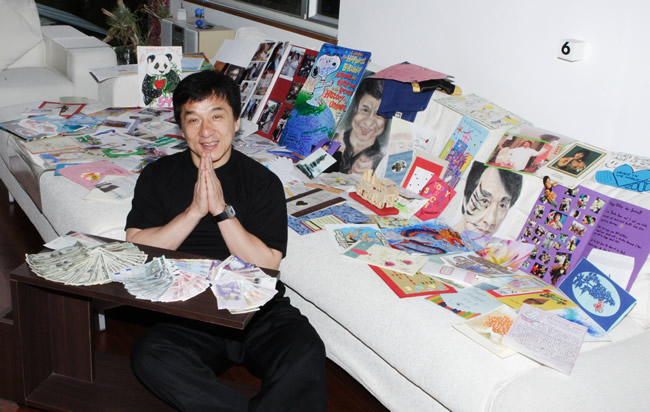 Last year, Jackie's fans sent in a total of US $2,378 for the Build a School project in honor of his birthday!
Here's the address to send Jackie a card:
Jackie Chan Kids Corner
No. 70 Pak To Avenue, Clear Water Bay Road, Sai Kung, Kowloon, Hong Kong
The Latest Jackie News is archived to save room on this web page.
To read past news reports, just click on the month you're interested in viewing. Remember that some of the older links in these news archive may no longer be active.
AUGUST, SEPTEMBER, OCTOBER 2005
KIDS CORNER FRONT PAGE / TOTALLY FUN JACKIE STUFF / OFFICIAL SITE HOME PAGE
©2009 The JC Group
No part of this website may be reproduced or distributed without permission.