September 3, 2007
Lots of News at the Kids Corner!
Wow! Jackie's fans have been so busy lately and there's a lot to read about here at the Latest Kids Corner News.
As you probably know, Jackie has been filming his latest movie project in China. While we were in China, Jackie got a chance to spend time looking through his websites and he is thrilled with all the involvement from his fans, both kids and adults. What are his favorite things from fans? Stories of raising money for the Dragon's Heart Charity, Buddy Bear designs, drawings in the Art Gallery, and stories from the Sharing Corner. Jackie wants to thank all his fans for contributing to the website and of course he encourages you to continue.
Check back soon because we will have a new drawing project from Petra!
Build a School Project Gets a Big Boost:
New Total = $26,530 !!
Although donations for Jackie's Build a School for a Dollar project have slowed down a bit, there are still some dedicated fans who continue to support this good cause. Several fans donate regularly through our online donation page, others send money to our office, while still others send us news of events they've organized for the benefit of Jackie's charity.
A group from Germany recently held a Day of Calligraphy to benefit Dragon's Heart. You can read all about it here: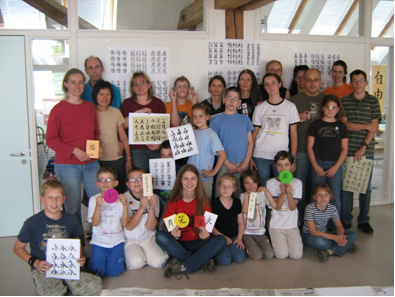 CLICK TO READ ABOUT THE DAY OF CALLIGRAPHY EVENT
Also in Germany, a group of fans got together and held a fan party. They sent us photos, a video, and a generous donation to the Dragon's Heart Foundation.
After reading our Scrapbook articles about the Dragon's Heart Charity trips, a young woman in New Zealand asked customers at the restaurant where she worked to help out. She ended up with US$100 from the customers' donations plus the tips she earned for the day.
Several teachers sent donations that their students made.
The list goes on and on. Children sending in a dollar from their allowance. People donating anonymously or in the name of someone they love.
There were so many creative and wonderful ways that people helped! When Jackie saw the latest donations, he was very moved and said that if he could, he would thank each and every person individually who has helped the Dragon's Heart Foundation.
Here's a photo of our recent donations: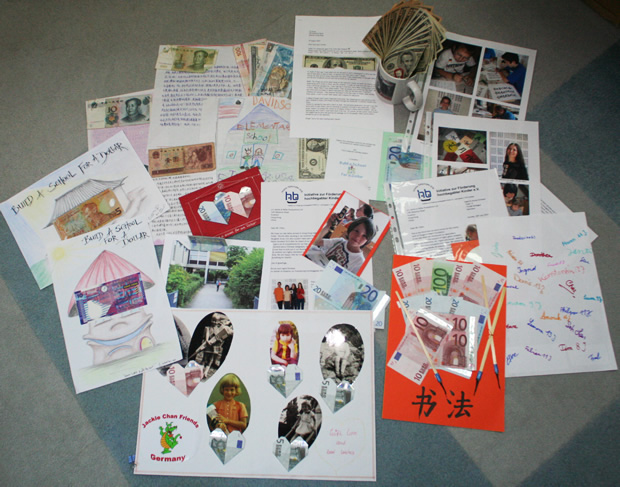 More Buddy Bear Thank Yous
We love hearing from people who have won prizes in our contests. Thank you all for taking the time to send greetings and photos. Jackie saw all of the email from fans who won our recent Buddy Bear contest and he was delighted (he really was!). Here are a few more thank you greetings from fans:
From Zhao Ai, China: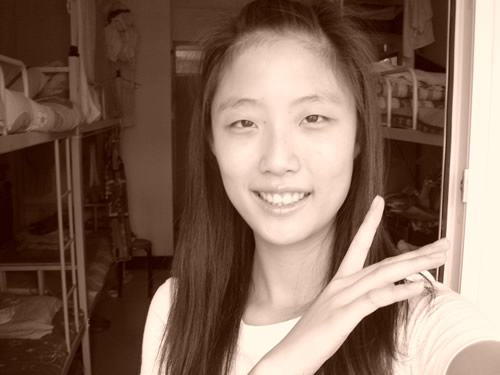 收到这么可爱的巴迪熊,太高兴了。第一次参加活动,就获奖了,真得很激动,谢谢成龙大哥选种我的作品。我们全家都很喜欢这个小熊,这是影迷的收获,不是吗?呵呵,在中国期待 尖峰时刻三 ,也期待下次活动。
 谢谢~
Translation:
I am so glad to receive such a pretty Buddy Bear, and I am so excited to win the prize for taking part in this activity for the first time . Thank you, Jackie Chan for choosing my work.. Our family all like this Buddy Bear very much . That is as a fan's reward , isn't it ? hehe. I am looking forward watching the film Rush Hour 3 and also I look forward to the next activity.
Thanks.
From Michelle, Puerto Rico: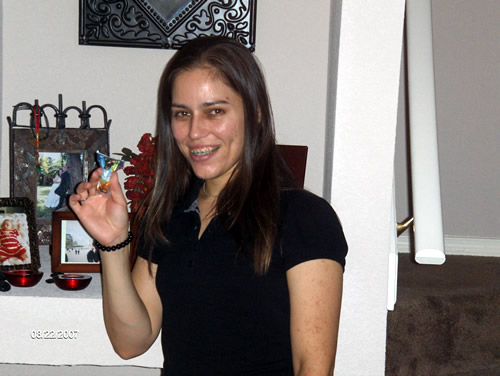 Dear JC,
Thank you very much for picking my Buddy Bear Design. Also, Thanks to all your staff  behind the contest. I am very happy that you like it! Xie, xie!
Love,
Michelle
From Autumn, USA: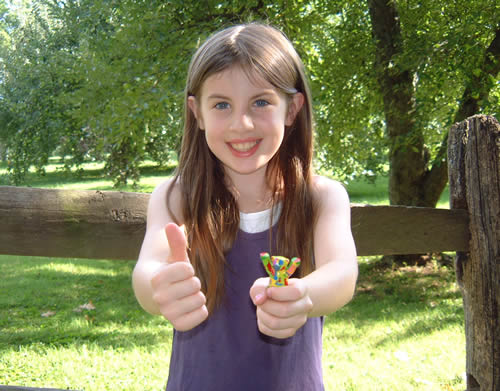 Autumn with her new Buddy Bear.
According to a note from Autumn's parents, Jason and Brandi, the second she received her Buddy Bear, she ran to her room and drew Jackie a picture: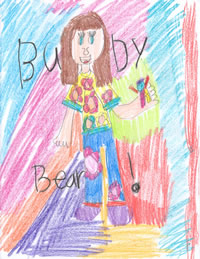 CLICK TO ENLARGE
From Khalie, USA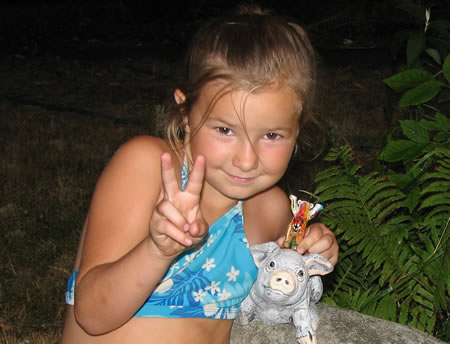 Khalie and her Buddy Bear.
Khalie's Grandma writes: I asked Khalie how she felt about getting her darling little bear in the mail and she said she loves Jackie and wants to go to China and meet him to say thank you in person. Between her and her brother Tyler who sent his only dime to Jackie for the poor children, I have a feeling we will meet him face to face one of these wonderful days.  She also said "Jackie, please do not get hurt anymore in your movies, because it makes my Grandma cover her eyes and scream!" 
From Petra, Germany: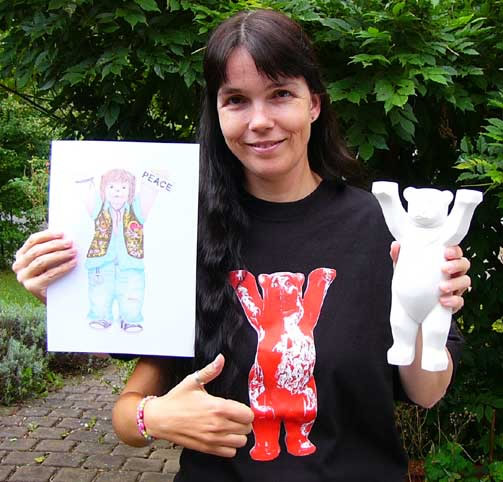 Dear Jackie,
Thank you so much for choosing my Hair-Bear among the winners. Once the statue is colored I will send a photo. Dankeschön!
Love, PETRA
From Raoni Chomel, France: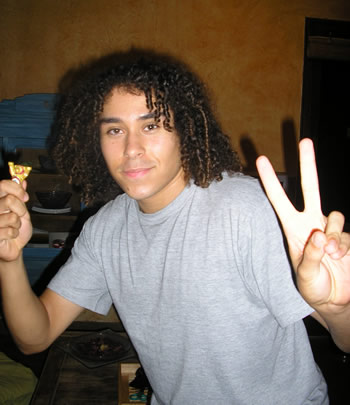 Raoni from France
I want to thank Jackie and the team at JC Kids which sent this prize. For me, this small bear is great (big) because when I think that Jackie chose my drawing personally, I feel so happy  because you see with your own eyes  my works. Thank you very much, 謝謝.
From Romina, Germany: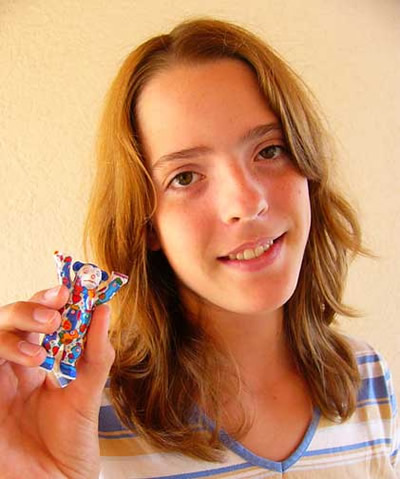 Dear Kath,

Yesterday when I came home I found a letter from Hong Kong in my mailbox. I couldn't wait to look inside and I was so happy to see that I received a new member to my little Buddy Bear family.

Thanks a lot

Love

ROMINA
August 15, 2007
More Messages from Buddy Bear Contest Winners
We were thrilled to hear from a few more people who won our Buddy Bear contest. Jackie always likes to look at these photos and hear the messages from fans. We will show him these latest thank you notes and photos when he has a few extra moments on the set in China where he is filming The Forbidden Kingdom.
From Helen in the USA: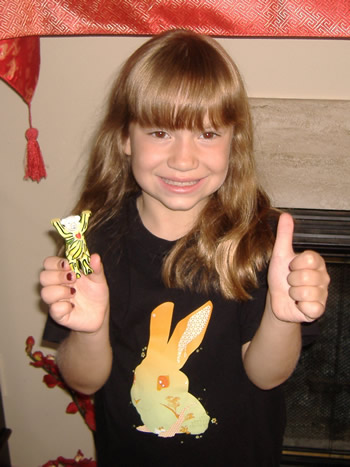 Dear Jackie,

I love the Buddy Bear so much! I love the color and the design. Especially the heart! I have named it Love Bear. It was fun to see you here in America on TV for Rush Hour 3. It will be great to see you in the movie on the big screen!

Thank you so much for picking my buddy bear design! I'm so glad you liked it!

Love,
Helen Burns

USA
From Sibylle in Germany:
Sybylle put her mini Buddy Bear into some paintings she made: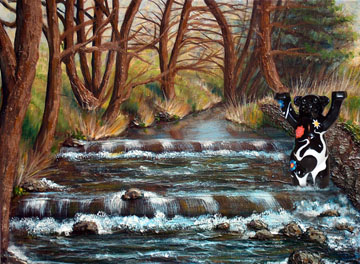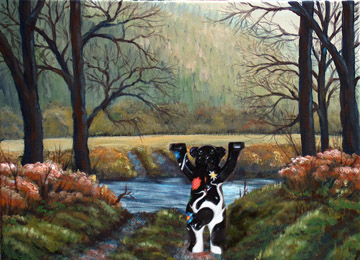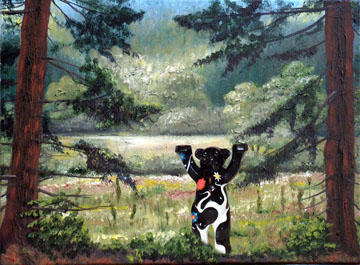 Thank You Jackie and the Team!
The little bear feels happy here.

Best wishes

Sibylle
From Silke, Germany: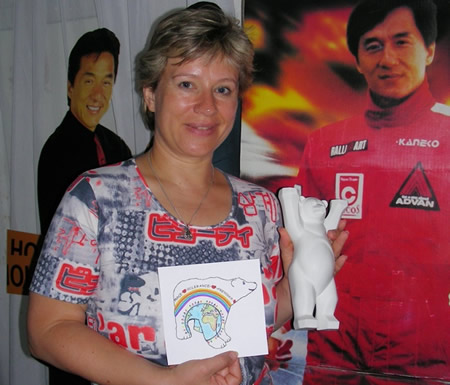 Dear Jackie,

I would like to thank you very much for this great prize. It makes me happy that you chose my design as the winner!
Thank you Jackie! Xie, xie!

With love
Silke
From Wen Wen, China:
谢谢,您寄的礼物我收到了,全家人都很高兴,希望以后有类似的活动您能通知我.
再次感谢!

汉的文文

Translation: Thank you for sending me this gift. My whole family is very happy and any time you have another contest like this, I hope you will let me know!

Wen Wen
August 9 , 2007
Jackie for President?
That's the idea that one family from California had. Click below to read a great letter from Brendan and his family!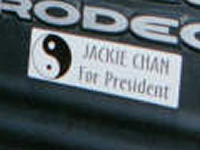 CLICK HERE
August 6 , 2007
Buddy Bear Prizes Begin Arriving
We always love to hear from prize winners when we have contests, and we were delighted to receive a special "thank you" drawing from winner Kimberley in New Zealand. Here's what she sent: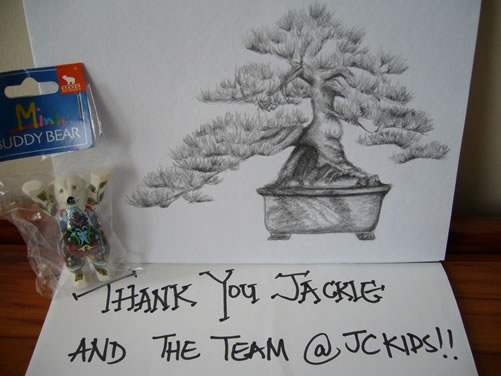 Thanks Kim!
If you are a winner in our contest, we'd love to hear from you too!
Note: We still have not heard from winner Alan from the United States. He was a first place winner and we'd like to send him his Buddy Bear. Alan, please send an email to jckids@jackiechan.com
August 1 , 2007
Buddy Bear Winners: Where Are You?
Two of the winners in our Buddy Bear contest have yet to contact us with their addresses. Amazingly, one of them is a first place winner! So....Alan from the US and Wen from China, please send us your addresses.
To all other winners - we have mailed your prizes this week. International mail takes a lot of time, so please be patient. It could take up to two months to receive your package, depending on where you live.
Jackie was so excited about the Buddy Bear contest (he talks about it in an upcoming diary) and he wants have more contests. So stay tuned!
July 15, 2007
Buddy Bear Winners Announced
Jackie has been very busy on the set of The Forbidden Kingdom, but he wanted to choose the winners of the contest personally. Finally, we are ready to announce his choices. Congratulations to everyone who won and to everyone who entered. Jackie loved all the Buddy Bears and had a hard time choosing.
CLICK HERE TO SEE THE WINNERS PAGE!
July 1, 2007
Buddy Bear Contest Ends
Jackie's Design a Buddy Bear Contest has ended. The winner will be announced soon.
Because so many people sent in their entries in the last days of the contest, you may not see yours posted yet. Please check back soon to see all entries for the contest.
June 29, 2007
Build a School For a Dollar: Almost One-Third There!
In less than a year, Jackie's friends and fans have helped raise almost US $25,000 for the Build a School For A Dollar Project. Wow! We're just about one-third of the way to actually building a school for poor children in remote China. Dollar by dollar we are getting closer to our goal.
Jackie was very happy to hear about the latest total. He wants to thank each of you for helping and encourages you to keep on helping with whatever you can donate. If you think that your donation is not big enough, you are wrong! Don't forget that when all the money is put together, it really adds up. Most of the donations for this project were one dollar and look at what has happened!
CLICK HERE TO SEE A PHOTO OF THE LATEST DONATION DRAWINGS
Reminder: Buddy Bear Contest Ends in Two Days!
Only two days left to send in your entry for Jackie's Buddy Bear contest. All entries must be received by July 1st. Click here to see the latest entries or click here to read the rules of the contest.
June 25, 2007
The Little Dragons Who Lost Their Way
by Christine Engelmoer


STOP what you're doing right now and read the wonderful new story in our Sharing Corner. It was written by a 10 year old fan from The Netherlands. WOW! You will love this story - it's very touching and creative. Thank you to Christine for sharing such a great story with all of Jackie's fans.

June 21, 2007
New in Jackie's Fun Stuff
Thank you to Silke from Germany for creating more Find-a-Word puzzles for Jackie's young fans.
Here's a screenshot of one of the puzzles: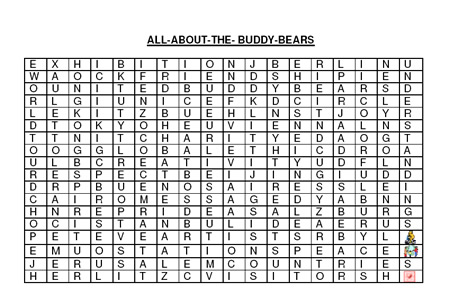 Click on the puzzle number below to download the .pdf file, then print it out and enjoy!
Puzzle #5
"All About the Buddy Bears"
Puzzle #6
"All About Travel"
Puzzle #7
"All About Movie Props"
These are really fun puzzles to do and they take a lot of work to create. We appreciate what Silke has done for us. Thank you so much!
New on the Sharing Corner
Read a great story about friends who found each other through a common interest - Jackie! You may wonder why we feature a story of adult friendship on our Kids Corner. Well, we're all kids at heart and we also know that many kids have made friends in much the same way that Annie and Dagmar have. We hope that featuring their story here at the Kids Corner will inspire kids of all ages to share their Jackie Friendship Stories!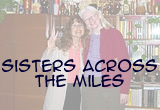 Click the photo
Update From Nancy Yi Fan
If you didn't read about Nancy, a 13 year-old author (and Jackie fan) when we originally posted her story, why not read it now? We've added an update and a great photo. Click here to read about Nancy Yi Fan.
June 20, 2007
Buddy Bear Contest Nears End
Then why is Jackie jumping for joy?
Because we've gotten so many wonderful designs from fans all over the world, that's why! Jackie has looked over the entries so far and he is very happy with what he's seen. You can read more about Jackie's reactions to some of the things he saw on the Kids Corner here at the main website.
Have a Look at Some Mini Buddy Bears (Link Fixed)
Thanks to the keen eye of Jacqueline from Germany, we all get to see the Mini Buddy Bears which were on display in Berlin recently. Thanks Jacqueline! (The link below, which was posted before, is now working.)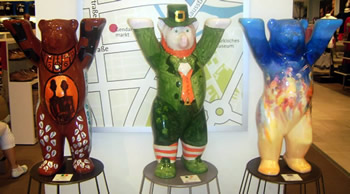 Click here to see photos of these and many more Mini Buddy Bears.
Message About Buddy Bear Contest
Please have patience as we upload all of the entries. Do not resend your Buddy Bears please! If your entry has not been posted by July 1st (the last day of the contest), please send an email to jckids@jackiechan.com.
New Coloring Projects from Petra
Petra has sent more wonderful coloring projects for you. There is an Anti-smoking Jackie and a Fitness Jackie as well!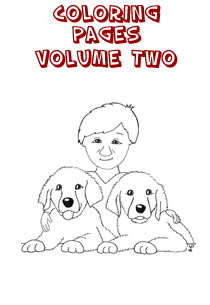 Click to go to the Coloring Pages
There are also several beautifully colored drawings at Petra's Gallery. Please have a look!
Once again, a big thank you to Petra for all her wonderful work.
The Latest Jackie News is archived to save room on this web page.
To read past news reports, just click on the month you're interested in viewing. Remember that some of the older links in these news archive may no longer be active.
AUGUST, SEPTEMBER, OCTOBER 2005
KIDS CORNER FRONT PAGE / TOTALLY FUN JACKIE STUFF / OFFICIAL SITE HOME PAGE
©2007 The JC Group
No part of this website may be reproduced or distributed without permission.