BACK TO JACKIECHAN.COM HOME ________________ BACK TO KIDS CORNER HOME
April 26, 2005

In just over 4 months, the Kids Corner message board has reached 200 members! This is very exciting news. The KC Forum is becoming a real World Community where kids can get to know one another. At last count, there were members from the following countries:
Australia, Belgium, Bulgaria, Canada, China, England, Finland, France, Germany, Holland, Hong Kong, Hungary, India, Indonesia, Iran, Japan, Mexico, New Zealand, Paraguay, Philippines, Poland, Russia, Scotland, Singapore, Slovak Republic, South Africa, Spain, Sweden, Switzerland, Turkey, Ukraine, United States, and Vietnam. (IF YOU ARE A MEMBER OF THE FORUM AND YOUR COUNTRY IS NOT LISTED HERE, PLEASE CONTACT THE WEBMASTER VIA EMAIL)
To join the fun, just click here!
KC Forum Member Matty Wins "Easter Egg" Contest
Although most contests take place right here on the Kids Corner, the webmaster decided to have a little fun and run a quick contest at the KC Forum. The object was to find the hidden "Easter Egg" (a hidden personal message) in the Latest Jackie News. Matty, age 14, tried and tried and finally succeeded! The hidden message was from the April 19th news headline. The headline reads:
Reason Number 4,754 Why We Love Jackie:
Jackie With Kids Corner Birthday Cards!
The hidden message (the "Easter Egg") was Jackie's birthday buried in the headline. Jackie was born in the 4th month on the 7th day in 1954! Congratulations to Matty! He wins an autographed photo of Jackie for his good work.
Beautiful Tile From Callum
Twelve year-old Callum was thrilled to receive an autographed photo of Jackie holding his tile! Click here to read more about the ongoing tile project.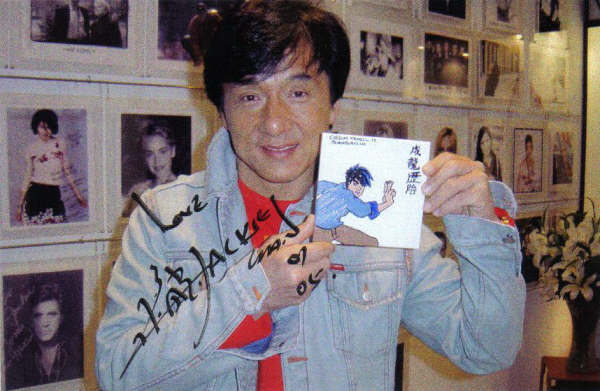 Jackie Working Hard to Change People's Opinions
From OhMyNews.com:

In an azure shirt and blue jeans, Jackie Chan looked younger and more energetic than his 51 years when he appeared on April 24 at Phap Van pagoda in the suburbs of Hanoi, where 100 mostly young people living with HIV/AIDS and their families come to receive spiritual counseling, information and food. Contrary to many people's imaginations, the kung fu superstar was surprisingly open and friendly, and took part actively in activities with monks and group members.

Jackie meditates with Ven. Thich Thanh Huan and members of the community center Lotus Club in Phap Van pagoda, Hanoi, last weekend.

©2005 Ngoc Trung


Although UNICEF Vietnam had said Chan would arrive at Phap Van pagoda at 10 a.m., reporters flocked there very early in the morning.

Thirty minutes late because of a long journey back from Quang Ninh province, northeast of Hanoi, which has some of the highest HIV infection rates in the country, Chan joined Ven. Thich Thanh Huan and members of the community center Lotus Club in meditation. Afterward Chan and the group discussed HIV/AIDS and the discrimination people with it face.

In his first words to the crowd, the charismatic actor said, "I may be a movie hero, but the real heroes are the people I've met in Vietnam, among them, grandparents, mothers and wives, and many young people and children, who are showing real courage in dealing with people living with HIV/AIDS and who must be supported much more."

With much emotion, Chan told monks, nuns and group members about his difficult childhood and how his view toward charity works had changed.

Jackie sings the refrain of the Vietnamese song "This World Is Ours."

©2005 Ngoc Trung


"Before I didn't like charity. I just wanted to be famous and to earn more money," said Chan. "My friends taught me and now I like to do charity. Even when I am sleeping, I think how I can help other people. Every human being has to learn how to do charity."

He also joked: "(Being) a goodwill ambassador is more difficult than an actor. As an actor, if I do something wrong, I will do it again. Being an ambassador, I cannot do something wrong. Everything is new to me."

He then played a game with patients and volunteers in the pagoda courtyard. Though a world-famous movie star, Chan appeared normal and sympathetic, hardly what was most likely imagined by those at Phap Van beforehand.

Jackie at play.

©2005 Ngoc Trung


"Real heroes are people who do extraordinary work," Chan said.

"Two days is not enough," the action-film star said of his April 22-25 mission to Vietnam. "It's not a one-day job. This work must continue. My mission is to stop discrimination. We have to say no to discrimination."

According to statistics from UNICEF Vietnam, there are an estimated 215,000 people already infected with HIV/AIDS in the country. With a national prevalence rate of 0.4 percent, between 40 to 120 people, the majority under the age of 29, are infected every day.

For more on Jackie's Goodwill works, click here.
April 24, 2005
Updates and Movement on the Kids Corner
Well, there are a bunch of things that the webmaster rearranged and she added some things too. First, check out the Remake a Jackie Poster section to see Matty's new poster and one from Gokberk. Next, check out the Sharing Corner for a story that was posted last year in the Latest Jackie News and then was forgotten about. It's a great story about a special tae-kwon-do class. Then head on over to the Totally Fun Jackie Stuff pages where things have been rearranged to put the more popular features on the front page. Hope everyone has fun with the new additions and the movements!
April 23, 2005
"Doctor Jackie"
Jackie visited a Vietnamese communal health center and a support group session where people who have family members with HIV/AIDS can get counseling. While there, he played with the children, "listening" to their hearts through his toy stethescope. After Jackie left, children on bikes chased after him, calling out his name in Vietnamese and greeting him with "Chao Bac!" or "Hello Uncle!" Jackie repeatedly urged them, "Wear a helmet. You have to keep safe."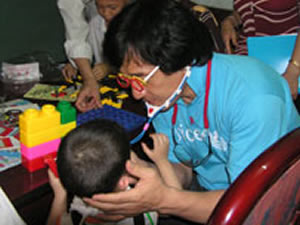 "Doctor" Jackie carefully examines a patient while wearing his special Doctor glasses.
Photo: REUTERS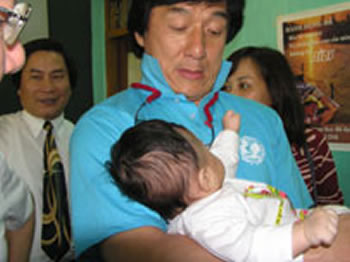 "Doctor" Jackie interacts with another little one.
Photo: REUTERS
More Photos of Jackie in Viet Nam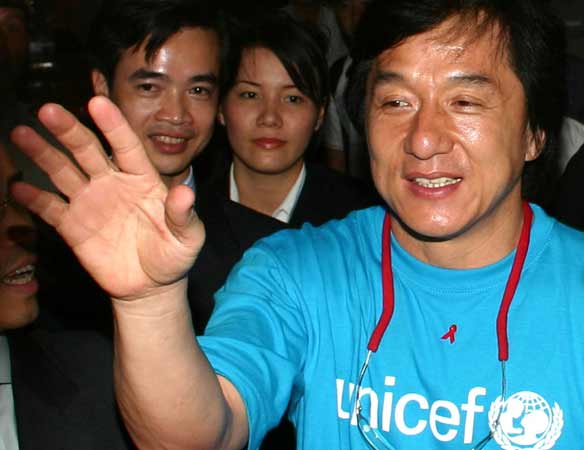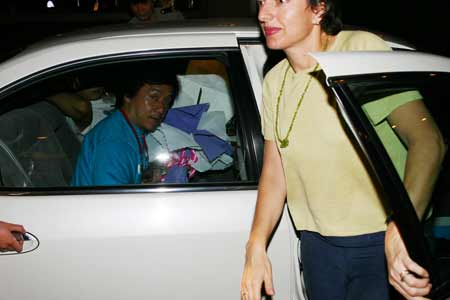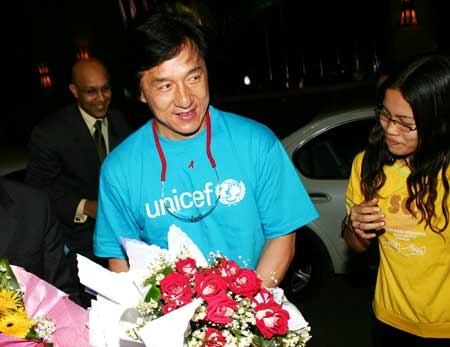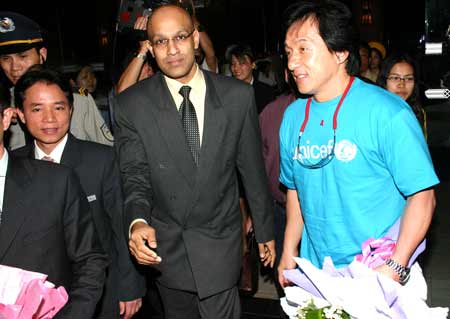 Photos: Thanhniennews.com
Jackie in Viet Nam
Jackie has arrived in Viet Nam as a representative from UNICEF. He will visit several places where he will try to spread the word about preventing HIV/AIDS infection.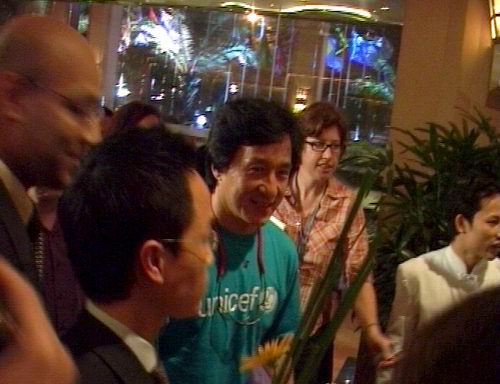 Jackie in Viet Nam. Photo: Viet Nam News
A Heart of Gold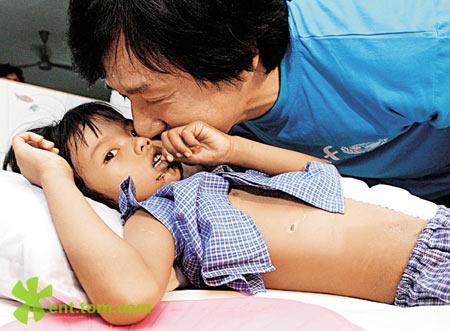 Jackie bestows a kiss on a young Cambodian landmine victim.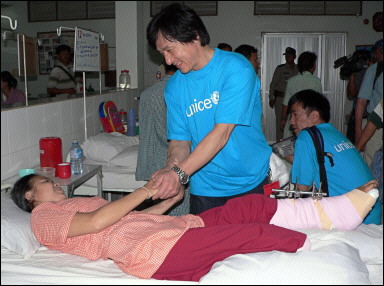 Comforting another victim.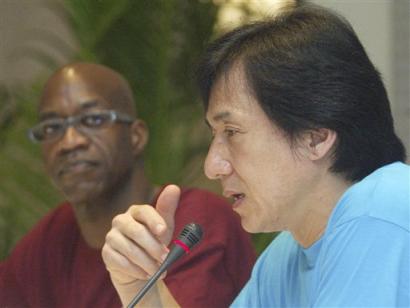 Speaking with the press.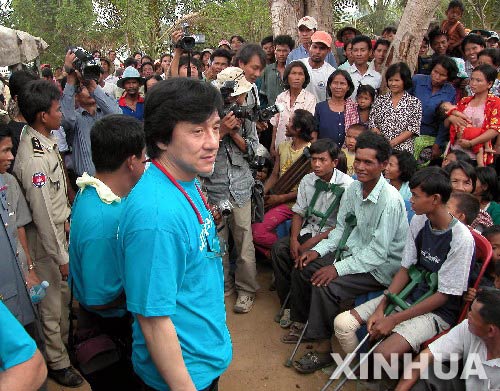 Jackie is greeted by local people.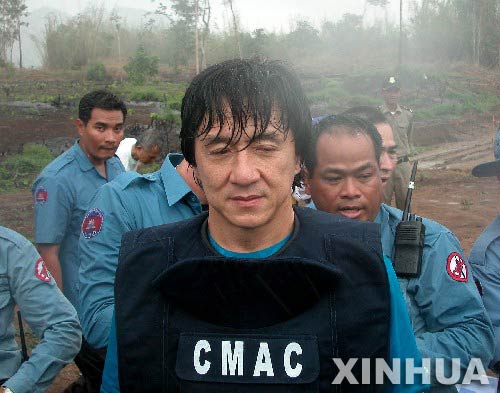 Right after exploding a landmine.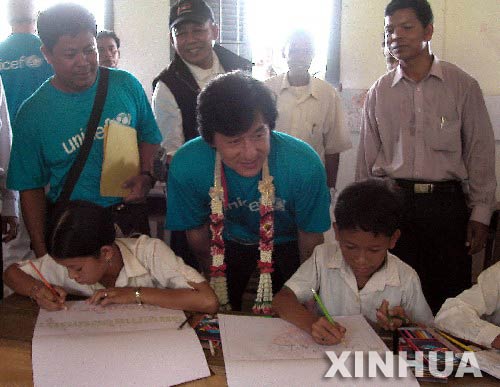 Jackie visits a school.
The "Lost" Photo
When the Kids Corner webmaster posted the photos of Jackie with the birthday cards, one photo slipped away. Here it is: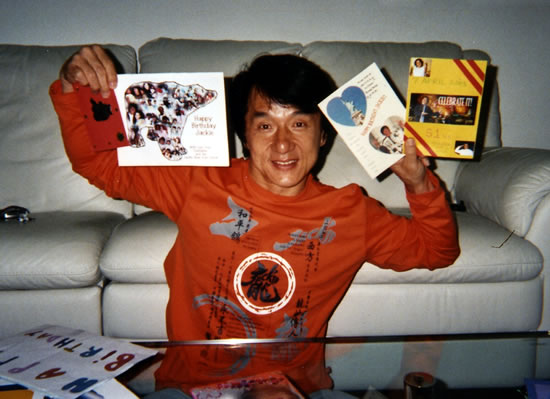 April 20, 2005
Goodwill Visits Spark Interest, Donations
NOTE FROM THE WEBMASTER:
Hi Kids (and "Big Kids"),

As you have seen from the news in recent days, Jackie is on a mission. What is this mission? To bring the world's attention to the continued difficulties that people are suffering because of natural disasters such as the tsunami and man-made disasters such as landmines.

When the tsunami hit several months ago, you could not look at a news report without seeing photos and videos of the terrible destruction and loss of life. Slowly over the last months, those photos and videos have moved into the background. It was Jackie's idea to remind people that these victims STILL need our help. He was very lucky to be joined by Miss World and Miss Indonesia. Their celebrity helped drum up attention where it belongs - on the victims. Jackie has said that the work that has been done so far to help these people is just the "tip of the iceberg." The victims are so fortunate to have people like Jackie and the other celebrities bringing the attention back where it belongs.

If you look at the faces of the people who come to see Jackie and the women, you will see happiness, excitement, and joy. Amidst the sorrow and destruction, Jackie, Miss World, Miss Indonesia, and the others are a shining light. For a few moments, when they look at the smiling face of their beloved Jackie or the sparkling crowns of the beauty queens, they can think of something other than their own grief. This in itself is a gift to them. The hundreds of journalists and photographers following them around is a gift which will pay off in the long term. Photos, videos, and stories bring about awareness. And awareness causes ACTION.

I have heard from several website visitors who have told me that just looking at the photos from Indonesia has prompted them to donate more money. Yes, they donated money when the disaster happened, but these stories and photos have made them realize that the money is still needed. And they have come through.

Thank you Jackie. Thank you Miss World. Thanks to all the celebrities who spend their spare time helping other people rather than taking $20,000/day vacations and going on million dollar shopping sprees. The world needs more people like you.

Kath
Jackie Visits Cambodia
Jackie continues his goodwill tour of nations which are plagued by landmines. Landmines are bombs which are buried right beneath the surface of the ground. Thousands of people every year step on these bombs and are injured or killed. Many of the victims are children.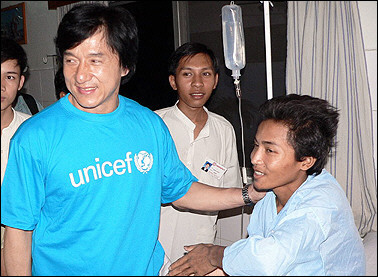 Jackie visits landmine victims at the Battambang Emergency Hospital in Battambang.
Jackie will visit Vietnam on April 23 - 25. To read more about Jackie's activities, click here.
April 19, 2005
Reason Number 4,754 Why We Love Jackie:
Jackie With Kids Corner Birthday Cards!
Although Jackie has a jam-packed schedule, he made time recently to sit down and be photographed with all of the beautiful birthday cards sent to him by Kids Corner friends. Jackie is very devoted to his fans and always makes time for them. Thanks so much to Willie and the others at the JC Group offices for helping with the photography! Click the photo of Jackie, below, to see more: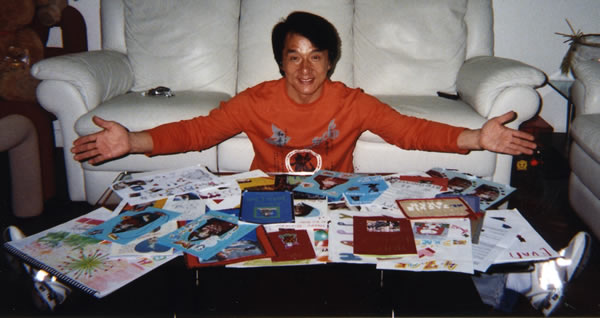 Willie and the Willie Chan Buddy Bear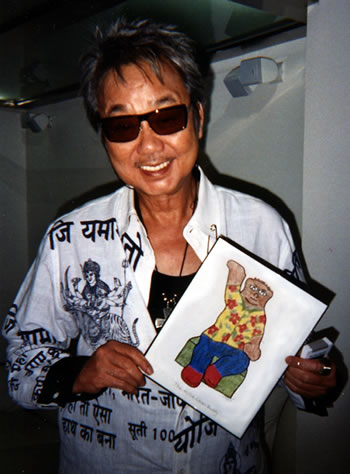 That Buddy Bear Willie is holding looks an awful lot like him, don't you think? Well, maybe not. But Willie seems to like it! Below you can see a photo of Jackie holding ALL the birthday cards and Willie holding his special Buddy Bear!
April 18, 2005
Jackie Visits Tsunami Victims in Indonesia
Jackie is on another goodwill mission, this time to Indonesia. He is being joined by friend Eric Tsang, Miss World Maria Julia Mantilla Garcia (Peru), and other celebrities. Jackie has visited a Children's Center which is run by UNICEF and has stopped by refugee camps to lend support. According to ChinaNews.com, Jackie is trying to raise awareness of the continuing needs of the tsunami victims. He is set to meet with Indonesian dignitaries as he continues his tour of the tsunami-torn area.
(AAP Photo) - Action film hero Jackie Chan greets villagers as he visits tsunami-ravaged Banda Aceh.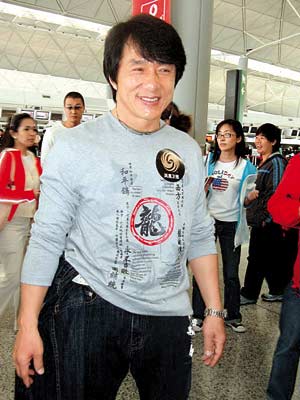 Jackie arrives at the airport in Jakarta to the delight of many fans. Jackie told ChinaNews.com that he packed only t-shirts and jeans for the trip. Miss World wasn't so lucky - she is expected to wear much finer clothes (and her crown!) for her visit.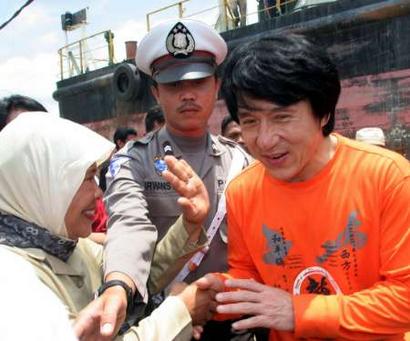 An Indonesian woman is thrilled to see Jackie!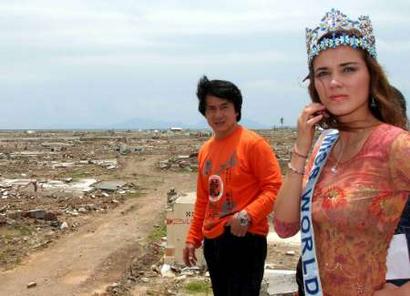 Jackie and Maria Garcia (Miss World) view the devastation.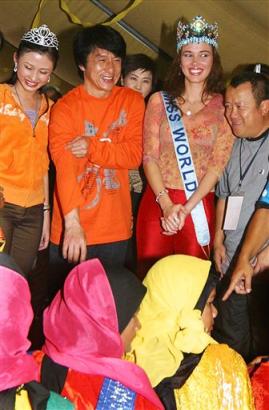 Watching a traditional dance.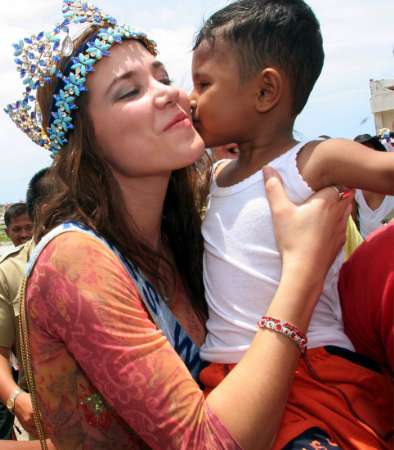 A young child plants a big kiss on Miss World. The visit by international celebrities provided a welcome break from the day to day grief that the Indonesians are dealing with.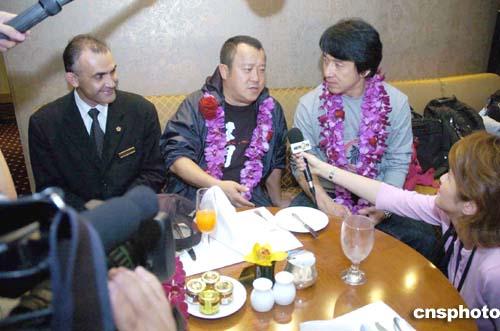 Jackie's visit sparked tremendous interest by the press worldwide. This is just what Jackie intended - to bring attention to the area. Although the tsunami hit many months ago, the people still need a lot of help. To them (and to us), Jackie is a hero.
Photos: Sina, CNS, Tom
April 17, 2005
Jackie "Mr. Volkswagen" Chan
Jackie is the celebrity spokesman for the new Volkswagen Caddy which went on the market in China on April 15th. At the press conference, Jackie talked about many things, including Rush Hour 3!! He said that he hopes to begin filming RH3 after October of this year or early next year. He also talked about his charity work. Jackie spends all his time between movies helping other people. He also donates money from his businesses to charity. Jackie is a great role model for all of us! Here's Jackie at the press conference in Suzhou: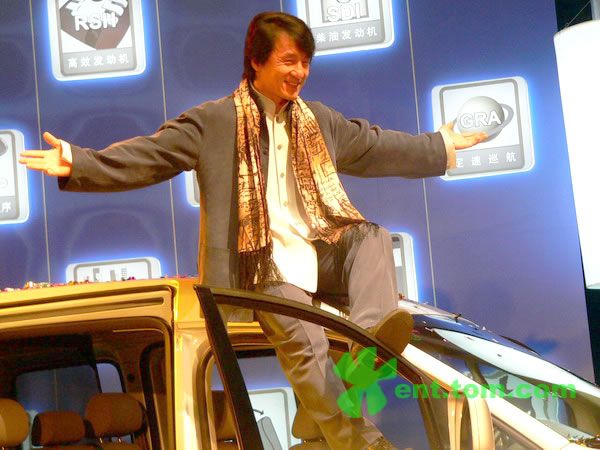 CLICK HERE TO SEE AN ALBUM OF PHOTOS FROM THE PRESS CONFERENCE
April 15, 2005
Amazing Lego Display!
Did you ever think that Hong Kong's most impressive sights could be reproduced using Lego building blocks? Well, take a look below and see what can be done! Click on the photo to see a slide show of photos from the exhibit.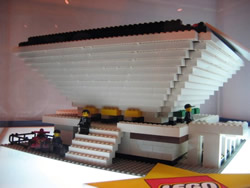 The photos in this album were forwarded through email until they ended up in the Kids Corner mailbox. If the person who took them would like to be credited, please email the webmaster. Thanks to Fibe for sending these great photos!
April 14, 2005
Poor Jackie!
While attempting to film a shampoo commercial in Guangzhou, Jackie was "ambushed" by reporters and fans who were lining up to see him. The weather was also very hot, adding to Jackie's anguish. (Source: Sina)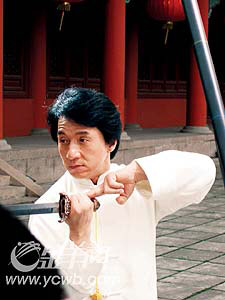 It may be hot out, but Jackie's hair remains perfect.
Jackie Attends Press Conference
Jackie attended the press conference for "Song of Eternal Sorrows" this past week. This movie, by Hong Kong director Stanley Kwan, is scheduled to be shown at Cannes this year.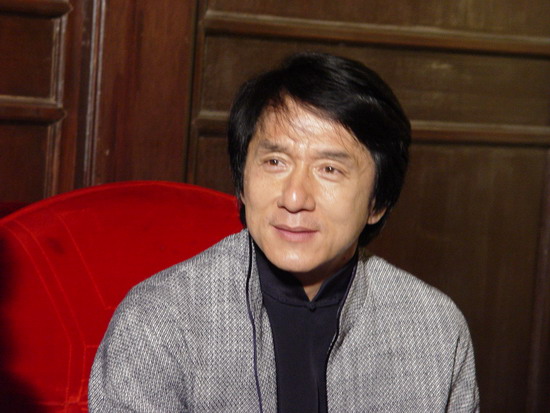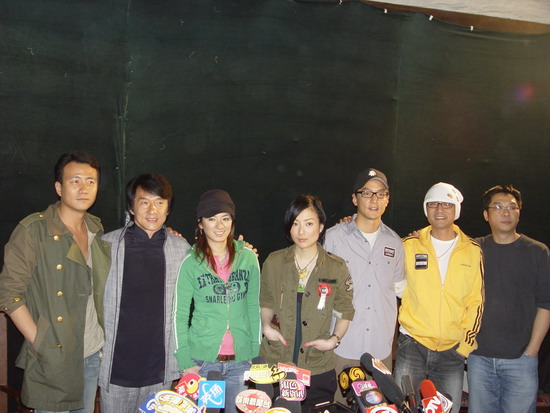 Photos: Sina
She's BAAAAACK!!!
The Kids Corner resident cartoonist is back from her trip to China and is busy drawing new designs for your enjoyment. Check out her latest "Jackie With a Camera" (below). There will be a Coloring Page for this design very soon. Welcome back Holly! We missed you.
April 12, 2005
Jackie Introduces the Volkswagen Caddy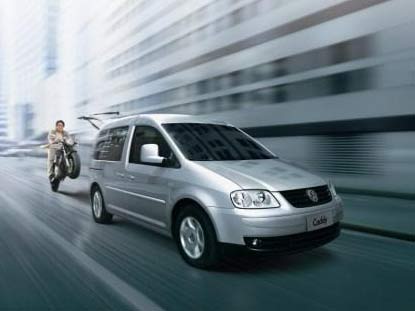 Jackie is the spokesman for the new Volkswagon Caddy. As you will remember, Jackie was filming commercial spots for the new car earlier this month. (Photos: zgjrw.com)
April 11, 2005
Official Site Has Some Great Goodies!
As many of you know, JackieChan.com is undergoing some reconstruction right now. However, you can have a little peek at some of the great things that are planned and even see Willie's "Scrapbook." Very exciting! Click here!
April 10, 2005
Jackie, The Myth, and Mallika Head for Cannes
According to an article in The Times of India, Jackie's "Myth" co-star has been invited by Jackie himself to accompany him to the Cannes Film Festival on May 11-22. The Myth is scheduled to be screened there.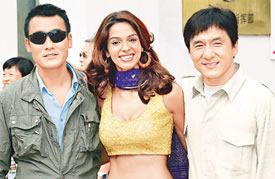 PHOTO: ORIENTAL DAILY
Myth Teaser Online!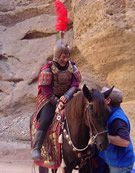 CLICK HERE TO VIEW THE MYTH TEASER TRAILER AT THE KIDS CORNER MYTH PAGE
Beautiful New Buddy Bear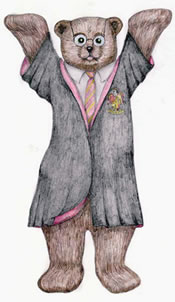 Thanks to Petra from Germany for sending in her beautiful Harry Potter Buddy. Click here to see all the Buddy Bears!
Buddy Bears in Tokyo
The Circle of United Buddy Bears arrived in Tokyo, Japan on April 4th and is on display right now. After the Federal President of Germany officially opened the year of "Germany in Japan" at the Tokyo National Museum, he visited the exhibition opening of the circle of "United Buddy Bears" together with the Prime Minister of Japan, Junichirô Koizumi. (Photos: Doris Rieck)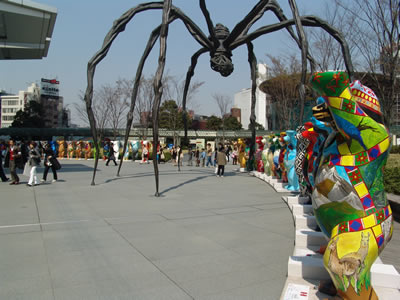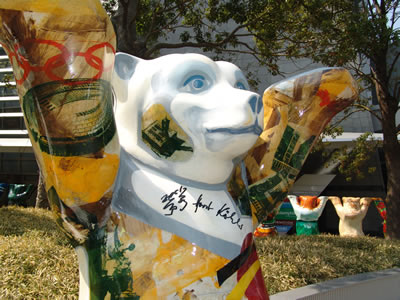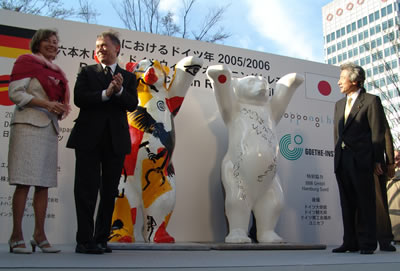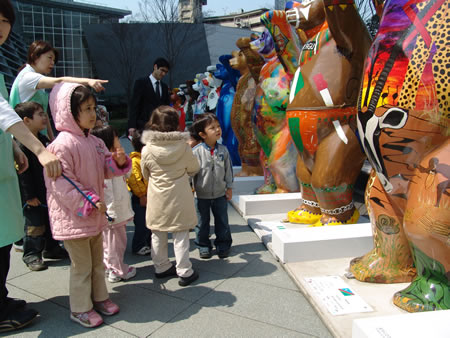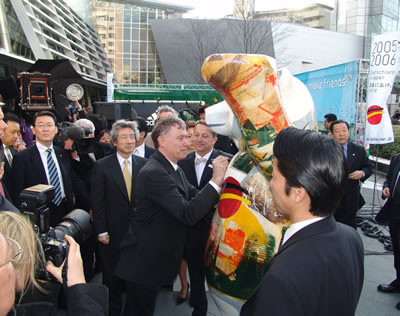 At the opening Mr. Köhler and Mr. Koizumi signed a very special bear- the Buddy Bear designed by the artist Frank Rödel representing "Germany in Japan."
April 9, 2005
Jackie Making News Around the World
The Associated Press article about Jackie's new business ventures is making news all over the world. Newspapers in cities across the globe have picked up the article and published it in print and online formats. This is very exciting news for Jackie as he starts up new businesses.
From The New York Times:

Action Star Chan Branches Out Into Fashion



HONG KONG -- His fans own copies of "Rush Hour" and "Shanghai Noon," but now kung fu movie star Jackie Chan wants them to wear his T-shirts, sleep on a bed he designed and shop at his supermarket.

One of the world's most famous Chinese celebrities hopes to parlay movie superstardom into a merchandising and retail empire that encompasses everything from clothing to cookies.

The action star's expanding business portfolio includes a clothing label, "Jackie's Kitchen" restaurants, a sushi eatery chain, "Jackie Chan signature club" gyms and most recently, a line of chocolates and nutritional oatcakes.

Chan made his first foray into business 20 years ago, but failed because he wasn't savvy enough.

"I thought since I could make movies, I tried business on my own. I didn't know how to calculate, how much things I bought cost, how much a month's rent cost ... I lost several million, then millions again," he told reporters at a celebration of the third anniversary of his clothing line.

Now, Chan said he's hired professional businessmen to do the nitty-gritty work. That executive, Bon Bg, says the actor's goal is "total lifestyle branding" and hopes to expand into furniture and kitchen ware.

But for now, Chan says he still earns more money making movies and that remains his top priority, adding he donates his business profits to charities because it's icing on the cake.

"I feel guilty about that money ... But the money I make from jumping from the second floor, this hard-earned, blood-and-sweat money ... I'll save for myself," he said.

Jackie Promotes Children's Clothing Line
New Photos!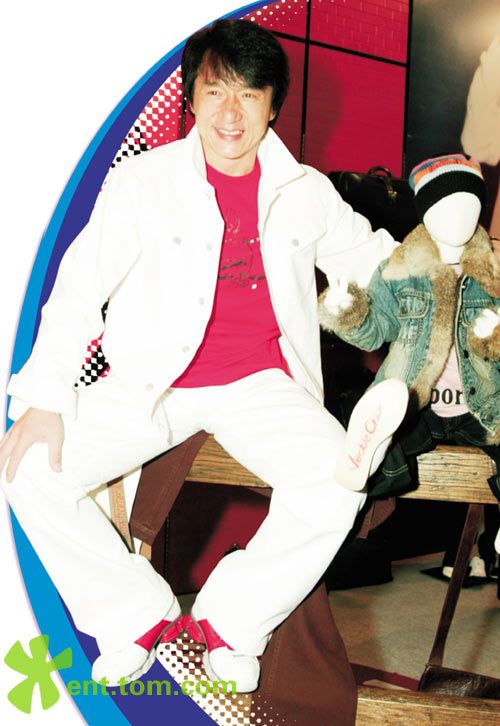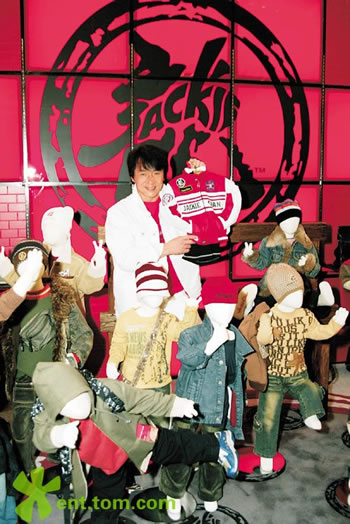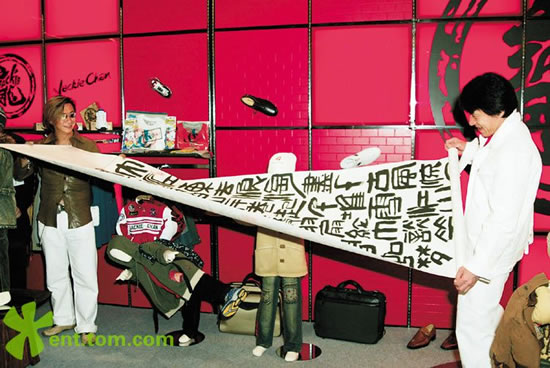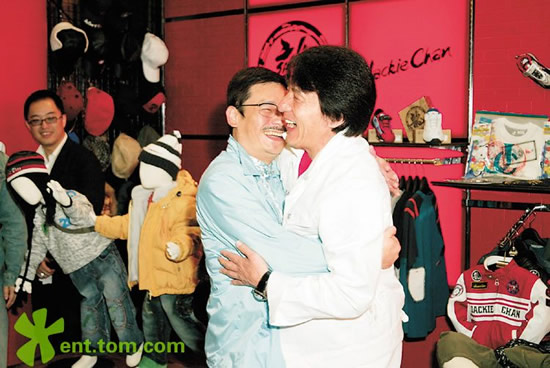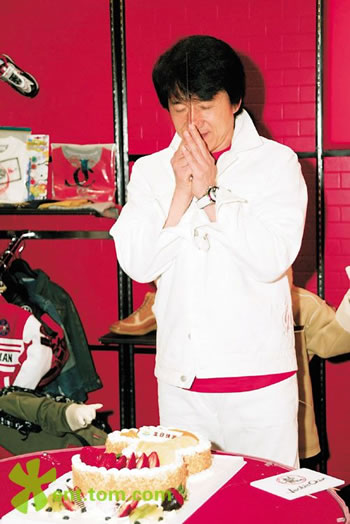 April 8, 2005
Jackie Chan: A Man of Many Birthday Cakes
Lucky Jackie! It seems that everywhere he goes lately, there's a birthday cake waiting for him. On April 7th, Jackie attended a large party in honor of his 51st birthday. The party was attended by many of Asia's bright stars. When asked what he wished for his birthday, Jackie said, "World peace and no more disasters." Here are some photos from the party: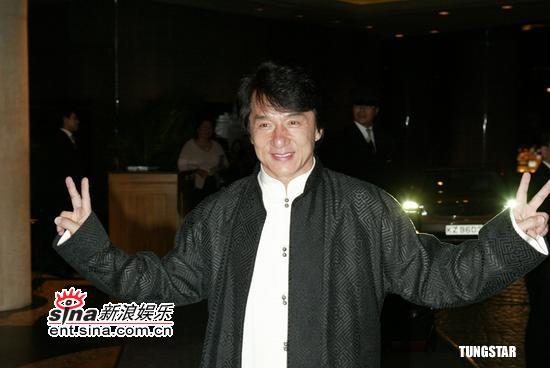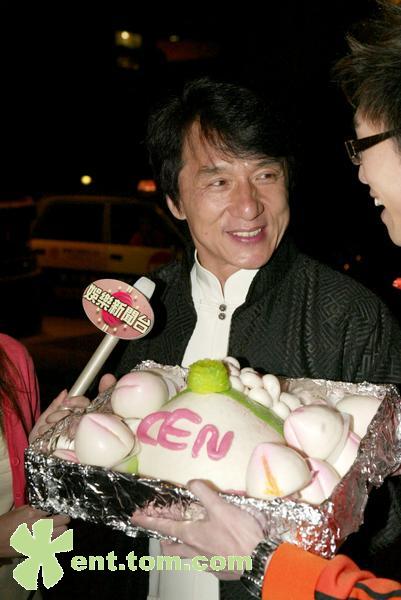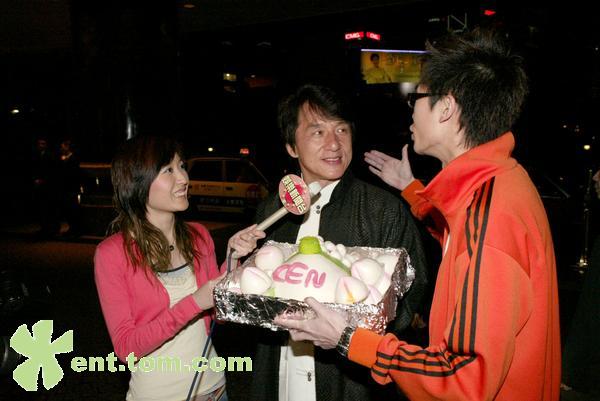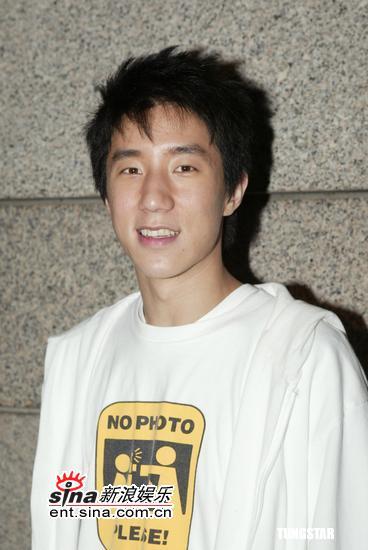 Jaycee arrives at the party.
PHOTOS: SINA, TOM
CLICK HERE TO SEE SOME OF THE PEOPLE WHO ATTENDED JACKIE'S PARTY
More Photos of Jackie's Clothing Line
In honor of the 3rd year anniversary of the launch of Jackie's clothing line, the press gathered to view Jackie with some of his designs (most of them fitted to little mannequins). Here are a few more photos: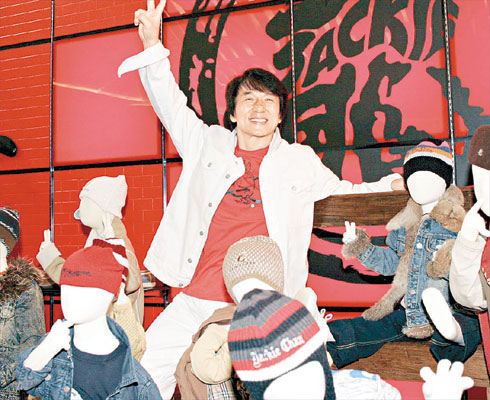 PHOTO: SINA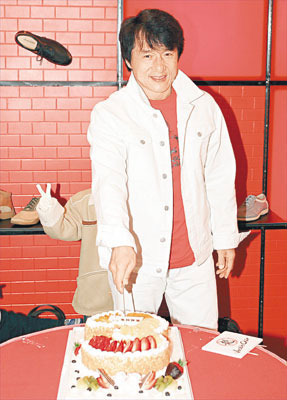 PHOTO: SINA
CLICK HERE TO VIEW A VIDEO OF THE NEWS CONFERENCE
Beautiful Drawings from Kriszti
Kids Corner friend Kriszti has sent some wonderful drawings. Thank you Kriszti!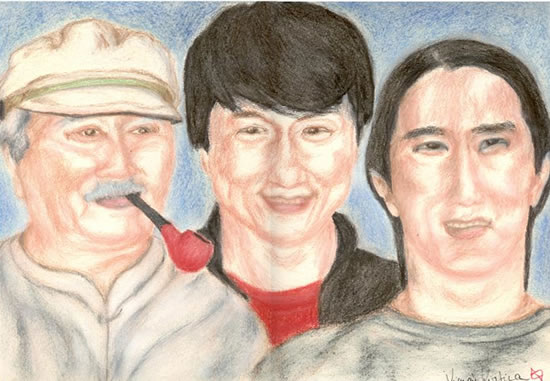 Charles, Jackie, and Jaycee
by Kriszti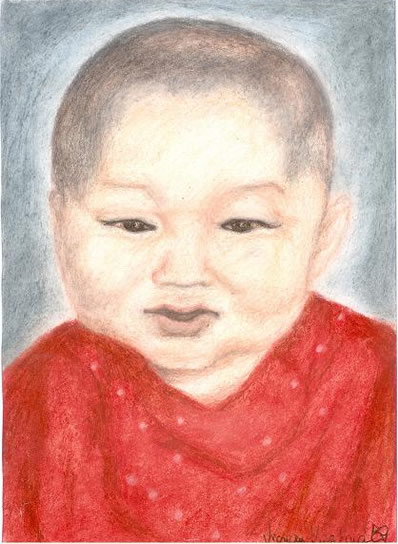 Baby Jackie
by Kriszti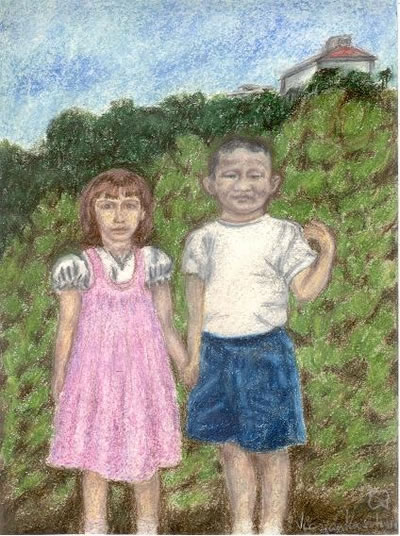 Kath and Jackie As Children
by Kriszti
New at the Sharing Corner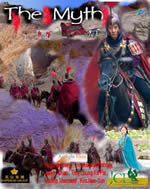 April 7, 2005


The Many Talents of Jackie Chan
Associated Press:
Kung fu superstar Jackie Chan says movie-making is still his biggest priority despite an expanding business empire that includes a clothing label, fitness clubs, restaurants, and a line of cookies.

"For me the greatest source of income is still movies. Nothing - stocks, financial speculation, real estate speculation or businesses - makes more money for me than making movies," Chan told a news conference celebrating the third anniversary of his clothing line.

Chan said he donates the earnings from his businesses to charities, but didn't give any details.

"The money I make from jumping from the second floor, this hard-earned money ... I'll save for myself," he said.

Outside of fashion, Chan also operates restaurants under his name and recently teamed up with the California Fitness gym chain for "Jackie Chan signature clubs".

He recently announced that he was delving into the snack industry with a line of cookies and chocolates for the health conscious.

Chan said previous business ventures had failed because he didn't have the know-how, but he's now working with professional businessmen.

Chan also said the popularity of his businesses points to his own growing fame.

"This proves I succeeded in Hollywood," said Chan, the star of the Rush Hour movie series.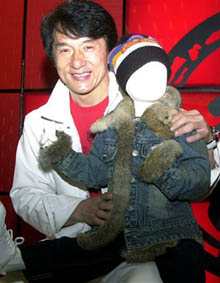 Jackie sitting with one of the mannequins which are modeling his clothing line. (Photo: AP/Lo Sai-Hung)
Jackie in Xinjiang
During his recent visit to Xinjiang, Jackie carried out many chartitable activities and auctions. He raised 3.3 million Yuan (about US$360,000) to help the needy. While there, he visited orphans and widows and gave them gifts as well. He was treated to a birthday cake (a few days early, since he was there on April 1 through 3). He visited a home for the elderly and gave them clothing. He gave a lecture at the Xinjiang University and later arranged to have a doctor examine village children. On April 3rd in the evening, he screened a movie in Xinjiang Stadium. CLICK HERE to see an album of photos from these many events. CLICK HERE to see a 10 minute video.
Happy Birthday Jackie!
Jackie models with mannequins that are wearing his new clothing line. Jackie was given a birthday cake to celebrate his 51st birthday today! Photos: Sina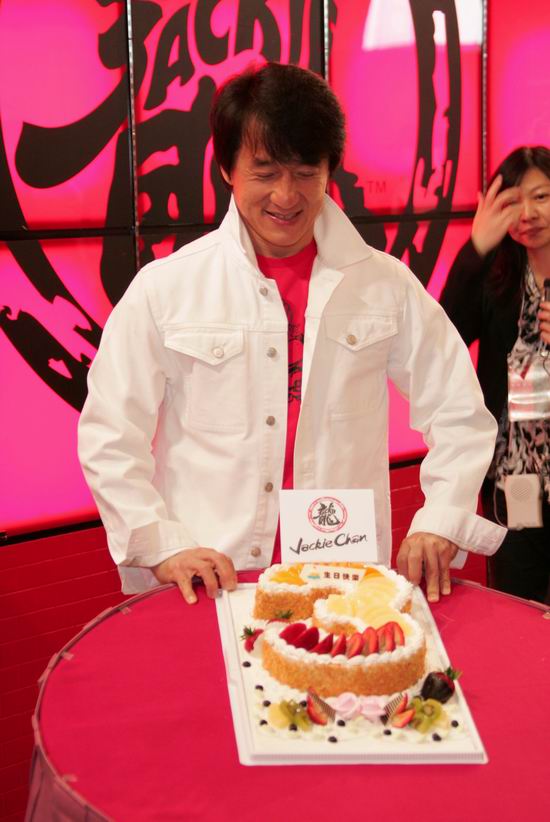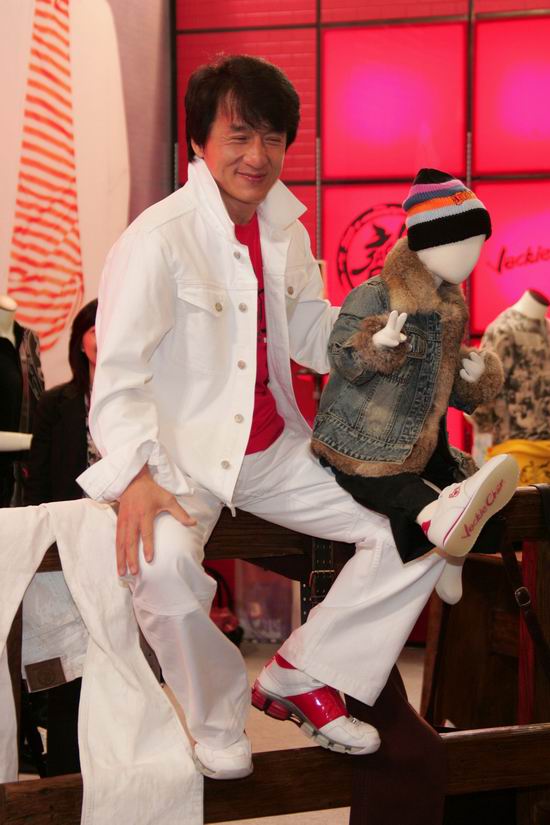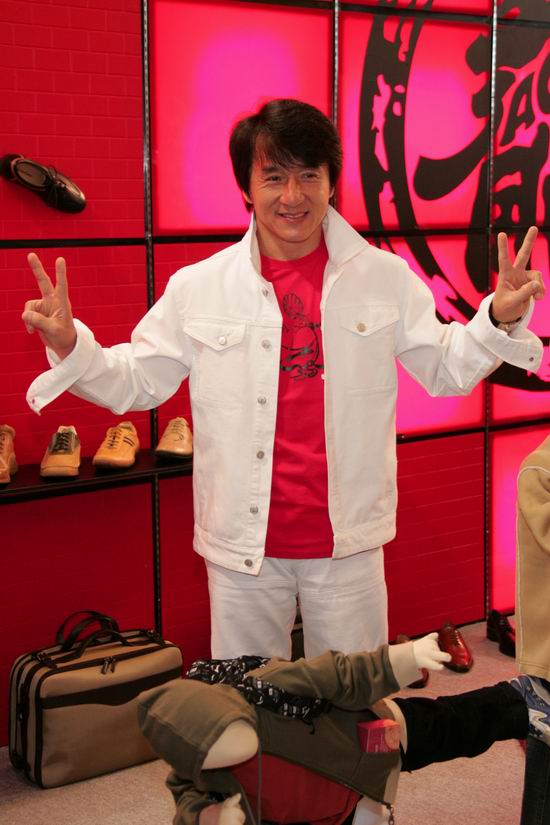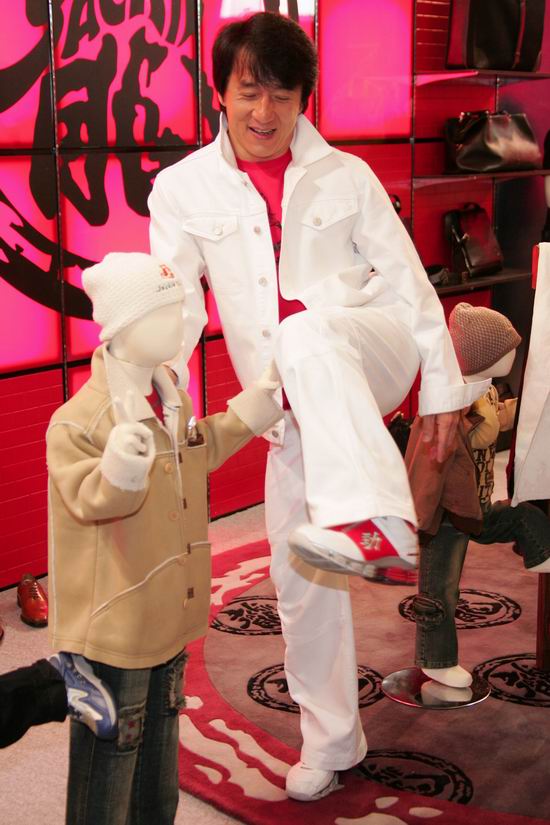 "The Myth" To Be Screened at Cannes
According to Chinese news source Sina, The Myth will be screened at this year's Cannes Film Festival (May 11 - May 22) and Jackie is expected to be in attendance. This is very big news for this movie! Congratulations to Jackie!
Some New Photos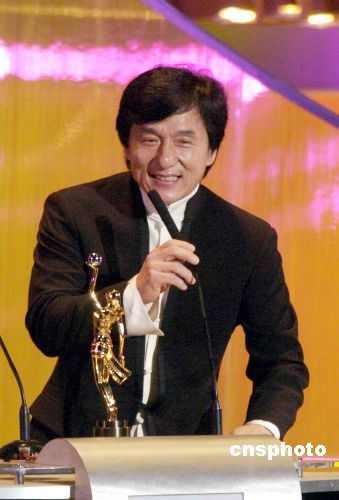 Jackie at the Hong Kong Film Awards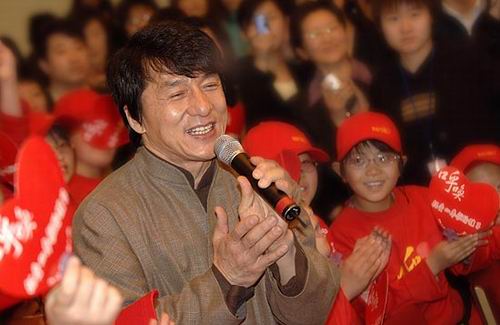 At the Children's Charity Event, Beijing (Photo: Sina)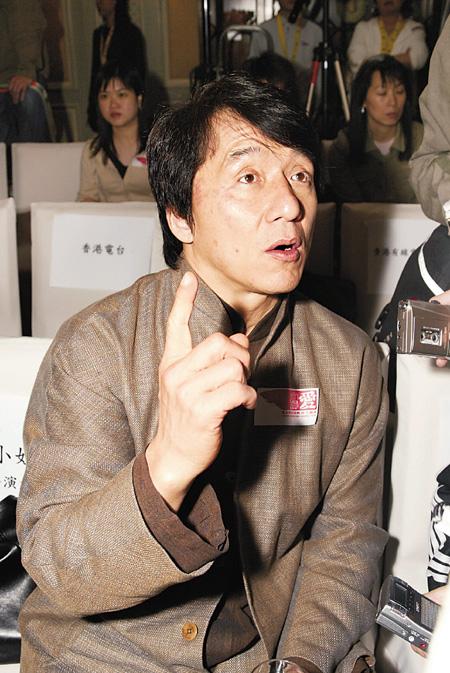 Photo: HK Yahoo
April 6, 2005
Jackie Relocating to Guangzhou Province?!?!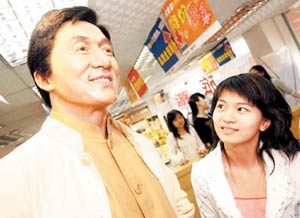 No - don't worry. It's not the REAL Jackie Chan, it's just his wax figure. Here's the news from China Daily:
Striking a kung fu pose and taking a photo with Jackie Chan, the Hong Kong action king, will no longer be just a dream for Chan's fans in Guangzhou.

A waxwork of Jackie Chan, the most popular and expensive exhibit in Madame-tussauds Hong Kong, will make a visit to the city in Guangdong Province from April 5th to 10th.

Visitors to the waxwork will get the chance to take a photo with the model without having to pay. Among over 100 figures in Madame-tussauds Hong Kong, the waxwork of Chan is the only one visitors are charged extra to take pictures with.

A photo alongside a wax Jackie usually sets visitors back HK$70 (US$9), the Information Times reports.
Jackie Chan Cookies!
From the Associated Press:
Jackie Chan planning a new line of oatcakes, cookies and chocolates
Kung fu superstar Jackie Chan is staking out opposite ends of the health spectrum _ becoming a partner in a fitness center chain while launching a new line of cookies and chocolates.

Chan recently announced that his JC Flavor brand will start selling snacks _ including cheese oatcakes _ during the second half of this year. The launch will begin in Hong Kong and mainland China before rolling out to the rest of the world, a news release said.

Chan's high-fiber oatcakes would be produced by Walkers Shortbread Ltd, founded in 1898 by the Scottish baker Joseph Walker, the news release said. He'll also offer cocktail and organic versions of his oatcakes, the statement said.

"JC Flavor believes that its oatcake series will soon become a favorite snack for the weight-conscious office ladies," the statement said.

Chan also was teaming up with Italian chocolate maker Venchi, the statement said.

Last month, Chan announced a partnership with the California Fitness chain, which has health clubs in Hong Kong, Singapore and Taiwan. The team planned to open California Fitness Jackie Chan signature clubs in Hong Kong, Malaysia, Singapore and mainland China, the chain said in a news release.

April 5, 2005
Jackie to Visit Indonesia
Crossing Borders Concert Earned US$4.8 million!
From Canada.com:
HONG KONG (AP) - Jackie Chan said Monday he will visit tsunami-hit areas in Indonesia this month, as he announced that a star-studded charity show he helped organize raised $4.8 million US for the aid effort.

Chan and his entourage hoped to tour hard-hit Aceh province on April 18-20, but details of his itinerary weren't available, said actor Eric Tsang, who planned to travel with Chan. A separate celebrity group planned to visit Sri Lanka at an unspecified date.

The Jan. 7 charity concert featured Hollywood action star Jet Li, Hong Kong singers Jacky Cheung and Andy Lau and Taiwanese pop diva Chang Hui-mei.

Donations poured in for more than two months after the show, organizers said in a statement.

Chan said he was impressed with the result and proposed making the show a permanent annual event to start up an emergency fund for other disasters.

"I'm very happy and proud that small Hong Kong captured the attention of the world this way," he said. "Some Hong Kongers didn't just donate once, they donated more than three times."

Tsang said the donations would be evenly split between five charities: the Red Cross, the Salvation Army, the United Nations Children's Fund, Oxfam and World Vision.

The money will fund projects including reconstruction, helping fishermen and orphans, as well as psychological counselling for people who lost loved ones, Tsang said.

Chan vowed to closely monitor how the funds are being used. "We will follow up ... We won't just call it a day after donating the money. This is a 10-year project," he said.

The Dec. 26 tsunami, the result of a massive quake off Indonesia's coast, killed more than 126,000 in Indonesia and at least 48,000 others in 10 other countries on the Indian Ocean rim. Here are some photos:

Jackie, director Ann Hui, left, and actor Eric Tsang, third from left, present a cheque to Chan Kai Ming, Secretary General of Hong Kong Red Cross, right. Photo: Takungpao

Photo: China News
April 3, 2005
Jackie's At It Again!
Here's Jackie conducting a charity auction in Xinjiang yesterday. This auction is to benefit elementary schools and other philanthropic causes. Along with other fund raisers held on April 1 and 2nd, 3.3 million Yuan was raised.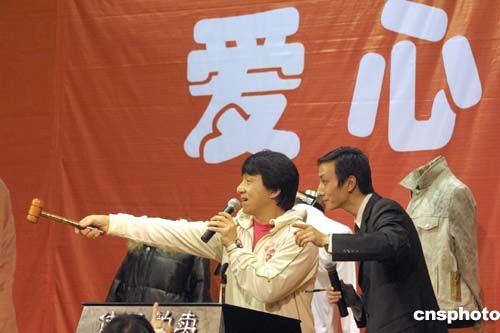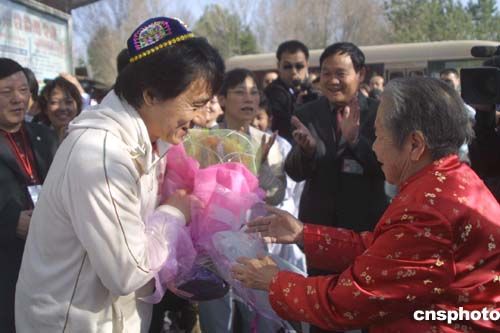 Matty's Myth Posters
Kids Corner friend Matty (age 14) from Australia has tried his hand at poster design and look at the awesome and fabulous job he did! These are just beautiful posters. Thanks Matty!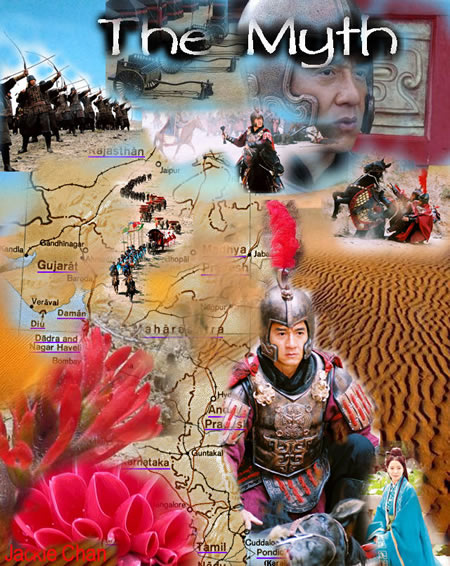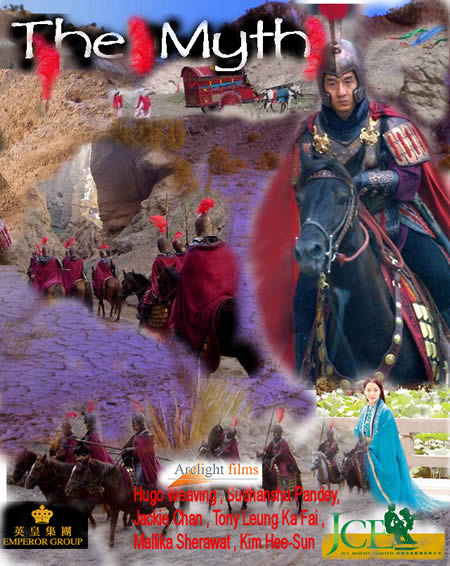 Imitation is the Sincerest Form of Flattery
Everyone knows that Jackie is the real deal, right? So everyone has been trying to imitate him for years. This is a good thing, since Jackie does GOOD THINGS. Recently, a member of the Animal Kingdom was spotted trying to be just like Jackie. He does a pretty good imitation, but he's no Jackie!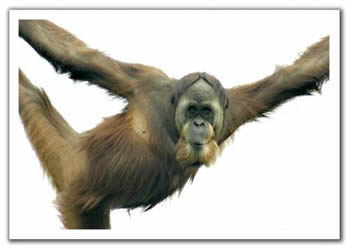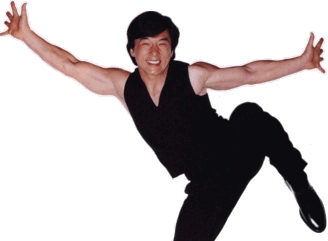 Animal photo: Tom.com
Missing Buddy Bear Turns Up!
The Kids Corner webmaster got an email from our friend Haarsha asking if her daughter Ayushi's Buddy Bear had been spotted running around anywhere at the Kids Corner. Luckily, the webmaster was able to snag the wayward Buddy Bear and put it back where it belonged! Here's Ayushi's gorgeous Buddy Bear: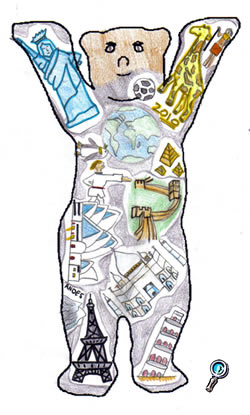 Please remember: If you ever send anything to the Kids Corner and either don't hear back from the webmaster or don't see it up on the site, please send an email as a reminder.
April 2, 2005
More Jackie in Beijing
The China Children and Teenager Fund is the charity that Jackie is helping to support. June 22nd has been designated China Children's Charity Day and is celebrated with a Grand Ceremony. For more information on this charity, visit its website here.
Little Girl's Story Brings Jackie and Stanley to Tears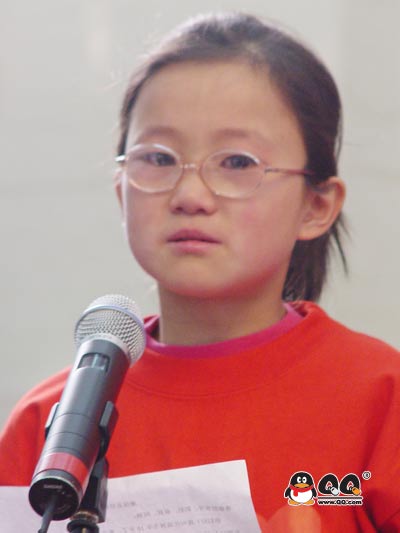 This little girl very bravely got up in front of the news media and told a story about being sponsored by Jackie for medical treatment and how much it meant to her. Jackie and Stanley both ended up in tears. Photo: QQ.com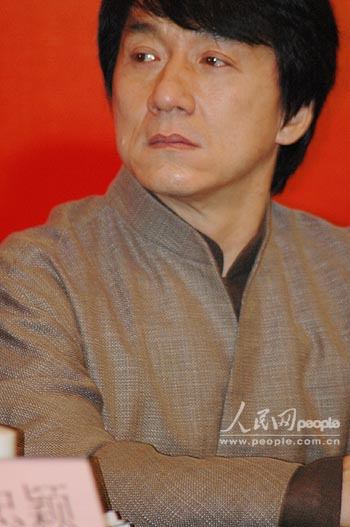 Jackie reacts to the little girl's story. Photo: Sina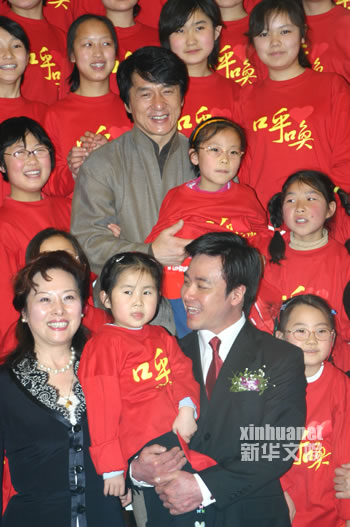 Director Stanley Tong and Jackie with the children. Photo: Xinhuanet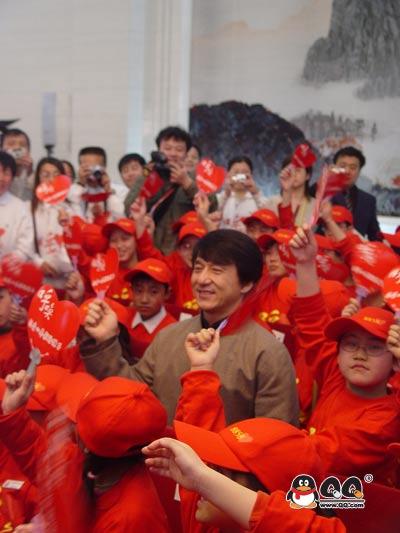 Waving red hearts for photographers. Photo: QQ.com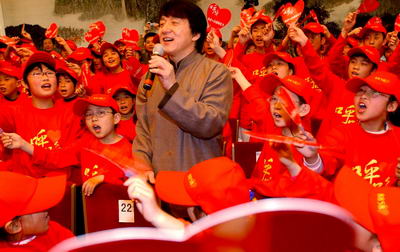 Jackie and the children sing "A Sincere Hero" together. Photo: YN Daily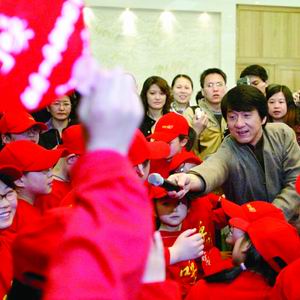 Jackie asked the children what they wished for. Many of them said things like "books, computers, and pens." Photo: Sina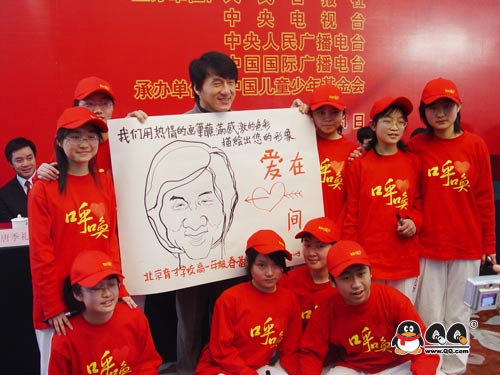 One of the children drew this portrait of Jackie right there at the ceremony! Photo: QQ.com
Video of the Event
Get a box of tissues ready before you view this video. It's heartbreaking to see the little girl breaking down as she thanks Jackie for his help. Click here to view video.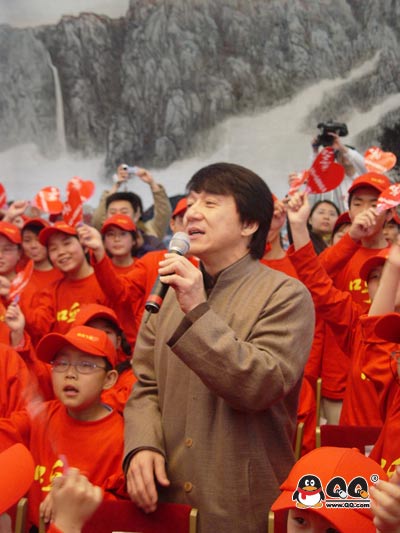 Another photo of Jackie with the children. Photo: QQ.com
New Buddy Bear Designs!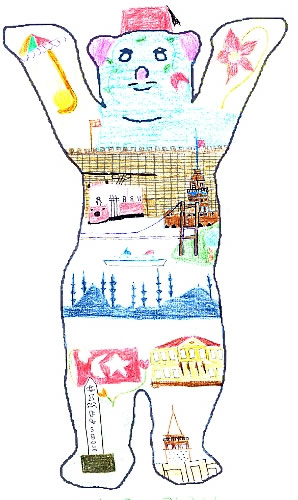 Click Pinar's "Istanbul Buddy" to view the new ones!
April 1, 2005
Jackie in Beijing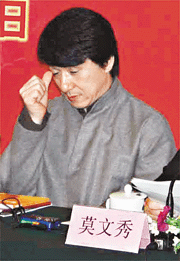 Jackie was moved to tears more than once by the stories the children told at the Children's Charity event. A larger event is planned for June of this year. Photo: Oriental Daily
March 31, 2005
Jackie Attends Children's Charity Event in Beijing
March 29, 2005
JC Jeans Beijing Fashion Show Features Clothes for KIDS!!
Check it out! This is very cool news. Jackie has said that he was frustrated by so many Chinese kids wearing clothing with Western sayings printed in English. He wants kids to remember their Chinese heritage and now he has made that FASHIONABLE! The clothes are really nice. There are two photos below and there are a lot more photos at this link.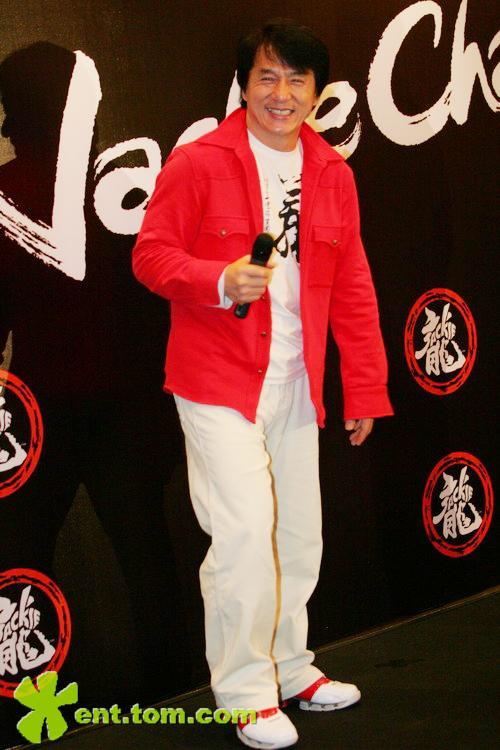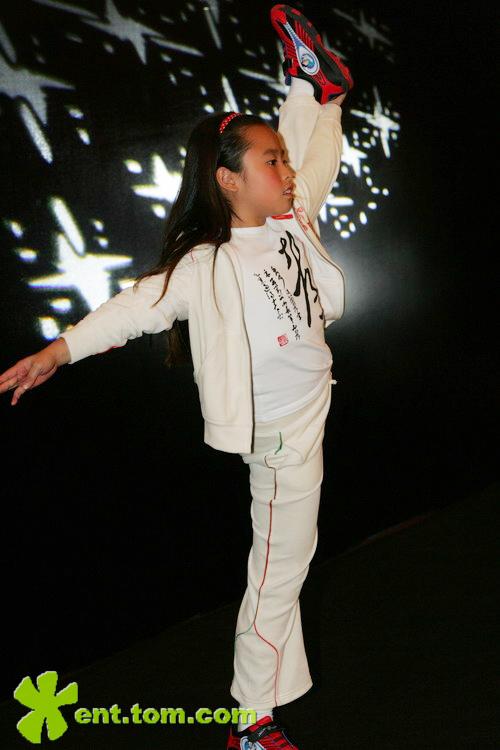 From the Korean Times:
Tongyong to Make Jacky Chan Honorary Citizen


Action film star Jackie Chan will receive an honorary citizenship of Tongyong in South Kyongsang Province [Korea] for his contribution to the city.
Chan will be given the honor next month to become the 11th person with honorary citizenship, said an official from the city government yesterday.
Chan visited the city with local popular actress Kim Hee-sun in January, and he donated products worth 100 million won such as personal computers and clothes along with 20 million won in scholarships for children in need.
March 29, 2005
Jackie Heads for Beijing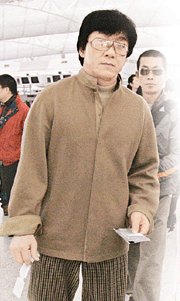 Here's Jackie at the airport looking very tired (maybe from all those "After Parties"). According to the Oriental Daily website, he is going there to either bring bags of books or book bags to children. The webmaster here is having some trouble with the Chinese translation. More news as it happens. Source: Oriental Daily.
Another Photo From Hong Kong Film Awards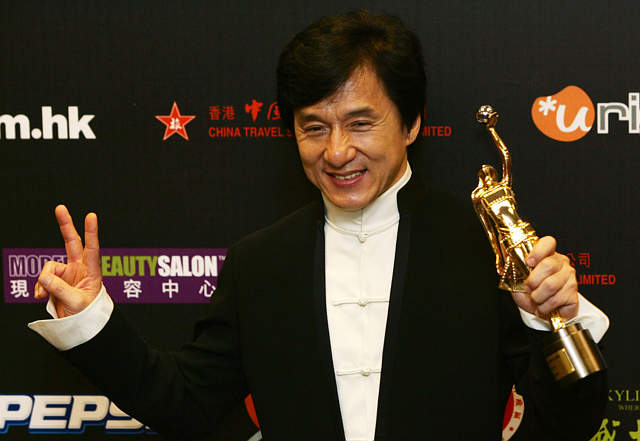 Photo: ent tom
Jackie's Professional Spirit Award has made the newspapers WORLDWIDE! This is a very special award because it honors Jackie's professionalism and his behavior in the film industry. All of Jackie's fans are very proud of him!
Here Come the Buddy Bear Minis!
There's a new Buddy Bear blank for people to color in and it's a page of tiny little Buddy Bears. The idea is that these little bears will be used for decorating the pages of the soon-to-be-started Buddy Bear Book: Third Edition. Here's a page of minis made by Priscilla, age 14. Some of them are so great that they should be giant-sized! Click on the page to see a bigger image. Scroll down to see two of them enlarged to show the wonderful details!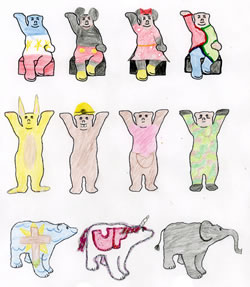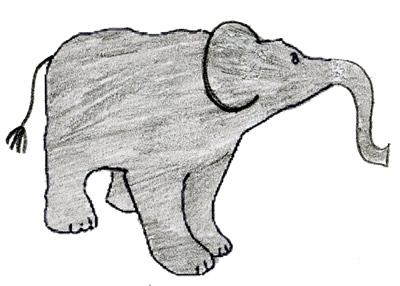 Elephant Buddy
by Priscilla, age 14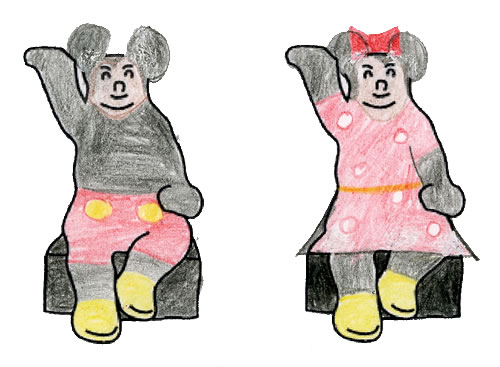 Mickey and Minnie Buddy
by Priscilla, age 14
Check back in about a week to see a new section for just the Mini Buddy Bears to be displayed.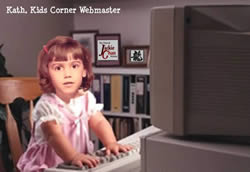 Please read this note from the webmaster!