July 31, 2003
According to the Philippines Daily News, Jackie will be in Beijing, China on Sunday to attend a ceremony to launch the 2008 Beijing Olympics logo. Jackie (who is referred to in the article as "Hollywood action hero Jackie Chan") and Chinese actress Gong Li will lead an audience of 2008 celebrities at the festivities. Congratulations to Jackie for this great honor!
Shanghai Knights is still number one in video rentals for its second week. Source
There has been an addition to the Anti-Smoking poster page, so why not have a look? There's still time to send your entry in by email if you would like. Thanks again to everyone who sent in a poster.
Only three more weeks until The Medallion opens in the USA. Thanks to Sony Pictures for sending a great big file of The Medallion poster. Click the thumbnail to see the large poster.
July 30, 2003
Jackie's Official Site is reporting that Jackie attended the opening ceremonies for a new 24 hour entertainment channel in Hong Kong. Here are some photos from the event (thanks to Pinoy for these links):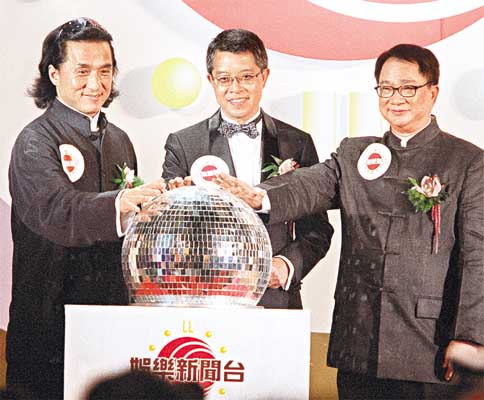 Source: The Sun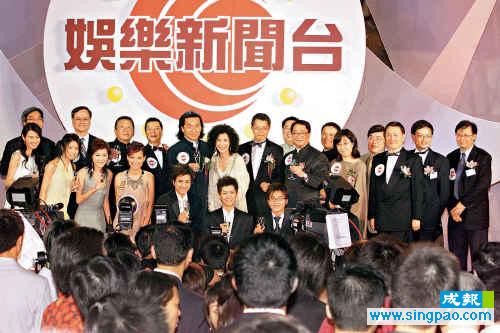 Source: SingPao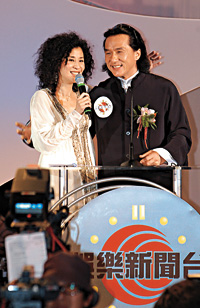 Source: TaKungPao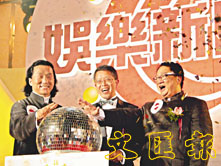 Source: WenWeiPo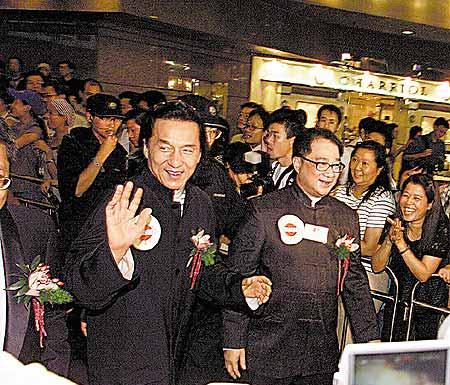 Source: Fansland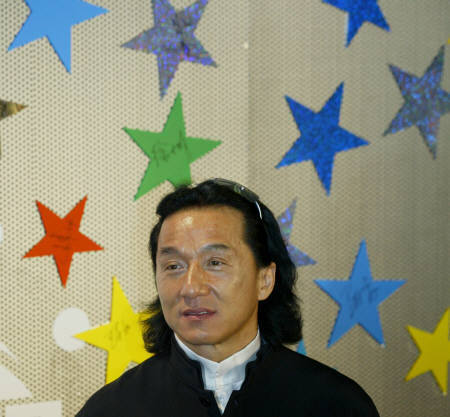 Source: Yahoo's Hong Kong News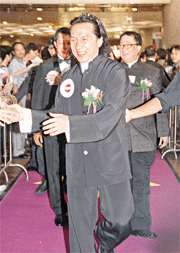 Source: Oriental Daily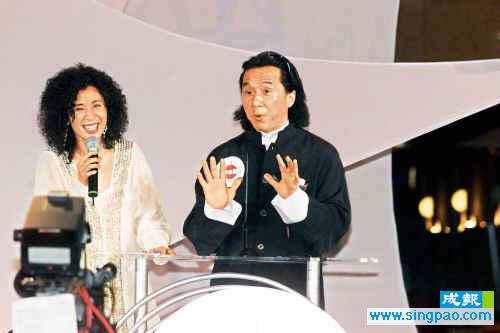 Source: SingPao
And here's a photo of Jackie at a news conference in Hong Kong: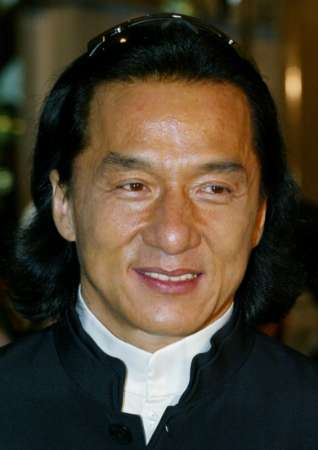 Photo: © Reuters: Din Cheung
Time is nearly up for sending entries to the Anti-smoking campaign. If you would like to send an entry through email, that's just fine.
July 27, 2003
For those of you who have had questions about the Jackie-Chan.com Slogan Contest, please click here for a few words from Willie Chan explaining how the contest was judged. Thanks to Willie for clearing everything up! The Kids Club agrees with Willie wholeheartedly when he says that win or lose, "You participated and that's what counts!"
Phillipine Star reporter Ricardo F. Lo has voted Jackie one of his favorite interview subjects. In an article in the Star, Lo has this to say:
Jackie Chan is something else, or almost the same. He would compensate for his difficulty with the English language by communicating with his hands — nay, his whole body! If you as much as hint to him to reenact a scene from any of his movie, he'd willingly run around the room, jump onto the top of the table and tumble from it, and kick ass if necessary.
During our first encounter in New York (for Rush Hour 1) in 1998, I asked Jackie about the hole in his head which he got when he landed on the pavement head first instead on the net during the shooting of one of his movies in Yugoslavia (he landed in the hospital with a cracked skull) and guess what he did — he held my hand and guided it to that hole at the top of his head, as big as a peso coin as soft as marshmallow (I was afraid my finger would sink deep into it).
(Yet more proof that Jackie is a nice guy both behind the scenes as well as on the big screen. This is why Jackie is such a great role model for all of us!)
July 26, 2003
The latest issue of Inside Kung Fu contains an interview with Donnie Yen in which he discusses the fight scene in Shanghai Knights. Click here to read more about it. Thanks to Marie for the heads up.
Competition for the Medallion, which opens on August 22 in the USA will include Shaolin Soccer (opens in the USA on August 15). Source: imdb
There have been several additions to the Anti-smoking poster page. Thanks to everyone who sent in an entry. The deadline is July 29, but if you mail it by that date you will probably be able to be included in the contest. Click here to see all the posters!
Well, Shanghai Knights has been doing great since being released on video and DVD in the USA. Could it be due to the amazing advertising campaign which was conducted several months ago? Why not have a look at some of the ads which were sprinkled all over Jackie Chan Fan Land? Here's one.....click here to see more!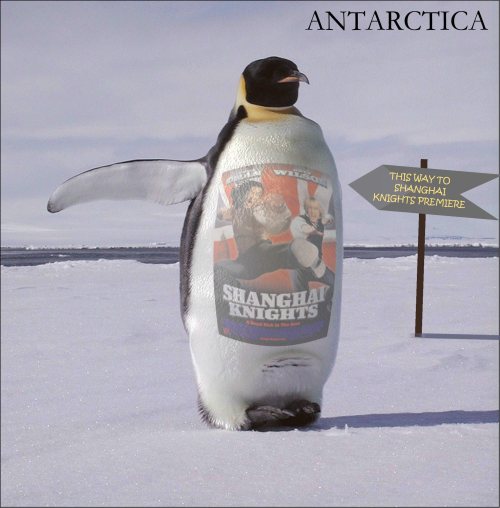 July 25, 2003
Not much Jackie news today. You should check out Jackie's official site because there are constant updates and improvements. You have to look at places you've already been because there may be new stuff to see!
Click here to see a fantastic site about the famous pink dolphins of Hong Kong. They're quite beautiful. Thanks to Rachel for the link.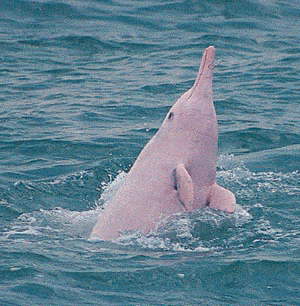 Photo: pacific.net.hk
Time is running out on the Anti-smoking poster contest. Check back here soon to see the latest entries. If you mail yours today or tomorrow (or even Monday) you should be able to get your poster in.
July 24, 2003

Reuters reports that "Jackie Chan's Sino-British action title "Shanghai Knights" gave the industry a roundhouse kick in its debut week on video, topping both the weekly DVD sales and rental charts." The movie has earned nearly $11 million in its first five days on the rental shelves! This is excellent news for Jackie as it shows that he is indeed one of the most popular movie actors in the US.
Go to Jackie's official site to see the names of the winners of the slogan contest. The winners' slogans will be carved into the wood floor of Jackie's office.
One other thing.....you should read Jackie's diary carefully because in it you will find evidence that Jackie is a man who cares deeply for his fans, but is nevertheless quite often hounded by them. When Jackie goes out in public, he knows that he will be approached. However, when he is in private places, he wishes that fans would respect his space. So remember that if you ever get close to Jackie. You don't want to be mentioned in Jackie's memoirs as "that fan who annoyed the heck out of me!"
July 23, 2003
According to Monkeypeaches, Jackie Chan is supposed to begin work on Stanley Tong's Time Breaker now that he is done filming Around the World in 80 Days. Here's the quote:
Stanley Tong Talks About TIME BREAKER (TITANIUM RAIN) With Jackie Chan (MonkeyPeaches Exclusive)
July 21, 2003
Director Stanley Tong is currently in China scouting locations for the upcoming Jackie Chan project TIME BREAKER, formerly known as TITANIUM RAIN. He has sit down and talked about the project with Chinese paper Shenyang Today. He side, "this is a film frequently shifting between the ancient time and the present days. It will have flashback to the ancient time and will go all the way back to Qin Dynasty (221 - 206 BC). I Want to make the scenes of the ancient time look beautiful, because all Jackie Chan's works will be shown to the whole world and we can take this opportunity to show our beautiful sceneries to the international audiences and let them visiting China." Stanley Tong said Jackie Chan will start working on the project once he was done with AROUND THE WORLD IN 80 DAYS. In this film, Jackie Chan will "have a brand new look". He said it would be a love story and Jackie Chan would be very gentle. Budgeted at US 35-40 million, the film is largely financed by Hong Kong's Media Asia.
Check out the newest posters on the Anti-Smoking poster page here on the Kids Club website!
July 22, 2003
If you've been following Jackie's diary you know that he has been on a quest to visit as many of the Berlin Buddy Bears as possible while he's in Germany. Recently Jackie visited the Buddy Bear factory to see even MORE bears: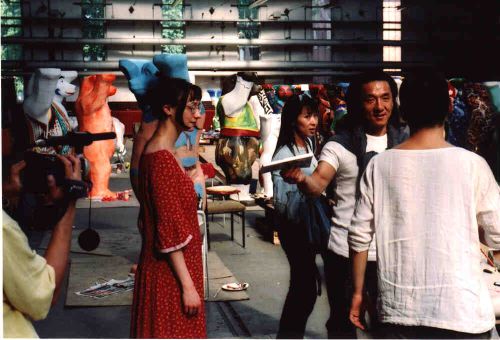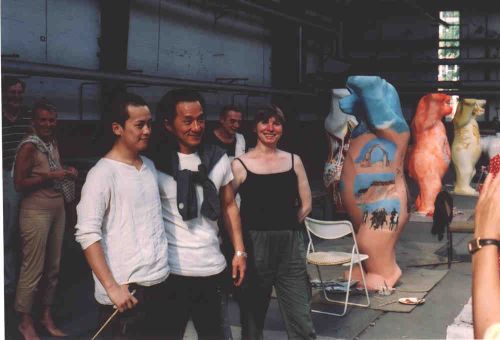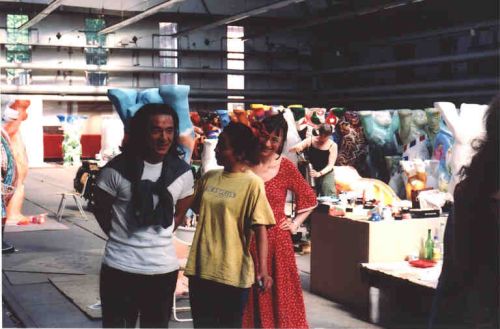 All Photos ©United Buddy Bears
The "Animals on Parade" phenomenon has struck nearly every major city in the world. New York and Chicago (as well as many other cities) had their cows, Toronto had moose, St. Paul had beagles, Norfolk had mermaids....the list goes on. Pigs, dogs, bulls.....whew! Well leave it to Jackie to come up with an idea for a Hong Kong Animals on Parade.....DRAGONS!!! Jackie said that he was inspired by the Berlin Buddy Bears and plans to introduce the idea of Hong Kong Dragons.
Jackie's official website has been updated and there's lots there to see and read. Jackie is finished filming in Berlin and is gearing up for the next round of excitement - publicity tours, the Medallion premiere, and of course the Fan Club party in Hong Kong!
Thanks to everyone who has sent in an Anti-smoking poster. There's still plenty of time for you to send yours in, so why not start drawing right now!? Click here to see what has been sent in so far. Don't forget....Jackie will be judging this contest and there are some great prizes to win!
July 19, 2003
Charles Caleb Colton said "imitation is the sincerest form of flattery." That being said, it must be true that Hollywood filmmakers admire the work of Jackie Chan because they are famous for copying his ideas. In Will Smith's latest movie "Bad Boys II" there is a scene that is taken directly out of Police Story. One of the characters drives crazily down a hillside shantytown. Thanks to Marie M. for the link.
Jackie is mentioned in People Magazine's Chatter section this month. The article states that he has cat-burglar skills. Jackie says "I'm just like Spider-Man. I have climbed over the fence and up the buidling [to get into my house]."
Click here to read an interesting article about Fann Wong and her experience of working with Jackie on Shanghai Knights. Thanks to Marie M. for the story.
Here are a couple of new photos from The Medallion. Thanks to Seung Ho from the JCMB for these links:
Photo: singpao.com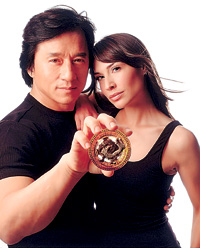 Photo: takungpao.com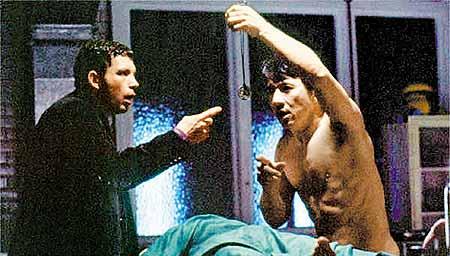 Photo: fansland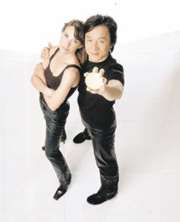 Photo: mingpaonews.com
One last thing.....check out the anti-smoking posters here. The ages of the kids who made the posters have been added (thanks to Rachel for the suggestion).
July 17, 2003
Well let's hope that everyone is enjoying the Shanghai Knights DVD. The best part of the DVD (in one reviewer's opinion) is getting to see the full length fight scenes - particularly the library fight. Too bad they had to cut that short - you can see how much work went into choreographing that fight!
There are several new anti-smoking posters to look at. Click here to see them all! Thanks to all the Kids Club members who sent one in. Remember, Jackie is judging this contest and you have only 12 more days to get yours in the mail. Here's a very clever and creative poster submitted by the Kids Club members of The Peanut Gallery Family Child Care: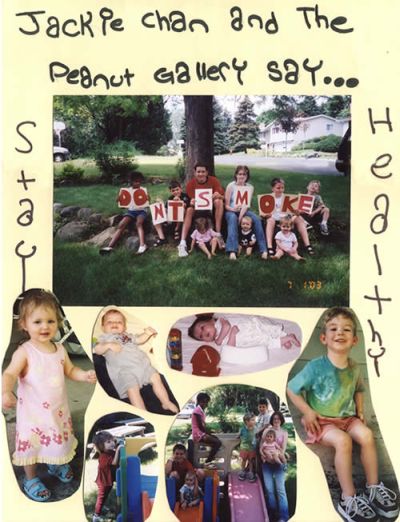 According to news reports, Around the World in 80 Days has completed filming in Berlin. Jackie will head back to Hong Kong for the premiere of The Medallion and for the Fan Club Party as well!
Click here to see a few small photos from The Medallion. Thanks to Marie for the link!
Last but not least, click here to see a great new drawing of Jackie which has been added to the Jackie Chan Art Gallery!
July 15, 2003
You can read about The Medallion on Kung Fu Cinema's website. Thanks to Marie for the link.
Jackie's official site has been updated - there's too much to list here. Now that the website has been relaunched it is worth checking it daily for updates. The site looks great and there's always something new to see!
Well if you live in the US, today's the BIG DAY - Shanghai Knights is released on DVD!!! So take all your hard earned baby-sitting/lawn-mowing money and rush out to get it. The DVD has been reviewed several times and it is supposed to be terrific with lots of goodies.
Don't forget about the Anti-Smoking Poster contest here at the Kids Club. Thanks to everyone who has sent in posters. Click here to have a look at what we have so far! There's still plenty of time to send in your poster so that Jackie can have a look at it!
July 10, 2003


Here's a photo of Jackie with Around the World in 80 Days co-star Karen Mok: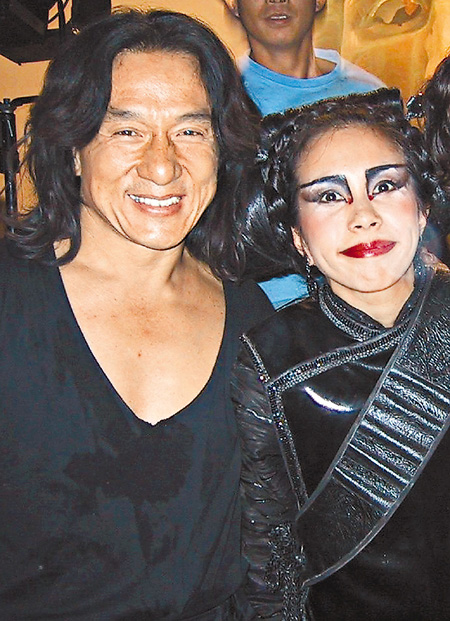 Photo: ©Sing Tao

The trailer for The Medallion can be seen here. It looks like it's going to be a GREAT movie!

Thanks to the kids who have sent in their anti-smoking posters. The posters that have been submitted so far will be posted on this site within the next few days so keep your eyes open!

Questions for Jackie

If you are a kid and would like to ask Jackie a question, email the webmaster . Keep your eyes open later in the summer to see if he answered YOURS!

July 7, 2003

Good news! The trailer for The Medallion is up and waiting to be seen by you! Click here to have a look.

Check out Jackie's official website for update news AND updated diary entries. There's a new section on The Medallion and you can take a poll and vote for the movie you'd most like to have a sequel.

Check out these pics from The Medallion: Source (and thanks to Pinoy for the link)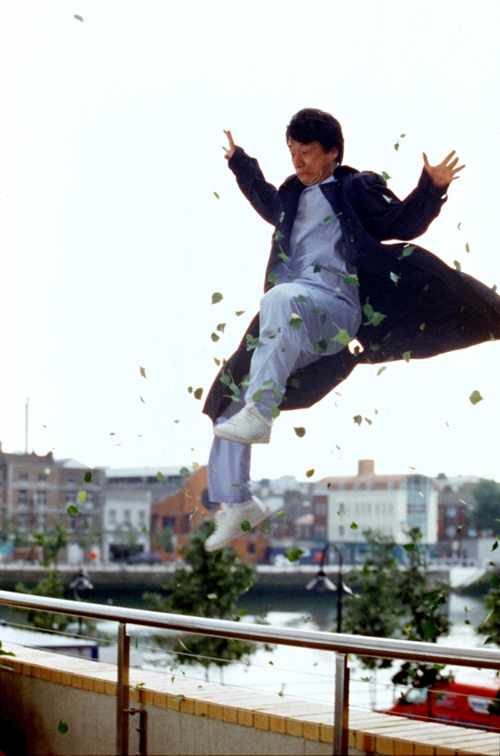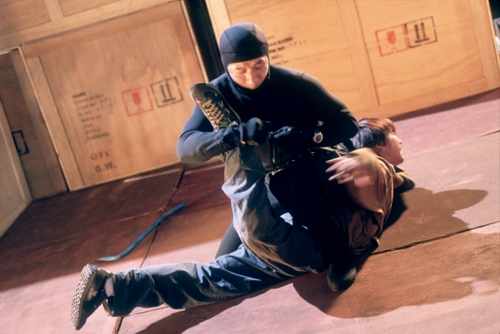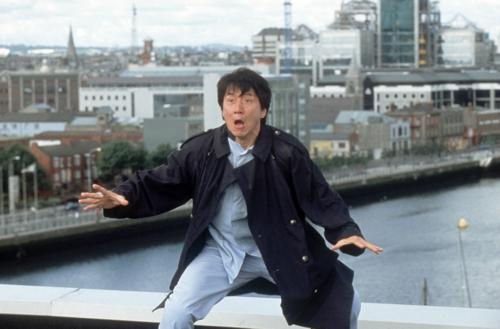 There's still plenty of time for Kids Club members to enter their poster in the Anti Smoking poster contest. Don't forget - Jackie will be judging this contest himself!
If any fan club members are interested in attending the Fan Club Party in Hong Kong next month, you must contact the Kids Club president as soon as possible. The trip includes tickets to the premiere of The Medallion and a dinner party for fans!
Several Kids Club members have been featured on Jackie's official website under the "Jackie and Kids" photo album. Click here to see Christine, Josh, Sean, and Anthony!
July 1, 2003
The Twins Effect, the movie in which Jackie plays a small role, is number one at the box office in Hong Kong. Surely Jackie's appearance in the movie had a little something to do with its great takeoff!
Jackie has been helping the Hong Kong Tourism Board to try to rescue the city from the devastating effects of SARS. (Hong Kong was been declared SARS-free last week). Here's one of the e-cards available on the Discover Hong Kong website:

Copyright 2001 Hong Kong Tourism Board.
Why not visit the website and send a card to someone you know!?
Click here for links to a few small movies made by Jackie to promote Hong Kong tourism.
The Medallion premieres next month in the USA. In the meantime, check out this great shot of Jackie and Claire from the Sing Pao website: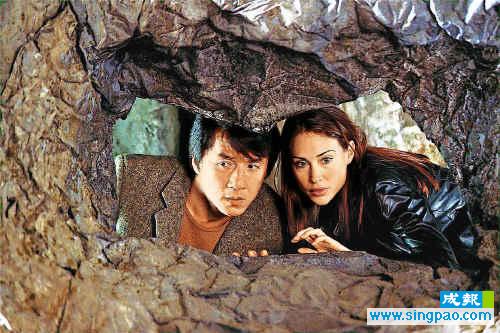 Don't forget to enter the Jackie Chan Anti-Smoking Poster Contest. The Kids Club has already received several entries - thanks kids! Don't forget that JACKIE CHAN HIMSELF will judge this contest and pick the winners!!! Click here for info and GET THOSE CRAYONS, MARKERS, PAINTS, AND IDEAS out and make a poster!
June 27, 2003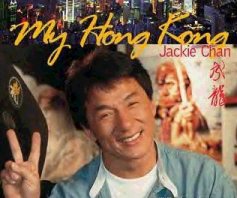 **Hong Kong Trip Update**
According to Jackie's management, the Medallion Premiere Tour/Fan Club Party trip is a go! If you are interested in going on this trip, please contact the USA Fan Club President VERY SOON. For information on the trip, click here.
Click here to see some rare old photos of Jackie which were posted on Kevin's message board by kingking. Thanks for posting these photos!
Monkeypeaches has posted three photos of Jackie from ATW80D. They are slight spoilers, so be warned. By the way, thanks to Monkeypeaches for recommending the Kids Club website to people who want to visit a great website about Jackie!
The news section on Jackie's official site has been updated!
Kids....don't forget about the Jackie Chan Anti-Smoking Poster contest. There are truly terrific prizes to be won AND Jackie himself has promised to judge the contest. Click here for all the details!
The Twins Effect is doing really well in Asia. Congratulations to Jackie for being part of another smashing success!
The Medallion's official website has launched!!! Click here to visit.
June 23, 2003
A big apology to all of you for not updating the news for the last few days. The webmaster was busy making an Oreo Smash Cake. Here she is sharing it with her favorite friend: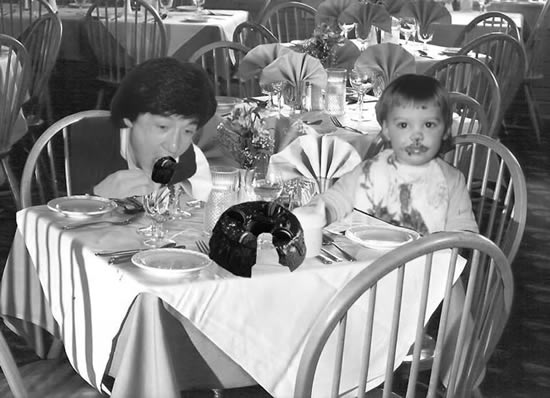 Why don't YOU make an Oreo Smash Cake too?!!
In other news, the World Health Organization has declared Hong Kong as SARS-free so the Medallion Premiere Tour/Fan Club Party is on! For details, see June 19th's news (below).
There are new "flying machine" photos on Jackie's Official Site, so get over there and have a peek.
The Kids Club Jackie Teaches German Page has been updated.
Click here to see a really nice collage of Jackie. Thanks to Noose and Marie for the link.

Oops! Actress Karen Mok accidentally injured Jackie slightly during the filming of a scene for Around the World in 80 Days. Don't worry.....Jackie's fine!
June 19, 2003
BIG NEWS!!
As you may know by now, there will be a Fan Club party in Hong Kong this summer and Jackie has invited all branches of his International Fan Club to join in! So.....the Kids Club has teamed up with the Jackie Chan Fan Club USA to offer you the chance to attend the Fan Club party. Here's how it works: If you are a member of the Kids Club (you must be a kid, however - not an adult), you can take advantage of the USA Club's package tour for a small fee. The fee would be $41 in addition to the price of the tour package and that would entitle you to a membership in the USA club for one year PLUS the opportunity to join the USA club's tour in August. (Higher fees apply for members outside the USA). Each Kids Club member must be accompanied by one adult and each adult/kid combo must pay the fee.
If you are interested in taking advantage of this generous offer from the USA Fan Club, please contact the club's president, Joy. One word of advice....you must act quickly. This tour has been put together on short notice. For more information on what the USA tour includes and the costs involved, click here. Also (and this is important) if you plan to use the USA Club's tour package, you must notify the Kids Club president so that she can verify your membership. This must be done ASAP (AS SOON AS POSSIBLE) so don't waste any time!!!
June 17, 2003

The Kids Club has been given two EXCLUSIVE photos from the set of Around the World in 80 Days. Thanks so much to Ute from Germany for sharing these photos which were taken on June 14th.
****BEWARE: THESE ARE SPOILER PHOTOS!!!*****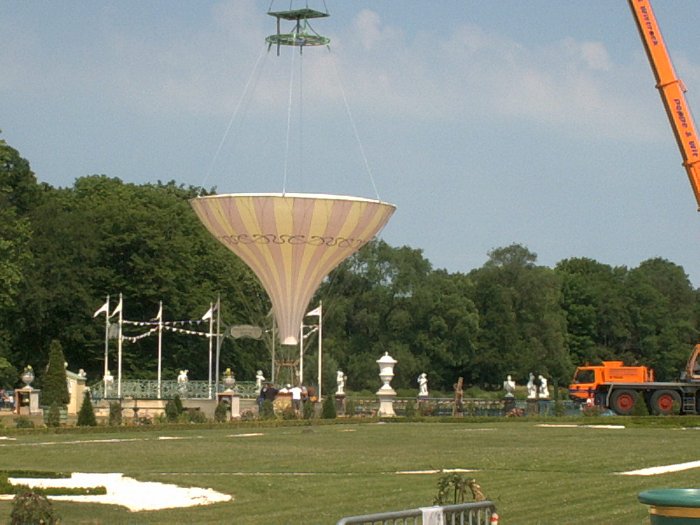 Balloon being held by a crane.
Second photo of "balloon" being held aloft by crane!
Kids Club member Sean Page was lucky enough to visit Jackie's star on the Hollywood Walk of Fame. Check out these pictures (and if you'd like to read about his trip through the US, click here):
The Hollywood Walk of Fame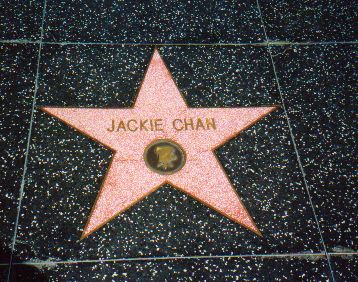 Jackie's star!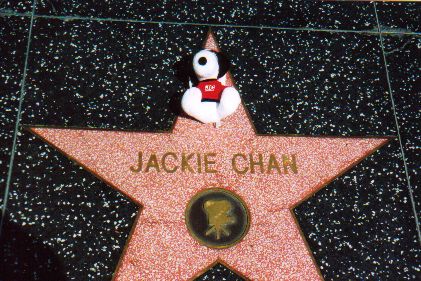 Another famous "J.C." (Joe Cool) with Jackie's star
Regarding the Hong Kong Fan Club party: If any Kids Club members are interested in going, please email the Kids Club President. There are some fantastic deals on flights to Hong Kong right now but it's essential to act fast. Group rates are cheaper, so it's important to move quickly.
June 16, 2003

Awesome terrific news for Kids Club members!!!!! Jackie has agreed to judge the Anti-Smoking poster contest!!! Wow! This is great news - we all know how Jackie feels about smoking. So kids, now is the time to get to work on your poster. Make it colorful and unique and maybe Jackie will pick YOUR poster as a winner!!! Remember, the contest ends on July 31st so don't delay!

Jackie will be visiting India later this month to scout locations for his upcoming movie tentatively named "Hidden Kingdom" which is to be shot in India. Click here to read what comingsoon.com had to say about this project.
There are new photos of Jackie on his website....this time it's Jackie with a very large elephant. Jackie sure is brave!
Here's a very nice review of Traces of the Dragon. Click here and then scroll down to read it. Thanks to Marie M. for this link.
According to the Internet Movie Database, The Medallion is set for release on the following dates:
USA - 22 August 2003
Lithuania - 5 December 2003
Germany - 11 December 2003
Austria - 12 December 2003
Netherlands - 29 January 2004

On his official site, Jackie talks about his 1970's films. Click here for a very interesting read.
More exciting news for Kids Club members.......in his "Ask Jackie" column, Jackie answers a question posted by Kids Club member Becky. Congratulations Becky for asking such an interesting question!
June 12, 2003
News from Jackie's Official Site:
In a recent issue of People Magazine (USA) Jackie talks about his favorite movies. Click here to read all about it.

Two German fans, Jutta Stoll and Katrin Langer, were nice enough to share the photos they took on the set of Around the World in 80 Days. Thank you Jutta and Katrin (and thanks to Hussain for helping the Kids Club get permission to use the photos). Click here to see them.
June 11, 2003
There are updates to Jackie's official site. Willie has written a new column and Jackie has added some more photos to his scrapbook as well as updating his Ask Jackie column. There are also a few more snapshots from the film set.
For all fan club members:
You will be delighted to read in Willie's column that there are tentative plans for a Fan Club gathering this August. Willie has promised to include the Kids Club as well, so start saving your pennies!!!!!
Filming for Around the World in 80 Days appears to be moving to the German town of Charlottenburg. Click here to see the original story in German. Click here if you want to translate it into English.
Check back here tomorrow to see some exclusive photos from the Around the World in 80 Days set taken by two German fans!
June 9, 2003

A new poster contest has begun for members of The Official Jackie Chan Fan Club for Kids. Click here to read about the contest and the AWESOME PRIZES that will be awarded. If you're not a member, you can join here.
Still no news out of Berlin....
Jackie is reportedly signing on to film a movie in India next year. The working title of this new project is "Hidden Kingdom." Click here to read more.
Another upcoming Jackie Chan project, Titanium Rain has a new title: Time Breakers. This movie is scheduled to begin filming sometime later this year.
Click here to test your knowledge of Shanghai Knights! It's a fun and easy quiz.
Thanks to Marie M. for finding this great article on the Eight Immortals of Drunken Master!
June 5, 2003

Jackie's diaries have been updated at his official website. Each diary entry is accompanied by photos taken that day...this was Jackie's idea. He jokingly says that Diana will have to hold her new baby with one hand, hold the camera with the other hand, and write the diaries with her toes!
In the May 28th entry Jackie makes mention of a letter written to him by the Kids Club president. Here's what he had to say:
Katherine Schroeder, the president and founder of "The Official Jackie Chan Club for Kids," wrote me a letter, thanking me for allowing her to start the club. I want to thank her for coming up with the idea in the first place. I have had many people start fan clubs, but no one has ever suggested that I start one for children.
She thanked me for being a positive role model to children. I told her that I take what I learn from my fans and pass the wisdom and philosophies back to others. When fans write to me, they tell me what they like and don't like about my films. I take what they say and try to improve on the next one. I am influenced and affected by what my fans have to say. I told her I like children and will continue to find scripts that will educate and inspire. I will always try and do my best to make the greatest film possible, appropriate for people of all ages.
So you see, kids, that Jackie takes an active part in the Official Jackie Chan Fan Club for Kids. If you're a frequent visitor to the website AND you want to get a REAL autographed photo of Jackie (plus other great stuff), why not join the club? You'll have the opportunity to win great prizes too! It doesn't cost much at all and it will help support the website.
June 4, 2003
Still not much news out of Berlin. Jackie and the cast of Around the World in 80 Days continue to film in Germany.
In other news, The Medallion (formerly Highbinders) has been edited down to less than 90 minutes. The movie is set for release in the US on either August 15th or August 22nd depending on which source you believe. Either date, it's about time we got a look at this film! Source
To have a look at some Medallion photos of Lee Evans (and one of Jackie) click here.
On Saturday May 31st there was a special broadcast called "Night of Miracles" which was a fundraising event for the Sick Children's Hospital in Canada. It was a great success and Jackie was a part of it. He visited the hospital during the time he was in Canada filming The Tuxedo and his appeal for help was part of the fund raising telethon.
June 1, 2003
Wow! It's a real snoozer out there when it comes to news of Jackie. Nothing much out of Berlin....sorry!
This from monkeypeaches.com:
(It's old news, but may not have been reported here)
"According to Hong Kong's The Sun, MGM is planning a Jackie Chan flick called THE HIDDEN KINGDOM. It will be made as a Tomb Raider type adventure, which should be somewhat similar to Jackie Chan's OPERATION CONDOR series. The story will involve the fictional Shangri-La and shooting will be done in India and some other Asian countries. No word on when the shooting will start.
There are at least two Jackie Chan movies in preproduction - AROUND THE WORLD IN 80 DAYS and TITANIUM RAIN. HIGHBINDERS is basically in the can and THE TWINS EFFECT, in which Jackie Chan takes a supporting role, is under production in Hong Kong." Feb 21, 2003 (Thanks to Marie M. for providing the link)

Here's a blast from the past.....a picture of Jackie from about 20 years ago. Look at all that long hair....then roll your mouse over Jackie!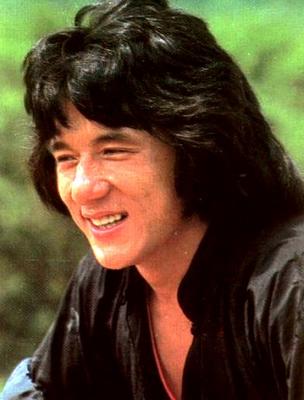 Very Exciting News!!
This is THE coolest news of the year for the Kids Club!!!
As most of you know, Jackie has been keeping a diary for his fans while shooting Shanghai Knights. In the July 3rd diary entry, Jackie talks at length about the Kids Club and mentions each of the last 7 "Jackie's Kids" by NAME! As most Kids Club members know, Jackie has taken a keen interest in the newest Jackie Fan Club and he reads all of the newsletters. It is very exciting to read Jackie's comments about the club and its members! In the July 8th entry, Jackie mentions the Kids Club again, encouraging his young fans to join. Click the highlighted links (above) or read the diary entries at Jackie's Official Web Site. (From the August 12, 2002 News Report)
CLICK HERE TO GO BACK TO THE TOP
The Latest Jackie News is now being archived to save room on this web page. To read past news reports, just click on the month you're interested in viewing.
©2002 Katharine Schroeder/The Official Jackie Chan Fan Club for Kids