January 27, 2006
Kids Corner Forum Membership Reaches 800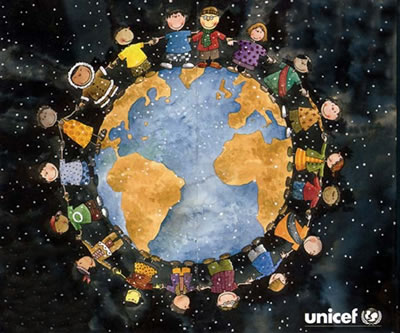 The Jackie Chan Kids Corner forum was begun just over a year ago and has now reached an incredible 800 members! The Kids Corner forum members come from at least 47 different countries around the world including the following:
Armenia, Australia, Austria, Belgium, Bulgaria, Canada, China, Cyprus, Denmark, England, Faroe Islands, Finland, France, Germany, Greece, Holland, Hong Kong, Hungary, India, Indonesia, Iran, Ireland, Italy, Japan, Latvia, Malaysia, Mexico, Morocco, Netherlands, New Zealand, Norway, Paraguay, Philippines, Poland, Russia, Scotland, Singapore, Slovak Republic, South Africa, Spain, Sweden, Switzerland, Turkey, Ukraine, United States, Vietnam, Yugoslavia
Over the last year the Kids forum has developed into a safe and friendly place to share with each other the things we like about Jackie . Discussions about many subjects are popular on the board, not just Jackie Chan. But the one thing that every forum member has in common is their love for Jackie.
Congratulations to all Kids forum members for keeping the message board friendly, kid-safe, and fun!
New Buddy Bear
Thanks to Petra for sending in another very creative and beautiful Buddy Bear. This one is called Robo-Buddy.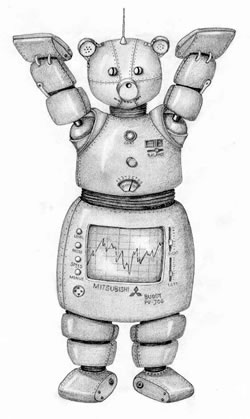 Click here to see all the Buddy Bears.
New Addition to Art Gallery
Not a drawing this time, but an amazing needlepoint. Click here to visit the Art Gallery.
January 21, 2006
Happy Chinese New Year from JC Group
January 18, 2006
New Drawing in Art Gallery
Have a look at the unique drawing that Simon from Poland sent in. It's in our Jackie Chan Art Gallery!
Simon has also sent in a Coloring Page for Jackie's Coloring Book:
And Ken has sent in a Jackie Chan Movie That Wasn't!

January 9, 2006
Christmas Card Winners Announced!
Winner: Kids 12 and Under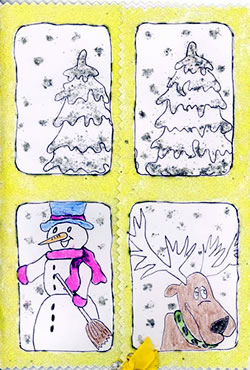 Lucie, age 11
Czech Republic
Winner: Kids age 13 to 17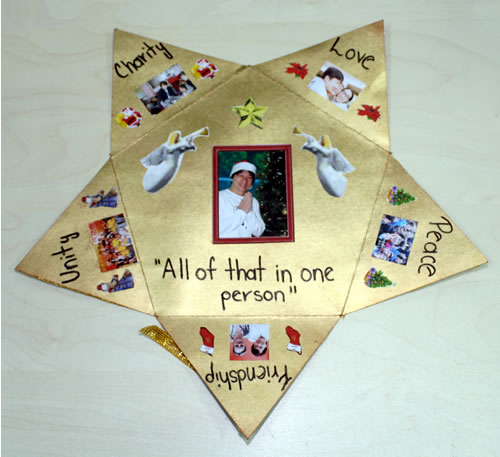 Magali, age 15
Mexico
Winner: Ages 18 to Adult

Roberta, age 19
Italy
And...
...here is Jackie with all the beautiful cards that everyone sent in this Christmas. You made him very happy!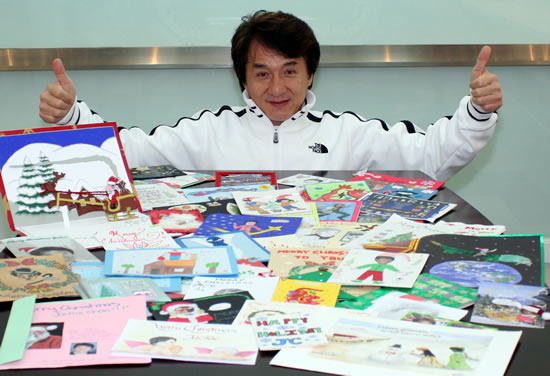 Jackie gives the designs a "thumbs up."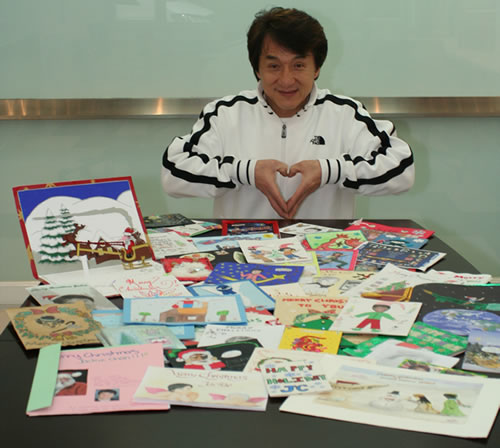 "Thank you from the bottom of my heart!"
We decided that one card deserved a special mention. It was created by a family in Hamburg, Germany and it was not only clever and well-made, it really demonstrated the spirit of the season. Congratulations to Sophia, age 10 ("Cut"), Constantin, age 13 ("Production Designer"), Alexander, age 16 ("Logistic Director"), and Iris, Mom and "Executive Producer."
Thank you to everyone who sent in a design. They were really special and Jackie loved them all! The three winners MUST send an email with their mailing address in order to claim the prize. Click here to see what the prizes are.
January 5, 2006
A Star for a Star
If you look up into the night sky and find Polaris, the North Star, you will see a constellation nearby called Dragon (Draco). And if you look very carefully you will see one star shining quite brightly in the Dragon constellation. That star is called Beta Draconis. It is 360 light years away and what makes it special is that it is dedicated to Jackie Chan.
Heidi, a fan from Munich, Germany, had the star dedicated to Jackie and a beautiful certificate with a star map were recently sent to the office in Hong Kong. Jackie was very pleased to see what was written on the certificate:
"You stand for love, kindness, hope, peace, and tolerance. You are like a light shining on Earth, just like this star is twinkling in the sky."
Jackie wanted to share it with all of you who visit the website, so here he is with his star map and star certificate!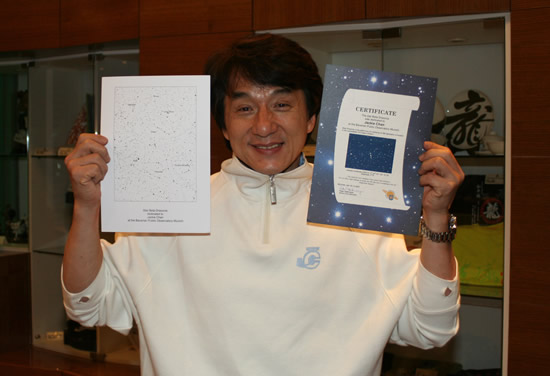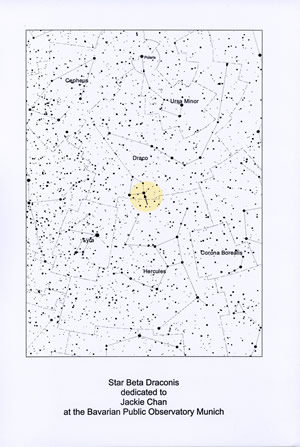 A Few Updates
Some fans have been very busy making new Jackie Chan "Movies That Weren't." Click below to see all the new ones (and a lot of older ones too).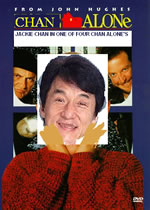 "Chan Alone" by Isaac and Jeremy
If you would like to add to the collection of funny Movies That Weren't, just send your project to the webmaster. If you have sent a project in but don't see it posted, please send a reminder.
Jackie News
Remember that Jackie news is no longer being posted here. This page is where the latest updates and contests for the Kids Corner are announced. For Jackie News, go to the main news page here.
CLICK HERE TO GO BACK TO THE TOP
The Latest Jackie News is archived to save room on this web page.
To read past news reports, just click on the month you're interested in viewing. Remember that some of the older links in these news archive may no longer be active.
AUGUST, SEPTEMBER, OCTOBER 2005
©2004 Katharine Schroeder / Jackie Chan's Kids Corner