March 31, 2003
Proving once again that Jackie Chan is wildly popular worldwide, over 12,000 (TWELVE THOUSAND!) people lined the streets of Berlin over the weekend to try out for 6,000 spots as extras in Around the World in 80 Days. The clerks who were working at the sign up desks said there were far more people than they'd ever expected. Source
Oscar award-winning actress Kathy Bates has signed on to play Queen Victoria in Around the World in 80 Days. Kathy's most recent film is "About Schmidt" with Jack Nicholson.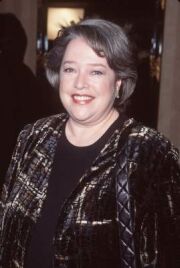 Kathy Bates (Photo: tvtome.com)
March 30, 2003

Hey kids, check this out! Roger Ebert (yes, THE Roger Ebert - perhaps the most well known movie critic in the world) has given a mention to the Kids Club web site! In an interview in the Denver Post, Ebert calls the Kids Club web site "authoritative." Woo hoo!! That's pretty exciting!

The Kids Club Around the World in 80 Days section has been updated with more neat info added. Click here for the new page! From there you can link to the ATW80D Cast page!
Check out this line-up of people in Germany waiting to be cast as extras for Around the World in 80 Days. A call was put out for 6,000 extras and these are just a few of them!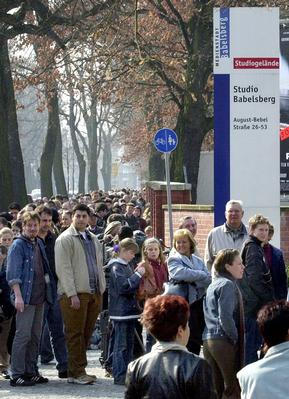 (Thanks to Rachel at the JCMB for finding this article.)
Don't forget to vote for Jackie at Nickelodeon's web site. Jackie has been nominated for 2 Kids Choice awards and you can vote once a day!
March 28, 2003
Shanghai Knights has yet to appear in theaters in many parts of the world. If you're wondering when to expect it in your area, click here and find out! (Thanks to Marie M. for that heads-up!)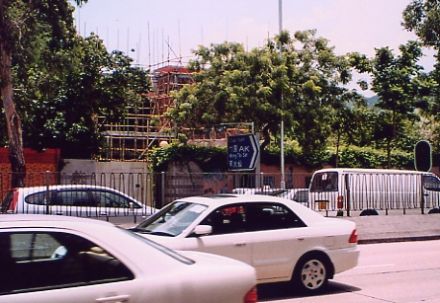 Can you guess what this is a photo of? No, it's not just a bunch of white cars whizzing by on a busy road. If you look beyond the street you will see the brand new offices of the JC Group under construction!
(Thanks to Alfred for this sneak peek at Jackie's new offices.)
Hey kids! Don't forget to vote for Jackie at Nickelodeon's web site. Jackie has been nominated for 2 Kids Choice awards. You can vote once a day!
Do you love the Kids Club web site? Do you visit it often? Then why not join the Official Jackie Chan Fan Club for Kids? It's really cheap to join and you get an autographed photo of Jackie (a REAL autograph) just for joining. Then you get 12 awesome newsletters - one every month - and the opportunity to contribute to the newsletter. Imagine Jackie reading your story! It's happened already. Click here to read what Jackie had to say about the Kids Club and the amazing "Jackie's Kids." Also, your membership fee helps to support the web site. Click here for more info.
Jackie's official web site at www.jackiechan.com is undergoing a major overhaul. All links to his site from the Kids Club site probably won't work. The only thing that WILL work is the link to Jackie's set diary.
March 27, 2003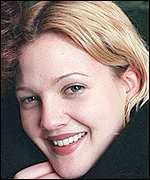 Drew Barrymore
Wow! More cameo appearances for Around the World in 80 Days? A German website reports that Drew Barrymore is expected to make an appearance in the film. So that means that so far Sylvester Stallone, Sammo Hung, and now Drew Barrymore will be included. It is most likely that we will continue to hear reports of celebrities involved with this movie. It should be great fun to see! Don't forget to check out the Kids Club ATW80D Cameo Page!
In other news, it has been announced that the computer graphics shop Rhythm and Hues Studios will be doing the post-production work on the film to create the illusion of the actors having visited many locations around the world. Source
Jackie's official web site at www.jackiechan.com is undergoing a major overhaul. All links to his site from the Kids Club site probably won't work. The only thing that WILL work is the link to Jackie's set diary.
March 26, 2003
A second page of birthday cards has been added to the Kids Club web site. Click here to see the latest beautiful cards.
Jackie has added many new entries to his official set diary! Click here to go to Jackie's official site and read them. In his March 7th entry Jackie said that while he is filming in Thailand he would be teaching everyone some Thai words and expressions. Click here to see the Kids Club page "Learn to Speak Thai with Jackie Chan." All the lessons are gathered together on this page and it will be updated whenever Jackie adds to his diaries!
Ever wonder where Thailand is? Here's where it's located on a map: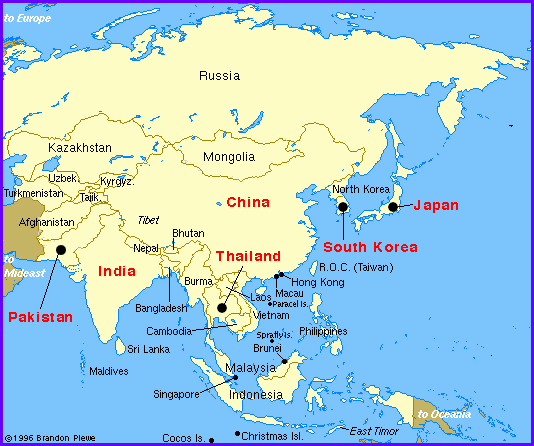 March 25, 2003
Some very very exciting news for all of Jackie's fans: Jackie has started a diary for the filming of Around the World in 80 Days!!! As you know, this is the best way to find out just what's going on in Jackie's world. This is such wonderful news for all of his fans. Click here to start reading! Here's just one photo from the diary. Click here to see them all!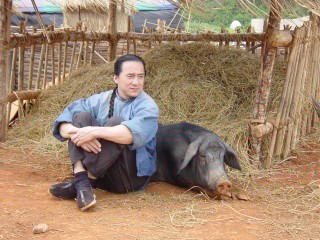 Jackie and a friend just hanging out in Thailand
It looks like Jackie's old pal Sammo Hung will have a cameo in Around the World in 80 Days too! Check out this pic from Sammo's official site: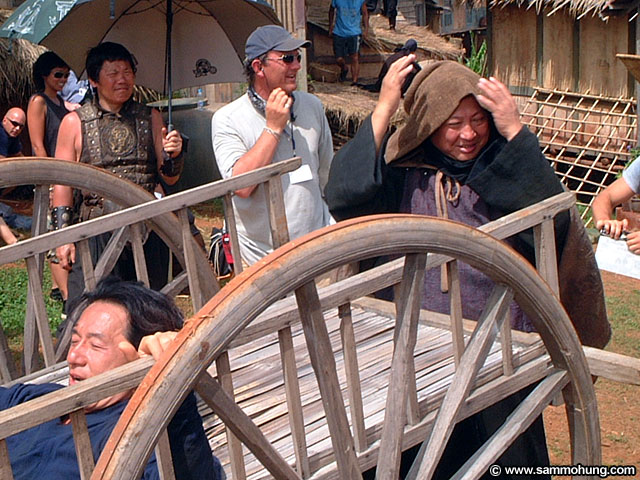 That's Mars under the umbrella, Sammo under the hood, and of course Jackie in the cart.
Source (Thanks to Marie M. and"pinoy" for their detective work in finding this photo)
March 24, 2003
The original Around the World in 80 Days was famous for the many cameo appearances by Hollywood stars. It looks as if the same will be said for the remake of the movie. According to a German web site, Sylvester Stallone and Jackie Chan will be meeting the extras who are chosen from those who answer a call for "6,000 exotic looking" locals. Perhaps Sylvester will be playing a part in the movie! (Thanks to Marie M. for sending this news)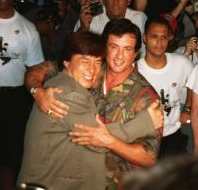 Jackie and Sly in 1996
Photo ©1996 Manny Rodriguez
March 22, 2003
No new Jackie news today, so the staff of the Kids Club is going to go wash some windows.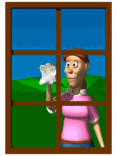 March 21, 2003
Not much Jackie news today. So instead, how about taking some time to visit this AWESOME faq site ("faq" means "Frequently Asked Question"). This site answers tons of questions about Hong Kong film and the HK film industry. It even throws in some Chinese culture information (like why Chinese people put their last names before their first names). It's a whole lot of fun to read.
Thanks to everyone who sent in a birthday card for Jackie. If yours is in the mail, don't panic....there's a day or two before they're mailed out.
March 20, 2003
A new drawing has been added to the Jackie Chan Art Gallery.....check it out! Thanks to André for his awesome drawing. A few new cards have been added to the Birthday Cards for Jackie collection and there will be more tomorrow as well. Thanks to all who sent them in....tomorrow is the deadline, remember!
Well it looks like Rush Hour director Brett Ratner has made room on his schedule for Rush Hour 3 now that he has dropped his plans to direct Superman. According to the story at Empire Online, Rush Hour 3 is a definite go. Now let's just hope that Jackie and Chris can clear time on their schedules for the third Rush Hour flick! There's a certain Kids Club webmaster who could manage to clear time on her schedule for filming.
For those of you who live in the US and subscribe to Showtime cable television, you can look forward to seeing Jackie's The Big Brawl. According to Screen Daily Carlton Communications has purchased the rights to show this film on Showtime. The Big Brawl was one of Jackie's earliest American movies. Click here to read a review at the Jackie Chan review site.
According to the Coming Soon web site, Shanghai Knights will be released in the US on DVD on July 1.
March 19, 2003
The Academy Awards are coming up soon and although Jackie has not been nominated for any Oscars, he has been a part of the Awards show in the past. Did you know that in 1996 Jackie presented an Oscar with basketball legend Kareem Abdul-Jabbar. "I like your hair," Jackie told Kareem.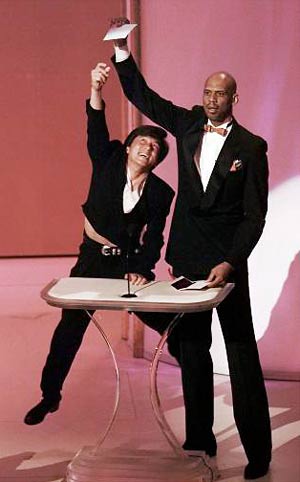 Jackie captured the world's attention when he and Kareem Abdul-Jabbar presented an Oscar together at the 1996 Academy Awards
Locations are currently being chosen for Around the World in 80 Days. Right now Jackie is in Thailand but will soon move over to Germany.
March 17, 2003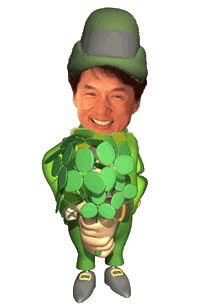 Happy St. Patrick's Day!
Traces of the Dragon
The story of Jackie's lost family is being featured in the March 24 issue of Time Asia. Click here to read the article.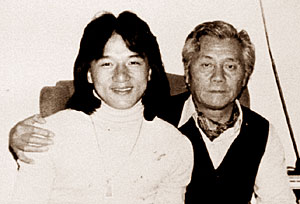 Jackie and his Dad (Photo: The JC Group)
There's not much time left to send in a card for Jackie's birthday. Click here for all the information.
There is a Shanghai Knights "You Write the Sequel" contest going on. Keep your eyes open for a new section of the Kids Club web site called "Contest Central" (or something like that) where you can go and see at one time all the contests that are being run .
March 14, 2003

Hey kids! Jackie has been nominated for TWO Nickelodeon Kids Choice awards and the time to vote for him is now! Visit Nick's web site to vote for Jackie as Favorite Male Movie Star and Favorite Male Butt Kicker.
According to Variety, filming for Around the World in 80 Days has reportedly started. Horray!!!
Here's a really cool site where you can read a Jackie Chan interview, watch clips, send postcards, etc.
There's only one week left to send in a birthday card for Jackie if you want it included in the packet sent from the Kids Club. Click here for information on sending Jackie a birthday card. Have a look at some of the cards that have already been sent in!
March 13, 2003
Feast your eyes on some of the beautiful postcards sent in by Kids Club members Dusan and Daniel from Jamaica, West Indies. Don't forget...if you want a postcard of your hometown included on the Kids Club "Postcards from the 'Hoods" pages, just mail one to:
The Official Jackie Chan Fan Club for Kids
P.O. Box 556
Peconic, NY 11958-0556 USA
You don't have to be a member to send in a postcard. There are pages for members and non-members. Check them out!

There's still time to send Jackie a birthday card which will be included in the packet of cards sent to him by the Kids Club. Click here for more information.
Don't forget about the Shanghai Knights Sequel contest!
March 12, 2003
Jackie has once again made the wish of an ailing child come true. Kenney Roman, an eight year-old who is confined to a wheelchair, asked to meet Jackie and his wish was fulfilled. Click here to read the entire article.
Source: Orlando Sentinel
Jackie is scheduled to visit Bangkok, Thailand in November to participate in events intended to promote world peace.
March 11, 2003

Just a little something the Kids Club reporter ran across this afternoon: a listing of 17 mistakes in the movie Shanghai Knights. Click here to read them all! (Spoilers, of course!)

WOW!!!! Some very exciting news for Kids Club members. You now have the chance to receive your very own HAND AUTOGRAPHED birthday card from Jackie!!! Click here for all the details!
For those of you who are interested in Jackie's music, there is a new greatest hits album out. Click here for details. Here's what the cover looks like:

March 10, 2003
Jackie is getting ready to film Around the World in 80 Days. Once again he is having hair extensions put in, this time for his role as Passepartout. Here are some pictures of Jackie doing one thing he really doesn't like doing - sitting still for hours in a hair-stylist's chair! All photos ©2003 The JC Group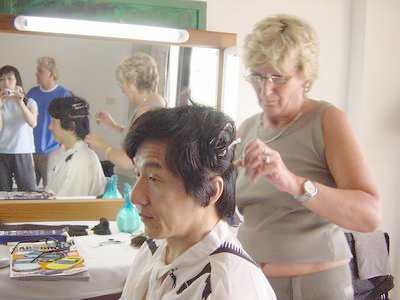 Notice the "Car and Driver" magazine on the table next to Jackie.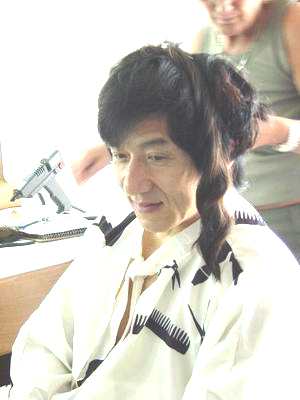 That sure does look like a hot-glue gun on the table.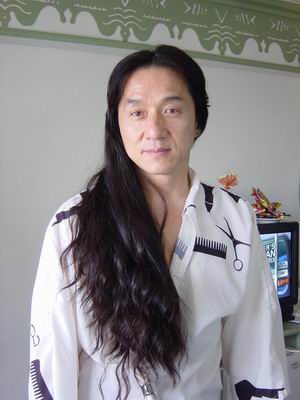 From the front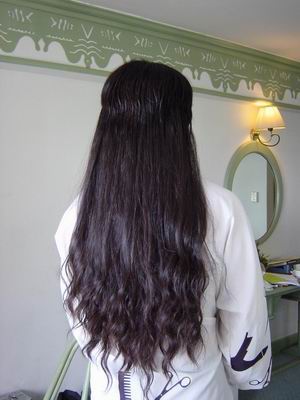 And from the back.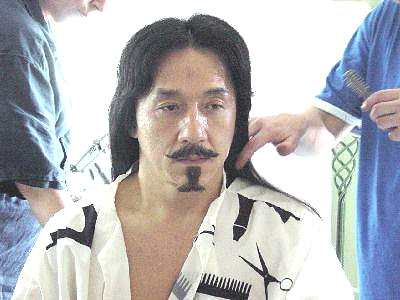 This time with facial hair. Wow, Jackie looks pretty cool here!
March 8, 2003
Hong Kong's The Sun reports that Jackie has chosen two Asian actresses for roles in Around the World in 80 Days: Karen Mok and Marsha Yuen. Both are martial artists and both speak English. Marsha Yuen is the daughter of Cheng Pei-Pei, the legendary actress who played the evil Jade Fox in Crouching Tiger, Hidden Dragon.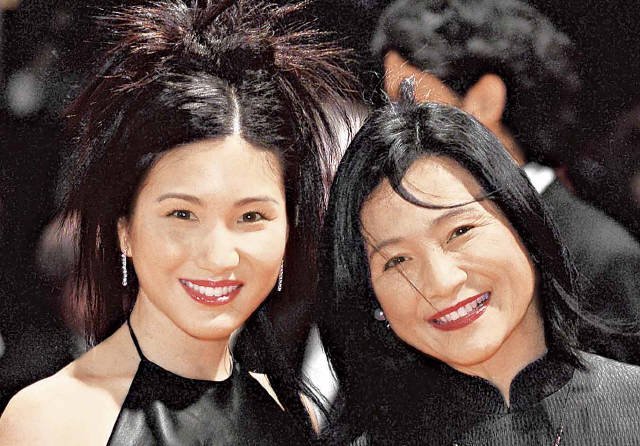 ATW80D co-star Marsha Yuen (left) with her mother, Cheng Pei-Pei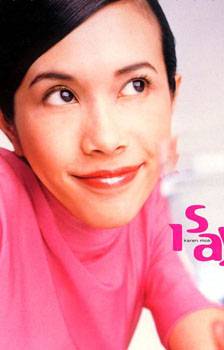 ATW80D co-star Karen Mok
March 6, 2003
Jackie has been nominated for TWO Nickelodeon Kids Choice Awards for 2003! The categories are: Favorite Movie Actor and Favorite Male Butt Kicker. Congratulations to Jackie! Click here to see all the nominees.
Jackie's birthday is just one month away, so if you want to send him a card, now is the time. Click here for information.
The Shanghai Knights Sequel Contest has begun, so get out your pencil and paper and get writing! You can win a beautiful Official 2003 JC Group Jackie Chan calendar AND everyone can read your story!
March 4, 2003
In addition to all the charity work Jackie has been doing in recent months, Jackie will be helping out the victims of the brushfires in Australia too. As many of you know, Jackie's dad Charles lives in Australia. Here's the report from The Standard:
Chan to star in fire fund-raiser

When bush fires threatened Canberra in January, Hong Kong film star Jackie Chan's only concern was the safety of his father Charles.
Chan senior has lived in Woden in the south of the Australian Capital Territory since the 1960s, but as fire edged closer to his home he refused to be evacuated, staying put to protect his son's wine collection.
The family home escaped damage and now Canberra's chief minister Jon Stanhope has invited international celebrity Jackie to be guest of honour at a fund-raising banquet in aid of the Canberra Bushfire Recovery Appeal. He will be joined on the guest-list for the March 30 event by Australian marathon runner Rob de Castella who lost his home in the disaster.
Chan's latest film Shanghai Knights, in which he stars with Singaporean actress Fann Wong, opened to rave reviews in Singapore and Malaysia, topping the box office charts just two days after release. Shanghai Knights, which has outstripped its predecessor Shanghai Noon and even Rush Hour at the box office, has also been on release in Hong Kong.
Here's a photo of Jackie and the Twins recording a song for the upcoming movie "The Twins Effect" in which he plays a small role: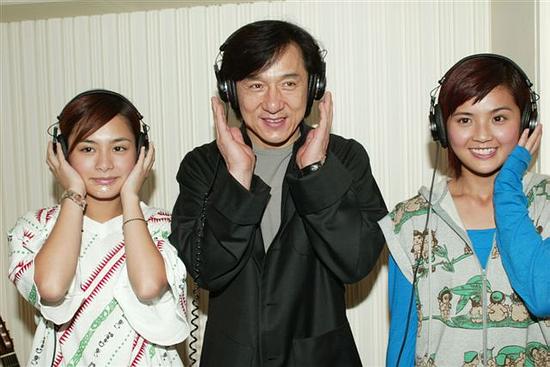 On Saturday Jackie helped launch Operation Smile in Hong Kong. Here are some photos from that event: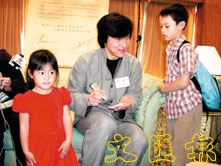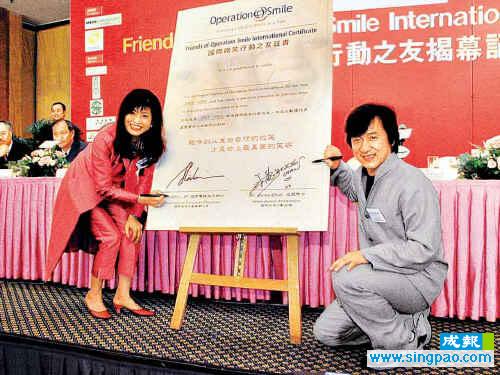 March 1, 2003
On February 24, an earthquake measuring 6.5 on the Richter scale hit Xin Jiang Uygur Autonomous Region in China. More than 4,000 people were hurt or killed. Medicine and coats were needed, so Jackie joined the Outdoor Shop immediately to donate 1,600 down coats to the victims of the disaster. "I am very happy because I can do something for people who need help," said Jackie. Source: www.jackiechan.com
Click here for another report.
Jackie's acts of love and generosity extend not only to the world but to those close to him as well. Recently Jackie bought his Dad a new house AND he gave his employees a 10% raise in pay. Jackie is a great role model for all of us.

Here's Jackie with his Dad, Charlie. Source: JCMB
The last two days of news are here, but the rest of the February News has been archived. Click here to see it all.
February 28, 2003
Did you know that since 1993 Jackie Chan has been the Ambassador for Operation Smile China Medical Mission? Operation Smile is a non-profit volunteer medical organization that helps children who are born with facial deformities. It provides reconstructive surgery (and other medical services) to children around the world. Jackie will inaugurate the Friends of Operation Smile Campaign at a press conference at the Hotel Miramar at 3:30 PM in Hong Kong on Saturday, March 1. Click here for more info about Operation Smile.

If you happen to be in Hong Kong (AND you are a member of any of Jackie's International Fan Clubs, including the Kids Club) you are invited to stop by the JC Group offices and pick up money saving coupons for some excellent shops and restaurants. The JC Group has lined up these special privileges as a way of ensuring that Jackie's fans have a great visit to Hong Kong during any season of the year. Thanks to the JC Group!
Click here to watch an interview with Jackie from a Los Angeles television news program.
February 27, 2003
Wow! An awesome new contest for members of The Official Jackie Chan Fan Club for Kids!!! There will be three winners, each will receive their very own 2003 Official Jackie Chan calendar (this is the real thing....straight from Hong Kong). Here's what it looks like: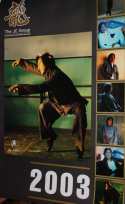 Well, okay....it's actually a lot bigger. It's 30" x 20" - it's HUGE! And it's gorgeous.
Click here to learn all about this new contest!
This is THE coolest news of the year for the Kids Club!!!
As most of you know, Jackie has been keeping a diary for his fans while shooting Shanghai Knights. In the July 3rd diary entry, Jackie talks at length about the Kids Club and mentions each of the last 7 "Jackie's Kids" by NAME! As most Kids Club members know, Jackie has taken a keen interest in the newest Jackie Fan Club and he reads all of the newsletters. It is very exciting to read Jackie's comments about the club and its members! In the July 8th entry, Jackie mentions the Kids Club again, encouraging his young fans to join. Click the highlighted links (above) or read the diary entries at Jackie's Official Web Site. (From the August 12, 2002 News Report)
CLICK HERE TO GO BACK TO THE TOP
The Latest Jackie News is now being archived to save room on this web page. To read past news reports, just click on the month you're interested in viewing.
©2002 Katharine Schroeder/The Official Jackie Chan Fan Club for Kids