April 28, 2004
Jackie Thinks About Making a Movie in Cambodia
Jackie spent the end of his time in Cambodia speaking with Prime Minister Hun Sen about the possibility of making a movie in Cambodia some time in the future. He has the Prime Minister's full support.
Jackie visited with members of Nyemo in Phnom Penh. Nyemo is a non-government agency that helps women and children in crisis.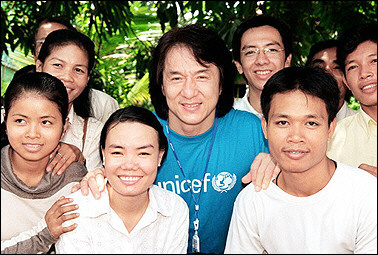 Photo: AFP/Chhoy Pisei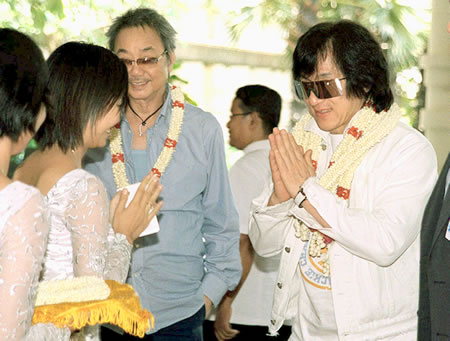 Jackie arrives at a hotel in Phnom Penh with longtime friend and manager, Willie Chan. Photo: AFP/Daily Times, Pakistan
Thanks to Marie for the above heads up.
Reason Number 5,603 Why We Love Jackie Chan
As was reported yesterday, Jackie is in Cambodia (click here if you're not sure where Cambodia is). Jackie has been made a Goodwill Ambassador for UNICEF (The United Nations Children's Fund) and UNAIDS. He is still in Cambodia visiting with children who either have AIDS or who have been affected by AIDS. He is visiting with landmine victims as well. Landmines are dangerous bombs which are buried right beneath the surface of the Earth. They explode when they are stepped on or disturbed. Many people are injured and many lose their feet or legs in these terrible accidents.
We should all be tremendously proud of Jackie for the work he is doing to help children all over the world. He is a role model for all of us. Here are some of the reasons why we love Jackie so much: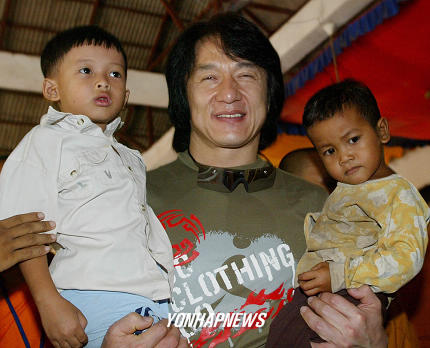 Jackie holds Cambodian children living at a pagoda where monks assist people living or affected by HIV/AIDS in Siem Reap, northwest Cambodia. (Photo: Yonhapnews)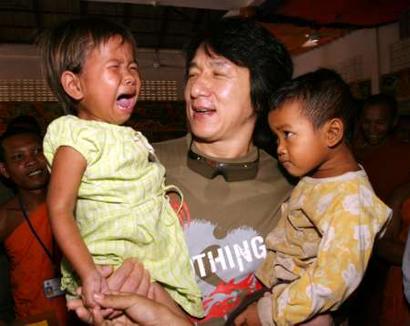 Jackie holds five-year-old Srey Dina (L) and four-year-old Pond Pisal, both of whom are infected with AIDS. (Photo: Chor Sockunthea)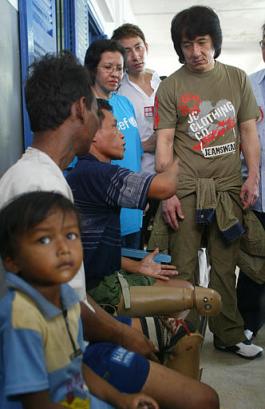 Jackie visits with landmine victims. (Photo AP/Andy Eames)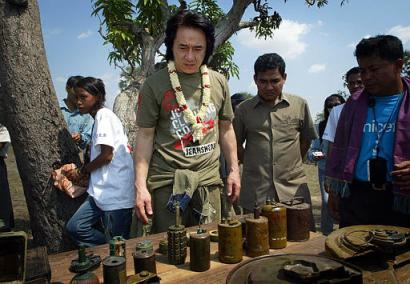 Jackie looks at some landmines. (Photo: AP/Andy Eames)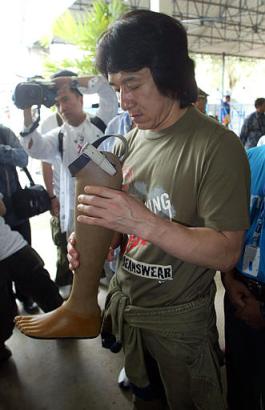 Jackie examines a prosthetic (artificial) leg during a tour of a landmine victims rehabilitation centre in Siem Reap. Photo: AP/Andy Eames
More Exclusive Photos of Jackie in San Francisco!
Thanks to the Kids Corner webmaster's EXCELLENT friend Jeff Applebaum, we are all being treated to tons of photos of Jackie from the San Francisco event several weeks ago. Here is just a tease.....stay tuned for Jeff's story plus TONS more photos! Thanks Jeff!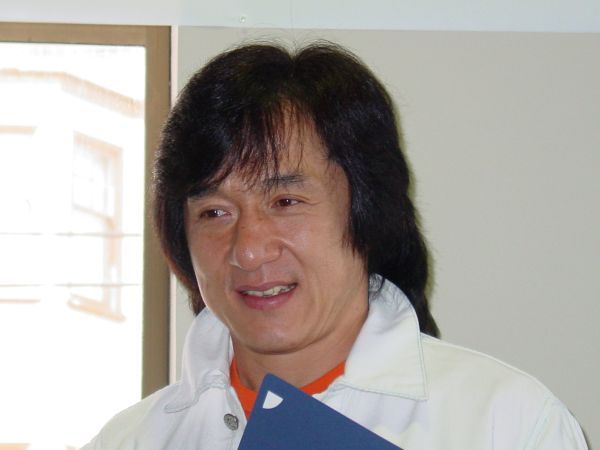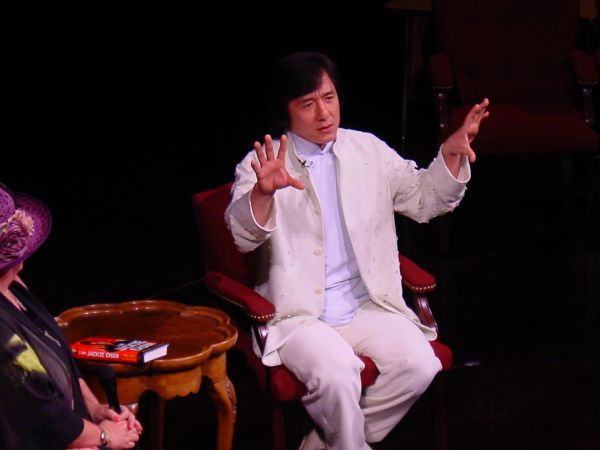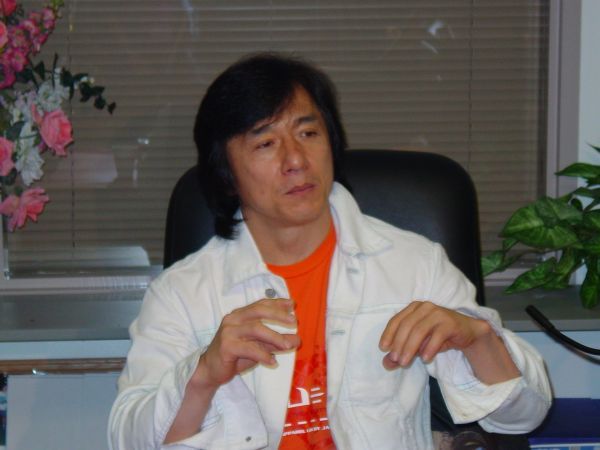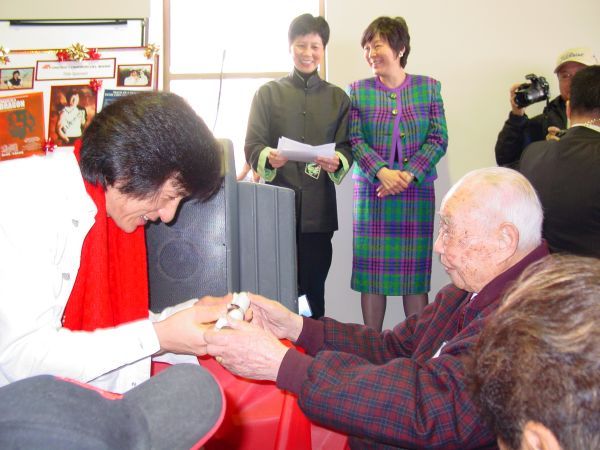 Photos ©2004 Jeff Applebaum. All rights reserved.
Jackie's Cambodia Trip Making News Worldwide
Check your local paper and you just may find an article about Jackie's trip to Cambodia. Here's the article from a New York newspaper, Newsday: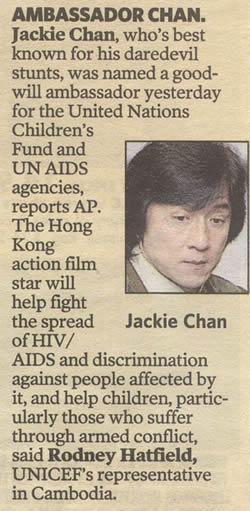 April 26, 2004
Jackie Arrives in Cambodia
Jackie Chan, smiles as he looks at a self portrait by a Cambodian girl, Bou Sren, 26, left, who is living or affected by HIV /AIDS at a Phnom Penh hotel (Photo: AP/Andy Eames)

Jackie Chan, center, poses with self portraits by young Cambodians living or affected by HIV/AIDS, 22 year-old La Lida, left, and 25-year-old Srun Samnang at a Phnom Penh hotel Monday, April 26, 2004. Chan, on a tour with United Nations agency UNICEF, will visit children suffering from AIDS and tour land mine rehabilitation centers during his three-day stay in Cambodia. (AP Photo/Andy Eames)

Jackie Chan poses after a press conference in Phnom Penh April 26, 2004. Chan was appointed goodwil ambassador for UNAIDS/UNICEF and will visit children suffering from AIDS and tour a land mine rehabilitation centre during his three-day visit in Cambodia. REUTERS/Chor Sokunthea



PHNOM PENH : Action hero Jackie Chan has been appointed a goodwill ambassador for the United Nations Children's Fund (UNICEF) and the organization's AIDS agency UNAIDS, officials said on Monday.

Chan, probably the most successful Asian star in Hollywood, arrived in Phnom Penh on Monday for a three-day visit which will be the first in his new capacity.

The UN said in a statement that the Hong Kong-based actor would promote efforts to arrest the spread of HIV-AIDS and that he was also interested in advancing the cause of children, especially those affected by armed conflict.

"UNICEF is delighted that Jackie Chan has signed up to be a Goodwill Ambassador. His worldwide fame and popularity will assist UNICEF enormously in its work for children," said the agency's executive director Carol Bellamy.

UNAIDS chief Peter Piot also said that Chan would help in the battle against HIV-AIDS, especially in Asia where the epidemic is spreading rapidly.

At the start of his trip to Cambodia, Chan on Monday had lunch with young HIV-positive people and inspected an exhibition of their life-size self-portraits created to raise awareness of the issue.

On Tuesday, he is to visit the northern town of Siem Reap to visit a Buddhist temple where monks are helping children and families with HIV-AIDS.

In Siem Reap, the gateway to the fabled temples of Angkor, he will also visit a centre for the rehabilitation of landmine victims, before returning to the capital Phnom Penh on Wednesday to wrap up his trip.

Cambodia has the highest HIV infection rate in Southeast Asia. The kingdom is also one of the most heavily mined countries in the world following nearly three decades of civil war that ended in 1998.

The Angkor temple complex was brought to the silver screen by another UN goodwill ambassador, Angelina Jolie, in the action movie "Tomb Raider". - AFP
April 22, 2004
The Softer Side of Jackie Chan
"I can't bear seeing people suffer so I do what I can to help out," says Jackie. Click here to read a wonderful article which describes how Jackie feels about his charity work.
The Great Hall of (Mini) Buddy Bears
Thanks to Sina Hirt of The United Buddy Bears for sending two beautiful photos of "The Great Hall of Buddy Bears" exhibit at the City Hall of Schoeneberg in Berlin. Click to enlarge: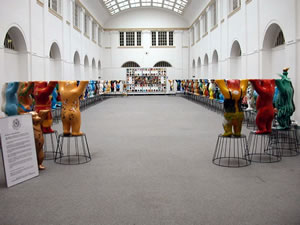 The Great Hall of Buddy Bears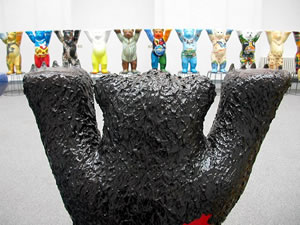 Another View of the Great Hall
Photos: ©2004 United Buddy Bears
April 21, 2004
Jackie to Visit Cambodia
Jackie will be in Cambodia next week to promote the work of the United Nations childrens' and AIDS agencies. While there he will visit the capital, Phnom Penh, and Siem Reap. Jackie continues to work tirelessly for charity. Source
Jackie Attends Charity Ball in California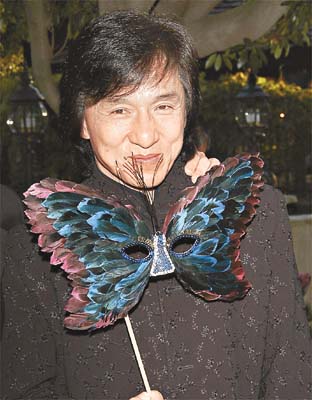 Photo: The Sun
On April 17th, Jackie attended the Chrysalis Butterfly Ball in Beverly Hills, California. The event was held to raise money for the homeless. Click here to see some photos of Jackie looking like he was having a really good time!
Las Vegas Charity Concert, 2004
Here are a few photos of Jackie from the Las Vegas charity concert: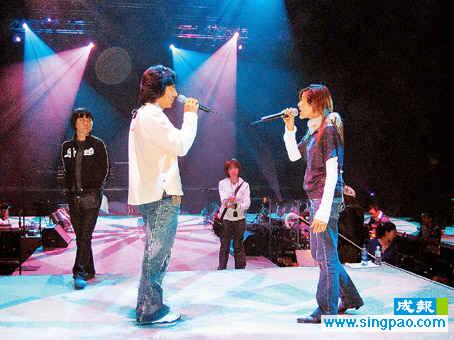 Jackie on stage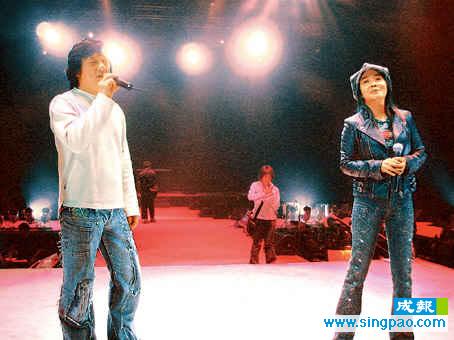 Jackie on stage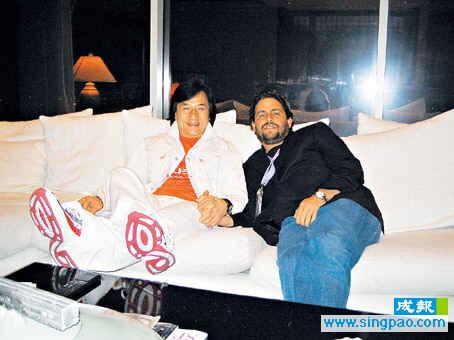 Jackie with old friend Brett Ratner
All Photos © Singpao.com
New Buddy Bear Design
Thanks to Crystal of The Bronx, New York (birthplace of the Kids Club webmaster!) for sending in two delightful Buddy Bears. Click the Buddy to see the new designs.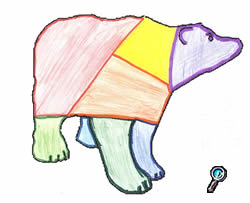 Beautiful New Around the World in 80 Days Coloring Project!
Thanks to eleven year-old Aura for submitting another wonderful project. Click below to see all the projects in Jackie's Coloring Book!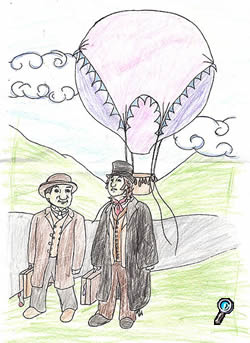 April 19, 2004
Around the World in 80 Days Website Updated
The official Around the World in 80 Days website has been updated! There are lots of really fun things to see (and do) on the site, so visit right away!
Awesome New Photo Page at Buddy Bear Corner!
Check out all the neat new photos at the Buddy Bears page here on the Kids Corner. New photos will be added as they arrive. If you have a Buddy Bear photo to share, please send it to the Kids Corner!
April 16, 2004

Kids Corner Buddy Bear Section Updated....Lots of New Stuff!
Check it out! The Kids Corner webmaster, confined to her computer chair by a really bad cold, has been working FEVERISHLY to put together a whole new section for the United Buddy Bears. There will be new stuff added in the near future, but you should see what is there now! Exclusive photos of Jackie's visit to the Buddy Bear workshop, new information, and an awesome cartoon by Kids Corner resident cartoonist, Holly Hecht! Click below!!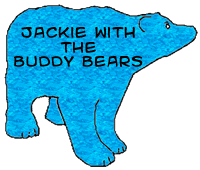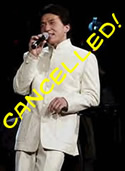 So.....what happens when a bunch of Jackie Chan fans hear about Jackie giving a concert in New York City? Well, they plan a get-together, that's what. And what happens when that concert is cancelled? They have their get-together anyway, that's what!
This is exactly what happened last week in New York City. It was actually a history-making event because it was the first time that Kids Club members met due to their association with the club. Click below to read Lisa Schwark's story about a wonderufl visit to New York City.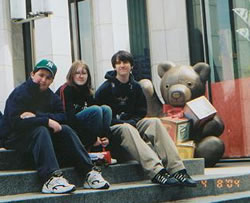 Members of the original Jackie Chan Fan Club for Kids meet in New York City!
April 15, 2004
Thanks to a very talented Jackie fan named Silvia for sending another delightful Buddy Bear. Click below to see all the Big Kids' bears:
The Cartoon Network in Mumbai (formerly Bombay), India has announced their summer line-up and has included the "already popular" series.....JACKIE CHAN ADVENTURES! Way to go Jackie, Willie, and Solon! The Jackie Chan Adventures Cartoon is a huge success worldwide.
The Kids Corner webmaster is working hard on new features for the website. Stay tuned as she adds new things!
April 14, 2004
Jackie to Make Offering to Yellow Emperor
This from Xinghua.net:
BEIJING, April 15 (Xinhuanet) -- World famous Chinese action star Jackie Chan will take part in an offering to the legendary first Chinese emperor at the Yellow Emperor Mausoleum in NW China's Shaanxi province.

The activity is the first of its kind to be held in September.

Local officials hope the activity will promote the province's tourism industry abroad and especially among overseas Chinese.

April 13, 2004

Kids Club Member Josh Meets Jackie in San Francisco!
Kids Club member Josh was one lucky dude yesterday when he got to see Jackie up close and personal at the ribbon-cutting ceremony in San Francisco, California. Check out the photos below...and stay tuned for more. Many many thanks to Kids Corner friend Jeff Applebaum for sharing his EXCLUSIVE photos of this event!!!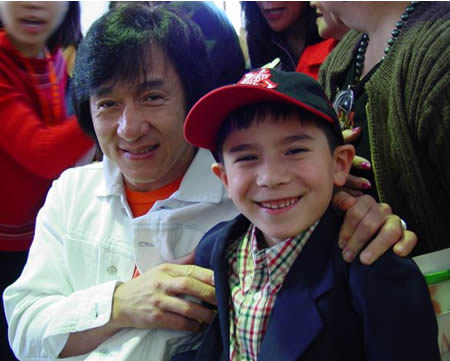 Jackie and Josh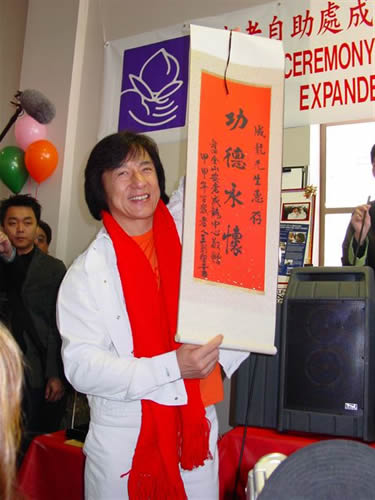 Jackie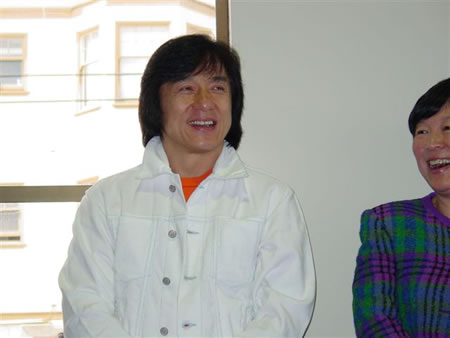 Jackie and admirer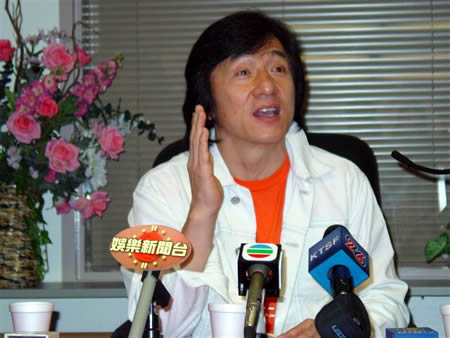 Jackie talks to the press
Jackie is interviewed by Jan Wahl before a screening of Traces of a Dragon
All photos are ©2004 Jeff Applebaum
More Buddy Bears!
There are some amazing new Buddy Bears in the "Big Kids" section today. Thanks to some very talented people for sharing their work. Diane and Rayne sent a whole bunch in the mail yesterday and now they're scanned and sized and ready for viewing. The Kids Corner webmaster, inspired by seeing a Vincent van Gogh painting at the Guggenheim Museum the other day, has added one of her own.
Check 'em all out by clicking on Vincent van Buddy Bear, below!
Vincent van Buddy Bear by Katharine Schroeder
April 12, 2004
Jackie To Appear Today in San Francisco
Jackie is scheduled to appear at noon today for a ribbon-cutting ceremony for the new wing of the Jackie Chan Adult Day Services Center. Afterwards there will be a screening of Traces of a Dragon, the story of Jackie's lost family. Click here to read more.
There's a new section about Chinatown, New York here on the Kids Corner. Click below to see some great sights from Chinatown!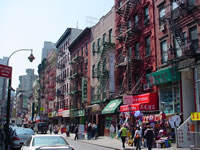 Today's Kids Corner mailbox brought a whole new pack of Buddy Bears. Stay tuned for them to appear on the website. The Kids Corner webmaster is also redoing the Buddy Bears page so she can add a statement from Buddy Bears creator Eva Herlitz. There's also going to be a terrific new cartoon from our own Kids Corner artist Holly. Check back later today or tomorrow for the updated Buddy Bears pages!
April 11, 2004
There are two new drawings at Holly's Studio. Click below to see all her wonderful work!
Check out this photo of the Buddy Bears being unpacked in Hong Kong! Thanks to Marie for the heads up.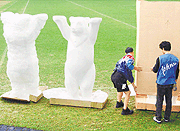 Photo: Oriental Daily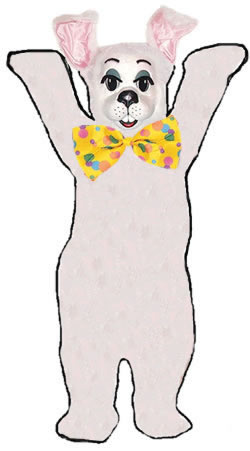 by Katharine Schroeder
April 10, 2004

JC Jeans: Lots of Photos!
Check out this new page devoted to Jackie's newly launched clothing line, JC Collection. As news develops about Jackie's newest venture, it will appear on this page. There are lots of photos there now, so check it out! Click below:
Buddy Bears Begin Arriving in Hong Kong!
The Buddy Bears have started arriving in Hong Kong! According to a People's Daily article, 12 blank Buddy Bears have arrived from Germany and local artists stand at the ready to begin painting them. The rest of the 120 Buddy Bears will be arriving soon. Why don't YOU decorate a Buddy Bear to help celebrate the Buddy Bears World Tour? Click here to download a blank bear to color. Then just scan it and send it to the webmaster or mail it to the Kids Corner at P.O. Box 556, Peconic, NY 11958-0556 USA!
Another Song About Jackie
Japanese jazz pianist Hiromi Uehara has written a song for Jackie Chan called "Kung Fu World Champion." Says Hiromi with a smile,"I want him to listen to that track!" Her new album entitled "Brain" is due out in Japan on April 21st. (Click here to read the entire article.)
Around the World in 80 Days Coloring Page
Oops.....the webmaster made a boo boo and forgot to post Holly's Around the World in 80 Days coloring page. Click here to see all the coloring pages or click the image below to print out this terrific one! There's also a new one of Jackie reading the newspaper that you can color. Remember that the newest projects on the coloring pages are at the bottom of the page. The webmaster apologizes to Holly for her oversight.
***News Flash***
The Kids Corner webmaster is on vacation this week so there will be LOTS of fun things added to the website. Keep checking back for news about Jackie, the Buddy Bears, kids, etc.
April 7, 2004
HAPPY BIRTHDAY JACKIE!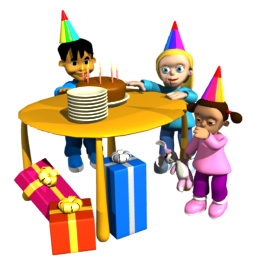 CLICK HERE TO SEE BIRTHDAY CARDS FOR JACKIE
April 5, 2004
Hong Kong Film Awards, 2004
As usual, Jackie has the magic touch:
"Action comedy "Twins Effect", a tale of vampire-hunters with martial arts star Jackie Chan in a cameo role as an ambulance man, took six prizes -- for film editing, sound design, visual effects, action choreography, costume and make-up design and art direction." (HONG KONG, Reuters)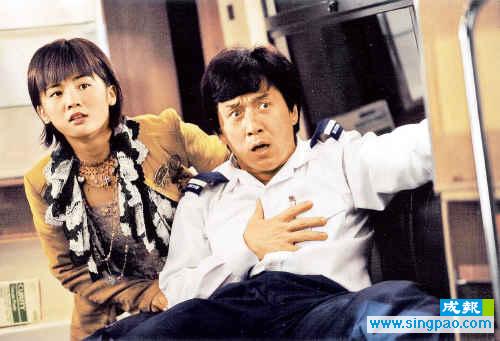 The Official Kids Corner Buddy Bear Book!
Here you go, as promised. The Buddy Bear collection is on its way to Jackie in Hong Kong. If you've recently sent a Buddy Bear and are worried that yours won't be included in this book, relax. The Kids Corner will send ANOTHER Buddy Bear book when the contest is over. Click below to read about the book:
April 4, 2004
Wow! From the Asian press release about Jackie's clothing line, JC Collection: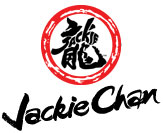 JC Collection: World in Harmony
JC Collection's fall/winter (2004/2005) collection is a natural progression of Mr Jackie Chan's philosophy of bringing together the unique resources, expertise, arts and technologies across the globe to create a "World in Harmony." (Click here to read the entire press release.) Thanks to t6 Press Releases for the information.

Models on the runway at the JC Collection fashion show in Beijing, April 2, 2004
New photos from Around the World in 80 Days!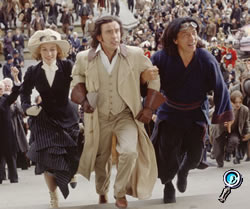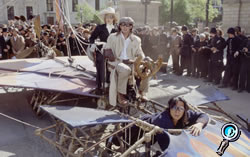 Don't forget to visit Disney's Official Around the World in 80 Days website! There are downloads, desktop themes, and a great game to play.
New Buddy Bears Have Arrived!
Well, the pack of Buddy Bears that invaded the Kids Corner mailbox the other day are now up on the site! There are almost THIRTY new Buddy Bears!!!!! Click the Buddy below to see all the new ones!
Schooltime Buddy
by Chelsea

New Dragon Designs at the Kids Corner Coloring Pages
Click on the Dragon design above to see the new designs!
Jackie Pops Up at Another Event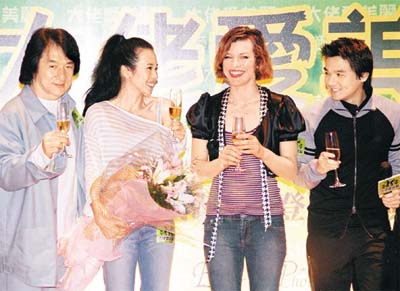 Photo: The Sun
April 3, 2004

From the "What Will They Think of Next" files comes a story of a company in Maryland that is selling cookies with celebrity likenesses on them. The plan is to sell the cookies at movie theaters. Jackie, along with Jack Nicholson, Renee Zellweger, and Halle Berry, has the honor of having his likeness grace the animal cracker-tasting vanilla shortbread cookies! Source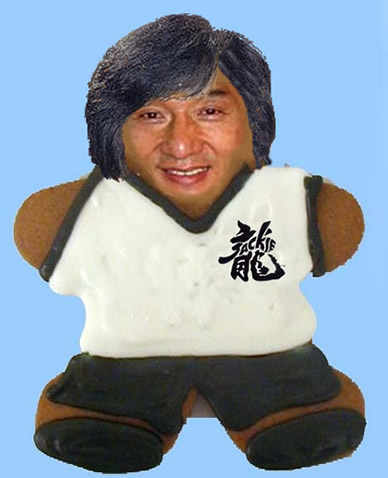 "I'll take a box of Jackie Chans, please..."
The Action Channel Salutes Jackie Chan in Honor of His Birthday!
For those of you who live in the States, the Action channel salutes Jackie with an 11-hour marathon which starts Wednesday at 2:40 p.m. The digital channel Action salutes the martial arts knockabout with three films and the feature-length profile "Jackie Chan: My Stunts."
Jackie in Beijing, China Promoting Clothing Line
Jackie was in Beijing yesterday promoting his clothing line. Said Jackie,"I would like to develop a fashion brand for all Chinese and bring it to the world stage." As usual, Jackie hopped up on stage to model some of the designs himself. Anyone who has ever seen Jackie on stage knows that Jackie is a pro at "walking the walk" - he looks like a professional model when he struts his stuff! Here are some photos from the event: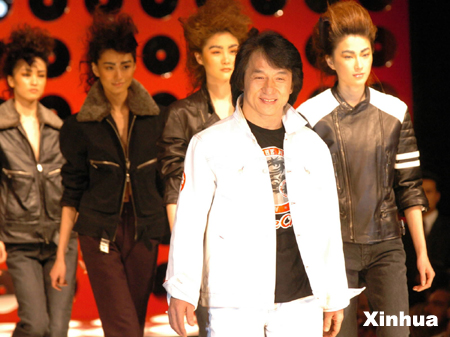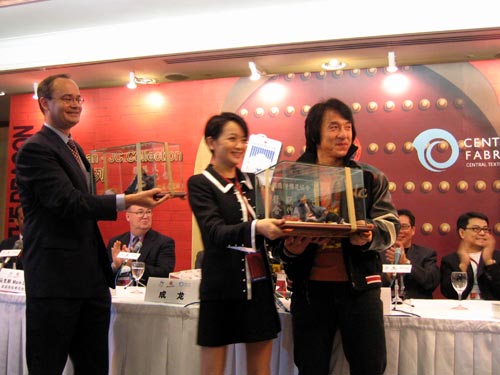 Photo: Sina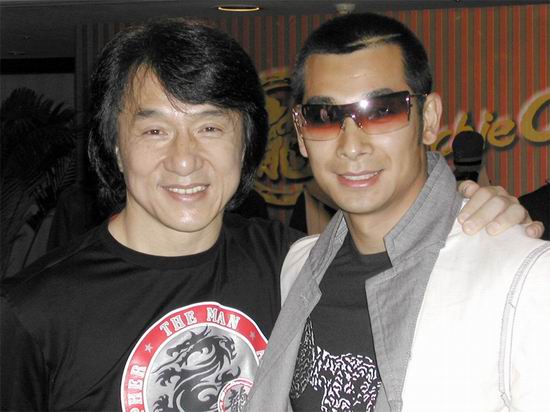 Photo: Sina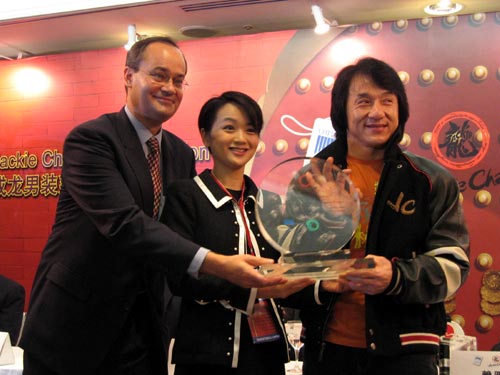 Photo: Sina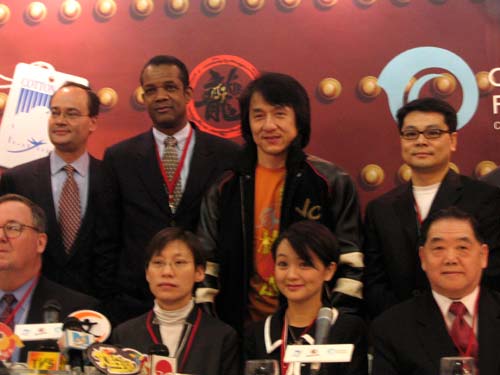 Photo: Sina
Jackie To Spend His Birthday Month Working for Charity
Jackie is going to be spending a good part of April doing work for charity. For those of you that live on the West Coast in the States, mark your calendars....Jackie's coming to San Francisco! There is going to be a special screening of Traces of a Dragon - the story of Jackie's lost family. Here's all the information:
Jackie Chan Charity Premiere
Special Appearance by Jackie Chan
Title Sponsor: United Commercial Bank
Date: Monday, April 12, 2004
Time: 6-8 PM
Place: Herbst Theatre, 401 Van Ness Ave., San Francisco
Ticket information and sales:
The Herbst Theatre web site or
Self-Help for the Elderly
407 Sansome Street
San Francisco, CA 94111
415.982.9171 ext. 174
Ticket prices are between US$50 and US$100.
All proceeds will benefit the Jackie Chan Alzheimer's and Richmond Senior Center.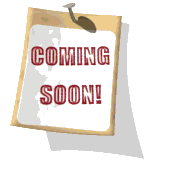 Stay Tuned for More Buddy Bears!
A whole pack of Buddy Bear designs came lumbering into the Kids Corner yesterday. Check back here later to see them posted. Also coming soon is an update on the Buddy Bears page with a special message from Buddy Bear founder Eva Herlitz AND some new photos. Don't worry....the Kids Corner webmaster has not forgotten that she promised to show you the special Buddy Book that she sent to Hong Kong for Jackie to feast his eyes on. All coming soon!!!
April 2, 2004
Wow! The Around the World in 80 Days website is up and running. There's lots of neat stuff there now and they'll be adding more as the days go by. There's a Countdown to the Movie clock, some desktop themes, and a really fun game to play. Try to launch Passepartout (Jackie)! The Kids Corner webmaster kept smashing poor Jackie into the ground. Maybe you'll have more luck! Click below to visit the site.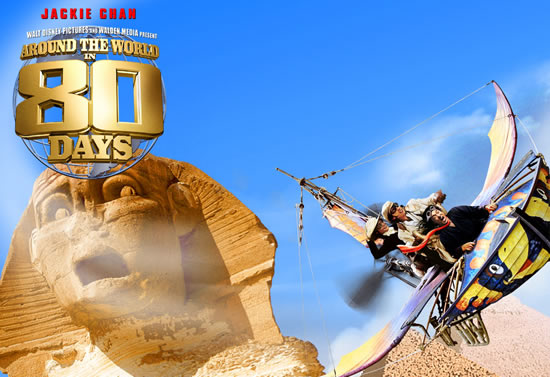 Photo Property of Disney/Buena Vista
Here's another photo of Jackie hanging out with a Buddy Bear. This photo was taken in Hong Kong at the press conference announcing the Buddy Bears' visit to Hong Kong!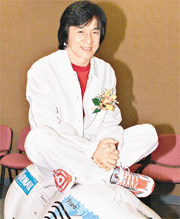 Photo: Oriental Daily
Don't forget, kids....you can design a Buddy Bear too! It's REALLY REALLY easy - promise! Click here to see how to do it. You just print a blank design from your computer, color it in, and mail it to the Kids Corner webmaster (or scan it and send it through email). It's that simple! Check out all the wonderful and creative designs that have already arrived!
April 1, 2004
Well, it's April Fools Day but you won't see any pranks from the webmaster here at the Kids Corner. Last year a story ran here (as a practical joke) and it generated a slew of emails from concerned fans who thought the story was true. Here's what ran last year without the warning, unfortunately):
***THE FOLLOWING WAS AN APRIL FOOLS JOKE ***

In a shocking announcement at a news conference in Thailand, Jackie Chan has said that he is retiring for good. After walking off the set of Around the World in 80 Days, Jackie called the news conference to announce his stunning plans:
"I'm moving to New Zealand to start a free-range poodle farm. After seeing the way poodles are primped and groomed throughout the world, I feel that it is my obligation to provide them with a place where they can roam free and wild the way nature intended. I've purchased 600 acres in a remote area and have set up the Jackie Chan Poodle Preserve where these wonderful creatures can hunt and roam free."
Jackie left for New Zealand immediately following the press conference saying, "I've had a good run but the poodles of the world need me now and I must go to them."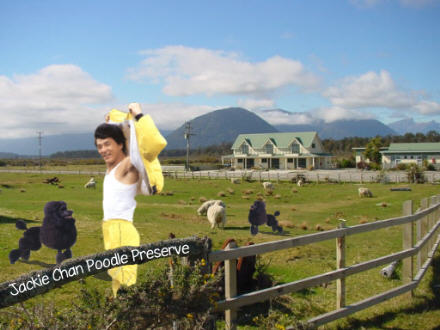 Jackie Chan on his New Zealand Poodle Preserve (Click here)

Special thanks to Marie M. for supplying the Kids Corner with daily news updates about Jackie. She spends a lot of time hunting down the latest news and very generously shares it with the Kids Corner webmaster. Without Marie's help, this news page would not be the same. Thanks Marie!!!!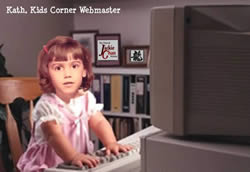 Please read this note from the webmaster!
Very Exciting News!!
This is THE coolest news of the year for the Kids Club!!!
As most of you know, Jackie has been keeping a diary for his fans while shooting Shanghai Knights. In the July 3rd diary entry, Jackie talks at length about the Kids Club and mentions each of the last 7 "Jackie's Kids" by NAME! As most Kids Club members know, Jackie has taken a keen interest in the newest Jackie Fan Club and he reads all of the newsletters. It is very exciting to read Jackie's comments about the club and its members! In the July 8th entry, Jackie mentions the Kids Club again, encouraging his young fans to join. Click the highlighted links (above) or read the diary entries at Jackie's Official Web Site. (From the August 12, 2002 News Report)
CLICK HERE TO GO BACK TO THE TOP
The Latest Jackie News is now being archived to save room on this web page.
To read past news reports, just click on the month you're interested in viewing.
©2003 Katharine Schroeder / Jackie Chan's Kids Corner