November 28, 2002
November 24, 2002
Well the "Latest Jackie News" report was on an involuntary vacation for several days but is now back. Sorry for the gap.
Congratulations to Kids Club member Jesse - he is the first person to send in a Christmas card for Jackie...and it's AWESOME! Jesse used his imagination and made a card that will surely make Jackie smile. Thanks Jesse for getting the ball rolling! Cards will begin being posted on the Kids Club site in the beginning of December, so please send them in soon.
On November 24 at the request of the crew of the US Navy Guided Missle Destroyer USS Milius, Jackie took a tour of the ship, met crew members, and signed hundreds of autographs. The USS Milius is currently on port call in Hong Kong. Here are some photos of Jackie on the ship: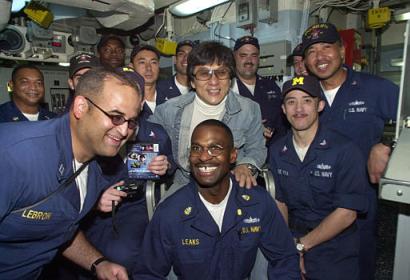 Jackie poses with servicemen.
(AP Photo/POOL, Anat Givon)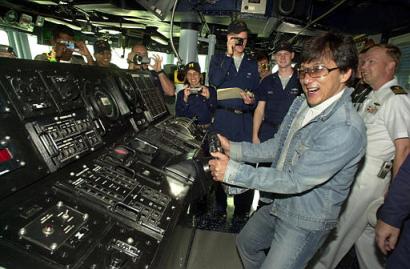 Jackie in the control room. (REUTERS/Anat Givon/POOL)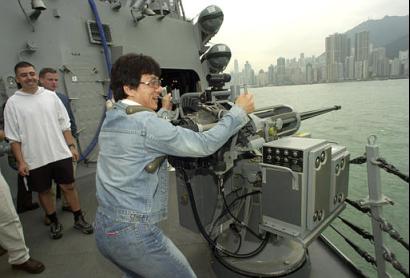 Jackie prepares to "attack" Hong Kong. (REUTERS/Anat Givon/POOL)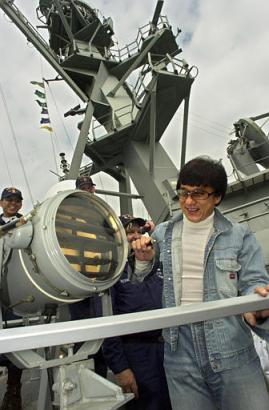 Jackie on the deck of the USS Milius (AP Photo/POOL, Anat Givon)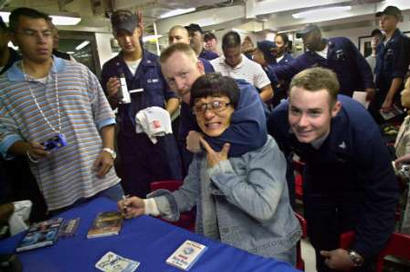 In a demonstration of true bravery, a serviceman puts Jackie in a headlock.
(REUTERS/Anat Givon/POOL)
November 18, 2002
Not much Jackie news out there, but today is meaningful for many of Jackie's fans because it was one year ago that the Knight of the Dragon charity event took place in Toronto, Canada. The trip to Toronto to see the concert and to meet Jackie at the CN Tower was a very exciting time for a lot of people. It was also the beginning of many wonderful friendships....and it's a common interest in Jackie that is to thank for that!
Under the heading of "What Incredible Luck" comes the story of a troupe of Lion and Dragon Dance performers from London who just happened to be in THE right place at THE right time. Click here to read their great story.
**Thanks to the JCMB members who brought this story to the attention of the Kids Club**
November 14, 2002
The JC Group in Hong Kong liked the Jackie Jedi contest so much that they put an announcent of the contest on their front page....AND they put a link to all the Jackie Jedi contest entries! Now that's exciting news!
November 13, 2002
Well, if you thought for one second that Jackie's brain ever takes a vacation, you thought wrong. In between performing stunts, acting, going to meetings, posing for photos, attending press conferences, and promoting movies, Jackie has thought up a great new contest for his beloved fans - the "Share Your Thoughts With Jackie" contest! Here's how it works:
Send an original slogan that captures your philosophy on life in ten words or less. Jackie will select his favorites and engrave them along with your names into the floor of his new Hong Kong office. All submissions must be received before December 20th, 2002. Send your slogan to mail@jackie-chan.com
Check this out....Jackie cut his hair! Here he is with Highbinders co-star Claire Forlani: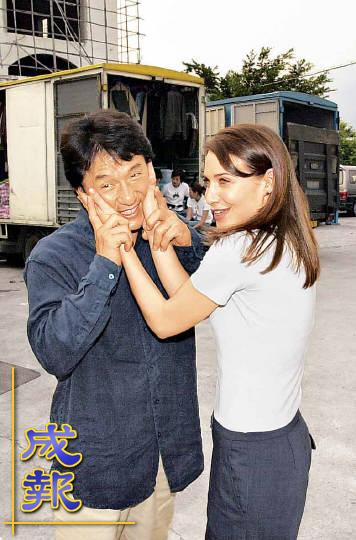 Photo: Stareastnet
November 11, 2002
While shooting a scene for the American version of Highbinders, Jackie's hands and hair were accidentally burned. As you can see below, Jackie takes these things in stride....he remains cheerful even when injuries happen. And what did Jackie have to say about the burn? "It's nothing." That sure sounds like Jackie Chan!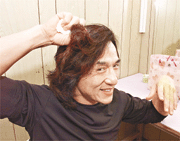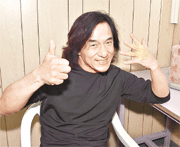 Source: Oriental Daily
November 10, 2002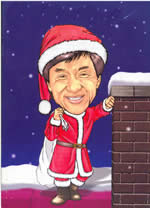 Cool new contest!
Click on Santa to read all about it.
November 7, 2002
In an interview given on British radio, Rush Hour director Brett Ratner said that he planned on having Michael Jackson (yes....THE Michael Jackson) star in Rush Hour 3 along with Chris Tucker and Jackie. Brett Ratner is a big Michael Jackson fan, as is Chris Tucker. Says Ratner, "I'm going to put Michael Jackson for sure into Rush Hour 3. What Joe Pesci was to Lethal Weapon, he's going to be to Rush Hour 3. He'd love to be in the movie!"
Jackson's music was featured in both Rush Hour and Rush Hour 2. It is well known that Chris Tucker is a huge fan and has spent time learning Jackson's moves. It will be interesting to see how Brett Ratner fits MJ into the third Rush Hour.
Source: The Worldwide Michael Jackson Fan Club
Speaking of Rush Hour 2, click here to link to a very neat puzzle game featuring stills from the movie. It's fun and challenging.
November 6, 2002
Congratulations to Marie H. Perez for her winning entry in the "So Jackie Wants to be a Jedi" contest. All votes were tallied and Marie came out NUMBER ONE! All projects were forwarded to the JC Group and hopefully Jackie got a chance to see his possible future role as a Jedi Knight. Thanks to all who entered....the designs were terrific and some of them were very funny. They will stay up on the web site in the "Totally Fun Jackie Stuff" section for everyone to enjoy. Click here to see Marie's winning entry.
Congratulations also to Kids Club member Steph whose winning entry can be seen here.
Now that the Kids Club Web Site has finished its first contest, the webmaster has some experience conducting the voting, etc. In the future the posting of contest entries and announcement of winners will not take so long. Prizes in future contests include copies of Screen Power Magazine, Jackie books, and Jackie posters. There are even a few copies of Rush Hour 2 (videotape) and some Rush Hour 2 water bottles awaiting new owners! Look for announcements of new contests here in The Latest Jackie News. Anyone who has an idea for a contest, email the webmaster and let her know!
In other news, Jackie has been in Hong Kong filming those additional scenes for Highbinders which is set to premiere sometime during the summer of 2003. Here are a couple of photos of Jackie in action: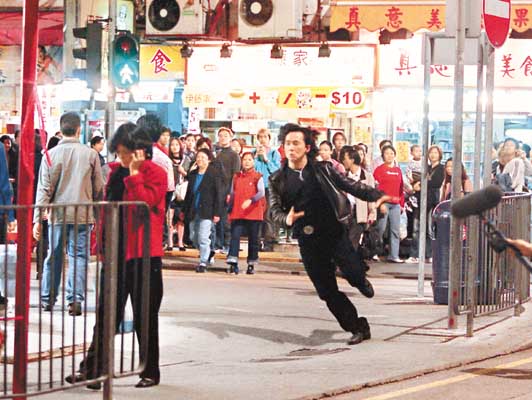 Jackie chasing girl with red jacket.... going to tell her that it's not safe to walk and talk on a cell phone at the same time.
Okay, that was made up. It's just a scene from the movie....no idea what it's about.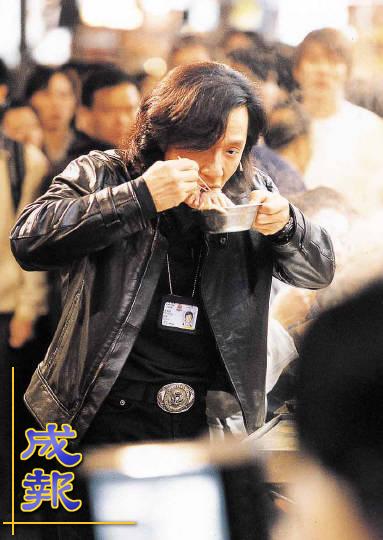 Jackie eating what looks like squid. Brave Jackie.
November 1, 2002
Wow! It looks like Jackie's "Popcorn Bucket for Charity" sold for a whopping $191. Way to go Jackie!
The voting for the Jackie Wants to Be A Jedi contest has slowed down to nearly a halt, so that means that most people who wanted to vote have done so. The polls will stay open for another day or two and then the votes will be tallied and the winner announced. If you haven't voted yet, please do so. Remember, your vote is being cast through email but there's no way your email address is going to be shared or otherwise used to harass you. So vote with confidence! Click here to see the projects.
A Shanghai Knights trailer and production photos have been posted here. WARNING! There are plot spoilers here so if you don't want to know what the movie is about DON'T CLICK ON THE LINK!
In other news action director Stanley Tong has been confirmed to helm Media Asia's big-budget film "Titanium Rain," starring Jackie Chan. This will mark the fourth time that Tong -- who made his Hollywood debut with 1997's "Mr. Magoo" -- has directed Chan. Tong's first collaboration with Chan was "Supercop," which also marked the return of Michelle Yeoh to the big screen after about five years away. Their second collaboration, "Rumble in the Bronx," has widely been credited as Chan's springboard into Hollywood. "Titanium Rain" has been pushed back several times because of the star's unavailability and the search for the right director. It's now scheduled to go into production in May after Chan wraps "Around the World in 80 Days." (Winnie Chung)
Source: Hollywood Reporter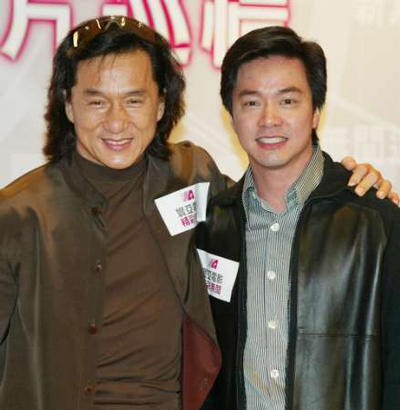 Jackie with his old friend Stanley Tong at news conference
Photo: Yahoo News