May 28, 2007
More Buddy Bears and a Great Drawing!
More bears have arrived for Jackie's Buddy Bear contest. To see them all, click here.
One note about the contest: We have increased the maximum number of entries to five (because we didn't have the heart to turn away anyone's entries). Please don't send more than five, though.
Thank you so much to Zhao Ai from China for sending in a beautiful drawing of Jackie. Click the thumbnail below to see Zhao Ai's drawing and many other amazing drawings from Jackie's fans: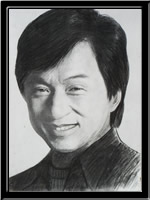 Click me!
May 22, 2007

May 21, 2007
More Buddy Bears!
Jackie's Buddy Bear Contest is really heating up with many new entries. Click Guido's bear below to see all the new entries.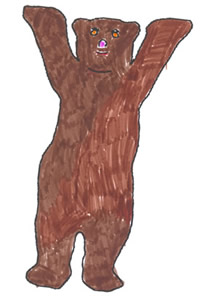 Remember, you have until July 1st to send in your contest entry. Click here for details.
May 16, 2007
First Buddy Bear Contest Entries Arrive
Jackie's Buddy Bear Contest has begun and we have several entries already. We have the prizes here at our office and have taken some photos of the bigger bears. Click here to have a look at the prizes you could win! Remember, Jackie will be picking the winner of this contest, so start thinking about how you'd like to decorate your Buddy Bear!


May 11, 2007
Great New Contest!
It's time for a new contest and thanks to our friends at United Buddy Bears, we have lots of neat prizes. Click on Jackie to read all about it!
May 9, 2007
Build a School Fund Grows!
Thanks to Jackie's generous fans, the Build a School for a Dollar project just keeps going strong. After an amazing amount was raised for Jackie's birthday (over US $2,000) fans just keep sending more donations. We have just added to our total and are very happy to report that we are nearly one-third of the way to our goal. Many people are working right now to raise funds and you will be very pleased to see some of the great ideas people have come up with for helping!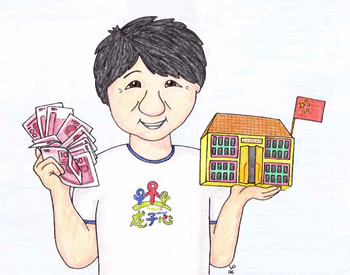 Click on Jackie to read more stories of our Dragon's Heart helpers.
Thank you to everyone who has done so much hard work to help the children. We have sent more photos of Build a School drawings and donations to Jackie on the set of The Forbidden Kingdom and will let you know his reaction soon!
In addition to the donations made by groups of helpers, individual donations keep coming in too. Here's a photo of some of the recent donations we've received: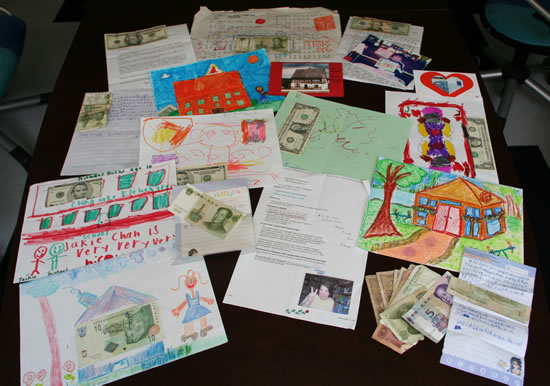 May 3, 2007
New at the Kids Corner
In our Sharing Corner:
A New Drawing in our Gallery!
Birthday Card Contest Winner: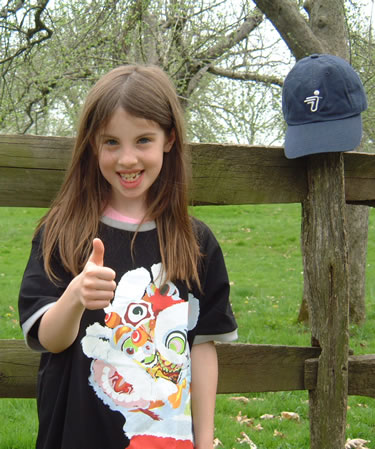 Here's one of our Birthday Card Contest winners, Autumn from the US,
sporting her prize - a beautiful JC t-shirt! She wrote to say thanks for the shirt.

Thanks for sending us your photo, Autumn!
Two More Find-a-Word Puzzles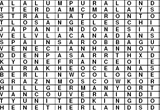 Click to enter Totally Fun Jackie Stuff
and see our new puzzles. Thanks to Silke for creating them.
April 26, 2007
"Thank you to all my fans!"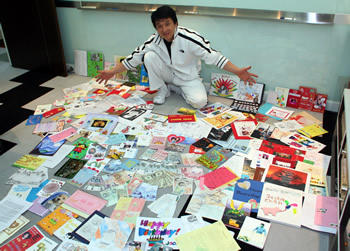 CLICK HERE
Jackie's Fans Have Been Busy!
We have so many wonderful updates here at the Kids Corner. Many of Jackie's fans have been sending in their stories, photos, and letters. We are always happy to hear from you and a big thank you to everyone! Here are some of the new updates at the Kids Corner: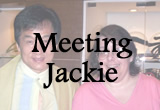 Read about one fan's
lucky meeting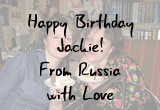 A long-distance birthday party
for Jackie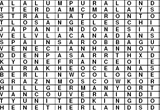 Two fun Find-a-Word puzzles
made by Silke just for you!

Four new "Movies That Weren't"
from Jeremy and Lori

Romina shares two coloring projects
in Jackie's Coloring Book
If you have something to share, email it to us and we'll find a place for it on
our website.
Some Important Tips for Sending Photos:
Include your name in the photo file name. For example, if Bobby from Australia sends us a drawing, he could name it

Bobby_drawing.jpg

or

Bobby_Australia.jpg

Notice that there are no spaces in the file name. Computers don't like spaces in file names, so you should insert an underscore (hold down SHIFT while pressing the hyphen key) where a space would be.
Don't use foreign characters in a photo file name. Sometimes our editing program can't read your file name if it is written in Russian, Chinese, etc.
Photos should be resized to not less than 500 pixels in width. If they're too small, the quality is poor; too big and they overload our mailbox.
We hope these tips help.
Ever Wonder What the Buddy Bears
Are Up To?
Jackie has been a long time supporter of the United Buddy Bears project. In fact, he was responsible for bringing the Buddy Bears to Hong Kong! The Buddy Bears are still traveling around the world and now they have reached their fourth continent - Africa! They are in Cairo, Egypt and will be there until May. Click here to see some great photos of the United Circle of Buddy Bears in Egypt.
Cool Photo
Silke from Germany found two photos of Jackie which were taken twenty years apart, but which have a similar pose. She wanted to share them with you: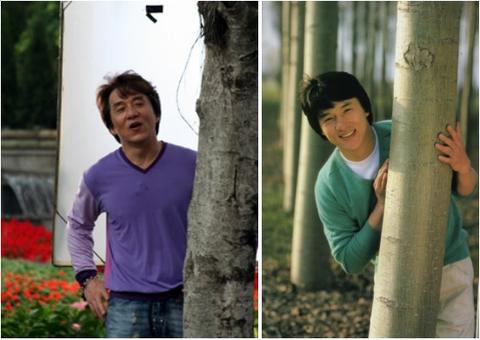 Thanks Silke!
April 23, 2007
Inspired by Jackie
Jackie has millions of fans and among them there are some very talented kids and adults. Over the past month, we have learned about a 13 year-old fan who tells us that Jackie "has inspired many kids, including me, to aim high." And wow! Did Nancy Yi Fan aim high. Click the picture below to read all about this amazing girl!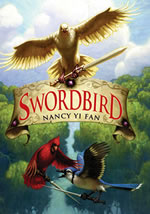 CLICK
April 20 , 2007
A Few Notes From Fans
We always love hearing from fans and even if your note or photo doesn't get posted here at the website, please continue to share your good news, photos, and messages with us. Remember, Jackie does look at the websites frequently and we always fill him in on what his fans tell us!
Message from Tobias
Hello Jackie !

My name is Tobias and I'm 12 years old. I like the action in your movies (especially with the cars).
And I know you like cars! So, last week I discovered a beautiful car in a shopping center. My mother took a photo from me and the car. You can see it's really a funny car! But I think it is not possible to do action with it! But on the other side the car is very good to the nature. No oil and gas, only flowers and plants! The photos are my birthday gift for you. I hope so you like this car!

Happy birthday to you!!!!!!

Tobias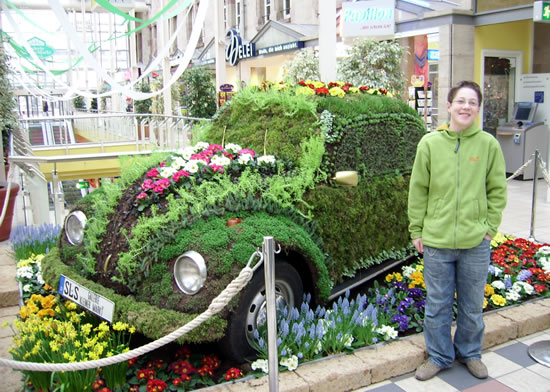 Wow! Thank you for sending in this great photo, Tobias. Jackie will surely like this special car.
Autographed Calendar Winner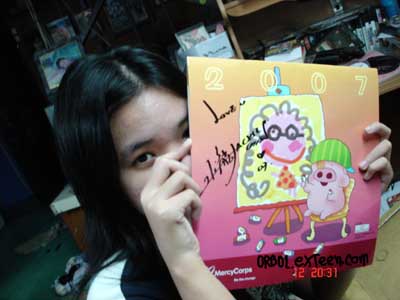 Here's Nao with her winning calendar. Congratulations Nao and thanks
for sharing your photo with us!
Jackie and Jacqueline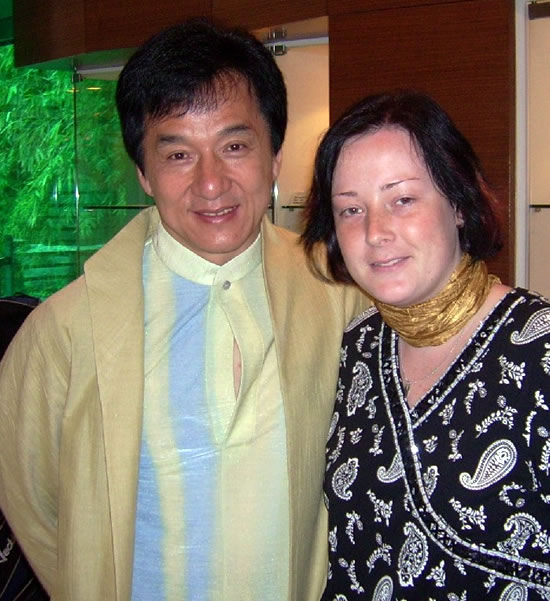 If you read the latest On the Road With Jackie Chan Scrapbook entry, you
will remember that Jacqueline's visit to the JC Group offices was mentioned. Thanks
to Jacqueline for sending in this beautiful photo!
Birthday Contest Reminder
Jackie will be back in Hong Kong soon and we will do the best we can to take some photos of him with all of his beautiful birthday cards. Please remember - if you sent your card late to our office (either by post or email), it won't be posted on the birthday card pages right now. However, we will show it to Jackie! Same goes for cards which were computer generated. We have printed them out so they can be included in the photo. Don't worry! In the past it has often taken a month or two before Jackie has photos taken with his birthday cards.
April 16 , 2007
Birthday Contest Winners
We have chosen the nine winners for the 2007 Birthday Contest (three winners in each of three age categories). Congratulations to everyone who sent in an entry and please read the message from the webmaster at the bottom of the Winners page.
CLICK HERE TO SEE THE WINNERS!
April 12 , 2007
No Birthday Card News Yet...but a Few Fun Photos
Although Jackie is back in Hong Kong, he has been very busy attending press conferences and filming a commercial with George Foreman. He has not had a chance to look over the birthday cards yet, but as soon as he does, we will post photos of Jackie with the cards (if possible) and tell you the winners of the contest. We will also announce the total amount of money that was donated to the Dragon's Heart Build a School Project in honor of Jackie's birthday.
Between takes on the set, we showed Jackie some of the things that he has received in the mail over the last few months. (These are not birthday gifts.) We read him some of your letters, showed him some of your drawings and gifts, and even managed to get a photo or two!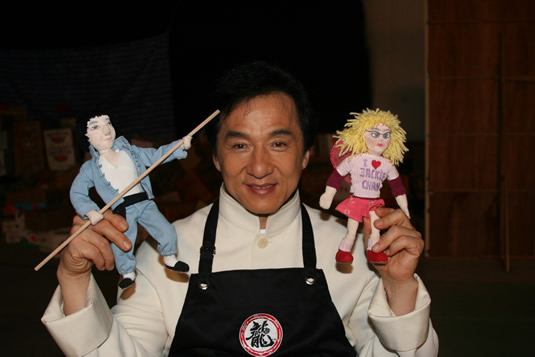 Jackie really liked these hand made dolls sent from Krisztina in Hungary.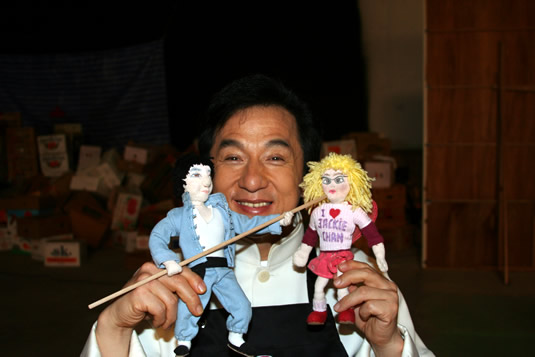 Another photo of Jackie with his dolls.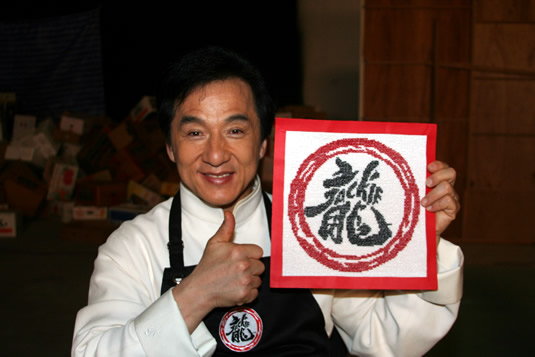 This is Jackie's logo done in needlepoint by Silke from Germany.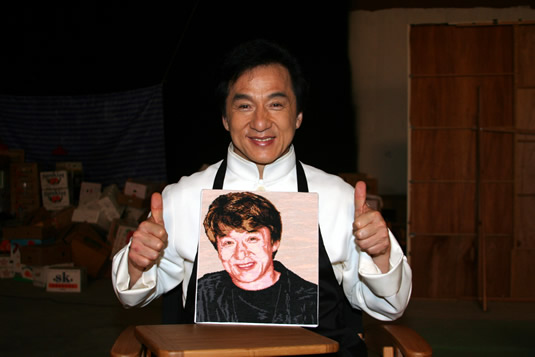 Here is Jackie with a needlepoint portrait from Ute in Germany.
April 3 , 2007
Jackie's Generous Fans
We have received many many birthday cards for Jackie these past few weeks and are completely flabbergasted at the generosity of Jackie's fans. We encouraged everyone to make a donation to the Build a School project this year instead of sending birthday gifts and WOW!!! What an incredible response! Not only have many of you sent a donation, you have sent a considerable sum of money. We are keeping a tally of all the birthday money and will announce the total on Jackie's birthday. You will be amazed when you hear how much money has been sent in for Jackie's birthday.
CLICK HERE TO SEE ALL THE BEAUTIFUL CARDS
Build a School Total Jumps to over US $19,000
The total has increased tremendously in the last two weeks thanks in a large part to several fans who asked their friends and families to give them money for Jackie's charity in place of birthday gifts! What a terrific thing to do!
A big thank you to everyone who sent in a donation. Jackie appreciates each and every donation equally. In a few days we will add up all the money that has come in for Jackie's birthday and add that to our latest Grand Total. We are sure you'll be quite pleased!
Here are the photos we sent to Jackie in Los Angeles: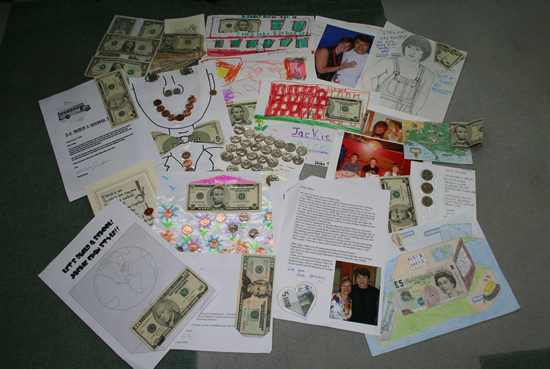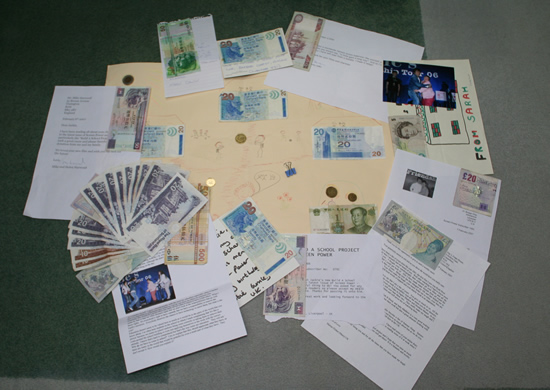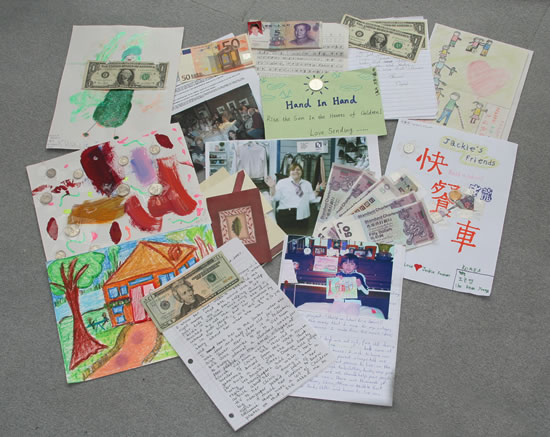 April 1, 2007
Jackie Gets Slimed!
Jackie and his Rush Hour 3 co-star Chris Tucker were doused with green slime at the 2007 Nickelodeon Kids Choice Awards in Los Angeles last night. In the tradition of the Kids Choice Awards, celebrity guests are covered with green goo - all in good fun! Jackie has won several Kids Choice Awards in the past, including "Favorite Male Butt Kicker" and "Favorite Male Action Star."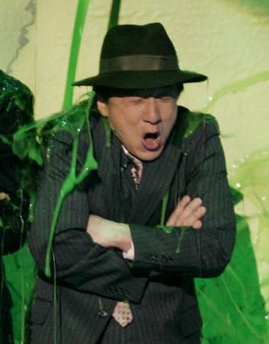 Photo: REUTERS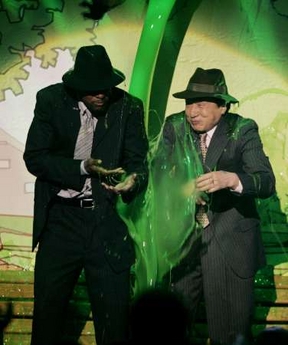 Photo: REUTERS
CLICK HERE TO GO BACK TO THE TOP
The Latest Jackie News is archived to save room on this web page.
To read past news reports, just click on the month you're interested in viewing. Remember that some of the older links in these news archive may no longer be active.
AUGUST, SEPTEMBER, OCTOBER 2005
KIDS CORNER FRONT PAGE / TOTALLY FUN JACKIE STUFF / OFFICIAL SITE HOME PAGE
©2007 The JC Group
No part of this website may be reproduced or distributed without permission.