June 14, 2004
Los Angeles Premiere of Around the World in 80 Days:
El Capitan Theater, Hollywood, California
June 13, 2004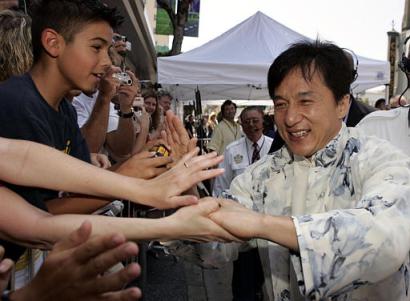 Jackie greets his fans. Photo: AP/Filmmagic.com/Chris Polk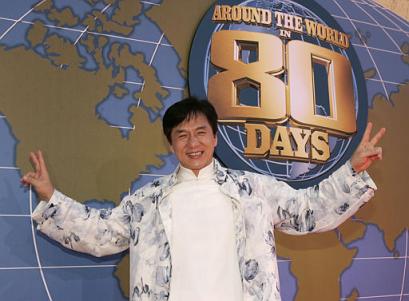 Photo: AP/Filmmagic.com/Chris Polk
The following photos ©2004 REUTERS/Jim Ruymen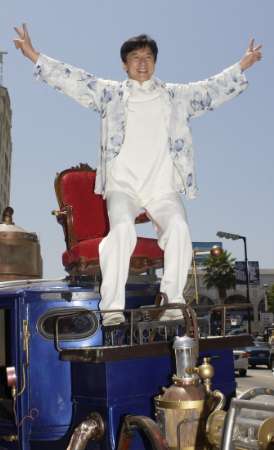 Jackie atop a wacky car from the movie.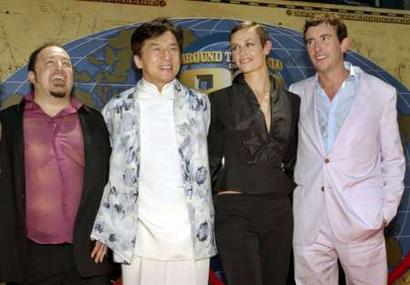 Frank Coraci, JC, Cecile DeFrance, Steve Coogan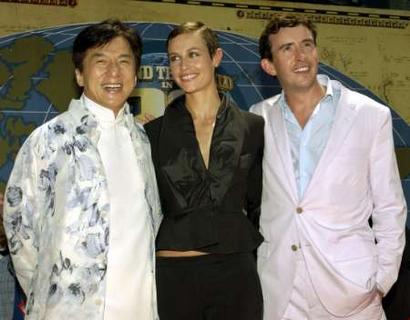 JC, Cecile DeFrance, Steve Coogan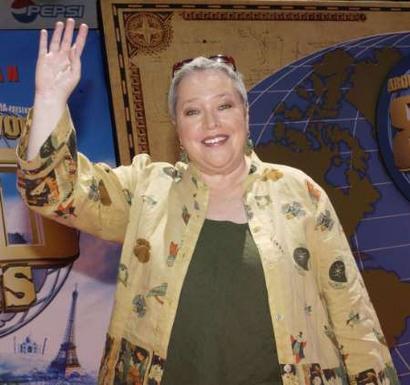 Kathy Bates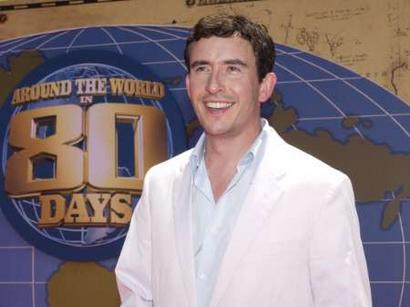 Steve Coogan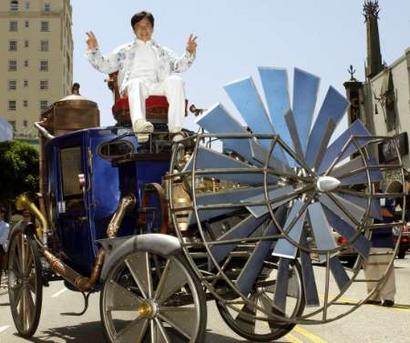 Jackie and his new wheels?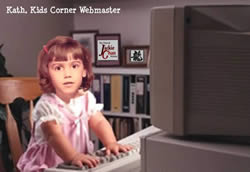 NOTE FROM THE WEBMASTER:
Thanks to everyone who emailed me to tell me that the Jackie Chan Kids Corner site was down on Sunday, June 13.

It's my fault, really. Number one, I thought I could escape from my desk for a day or two to visit some family. Number two, I told them how reliable the web server was; that the site was NEVER down. See? It was my fault. I SHOULDN'T HAVE OPENED MY MOUTH!!!!

Thanks again for the alerts. I am always grateful to hear about outages, broken links, etc.
June 11, 2004
Jackie on The Tonight Show with Jay Leno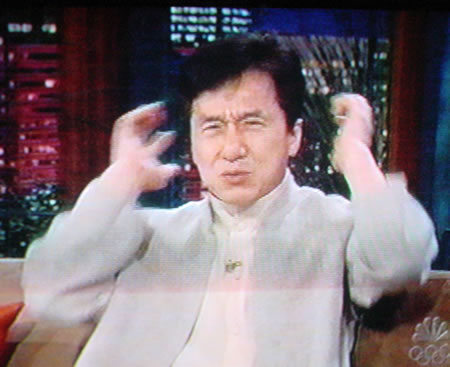 Jackie tells Jay why he needs to have long hair for his action scenes....so that when there is a punch or kick, his hair will swing back, giving the scene more of an action look.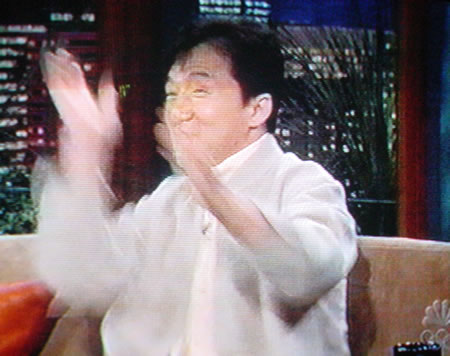 Jackie demonstrates how people react when they hear his name....they imitate Kung Fu moves. He said that he'd like people to appreciate him for his acting, not just his action. He talked about his desire to do more dramatic roles....like Robert DiNiro and Dustin Hoffman do.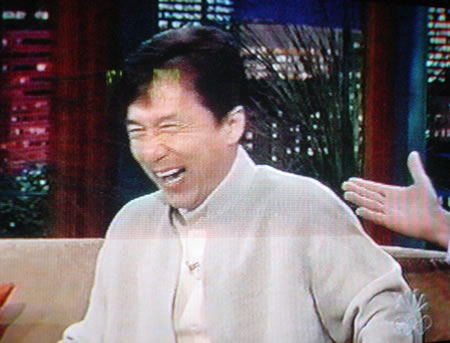 When Jay asks Jackie to demonstrate a sad dramatic scene, Jackie is taken by a fit of laughter and is unable to make a sad face!
All photos are screenshots from the NBC Television Network
More Jackie in Hawaii Photos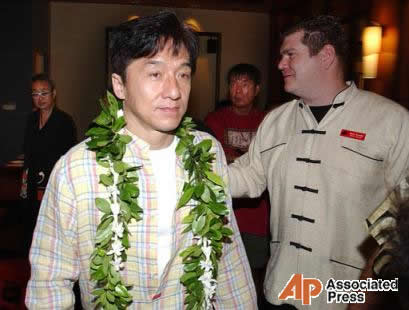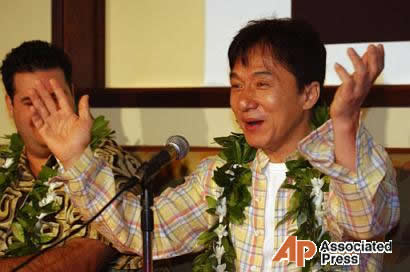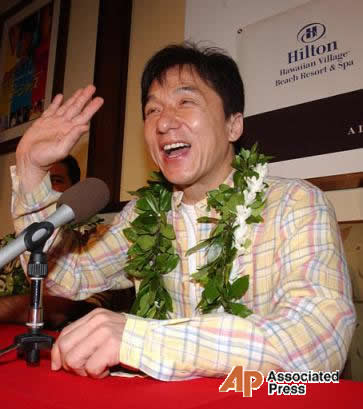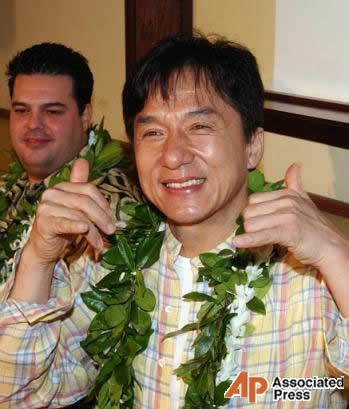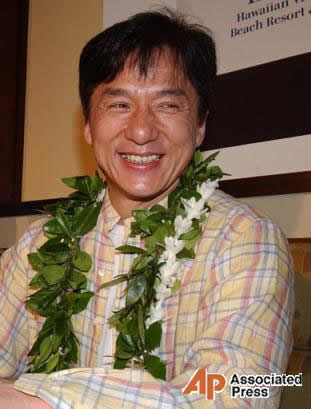 All photos are ©2004 AP/Ron Zilbermand
June 9, 2004

More Exclusive Photos of Private Dinner...Featuring the Buddy Bear Book Again!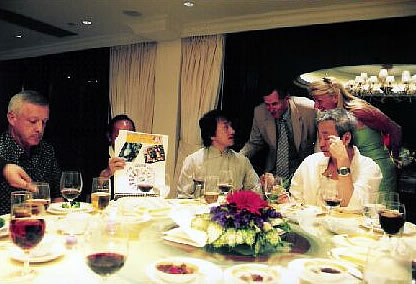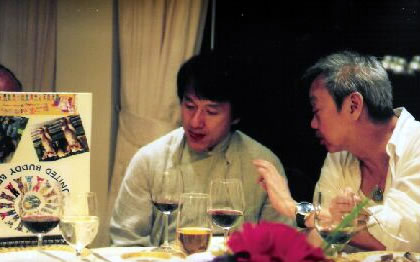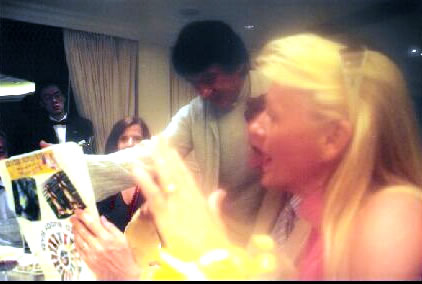 Thanks to Eva Herlitz!
Jackie Wants to Film Rush Hour 3 in Hawaii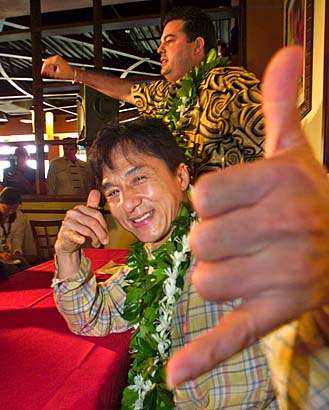 Here's Jackie giving the Shaka sign. Shaka is the Hawaiian word that means "Hang Loose." It's a phrase and a symbol you will see widely used on Hawaii by the locals. The spirit of Aloha is more than a saying in Hawaii, and the Shaka is just one way it's shown each and every day.

By Tim Ryan
From Starbulletin.com
Action movie star Jackie Chan opened a restaurant and premiered a comedy film in Honolulu this week, but he might not be finished with the islands yet. At the opening of his Jackie's Kitchen at Ala Moana Center yesterday, Chan said he is confident that 70 percent of his "Rush Hour 3" movie will be filmed in Hawaii.
But that was news to officials at the Hawaii Film Office, who have not received any inquiries from the production company. Producers had been planning to film the sequel in Thailand and Japan, although the location has changed over time. In 2001 the film was to be set in Africa. In 2002 New Line planned to film it in New York City plus another spot where both heroes will be "fish out of water."
Chan said he likes Hawaii and wants to film here.
"Rush Hour 3" will be the second sequel to the original 1998 hit, which scored $141 million in the United States after being filmed with a budget of less than $35 million. "Rush Hour 2," in 2001, took in more than $206 million on a budget of about $90 million.
Besides last night's grand opening of the restaurant, Chan also hosted a fund-raising premiere Tuesday of his film "Around the World in 80 Days" at the Blaisdell Concert Hall. The actor met with media yesterday at his namesake restaurant, fielding questions about his life, when he'll stop doing martial-arts movies, and his acting goals, plus his upcoming film "Rush Hour 3." Chan said he's probably too busy with too many interests outside of acting, like his restaurants and singing.
"I like doing many things, trying everything, but it has to be the best, because if it's not, it comes right back to Jackie," he said. Chan said he plans to spend another five years making a transition from martial arts films to dramas similar to the upcoming "Police Story" sequel. "If you look at 'Around the World in 80 Days,' it's a comedy, and 'Police Story' is a pure drama with some action," he said. "Of course, I have to do some action." He has high aspirations for his acting career.
"I want to be a Dustin Hoffman, a Robert DeNiro," he said. "I don't want to always be ... action, action, action. I want to change my image ... and not just (be) known as an action star."

Jackie in Hawaii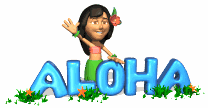 Jackie was in Hawaii yesterday for a charity screening of Around the World in 80 Days. He was also scheduled to make an appearance at the opening of the first American Jackie's Kitchen. Here are two photos of Jackie at the movie screening: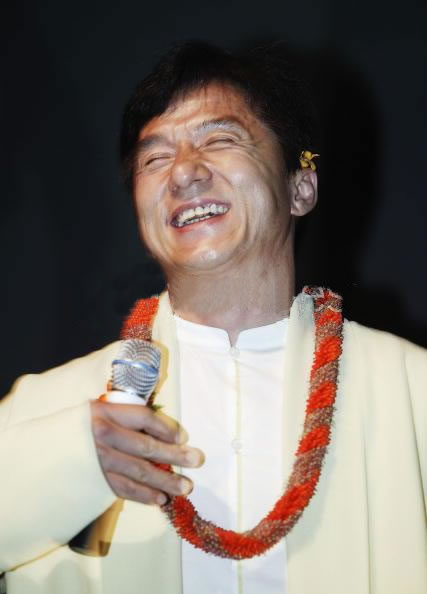 Source: Getty Images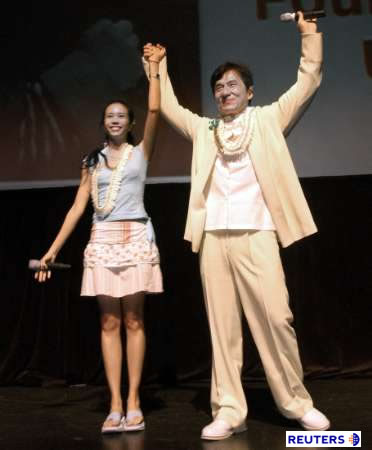 Jackie with co-star Karen Joy Morris (Karen Mok)
More Exclusive Photos of Jackie at Buddy Bear Opening Ceremony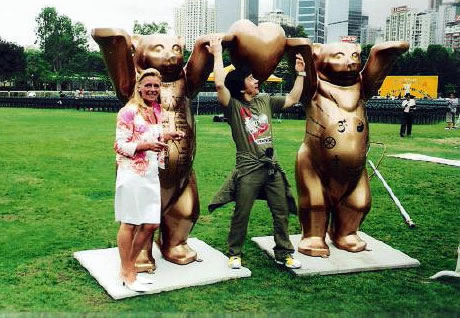 Jackie with Buddy Bear mastermind Eva Herlitz and her Golden Bears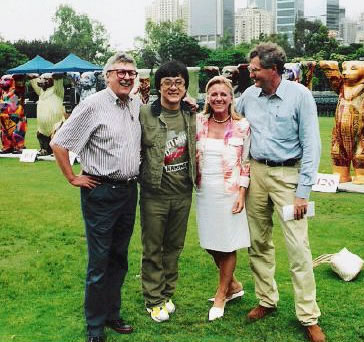 Norbert Hujer, JC, Eva, and her husband Klaus
Jackie strikes a pose with Eva and her Golden Buddy Bears
At a private dinner after the Buddy Bear ceremony: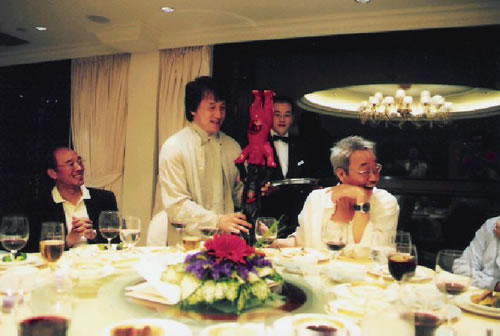 Jackie admiring a gift from Klaus and Eva Herlitz. The red buddy has the JC Logo on its belly and the black buddy has Hong Kong on its belly.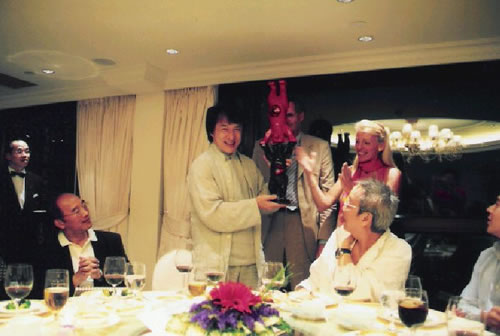 Willie and Eva look on as Jackie admires the bears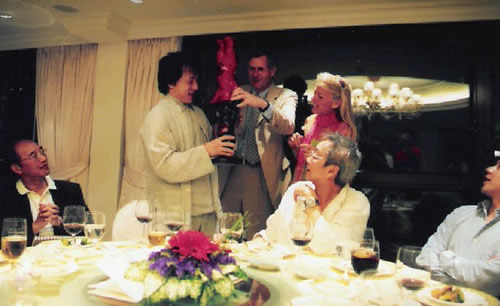 Klaus lends a hand
Wow!!!!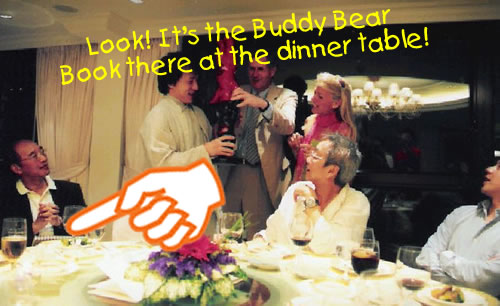 Eva said that Jackie enjoyed the book so much that he brought it to dinner to look at it some more! Everyone who sent in designs should be very very excited!!!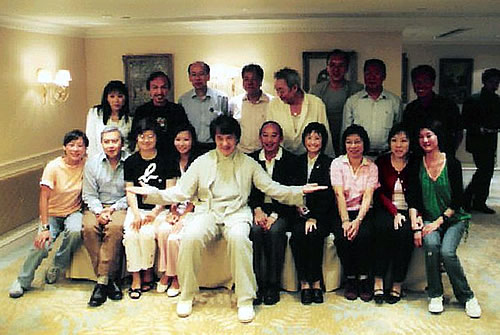 Jackie with some members of the Leisure and Culture Department of Hong Kong. Willie, Solon, and Peco are there too.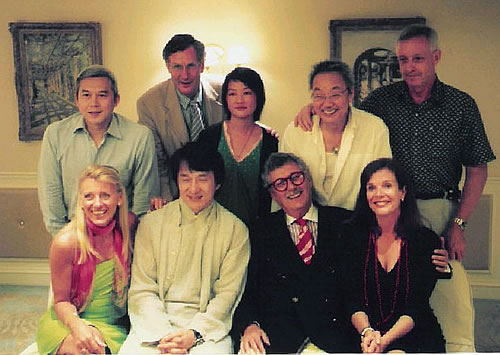 Seated (left to right): Eva Herlitz, Jackie, Norbert Hujer, Gabriela Maucher.
Standing (left to right): Solon, Klaus Herlitz, Peco, Willie and a gentleman from UNICEF Cambodia
Thank you so much to Eva for sharing her photos (and her great stories about Jackie and the bears). Thanks also to Dorothea Hujer who took the pictures.
June 8, 2004
Around the World in 80 Days
Only 8 days to go before the movie premieres in the USA! Check out the official site for all the new games to play!
Around the World in 80 Days Photo Album!
Here's a giant photo album of over 70 pictures from the movie. Please be warned that there are "spoiler" photos here, so if you don't want to see anything from the movie before it premieres, don't look at the photos!
Another Rare Photo of Jackie at Home in LA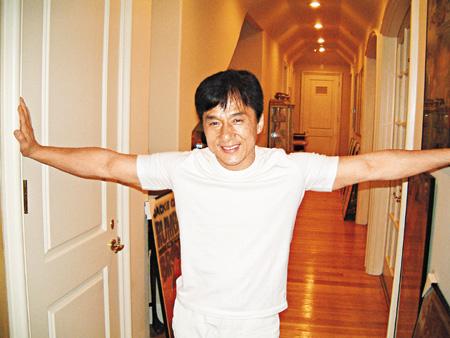 In a rare move, Jackie invited a reporter in to see his beautiful house in California! Photo: Sing Tao
Thanks to Marie!
June 7, 2004
Jackie in the USA
Jackie popped up at a basketball game in Los Angeles. Here are two photos from the game: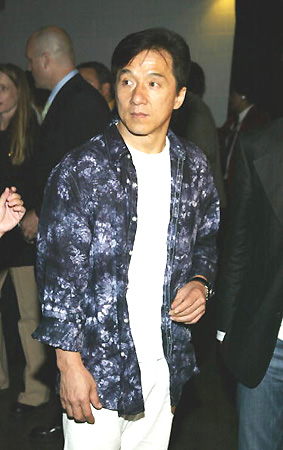 Source: Sina
Jackie with Arnold and Steve Coogan in LA
This is a Getty Image which can be purchased here.
And....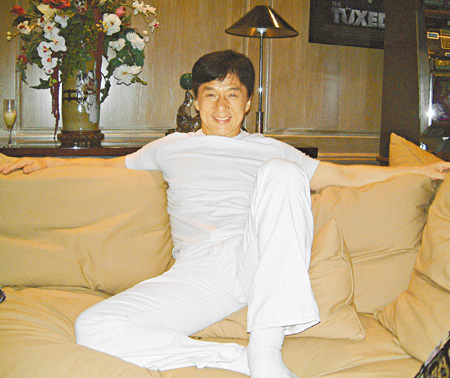 Jackie, at home in LA, talks to a reporter about some very private things.
Source: Sing Tao
United Buddy Bears Make Good Use of China's Public Spaces
China Daily, June 7, 2004:

It's just a statue of a bear. Yet there is something poignant about the bird images and gilded paintwork adorning the "creature". The bear stands for Iraq. I found it the most beautiful of 120 "buddy bears" propped in a circle in Victoria Park. Each represents a nation. Each symbolizes solidarity, tolerance and understanding.

In an intolerant world, never has the importance of world friendship been greater. The astronomer Carl Sagan once wrote that huge resources are devoted in attempts to communicate with extraterrestrial intelligence, but a better beginning would be to "improve communications with terrestrial intelligence, with other human beings of different cultures and languages." Read more...

Brand New Photos of Jackie at the Avenue of Stars!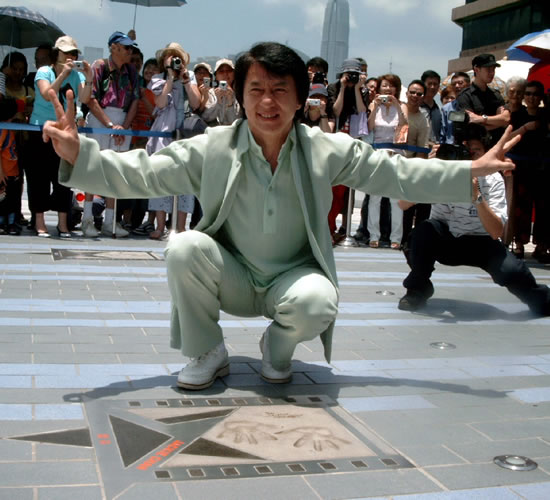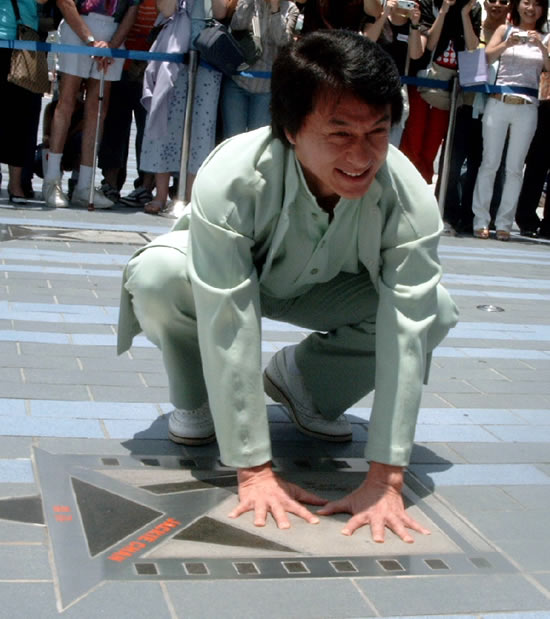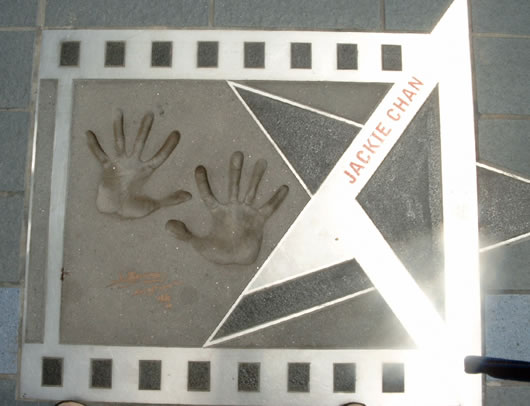 Thanks to Eva Herlitz for sharing her photos of Jackie at the Avenue of Stars in Hong Kong. She also sent more photos from the Buddy Bears opening ceremony. Check back later for these.
Do You Have a Question for Jackie?
Empire Online will be presenting questions to Jackie later this month. To submit your question, click here.
Jackie Promotes Around the World in 80 Days
Don't forget to check your local listings as Jackie begins promotion of his newest movie. Click here for Marie's list of American television appearances.
June 5, 2004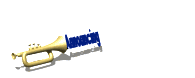 Prizes for Buddy Bear Competition Winners!
Check out the fabulous first place prizes for winners Phyllis and Steffi. They are personally autographed copies of Jackie Chan Adventures books!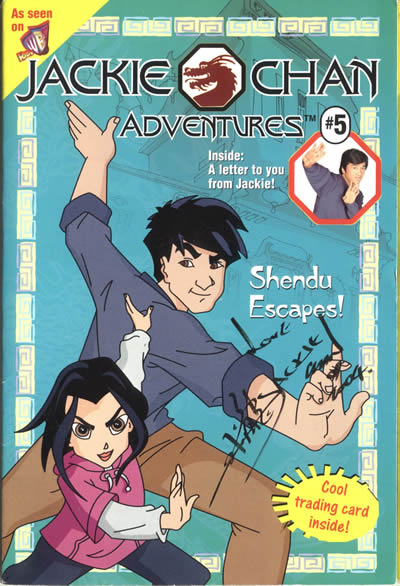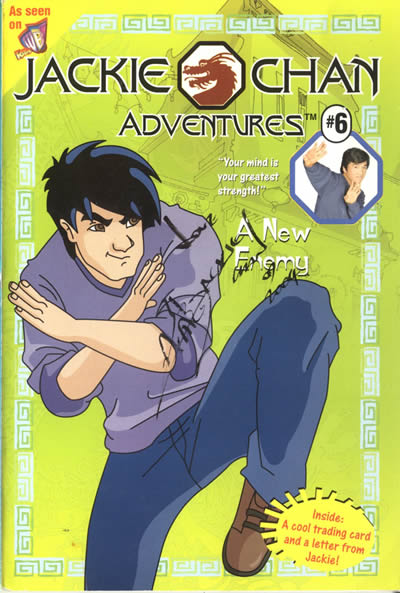 PLUS.....
All finalists will receive a limited edition Jackie Chan Buddy Bear poster! Here's what it looks like (click to enlarge):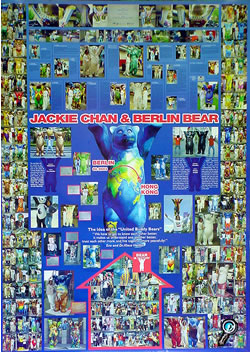 These posters were sent to the Kids Corner from Jackie's office. Jackie, Willie, and Solon were so impressed with the work that everyone did on the contest that they wanted to reward the finalists as well as the winners! Thanks to Willie for sending all these amazing prizes! In order to receive your prize, please contact the Kids Club webmaster with your mailing address.
Around the World in 80 Days Website Updated
New games to play. Click here to visit!
New Photos from Around the World in 80 Days!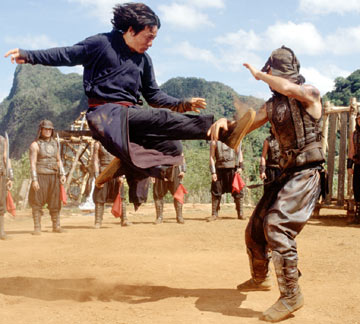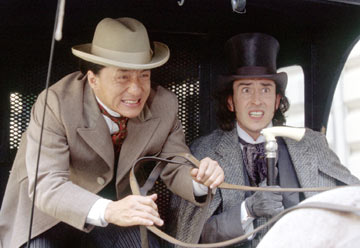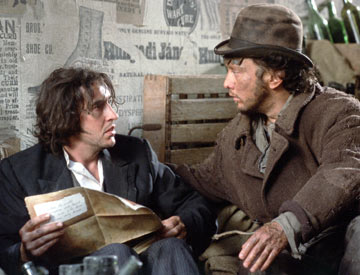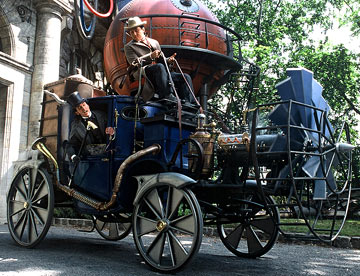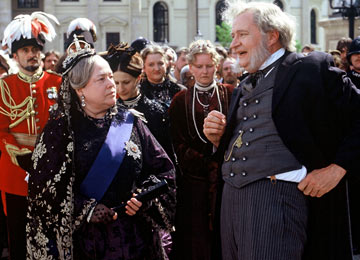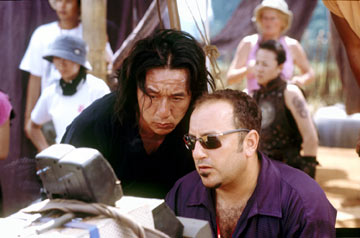 Jackie in "The Huadu Chronicles : Blade Of The Rose" (Twins Effect 2) Promo Photos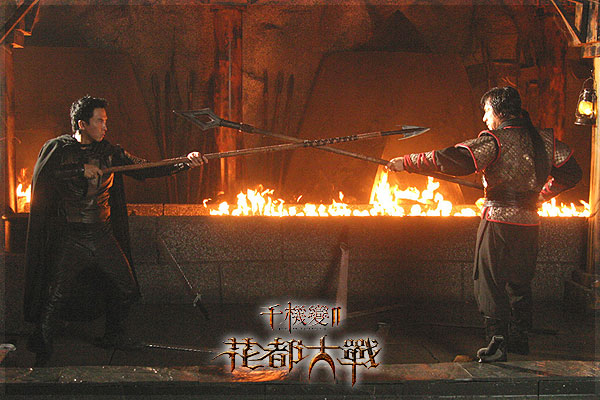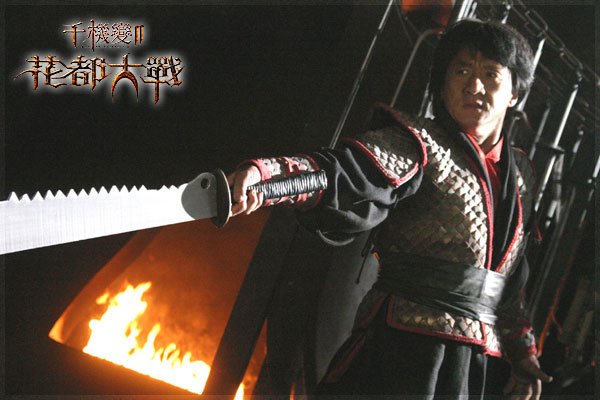 Twins Effect 2 (The Huadu Chronicles : Blade Of The Rose) Official Site
Jaycee Chan in Costume for the Movie: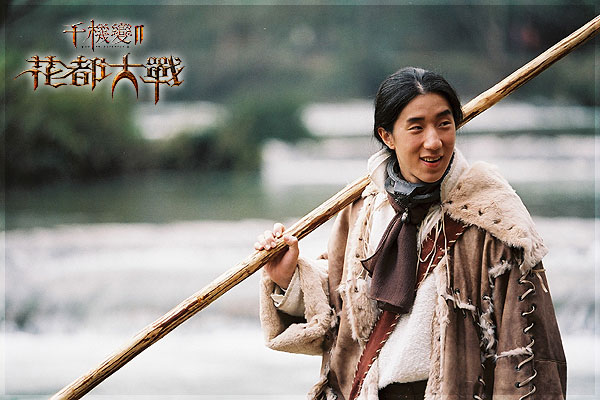 Exciting Prediction About Success of ATW80D
This from the "Box Office Prophets" online:

Around the World in 80 Days

This is the mystery movie of June. A family film with Jackie Chan and an unknown English comic named Steve Coogan doesn't seem like a box office heavyweight. I am not, however, quick to dismiss its box office prospects due to the fact that I see this as the little engine that could. The charming trailer has a warm, endearing series of delightful encounters. It has all the trappings of your run-of-the-mill Disney classic live action comedy. Despite the fact that this is a Walden Media production, everything about the clips hearken back to the days of Kurt Russell and Dean Jones. The sweet, family-friendly nature of it should prove to be the x-factor in this becoming one of the most surprising performers of the summer.

New Coloring Pages from Holly
Color your own version of Jackie and Willie in Hawaii. Color Jackie wearing the infamous shark suit from First Strike! Click on the sketch pads to get a printable version. Color it in and mail it to the Kids Corner (P.O. Box 556, Peconic, NY 11958-0556 USA). We'll publish it on the site!
Willie and Jackie in Hawaii
Jackie and friends from First Strike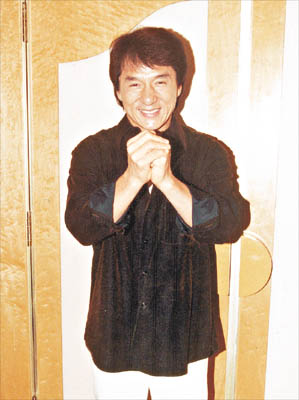 This is how you show thanks in China. This thank you goes out especially to Marie M. for her help in finding all the latest Jackie news and to Holly Hecht for her wonderful cartoons. Both of these special people are a joy to work with.
Note from Kath: If you would like a personalized cartoon of yourself with Jackie or of Jackie in a particular pose, contact the Kids Corner and I'll put you in touch with Holly! Here's a personalized picture she made for me. I have the original framed and hanging in my house. Every time I look at it I smile!
Jackie and Kath at the Computer by Holly Hecht
June 4, 2004
Reminder: Jackie in Hawaii June 8th
Willie and Jackie at the Neal Baisdell Center Concert Hall in Honolulu (Drawing by by Holly Hecht)
Jackie, who stars in the movie Around the World in 80 Days as Passepartout, will appear at a screening of the movie on June 8 at Neal Blaisdell Center Concert Hall in Honolulu. While in town he will also attend a grand opening at the Jackie's Kitchen restaurant at Ala Moana Center.
About 2,000 tickets will be sold to the screening and silent auction. Tickets will cost $35, $50 and $100 and can be purchased at the Concert Hall box office. All proceeds will go to Hawaii nonprofits affiliated with the Jackie Chan Charity Foundation. Source
Jackie and Friends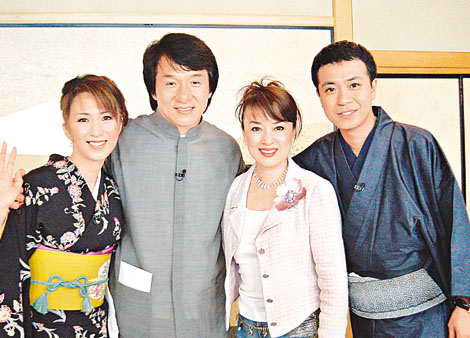 Jackie, in a photo dated June 2, 2004, with Weng Qianyu.
June 2, 2004
Around the World in 80 Days Sweepstakes!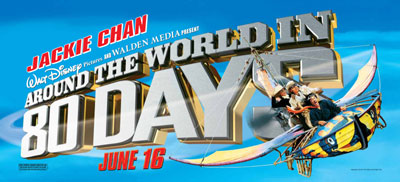 Nintendo.com is running a sweepstakes where you can win props from the film, autographs, or games. Click for details!
Cool Interview
Ever wonder how the Kids Club/Kids Corner ever got started? Find out in this interview by Mary DeBerry!
Jackie on American Television
Jackie will be making many appearances on American television to promote Around the World in 80 Days. Check out this schedule made by Marie. Thanks Marie!
Win Around the World in 80 Days Photos Here on the Official Site
Just click on this link to answer questions and enter a contest to win original photos from the filming of Around the World in 80 Days!
Important Message for VIP Members
If you joined the VIP club and are waiting for your new member packet to arrive, please click here. There are a whole bunch of people who need to contact the office to clear up problems with their addresses. Check to see if you're on the list!

Special thanks to Marie M. for supplying the Kids Corner with daily news updates about Jackie. She spends a lot of time hunting down the latest news and very generously shares it with the Kids Corner webmaster. Without Marie's help, this news page would not be the same. Thanks Marie!!!!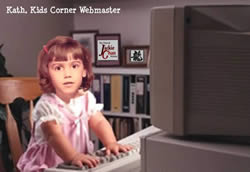 Please read this note from the webmaster!
Very Exciting News!!
This is THE coolest news of the year for the Kids Club!!!
As most of you know, Jackie has been keeping a diary for his fans while shooting Shanghai Knights. In the July 3rd diary entry, Jackie talks at length about the Kids Club and mentions each of the last 7 "Jackie's Kids" by NAME! As most Kids Club members know, Jackie has taken a keen interest in the newest Jackie Fan Club and he reads all of the newsletters. It is very exciting to read Jackie's comments about the club and its members! In the July 8th entry, Jackie mentions the Kids Club again, encouraging his young fans to join. Click the highlighted links (above) or read the diary entries at Jackie's Official Web Site. (From the August 12, 2002 News Report)
CLICK HERE TO GO BACK TO THE TOP
The Latest Jackie News is now being archived to save room on this web page.
To read past news reports, just click on the month you're interested in viewing.
©2004 Katharine Schroeder / Jackie Chan's Kids Corner