Jackie has a neat idea. He wants his fans decorate a tile and send it to him. He will then have the decorated tiles mounted on the walls at his studio. This tile project is open to ALL of Jackie's fans; everyone is welcome to send in a tile! Here are some guidelines:
The tile can be any size, although the one that Jackie displayed as an example was 20cm x 20cm (7.8" x 7.8"). He would like you to use your imagination when decorating the tile. Anything you think of will be fine, but he would like you to include the name of your country on the tile, perhaps along the bottom. Colorfully decorated tiles from all over the world will make for a beautiful and unique display.
Jackie put some of the tiles at his office, but he won't do that anymore because the tiles can not stand up to the weather and pollution along Waterloo Road. Take a look: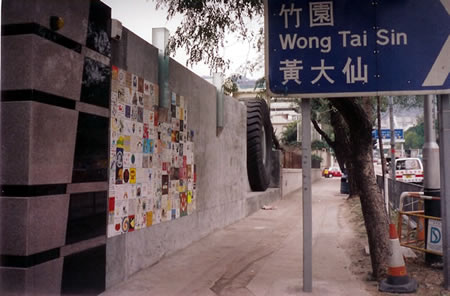 This is a view of the front wall at Jackie's Waterloo Road Office. See all the tiles? (Photo: Mary DeBerry)
Using a regular white kitchen or bathroom tile, follow these hints:
1. Before painting the tile, clean it with a grease removing detergent.
2. Use oil-based gloss enamel for the colors and an alcohol-based
shellac for the sealer. *From Kath: If you don't want to use oil-based gloss enamel, you can try what some others have tried - Delta Air-dry PermEnamel paints. These paints don't give off any fumes and are inexpensive and easy to work with. You can buy all the supplies you need at Home Depot and at a craft store like Michael's.* Here's a link to the type of paints Kath used for her tiles:
http://www.misterart.com/store/view.cfm?store=003&group_id=7525
3. Do not use polyurethane or acrylic paints on glazed ceramic tiles,
as the paint won't adhere properly to the tiles.
4. Build up the color by applying several coats of paint, rather than
trying to apply all the color in one go.
5. YOU MUST USE A SEALER! These tiles will most likely be mounted outside and the effects of weather will destroy them if you don't seal them properly!
If you use permanent markers for the tile, don't use a sealant as it will probably ruin your design. Perhaps buying an extra tile for practice would be a good idea.
The Kids Corner is not affiliated with MisterArt.com. The supplies have been purchased through this dealer by the webmaster and that is why the link is being given here.
After painting and sealing your tile (and making sure it's dry), wrap it carefully in bubble wrap and/or wadded newspaper - LOTS of padding! Mail it to:
Jackie Chan Tile Project
145 Waterloo Road
Kowloon, Hong Kong
Write your name and country on the back and DON'T FORGET to put the name of your country on the FRONT as well!
Your design should be unique and it would be nice if it had something to do with Jackie or some of the things that Jackie stands for. Good luck and get painting!
KIDS CORNER FRONT PAGE / LATEST JACKIE NEWS / TOTALLY FUN JACKIE STUFF / OFFICIAL SITE HOME PAGE
©2004 Katharine Schroeder/Jackie Chan Kids Corner
No part of this website may be reproduced or distributed without permission