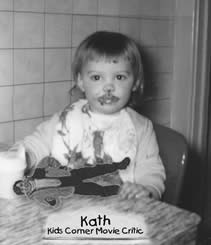 Around the World in 80 Days: Kids Corner Review
by Katharine Schroeder
Around the World in 80 Days is a movie to tickle your funny bone, pique your curiosity, and warm your heart; a perfect family film which will keep kids giggling and adults guffawing.
In this big-budget remake of the classic 1956 Academy Award winning picture, Jackie Chan, Steve Coogan, and Cécile De France team up to create a winning combination of wit, brains, personality,and physical prowess. With a basketful of celebrity cameos (look for Arnold Schwarzenegger, Rob Schneider, Kathy Bates, Sammo Hung, John Cleese, Macy Gray, and the Wilson brothers), the movie provides a one-two punch of lighthearted comedy and a heartfelt message about friendship.
Around the World in 80 Days begins with a jaw-dropping entrance by Jackie Chan as Passepartout and you would be wise to tighten your seatbelt to prepare yourself for a roller-coaster ride of fun. Jackie is in top form, combining his well-known physical comedy with a new proficiency in more dialogue intensive scenes. Steve Coogan is perfectly cast as Phileas Fogg, the inventor with a brain wired for progress and a heart full of sincerity. Cécile De France (Monique) is perfect as an artist who dreams of adventure. The three stars complement each other and their on-screen personalities mesh beautifully.
As the three circumnavigate the globe, they are thrust into hilarious situations which often call for even funnier solutions. The trio uses teamwork to dodge the flood of obstacles they encounter on their quest. As they continue on their journey, the audience is treated to traditional Jackie Chan-type physical encounters (and his delightfully warm and friendly face) as well as situations which could only be solved by the intellectual capabilities of Fogg and the charm and worldliness possessed by Monique.
The filmmakers should be applauded for allowing the female characters the chance to be intelligent, strong-willed, and physically capable of holding their own. (Just look for Karen Mok - billed as Karen Joy Morris - as General Fang.) No damsel in distress types here!
Look for several salutes to Jackie's illustrious career in Hong Kong films (particularly a fight using a bench) and an insanely clever altercation in an artist's studio which results in a new painting being created. Bask in the warmth of the scenes where Jackie is interacting with local children - narrating Chinese legends and demonstrating some of his trademark kung fu animal movements. Let your eyes open wide in wonder at the striking animated transitions which signal the changes in location. They are awe-inspiring!
Around the World in 80 Days, which opened in the USA on June 16, a movie that will please grandparents as well as grandkids, girls as well as boys, and women as well as men. It is an action - comedy - love story - adventure - message movie for the whole gang.
Credits:
Directed by
Frank Coraci

Writing credits:
Jules Verne (novel Le Tour du monde en quatre-vingts jours)

David N. Titcher (screenplay) (as David Titcher) and
David Benullo (screenplay) &
David Andrew Goldstein (screenplay) (as David Goldstein)


Cast:
Jackie Chan .... Passepartout/Lau Xing
Steve Coogan .... Phileas Fogg
Robert Fyfe .... Jean Michel
Jim Broadbent .... Lord Kelvin
Ian McNeice .... Colonel Kitchener
David Ryall .... Lord Salisbury
Roger Hammond .... Lord Rhodes
Adam Godley .... Mr. Sutton
Karen Mok .... General Fang (as Karen Joy Morris)
Howard Cooper .... Academy Member #1
Daniel Hinchcliffe .... British Valet
Wolfram Teufel .... Belgian Dignitary
Tom Strauss .... Academy Member #2
Kit West .... Academy Member #3
Ewen Bremner .... Inspector Fix
Patrick Paroux .... French Ticket Clerk
Cécile De France .... Monique La Roche
Perry Blake .... Vincent Van Gogh
Michaël Youn .... Art Gallery Manager
Eva Ebner .... Crazy Lady
Richard Branson .... Balloon Man
Macy Gray .... Sleeping French Woman
Ben Posener .... Angry Engineer
Michael Hoenher .... Upset Brakeman
George Inci .... Turkish Soldier
Arnold Schwarzenegger .... Prince Hapi
Weeratham 'Norman' Wichairaksakui .... Gurkha Policeman (as Weerathum Wechairuksakul)
Shivesh Ramchandani .... Indian Boy
Sirinthorn Ramchandani .... Indian Girl
Chris Watkins .... British Officer
Kengo Watanabe .... Chained Agent
Maggie Q .... Female Agent (as Maggie M. Quigley)
Poon Yin Chi .... Lau Xing's Mother
Yotaka Cheukaew .... Little Jing
Sammo Hung Kam-Bo .... Wong Fei Hung (as Sammo Hung)
Prasit Wongrakthai .... Man Ting (as Parsit Wongrakthai)
Teerawat Mulvilai .... Fourth Prisoner
Daniel Wu .... Bak Mei
Jindarak Satjatepaporn .... Village Policeman
Natalie Denise Sperl .... Stunning Woman (as Natalie Sperl)
Rob Schneider .... San Francisco Hobo
Frank Coraci .... Angry Dapper pedestrian
Luke Wilson .... Orville Wright
Owen Wilson .... Wilbur Wright
John Keogh .... Irish Policeman
Mark Addy .... Steamer Captain
John Cleese .... Grizzled Sergeant
Will Forte .... Young Bobby
Roxanne Borski .... Little Girl
Kathy Bates .... Queen Victoria
rest of cast listed alphabetically
Ruei Che Chang .... Tiger #6 - Yuen
David Choi Chao .... Tiger #7 - Xing
Wah Chiu Ho .... Tiger #3 - Snake
Don Theerathada .... Tiger #9 - Ho (as Donald Theerathada)
Wai Luen Tuen .... Tiger #5 - Lung
Tsu-Wei Yin .... Tiger #10 - Yi Yi
Hu-Ma Yuan .... Tiger #8 - Crazy Ti
Wai Ho Yuen .... Tiger #4 - Wu
Produced by
Phyllis Alia .... executive producer
Bill Badalato .... producer
Jackie Chan .... executive producer
Willie Chan .... executive producer
Jeff Geoffray .... co-producer
Dallas Hartman .... associate producer
Walter Josten .... co-producer
Aimee Keen .... associate producer
Alex Leung .... associate producer
Hal Lieberman .... producer
Henning Molfenter .... co-producer
Alex Schwartz .... executive producer
Solon So .... executive producer

Original Music by
Trevor Jones

Cinematography by
Phil Meheux

Film Editing by
Tom Lewis
Francesca Dodd (uncredited)

Casting by
Avy Kaufman

Production Design by
Perry Andelin Blake

Art Direction by
Robert Cowper
Gary Freeman
Sebastian T. Krawinkel
Pat Tagliaferro

Set Decoration by
Jille Azis

Costume Design by
Anna B. Sheppard

Makeup Department
Valeska Schitthelm .... hair stylist
Valeska Schitthelm .... makeup artist
Hasso von Hugo .... makeup consultant

Production Management
Narimon Atibaed .... production manager: Thailand
Billy Badalato .... supervising unit production manager
Sonja Döring .... unit manager: Germany
Bob Johnston .... production supervisor
Marcus Loges .... production manager: Germany
Rocco Marra .... production supervisor: Thailand

Second Unit Director or Assistant Director
Phil Booth .... second assistant director: second unit
Paul Goldsmith .... third assistant director: Germany
Harvey Harrison .... second unit director
Nick Heckstall-Smith .... first assistant director
Guy Heeley .... first assistant director: second unit
Scott Kirby .... assistant director
Thorne Mutert .... second assitant director: Germany
Douglas A. Raine .... first assistant director: U.S.
George Walker .... second assistant director

Art Department
Ben Ansell .... assistant set decorator
Malcolm Bensted .... prop storeman
Marco Bittner Rosser .... set designer
Alex Boswell .... dressing props
John Botton .... dressing props
Simon-Julien Boucherie .... assistant set decorator
Lee Bryant .... props
Judy Ducker .... production buyer
Axel Eichhorst .... storyboard artist
Sabine Engelberg .... prop coordinator
Andy Evans .... construction manager
Matthew Forster .... props
Alex Friedrich .... prop maker
Barry Gibbs .... prop master
Patricia Johnson .... chief draughtsman
Axel Kahnt .... property master: Germany
Martin Kingsley .... supervising propman
Jason Knox-Johnston .... assistant art director
Roxy Konrad .... art department co-ordinator
Naaman Marshall .... model maker
Johanna Muench .... set decoration coordinator
Iris Paschedag .... art department assistant
Darryl Patterson .... chargehand props
Peter Popken .... illustrator
Sarah Robinson .... art department coordinator
Jan Rott .... set decoration buyer
Christian Schaefer .... set designer
Frank Schlegel .... model maker
Andy Thomson .... assistant art director
Bradley Torbett .... stand-by props
Jason Torbett .... stand-by props
Peter Watson .... chargehand props
Jacob von Dohnanyi .... prop maker

Sound Department
Nick Adams .... sound designer
James Bellamy .... assistant music editor
Benjamin Dunker .... second boom operator
Jennie Evans .... additional dialogue editor
Ivana Jeftic .... assistant sound effects editor
Srdjan Kurpjel .... sound effects editor
Tony Lewis .... music editor
Stephen Lotwis .... music editor
Michael Miller .... adr mixer
Derek Vanderhorst .... sound design & effects
Ian Voigt .... sound mixer
Francesca Dodd .... assistant sound supervisor (uncredited)
Brendan Geaney .... foley prop spotter (uncredited)

Special Effects by
John Baker .... special effects technician
Herbert Blank .... senior technician
Nicola Di Chio .... special effects technician
Norman Ernst .... special effects technician
John Evans .... special effects supervisor: second unit
Gerd Feuchter .... special effects supervisor
Markus Geiger .... special effects foreman
Rolf Hanke .... special effects production manager
Wolfgang Higler .... special effects senior technician
Stefan Knauer .... special effects technician
Norbert Kneissl .... special effects production assistant
Michael Luppino .... special effects senior technician
Dave Miller .... special effects technician
Armin Moritz .... special effects technician
Bernd Rautenberg .... special effects senior technician
Marcus Schmidt .... special effects technician
Jens Schmiedel .... special effects senior technician
Thomas Thiele .... special effects technician
Kit West .... special effects supervisor
Olaf Will .... special effects technician

Visual Effects by
Lee Berger .... visual effects exective producer: Rhythm & Hues
Paula Bonhomme .... digital producer
Nathan Brunskill .... Inferno assistant: Rhythm & Hues
Danny Brunton .... digital compositor
Alessandra Carlino .... visual effects editor: Rhythm & Hues
Jeffrey Castel De Oro .... digital compositor
Catherine Duncan .... digital effects producer
Yasmine El-Ghamrawy .... digital compositor
Ben Flatter .... bidding coordinator
Andy Garcia .... digital lighting technical director
David Gibbons .... matte artist
Jeremy Gibbs .... visual effects editor
Peter Guyan .... senior CG systems administrator: Jim Henson's Creature Shop
Muriel Gérard .... visual effects coordinator
Marty Holthaus .... digital coordinator
Dennis Jones .... digital compositor
Zoe Lamaera .... digital compositor
Tim Llewellyn .... digital compositor: Rhythm & Hues
Mike Marcus .... digital compositor
Jon Meier .... lighting technical director
Joel Román Mendías .... visual effects producer: Rhythm and Hues
Luke Millar .... visual effects
Bud Myrick .... digital effects supervisor: Rhythm & Hues
Donal Nolan .... digital compositor
Clare Norman .... visual effects line producer
Steve Parsons .... visual effects
Susan Pickett .... visual effects coordinator
Alan Precourt .... digital compositor
Michael S. Pryor .... head of digital production: Jim Henson's Creature Shop
Karl Rumpf .... visual effects coordinator: Rhythm & Hues
Andrew Schwartz .... digital compositor: Rhythm & Hues
Lopsie Schwartz .... texture and matte painting supervisor
Rick Shick .... digital artist
Dan Smiczek .... effects technical director: Rhythm & Hues
Derek Spears .... visual effects supervisor: Rhythm & Hues
Richard Stay .... digital compositor
Matthew Tinsley .... digital compositor
Craig Travis .... visual effects
Annabelle Troukens .... assistant visual effects coordinator
Lesley Tsina .... assistant visual effects coordinator
Karen Wand .... digital compositor
Susan Zwerman .... visual effects producer
Henry van der Beek .... systems administrator

Stunts
Joe Eigo .... stunts
Alister Mazzotti .... stunt double

Other crew
Brian A. Alexander .... location scout: USA
Marcus Alexander .... digital grade line producer: Framestore CFC
Stephen Andrews .... clapper loader
Tobias Asam .... production driver: Germany
Roman Avianus .... assistant location manager
Sam Barnes .... second assistant camera
Cody P. Beke .... casting assistant
Markus Bendler .... additional action vehicle coordinator
Markus Bensch .... location manager
Annette Borgmann .... casting: Germany
Daryl Bristow .... wardrobe supervisor
Robert Bova Bunny .... grip
Neil Chaplin .... production accountant
Wendy Cox .... production coordinator
Jessica Daniels .... casting assistant
Sam Donovan .... script supervisor
Christoph Drobig .... production driver: Chan Stunt Team, Germany
Dave Evans .... armorer: preparation
Mike Evans .... first assistant camera: second unit
Michael Fechner .... action vehicle coordinator
Michael Feuerer .... production driver: Germany
Jay Floyd .... clearance administrator
Andrej Glusgold .... production driver: Germany
Marian Goepel .... driver captain: Germany
Leigh Gold .... focus puller
Dierk Grahlow .... construction manager: Germany
Marina Grana .... post-production coordinator
Elizabeth Greenberg .... casting associate
Sissy Grover .... production coordinator: Los Angeles
Klaus Große Darrelmann .... location manager
Kiki Güth .... production driver: Germany
Florian Haeger .... production driver: Germany
Eddie Handschak .... video operator: Thailand/Germany
Christine Healy .... production coordinator
Juliane Heicken .... key set production assistant
Nina Hueskes .... assistant location manager
Daniel Huhn .... production driver
Axel Hübner .... personal driver: Bill Badalato, Germany
Adam Inglis .... colorist: Framestore CFC
Viktor Jakovleski .... driver: cast and production, Germany
Mihail Jankov .... production driver: Germany
Angelika Jendrusch .... assistant shipping coordinator
Selay Kaygusuz .... production driver: Germany
Philipp Klausing .... production driver: Germany
Christian Klempert .... assistant location manager
Fritz Kohle .... post-production coordinator: Studio Babelsberg
Nils Konrad .... production driver: Germany
Nina Kortwich .... cashier
Denis Küper .... driver: cast and production, Germany
Philip Leonhardt .... driver: cast and production, Germany
Jan Luo .... personal driver: Frank Coraci, Germany
David Mackie .... second assistant camera: second unit
Paolo Maggio .... production driver: Germany
Keith Mason .... first assistant editor
Daniel Mattig .... transportation coordinator
Claire McGrane .... senior digital grade producer: Framestore CFC
Grit Menzzer .... personal driver: Jackie Chan, Germany
Klaus Mielich .... shipping consultant: Thailand/Germany
Steve Mortimore .... consulting location manager: Thailand
Alexander Müller-Lenhartz .... production driver: Germany
Sebastian Neitsch .... car captain
Darryl Paterson .... chargehand dressing storeman
Andreas Pauli .... driver: cast and production, Germany
Marcus Pohlus .... camera operator: "b" camera
Marcus Pohlus .... steadicam operator
Dwight Raymond .... film conform editor
Ben Rimmer .... location manager
Kathrin Rohm .... shipping coordinator (as Katrin Rohm)
Hannah Rosenberg .... second assistant editor
Gavin Round .... digital lab editorial: Framestore-CFC
Jürgen Ruge .... rigging electrician
Anna Schmigalla .... accountant: Germany
Lena Schmigalla .... accounting assistant
Andreas Schumacher .... driver: cast and production, Germany
Roland Schütz .... personal driver: Steve Coogan, Germany
Chris Shadley .... additional video assist operator: additional photography
Suzie Shearer .... location coordinator
K.D. Smith .... second assistant accountant: US
Wolfgang Stübner .... production driver: Germany
Debi Shirk Tagliaferro .... construction auditor: Thailand
Stephanie Thomas .... assistant to shipping department
Alf Tramontin .... steadicam operator
Anja Wedell .... production coordinator: Germany
Christian Wehrle .... video operator
Jason Wheeler .... negative cutter
Jeff Wickline .... first accountant: USA
Marc Wolff .... camera pilot
Robert Wolff .... production driver: Germany
Pu San Wong .... script supervisor: second unit, Berlin
Doron Zar .... digital color grading assistant: Framestore CFC
Harald Zawuski .... driver: cast and production, Germany
Uwe Zegnotat .... personal driver: Cécile de France, Germany
Friederike von Rauch .... location scout
Altay Ünsal .... production driver: Germany