In 2006, Jackie took part in the ongoing worldwide project about a little boy made of paper who travels the world visiting exotic and ordinary places and meeting exotic and ordinary people. The Flat Stanley project was started by a third-grade teacher in 1995 as an international literacy and communications activity for primary and junior students, teachers, and families. Since it began, thousands of Flat Stanleys have circulated around the globe.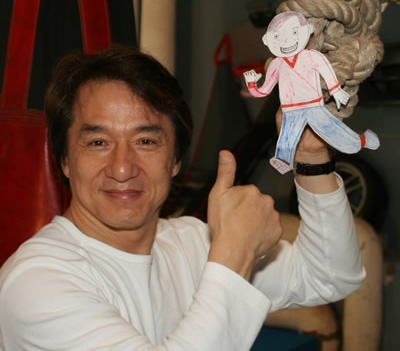 This is a Flat Stanley with Jackie on the set of Rob-B-Hood in 2006. You can read all about Stanley's visit with Jackie by clicking here.
Last year, a Flat Jackie project was begun by members of Jackie's International Friends Forum. The idea was to send a "Jackie" around the world instead of a Stanley. Since its inception, Flat Jackie has visited over a dozen countries and even met the real Jackie Chan! We have gathered some of the projects to show you here at the Kids Corner. Hope you enjoy them! Some people did not send their stories yet, so we'll just add them later.

































KIDS CORNER FRONT PAGE / LATEST JACKIE NEWS TOTALLY FUN JACKIE STUFF / OFFICIAL SITE HOME PAGE
©2009 The JC Group
No part of this website may be reproduced or distributed without permission