by Iris
Hi , this is Flat Jackie from Jackie Chan International Friends Forum and this is my report from Hamburg, Germany.
I arrived in Hamburg on January 6th by Envelope Cargo. My flight from Rotterdam,in the Netherlands, to Hamburg, Germany took rather a long time.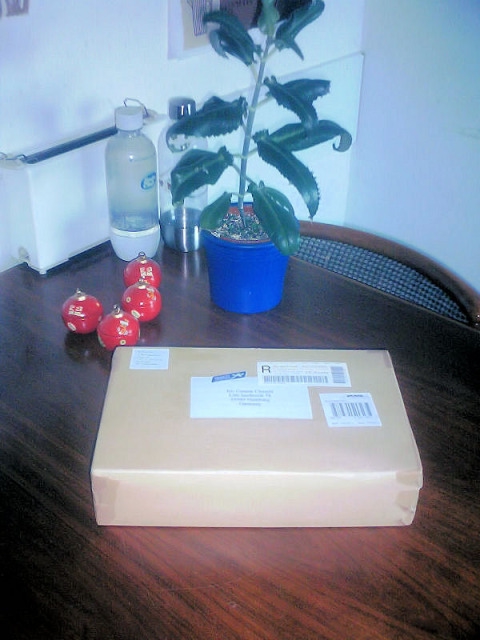 I think it was because the airbus of Envelope Cargo had to carry a load of "lekker Oliebollen" , some special New Years food made in Kitty´s kitchen, Rotterdam !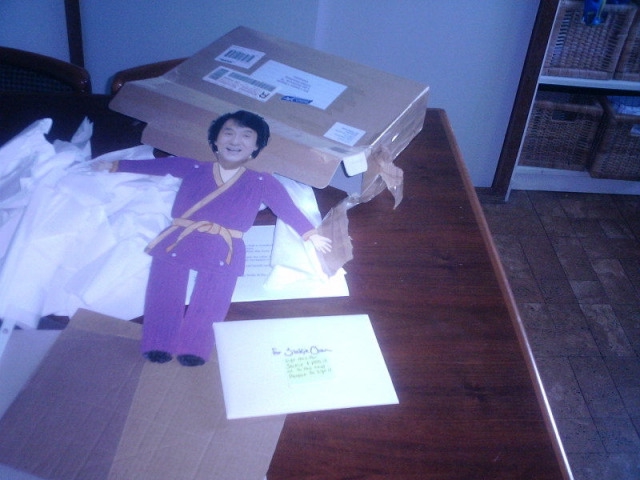 They smelled delicious and I think they tasted very good. But I was surprised when Iris opened the bag with the "Bollen" , because there was a big bite in one of them.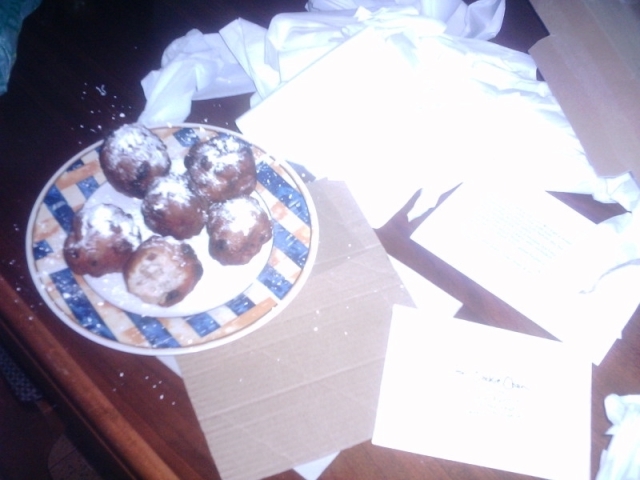 I think there was a rat on the plane . We have the last days of the year of the rat . On January 26th, the year of the ox will start. The rat must wait now 11 years to come back, and so, I think, the rat took a big bite of "Oiebollen" to survive the 11 years.. I think it was tooo tasty to resist , but I also think , I should not eat too much of it, because it will put some weight onto my hips... ooooopssss.... let´s change the subject , please... ..."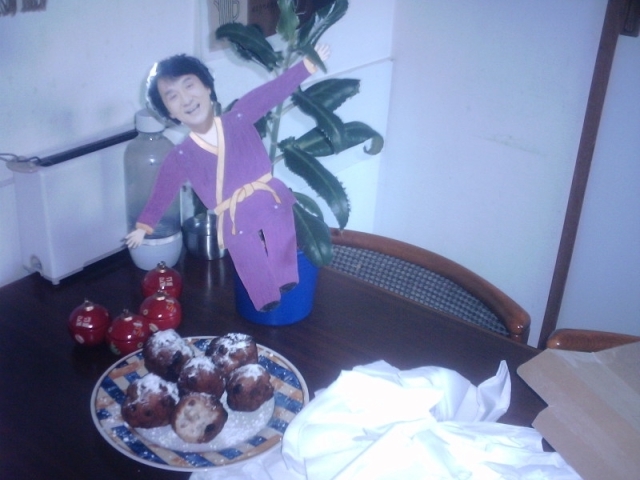 Flat Jackie jumped onto a funny plant .
"This is a nice place to get an overview of Iris's house. She lives with 3 children you all might know:
Alexander , the first born, Constantin the smaller brother and Sophia the lovely maiden .
And , of course, the dog Tareena. She is such a lovely dog. She is a "Galgo Español" , a kind of "Spanish Greyhound" . She always sleeps on Iris´s bed or under Iris´s desk and would never ever leave her side unless Iris tells her to .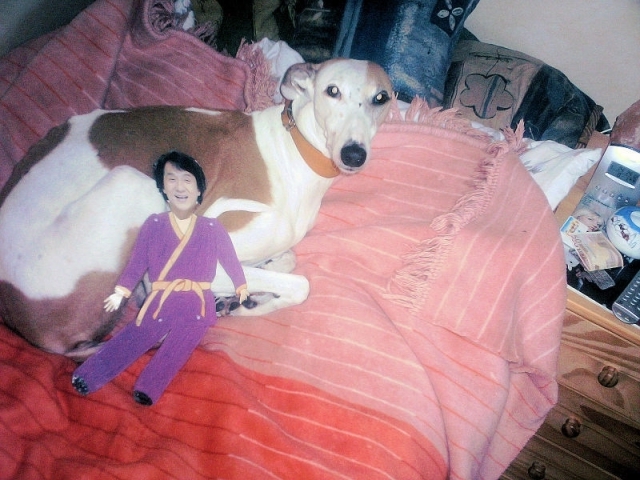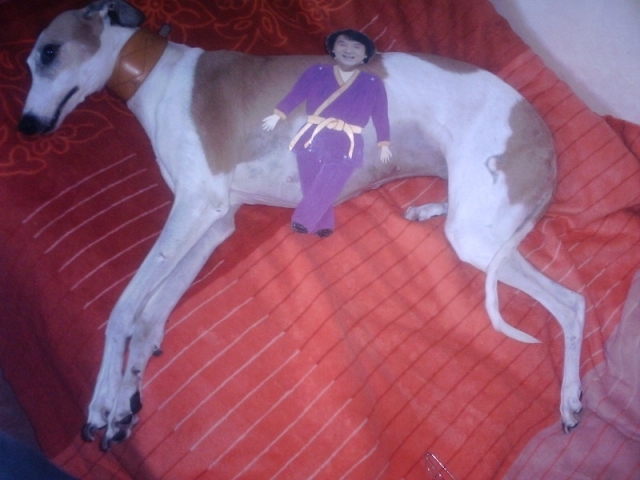 I was supposed not to take any photos of the flat , because with three teenagers there is always a mess around. So this is why I climbed up the plant. It is a "Goethebaum", which Iris planted for Haarsha´s mother to get some strength from the plant. It has grown pretty well.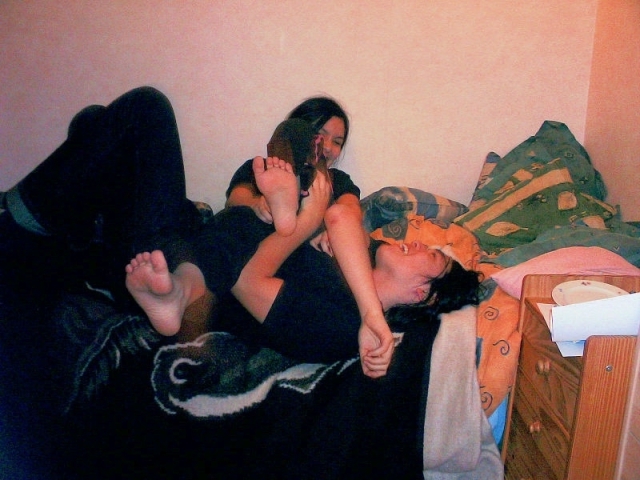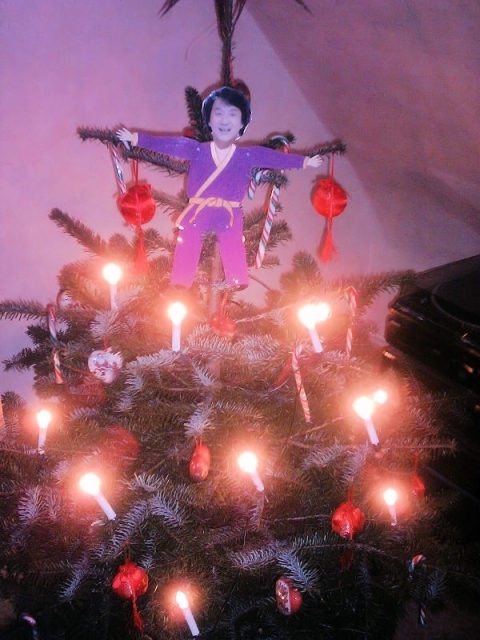 As it is the 6th January, the Kings' Day, the Christmas tree was still decorated and I jumped almost onto the top. I really loved the decoration: there were Chinese Christmas balls , ( representing me....erm...erm... ) , American sugar canes ( for Kath ) and lovely hearts with very old drawings ( representing old Germany ) .
On Tuesday we did not do much except talking a bit about my work and my travels all over the world and eating "Olliebollen" and having a cup of lu cha , green tea.
Iris told me she had visited the film "The drummer" the day before and liked it very much. Jaycee played the main character and Iris thinks that some day there might be a Flat Jaycee traveling around the world and making some reports of the fans for Jaycee.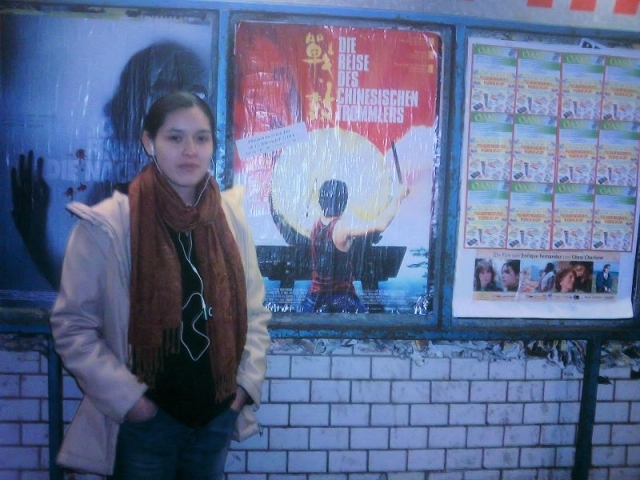 On Wednesday I woke up very early.. it was the dog Tareena that woke me up and wanted to go outside. So I walked the doggie . But it was so bone chillingly cold , that we had to go back soon . Iris and I decided to stay a little inside and we cooked and did the housekeeping all together.
Later in the evening I became excited... after this long time in the Envelope Cargo airbus I needed some sports. So Iris took me along to her bailong ball team.
Bailong ball is an upcoming sport from China ! It is kind of soft tennis with smooth taiji movements invented by Professor Bai Rong. You know , taiji is a matial art. We say it is an inner martial art, with smooth movements with different styles like the Beijing style or the Shaolin style.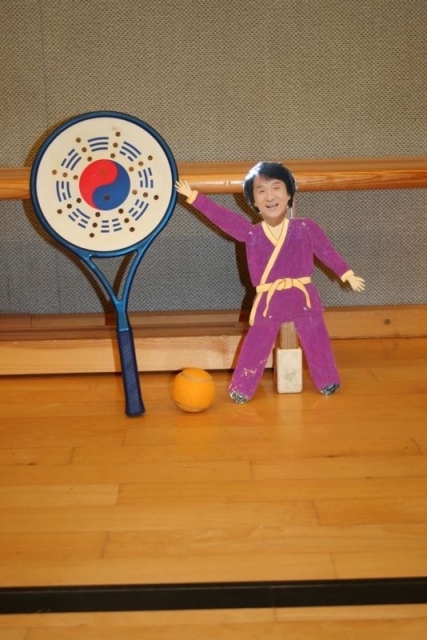 You play bailong ball with a racket that has a smooth covering and a kind of tennis ball filled with sand . The ball must not drop from the racket and with the movements you make the ball stay on the racket. It looks very nice and simple, but it is nice and challenging.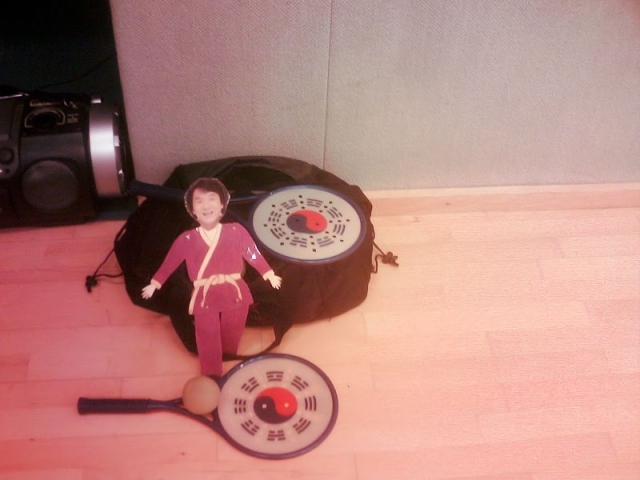 Here you can see the Wu Wei team from left to right:
Michaela, Jan, me, Sophia, Constantin and Alexander .
Taiji Bai Long Ball means taiji ball of the white dragon, is called Taiji Rouliqiu in China.
After that I had a special training with Jan , the tenent of the Wu Wei Taiji School . Here you can see me doing taiji with bat`leth , a very special martial art weapon.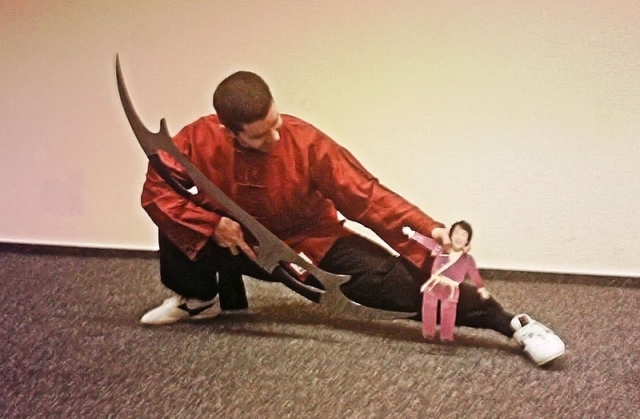 I liked this very much because Jan really is a nice guy , Shifu and Mentor of the Canaza family. BTW, I like their nickname : C4 ( C for Canaza and 4 because it is 1 mother and 3 children ) . It reminds me of the C4 bomb of Rush Hour. You remember ?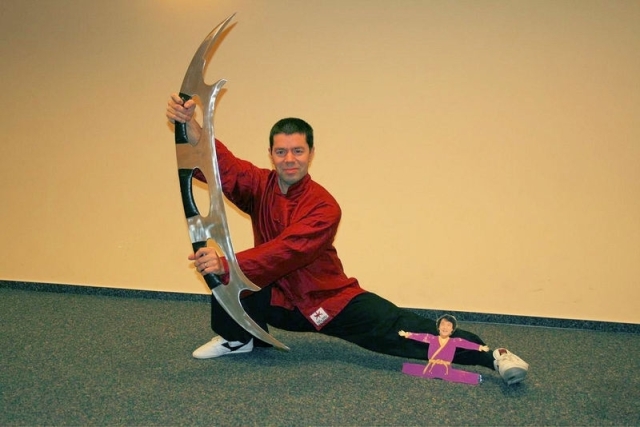 I had to say Good bye to Jan and the taiji school too soon. But it was already late and we had to go.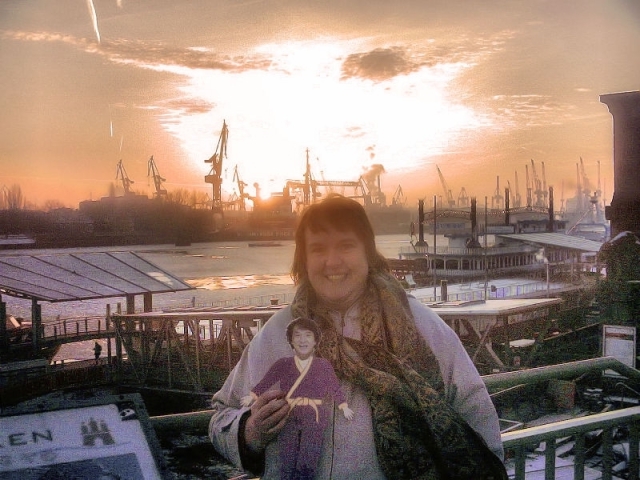 The very next day Iris took me around her hood. Finally we reached the harbour. Hamburg is a big city with about 1,7 million inhabitants and has the most important harbour in the north of Germany. It is not a harbour on the coast but on the river Elbe. It is still about 80 km to go to the North Sea.
We took a riverboat , a beautiful ship that goes around the harbour and you can listen to really interesting information about the harbour . Hamburg is a big port for containers coming from all over the world , also from China . I discovered some container ships from the Chinese shipping company COSCO.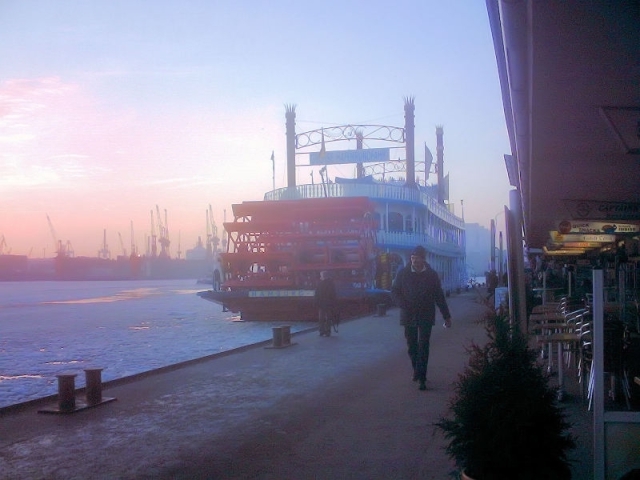 The harbour area of Hamburg is as big as the city of Cologne and the railway on the harbour quaysides for the beam hoists are as long as from Hamburg to Frankfort ( 500 km ) . Impressive , hm ?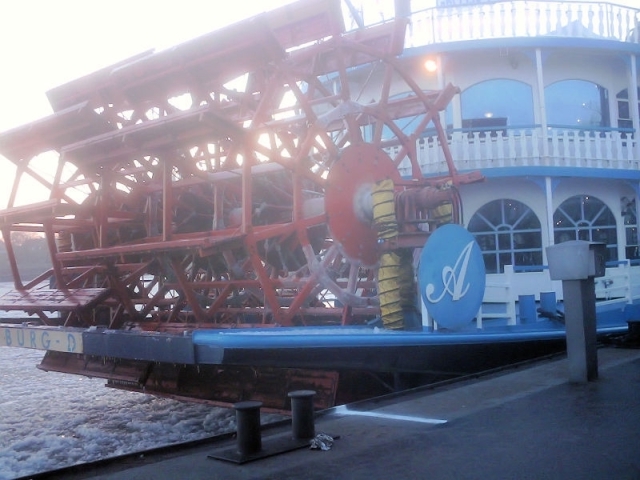 Iris told me , that Mr Shah Ruck Khan , a famous Bollywood artist, has already been on the same ship as we are now.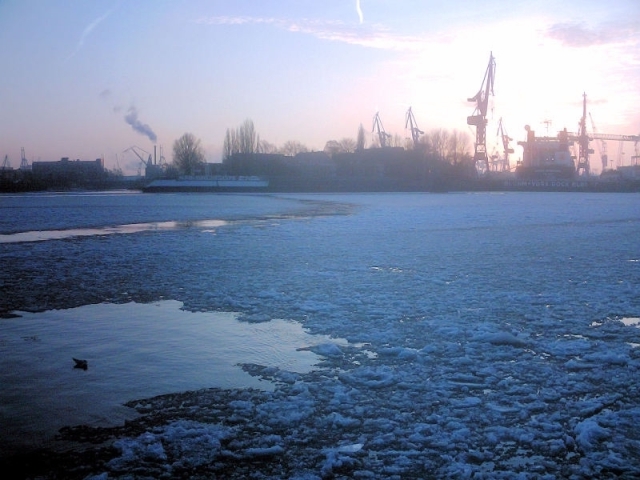 Today there are only a few tourists here, the river Elbe is almost frozen and the icebreaker has to keep the water open for the ships to go.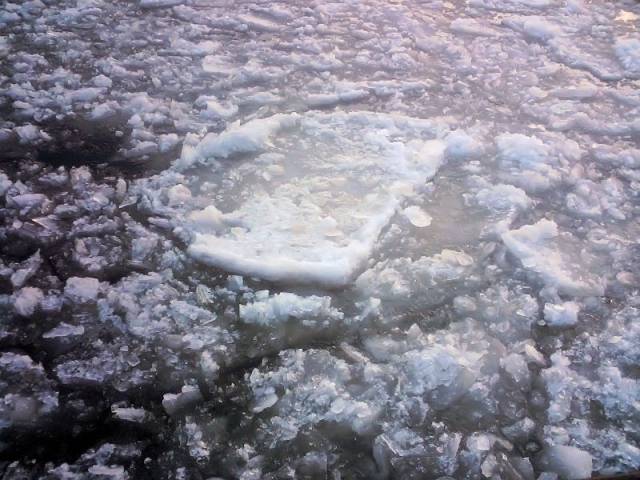 Later Iris told me from the news that the shipping was suspended because of the ice. They closed it in the evening.
Oh, I had to catch up time and so I had to leave. Iris booked me on Envelope Airline again and my next aim was Zwickau, Germany , to visit Susi !
My diary of Zwickau: coming soooooon.
See you guys and girls...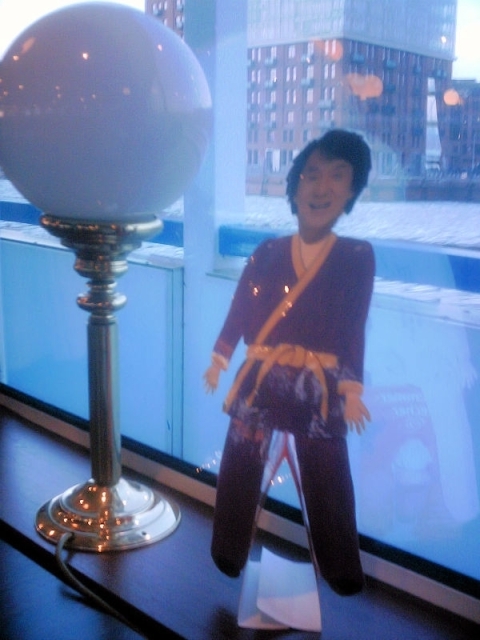 With a heartely "Hummel Hummel", a special greeting from Hamburg,
Yours,
Flat Jackie.

KIDS CORNER FRONT PAGE / LATEST JACKIE NEWS TOTALLY FUN JACKIE STUFF / OFFICIAL SITE HOME PAGE
©2009 The JC Group
No part of this website may be reproduced or distributed without permission