When my children and I read about the Build a School for a Dollar project on Jackie Chan's website we decided that we wanted to get involved. As we talked about it we thought that it would be a good idea to get as many children involved as possible. My son Thomas and my daughter Christine both attend a Hapkido training school. They thought it would be good idea if they talked to their teacher about the project. He got very interested and asked me if I would talk to the class and give them more information about the project, so I did. I made leaflets with photos of the Build a School for a Dollar project and handed them out and I told them all about Jackie's charity mission to Guizhou. They got very enthusiastic and said that they wanted to help and they did!!! They made some wonderful drawings and together they raised 65 euros!!!!
The children with their donation drawings of the Yu Sin Kwan Hapkido school in Hoogvliet, Rotterdam: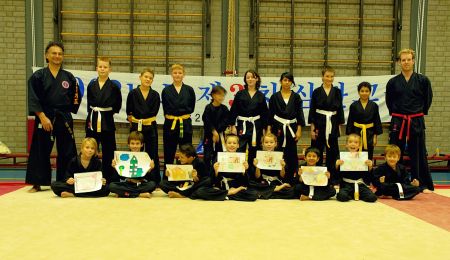 Two boys from the Taekwondo training school in Spijkenisse, Rotterdam decided to join in the fun and made two fantastic drawings. Between them they donated 11 euros: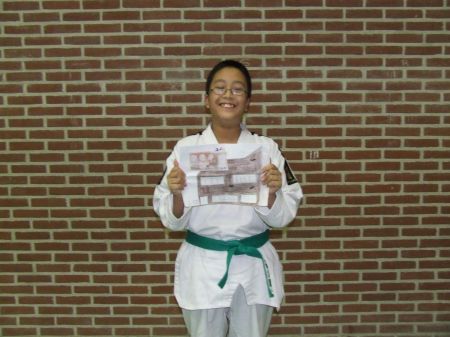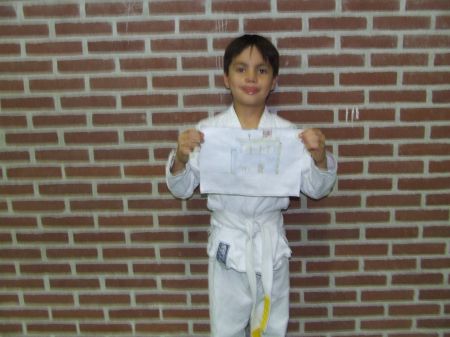 After the summer holidays I had a talk with the principal of the elementary school my children attend, the Andries v/d Vlerk School in Hoogvliet, Rotterdam. I told her all about Jackie's charity mission to Guizhou and about the Build a School for a Dollar project. She got very interested and arranged for me to have a meeting with all the teachers to discuss the possibility of getting the school involved. The meeting was a success. The teachers agreed that this was a very worthwhile project. Some of the teachers even said that this project was too important just to make a few drawings. So we decided to do something special and make it this year's Christmas project.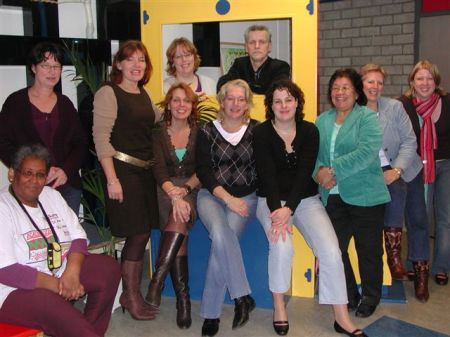 These are some of the teachers of our school.
From left to right: sitting down, Diana (our concerge), back row: Tiny, Esther, Karen, Peter.
Front row: Monique, Gera, Chantal, Eefje, Marja (our principal) and Alexandra.
In the last week of November we held a Build a School for a Dollar week. For each class I held a presentation. We watched a scene from Around the World in 80 days, so that they could see Jackie in action. Then we watched a documentary about a poor family in China and their struggle to give their children a good education. After that I showed them photos of Jackie's charity mission to Guizhou and I told them all about Jackie's charity work. They were very impressed.
They went very quiet when they were looking at the photos: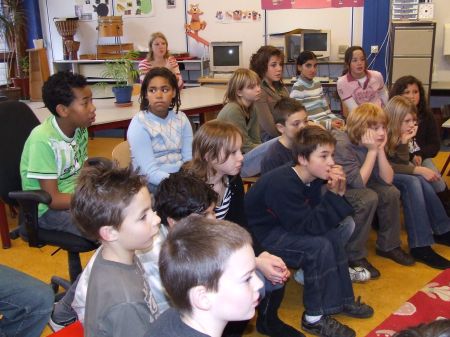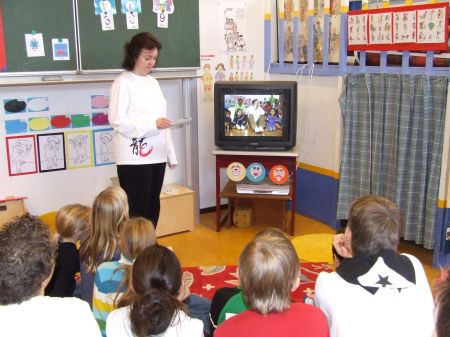 Watching Around the world in 80 days:
Even the littles ones were impressed: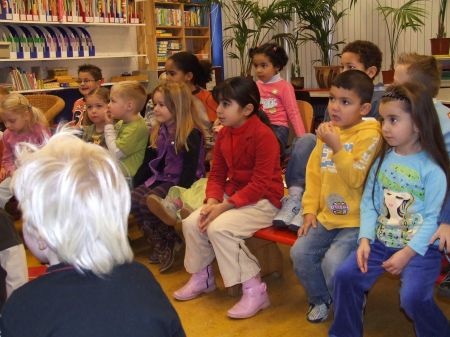 When we finished looking at the photos I asked them if they had any questions. The reaction I got was unbelievable. There was an explosion of questions and ideas about fund-raising. They got very excited about the whole idea and wanted to get involved straight away.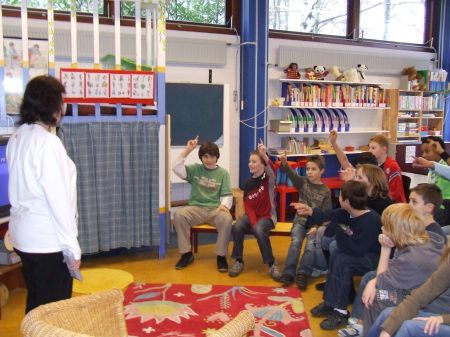 After the presentation they went back to their classrooms, talking among themselves about different ideas for drawings etc. The next day children came up to me, very excited, and told me that they had told their families and that they had already raised some money. I was so proud of them!!!
Now it was time to get to work!!!! I walked through the school with my camera, trying to take action photos of everyone. I went to have a look at the infant classrooms to see how they were doing. Well to my surprise they were the first ones to finish their drawings!!!!
These are the drawings from the infant classes: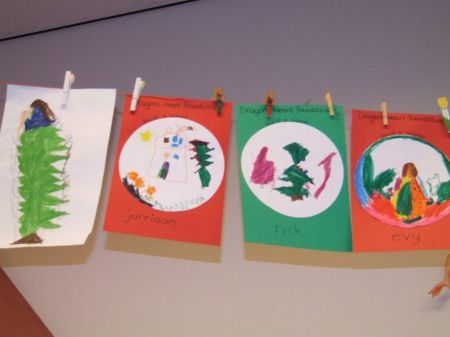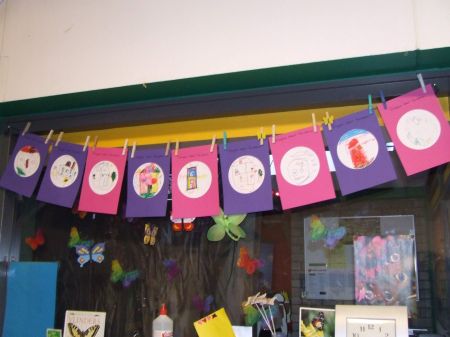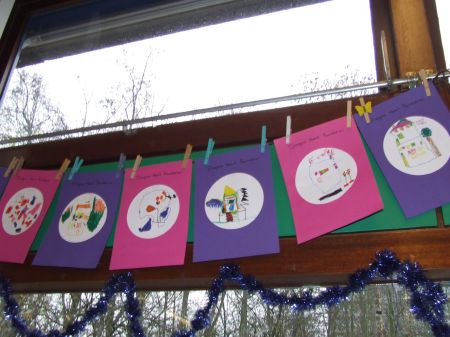 This little boy is holding the money box that they had made: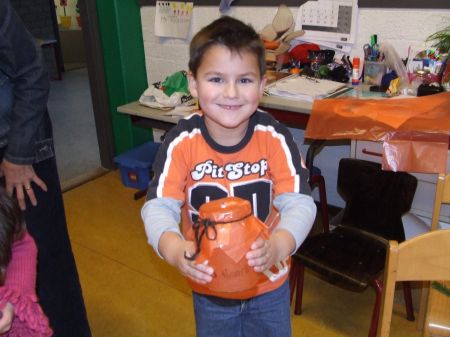 Each class had made a money box to put by the door. They chose bright colors so that anyone coming in to the classroom would not overlook the money box. The rest of the school was getting pretty busy too.

These are photos of groups 3, 4 and 5, ages 6 up to 9: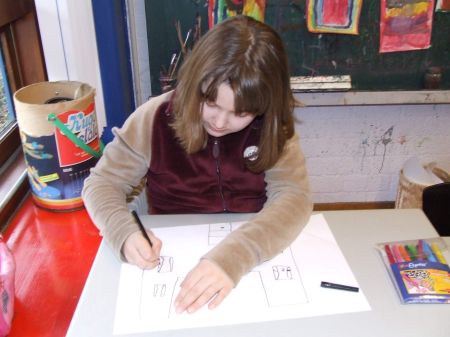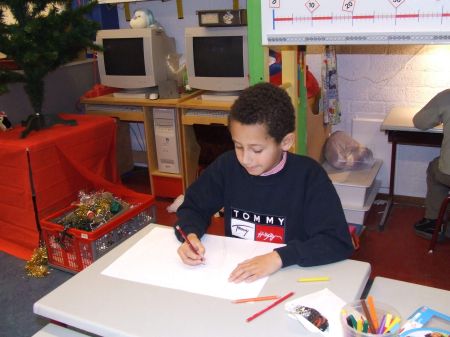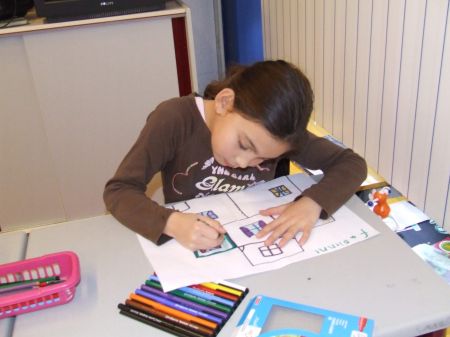 Some children chose to work together: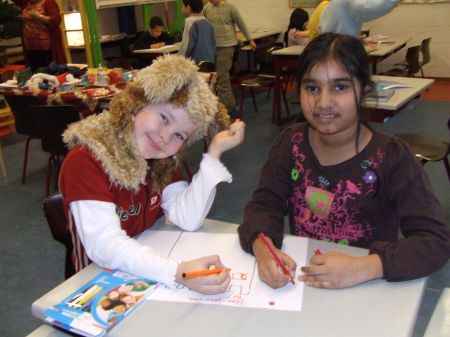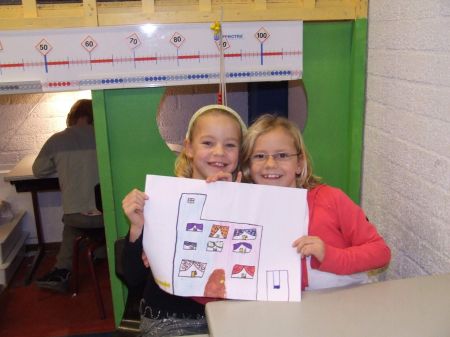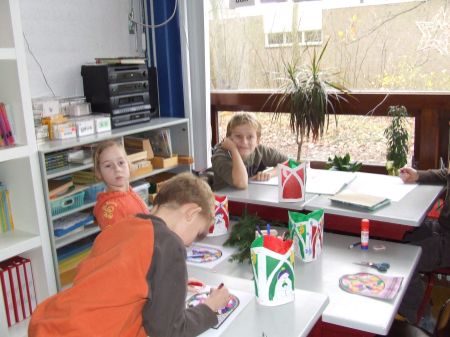 These boys decided to do someting creative on the computer: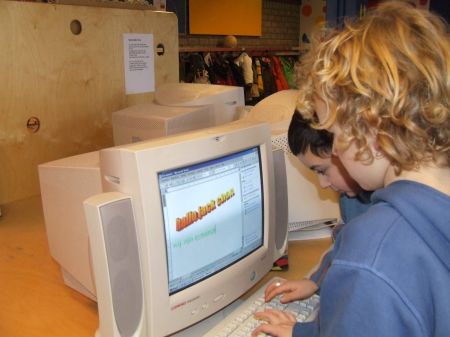 These are photos of groups 6, 7 and 8, ages 9 up to 12: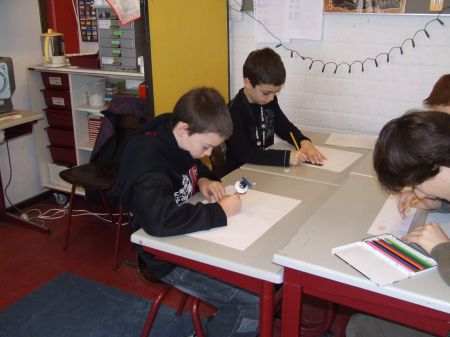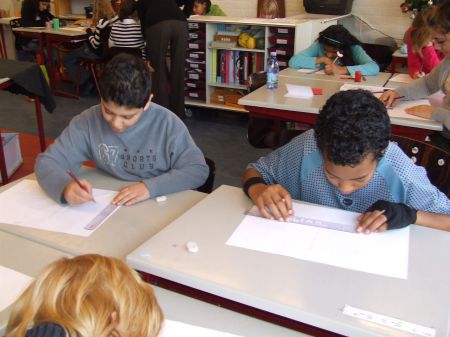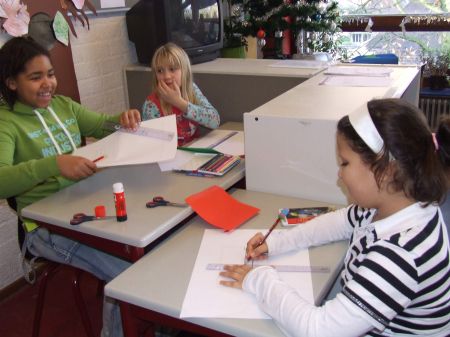 They worked very hard and they were very serious about their designs. Some of them got together to discuss what would be the best design: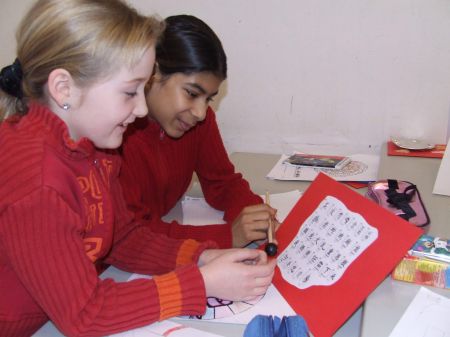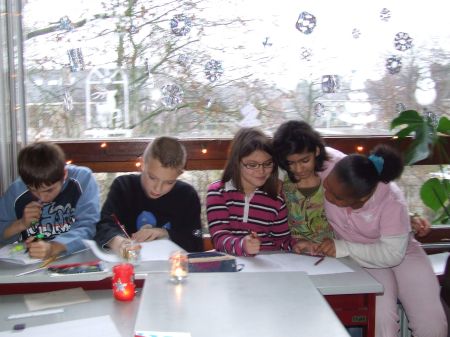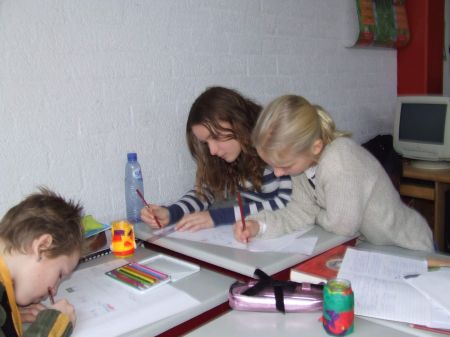 This girl wrote an essay on China with some very beautiful photos:
This is the money box that stands by the door of my daughter Christine's classroom:
Her teacher Peter had a brilliant idea. Everyone who wants to enter has to pay up!! If they forget to bring money in the morning, then they have to pay extra when they come back from their lunchbreak!!! Its all in good fun of course!!
All the children together from groups 6, 7 and 8: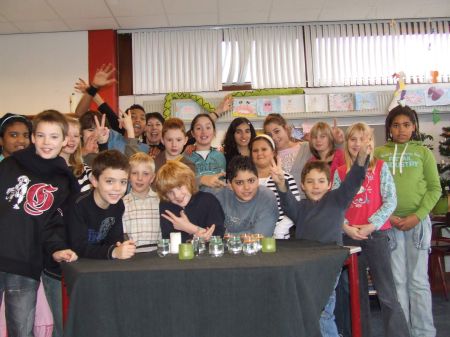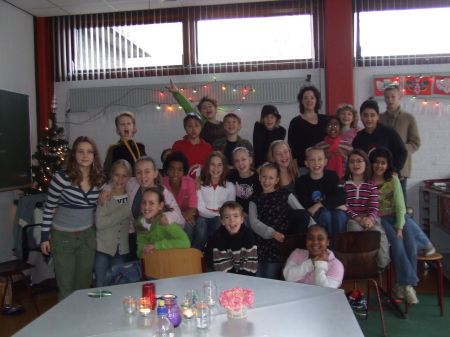 Well after all that hard work it was time to get ready for the Christmas festivities. We have a group of parents who help out every year to decorate the school. They always do a great job: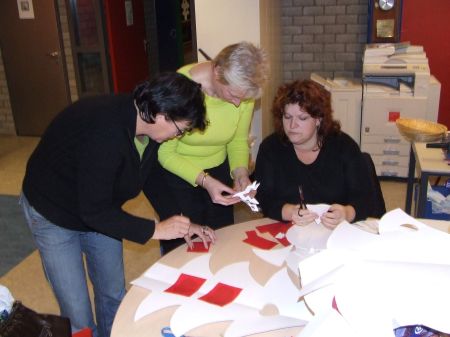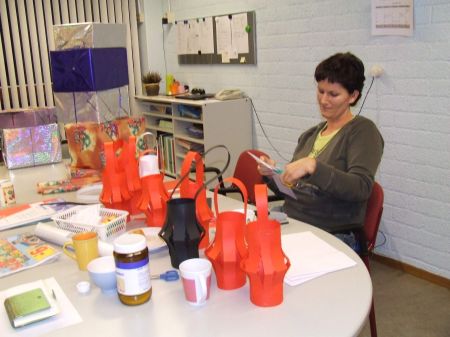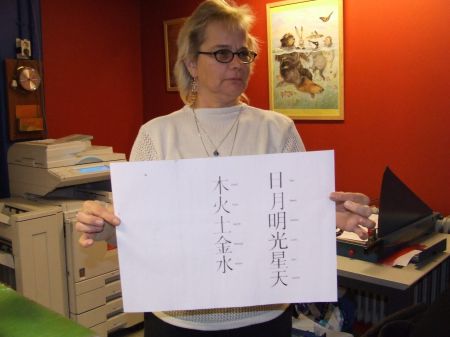 There were multicultural decorations, some Dutch and some Chinese: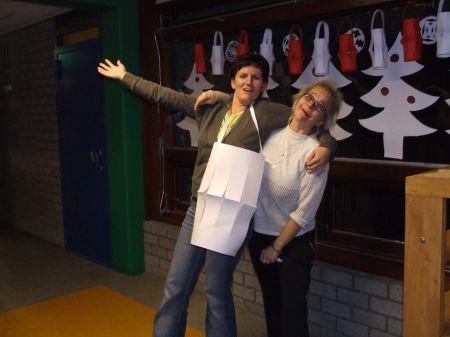 It was getting rather late!!!
On the 19th of December we had a Christmas party. Everyone brought food made from recipes from all over the world, it was a Multicultural Feast: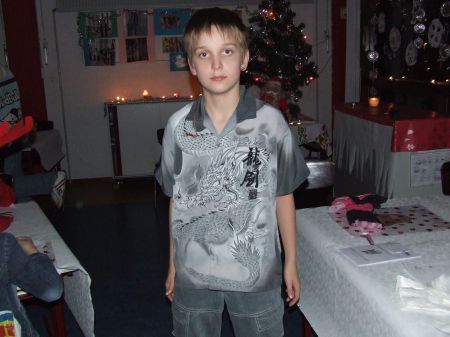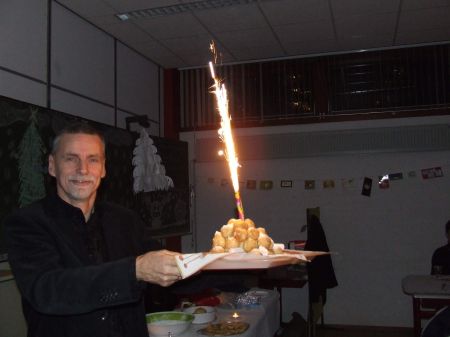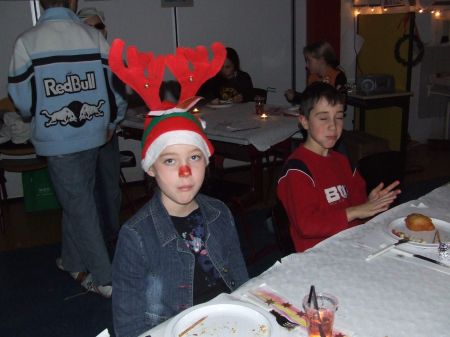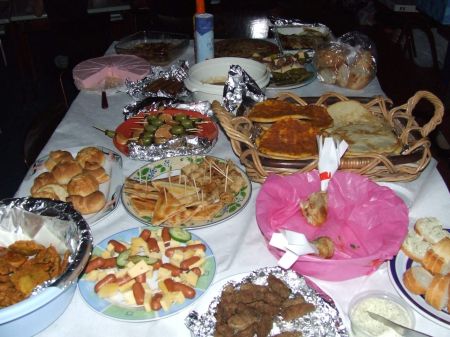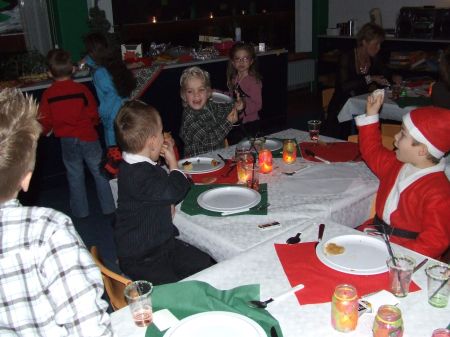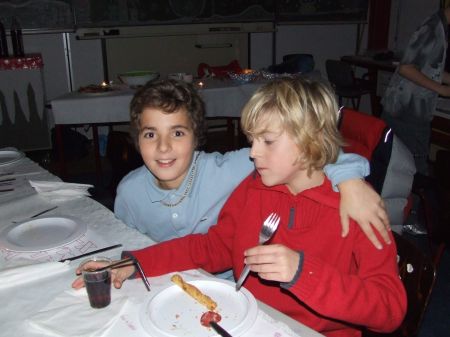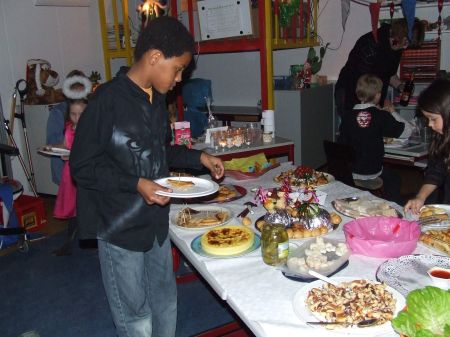 No one got past the money boxes without putting some money in: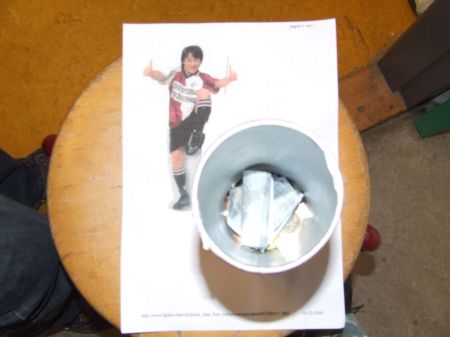 The Christmas project came to a close. But it doesn't stop here!! Because the project is such a huge success and there are so many children with a lot of wonderful ideas, we have decided to carry on with the project in the new year. We put the money boxes in the safe and we will continue fund-raising after the Christmas holidays. We will let you know how we get on as we continue our campaign for the Build a School for a Dollar Project!!!
Kitty, Thomas and Christine Engelmoer
The Netherlands
*Note: This project earned US $468, which was immediately donated to the Dragon's Heart Project*
If you'd like to make any size donation online, please click here and choose "Dragon's Heart Foundation" from the drop down menu.
Or send your donation to:
Build-a-School Project
c/o The JC Group
No. 70 Pak To Avenue, Clear Water Bay Road, Sai Kung, Kowloon, Hong Kong