Here's one way you can make a donation to Jackie's Dragon's Heart Foundation and help poor kids go to school:
Step One: Tape (don't glue!) any paper money (euro, dollar, kroner, etc.) to a piece of drawing paper: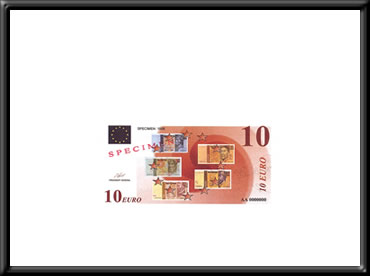 This is now the main building of a new Dragon's Heart School that your donation will help to build.
Step Two: Get out your crayons or colored pencils and add a roof, playground, students, grass, sun, sky.....whatever makes you happy!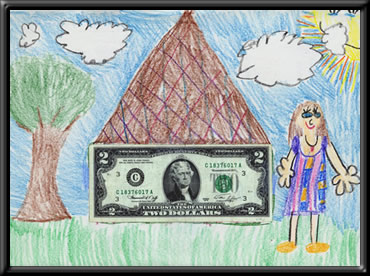 Your drawing might look like this one from Autumn.
But it might look completely different, like this one from Romina: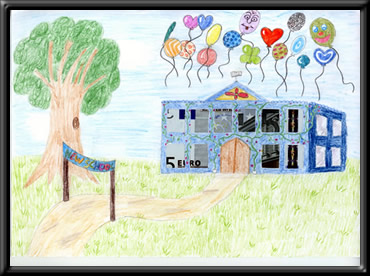 Romina did not draw on the Euro.
She made a cut-out and placed the money behind it.
When you're done with your donation drawing, put it in an envelope and send it to Jackie at:
Build a School for a Dollar
c/o The JC Group
No. 70 Pak To Avenue
Clear Water Bay Road
Sai Kung, Kowloon
Hong Kong
Don't like to draw? Well, you can send any size donation to our office or even donate online!. Please click here and choose "Dragon's Heart Foundation" from the drop down menu.
There are many other ways to raise money for Jackie's Build a School for a Dollar project. Fans from all over the world have thought of dozens of ways to help. Click here to read what some of them have done!
Please do not send school supplies or any other goods.