By Thomas Engelmoer
Hi, my name is Thomas. I would like to talk to you about Jackie and the Build a School for a Dollar project. I really like his movies; my favourites are the Rush Hour movies and Around the World in Eighty Days. But I became a big fan when I learned about the Build a School for a Dollar project in 2006.
My mum was reading about Jackie's charity trip to Guizhou. I wasn't interested much at the time, I wanted to go to an amusement park so I asked my mum if we could go and she said that it would have to wait and kept on reading the story. I really wanted to go to the amusement park so I asked again. Then my mum showed me what she was reading. She showed me the photos of the children and how they had to live and that there wasn't a proper school that they could go to. I remember one little girl with a yellow ribbon in her hair, she was crying while she was telling her story to Jackie. She had to walk for two hours over two mountains to get to school; my school is only 15 minutes away by bike. She also told Jackie about how she had to miss her parents because they had to go far away to work. I could not believe that there were children on the other side of the world that had to live like that. Going to a amusement park didn't seem so important anymore.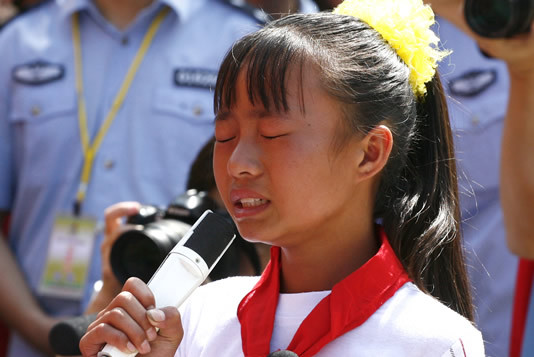 The girl with the yellow ribbon.
My mum, my sister and I decided that we wanted to do something about this. At that time the Build a School for a Dollar project started on Jackie's website. I like the project, it's a good way to raise money and have fun at the same time. We first started at our Hapkido School. We told our teacher and the other kids about the project and asked them if they would like to participate, they did, they made some great drawings and raised a lot of money between them.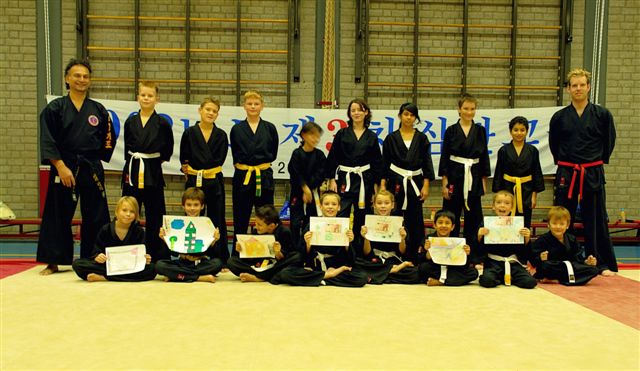 Hapkido class
Our next project was at our school. We organised a Christmas Build a School project which was a big success. All the kids and teachers loved the project; we had a lot of fun and raised a lot of money.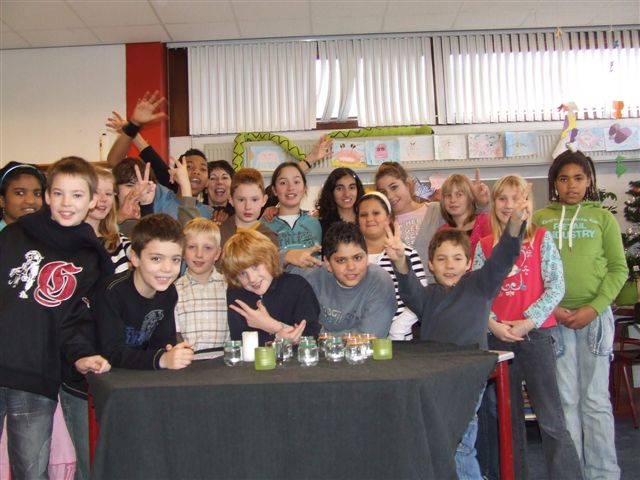 Children from school
When we heard about the terrible earthquake in China we decided to get back into action. Instead of making drawings of schools we asked our class mates to decorate envelopes and fill them with money. All the kids filled their envelopes with their own pocket money.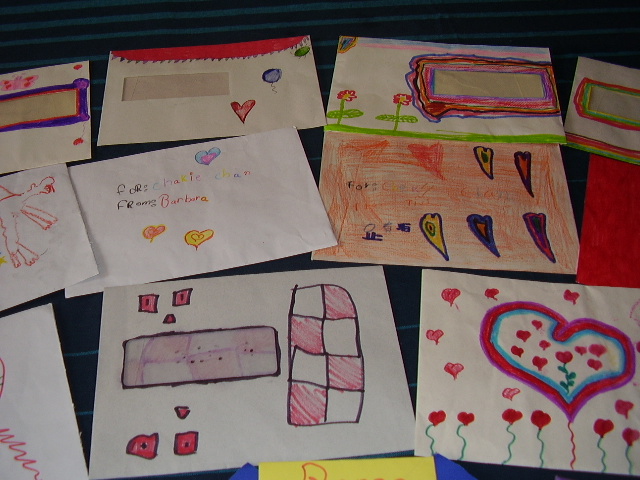 The envelopes
We thought about different ways to raise money and came up with another good idea. My sister Christine and I asked two of our friends, Kevin and Barbara to join in; together we form a group called the Dragon Kids. We collect old toys and other stuff and sale them at flea markets and fancy fairs. We even made our own Dragon Heart T-shirts.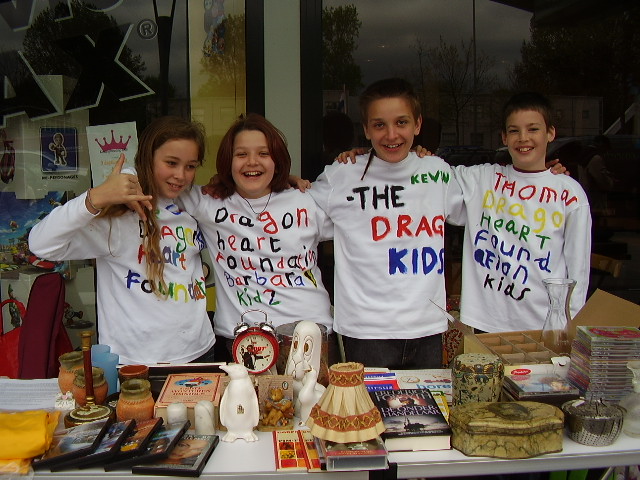 The Dragon Kids
This year I started high school. One of my first assignments was to hold a presentation. I had to choose a subject to talk about and show photos and film and then discuss it in the classroom. I chose the Dragon's Heart Foundation and the Build a School for a Dollar project. Everyone was very impressed including my teacher; I got an A for my presentation. Our principle Mrs Laging was also impressed. She was so impressed that she gave the money that they had raised with the Christmas musical to my mum to donate to the Dragon's Heart Foundation.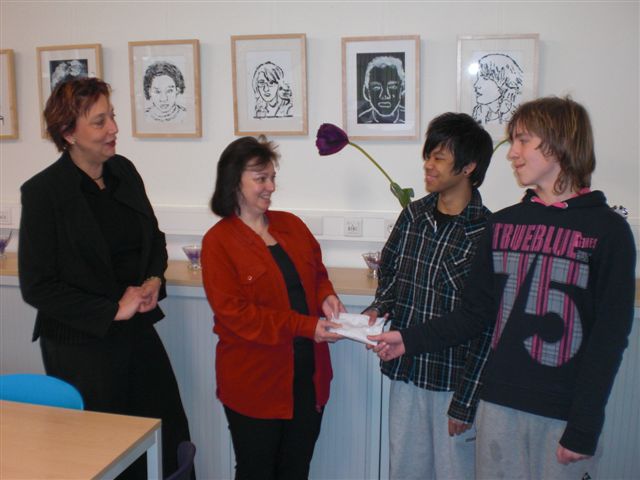 Money presentation
My mum was going to send it but then we read on Jackie's website that he was going to hold a concert and fan party in Beijing in May. We all wanted to go. But I had to ask permission to take two days off from school so my mum talked to my mentor Mrs Pfahl. When she heard where we were going she immediately gave me permission to go. She also said that it would be a great idea if I could give the money they raised to Jackie personally. Together we made a special card on the computer with a photo of all the kids to give to Jackie.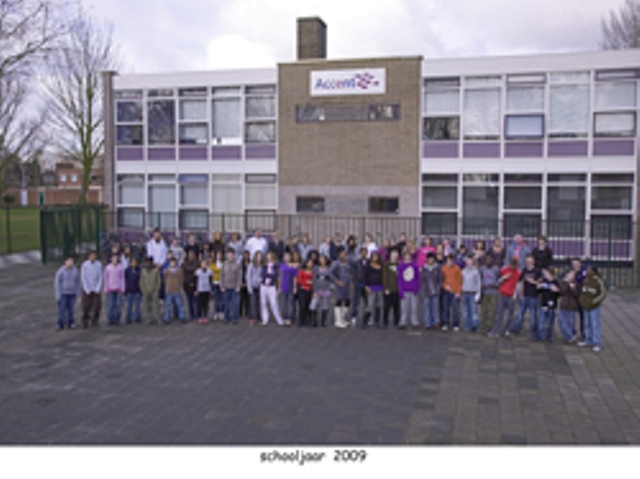 Accent school kids
We were all set to go, a few days later we were on our way to Beijing. We had a fantastic time in Beijing. We went to the Forbidden City and the Great Wall of China.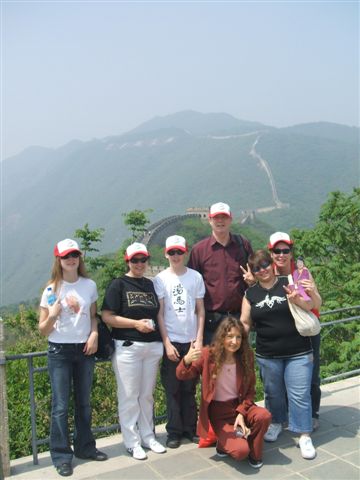 Thomas and friends on the Wall
On Friday the first of May, we went to see Jackie Chan and Friends concert in the Olympic Stadium, the Bird's Nest. I didn't know what to expect. My mum is always going on about how good Jackie can sing and she plays his CDs a lot but I didn't pay much attention. But WOW after hearing him sing live in the Olympic Stadium I was very impressed! He is a very good singer! I loved the concert, great show. Although I didn't know the artists who were performing I thought they were really good.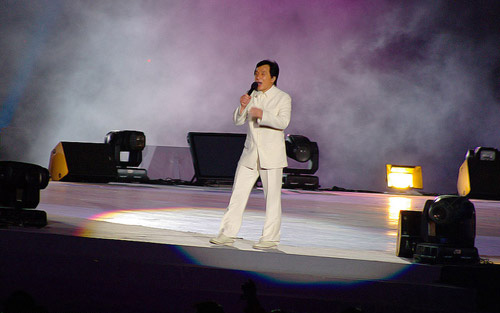 Jackie at the concert
The next day was the Fan Party. This was the most exciting day for me. I was finally going to meet my hero, Jackie Chan. I enjoyed the party very much. Jackie showed us the making of his new movie, Big Little Soldier, which I thought was very funny and the New Little Fortunes performed for us.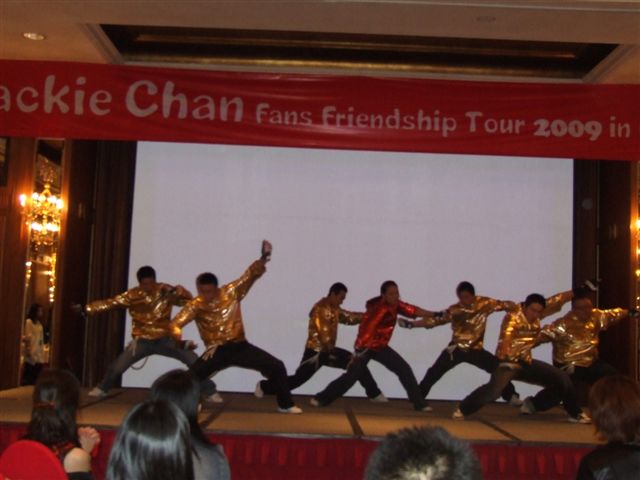 Photo of the New little fortunes
And then finally, at the end of the evening I got the chance to give the money to Jackie. I put the money from our school in an envelope together with the card we made and went to stand in line to have my photo taken with Jackie. Finally it was my turn. I must admit I was very nervous but he was so relaxed and happy he made me feel relaxed. I gave him the envelope and told him that it was a donation from my school. He looked at me and smiled and thanked me for the donation, he seemed very pleased.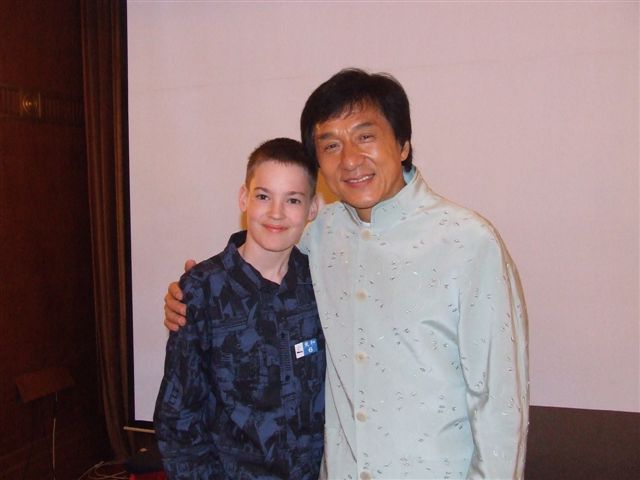 Thomas and Jackie
I want to thank Jackie for teaching me about charity. I have learned how meaningful it is to help raise money for charity and that it can also be a lot of fun. It makes me very happy to know that through the Build a School for a Dollar project I can help children, like the little girl with the yellow ribbon, get a good education so that they have a better chance for a better future.
Thanks Jackie.
Thomas Engelmoer
Age 14