Here is something I created in support of the Build a School for a Dollar project: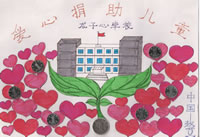 Click to enlarge
The school in the middle of the picture is the Dragon's Heart Foundation Primary School built by Big Brother Jackie. The green color underneath the school represents the budding growth of the Build a School for a Dollar project. The dollar under the green leaf represents a seed. When the seed germinates and starts growing new leaves and branches, these will grow to support the school. With a steadfast school in place, many children will have the opportunity to study and attend class. In the picture there are many peach pits (the heart of the peach) which represent the kind and loving hearts of everyone. The seed and school is surrounded by these peach pits, surrounded by the love and care of everyone. As you can see on the picture, some peach pits have a coin on them while others don't. What this represents is that we are always surrounded by generous, kind, loving people. Some are able to donate one dollar, others donate 10 cents, but there are some who use their caring hearts to show their support for the cause. The one dollar represents Big Brother Jackie's generous heart, the 10 cents represents our kind hearts, and I offer my loving heart and compassion in support of Jackie's Build a School for a Dollar project.
This handmade Dragon's Heart Primary School was an idea a few of my classmates and myself thought up. This is a mini model of a Dragon's Heart Foundation School. Inside, there is a stage, blackboard, book shelf, desks, chairs, and some other small details. This Dragon's Heart Foundation model represents my feelings towards the project. I hope many others will help support the Dragon's Heart Foundation project and help children who cannot go to school accomplish their dreams with an education.
CLICK PHOTOS TO ENLARGE