Hallo, dear Kids Corner, dear Kath and dear Jackie!

We are a martial arts club in a little town in the middle of Germany, the Chang Hun Taekwon-do Dojang Reinheim. We don't only train classical taekwon-do, but also a form of self-defense and street fighting called 'Close Quarters Combat' and budo weapons like the boken (wooden sword), shinai (bamboo sword), long stick and others.
We are also famous for the diversity of age groups that are attracted by what we have to offer. Our youngest kids are 6 years old, the oldest martial artists around 50, and many adults became interested quite late in their lives.
There is room for everybody who wants to put his heart into Martial Arts and we are a great team and good friends. We owe this atmosphere to our Master Ingo Israel, who is the life and soul of the Dojang. So it was no surprise for me when he allowed me to collect money for the 'Build a School for a Dollar' project. And at the beginning of the New Year I can send you 70 Euros, which I will donate online.
Jackie Chan is a great inspiration for all of us, as a martial artist as well as a human being who cares about others. We wish him and all his team a wonderful New Year and of course a lot of success with all his projects – the films as well as the charity projects.

I also send you some photos.

With kind regards,
Sabine Krüger
Here are the photos: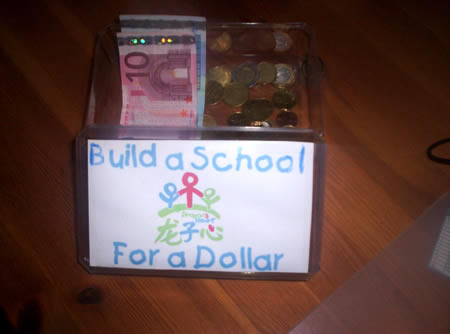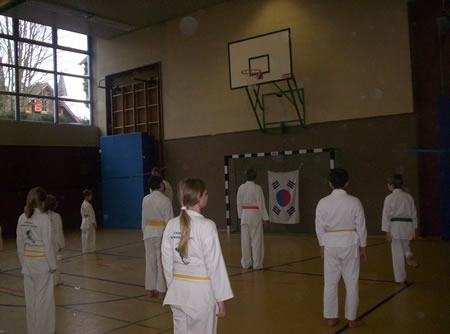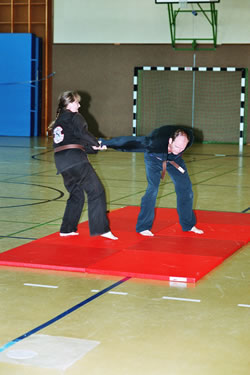 If you'd like to make any size donation online, please click here and choose "Dragon's Heart Foundation" from the drop down menu.
Or send your donation to:
Build-a-School Project
c/o The JC Group
No. 70 Pak To Avenue, Clear Water Bay Road, Sai Kung, Kowloon, Hong Kong