In May 2006, a man named Alan attended Jackie's Global Friendship Tour. Traveling all the way from Korea, Alan made his dream come true when he not only got to meet Jackie, but he got to sing a song with him. After Alan shook Jackie's hand onstage, he made a promise. He promised Jackie that he would do everything he could to contribute to the Jackie Chan Charities and since May he has been working hard and saving money. Well, Alan kept his promise. Here's the letter Alan sent along with US $300 for the Build a School project:
Hello, Kath!

I sent money to JC office by EMS on Friday. (US $300) That is the money I had saved while living in China, and I saw pictures on Jackie's website I sent from China.

I feel really great now, because I kept the promise. When I had a chance to take a picture with Jackie at the party, I talked to Jackie; "I'll donate lots of money, I promise." That's my first donation and I'll keep donating forever.

Thanks for hard working for Jackie Chan, and see you next time.

Sincerely,
Alan Chan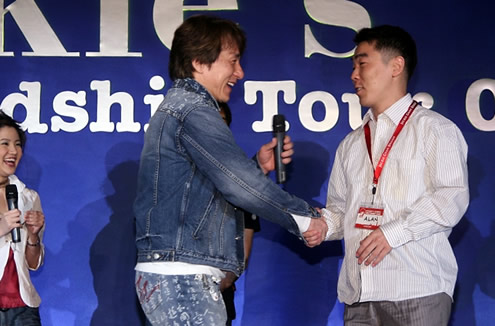 Alan onstage with Jackie in May, 2006.
Alan also sent the following stories to share with you:
Jackie says, " Don't smoke! " I don't smoke.
I saw Jackie's photos about littering cigarettes on the road in Paris and read his opinion about smoking on his web site. I have stopped smoking for six months, and I want to tell you that I've stopped smoking because of Jackie and you.
At the Friendship Tour Party, a Korean man and I wanted to smoke at the table in the hotel restaurant during the break time, so I asked others at the table it was okay if we smoked. All of them said no, and went on to say that Jackie was the Ambassador of Anti-Smoking so we must stop smoking. Although some people were smoking at other tables, we went outside to have a smoke. As soon as I lighted a cigarette, some people were interested in me because of my duet with Jackie in Cantonese. I crushed my cigarette out because Koreans couldn't smoke in the presence of the older. People who were stayed at the same hotel came to me and said that they were proud of me and asked how I had memorized a Cantonese song, and asked to have some photos, and were worried about my smoking habit. Later on, when I had the chance to smoke, the taste was not good. I knew why and I made up my mind to stop smoking.
The next day we all went to Jackie's office and I had my picture taken with Jackie's Anti-Smoking poster as the background. And then a French man took the same picture. I knew him because we both stayed at the Regal Oriental hotel and rode a taxi together to the party. I asked him whether he smoked or not. He said, "Jackie says, "Don't smoke!" I don't smoke." He could speak only a few English words, but he spoke that sentence fluently and clearly. I thought he really liked Jackie and his words made me decide to stop smoking again. When I went back to Korea, I developed Jackie's Anti-Smoking poster, and put it up everywhere I stayed. Also I left a message about on Jackie's Korean fan site. Lots of Jackie's Korean fans cheered me on to stop smoking. Every time I wanted to smoke, I saw the pictures and murmured to myself, "Jackie says, 'Don't smoke!' I don't smoke." Jackie says, "Don't smoke!" I don't smoke…" If there is anyone who wants stop smoking, mutter those words. It definitely works.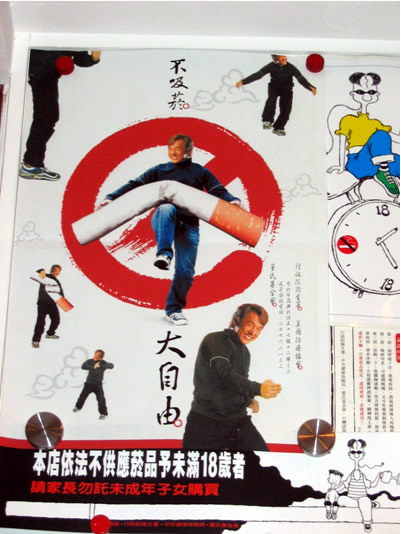 Jackie says, "Don't smoke!" I don't smoke.
A story I want to share
I have been watching Jackie's movies for two decades, and I was a member of Jackie's International fan club. I have something to tell you about Jackie. The story was a letter from Willie in Jackie's fan club magazine in 1989. Jackie was filming in one of Africa's small dessert countries for Armor of God 2. The biggest hotel accommodated him and his crew. As soon as they arrived at the hotel, Jackie ordered his crew not to eat the fruits in the room and to bring all fruits to his room. Jackie's crew had no idea what he was up to. After all the fruit was collected, Jackie brought them outside for the children. When he had first visited the place to hunt location, he was shocked by the poverty and heard the children had never eaten these kinds of fruits. So when he came back there again, he made sure to give fruits to the children. Willie heard the story from one of crew and he wanted to share it with fan club members. When I read Willie's letter at the time, I was very touched. Now I want to share the story with you. This is typical Jackie Chan.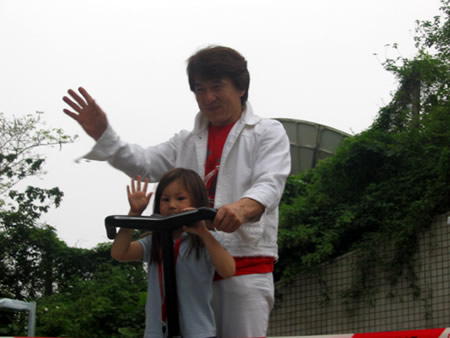 Jackie loves children.
When I heard Jackie's Korean fans' drawing plan, I couldn't participate, because I have been studying Chinese in Tianjin for 4 months. So I thought of how to join the project.
I have saved money while living in China. However it hasn't been easy to save money because I had resigned my company in Korea and had spent almost all my money for a small apartment in my hometown. I ride a bike instead of taking a taxi. I eat cheap Chinese food instead of expensive Korean food. I have never been to Karaoke bar in China. No money, no play. Though, without a doubt, life in China has made both my Chinese and health better. Even if I go back to Korea I will work hard and keep using my money sparingly. The more I earn, the more I can donate to Jackie's Charities.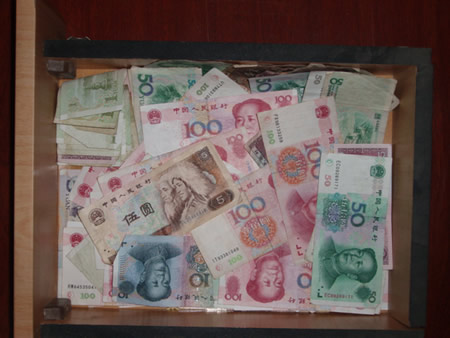 The money I have saved.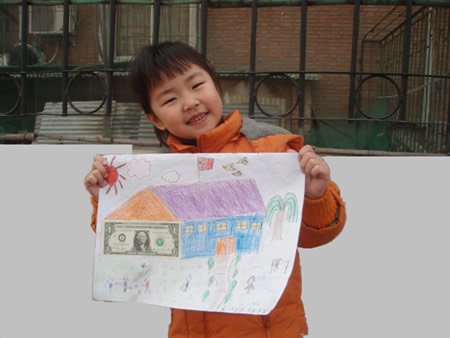 This girl is smart and adorable.
This little girl is my friend's daughter. She luckily goes to the best kindergarten school in Tianjin. I don't think she totally understand what her drawing means, however the more she grows up, the more she can understand it. Her money will build the most precious school in the world and her drawing will give the students hope and love. I predict that some of the students from the school will be the great man and affect the world positively.
Jackie, thank you for making a better world. It's an honor to be your fan.
Here are two photos Alan sent along: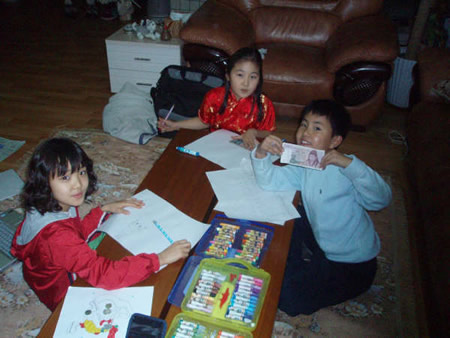 Children making Build a School drawings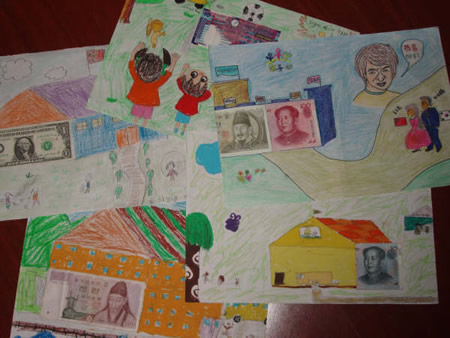 Here are the drawings they sent.
Thank you to Alan for sharing his inspiring stories with us!
If you'd like to make any size donation online, please click here and choose "Dragon's Heart Foundation" from the drop down menu.
Or send your donation to:
Build-a-School Project
c/o The JC Group
No. 70 Pak To Avenue, Clear Water Bay Road, Sai Kung, Kowloon, Hong Kong