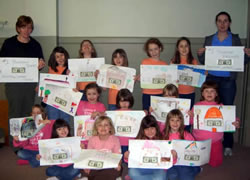 Dear Jackie and Everyone Involved with Dragon's Heart,
The members of Powassan Sparks and Brownies, with the Girl Guides of Canada, heard about your Build a School for a Dollar campaign and wanted to help! We recently learned about China at our Spring Camp and our girls wanted to contribute.
We are enclosing a picture of our girls with their completed drawings so that you can see their wonderful faces and how much they care.
Good luck with your campaign!
Love,
Powassan Sparks and Brownies
Leaders: Angie, Cara-Lee, Kris, and Patti