As you know Jackie is keeping a diary during the filming of Around the World in 80 Days. While he is in Thailand filming, Jackie is taking on the role of teacher and introducing his fans to the Thai language. Click below to read Jackie's lessons so far!
Now that filming has moved to Germany, Jackie is teaching his fans some German words and phrases. Click below to read the new lessons.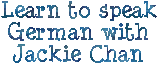 Jackie took time out from filming in Berlin to fly to Cannes, France for the Cannes Film Festival. Click here to see some photos of Jackie and his costars in Cannes.