Hello!
We wanted to send this attached photo file to Jackie and the JC Group webmaster with the hopes of it getting posted on the official JC website. We agree very strongly with Jackie's "Peace, Love & Tolerance" philosophies about how to live your life. In fact, we feel SO strongly about it, we had a bumper sticker made that states: "JACKIE CHAN FOR PRESIDENT."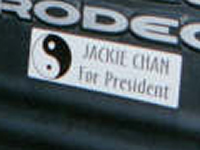 We think that with the upcoming 2008 US Presidential race, AND the Rush Hour 3 movie hitting the theaters, maybe we can garner enough voters to fill in Jackie's name on the ballot and WIN!!! . Ha ha. But who knows? If Arnold Schwarzenegger can become governor of California where we live, why couldn't Jackie be our President? We believe he would certainly do a far better job than the man who is currently in the oval office!
This photo is of Brendan, our 13 year old son and our Papillon dog Monki (she is a fan of Jones and JJ!) We put Monki in the photo because we know how much Jackie loves dogs!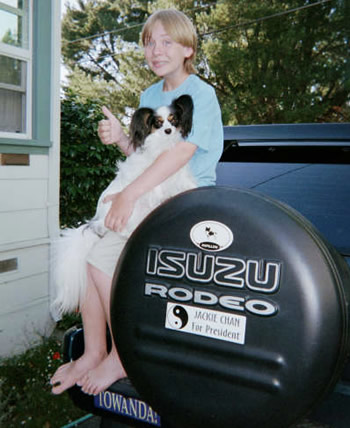 Thank you and Peace and Love from,
Brendan and His Family in California
PS We have reserved tickets to see RH3 this Friday night! We can't wait!
KIDS CORNER FRONT PAGE / LATEST JACKIE NEWS / TOTALLY FUN JACKIE STUFF / OFFICIAL SITE HOME PAGE
©2007 The JC Group
No part of this website may be reproduced or distributed without permission.