Since I was a young girl back in the 1960s, I have wanted to visit England, London in particular. I had not thought about visiting anyplace in Eastern Europe but Jackie Chan changed that for me. Because of his website and the forum on which I met Dagmar Crmanova, I found that I wanted to visit the Slovak Republic. Dagmar and I grew up under very different conditions but we found through our communications which started on the message board that we were very much alike. We became sisters. While there, we met some others who became sisters. Daniela Pusskacs, who lives in Vienna is our little sister. We took notes from Jackie's life in our sisterly names. I am Biggest Sister. Dagmar is Little Sister and Daniela is Littlest Sister. About two years ago, I decided that the time was coming to make an almost lifelong dream come true. I started planning how I could get to London and Bratislava. Vienna, as a day trip to meet with Daniela was figured in as well. Good fortune fell to me in May of 2006 and I was offered a temporary part time job that ended up being somewhat more permanent and it enabled me to save up the money to take the trip instead of my husband and I having to use charge cards and get into big debt. My husband and I flew to arrived in England on May 9. We were met by a friend who lives in East Croydon, just outside London. We stopped by her house to leave our suitcases and then we were off for sightseeing. We spend a couple of days taking in London, where we felt right at home, and then we were off to Bratislava. Dagmar met us at the airport and after leaving our luggage at our hotel, we went to Dagmar's flat for the evening. Dagmar has a wonderful flat.

As you can see in the picture, she has many books, lovely glass objects and lots of plants. She has a whole garden in her home.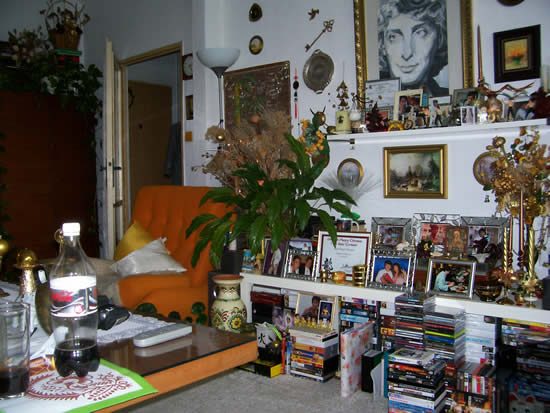 Look carefully and you will find a picture of Dagmar with Jackie.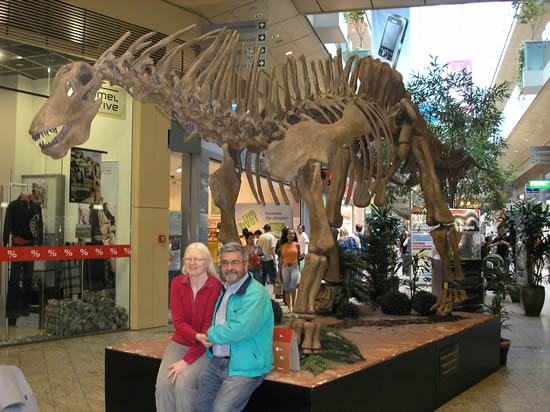 Here, my husband, Kendall, and I pose in front of part of a dinosaur exhibit in the Aupark shopping mall. I wanted you to see Kendall at least once. Most of the time he took pictures of me and Dagmar, so he is not in very many.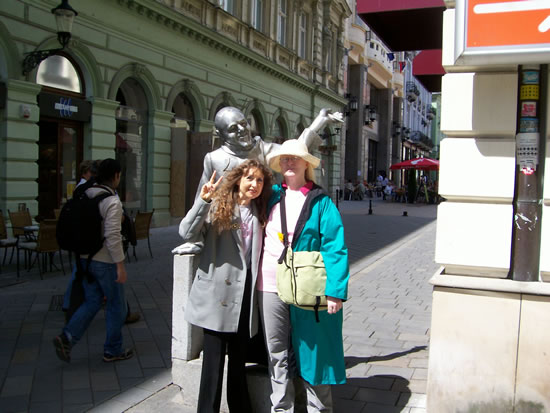 Here Dagmar and I are with a statue of a man who lived in the first half of the 20th century. He was famous but he was poor and he used to sing in the streets of the town.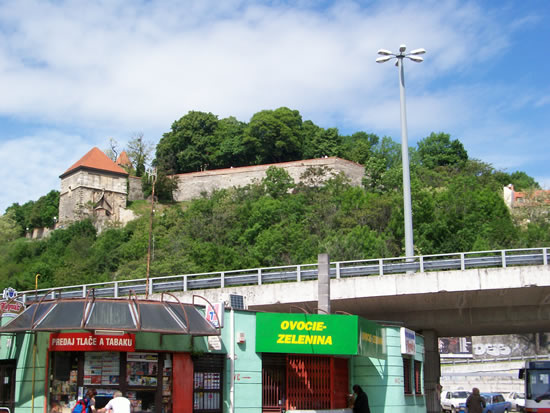 Bratislava is interesting for many reasons but one of the most interesting to me is the mix of architecture you find there. In this picture, you can see that in one view you can see two different styles of building. There are 900 year old buildings, palaces from the 17th and 18th centuries, buildings from the 1960s, when the Slovak Republic was a socialist country, and very new office buildings with a lot of chrome and glass.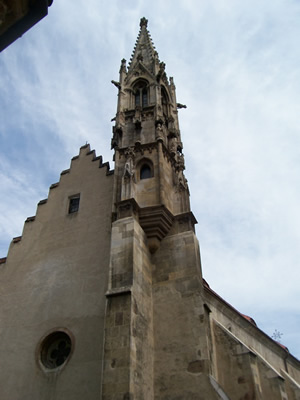 This is the Church of the Sisters of St. Claire. It was built in the 12th or 13th century.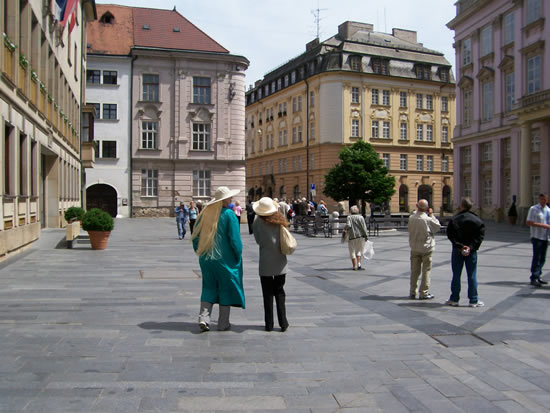 Here, Dagmar and I are in the middle of town. The town is very cheerful with many pretty colored buildings and many red roofs. Red seems to be a very popular color for roofs there. We took a little train ride through the central parts of Bratislava. It was good that they had a recorded guide tape that they played for us in English. The few words of Slovak that we know would not have helped us much to understand it in Slovak. After we left the train ride, my husband found that he had lost his cell phone. He thought he might have lost it on the train but when we asked at the starting point for the train ride, the gentleman there said he had not seen a phone. We were somewhat worried about the phone because it would have been bad if someone who was not honest had found it and made a lot of calls on it. We looked in several places we had been but did not find it. Later that day when we went back to our hotel so my husband could call the phone company to let them know it was lost the lady whom he asked for the key to our room also handed him his phone. The man from the train had looked for it under the seat and found it. We had told him where we were staying in case it turned up but had not expected that he would bring it to the hotel. We have tried to give the man a reward of some money for his kindness but he would not accept it. We will donate that money to Jackie's Build a School Fund in the man's name. Dagmar sent me his name which is Mr. Presporacik. Everyone we met in the Slovak Republic was friendly. It was not difficult for us there even though we do not speak but a few words of Slovak. Dagmar was with us all the time to help and many people there speak English. Dagmar tells me all the time that they all know and love Jackie there too. We had many good times in Bratislava but it would take a long time to tell all of them here so I will skip to the last day of our stay in Dagmar's wonderful country. We visited Daniela in Vienna on May 14. Here is a picture of Daniela in her flat, one of the three sisters, and one of the Imperial Palace which is in the heart of Vienna.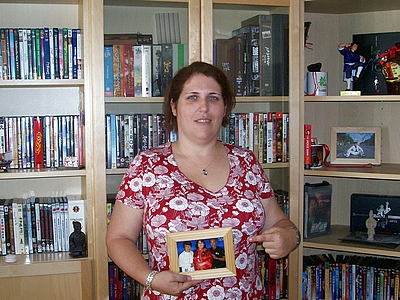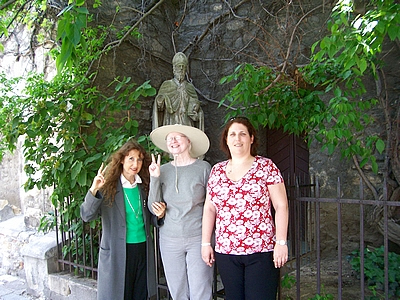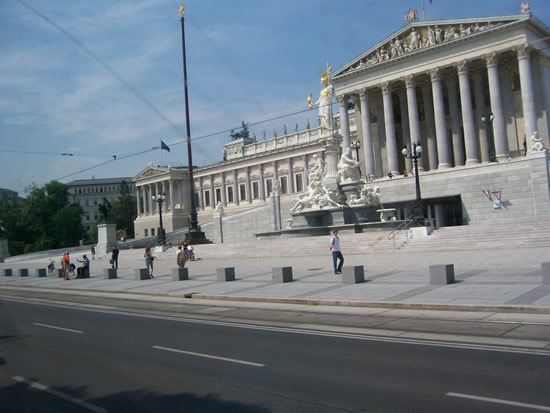 An interesting fact about the hotel where we stayed, Hotel Astra, is that connected to it is a famous Chinese restaurant. In the pictures of Dagmar and me, taken just before we left for the Bratislava airport, you can see the gate to the restaurant through the hotel lobby window.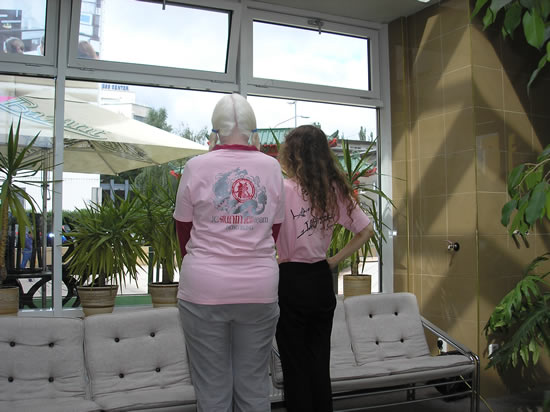 Here you can see the backs of the shirts Dagmar and I won in the Chinese New Year card contest. Dagmar came first and I came second. I wanted you to see that on the back of my shirt is the stunt team logo and on Dagmar's shirt, there is Jackie's signature.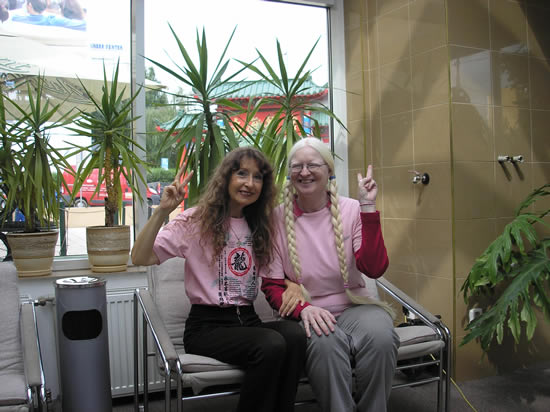 Dagmar went with us to the airport just after we took this picture. It was hard to say goodbye but because we have the Internet and the JC Kids Forum, we can easily keep in touch. Soon, I will send a report on my time in London. As you all know, Jackie has filmed there, so I may well have walked some of the same streets that Jackie has walked upon. Till next time, peace and love be with you.
Annie
Plant City, Florida, U.S.A.
KIDS CORNER FRONT PAGE / LATEST JACKIE NEWS / TOTALLY FUN JACKIE STUFF / OFFICIAL SITE HOME PAGE
©2007 The JC Group
No part of this website may be reproduced or distributed without permission.