by Katharine Schroeder
While wandering the streets of Kowloon, I came across my cat's twin. I'm so sure of it! What do YOU think?
This is the Kowloon Kitty: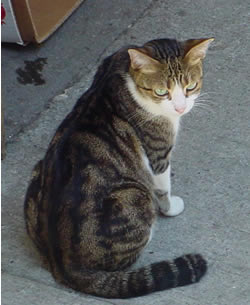 And this is my cat, Newman: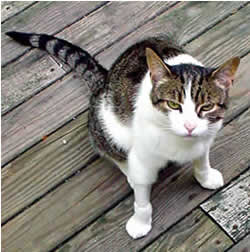 Isn't that amazing? Another Totally Cool thing about Hong Kong....Newman's twin!
As for me, well...I'll keep searching for mine. What about YOU?
KIDS CORNER FRONT PAGE / LATEST JACKIE NEWS / TOTALLY FUN JACKIE STUFF / OFFICIAL SITE HOME PAGE
©2003 Katharine Schroeder/Jackie Chan Kids Corner
No part of this website may be reproduced or distributed without permission