by Ingrid, Germany
June 2009
On Sunday, at 6.30 am we arrived at Hong Kong International Airport. During the transport to our hotel in Nathan Road in Kowloon, I was struck by panic. Why? The driver said no word, everything around looked grey and I thought what I had done. Eleven thousand kilometres away from home, without friends and family, only with my 18 year old daughter. I really felt like a stranger in a foreign country and I was sure we would get lost. In this moment my daughter looked at me and said: "Don't worry, I think it will be a great adventure!" But in this moment I really wanted to go back.
While I was still in thoughts, we arrived at our hotel in Nathan Road and I felt better. The hotel made a very good impression, everyone spoke English and there were also restaurants. Then we started for our first walk through Hong Kong. We found Jackie's star and his shop and we took the Star Ferries for the first time.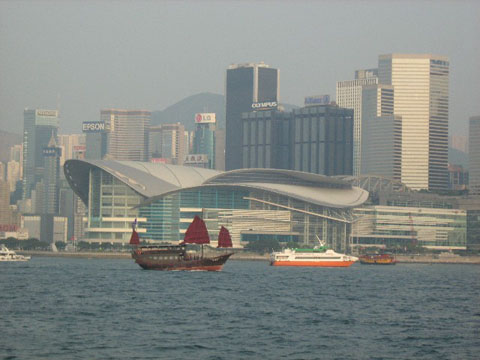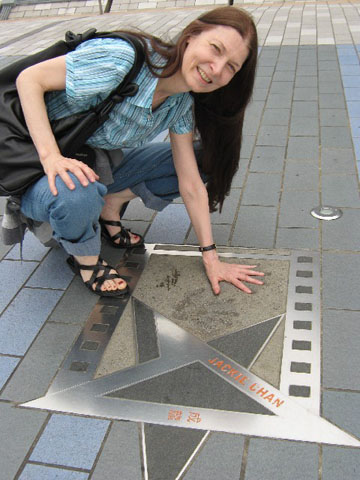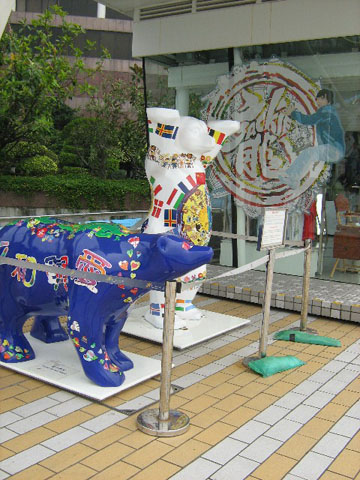 Thanks to Silke's report on the Kids Corner, we soon found the big poster in front of Jackie Chan California Fitness Studio and some film locations. In the evening we went to the night market and Anouk bought an old Chinese combination lock, because she remembered that Jackie shows one in his film about Hong Kong. After our first day in Hong Kong I knew that I love this wonderful town.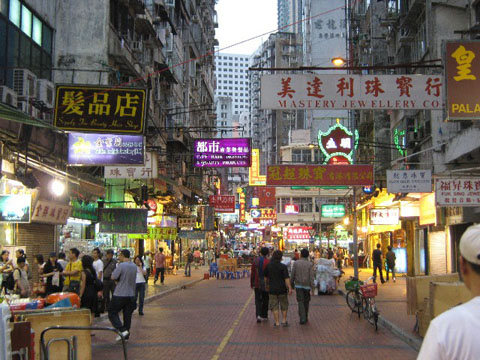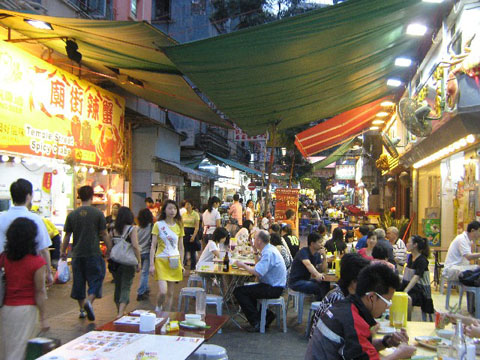 The next day we wanted to do something that made me very nervous. We planned to visit Waterloo Road 145 - Jackie's office! We wanted to bring 700 €, one-dollar-pictures made by children and 15 of the white marble stones with Chinese calligraphy with which we raised a lot of money. We knew that most of the time Jackie is not there, and Kath mailed us that we should give the donation to Fibe.

Staying in front of the large gate and looking at the marvellous tiles from fans all over the world was a very special moment. The door was open and we went inside. The first who came to us and asked what we wanted was Dorothy, and as I know that she is Jackie's personal assistant, I became aware that Jackie must be in the office! Anouk explained that we wanted to bring a donation for build a school for a dollar. She asked us: "Do you want to give it to Jackie personally?"
Anouk said no and that it was alright if we could give it to Fibe. Later so many people did not understand our no. But at that moment, we felt that Dorothy was in a hectic rush, and we thought we had no right to steal Jackie's rare time. But I also think that if I saw him live, my heart would stop beating, ha ha ha.
In the office, everyone was very friendly, and when Fibe came, she gave us a warm smile. There were also black dressed men, who looked like they were checking us (maybe they thought our package was a bomb?), but they also had a friendly smile on their faces! We gave Fibe our package with the donation, made some photos, bought a lot of t-shirts and wrote a message on the window. In front of the office, many cars were parked. We were happy to see a Mercedes Benz with the number JC 1. Our hometown Stuttgart in Germany is the place these cars come from!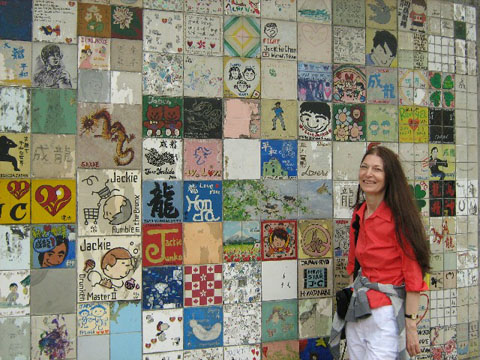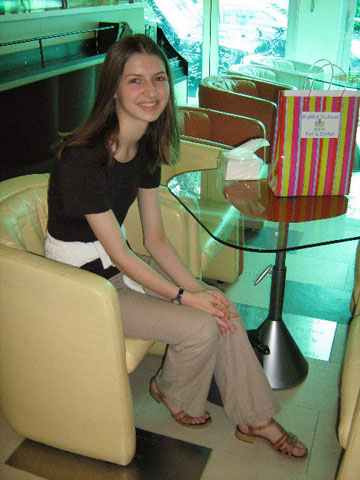 The weather was fine, so we wanted to go on the Peak, as you have a wonderful sight at the skyline of Hong Kong. The Peak Tower is a very big building full of shops, but the best thing is the terrace on the roof. Wow.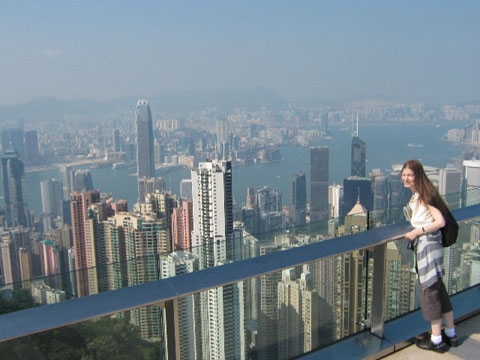 After we were on the Peak Tower, we walked to the top of the Peak, sat in the grass and felt like we were in heaven. Under us the skyline of Hong Kong. Over us the blue sky and the cries of the eagles. Big butterflies flying around our heads. This moment I will never forget.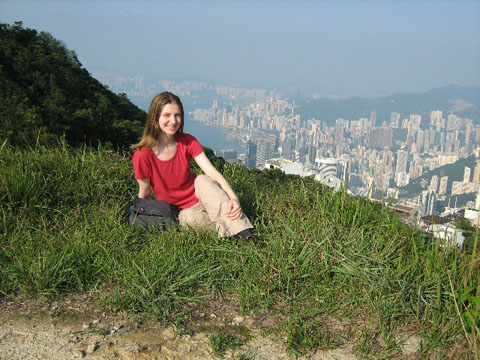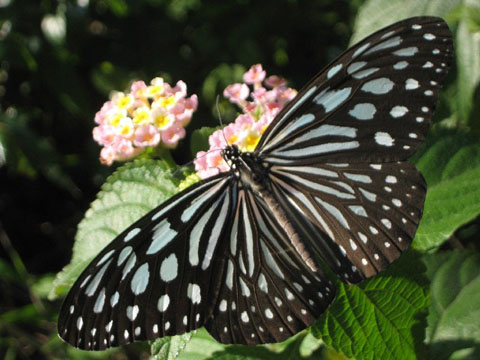 The biggest surprise for me were the plants and trees in Hong Kong. I never thought that Hong Kong was so green. And there were flowers and trees I never saw before. We walked some hours on the Peak and my feet were full of blisters. And then we went back to the Peak Tower to see the skyline from Hong Kong at night.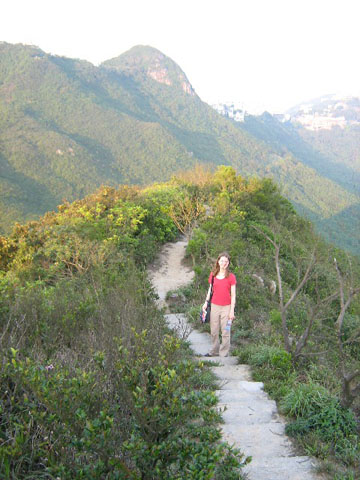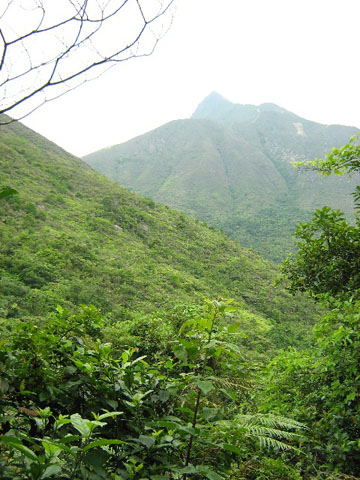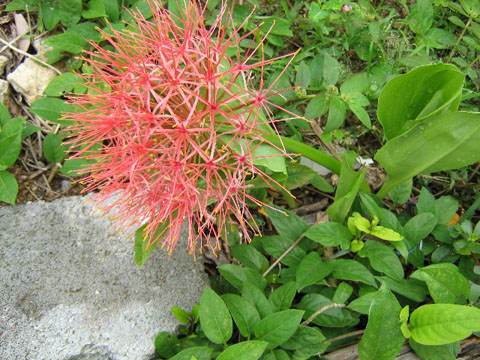 For the next day, Anouk had planned a big tour. She managed our journey with the computer and knew all the buses and trains we needed. Sometimes I thought she had the map of Hong Kong in her head. All I had to do was to follow her. With the MTR train, a Mini Bus and a taxi we drove to the east of the New Territorries. From there we started a long walk along the MacLehose Trail through a wonderful landscape. Wow, I had never thought that Hong Kong was so green! We saw a very special spider, the biggest spider in the world that can make a cobweb. It is called Silk Spider or Nephila pilipes. We were so happy to see this spider in nature! Look at the picture and you can see how large and marvellous it is (but don't touch, it's venomous).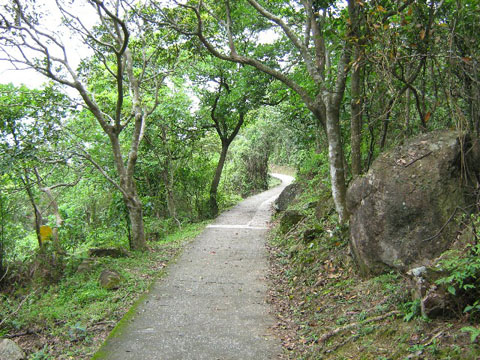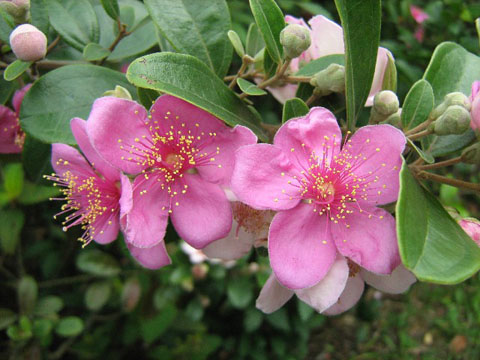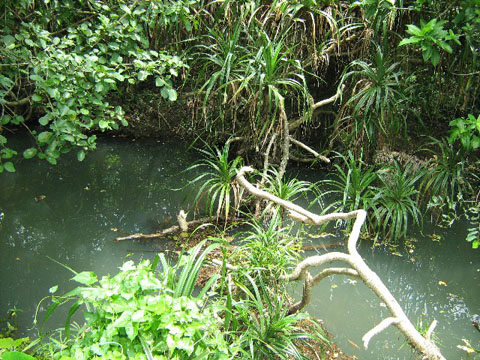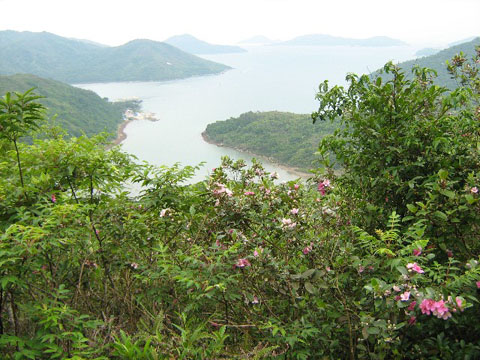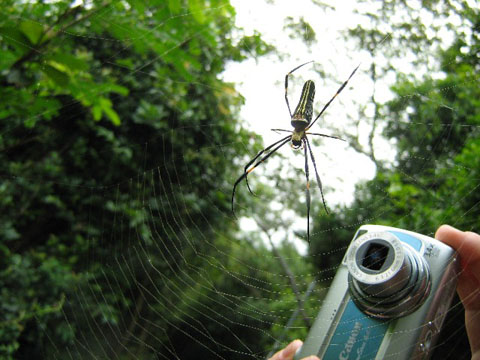 Unfortunately we had a lot to drink with us, but not much to eat, so we really hoped that there would be a restaurant at the end of the tour....
We arrived at Tai Long Wan beach and it was gorgeous. White sand, blue sea and a small restaurant, with a very good meal.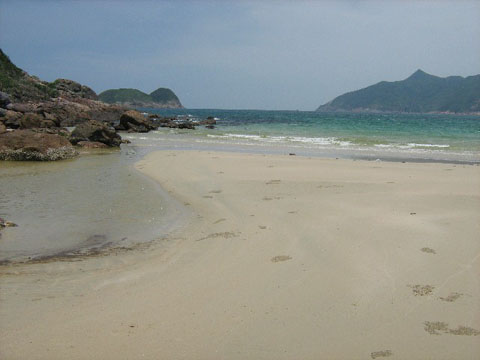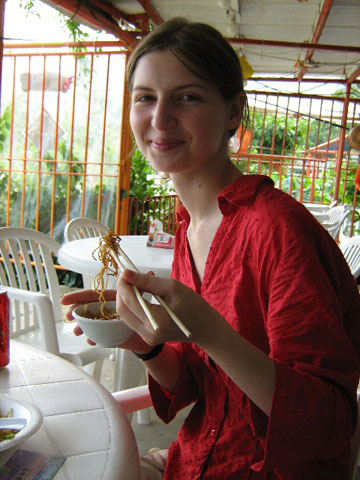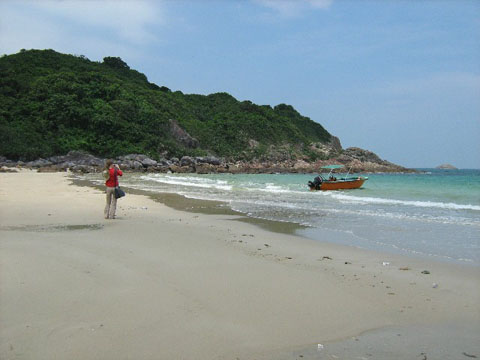 When we started our way back, we know that it would take us some hours over steep hills and through jungle-like forests. But luckily we met some friendly Hong Kong people, who advised us to follow them, because a ferry boat left only a few minutes later and took us directly to our bus station! We were really happy, because we were quite tired and that was definitely a much more convenient way back.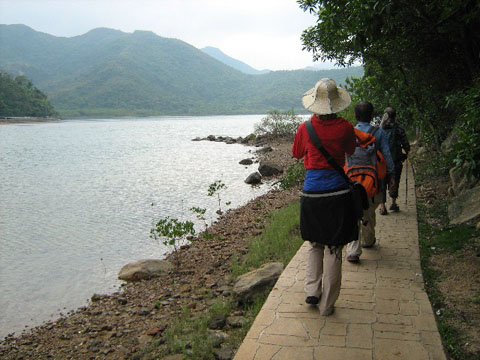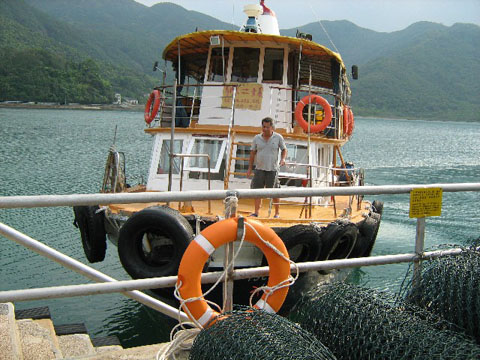 The next morning after breakfast, I felt happy because we wanted to make another trip with the ferries, a wonderful transportation way in Hong Kong. I really like to take the ships because you can see the skyline from Hong Kong in a very special way. This day we visited Lamma Island, but the weather was not good. After a short walk the rain was so heavy, that we became very wet. The temperature was high, and after the weather became better we continued our trip. Only the rumbling of the thunder made me very nervous. But everything went well!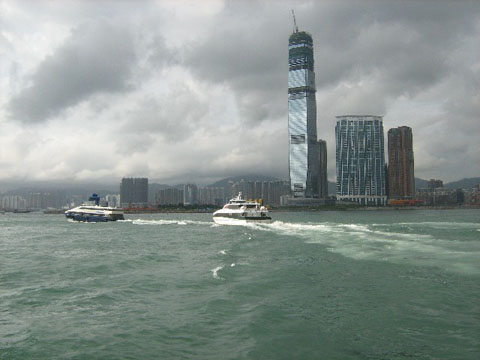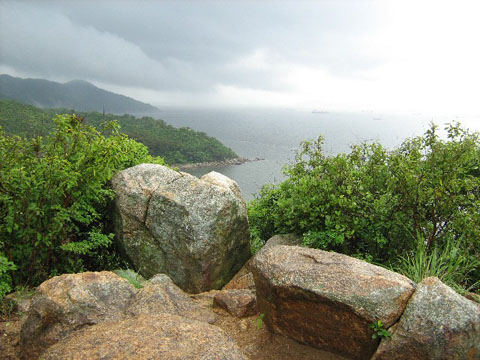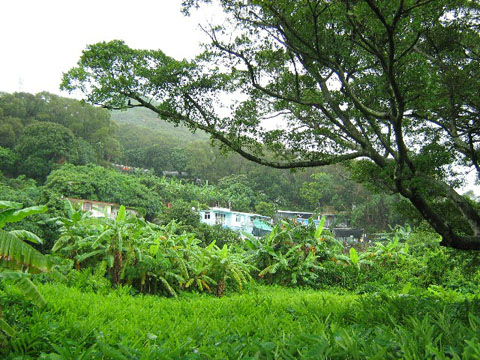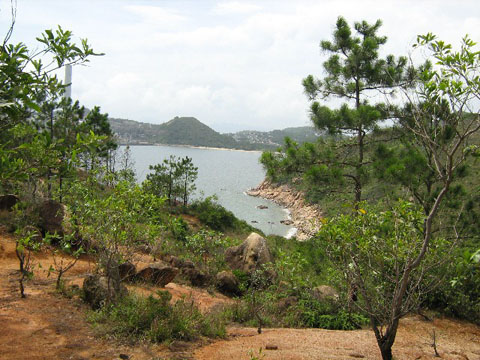 When we reached the other end of the island, we found many seafood restaurants there. Anouk wanted to eat in one of these restaurants, but eating there means that you see your food alive, choose the fish you want to eat and then they take it out, cook it and you are supposed to eat it, but I could not do that. So we got back hungry but not as fish murderers.
Hong Kong has over 200 islands and I am sad that we had not enough time to see more islands because they all look different. I really like the plants, flowers and butterflies very much; they look very different from the European ones.

We also visited Hollywood Road, where you find beautiful antique shops with thousand year old things - you feel like you are back in history. Then we visited Cat Street and bought some small things there (and Anouk had a lot of fun haggling).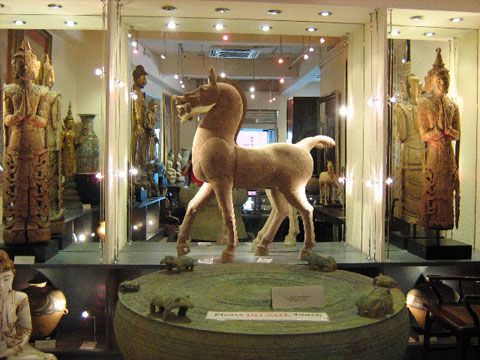 We spend our last day in Hong Kong in Ocean Park. The weather was beautiful.
Ocean Park is a combination of a zoological garden, a botanical garden and an amusement park. One part is upon a hill and the other downhill, so you have to use a cable car to reach the other part. Some scenes of Rob-B-Hood were filmed there, and although that was the original reason we came, there were many other interesting things to see. We really liked the big Pandas and the aquarium, especially the jellyfish.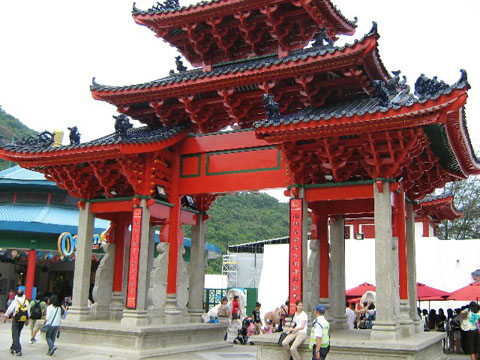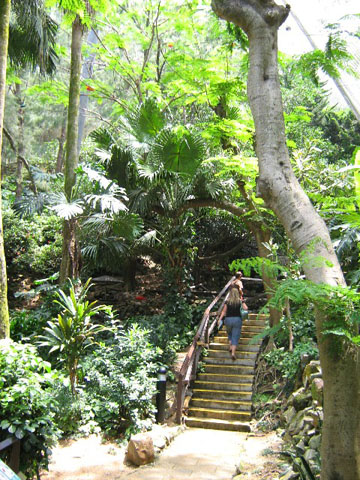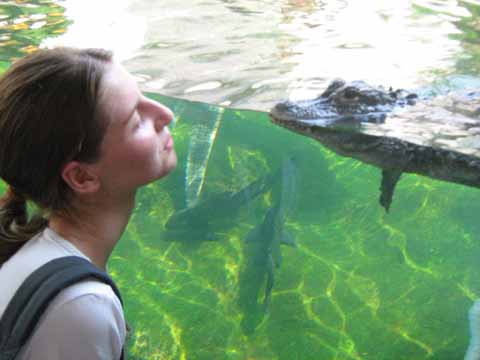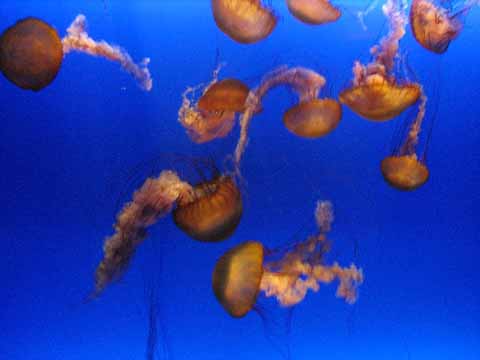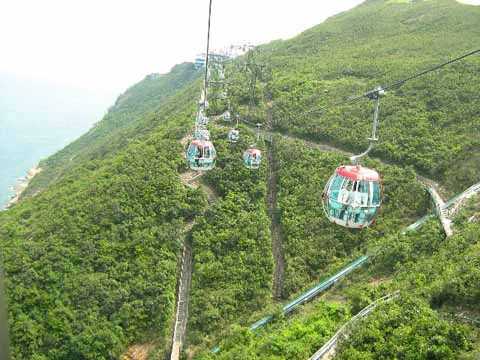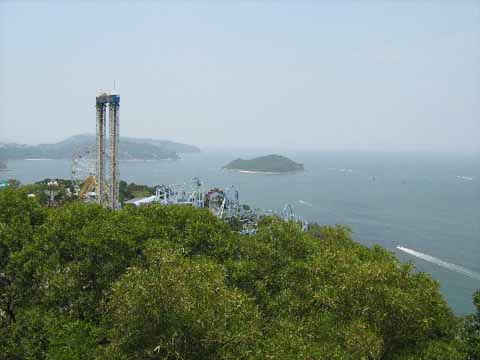 While we ate at the restaurant, we heard that the young people at our table were speaking Mandarin. As I wanted to train my admittedly poor Mandarin, I asked them where they came from. I was so happy that they understood me and even happier that I understood their answer! Soon all four of us sat together and we spoke about our journey and our life. The two came from Shanghai and when we told them, that we had visited Shanghai the year before, they said, that if we made another trip there, we should meet them in Shanghai!
We spend the rest of the afternoon in Ocean Park, made some photos and went back to Kowloon to take our shuttle bus to the airport.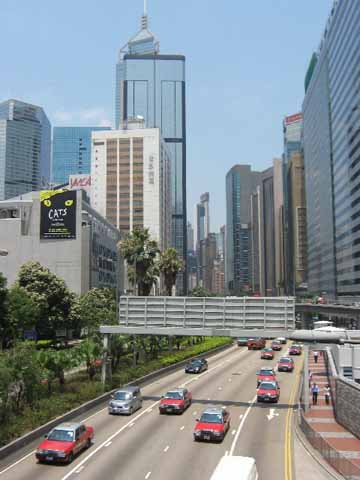 Around midnight we flew back to Germany, and as we flew with Cathay Pacific, I donated the rest of our Hong Kong Dollars for UNICEF, as we read about this project on Jackie's homepage. But when we left Hong Kong, I felt some tears in my eyes and while writing this text, the tears are coming back.
It was a wonderful journey, we'll never forget. First we wanted to walk on the traces of the dragon, but we saw so much more. I wanted to see Hong Kong to understand more about Jackie Chan, and maybe I do understand more, but I think that there are also more questions than before.
Ingrid from Germany