Several years ago we opened the Jackie Chan Kids Corner forum in hopes that Jackie's younger fans could connect with each other, talk about Jackie, and make new friends. Over the years many of Jackie's fans, both kids and adults, have found each other through the forum and have forged friendships. Some of them have even met each other. Here is the story of the adventures of a young man from England and a family from Austria who found each other on the Kids Corner forum. Claudia from Austria and Dan from England have written their story to share with you!
COME TOGETHER - BE ONE AND GET STRONG!

Claudia:
A year ago, I remember, we had the first meeting, big meeting for the Gymnaestrada. The Gymnaestrada is a big Gymnastic-festival, but without competition. Just to make Gymnastics (Gymnae) of all kinds and it is also made on stages at the streets (strada). The Gymnaestrada is held all 4 years, like an Olympic-game. This year it was held from 8th to 15th of July in Austria, western part of Austria, in our villages!
We have 350.000 inhabitants and our biggest city has 40.000 inhabitants! 21.000 people came to our Country to make active Gymnastics and 20.000 were parents and trainers and accompanied them! The 40.000 people came from all over the world, there was no Continent, who didn't come! Also from Hong Kong people came!
So, you can imagine, what we had to organize! 5 years ago, the main-organiser began to think, how we could manage all the people,....they had to look after big stadiums for the opening and closing ceremony, where they can make big Shows, how they can come from one village to the next, where they could stay, sleep and live,...
As I am also a dance-trainer for kids, I and many others were asked to be a part of the opening and we helped also in the kitchen, and had to feed thousands of people! Each, really each village had main-organisers and they spoke with the helpers, how to manage the food,.....Many things had to be organised, we had many dance-trainings, and our whole family was taking part at the opening with dances, helped in the kitchen, and we had one meeting after the next!
Just a few weeks before the big event started, we knew, that we had too less helpers for the day,... we were really a little upset, that people from our village didn't want to help! So, as we often write at the Jackie Chan Kids Corner Forum, we wrote, that we are still looking for volunteers, and we never expected, what happened then,.....
Dan:
It all started thanks to Jackie Chan. If it hadn't been for him, or his great team who supply the website, my journey to Austria would never have happened. I was on the Jackie Chan Kids Corner Forum one day when I saw Claudia and her family explaining about the event. At first I didn't think it was a big event, however once hearing more information, I learnt that it was so big, that there wasn't enough helpers.
As a joke I suggested that if I could help I would. Of course I would have loved to help, however my situation at that point was college commitments, and not having much money. However when I got a message from Claudia explaining that they would love me to help, within about a week, the tickets had been booked, and everything was organised for me to fly to Austria on the 1 st of July.
With it being my 2nd ever time abroad, I was extremely excited. However I was also extremely nervous. I had never met Claudia and her family before, and it was my first time abroad Alone. I can remember getting off the plane, and thinking Wow, what is happening?! Then suddenly I saw Claudia and her family through the glass window and was greeted by warm smiles. As soon as I collected my luggage I was greeted by hugs and warm welcomes, we then took some pictures.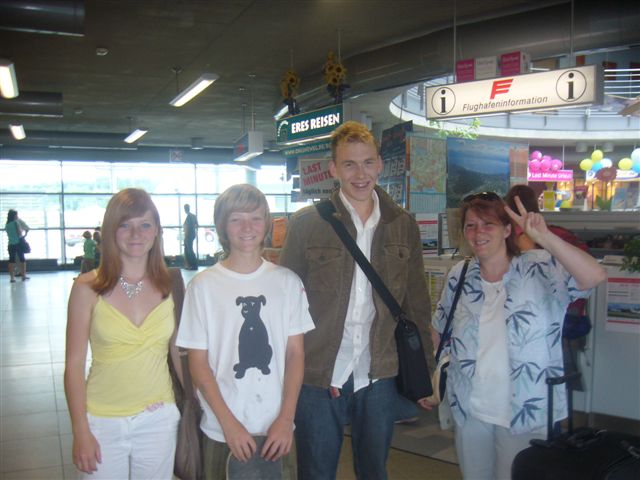 We first had pizza, and then we made our way back to the home of Claudia and her family. On the way we spoke a lot, I learnt some things about Austria, and we soon all began to get on with each other. When we got to the house, I was shocked. It was Huge! And as soon as I saw the bathroom I was like Whoa! It was like a Hollywood bathroom, it was big and bright lights.
Claudia:
So, we made a fan-meeting also, and we had also to think, what we will show to Dan, from our surroundings, what we eat, how we live,.... we wanted to treat him, like a part of our family! And it was really a nice and wonderful meeting!
- We spoke about hours at our lovely cable-cars together,
- we visited a lovely, small museum together,
- saw the best firework from Austria together,
- we drove by bike through our nature and to a lovely small Canyon, together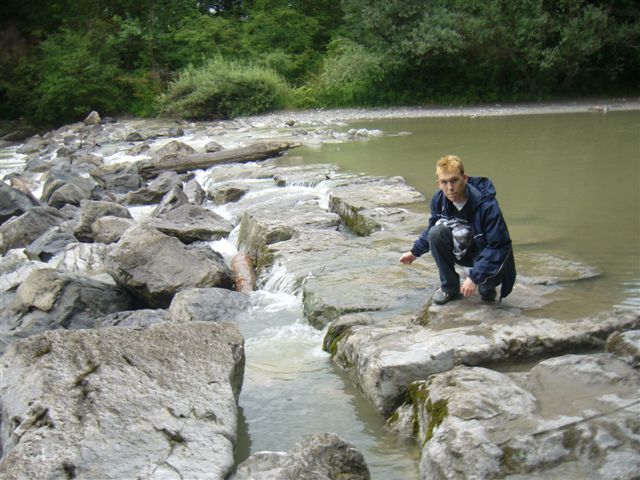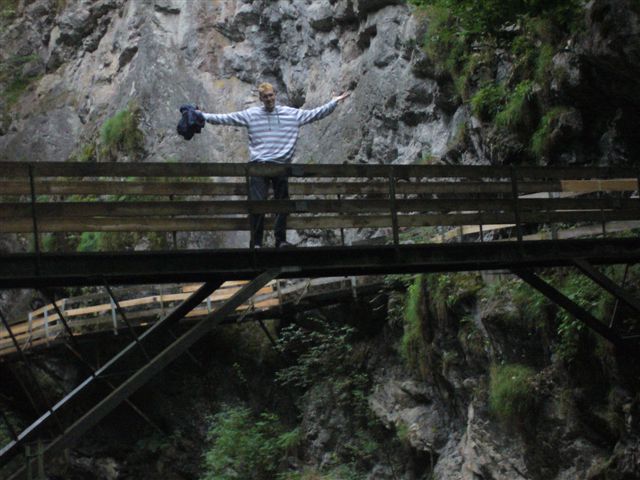 - we saw many wonderful Gymnastic-events together,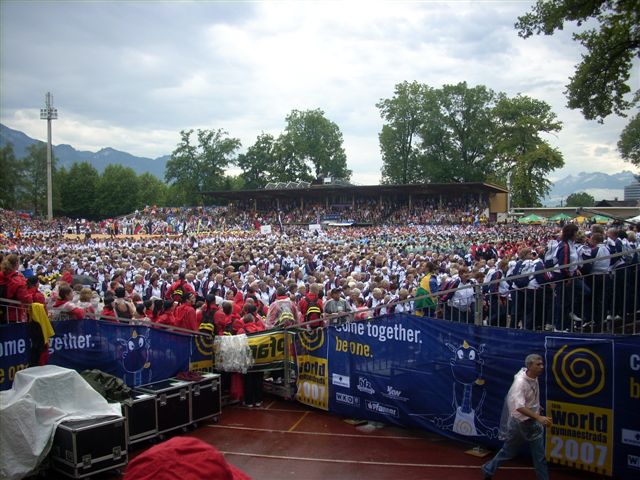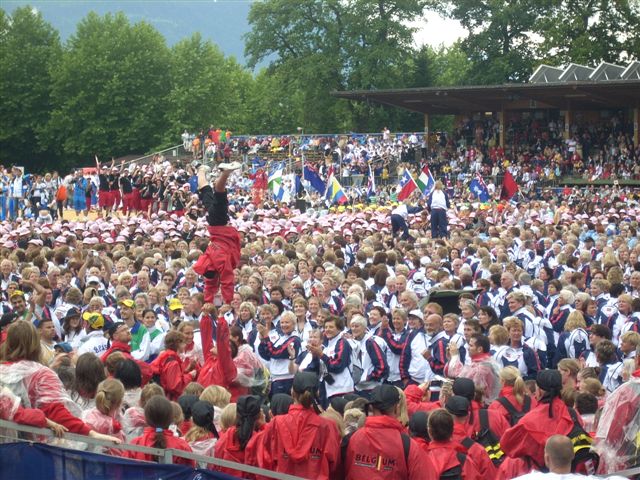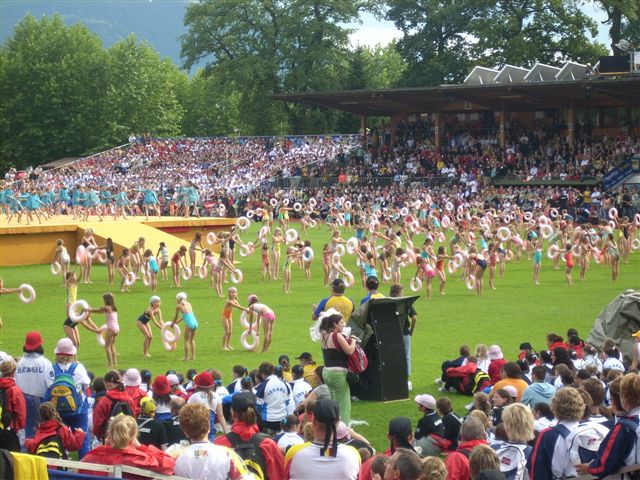 - met people from South Africa together,
- had a wonderful afternoon by boating, together,....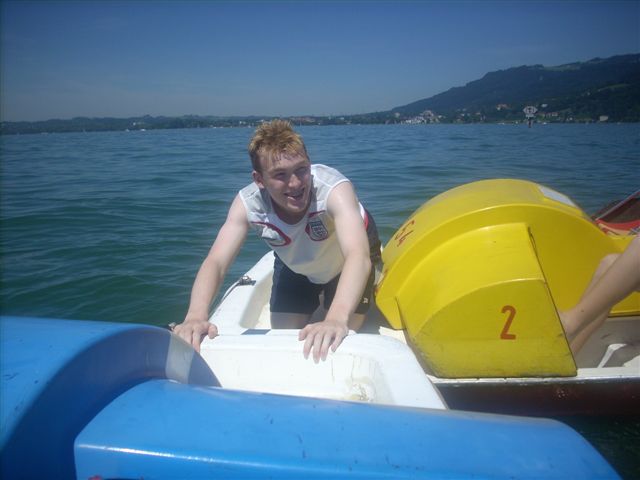 And we also, like 40.000 guests from all over the world lived in harmony and peace together! It was such a beautiful atmosphere in our Village, when people danced at the streets, made Gymnastics, Acrobatic, Rhythm. Dance,...we danced at benches with people from Norway, Switzerland, ..... it was just as a big party! But, we had not only to watch things, we also had to work!
Dan:
I would just like to say that the firework show was amazing, as well as all other things I got to do. Within the two weeks I saw much of the surroundings and met many wonderful people. I got to help out, which was my main intention.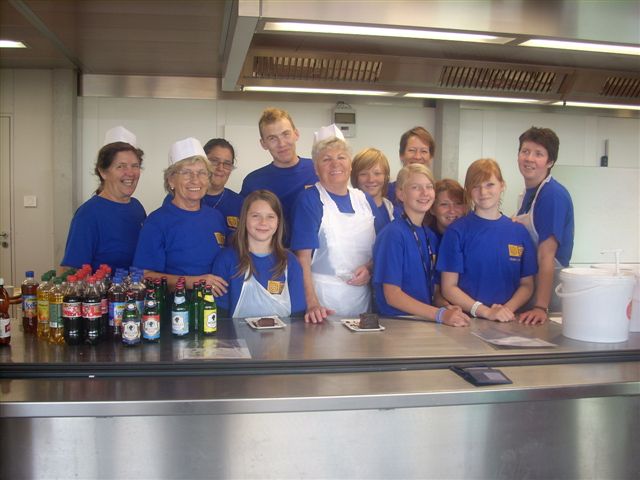 In fact I didn't expect to have so much fun, I was expecting to only help at the event. However I thank Claudia for organising the two weeks efficiently and giving me something to remember for ever.
Claudia:
Dan, it is the same for us! :-) When my boss from our Gymnastic-hall heard, that even a young man from England will come to help us, he was fascinated! He immediately called our local newspaper and they came to make a interview with Dan! He stood three times in three different news-papers and I think he felt a little like a celebrity! :-) Here is one of Interview:
THE VOLUNTEER FROM GREAT BRITAIN

Daniel Allen, 19, decided spontaneous to help at the Gymnaestrada

Lustenau. The world meets in Vorarlberg. To make Gymnastic, or to accompany the Gymnastics. But not only.
Daniel Allen, 19, from Reading in England, came to our Country, to be, like 4000 other people, a volunteer.

SHE TOOK IT SERIOUS

A curious story: "I had contact, because of the Jackie Chan Kids Corner Forum, to a woman from Lustenau. She wrote me about the Gymnaestrada and that they are looking always for volunteers. So I said in a joke: "O.k. I come also to help you!" But Allen had made the "Bill without the hostess" (a saying by us!) She took the offer serious, and said it also to him, so he had no other chance, than to say: " O.k. I come!" :-)))

Since one week Allen is in our Country Vorarlberg. In the kitchen from the big stadium in Lustenau, he makes Pommes.

"Of course" , the young man said, "I am not only here to work, I will take the opportunity to get to know and to see the beauty of this land!"

Never before he saw big moutains, and his host family showed him some in the meantime!

Daniel will, of course, also watch the Gymnaestrada, as many as he can see, because he also has to work!

He met already with South Africans and will have a look at their National Evening!

MAKING FILMS

As a Film-student, the big Manchester-Fan, decided, that it is a MUST for him to come back again to Austria! :-)))

"Here it must be wonderful to make films!"

For his Pommes-work, he hopes, that there is much to do in the next days.

"Until now, there was not so much to do, but as in the next days, there are Gymnastic-performances, we hope, that we will have many to do!"

His working-colleagues greeted him with open arms and are very friendly and nice to him!
Claudia:
Now, it is a few weeks over and I must say, it was so wonderful! It was great to be a part of this big and wonderful event, that never, sure never comes again to our Country, and great, that we could meet with an amazing young guy! ! We learnt so many things about him, tried to support him and to give him the feelings like to be at home, here in Austria! We didn't know each other before, just from the Homepage, but he suited very well to our family, he helped, had also much fun and I want to say THANK YOU SO MUCH, JACKIE, because of YOU and the Kids Corner, we had the chance to know and to meet each others!!! THANK YOU JACKIE AND DAN!!!
Dan:
I would just like to say that in 2 weeks I learnt so much about myself. However I also learnt that there are Good people around the world. I used to have one family, and now I have two. Hopefully in the near future I can also gain many more from the forum. I wish Claudia and her family all the best, And I will always stay in touch with them, and try to visit as often as I can. Hopefully in the future I may be able to film in Austria, the surroundings are stunning, and the people are amazing. I would also like to thank Jackie, for having so many great fans around the world, and also Everyone who makes the connection of those fans through the website possible. A big hello to Martin, Claudia, Lukas, Jessie, Bettina, Bettina's Mum, Claudia and Martins Mothers, Paul and Lizzy.
A few more photos: