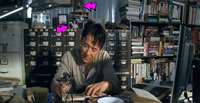 In this scene, two photos from Jackie's collection are on the shelf behind him. Do you recognize them?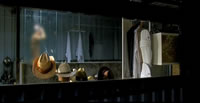 Here are some of Jackie's hats which he has on display at his personal quarters in Sha Tin.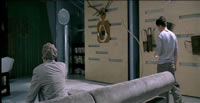 On the wall are the antlers from Shanghai Noon, the plaque with the shark's teeth, and some of Jackie's other souvenirs of his travels.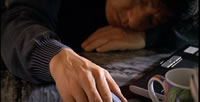 This tea cup is from the set that Jackie has in the downstairs kitchen at Waterloo Road.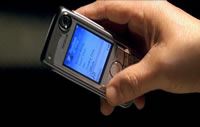 In the scene where Jackie checks his mobile phone, you can see Stanley Tong listed in the phone book.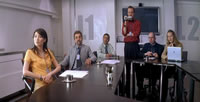 William's lab is actually the JC Group conference/dining room at Waterloo Road. The staff sits at this table and eats lunch every day. The backgrounds were changed for the scene.