If you don't believe in luck now, you will after you read the story of how a team of Lion Dancers from England were in the right place at the right time and ended up performing their internationally renowned Lion Dance for none other than Jackie Chan!
Yi Dao Dragon and Lion Dance Troupe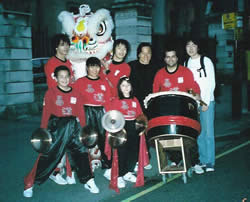 The Yi Dao Dragon and Lion Dance Troupe was founded in 1998 by Shifu Vincent Hopkins. Mr. Hopkins has a strong background in Chinese martial arts, acrobatics, and lion dancing. The top level team that he formed has performed all over the United Kingdom and recently competed in an International Lion Dance Championship held in Jingmen, China. According to Mr. Hopkins, "The young members caused a stir with the Chinese populace who were surprised to see young westerner kids performing a lion dance!"
The Right Place at the Right Time
On June 29, 2002, The Yi Dao Dragon and Lion Dance Troupe was performing at a corporate function at the Lincoln's Inn Fields in London, England. Not surprisingly, "they were drawing a lot of attention from people who were curious to know what was going on," according to troupe founder Vincent Hopkins. One of those people was a security agent from the Shanghai Knights film set. He questioned Mr. Hopkins about the troupe and Mr. Hopkins in turn questioned him about the film set. When he was told Jackie Chan's Shanghai Knights was filming there, Mr. Hopkins thought the agent was bluffing. He could hardly believe his good fortune. By chance the troupe members, who were now very very excited, spoke to one of Jackie's stunt team members and confirmed that Jackie was indeed there. One thing led to another and Jackie agreed to meet the team and view a short routine outside his trailer. Afterwards Jackie posed for photos with the group and gave them all keychains as mementos.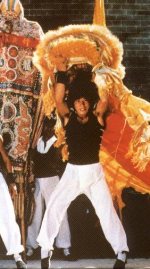 Here's an old photo of Jackie Chan performing a Lion Dance.
©2002 Katharine Schroeder/The Official Jackie Chan Fan Club for Kids
No part of this website may be reproduced or distributed without permission.