by Katharine Schroeder
On July 25, 2001 Jackie made an appearance at the "Strike Back Against Tobacco Festival 2001" while he was in New York City promoting Rush Hour 2. The festival was held in Bryant Park, behind the New York Public Library in Manhattan. The American Cancer Society and the Taiwan John Tung Foundation sponsored the event which was organized to raise awareness of the dangers of smoking. There were tents set up all through the park and volunteers were giving out t-shirts, rulers, posters, and fans. The fans were useful since it was over 90 degrees and sunny in the city on July 25th.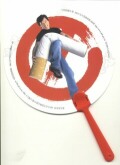 The fan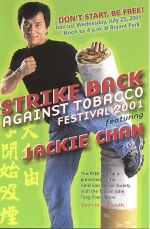 The Poster
There was a small stage set up in the park where kids were treated to a magic show and a mini-concert by a rock band. After the rock band finished, a commotion off to the left of the stage signaled that Jackie had arrived! Everyone went crazy - they cheered and clapped and screamed while Jackie made his way onto the stage. Of course Jackie had to stop along the way to shake hands with some of his many fans who had come to see him. Jackie climbed up onto the little stage (all the time holding his anti-smoking fan) and spoke to the audience about the dangers of smoking. He said that it was best never to start smoking because it is very difficult to stop. He accepted an award and talked some more with the audience. He encouraged kids over and over again not to smoke.Soon, Jackie had to leave. He was very busy doing promotion for Rush Hour 2. However, his visit to the festival was very special. Even though he was so busy, he made time to come and speak about a cause that is important to him.
©2002 Katharine Schroeder/The Official Jackie Chan Fan Club for Kids
No part of this website may be reproduced or distributed without permission.