This contest will be judged by Jackie Chan!
It's time for the Third Annual Decorate Jackie for Halloween Contest here at the Kids Corner. This contest is the most popular on our website and is definitely Jackie's favorite contest to judge. So get your crayons and colored pencils ready- it's time to decorate Jackie!
Here's the situation: Halloween is nearly here and poor Jackie doesn't have a costume yet! What can you do to help?
Well, you can create a costume for him! It's easy - just use one of the drawings below to make Jackie's Halloween costume. Nine prizes will be awarded to the 9 most creative and original costumes.
CLICK ON JACKIE FOR A PRINTABLE VERSION. (PRINTABLE VERSIONS HAVE THE LINES IN THE BODY FADED SO YOU CAN COLOR OVER THEM WITHOUT THEM SHOWING THROUGH.)





We want to keep rules to a minimum. Just don't copy the designs from previous contests. (If you don't have any ideas, click here to get some great ones.) Do not completely paint over the Jackie drawing when making your design. We must be able to see the face from the original template. In other words, please don't submit a freehand drawing.
Draw an original, creative, and colorful Halloween costume on one of the blank Jackies and send it to the Kids Corner. Decorate as many as you like, but send them in before October 31st. We will announce the winners as soon as possible after Halloween. All entries will be posted on the Kids Corner.

WHAT TO DO:
Scan your design (don't photograph it). Save as a .jpg file.
You must name your picture file as follows:
H2008_Name_Age_Country.jpg
Example: Mary, who lives in the USA and is 10 years old would name her file like this:
H2008_Mary_10_USA.jpg
In the body of the email, tell us the name of your Jackie! For example, "Milkmaid Jackie" or "Goku Jackie." If you don't give it a name, you are at the mercy of the webmaster, who will have to guess what your design is supposed to be.
Email it to us with subject line Halloween 2008. You must include your full name and mailing address (including your country). This way, if you are a winner, we can send you a prize.
Example of how to write your address:
Mona Smith
123 Arrowhead Lane
Albany, NY 01011
USA

We have some great prizes this year and all of them are autographed by Jackie! Click to see what they are.


In case you are wondering if Jackie really does judge this contest, here are some pictures:
Jackie picking his favorite Halloween entries from 2007's contest: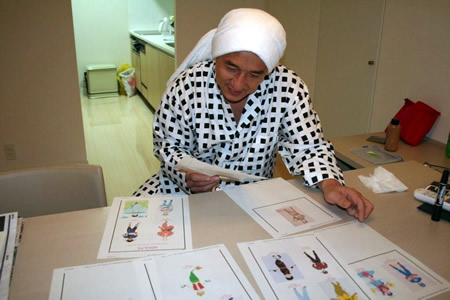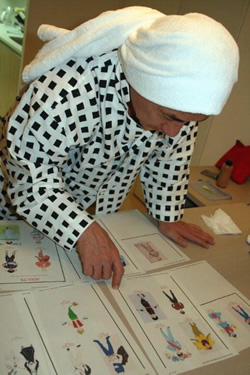 Jackie chooses the winners in the 2005 contest: