by Katharine Schroeder
On August 7th, 2003 the Hong Kong Tourism Board treated fans from the Kids Club, the USA Fan Club, and the Japan Fan Club to a wonderful day full of events and surprises. At 11:00 AM, they sent a private car to pick up the Kids Club members at our hotel and take us to the Regal Airport Hotel on Lantau Island for a special luncheon prepared just for the Kids Club and USA Club. The Japan Club had their own special events. Once we arrived at the hotel we met up with the USA Fan Club members who came by coach. Here's what the hotel looks like: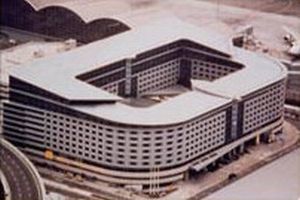 When we got there we were amazed by the beautiful lunch buffet and the elegantly set tables. After we found our seats, Willie Chan and Solon So came in and circulated amongst us, greeting everyone warmly. Soon after, Jackie himself came in to the cheers and hoots of his devoted fans. Jackie walked up onto a small stage and began talking to us. He welcomed us to Hong Kong and thanked us for coming. He then began the process of picking names for two special events: the first surprise was a photo opportunity with him and the second was a ride on an open-topped bus accompanied by Jackie! Here's Jackie picking the names of the lucky winners: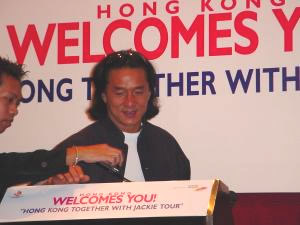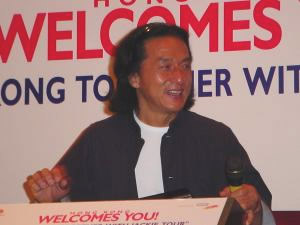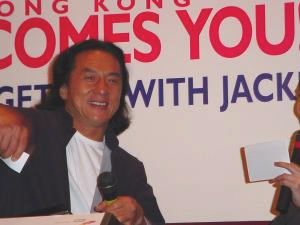 The thrilled winners could hardly sit still in their seats after their names were announced. Kids Club member and Official Kids Club Photographer Nic Schwark (the lucky devil) won a place on the bus with Jackie. (This would be a good time to mention what Kids Club Photographer Nic's mom reminded me of. Says Lisa, "you and Nic had a friendly banter between the two of you (for 45 minutes!) as to who was more worthy of having the seat [on the bus with Jackie]. 'I'm the Kids Club president, and you wouldn't be here if it weren't for me.' 'Well I'm the kids club photographer and you won't get any pictures if I don't keep my seat.' ' 'But I"m older than you.' ' I'm younger than you.....'"
Nic held fast to his winning seat despite my (many) attempts to bribe it away from him!
Here are a few photos of Nic as he worked feverishly for that perfect shot: