by Katharine Schroeder
If by some turn of fate I ever become Queen or President, I will be familiar with how it feels to be treated like royalty after attending the Fan Club party that Jackie Chan hosted on August 8, 2003 at the very fancy Regal Kowloon Hotel in Hong Kong. Here's a photo of the outside of the hotel: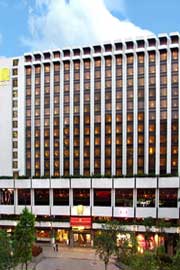 Fans from all over the world gathered at the hotel at about 8:00 P.M. and while we were waiting for Jackie we were treated to a video which played on a screen at the front of the banquet room. The video was great fun to watch; it showed many memorable moments in Jackie's life and even included some footage from the Hong Kong Together With Jackie tour! Many of Jackie's fans were featured in the video. The room looked beautiful and each table was set for 10 people. At each place there were gifts from Jackie: a Jackie Chan wristwatch and a mug. There were some mysterious envelopes at the center of the tables but we all had to wait to find out what was in them. Here's what we saw in the center of the tables: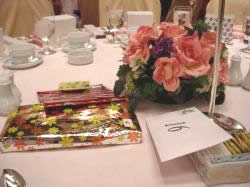 At around 8:20 or so, we noticed that Willie and Solon were wandering around the room - a sure sign that Jackie would be out soon. At 8:30 Jackie appeared at the back of the room and walked to a small stage set up right in front of the beautifully set tables. Jackie was, as usual, smiling and waving - he seemed thrilled to be there. He talked to the fans for quite a while and then we found out what the mysterious envelopes in the middle of the tables were for. They contained red packets like this: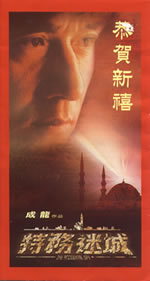 Inside each red packet there were two cards with numbers written on them. Here are mine:
______
____
______and______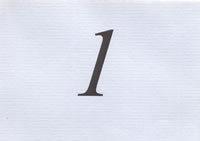 First Jackie picked a number and anyone at the table whose number matched won prizes that were on the table in wrapping paper. The second number was used for Jackie's lucky raffle. He picked number after number until it seemed like everyone in the room had won a prize! Some of the prizes were photos, jackets, luggage, watches, and plates. It was great fun to watch the excitement of all the many winners.
After the raffle, Jackie talked about his recent purchase of a new home for his father, Charles. Jackie wanted the apartment to be a surprise for his dad, so many elaborate plans were made to ensure that it was kept secret. Jackie had a film crew videotape all the stages of the purchase right up until his dad was surprised with the new home. Jackie told us that he made the tape for his family, and he said that since he considered his fans his family he wanted to share it with us. The video told a wonderful story which Jackie narrated from a seat at the edge of the stage. When it was over there were not many dry eyes in the room. Jackie's dad then came up on the stage to say hello. It was a very touching moment.
Finally, there was a Question and Answer session with Jackie. I had so many things I wanted to ask him, but all of them were gone from my mind as I sat there listening to Jackie talk. Of course as soon as I left the hotel all my questions flooded back into my brain. Luckily there were people who had their wits about them and Jackie answered many interesting questions. One fan asked Jackie to sing and we were treated to a wonderful rendition of Ming Ming Bai Bai which Jackie sang to the rhythmic clapping of his fans. It was a magical moment.
Lastly, we all had a chance to go up onto the little stage individually and have our photos taken with Jackie. It was very exciting for everyone and Jackie was very gracious. Many fans brought gifts which Jackie's staff stored on a table nearby for him. Jackie's staff also very nicely took photos using the fans' cameras. They are a hardworking bunch of people.
The 2003 Fan Club Party was a huge success and everyone had a really terrific time. Willie Chan wandered amongst the fans, talking and having his photo taken. Jackie was in a great mood; obviously so happy to be there and everyone looked beautiful. It was the party of a lifetime!
Click here to see lots of photos (mostly of Jackie!) from the party.
KIDS CORNER FRONT PAGE / LATEST JACKIE NEWS / TOTALLY FUN JACKIE STUFF / OFFICIAL SITE HOME PAGE
©2003 Katharine Schroeder/Jackie Chan Kids Corner
No part of this website may be reproduced or distributed without permission