It's time for the 2nd annual Chan La and Chan Zy Holiday contest. Last year over 100 people sent in designs, and just as he did last year, Jackie will pick the winners.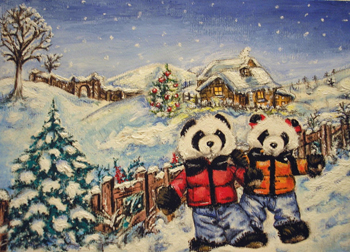 One of last year's winning designs.
Here's what to do:
Draw a original holiday greeting which includes Jackie's favorite pandas, Chan La and Chan Zy. Make sure it's colorful and unique. Then, scan it (no photos of the designs please!) and send it to jckids@jackiechan.com . We'll post all of the designs and Jackie will pick his three favorites. Winners will receive an 8x10" autographed photo of Jackie!
Please send only jpg files at least 800 pixels wide and name them like this:
2011_Panda_name_age_country
So if your name is Maria, you're 12 years old, and you live in Mexico, name your file like this:
2011_Panda_Maria_12_Mexico.jpg
----------
Please write "Panda Christmas" in your email's subject line and be sure to include your full name, age, and mailing address written in this format in your email:
Your Name
123 Main Street
Anytown, NY 11000 USA
Deadline for entries is December 24, 2011.
Click here to see this year's Holiday Contest designs.
Click here to see last year's Holiday Contest designs.