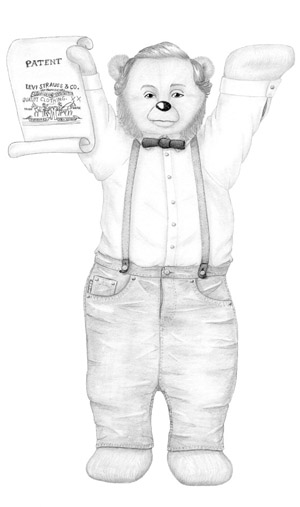 Levi Strauss Buddy
by Petra
Here's a note from Petra about Levi Strauss Buddy:
Making a short trip last week I learned something quite interesting about a garment almost all of us use nearly everyday :
On February 26th 1829 a certain Löb Strauss was born in Buttenheim - about 35 km from my hometown. At the age of 16 he emigrated to the US and changed his first name to Levi. In San Francisco he created trousers for the gold washers made of very sturdy fabric that was reinforced by rivets. First he used blue dye from Genoa ("Bleue de Genues") to colour the fabric - the expression "Blue Jeans" developed therefrom. Later he took blue scrim from the french town of Nîmes ("de Nîmes") that gave the name "Blue Denim". He had his style patented on May 20, 1873 (that you can read on every Levi's label). In the 1930s the trousers changed from suspenders to belt use. On September 26, 1902 Mr Strauss died, but still today everybody remembers his name, that is firmly connected with Jeans : Levi's.
I'm quite sure nearly nobody knows what Levi Strauss looked like, but I found a picture and tried to potray him as a Buddy Bear.