by Katharine Schroeder
Once upon a time, Jackie's webmaster saw an auction for a little ceramic Beckoning Cat that was autographed by none other than Jackie Chan. Kath was thrilled! The cat was a stage prop from the MTV Video show that Jackie and Chris Tucker hosted during the promotion of Rush Hour. One of the people who designed the set for that show had Jackie autograph it and then eventually put it up for auction. Here it is: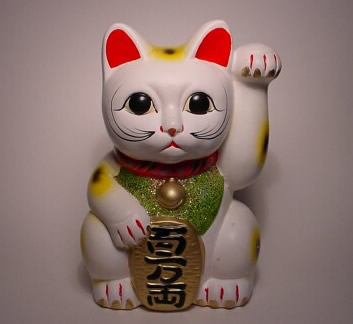 Well, Kath bid $35 for the cat, but lost. Actually, no one won because the owner of the cat was asking for a LOT more money than $35. Kath and the owner of the cat exchanged a few friendly emails. He worked at a company that designed stage sets and since Kath is an artist in her spare time, he asked to see a few of her paintings. She obliged. They corresponded but eventually lost touch. Kath sadly put thoughts of owning the Beckoning Cat out of her mind.
Fast forward one year. The Beckoning Cat once again came up for auction. But this time Kath didn't bother to bid because she knew that the cat was much too expensive. When the auction ended and no one had won, Kath sent a letter to the fellow who was selling the kitty. She asked him if he had lowered the price at all. "Not really," he said. But then he remembered a painting of a dog that Kath had done. Here's the painting: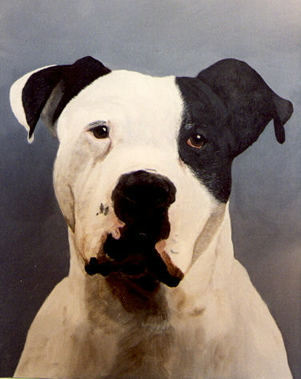 "Wanna trade?" he asked.
Two weeks later, Kath was the proud owner of the Rush Hour Beckoning Cat and the fellow was the proud owner of a painting of a dog by Kath.
And that's the story of the awesome trade that brought the little ceramic cat into Kath's house. If you read the story of the Beckoning Cat, you will understand why Kath has had nothing but good luck since placing the kitty on the shelf in her house.
The End (well, almost....here's Jackie's autograph on the kitty:)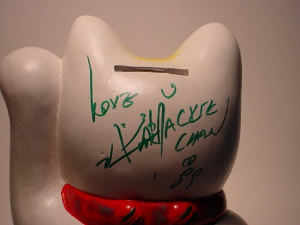 ©2002 Katharine Schroeder/The Official Jackie Chan Fan Club for Kids
No part of this website may be reproduced or distributed without permission.